This Chili Lime Salmon Over Coconut Rice is a super simple weeknight dinner that's easy, healthy, and delicious. Serve it in a coconut half if you want to impress, but it's just as tasty on a plate!
When I'm not listening to the Hamilton soundtrack (including the mixtape edition) or alternative country music while I'm cooking, I'm most likely listening to a podcast. A few of my favorite "you can find me in the kitchen" podcasts include Gretchen Rubin's Happier, Elizabeth Gilbert's Magic Lessons (I just finished season two and am so sad it's over), Spilled Milk, Bon Appétit Foodcast, Burnt Toast, Splendid Table, America's Test Kitchen's Podcast, and Milk Street Radio. But I love all those trendy podcasts, too... I alsojust finished S-Town and Missing Richard Simmons. I have a lot to say about S-Town, but I don't really want to talk about it because I don't want to spoil it for anyone who hasn't listened yet (Do it! Now!). I listened to all seven episodes in one weekend of cooking/baking. I don't want to talk about Missing Richard Simmons because honestly, it made me kind of angry. The poor man just wants everyone to leave him alone, so please just respect that. He doesn't owe you or anyone else anything. Ugh. I never thought I would feel so passionately about Richard Simmons, but it just bugs me that everyone is so possessive over him. You do you, Richard. Haters to the left.
I try to time my podcasts with how long I think my meal will take to cook because I hate leaving podcasts half listened to. But sometimes that's the way it goes. Like, when I made this Chili Lime Salmon Over Coconut Rice and it was done WAY before my episode of Magic Lessons was. I was half annoyed and half totally thrilled. Because getting this salmon in my mouth was way more high priority than listening to a podcast. Even though Magic Lessons is incredibly inspiring and has me majorly girl crushing on Elizabeth Gilbert every episode (can we also talk about how many times I've said to people "I know she wrote Eat, Pray, Love and you're probably annoyed with her... But I promise she's amazing and nothing like you'd expect the author of Eat, Pray, Love to be"). But I happily shut off the podcast and sat down to this meal.
CHILI LIME SALMON OVER COCONUT RICE RECIPE
This chili lime salmon is incredibly easy... from baking the salmon to making the coconut rice. But please note that cooking time DOES NOT include the time it took to break into this coconut. Which was embarrassingly high. I probably could have written and performed my own podcast in the time it took and even then, I had to have my husband intervene with a hatchet. A literal hatchet.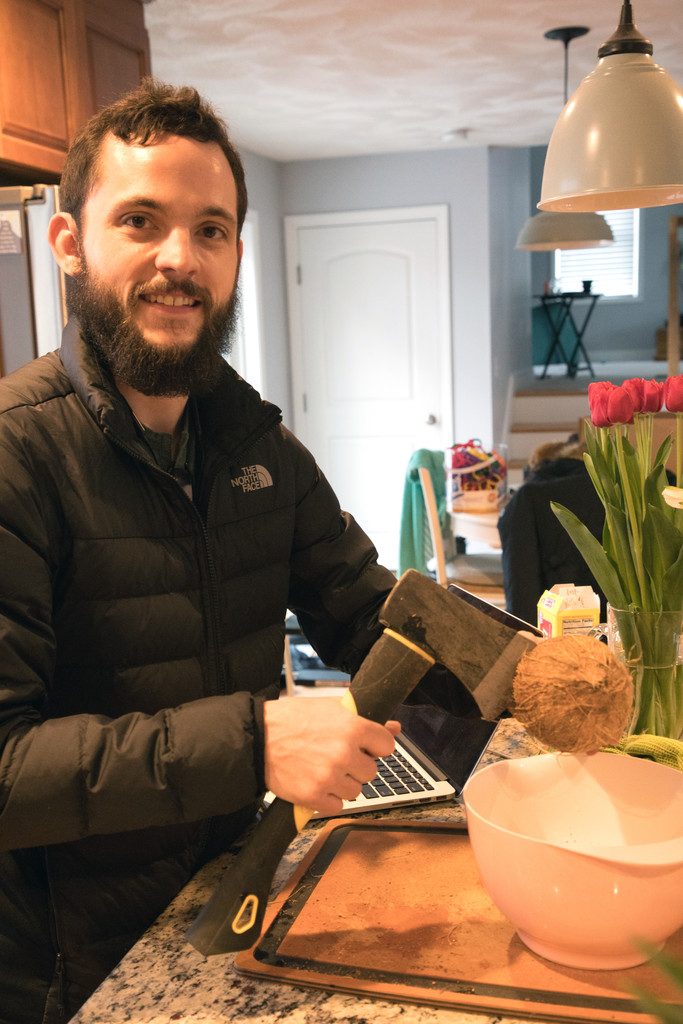 But we (and by we I mean him with a hatchet and me yelling at him) finally did it!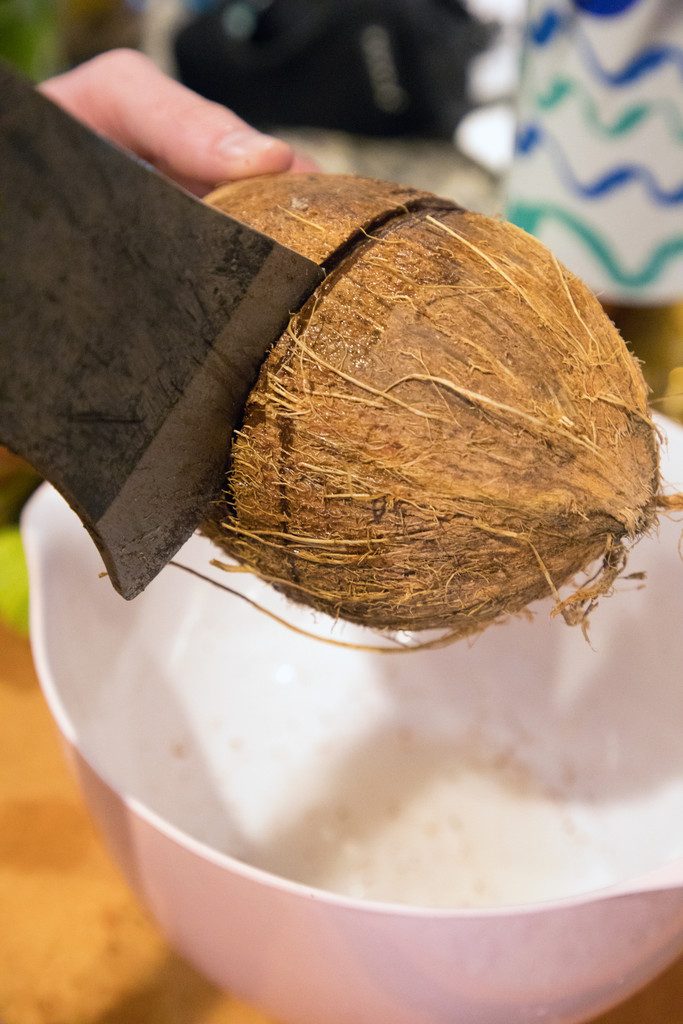 My local grocery store almost always has fresh coconuts and I may have two more in my refrigerator as we speak. What else can I make and also, who has better tips for opening them? Yes, I watched plenty of YouTube videos!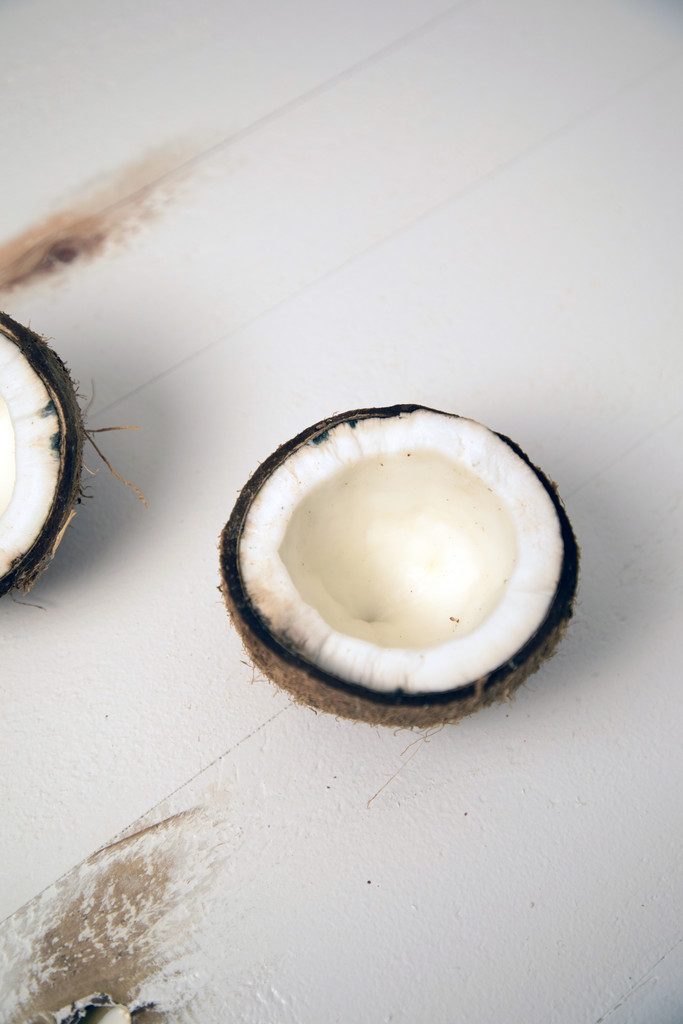 But other than that, which is totally optional BTW, this dinner is a breeze to make. All you need to do it mix a few ingredients together, like olive oil, garlic, parsley, lime juice, chili powder, and salt and pepper, and place atop the salmon: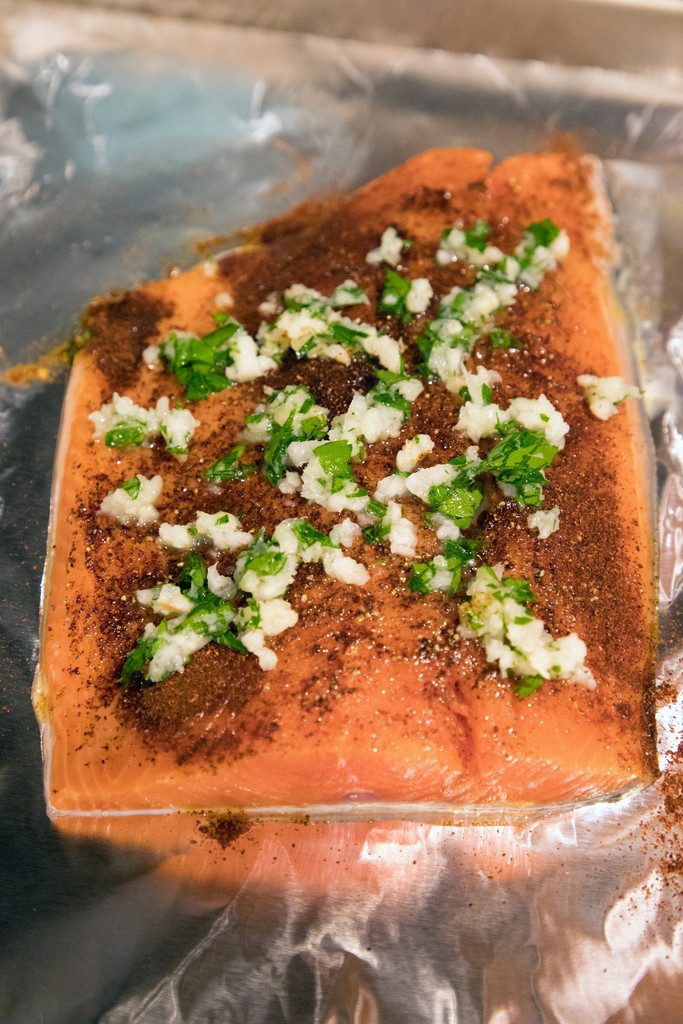 And bake it! While you make a delicious and easy coconut rice. Whenever I'm making rice for Thai food, I always make it with at least half coconut milk. This time, I did the other half coconut water.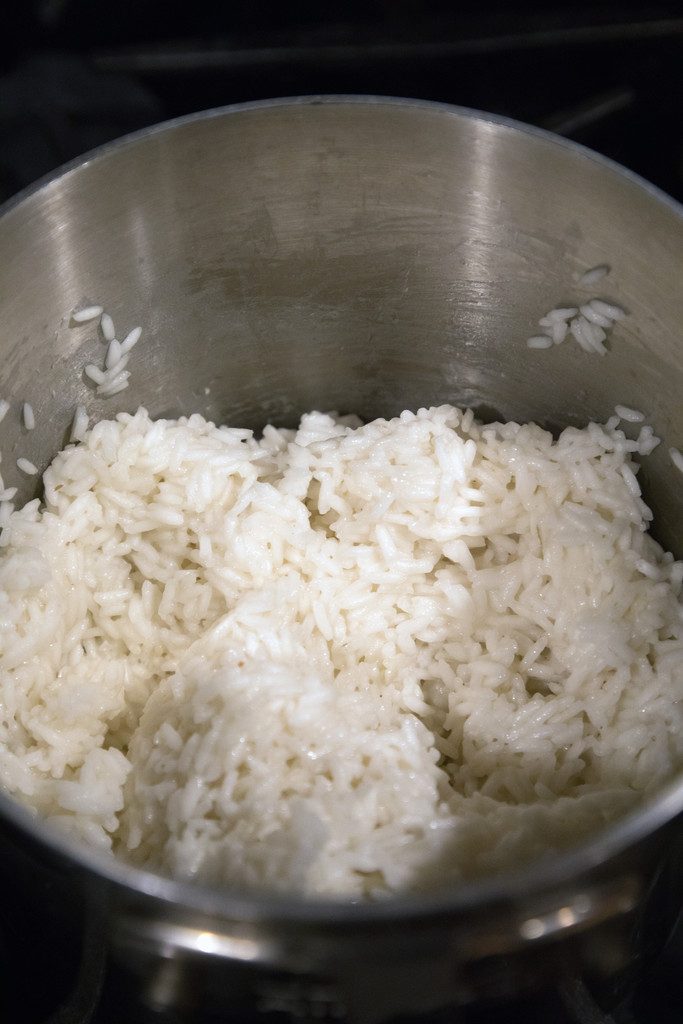 I almost never cook with white rice, but I felt like this chili lime salmon required it. Sure, I could have made brown rice (which I love!), but it just wouldn't have felt as fun and also my photos wouldn't be as pretty (it's a tough life being a blogger...). Of course, feel free to use whatever kind of rice you prefer!
That chili lime salmon though.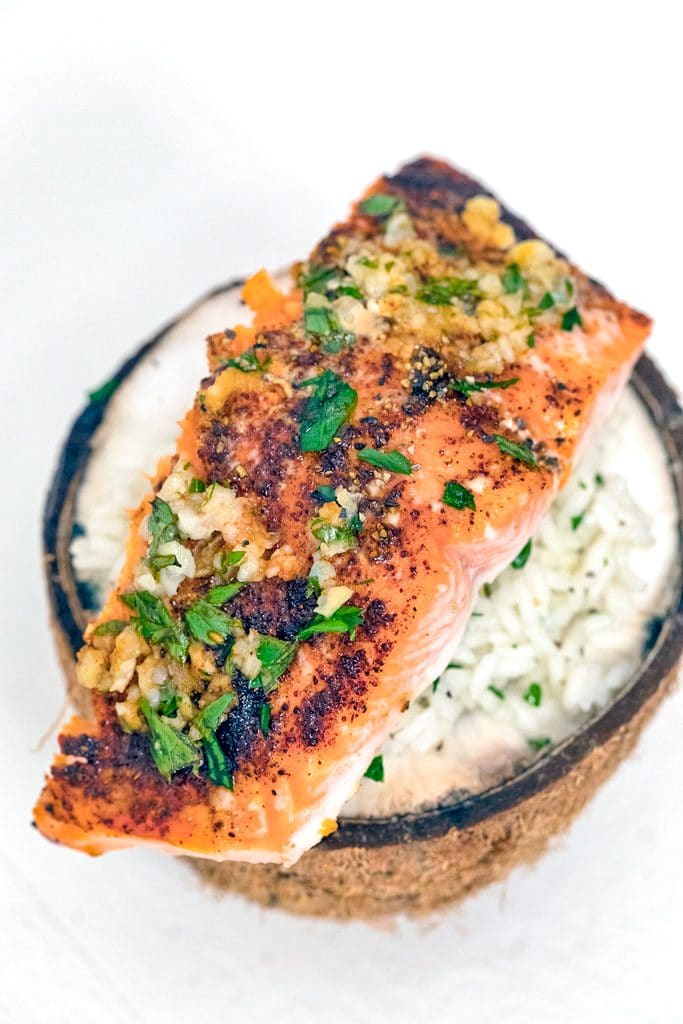 Salmon is one of my very favorite foods, if we're considering the yummy to healthy ratio. Meaning ice cream, marshmallows, and nachos are really my favorite foods, but I'm also trying to factor in some nutritional value here.
I'm very crazy about my salmon though, which is odd for me, because I'm not generally "salmon crazy" about many other things in my life. I'll only buy wild salmon and only if it actually looks nice and orange and tasty. My grocery store sells a nice frozen wild salmon, which I pretty much always have in my freezer. But it doesn't make for blog-worthy recipes since it has a ridiculous amount of bones in it and looks totally picked over by the time I'm done with it.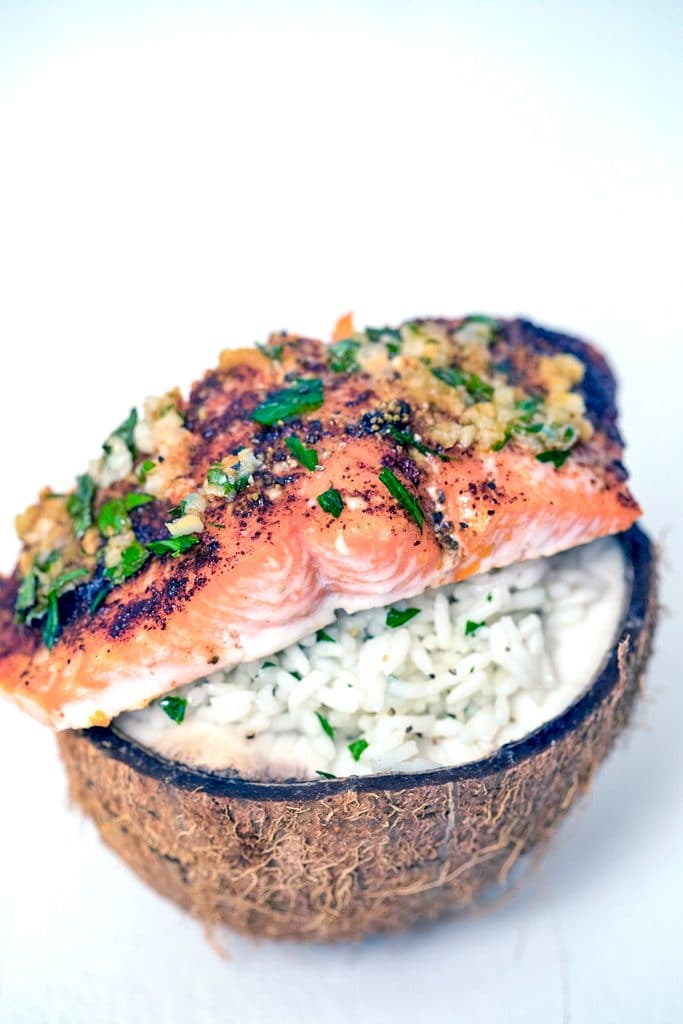 My dream in life is to be wealthy enough to solely purchase my wild salmon from Wegman's because it looks so delicious there... But is like at least $20/pound. I just can't. I also generally do all my grocery shopping a week at a time, so unless I"m planning to make salmon that night (which I'm usually not since I like to make dinners that are a bit more complicated on the weekends), it's nice to have frozen around.
Please send your salmon recipes to me because I'm always looking for more. And for now, I'm still dreaming of this one. Chili powder, freshly squeezed lime juice, garlic, and parsley are a combo that makes pretty much anything delicious, but especially a nice tropical salmon. Is it bad that whenever I cook salmon, I set aside a little piece (without toppings) to cook for my dog, too? She's even more obsessed than I am!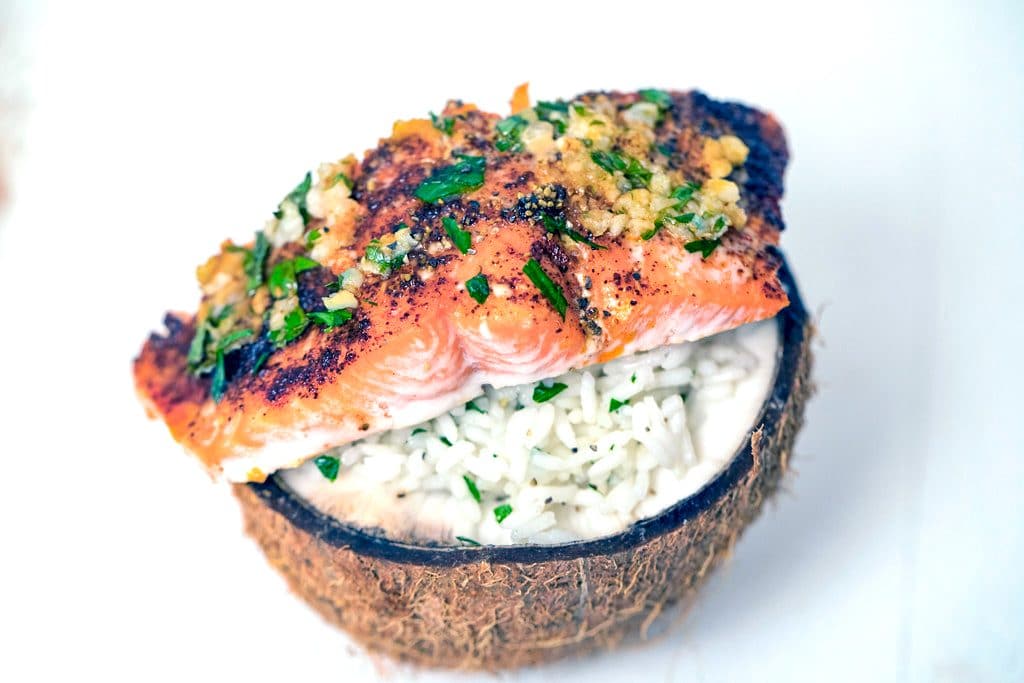 And that coconut rice! I promise that once you have it, you'll never want to make rice without coconut milk again. It's so creamy and packed with way more flavor than typically-made rice. I mean, rice has never really excited me before, but I've found myself craving this multiple times since I made this.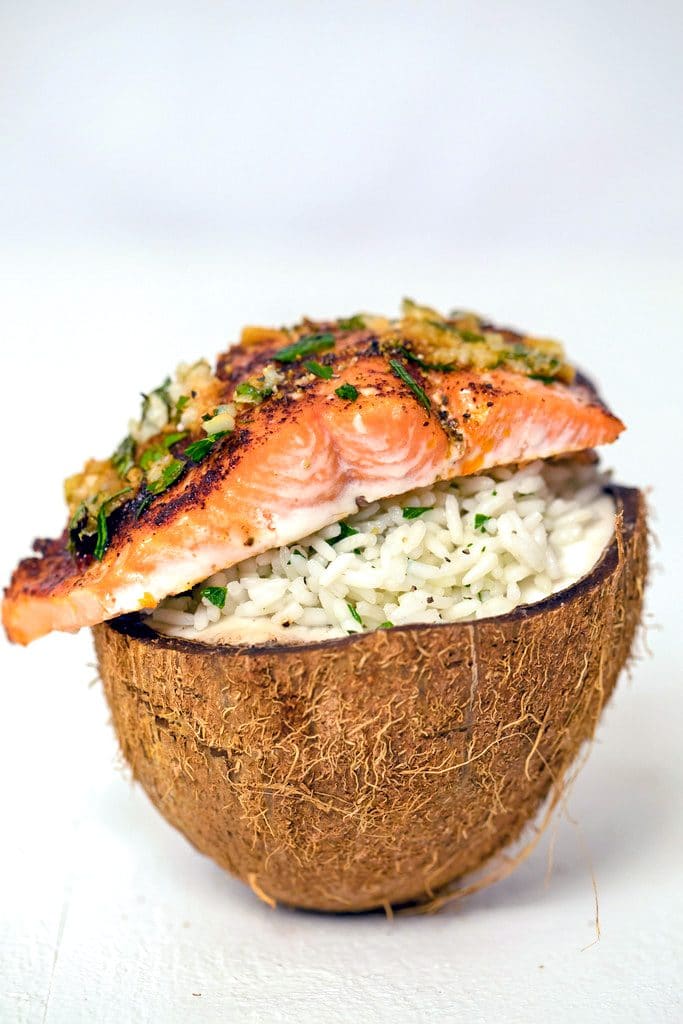 You'll also want to eat all of your meals out of coconut from now on. And to that, I say, go for it! There's nothing wrong with keeping a hatchet in your kitchen drawer, is there??
Yup, I'll gladly pause a podcast halfway through so I can start gobbling this up. I also kind of sort of think I could lure Richard Simmons back into the public with this salmon. Kidding!! Seriously. Leave him alone, people.
Have you ever opened a coconut yourself (or um, with your husband's help)?
If you love salmon as much as I do, check out some of my other salmon recipes, like this One-Pan Creamy Chipotle Salmon or this Everything Bagel Salmon. I also can't wait to try this Cajun Salmon Pasta from Salt and Lavender!
📖 Recipe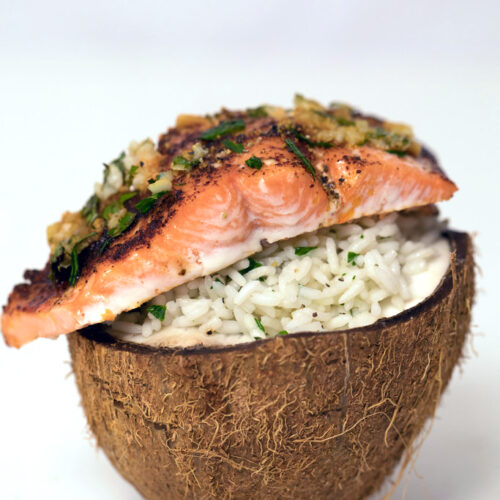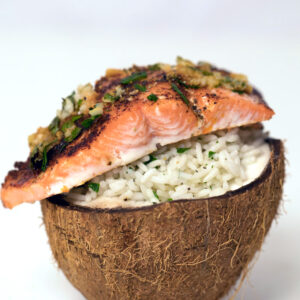 Chili Lime Salmon Over Coconut Rice
This super simple weeknight dinner is easy, healthy, and delicious. Serve it in a coconut half if you want to impress, but it's just as tasty on a plate!
Print
Pin
Rate
Ingredients
¾

lb.

salmon,

skin removed

1

Tbsp

olive oil

3

cloves

garlic,

minced

¼

tsp

ground pepper

2

Tbsp

finely chopped parsley,

divided

2

Tbsp

freshly squeezed lime juice

1

tsp

chili powder

¼

tsp

salt

1

cup

jasmine rice

1

cup

coconut milk

1

cup

coconut water,

from fresh coconut or bottled/boxed
Instructions
Pre-heat oven to 400 degrees and place salmon on foil-lined baking sheet. Pat salmon dry.

In a small bowl, combine olive oil, garlic, 1 Tbsp. parsley, lime juice, chili powder, and salt and pepper and stir to combine.

Spread mixture on the top of salmon filets.

Just before putting salmon in the oven, start rice. Combine rice, coconut milk, and coconut water in a medium saucepan and bring to a boil. Lower heat to simmer, cover, and cook until water is fully absorbed by rice, about 12-15 minutes.

Bake salmon at 400 degrees for about 10-12 minutes, until just cooked through.

Let rice stand, uncovered, for a few minutes before adding in remaining 1 Tbsp. parsley and fluffing with a fork.
Share a Photo of Your Finished Recipe!
Mention @wearenotmartha and share a photo if you've made the recipe!