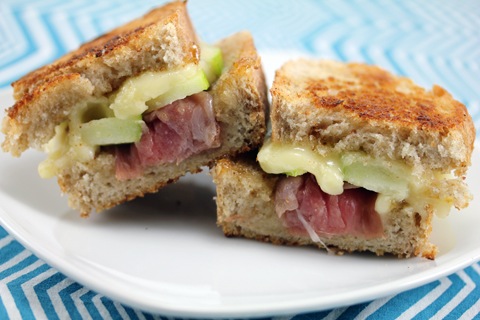 Happy Grilled Cheese Month! Yup, it's April. And if you know what's good for you, you'll be eating a grilled cheese every day of the month. OK, maybe that would be overdoing it (but what do I know about overdoing it?? Clearly NOT MUCH). But since it is April and you probably want to celebrate a little, I urge you to mix it up a bit and try a different grilled cheese or two. Like one with brie. And all kinds of other good stuff. I actually made this before I even realized it was Grilled Cheese Month (why it's not on my calendar, I do not know) because I was craving brie something crazy and wanted the salty sweet combo all between two crusty slices of grilled bread. I'm pretty sure my stomach just growled as I was writing that.
The ingredient amounts here are pretty vague because everyone loves a different cheese to apple to prosciutto ratio. And a lot of it depends on how big your bread is anyway. Just start layering the ingredients and enjoy! There's really no way you can go wrong here. Promise.
Brie Grilled Cheese with Fig Spread, Green Apple, and Prosciutto (makes 2):
Print this recipe!
4 slices good crusty bread
1-2 T butter
4 T fig jam
Brie cheese, sliced
1-2 granny smith apples, sliced
4-6 slices prosciutto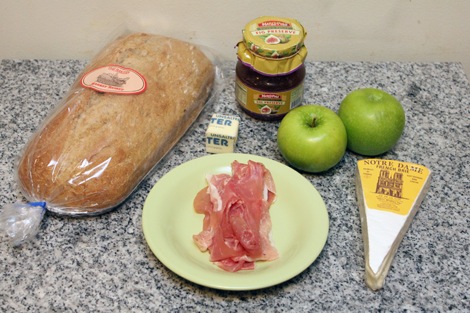 Spread butter on one side of all four slices of bread. Place bread butter-side-down on grill pan over medium-low and spread fig jam on the top of each slice.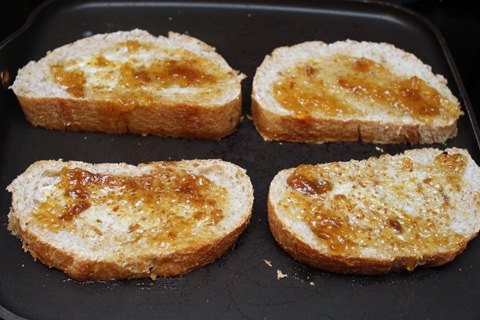 Now, start layering your ingredients on two slices of the bread. I went with brie cheese topped with apple topped with prosciutto and finally topped with more brie cheese.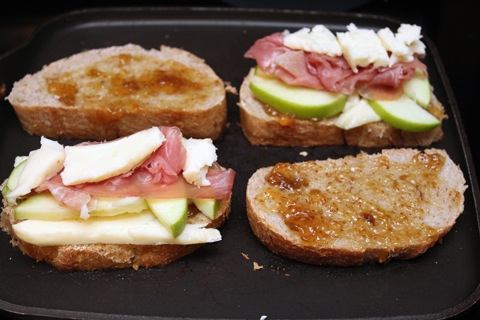 It was a pretty can't go wrong combo, though I was tempted to keep layering and layering and layering. The only thing that stopped me was knowing my cheese wouldn't melt properly.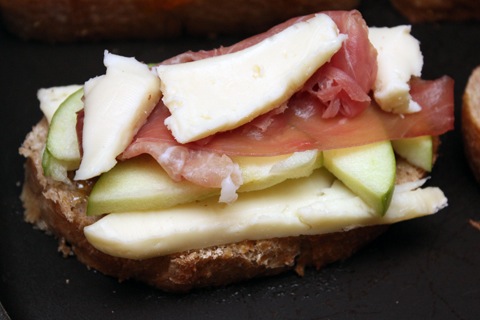 Take the fig spread-only slice of bread and place it on top of the layered slice. Press down and let grill for about 2 minutes, until bread begins browning. Then flip over and let the other side of the bread brown and the filling get all melty.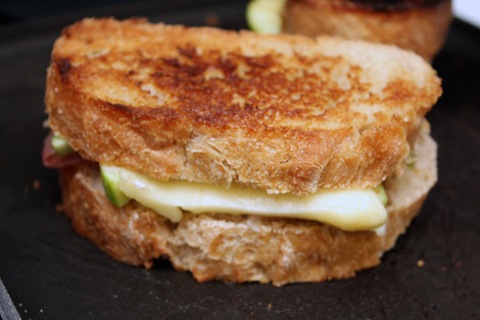 And serve!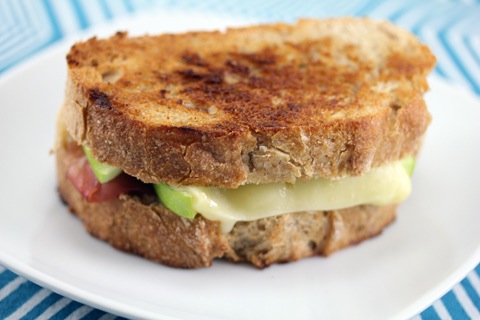 One of my favorite things about grilled cheese sandwiches is when the cheese gets all oozy and the other ingredients peek out of the side of the bread.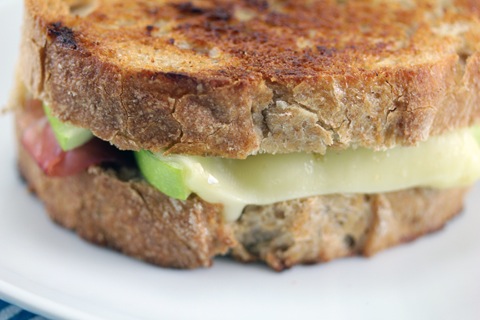 I also enjoy how quick and easy they are to make.
I recommend slicing this sandwich in half or else it's a little bit difficult to eat. Plus, it's so much prettier when sliced in half!
I'm absolutely obsessed with the flavors in this grilled cheese. The strong flavor of the brie is very nicely balanced by the sweetness of the fig jam and green apples and saltiness of the prosciutto.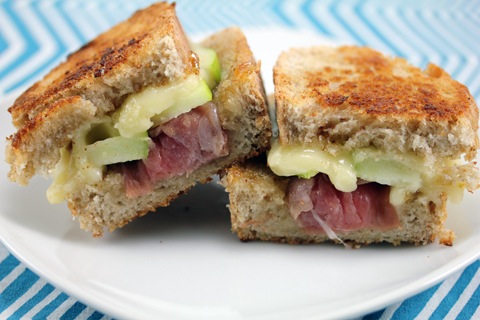 It's been a while since I've had a really good grilled cheese, or even a really good sandwich for that matter. So, this definitely satisfied a major craving.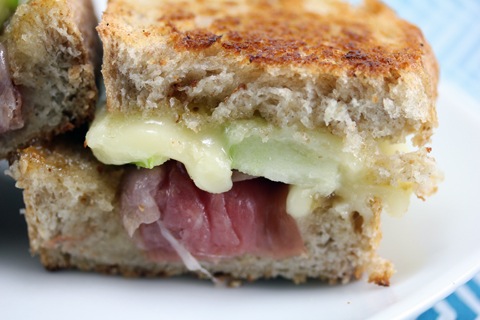 It's only April 3 and I have a feeling this won't be the last time I enjoy grilled cheese month! In fact, I'm dreaming up a gorgonzola variation at this moment. And I'm sure I'll be enjoying a few simpler variations with my favorite Cabot Private Stock Cheddar (the sharpest, best cheddar you can find! Plus, calling it "Private Stock" makes it sound so rare and exquisite).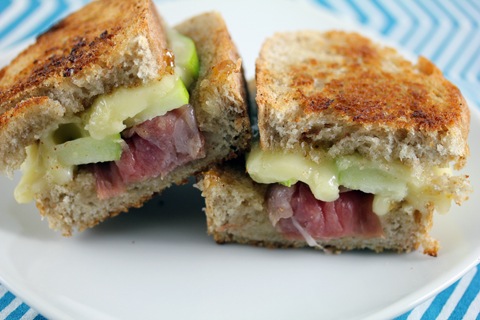 But for now, I've been busy in my kitchen whipping up homemade fresh pasta with the help of America's Test Kitchen Cooking School.  I'll be blogging on ATK's blog, The Feed, on Monday, so you can see all about my pasta adventures!
How are you celebrating Grilled Cheese Month?
[Sues]