Grilled cheese is always delicious but when you try this Brie Grilled Cheese made with fig spread, green apple, and prosciutto, you'll suddenly start wanting grilled cheese for dinner every night!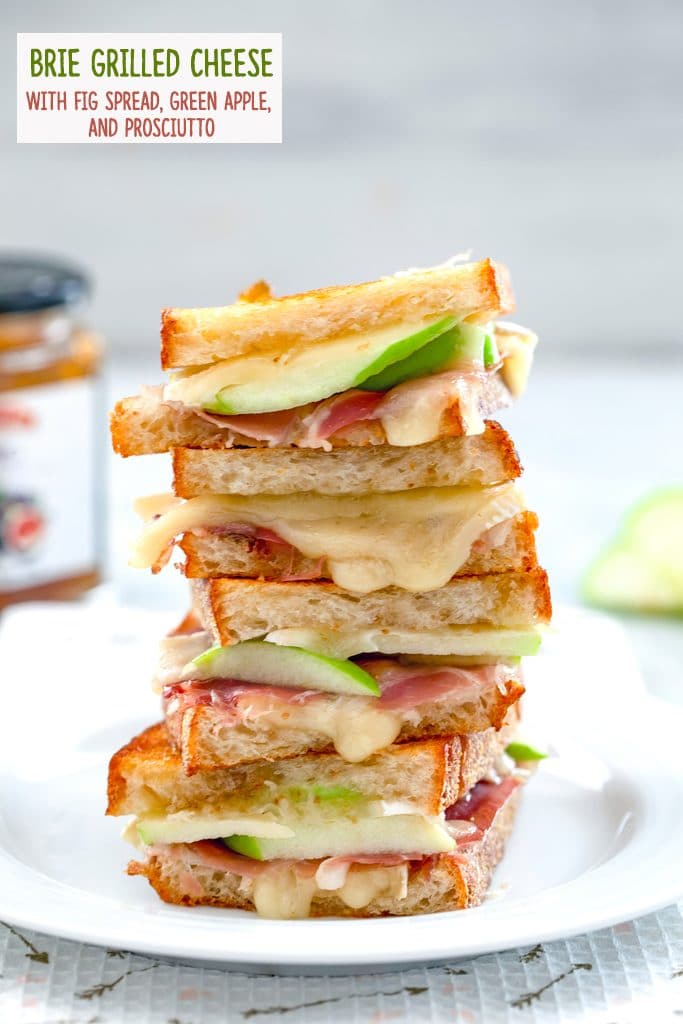 (This recipe for Brie Grilled Cheese was originally published in April 2012, but was updated with new photos and content in 2018).
Back in April, during National Grilled Cheese Month (yes! A whole month of grilled cheese!), I had a very sad realization. The sudden awareness that all of the grilled cheese photos on my blog are ridiculously ugly. The actual recipes are all delicious, but they're accompanied by super low-quality photos that aren't even worthy of Twitter, much less Instagram.
And thus, I started the long arduous process of updating these posts. A couple weeks ago, I brought the Jalapeño Popper Grilled Cheese back into your life and earlier, this year the Buffalo Chicken Grilled Cheese. And today I'm re-introducing you to the Brie Grilled Cheese... with fig spread, green apple, and prosciutto.
I still have plenty of grilled cheese recipes to get through (tough life!) and by the time we reach April again, We are not Martha will be a goldmine of delicious-looking grilled cheese recipes, yours for the taking. And we can all celebrate National Grilled Cheese Month by eating a grilled cheese sandwich basically every night. You certainly won't hear any complaints from me!
How to make brie grilled cheese with fig spread, green apple, and prosciutto
Grilled cheese is one of the most basic sandwiches... But that doesn't mean you can't fancy it up! And when you're looking for fancy, I feel like brie can't be beat. Figs, too! But since figs can be difficult to find depending on the time of year and where you are, a simple fig spread works perfectly for this sandwich.
When it comes to apples, I almost never opt for granny smith UNLESS I'm cooking or baking with them. You can use any kind of apple in this brie grilled cheese, but there's something about a tart green apple that works so perfectly. And prosciutto? Is there anything you add deliciously salty prosciutto to that isn't automatically better?
I include ingredient amounts in this recipe, but as with all grilled cheese recipes, just follow your heart when it comes to how much to use... A lot depends on how big your bread is, too. The important thing? Butter one side of all your bread slices and add a generous amount of fig spread to the other side.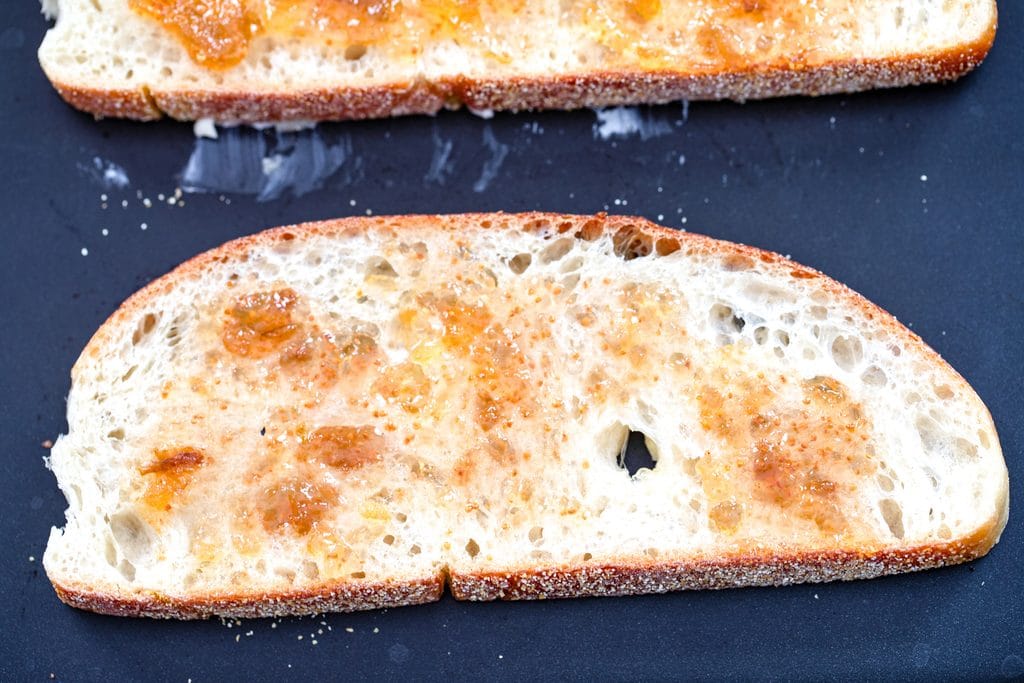 And then layer your ingredients up! I went with brie, followed by green apple, followed by prosciutto, and then more brie!
Top with the remaining slices of fig-slathered bread and let the bread get all toasty and the cheese melty.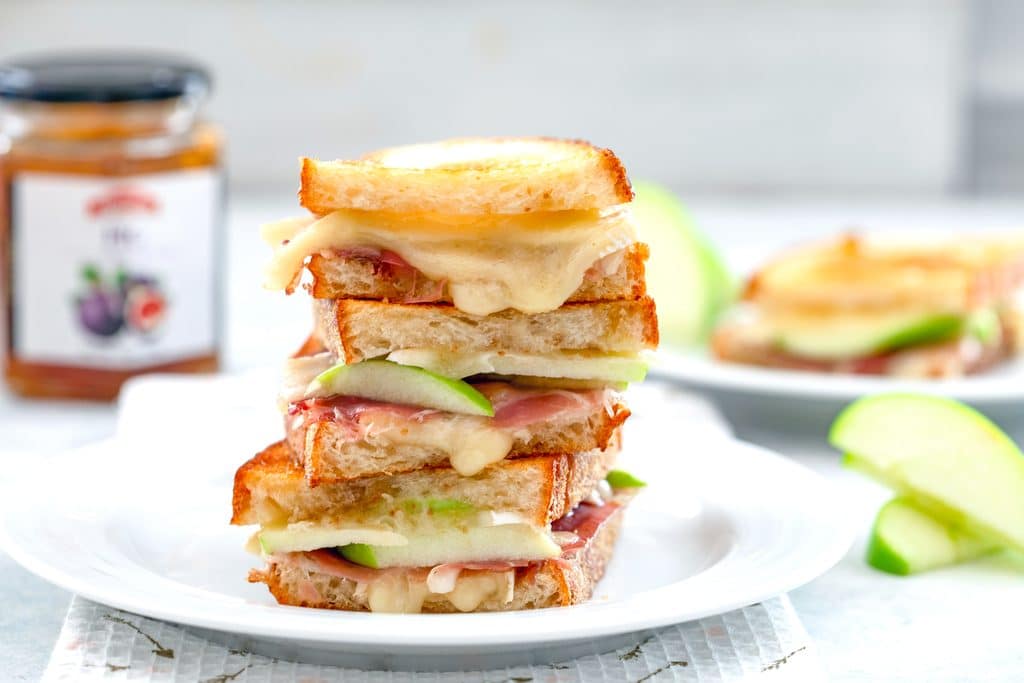 One of my favorite things about grilled cheese sandwiches is when the cheese gets all oozy and the other ingredients peek out of the side of the bread.
I also enjoy how quick and easy they are to make. And obviously versatile. With so many different types of cheese in the world and so many perfect add-ins, the grilled cheese combinations are seriously endless.
But I really think you need to try this brie grilled cheese as soon as you possibly can.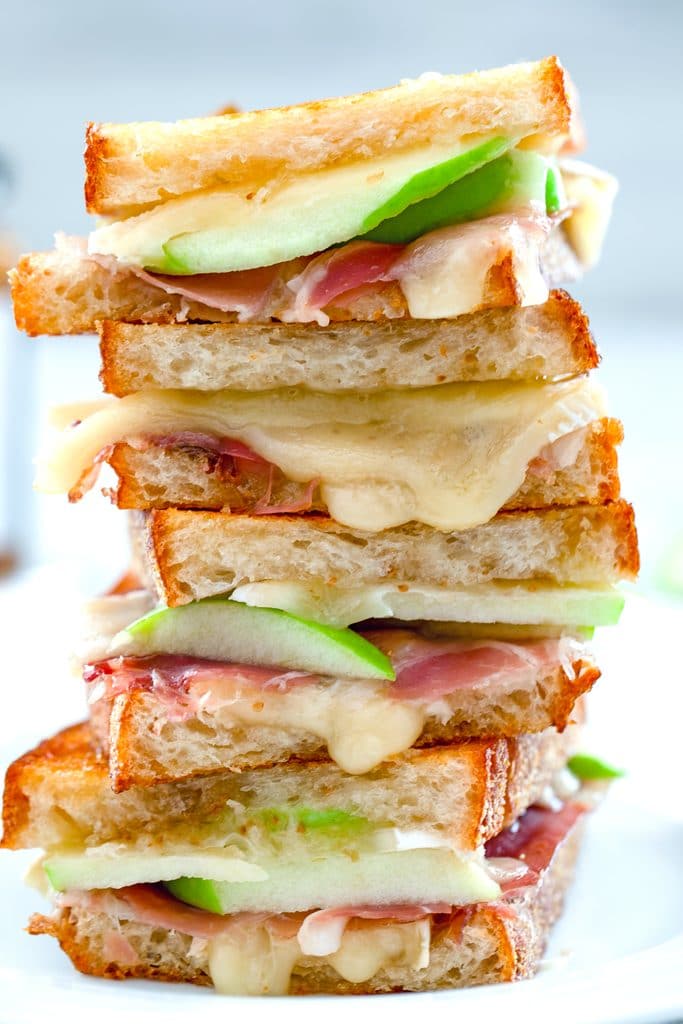 I recommend slicing this sandwich in half or else it's a little bit difficult to eat. Plus, it's so much prettier when sliced in half! In general, are you a sandwich slicer? I ALWAYS cut my sandwiches in half, but my husband never does. I just think they taste so much better in halves.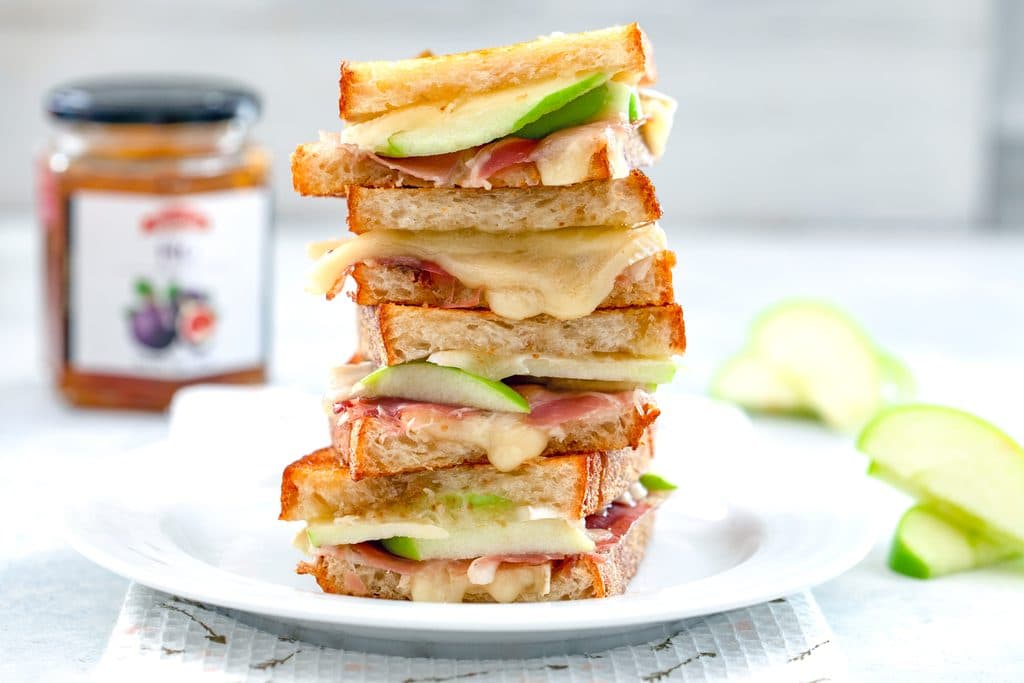 I'm absolutely obsessed with the flavors in this brie grilled cheese. The strong flavor of the cheese is very nicely balanced by the sweetness of the fig jam, tartness of the green apples, and saltiness of the prosciutto.
There's SO much going on here and is basically a "party in your mouth" (I know that's super cheesy to say, but I honestly can't think of a better way to describe it!).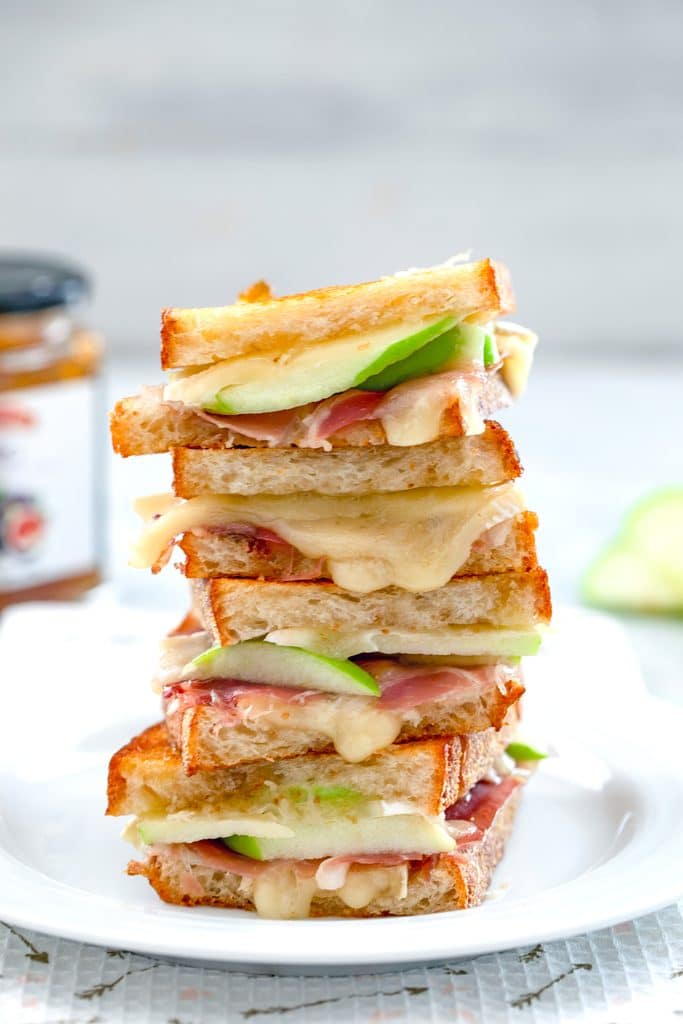 I will forever love a grilled cheese made simply with whole wheat bread and sharp cheddar, but from now on, this brie grilled cheese will be showing up in my dreams.
What's your favorite grilled cheese sandwich combination?
You should also make my Brussels Sprouts and Cranberry Relish Grilled Cheese! And I'm dying to try this Breakfast Grilled Cheese from Don't Go Bacon My Heart!
📖 Recipe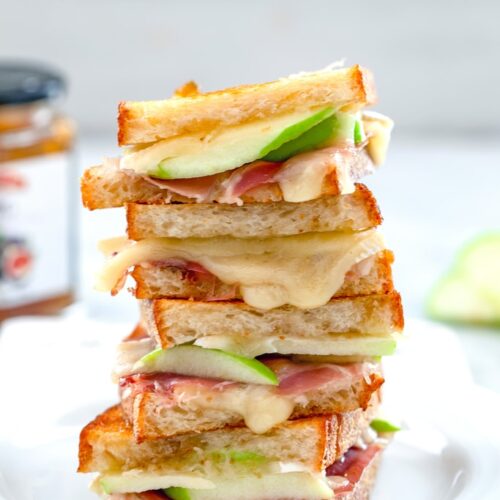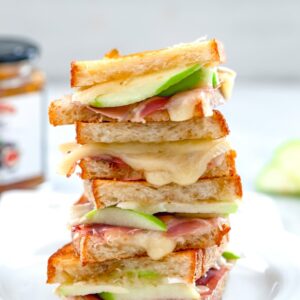 Brie Grilled Cheese with Fig Spread, Green Apple, and Prosciutto
Grilled cheese is always delicious but when you try this Brie Grilled Cheese made with fig spread, green apple, and prosciutto, you'll suddenly start wanting grilled cheese for dinner every night!
Print
Pin
Rate
Ingredients
4

slices

good bread (I like scala)

2

Tbsp

unsalted butter,

softened

4

Tbsp

fig jam

4

oz.

brie cheese,

sliced

1

granny smith apple,

sliced

4

slices

prosciutto
Instructions
Spread butter on one side of all four slices of bread. Place bread butter-side-down on grill pan over medium-low and spread fig jam on the top of each slice.

On two slices of the bread, layer brie, apples, prosciutto, and more brie.

Take the fig spread-only slices of bread and place them on top of the layered slices. Press down with a spatula and let grill for about 2 minutes, until bread begins browning. Then flip sandwiches over and let the other side of the bread brown and the filling get all melty.
Share a Photo of Your Finished Recipe!
Mention @wearenotmartha and share a photo if you've made the recipe!