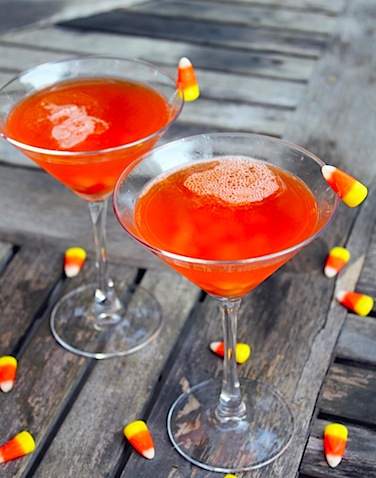 I think it's clear by now that I'm a big fan of infusing liquor. In fact, it's probably one of my all-time favorite hobbies. I mean, who doesn't love the fact that you can take a simple vodka, tequila, etc. and give it absolutely any flavor you want? I've done it with jalapeño and vodka. I've done it with habanero and tequila. And now I'm going in a completely different direction and doing it with candy. Candy corn to be exact. I wanted a candy corn martini to celebrate autumn and Halloween and I knew exactly what to do to make it happen. Infuse the vodka!
We've had the candy corn discussion before. Almost exactly a year ago when I made the candy corn ice cream. I feel like one good candy corn recipe a year is all you really need. Because you make one recipe and then you end up eating the entire bag and you really can't stand the thought of it for another year. Am I right?
This is definitely an indulgent dessert drink and perfect for a Halloween party. Or a Cocktail Friday. Happy Cocktail Friday, by the way!
Candy Corn Martini (makes 2):
Print this recipe!
1 C vodka
3/4 C candy corn, plus extra for garnish
1/4 C butterscotch schnapps
1 egg white (optional)
Ice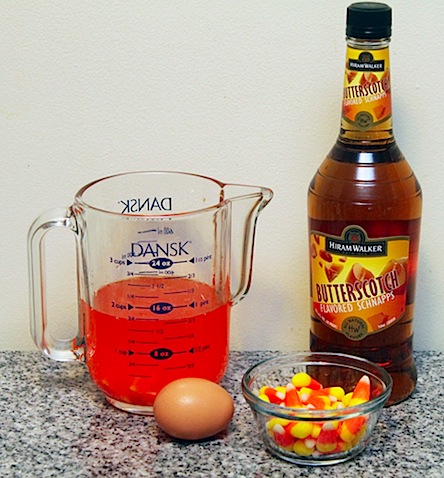 This recipe is really incredibly basic. The most difficult part is pouring the candy corn in the vodka and letting it soak for about 3 hours, while you watch it turn the most ridiculously bright shade of orange ever and try not to eat the remaining candy corn straight from the bag.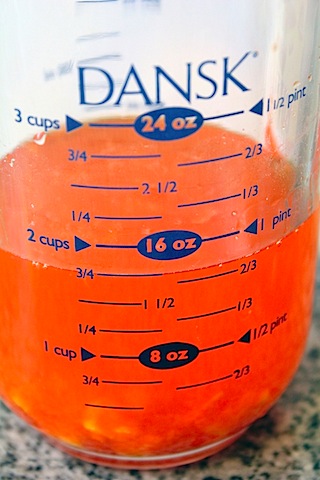 Once your candy corn has soaked for 3 hours and your vodka can't get much brighter, you're ready to mix your martini!
In a shaker with ice, add 1 C candy corn-infused vodka, 1/4 C butterscotch schnapps, and the egg white. I mention the egg white being optional because I know some people are afraid of adding egg whites to their cocktails. I personally have no fear (especially when using a good farm fresh egg), but the egg white didn't have quite the effect I was hoping for (froth!) in my martini. After doing a bit of research, I learned I should have shook the cocktail without ice a few times before adding the ice in. Who knew!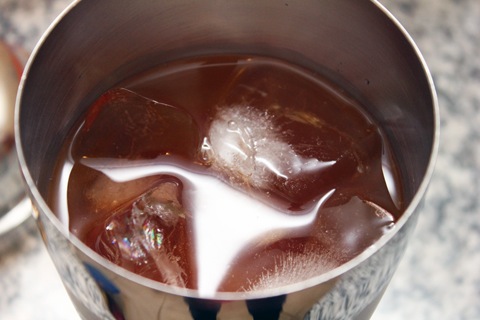 Get out your martini glasses and throw a few candy corn in the bottom because more is always better. At least in theory.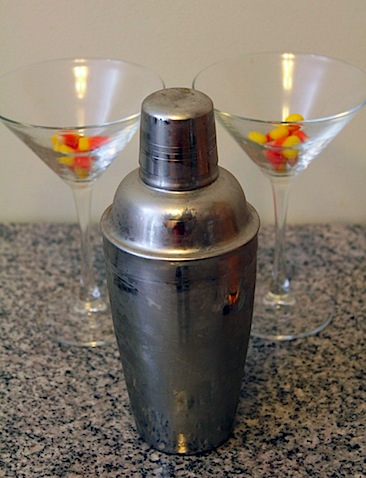 Shake the mixture well and pour that luscious orange liquid into the glasses.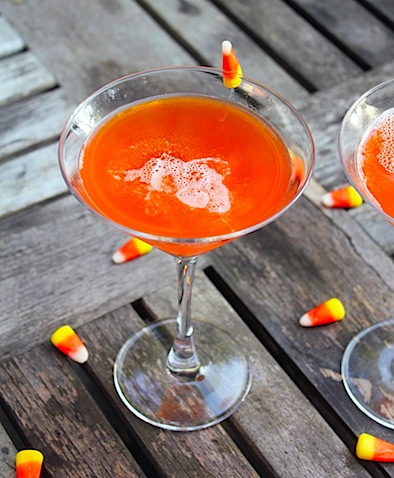 Yes, the color is absolutely ridiculous. But it will also make for quite the Halloween party cocktail conversation starter.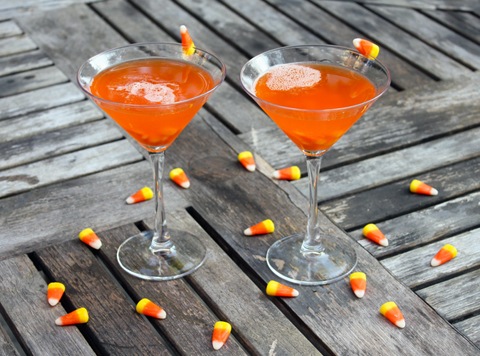 This drink? Was sweet. Like really, really sweet. Definitely a dessert sipper! I chose to add butterscotch schnapps to the vodka because I wanted to keep that candy flavor– I've seen other recipes with lemon and orange liquors, but I really didn't want to turn it into a fruity concoction. This was candy all the way.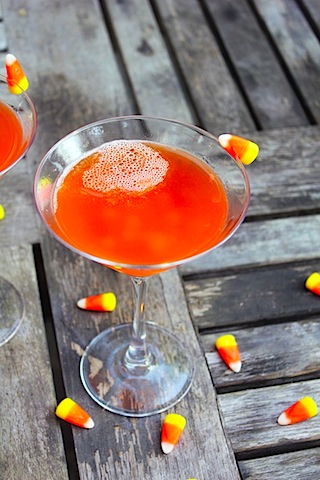 The butterscotch flavor definitely helped the cocktail keep its candy-ness, but I'm not even sure it was totally necessary. The candy corn infused into the vodka SO well that it truly was candy corn vodka. You could bottle it up and market this stuff. Seasonal alcohol at its best.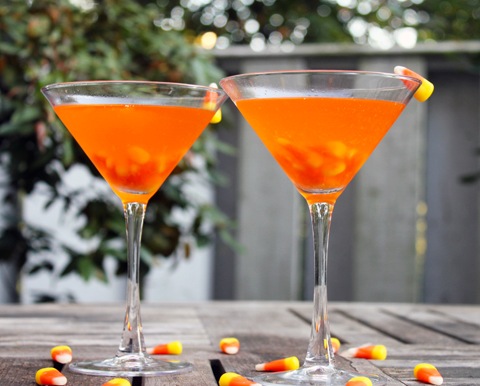 OK, it's cocktail Friday; go whip this up and snuggle up on the couch with the bag of remaining candy corn. I won't say "I told you so" when you find yourself on a massive sugar high only to pass out at 9 p.m. from the crash. I promise.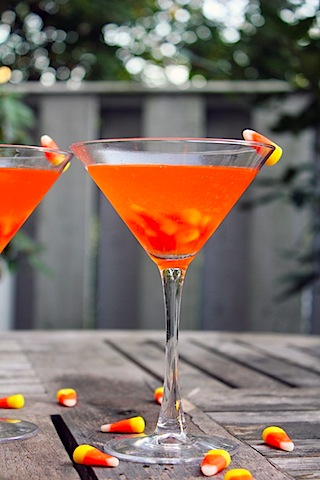 You have no idea how many liquor infusion ideas are in my head now. I'm preparing for a long cold winter and this could be exactly what I need to get me through. I'll obviously be sharing everything, so get ready!!
What are your Halloween plans? Drinking a festive cocktail?
Starbucks VIA winner!
I just realized that I never posted the winner for the Starbucks VIA gift pack, so here you go! It's Nelly Rodriguez of Cooking with Books. Congrats, Nelly! I'll email you for your contact info. ASAP 🙂
[Sues]