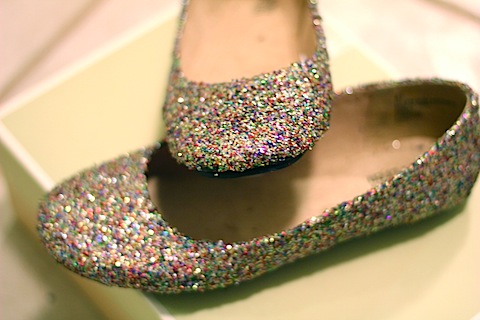 In case you haven't noticed in the past almost 3 years (!!) WANM has been in existence, I am not a crafty person. Nope, I leave the crafts to Chels and I stick to the kitchen (where disasters can easily be shoved down the garbage disposal!). It's not that I don't want to get into crafts; I've just never been good at them. I like following recipes. I don't like open-ended assignments where I have to choose colors and designs. I have no patience waiting for things to dry and I don't have a steady hand for decorating. My art teacher in 4th grade laughed at me because I, allegedly, don't hold scissors correctly. Crafts and I do not get along.
But still. Martha Stewart doesn't just cook now, does she? And you can't get better at something if you don't try. I just needed a little something to get me excited about crafts. Answer? GLITTER.
It started with these: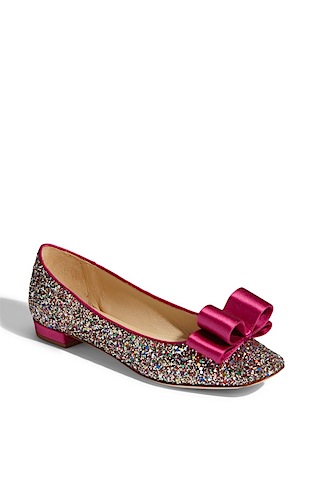 The Kate Spade Nell Glitter Flats. Swoon. But at $285, there was no way they were fitting into my budget. Then I spotted these: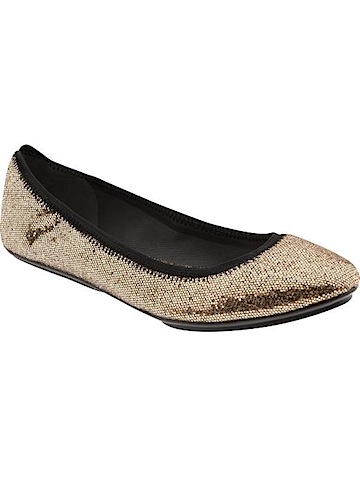 The Gap Glitter Ballet Flats. But they weren't exactly what I wanted (too sequiny rather than glittery). And $50 is still a lot for me to spend on a pair of Gap ballet flats.
And then, the other day, I was watching the Today Show and they had a whole segment on DIY glittering. And they showed everyone how to glitter their own shoes. And from there, the idea was born that I would do it myself!
I was immediately super excited, but Chris was a bit skeptical when I told him. He worried that glitter would cover the entire apartment by the time I was through. Understandable. Another reason my craftiness suffers is that I'm kinda sorta messy about things (I think it goes back to the whole patience thing). But once I get ideas into my head, he knows there's no way to hold me back!
So, I did a little research and found quite a few bloggers who had the same idea for DIY glitter shoes. Everyone was shouting about the wonders of Mod Podge. So, I decided to discover it for myself. And now I'll never look back. Mod Podge really is that amazing. I also purchased a pretty large container of multi-color glitter, since I wasn't sure how much I'd need and some clear glaze to spray over the shoes when I was done. This Design Master Dresden Glaze looked best since it was "flexible". Of course, I also needed a little spongy brush and a pair of plain flats. I found these perfect ones for $12.99 at Target. Since I'm used to the recipe thing, I'll lay it all out for you, ingredients and everything!
DIY Glitter Flats:
• Mod Podge (about 2 ounces)
• Glitter (any color, about 2 ounces)
• Foam Brush
• Clear Glaze Spray ( a few sprays)
• Pair of plain flats (and color will do)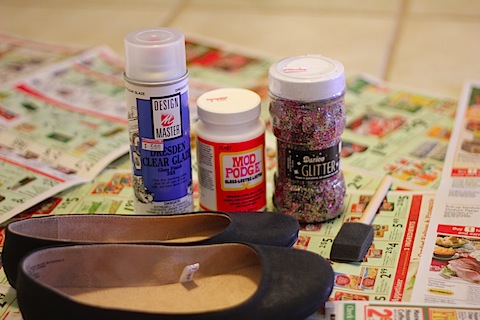 All together, I spent about $32 on supplies. So, it's not like I saved a ton of money making my own glittler flats, but besides the shoes, I have enough materials to make at least another 3 pairs. Plus, I'm sure I could find shoes on clearance somewhere for $4 or something; I just didn't want to keep looking (remember the whole patience thing?). The shoes could seriously be any hideous color you find for cheap because when you're done glittering, you won't be able to see the color.
Start by mixing the Mod Podge with the glitter. I suggest using A LOT of glitter.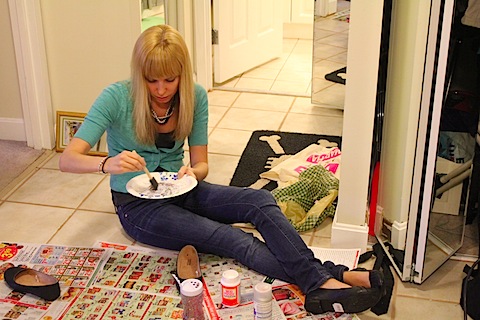 Brush a thin coat of the glitter/glue on to the shoe. At first, you'll probably be like "Uhhhh. This looks weird." And it does. But don't worry because the Mod Podge will dry clear. My first round, I didn't use quite as much glitter as I did the next few coats.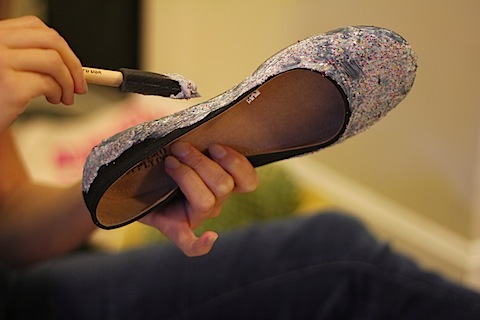 Since crafts and I don't usually get along and it was Sunday morning, I figured I would sip a mimosa while I crafted. See? You can combine hobbies. Make it fun!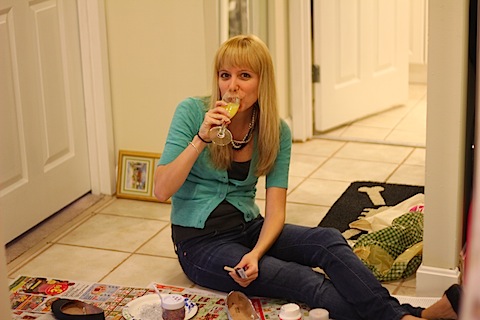 It helped.
Continue glittering both shoes all over. If your shoe has a larger, different color sole, you'll probably want to put masking tape around it. Lucky for me, my shoe was all shoe. Sorry, I don't know the technical words regarding shoes.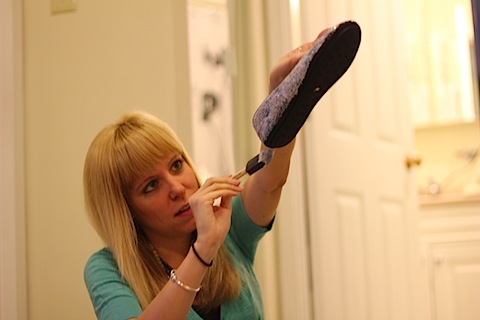 You'll probably need to hold the shoe from the inside, so you don't get yourself covered in glitter. Not that I would have minded much. But I tried to remember Chris's fear of a glittered apartment and I was careful. That's love right there.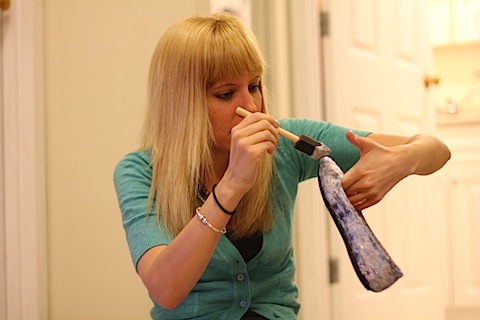 Once you have the initial coat on, you'll need to let it dry. With Mod Podge it took about 25 minutes. Then I brushed another coat on. Let it dry. Then another coat. I thought 3 was probably enough, but I went for 4 for good measure.
Once the last coat dried, I gave a healthy spray of the glaze spray and let that dry, too.
And behold: The Glitter!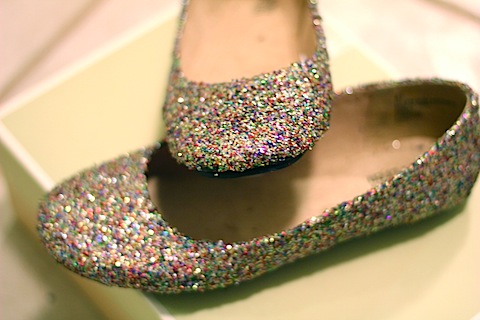 I have to admit I'm pretty thrilled with my brand new glitter flats.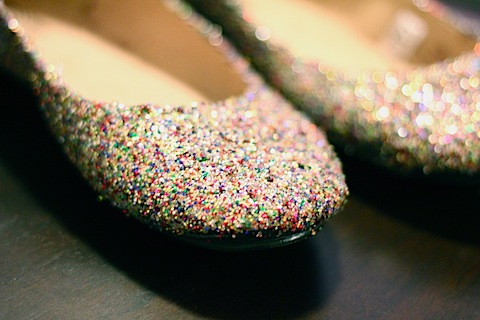 I wore them around today and they even seem pretty sturdy. The glitter is stuck on there like whoa (thank you Mod Podge!), but the shoes are still super flexible. I can bend them and the glitter is not going anywhere.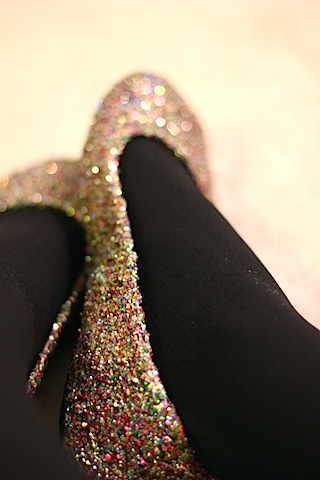 So, I'll probably end up wearing these everywhere when I want a dressy look, but don't feel like I'm in the mood for heels. They look snazzy with black tights.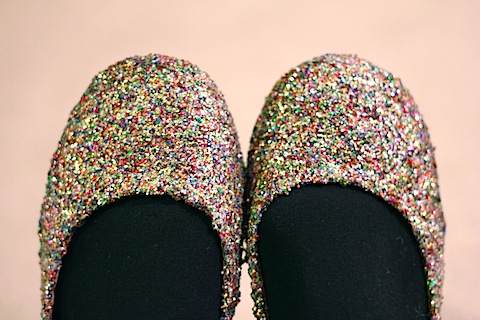 But I'm also loving them for dressing up jeans a bit.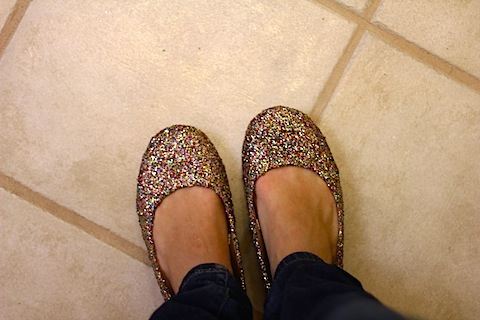 I just can't get over how easy it was to DIY these glitter flats. And how little of a mess I made- the glitter/Mod Podge mix doesn't spread everywhere. I have a feeling I'm going to have quite a few pairs of glitter flats in my closet very soon... In all different colors. Is anyone else up for a pair?! Perhaps a giveaway could be coming soon!
And since tis' the season to be sparkly (not that I won't be wearing these flats ALL year), I obviously had to wear some glitter polish to match my shoes.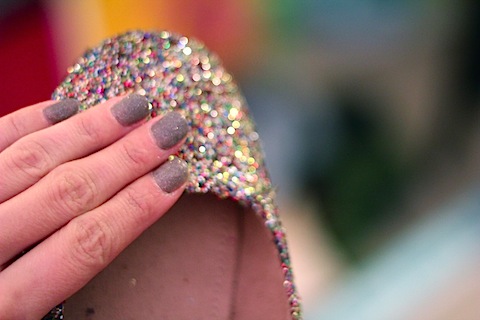 Don't get me wrong; I'm not going to turn into some big-time crafter. My place will probably always be in the kitchen (wow, I'm like a 50s housewife), but now I'm feeling a bit more confident at stepping to the crafting table from time to time. And yes, I probably will need a crafting table if I want to continue using glitter in the apartment. And most of the crafts I do in the future probably will involve glitter.
Man, I LOVE the holidays.
Are you "crafty"? What is your favorite craft project?
[Sues]