This Mint Oreo Ice Cream is an eggless ice cream and the perfect simple-to-make frozen summer treat.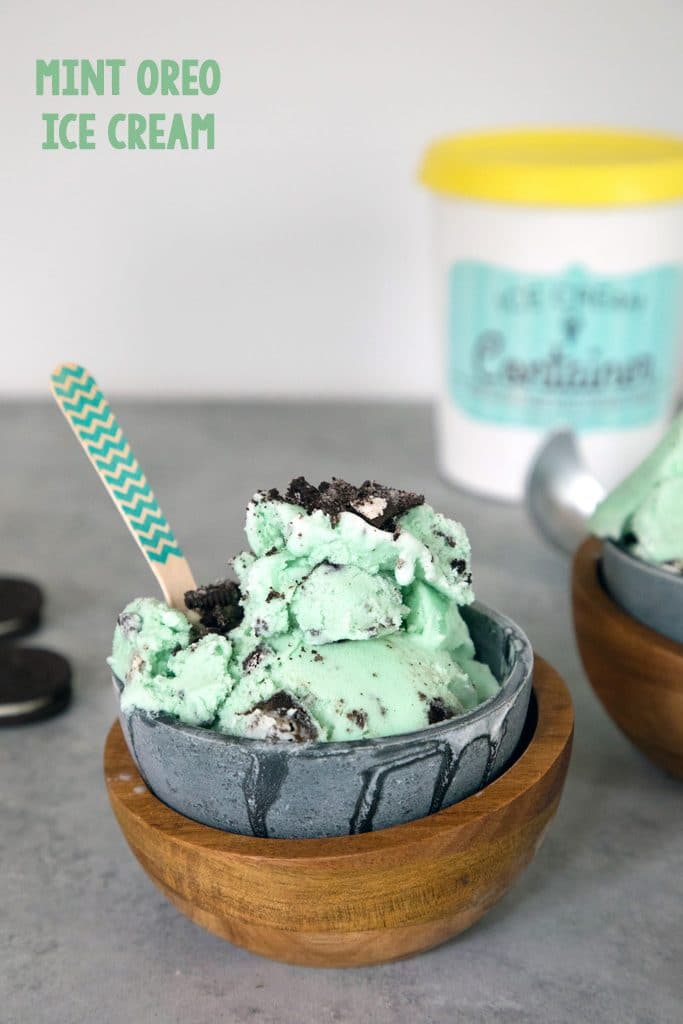 Hi everyone! I have another blast from the past recipe for you today. This one is a little bit sentimental for me because it was the first ice cream I ever made from way back in 2010. I made this in Chris's Brighton apartment kitchen while he was at work during my days of freelancing (back when he was just my boyfriend).
There was also a corresponding video for the Mint Oreo Ice Cream that lived within this quite popular blog post for WAY too long. I must have randomly decided "now would be a good time to make a video for ice cream, despite the fact that I've never made ice cream before, have no idea how to record a video, and haven't brushed my hair today."
But by all means, fantastic idea! How embarrassing. The good news is, I have a new video for you today! And while I'm still not a video pro, at least I'm not physically in this one (so, you'll never know if I brushed my hair or not) and the ice cream looks a whole lot prettier than it did seven years ago. Yikes.
OK, so at this point in my life, I've made a serious amount of ice creams. Maybe even bordering on a ridiculous amount. And I most often make egg-based ice creams, which I love. So, I was a little hesitant to revisit this egg-free ice cream.
But the recipe was so simple to whip up, I figured I'd give it a go. And omg. It was SO good. Like, I now realize (re-realize??) eggs aren't totally necessary to making a good ice cream.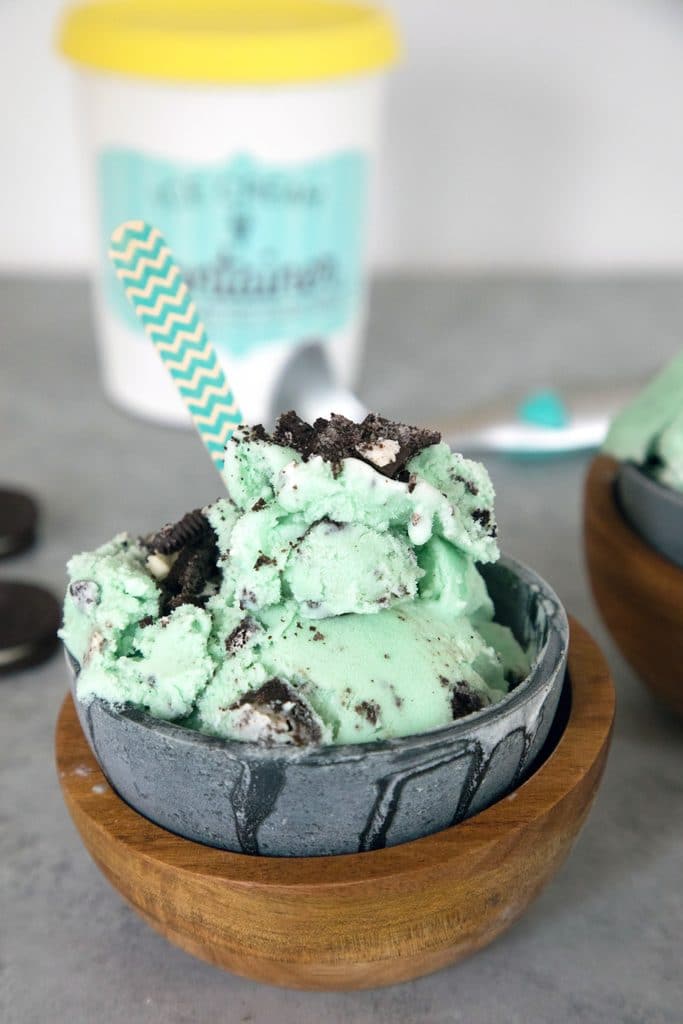 In lots of ways, this Mint Oreo Ice Cream is easier to make than my typical ice creams. Because there are no eggs involved, there's no need to heat anything up, which means you're really just mixing the ingredients together and freezing.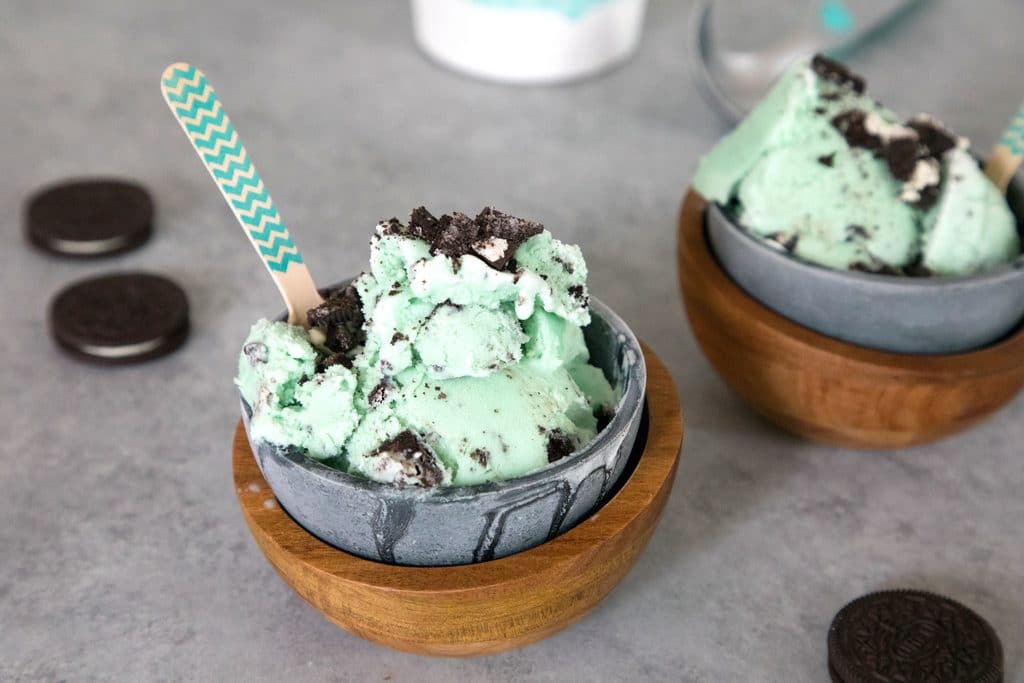 No excuses! You do need an ice cream maker, but I promise you it's worth the investment. If you own a KitchenAid mixer, I highly recommend getting the ice cream maker attachment (affiliate link). It's inexpensive and super convenient.
I keep the bowl in my freezer at all times, so it's always ready to go when an ice cream craving hits. I've owned it since 2010 when I made this very first ice cream and it's showing no sign of slowing down any time soon!
In terms of making this ice cream green, it's totally up to you. There's nothing wrong with a white mint ice cream... But I just love the green mint chocolate chip ice cream of my childhood, so I had to add a couple drops of food coloring here.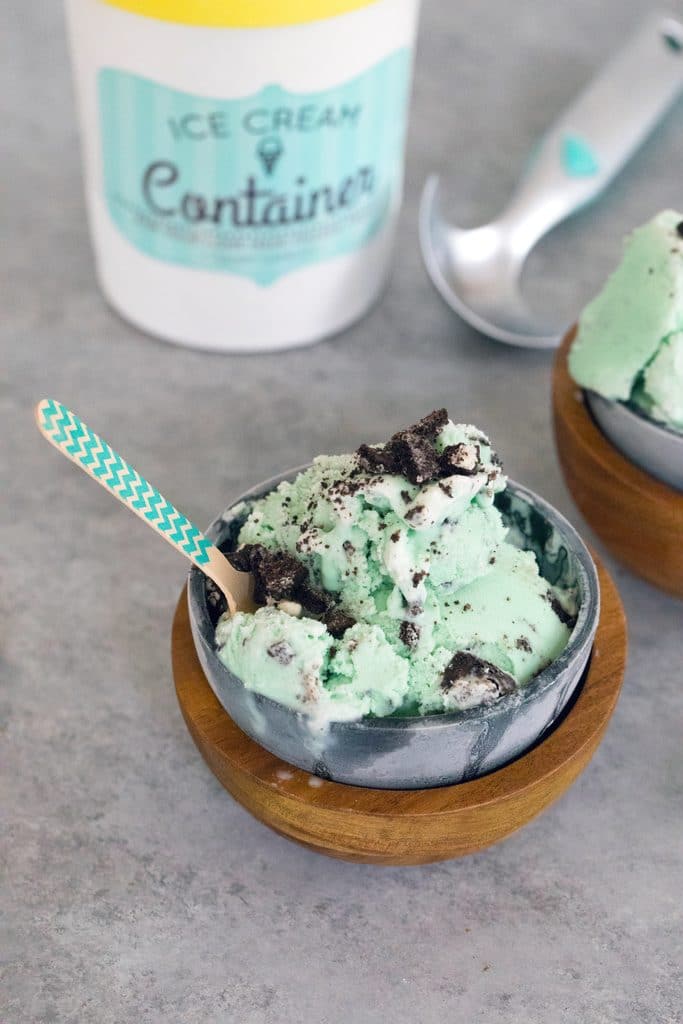 I'm feeling all kinds of nostalgia over the fact that I made this a full 7 years ago in what was the start of my love for making homemade ice cream. I wonder how many more ice creams I'll make in the next 7 years. I have a list of flavors I want to make ASAP... But I'll probably make it through those in the next 12 months!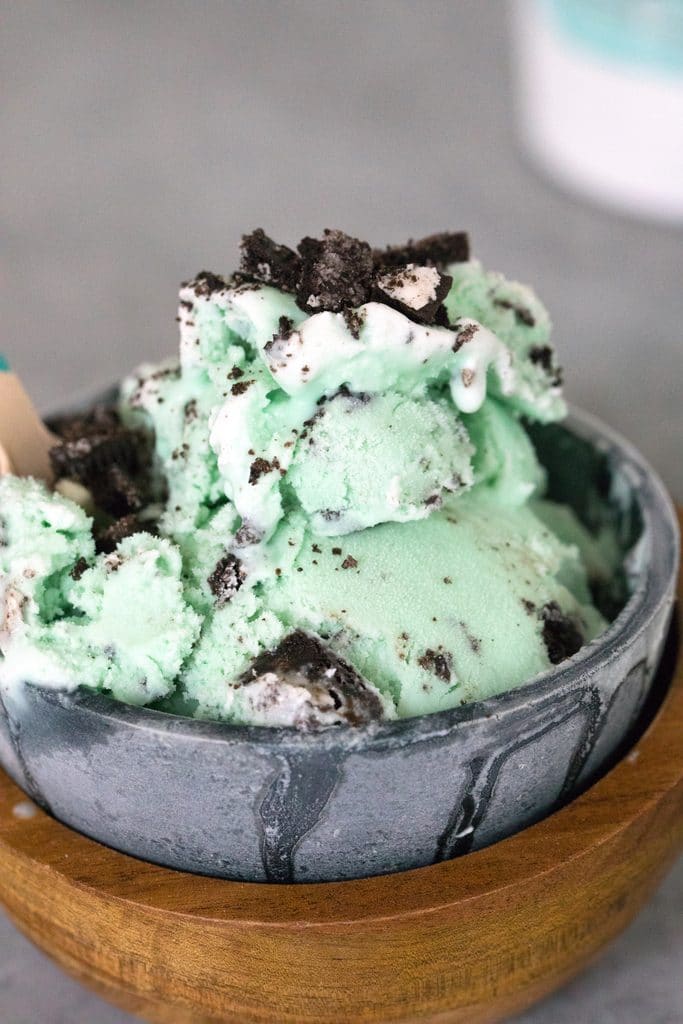 Can we talk about favorite kinds of ice cream? Mine totally depends on my mood, but basically varies between coffee and mint with either Oreo or heath bar mixed in.
So, this mint Oreo ice cream is pretty much a dream come true. Also... I have another super fun homemade ice cream coming up in a couple weeks that's a new favorite flavor for me.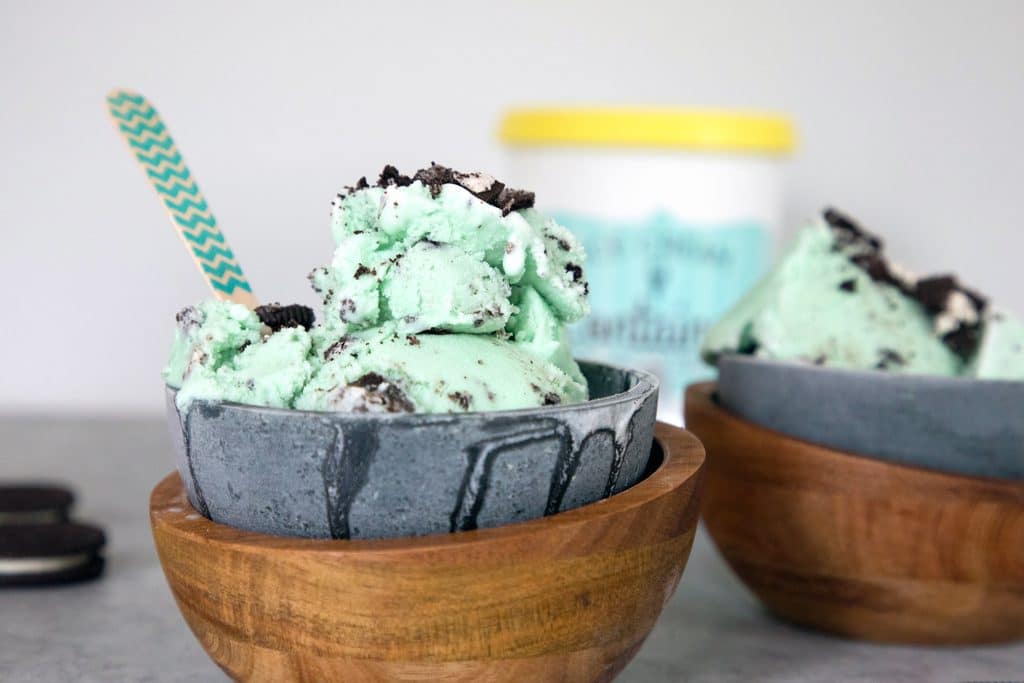 Now, all I want is 90 degree days with endless amounts of ice cream. It looks like we could be getting just that (well, the 90 degree days part; not necessarily the endless ice cream part) on Sunday. Sadly, not for Friday when I'll be heading to Ogunquit, Maine, for a day of fun.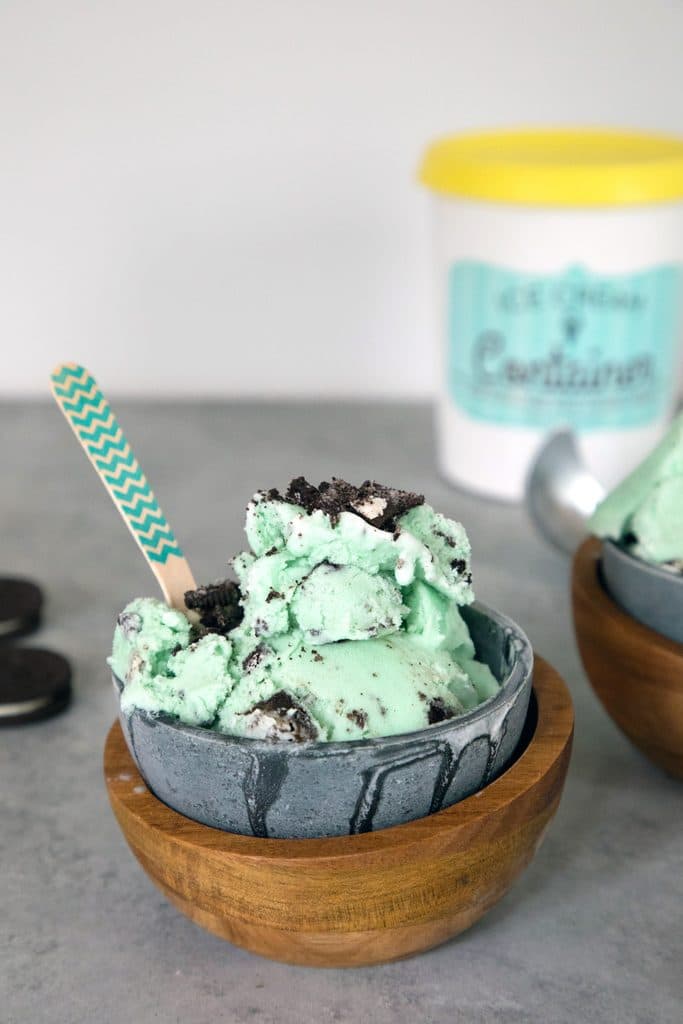 But honestly, this mint Oreo ice cream can even make a rainy cold day better. As long as you're sitting somewhere warm with an XL fleece blanket and maybe your gas fireplace turned on. Yes, I'm still turning my fireplace on in June. Sob.
Are you as obsessed with making homemade ice cream as I am?
For another delicious ice cream recipe, try my Brownie Coffee Ice Cream! And for more mint Oreo goodness,I can't wait to make this Mint Oreo Cake from Crumbs and Corkscrews!
📖 Recipe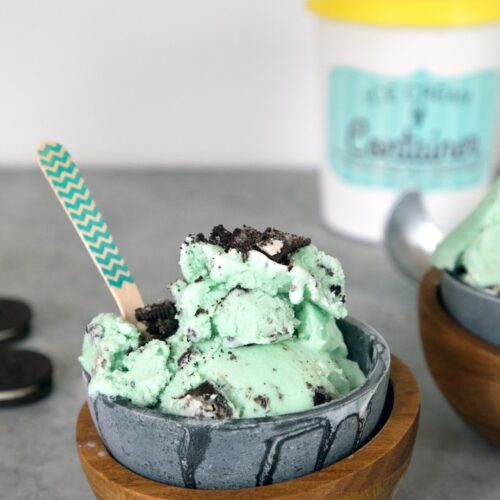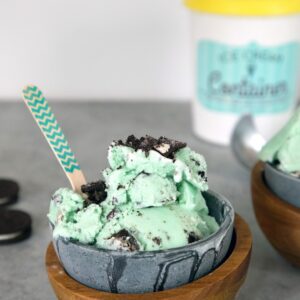 Mint Oreo Ice Cream
This Mint Oreo Ice Cream is an eggless ice cream and the perfect simple-to-make frozen summer treat.
Print
Pin
Rate
Makes:
1
quart of ice cream
Ingredients
2

cups

heavy cream

2

cups

2% milk

1

cup

granulated sugar

½

tsp

salt

1

tsp

vanilla extract

1

tsp

mint extract

2-3

drops green food coloring,

if desired

1

cup

crushed Oreos

(about 6-8 cookies)
Instructions
In a large bowl, whisk together heavy cream, milk, sugar, salt, vanilla, and mint extract until combined.

Stir in food coloring, if using.

Pour the mixture into your ice cream maker and follow manufacturer's instructions, likely running for about 20 minutes. Add crushed Oreos to ice cream when it's almost done processing.

Transfer ice cream to containers and freeze for at least 4 hours before serving.
Share a Photo of Your Finished Recipe!
Mention @wearenotmartha and share a photo if you've made the recipe!