There's something to be said for a big bowl of soup. On a cold winter's night, nothing warms your bones quite like a bowl of steaming hot soup. In the summer? Not so much. But have you discovered the joys of cold soups? Perfectly refreshing and often packed with nutrients, cold soups are really pretty perfect.
My mom makes a killer gazpacho. And though I've been wanting to make my own forever, I keep telling myself I need to wait to get her recipe. But I never do. Maybe because it likely tastes so much better when she makes it. But right when I got my July issue of Martha Stewart Living, I bookmarked the recipe for peach gazpacho and have been thinking about it ever since. Some people think fruit in soup is all crazy, but I say it doesn't get much better than summer peaches for dinner on a steamy hot day. And that's hard to argue with, right?
This recipe is delightful for those evenings it's just too hot to cook. But you know me, and I just love turning my oven on when it's 95 degrees out (this is sarcasm... But I do it every single time without fail. Which means I must love it). So, I decided to make some garlic bread to go along with my cold soup. And I added some jalapeno to it for a kick that the peaches would immediately calm. Food in harmony I call it.
Peach Gazpacho (serves about 4):
½- ¾ C water
6 ripe peaches (about 2.5 lbs), peeled, halved, puitted, and cut into chunks
½ medium cucumber, peeled, seeded, and cut into chunks
1 small garlic clove, minced
1 T champagne vinegar, plus more for drizzling (I used white wine vinegar)
2 T extra-virgin olive, plus more for drizzling
Coarse salt and freshly ground pepper
2 T coarsely chopped fresh flat-leaf parsley (or cilantro)
Garnish: Finely chopped red bell pepper and Hass avocado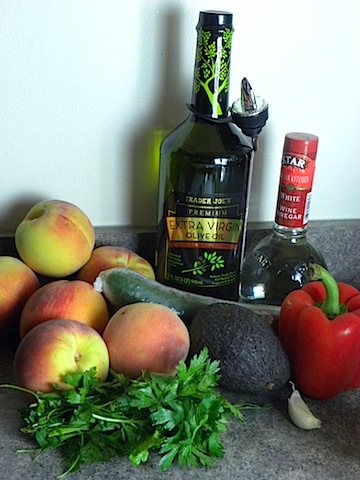 The recipe is really incredibly simple. Which makes it even more suited towards those sweltering nights when you can't bear to get up off the couch and lug yourself into the kitchen.
Another bonus? Peaches are almost always on sale at the grocery store at this time of year.
I started by peeling and chopping my peaches into chunks.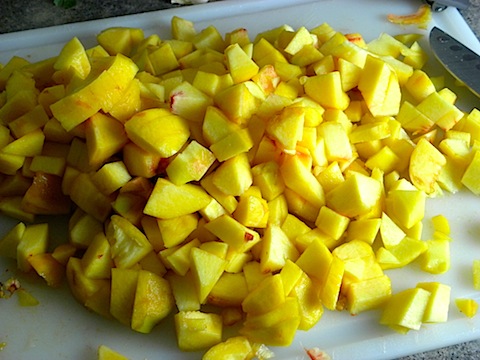 I also peeled, seeded, and chopped the cucumber and garlic. And threw the 3 in my food processor with ½ C water. I added in the vinegar and olive oil, ½ t salt and ¼ t pepper.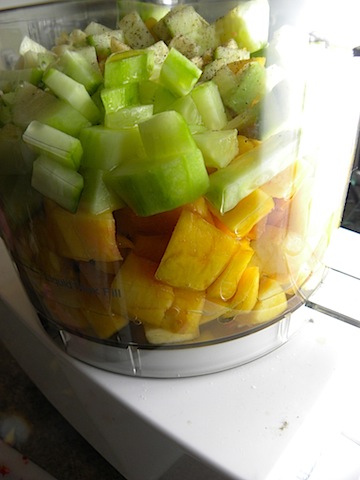 And then I pulsed away until the mixture was smooth. Mine was perfect, but if I felt it was too thick, I could have added more water.
I stuck it in the fridge for 2 hours and waited anxiously for dinner time. La la la.
Then I got the soup out of the fridge and seasoned with some more vinegar, salt, and pepper.
I topped with some parsley, chopped red bell pepper, and avocado. And drizzled some more oil on top.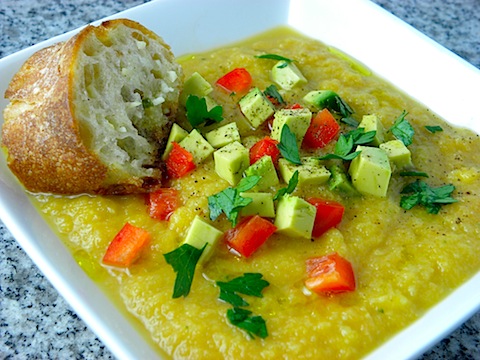 Delicious!! The soup was a bit different than I expected, but maybe it's because my peaches weren't super sweet. It actually tasted a bit more strongly of cucumber (which I love!), so if you aren't a huge fan of cukes, I would use a little less. But I really enjoyed how it had a slight sweetness to it, almost as an afterthought.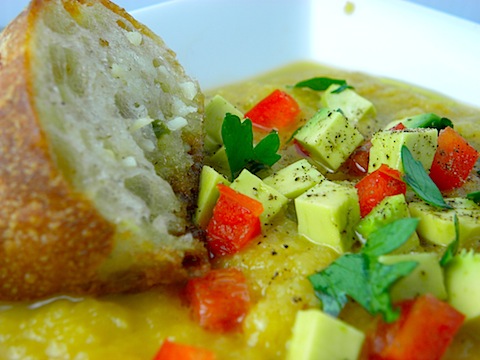 And the suggested garnishes were wonderful too.
Can you even believe how easy that was? I'm telling you, with a food processor, anything is possible! This is a must-make for all cold soup lovers this summer! Serve it out by the pool when you have some friends over and they're sure to go wild. And if you can't bear a meal without some kind of meat, serve before your main course. Or alongside a nice juicy steak.
By the way, you can keep the soup in the fridge overnight; just don't add the toppings until you're ready to serve!
What's your favorite cold soup?
[Sues]