About a month ago, I saw these beautiful creations on the blog of TKTC. She had found them on the blog of my achy bakey heart (cutest name ever). I think I instantly started drooling as anything with peanut butter and chocolate is apt to make me do. I knew I had to make them, but I was waiting for the right occasion as I didn't really want to be sitting in my apartment with a platter full of peanut butter chocolate blondies and nobody to eat them with. Because, trust me, I would have eaten them. Luckily, the perfect occasion came along in the form of an invite to TKTC's house on Cape Cod.

TKTK and me, the only time we weren't stuffing sugar into our mouths.
Sara, friend and fellow peanut butter addict, came over to help me bake. The recipe was super easy and these things were seriously amazing. I think I'm an even bigger fan of peanut butter now…if that is even possible.
Start by putting parchment paper in your 13×9 baking pan and buttering it. Beat together the butter (2 sticks softened) and sugar (1 3/4 cups) until it's nice and fluffy. Then add and beat in the peanut butter (1 cup). I'm sure whatever kind you use will make your blondies taste a bit different. I used the cheap grocery store kind (equivalent to Jiffy or Skippy) and it worked well so I'm thinking you'll want to use some kind with salt in it.
Beat in the eggs (2), egg yolk (1), and vanilla (2 t). Then mix the flour (2 c) on low until it's combined. And mix in the chocolate chips (2 cups)! Spread the batter in the pan making sure it's super smooth and bake for about 45 minutes. That sounded like a way long time to me, but it really did need that long to turn a bit golden and cook through.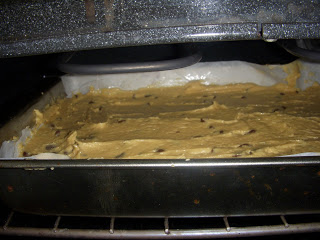 Now, you're supposed to let the blondie cool for about 1.5 hours, but Sara and I are incredibly impatient when it comes to baked goods, so we probably only gave it about 20 minutes (can you blame us??). We probably would have given it even less, except for the fact that we needed to make the ganache.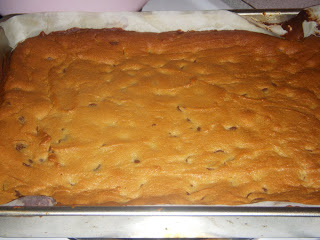 This was probably one of the easiest ganaches I've ever made and it came out really well. Just put the chocolate chips (1 1/2 c) in a heatproof bowl. Then put your heavy cream (1/2 c) in a small saucepan and bring it to a boil. Pour the cream over the chocolate chips and let it stand for a minute. Whisk in the butter (1 T) and keep whisking until the chocolate is all melted and smooth.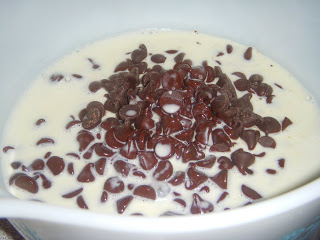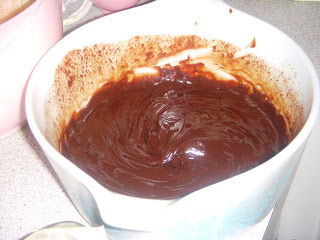 Then spread the ganache on the blondies and let stand for about 15 minutes. It might help if you put them in the fridge too. Our ganache didn't quite harden on top, likely because the blondies were still hot when we poured the ganache on.
All I'm going to say is if you love peanut butter and chocolate, you really, really need to make these. Sara and tested them immediately when they were ready and were extremely happy with how they came out. And judging from the empty tupperware, it seemed like TKTC and family enjoyed them as well.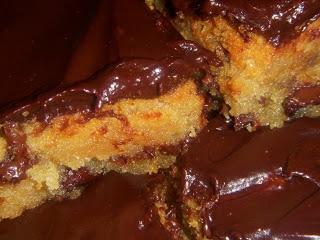 To be honest, I can't wait for the next event I'm going to where I can bake these again. And in the meantime I'm trying extremely hard not to make them before I actually have somewhere to bring them to. We'll see how long that lasts.
[Sues]