Brrrr! Cold enough out there for you? I just came back from a lovely long weekend in Virginia, where, yes it was cold, but definitely not Boston-level of cold. Boston is the kind of cold where right when we stepped off the plane yesterday morning, it hit us hard. Welcome home. And now that we woke up to more rough weather this morning (snow that turned into freezing rain), I figured we all need a nice warm-up meal. I'll tell you about my Virginia adventures later this week, after I organize the 50 billion photos we took!
I spotted this recipe for Polpette alla Romano, otherwise known as Roman-Style Meatballs, on a Boston-based blog called "Just Add Cheese." A food blog all about cheese? That was definitely going on my reader. Here's to hoping I can meet the lady geniuses behind this blog soon (I've been seriously absent from the Boston blogging scene lately due to so much other craziness going on in my life). Anyway, Meesh got this recipe from The Essential New York Times Cookbook . And while the meatballs aren't absolutely loaded with cheese (seriously, if you love cheese, you need to make the gorgonzola-filled meatballs I made a while back), they are packed with prosciutto. And y'all know how I feel about prosciutto, yes?
I would make these meatballs over and over again. The sauce was pretty fabulous, too, but I don't think it was my absolute favorite sauce in the world. I did love all the veggies involved though.
For the Meatballs:
• 1 ¼ lbs. ground beef
• ¼ lb. prosciutto, finely chopped
• 1 C fresh breadcrumbs
• ½ C whole milk
• ¼ t garlic, finely minced
• 3 T parmesan cheese, freshly grated
• 3 large eggs
• ⅛ t freshly grated nutmeg
• ¼ C flat leaf parsley, finely chopped
• Salt and pepper
• 1 T olive oil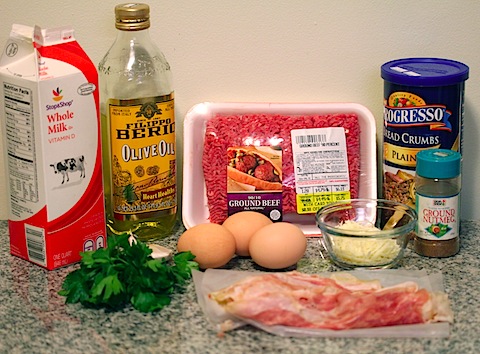 For the Sauce:
• ¼ C bacon fat or olive oil (or you can use finely diced pancetta or bacon, salt pork, or ham fat)
• ¼ C onion, finely chopped
• ¼ C carrot, finely chopped
• ¼ C celery, finely chopped
• ¼ C zucchini, finely chopped
• 1 ½ lbs. ripe tomatoes, peeled, or 3 C canned tomatoes
• Salt and freshly ground black pepper
• 1 T fresh basil, chopped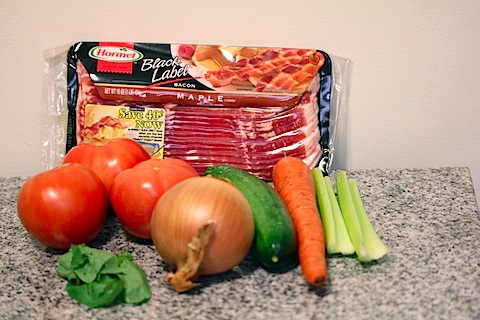 First, finely chop the prosciutto.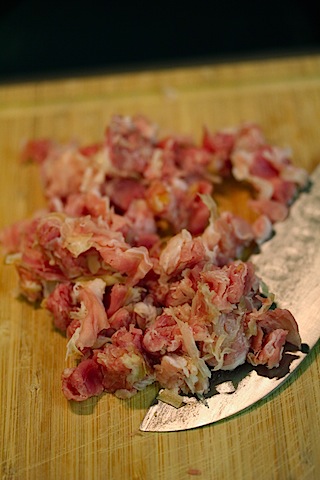 Mix the prosciutto with the ground beef in a large bowl.
In a separate bowl, combine the bread crumbs and milk and blend together well. Upon opening my bread crumb container, I realized they went bad (ew!), so I ended up using whole wheat bread crumbs instead.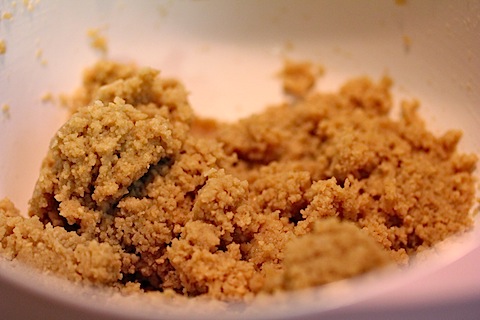 Let the bread crumb mixture stand for a minute and then add it to the beef.
Also add the garlic, grated cheese, eggs, nutmeg, and parsley, a little bit of salt, and some pepper.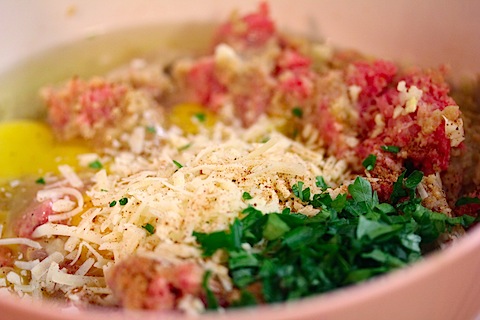 Make sure you blend the mixture together well.
Shape into about 36 meatballs about 1 ½ inch in diameter. I ended up with fewer meatballs because I made them all a tad bigger. As Meesh claims the recipe says, don't "mush" the meatballs together when forming. They should be lightly formed!
Heat a teaspoon of olive oil in a large skillet and add a few meatballs to the pan. Make sure you don't overcrowd them though; the meatballs like their space! Turn them frequently, so they cook evenly and brown all over. Continue with the remaining meatballs.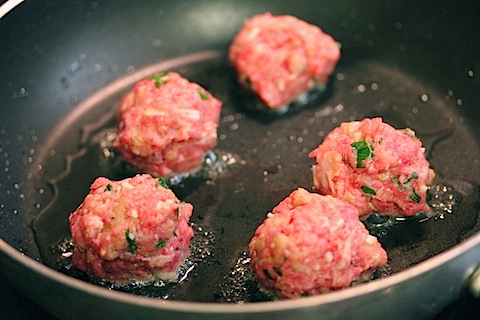 While my meatballs were cooking, I got working on my sauce. Like I said earlier, my favorite part of the meal was the meatballs. The sauce was delicious and I loved how many veggies were in it, but I felt it was lacking a bit. Maybe because I used fresh tomatoes, which aren't exactly in season right now. They just weren't flavorful enough... I guess next time I should use canned tomatoes.
Anyway, heat the oil of your choice in a skillet and add the onion, carrots, celery, and zucchini. I used the bacon fat, but then ended up throwing in the chopped up bacon as well... because the more meats I could involve in this meal, the merrier. Keep stirring the veggie mixture and cook it until the onion starts to brown.
Put your tomatoes into a blender or food processor and blend. See how blah the color of mine is?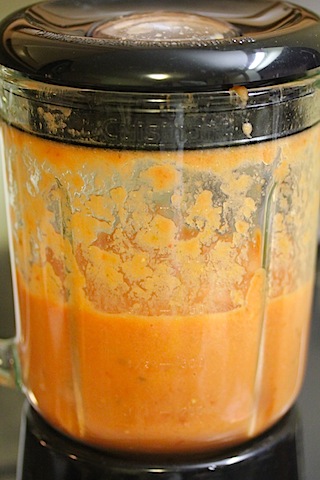 Then add the sauce to the vegetable mixture and cook for about 10 minutes. Add salt, pepper, and basil, and set aside.
Finish cooking all your meatballs.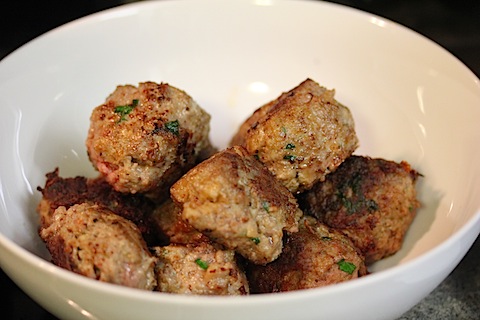 Now, add the meatballs to the sauce and simmer about 15 minutes, turning the meatballs occasionally.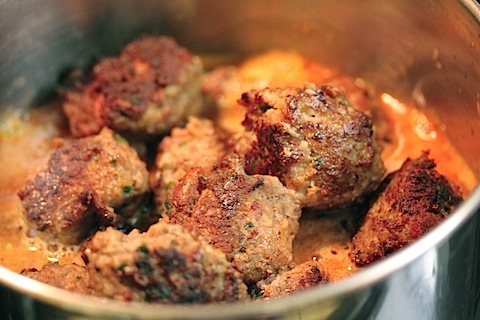 I served my meatballs and sauce over whole wheat spaghetti with grated parmesan and chopped basil on top.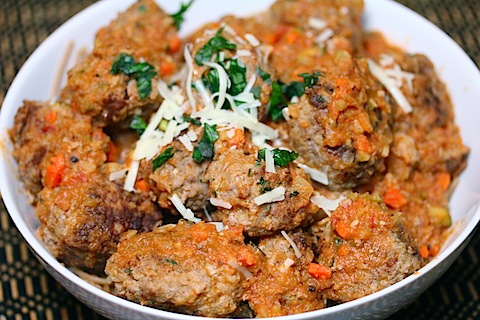 This is most definitely a perfect snowed-in meal. Sitting on the couch with a big bowl of pasta and meatballs loaded with prosciutto and parmesan while watching The Bachelor is basically my ideal night anyway. But give me a pretty snowy view through the window and I'm even happier. Especially since I don't have to go outside and shovel. Yay for the joys of living in an apartment building versus owning a home.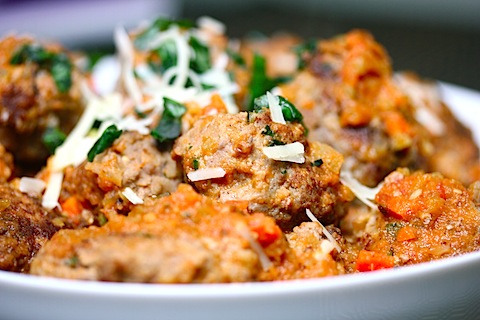 I swear I didn't eat that whole bowl you see here. But I probably could have. Is anyone else just crazy about meatballs? I would probably add them to the list of things I could make every night in a different variation (along with cupcakes, risotto, cinnamon rolls, and martinis). I mean, there are SO many different meats and additions you could work with. I kinda feel like there needs to be a meatball cookbook in my future (don't steal my idea!).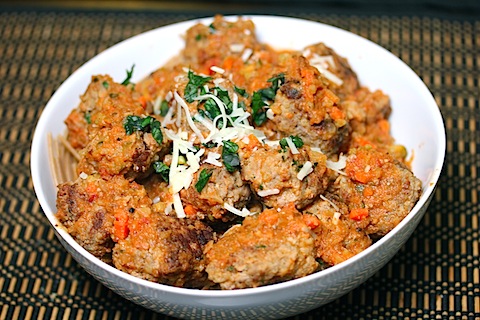 I know a meatball is good if I end up barely eating any of the pasta on my plate. I am a pasta fanatic and could easily eat ½ a pound. But with meatballs this good, I didn't even feel the need to pig out on carbs.
Do you have a favorite meatball recipe of all time?
I hope your day isn't too snowy/rainy/cold/windy/slippery. And if it is, make a meal like this and you'll instantly feel better!
[Sues]