When it comes to the whole cooking versus baking thing, I think it's safe to say I prefer cooking over baking. I like cooking because it gives me the freedom and flexibility to add a dash of this and a tad of that and if I mess up there's generally several ways to get back on track. With baking, I feel like I have to be a mad scientist to understand why certain things work the way they do and once I mess up (if I mess up) I have no clue how to back out of it besides dump it in the garbage. I do like experimenting though, so I really want to start baking some more and find some go-to recipes. Plus, I've been craving baked goods like crazy the past few weeks so I figured I'd better get to baking.
A while back when we interviewed Bethenny Frankel, I got her book The Skinnygirl Dish. Sues and I have both made a couple of Bethenny's recipes (here and here) and I've found her book to be a really great source for simple and practical recipes that won't break the bank and are definitely healthier options that won't leave you feeling like you weigh ten tons.
I recently made Bethenny's Not-So-Red-Velvet Cupcakes which turned out to be an extremely moist and delicious cupcake. The recipe is filled with healthier alternatives to what we're used to seeing in most baked goods. The cupcakes aren't exactly red (hence the name) because Bethenny isn't a fan of artificial coloring, and neither am I, so instead she uses beet juice as a coloring agent and to add some more nutrients. The thing is, the beet juice makes a really pretty pinkish batter but once you put them in the oven the color goes away.
Here's what you need, for about 24 cupcakes (I purchased all of the specialty items at Whole Foods):
• 2 1/2 cups oat flour
• 1 1/2 cups raw sugar
• 1 teaspoon baking powder
• 1 teaspoon baking soda
• 1 teaspoon salt
• 1 teaspoon cocoa powder
• 3/4 cup vegetable oil
• 1 cup low-fat buttermilk
• 2 large eggs, at room temperature
• 3 tablespoons beet juice (from a can of beet juice)
• 1 teaspoon white vinegar
• 1 teaspoon real vanilla extract
Here's what you do:
• Preheat oven to 350 degrees. Put liners in a cupcake or muffin pan. Make in batches if you don't have enough pans for the full amount.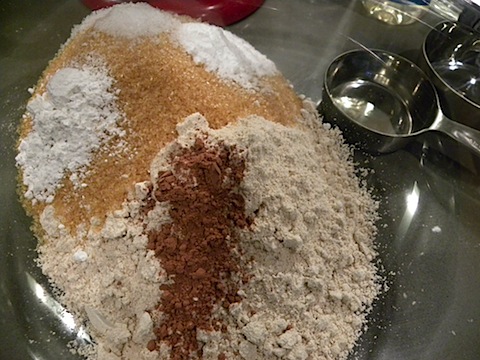 • In a large bowl sift flour, sugar, baking powder, baking soda, salt, and cocoa powder.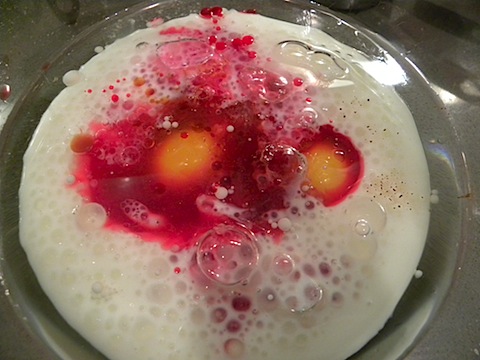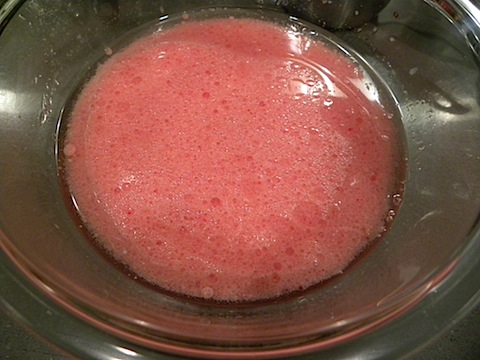 • In a different bowl, whisk the vegetable oil, buttermilk, eggs, beet juice, vinegar, and vanilla extract. The color of this was stunning! Too bad it didn't stay!
• Mix the flour and oil mixtures and beat with an electric mixer until very smooth, about 2 minutes. Pour the batter into the cupcake liners and bake for about 20 minutes, rotating the pan after 10 minutes. The batter is pretty thin so be careful when you pour it in the liners!
• When the cupcakes cool completely, frost them with the Cream Cheese Frosting, recipe immediately following.
Cream Cheese Frosting (which is to die for, by the way! I licked it off the mixing paddle of my Kitchen-Aid so much that when I was cleaning up the kitchen I thought I had already washed it, eeeek! :P)
Here's what you need:
• 8 ounces reduced-fat cream cheese, softened
• 1/4 cup nondairy butter, softened
• 1/2 teaspoon real vanilla extract
• 1/4 teaspoon almond extract (it's worth buying if you don't have it, just to make this frosting!)
• 1 cup confectioners' sugar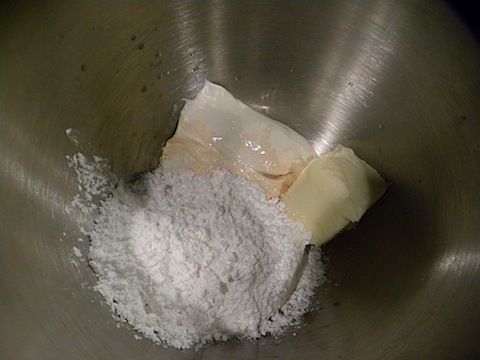 • Mix all of the ingredients in a large bowl and beat with an electric mixer until smooth. Refrigerate for at least 30 minutes if frosting isn't firm enough. Once I took it out of the refrigerator it was a bit too firm for such a delicate cupcake so I left it out at room temperature for a handful of minutes to get it to the right consistency.
Since the cupcakes don't exactly come out red, I just sprinkled a few colored Jimmies on to give some color. Like I mentioned, these cupcakes are really delicate, I'm assuming because of the oat flour? Although I have no idea because I'm not a big baker. But I think it's worth making and eating a dessert that's so tasty but at the same time not horrible for the waistline. That's definitely one of my favorite things about Bethenny's book. All of the recipes swap out "regular" ingredients for more healthy ingredients without compromising the flavor at all.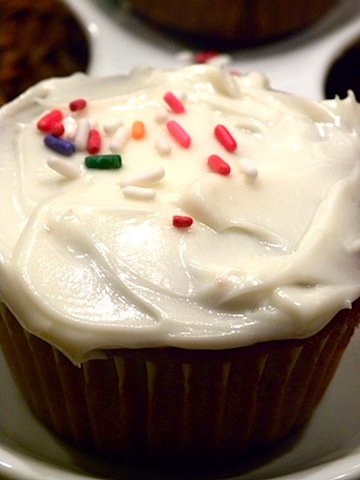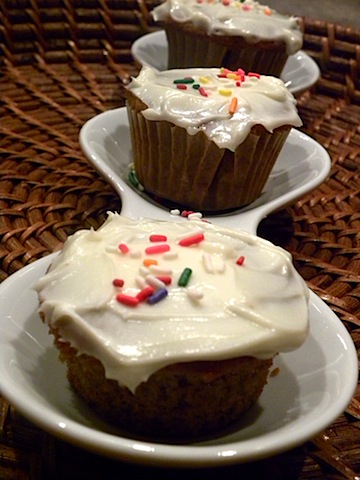 ——-
To completely change the subject! More feta! For dinner tonight, I made a lemon spinach couscous salad with diced cucumbers and tomatoes topped with a thin chicken breast that I stuffed with Athenos lemon oregano feta cheese. YUMMMM is all I have to say about this. Simple, quick, and flavorful dinner!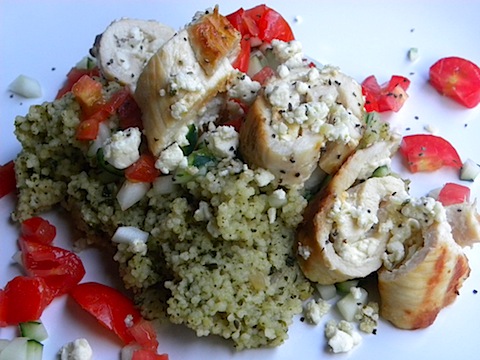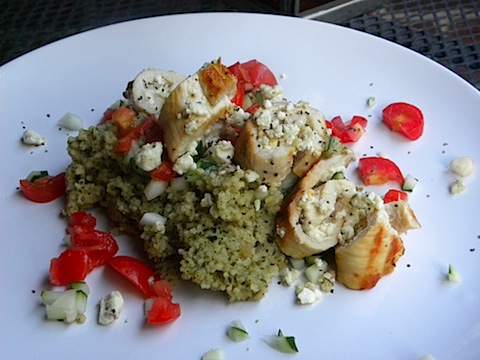 Now pardon me while I go devour two Not-So-Red Velvet cupcakes 😉
[Chels]
———–
The Feta Friday Giveaway winner is: Katie who said: "I'm stealing this story from my husband: one time he ran out of cranberry juice for his famous BB sauce and used Mountain Dew instead. The ribs were unbelievable!" Congratulations, Katie! We'll be in touch with you to get your information 🙂