Bethenny Frankel's Not-So-Red Velvet Cupcakes are not quite red like your typical red velvet cupcakes. But they're also a little bit healthier and gluten-free!
(This recipe for Bethenny Frankel's Not-So-Red Velvet Cupcakes was originally posted in July 2010, but was updated with new photos in 2019).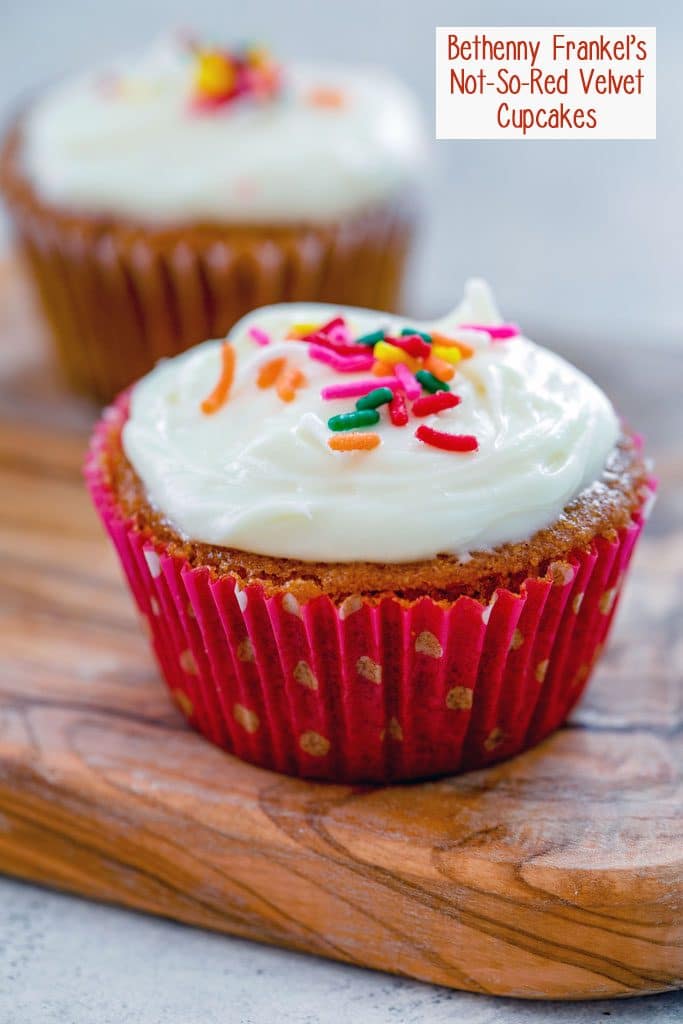 When it comes to the whole cooking versus baking thing, I think it's safe to say I prefer cooking over baking. I like cooking because it gives me the freedom and flexibility to add a dash of this and a tad of that and if I mess up there's generally several ways to get back on track. With baking, I feel like I have to be a mad scientist to understand why certain things work the way they do and once I mess up (if I mess up) I have no clue how to back out of it besides dump it in the garbage. I do like experimenting though, so I really want to start baking some more and find some go-to recipes. Plus, I've been craving baked goods like crazy the past few weeks so I figured I'd better get to baking.
A while back when we interviewed Bethenny Frankel, I got her book The Skinnygirl Dish. There are even a couple of Bethenny's recipes on our blog (here and here) and her book is a really great source for simple and practical recipes that won't break the bank and are definitely healthier options that won't leave you feeling like you weigh ten tons.
BETHENNY FRANKEL'S NOT-SO-RED VELVET CUPCAKES RECIPE
I recently made Bethenny Frankel's Not-So-Red Velvet Cupcakes which turned out to be an extremely moist and delicious cupcake. The recipe is filled with healthier alternatives to what we're used to seeing in most baked goods. The red velvet cupcakes aren't exactly red (hence the name) because Bethenny isn't a fan of artificial coloring, so instead she uses beet juice as a coloring agent and to add some more nutrients. The thing is, the beet juice makes a really pretty pinkish batter but once you put them in the oven the color goes away and the cupcakes turn a little brown.
Not only are these cupcakes a tiny bit healthier than the typical cupcake, but they're also gluten-free! I happily and comfortably eat gluten, but I know so many people can't, so I'm excited this yummy cupcake recipe can be eaten by almost anyone. The cupcakes don't contain all-purpose flour and instead have oat flour. I easily found this at my local grocery store, but you can also find it at Whole Foods and on Amazon, too. Note that if you really need to be gluten free, you should by an oat flour that's specifically labeled gluten-free. The one I used isn't, which means there is potential for trace amounts of gluten. However, Bob's Red Mill also makes an oat flour that is specifically labeled gluten-free.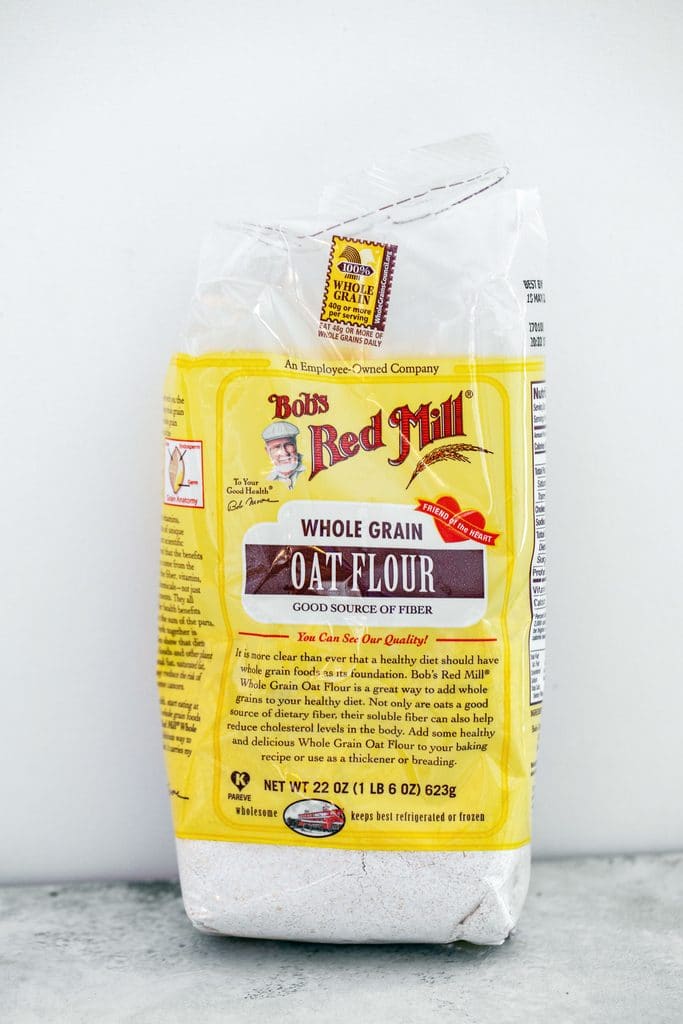 In addition to using oat flour, these cupcakes contain raw sugar (instead of granulated), buttermilk, vegetable oil, beet juice, and some white vinegar. Those are all the ingredients that make these a little bit different than the typical cupcake recipe.
The cupcakes are made in a very similar manner to a typical cupcake: whisking together the dry ingredients, mixing together the wet ingredients, and then blending all together. Normally, I tell you not to mix your batter too much or else you'll get a dense cupcake. But for this gluten-free cupcake recipe, you're supposed to mix the batter for about 2 minutes, until it's very smooth.
My favorite part of this was mixing the wet ingredients because look at how pretty they are in that gorgeous pink color! As you can see from the final cupcake photos, the color did not stay at all and definitely ended up as more of a brown than anything. They don't call them not-so-red velvet cupcakes for nothing!
Note that your batter will be quite thin as you fill your liners and to only fill them about ½ way full. I filled ¾ of the way full the first time and had some major overflowing in the oven.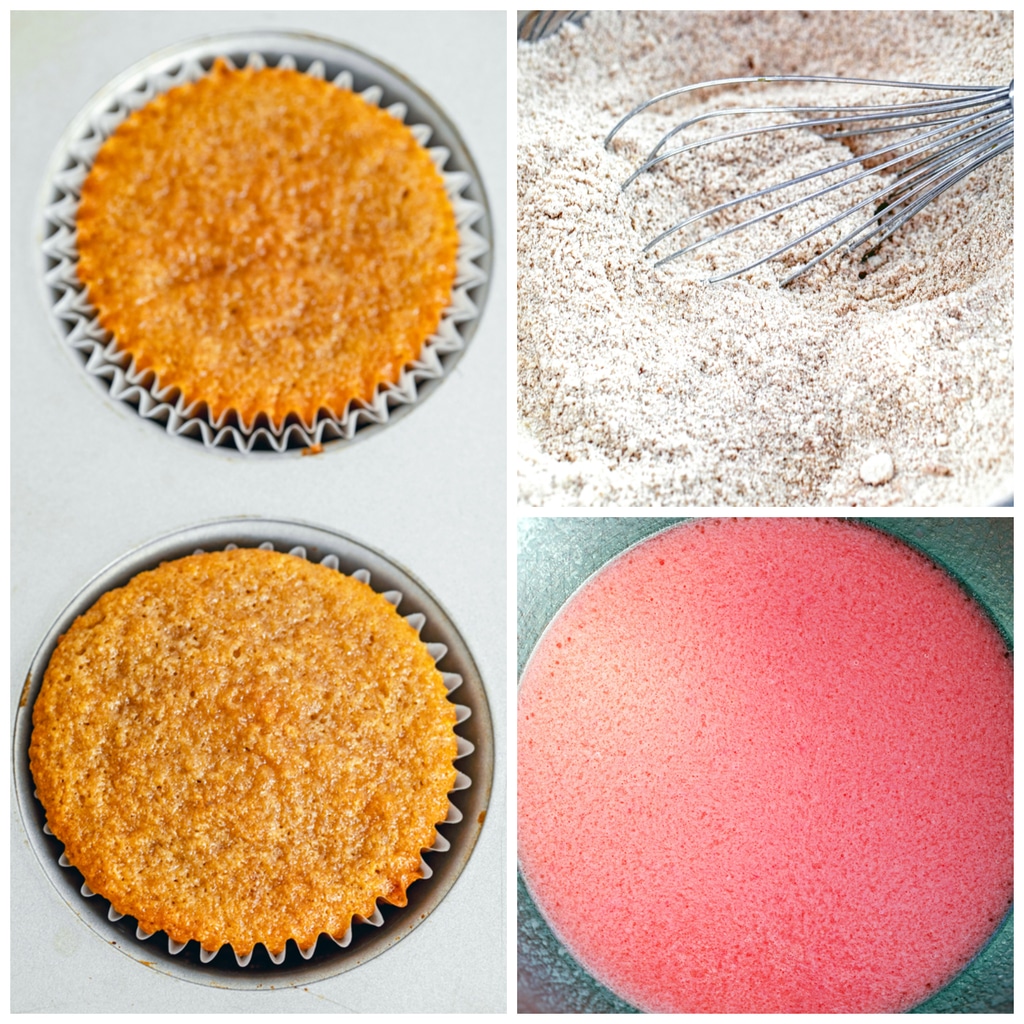 When the cupcakes cool completely, frost them with the cream cheese frosting... Another super easy-to-make recipe. Which is to die for, by the way! I licked it off the mixing paddle of my KitchenAid so much that when I was cleaning up the kitchen I thought I had already washed it. Oops! The frosting uses reduced-fat cream cheese and almond extract (which is SO yummy in this frosting). Bethenny's recipe calls for nondairy butter, but I used regular since I have no dairy aversion (but if you want dairy-free, use nondairy butter and be aware that cream cheese isn't totally dairy free). It's also recommended that it sit in the fridge for about 30 minutes to firm up a bit before you frost the cupcakes.
I made a double batch of the cream cheese frosting since 1 batch only got me through half the cupcakes. Maybe I like a lot of frosting?
I also added regular artificially colored sprinkles on these naturally colored cupcakes, which is obviously a no-no if you're trying to keep things all natural. But the cupcakes needed a little extra color since they're not-so-red velvet and I couldn't find my naturally colored sprinkles.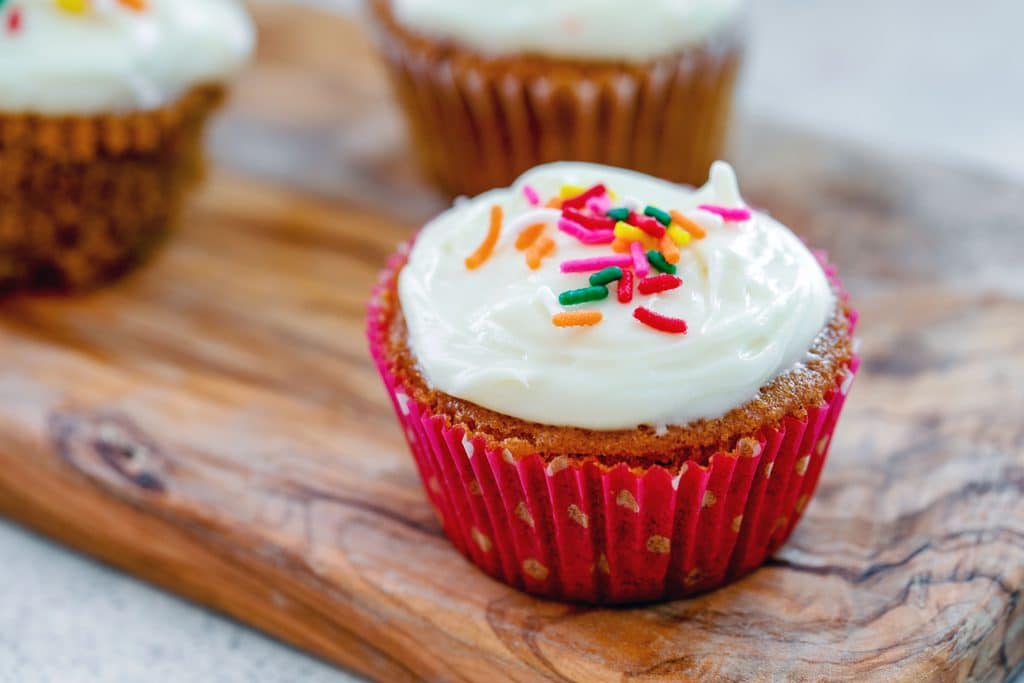 These gluten-free red velvet cupcakes are incredibly delicious, but they definitely have a bit of a different consistency from the typical red velvet cupcake. I found them to be a lot more crumbly and they fell apart super easily. Not necessarily a bad thing, but let's just say they don't look so hot when you take them out of the cupcake paper.
I guess delicate is a better word? Yes.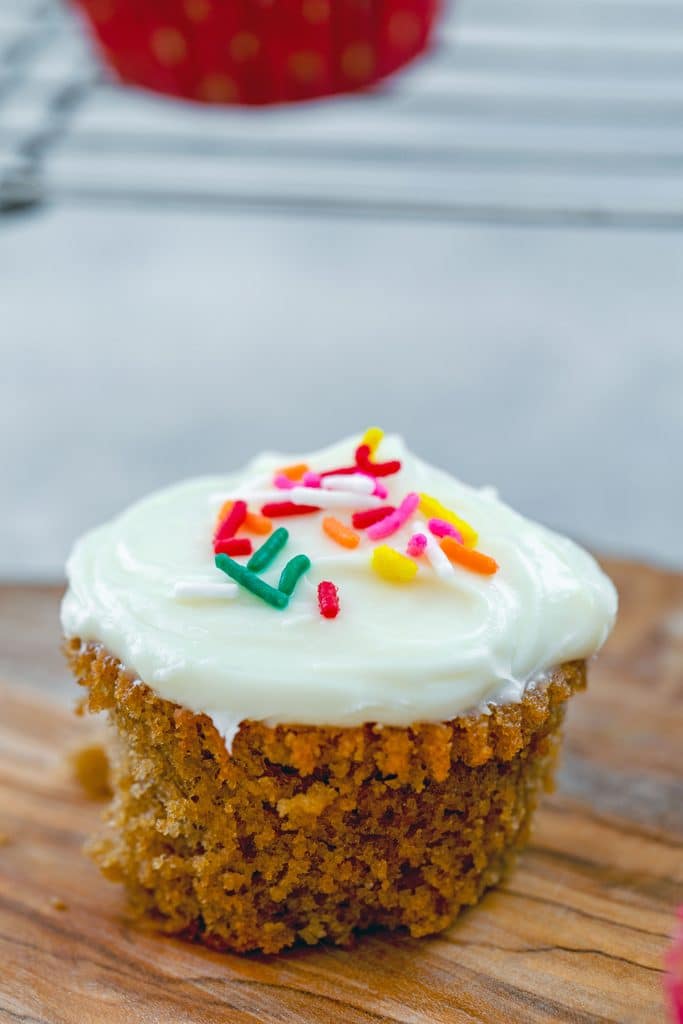 And the flavor of red velvet cupcakes is all there. Lots of sweetness with a touch of chocolate and a nice tang from the buttermilk. Obviously the cream cheese frosting is just the icing on top... Literally and figuratively. LOL.
OK Bethenny Frankel, I've got to give you credit for making some pretty freaking tasty SkinnyGirl cupcakes!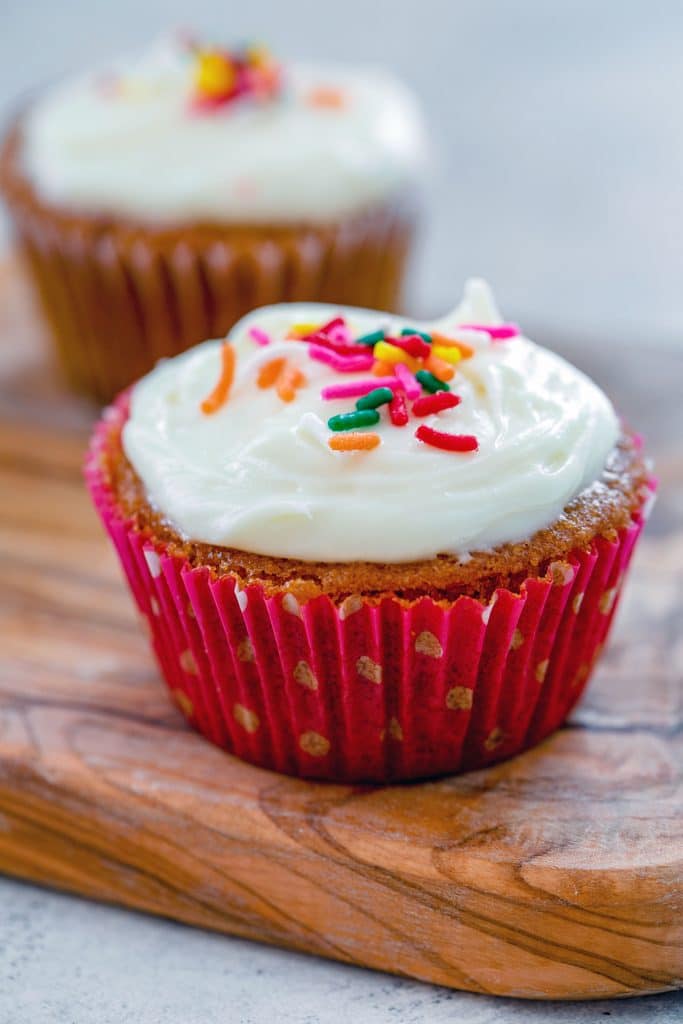 Oh, and if the people you're serving these to are picky eaters, I think you should go ahead and keep the fact that there's beet juice in them a secret. You can't taste it and nobody needs to know.
Overall, these cupcakes are totally worth making and eating since they're a dessert that's so tasty but at the same time not horrible for the waistline. That's definitely one of my favorite things about Bethenny's book. All of the recipes swap out "regular" ingredients for more healthy ingredients without compromising the flavor at all.
Now pardon me while I go devour two more Bethenny Frankel Not-So-Red Velvet cupcakes 😉
Do you ever make healthy swaps when you're baking?
If you're looking for other cupcake recipes that aren't quite as healthy, check out my Funfetti Chocolate Chip Cookie Dough Cupcakes or my Sweet Tea Vodka Cupcakes. For another awesome gluten-free cupcake recipe, I'm loving these Chai Cupcakes from Gluten-Free Palate!
📖 Recipe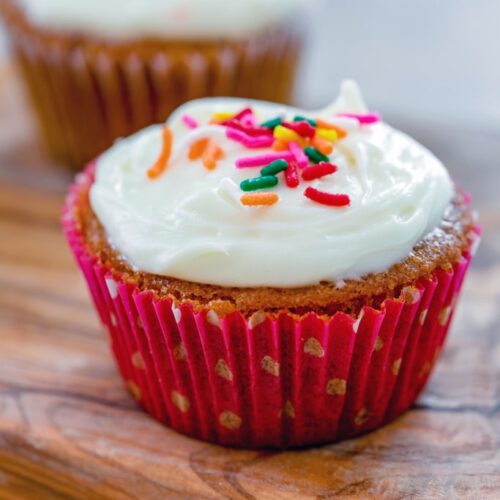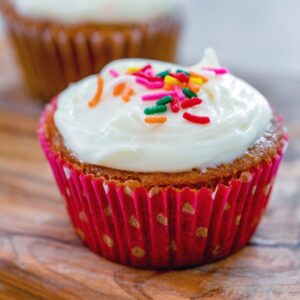 Bethenny Frankel's Not-So-Red Velvet-Cupcakes
Bethenny Frankel's Not-So-Red Velvet Cupcakes are not quite red like your typical red velvet cupcakes. But they're also a little bit healthier and gluten-free!
Print
Pin
Rate
Ingredients
2 ½

cups

oat flour

1 ½

cups

raw sugar

1

tsp

baking powder

1

tsp

baking soda

1

tsp

salt

1

tsp

cocoa powder

¾

cup

vegetable oil

1

cup

low-fat buttermilk

2

large eggs,

room temperature

3

Tbsp

beet juice

(from can of beets/beet juice)

1

tsp

white vinegar

1

tsp

real vanilla extract
Cream Cheese Frosting
16

oz.

reduced-fat cream cheese,

softened

½

cup (1 stick)

unsalted butter (can also use non-dairy butter),

room temperature

1

tsp

real vanilla extract

½

tsp

almond extract

2

cups

confectioners' sugar
Instructions
Pre-heat oven to 350 degrees and place liners in two cupcake or muffin tins (if you only have one, you can bake in batches).

In a large bowl sift together oat flour, raw sugar, baking powder, baking soda, salt, and cocoa powder.

In the bowl of a stand mixer or in a separate large bowl, whisk together vegetable oil, buttermilk, eggs, beet juice, vinegar, and vanilla extract.

Add the flour mixture to the liquid mixture and beat with an electric mixer until very smooth, about 2 minutes. Batter will be pretty thin.

Fill the cupcake liners about ½ way full and bake for 20 minutes, rotating the pan after 10 minutes.

Remove cupcakes to wire racks and cool completely before frosting with cream cheese frosting.
Cream Cheese Frosting
Beat all the ingredients in the bowl of a stand mixer or in a large bowl with a hand mixer, until smooth. Refrigerate for at least 30 minutes if frosting isn't firm enough.
Notes
Recipe lightly adapted from Bethenny Frankel's The Skinnygirl Dish
Note that I doubled the original cream cheese frosting recipe to ensure there was enough for all 24 cupcakes.
Share a Photo of Your Finished Recipe!
Mention @wearenotmartha and share a photo if you've made the recipe!