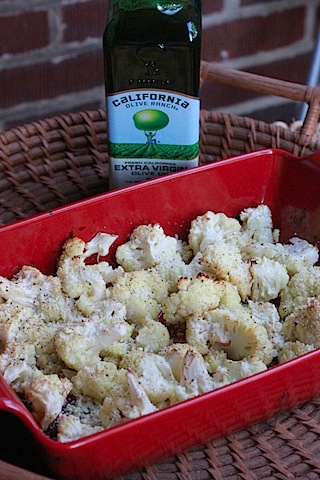 Whenever I'm looking for a simple and quick side dish, I typically tend to roast some well-seasoned vegetables. Or even if I'm just trying to save some moolah, roasted veggies is a very inexpensive but filling dinner option 😉 Just because life is busy and I'm hardly ever home these days, doesn't mean I have to eat poorly!
Depending on the vegetable, I'll drizzle some olive oil on top before roasting. The thing with that is, I tend to use a good olive oil. One that won't take away from the vegetables or leave an unappealing or bitter taste. Recently, Sues and I were each sent a bottle of award-winning California Olive Ranch Extra Virgin Olive Oil, which as food bloggers, made us extremely excited! A couple years ago we were sent home from the Foodbuzz Festival with our own bottles and I must say, this was one food item I was not wiling to share with anyone! But then again, I don't really like sharing any food with anyone. Oink.
The Everyday California Olive Ranch Olive Oil that we were sent has a "floral, buttery, and fruity aroma. Smooth flavor with hints of green apple". The 100% California grown olives are cold pressed within hours of picking to produce a better taste and the green bottle keeps the oil fresher longer. In short, there are a lot of things that can be wrong with any old olive oil. And there is absolutely nothing at all wrong with California Olive Ranch.
Roasted Cauliflower
Print this Recipe!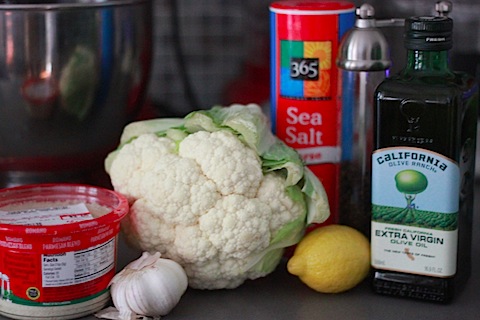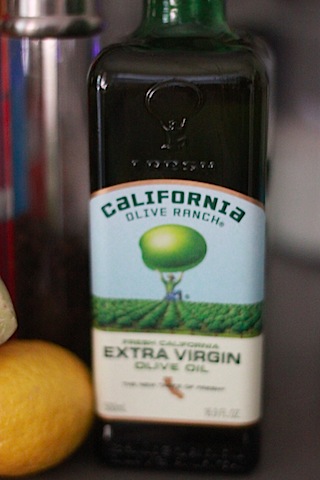 • 1 head of cauliflower, cut into florets
• 3 cloves of garlic, minced
• GOOD olive oil
• Juice from half of a lemon
• Sea salt
• Freshly ground black pepper
• Parmesan cheese, grated
Preheat oven to 400 degrees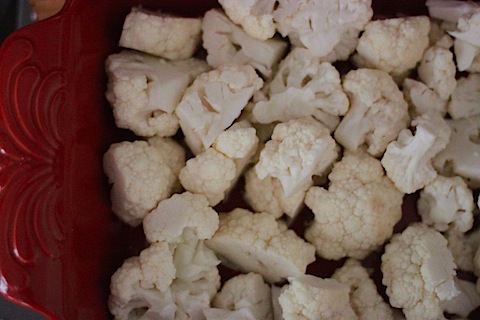 • Place cauliflower florets in an oven-safe baking dish and arrange in a single layer.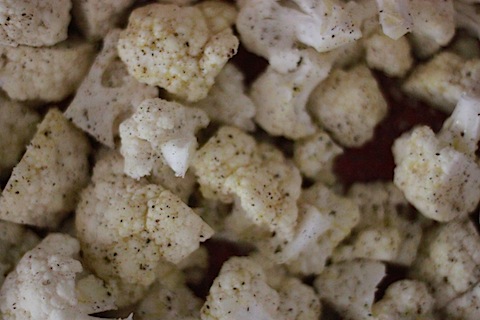 • Add garlic and spritz cauliflower with lemon juice and drizzle with olive oil. Season with salt and pepper, or really, any other spices you'd like. This recipe is a great base for so many different flavors!
• Uncovered, roast for 25-30 minutes or until the cauliflower is nicely browned and at a doneness that you prefer.
• While the cauliflower is still hot, sprinkle with Parmesan.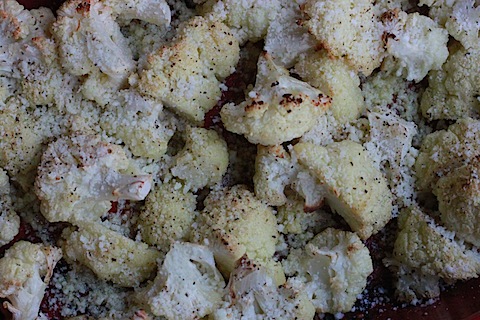 And serve immediately.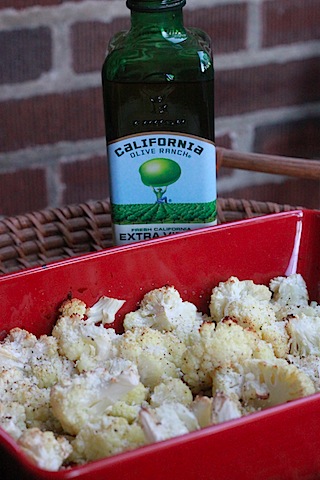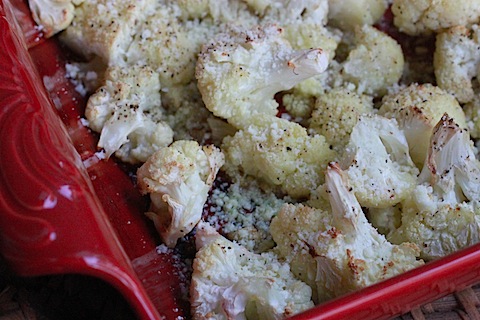 I popped these florets in my mouth like candy! They were delicious with just the right amount of saltiness and perfectly buttery. I'm not going to lie, I think I ate the entire dish for dinner. Well, with a little help from my friend Melis, who made an impromptu visit to my apartment after work today. I offered her some and she said she didn't think she liked cauliflower but, naturally, I made her try it anyway and she actually loved it. I do quite enjoy making people get over food "dislikes" 😉 Although, it's difficult not to love something that's perfectly seasoned with Parmesan and good olive oil 😉
____________________________________________________________________________________________
Also, if you're in the Boston area, California Olive Ranch is, for a limited time, partnering with Emack and Bolio's (one of my favorite ice cream shops!) and producing an olive oil ice cream! I've heard this is a fantsatic, albeit unusual pairing, so I'm dying to try it out from the professionals! You'll be able to enjoy this concoction from Tuesday, September 20th-Friday, September 30th at the Emack and Bolio's at:
290 Newbury Street, Boston
100 City Square, Charlestown
Porter Square Shopping Center, Cambridge
Now, dig in!
[Chels]