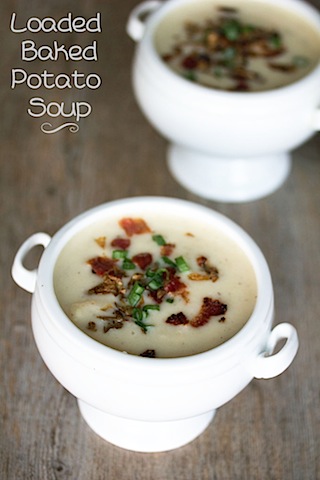 Probably one of the foods in the world I'm the most "meh" about is potatoes. It's weird because it seems like everyone is absolutely obsessed with them. And here I am just not able to compute the appeal of them. They're plain, boring, and starchy. One of the least exciting foods in the world, in my book. They don't even have any color to them! I guess I just don't understand the regular old white potato. That is, UNLESS it is acting as a vehicle for some other deliciousness like cheese, ketchup, or sour cream and bacon. The baked potato actually sounds somewhat appealing to me because of all the topping possibilities. But I like the idea of them in soup form even more because you are truly combining the creamy toppings with the potato and can't just eat all the good stuff off the top (which I would totaly do). But, I mean, obviously a loaded baked potato soup is not really at the top of the healthy foods list. At all. Ever. Well, until now. OK, maybe it's still not at the TOP of the healthy foods list, but it's a whole lot better for you. And every bit as delicious as any baked potato I've ever had.
I got this recipe for Loaded Baked Potato Soup in the brand new America's Test Kitchen cookbook, Comfort Food Makeovers, and it is a gem. ATK sent me the book (huge thanks!!) and it took me about a million hours to decide what I wanted to test out. This is definitely only the first of many because I still can't get over how perfect it was. And also easy. As in, I made it after work. Which is saying a lot considering all I generally have the energy to do after work is sit on my butt and stare blankly at trashy reality television while eating candy. Lightened up Loaded Baked Potato Soup or candy? I think you know the answer to that one. Well, maybe Loaded Baked Potato Soup and THEN candy. Let's be reasonable here.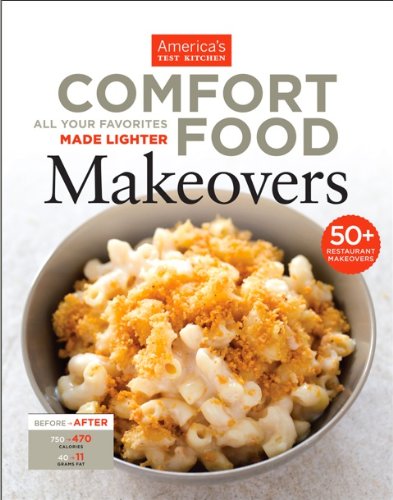 Loaded Baked Potato Soup (serves about 6):
Recipe from America's Test Kitchen's Comfort Food Makeovers

Print this recipe!
3 slices of bacon
1 1/2 lbs. russet potatoes, peeled (reserve peels from two potatoes and chop coarsely) and cut into 3/4-inch pieces
1 large onion, chopped
2 garlic cloves, minced
1 T all-purpose flour
4 C low-sodium chicken broth
1/4 t mustard powder
1 sprig thyme
1 C half-and-half
1 C 0 percent Greek yogurt
2 oz. 50% light cheddar cheese, shredded (1/2 C)
Salt and pepper
2 scallions, sliced thin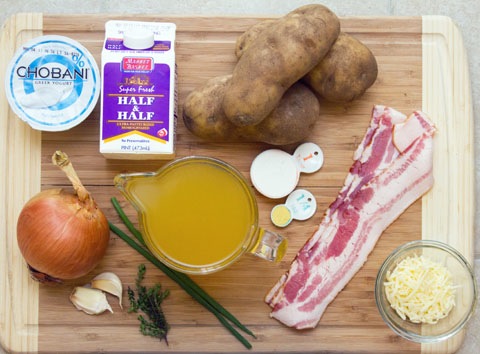 In a large dutch oven over medium heat, cook bacon until crisp, about 3 minutes. Using a slotted spoon, move bacon to paper towel-lined plate. When it cools a bit, crumble it. Now, add chopped potato skins to pot and cook until browned and crisp, about 8 minutes. Transfer to plate with the bacon.
Add the chopped onion to the pot and cook over medium heat until softened, 5-7 minutes. Stir in the garlic and cook until fragrant, about 30 seconds.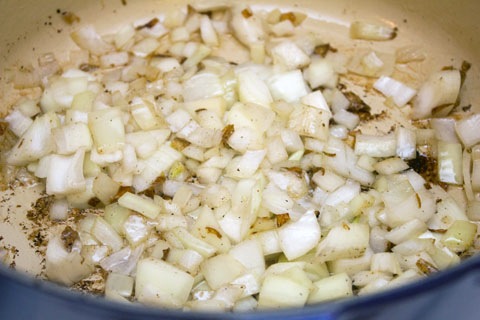 Stir in the flour and cook for another minute, before whisking in the broth and making sure to scrape up any brown bits on the bottom of the pot, until smooth. Stir in the potatoes, mustard powder, and thyme and bring the mixture to a simmer. Then, reduce the heat to medium-low, cover the pot, and continue cooking until the potatoes are nice and tender. This will likely take about 7-8 minutes.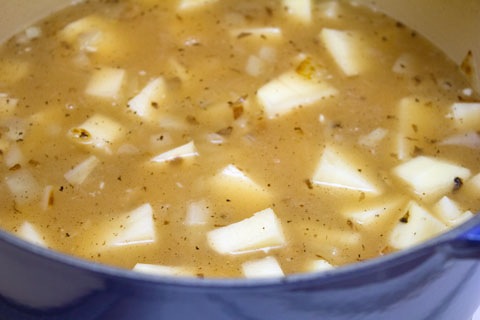 Remove the sprig of thyme and put half the soup into a blender and blend until nice and smooth.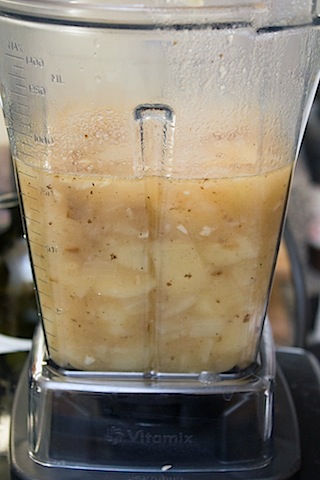 Return blended soup to pot and whisk in half-and-half.
Put yogurt in a separate, small bowl and then stir in 1/2 C of the hot soup (this will temper it) before whisking mixture into the pot of soup.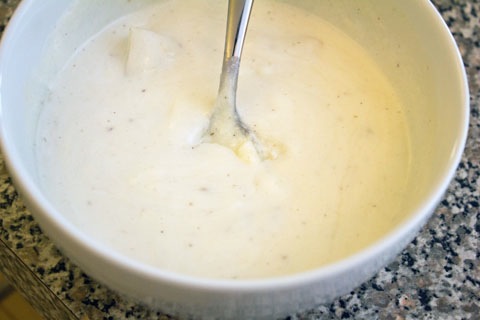 Stir in the cheese and sprinkle with salt and pepper to taste.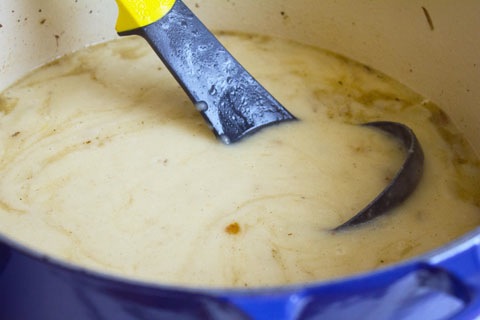 Serve in bowls, topped with bacon, potato skins, and scallions.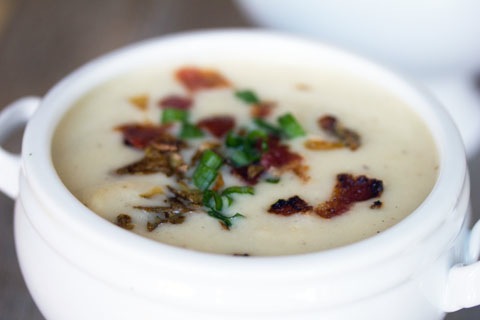 See, that wasn't so hard, was it? And besides a sprinkling of cheese and some half-and-half, there wasn't a whole lot of bad about this soup.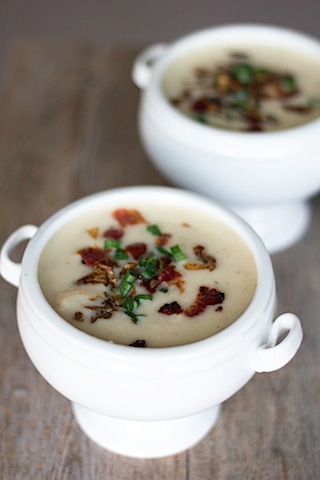 Best part? One bowl only has 270 calories and 13 grams of fat. This is down from a whopping 560 calories and 40 grams of fat in the typical Loaded Baked Potato Soup. And maybe it's just me, but a bowl of soup? Should not be that bad for you.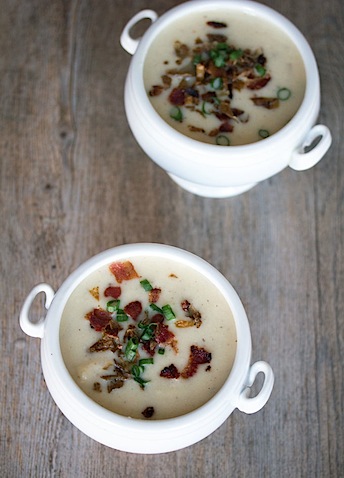 Actually, no, that's not the best part. The best part is that it tastes so freaking good and you would never believe most of the naughty ingredients have been seriously cut down or removed.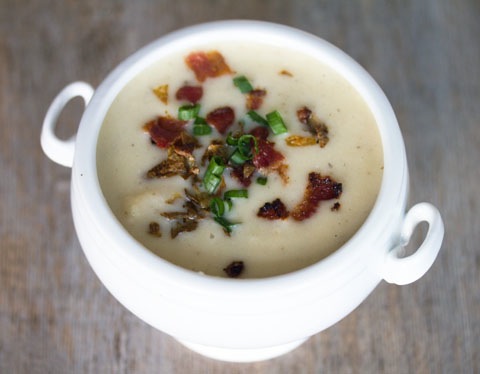 Can't you tell from the photos how deliciously creamy this looks? That's the magic of a little half-and-half and yogurt. The soup has a beautifully thick consistency and really tasted like a true baked potato packed with all the good toppings.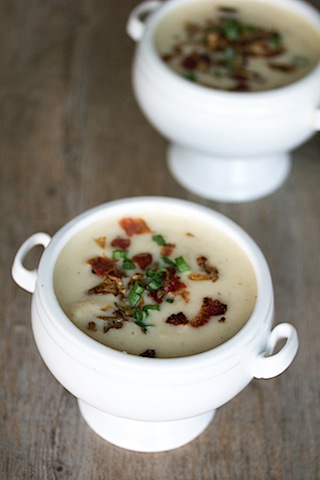 If this soup is any indication of the rest of the recipes is Comfort Food Makeovers
, then we are going to have a very long and happy relationship together. I'm especially excited to make more of the recipes as  the summer months approach, when we still might want some classic comfort foods, but don't want to be totally weighed down by them.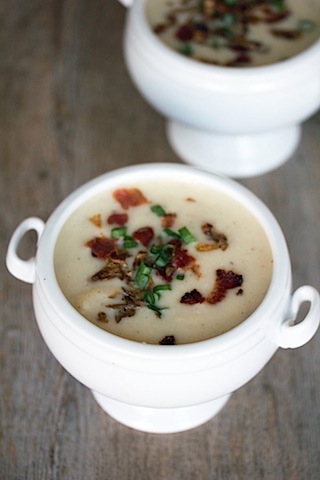 Next on my list to make from this book includes Mexican Lasagna, Chicken Chilaquiles, Shepherd's Pie, General Tso's Chicken, and Pork Lo Mein. I might just take it on Julie and Julia style and make everything! The book even includes lots of recipes from popular chain restaurants, lightened up in a major way, and every recipe includes basic nutritional information (for before the makeover and after!). Another definite winner from America's Test Kitchen. But really, I'm not surprised.
How do you like your potatoes?
[Sues]
Disclosure: America's Test Kitchen sent me a complimentary copy of Comfort Food Makeovers
, but as always, all opinions are my own and I truly am super excited about this book! I've been an ATK fan for WAY longer than this blog was even an idea in my head 🙂