With vodka, duh.
It is Cocktail Friday, after all, right? If you've been reading WANM for a while or following our Twitter, you know I have a major mango obsession. Every time I slice a mango, I end up eating the whole thing. Gluttony at its finest. But since mangoes have lots of vitamin C, vitamin A, and fiber, I don't feel too bad about it. We'll ignore the sugar for a few moments.
Tonight I decided I wanted to make a mango cocktail and though I'm no mixologist, I figured I'd try to make my own drink filled with the ingredients I love. And thus the Sparkling Mango Mint Lemonade (with vodka, duh) was born. And it was a delicious invention.
Sparkling Mango Mint Lemonade (makes 2 large drinks):
Print this recipe!
• 1.5 C mango, peeled and diced
• 1 handful mint
• 8 oz. vodka
• 1.5 C sparkling lemonade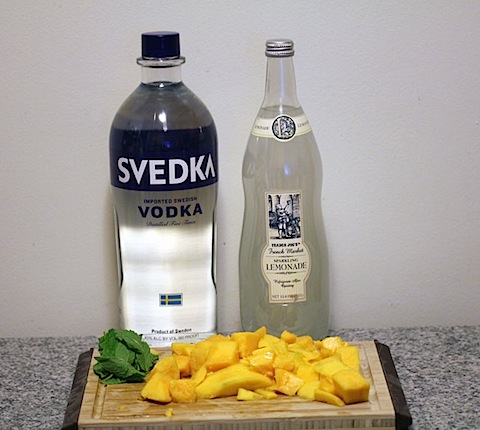 If you haven't tried this sparkling lemonade from Trader Joe's, you must. It's fab without vodka, too. They also have a pink lemonade and my fave limeade.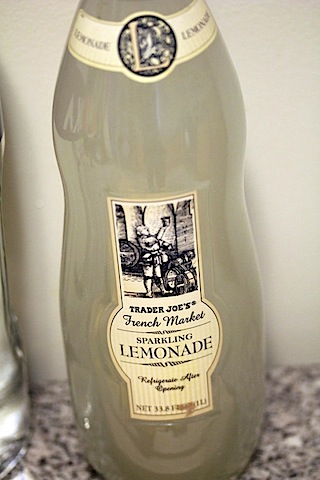 This drink is super quick and easy, but you should chop your mango a bit ahead of time and stick it in the freezer. You'll want it to be nice and chilled. If you can't get fresh mango, you can always use frozen.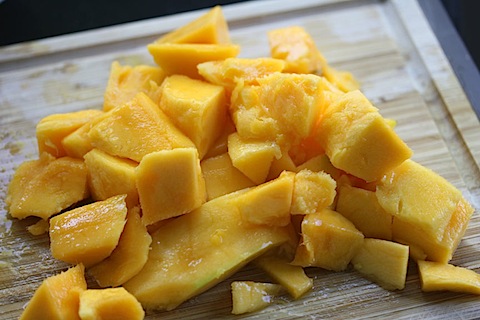 Once your mango is chilled, put it in the blender with the mint and vodka.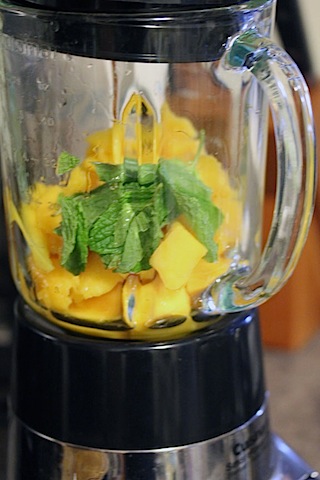 I added a little vodka at a time, but eventually settled on 8 ounces, which seemed pretty perfect.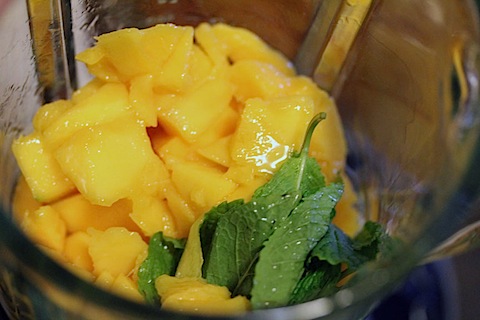 Blend the mixture until it's nice and smooth and pour it in a glass.
Top off with sparkling lemonade.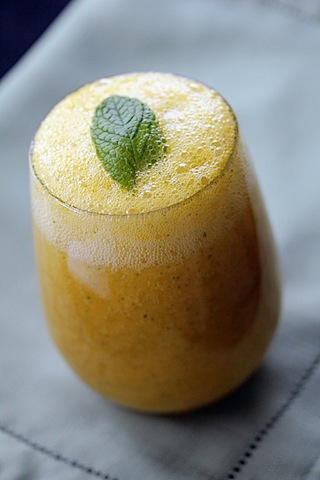 And enjoy your cocktail Friday. You'll definitely need to give this a good stir or two, as to mix the puree with the fizz.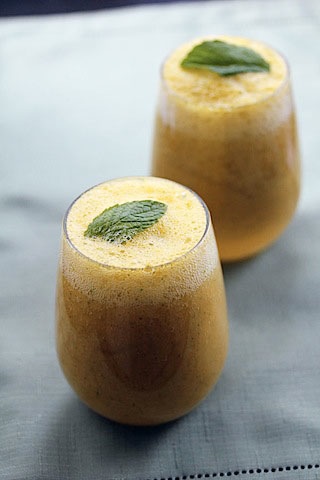 I'm absolutely loving this drink! It's packed with mango flavor, with the perfect touch of mint and the lemonade gives a nice bubbly touch. Plus, it was actually sunny out today and this drink was nice and cold!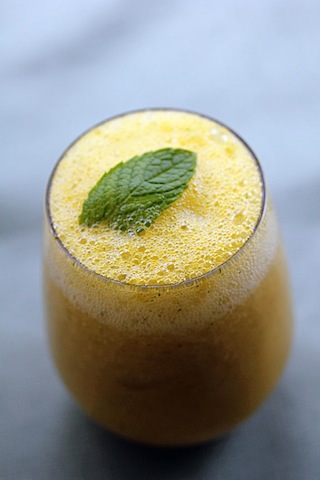 So, that's how I'm getting my weekend off to a good start (yes, I'm still sipping!). How about you? This weekend is packed with our friend's bachelorette party on Saturday and my burger being served at Bristol Lounge on Sunday with a few other fun things in between. Definitely not complaining, but feeling a little bit overwhelmed since we're off to Atlanta for BlogHer Food next week with another fun trip planned right before! And about a million tons of work to do before then. Yikes! Tonight is definitely all about relaxation.
Happy weekend to everyone! What will you be sipping on this weekend?
[Sues]