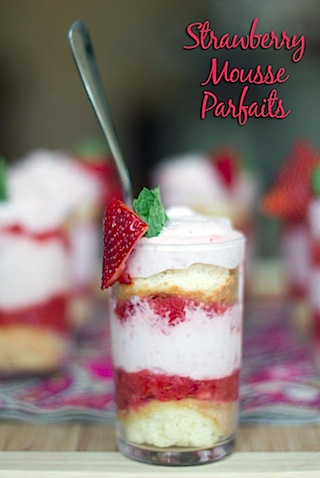 A three day weekend is within reach and this couldn't make me any happier. The unofficial start of summer is also in reach. And if you're from New England or any other part of the country that had, ahem, a tough winter, you probably can't even believe this is happening. Like, June is in two weeks y'all. And if it snows in June or temperatures fall to 30 degrees, then…. well, it's just not going to happen. Those days are behind us. Sigh. of. relief. This totally calls for some strawberries. (in hindsight, this totally calls for some sprinkles, too, so by all means, feel free to add sprinkles to this recipe. Like a lot of them).
I've been completely neglected strawberries in my baking repertoire this spring. So, I put a change to that for my post on Parade magazine's website this week. I made Strawberry Mousse Parfaits.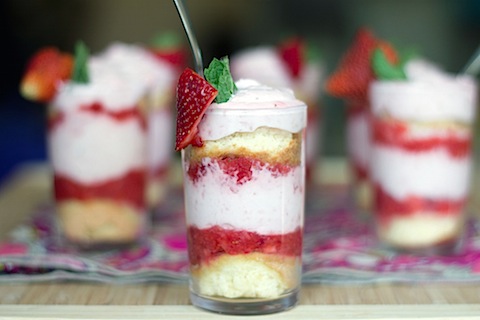 Kind of like strawberry shortcake. But with a light fully strawberry mousse. And a naturally sweet strawberry purée. And cake, duh.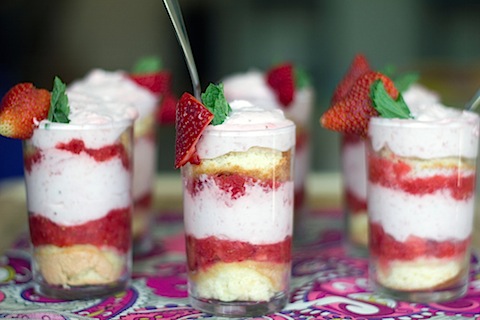 I just realized how perfect these would be for any 4th of July celebrations, too. Or even Memorial Day. A layer of blueberry purée or just plain whole blueberries would be oh so festive.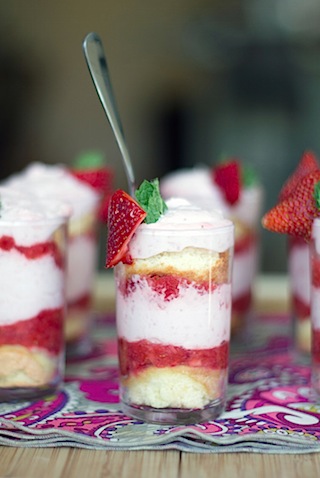 Plus, mini desserts tend to impress people quite a bit. I mean, how can you not love how absolutely adorable they are?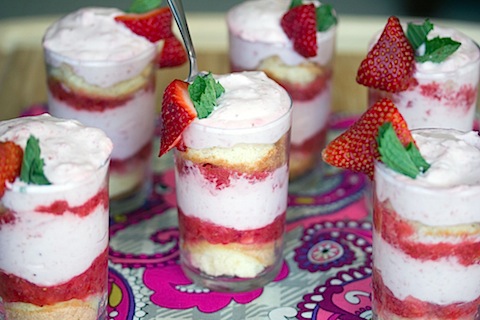 I picture a large tray on a backyard deck. The sun shining, let's say 80 or so degrees (what? I like it hot), perhaps with a pool in the background. And party guests just grabbing parfaits as they head in from the pool or from playing bocce on the lawn (do people do this?), after sufficiently eating their weight in burgers and drinking shandys.
The little mini spoons are totally essential, too.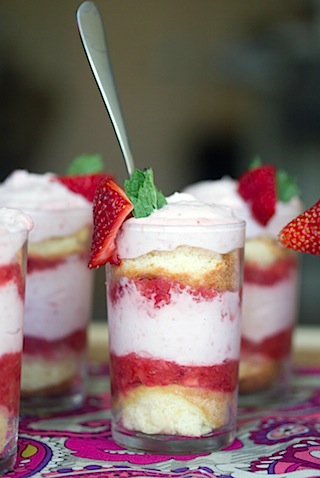 Clearly I was this weekend… And summer weather to be here very, very badly. My mind is working overtime.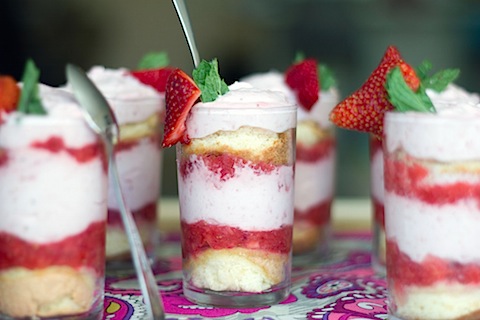 Also, can't you totally see how sprinkles on top of these would work?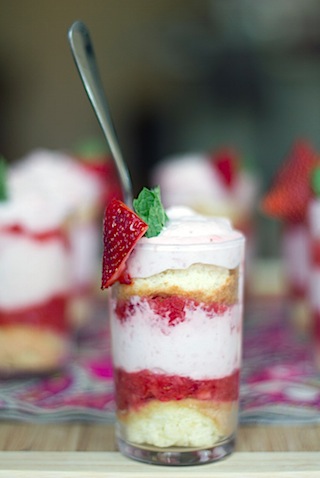 Yes, I know I still have two days of work left before I can get to my three day weekend. And that makes me want to cry a little bit. And it also looks like it's going to rain in Boston for part of the weekend. And I don't have any backyard pool and bocci parties planned. But I don't even care because I have these parfaits and three glorious days of weekend. No complaints here.
If you want to check out my recipe for Strawberry Mousse Parfaits, head over to the Parade magazine website!
What will you be cooking or baking this three day weekend? (please tell me you have it off, otherwise I will be thoroughly depressed for you).
[Sues]