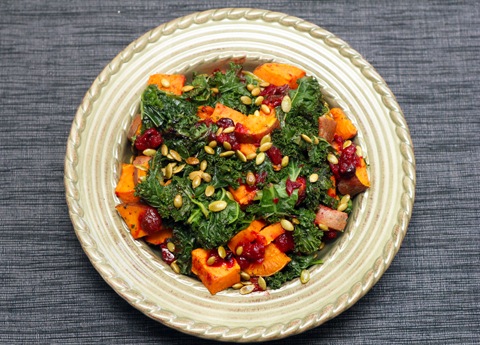 Also known as my dream recipe. Well, I guess I should re-phrase that to say my dream healthy recipe. Because Lord knows my actual dream recipe involves all sorts of chocolate, peanut butter, marshmallows, and mounds of rainbow sprinkles (what? It's my dream recipe here). Then again, I'd probably throw some chipotle chills in that dream recipe, too. Because you can never go with with sweet and spicy.
I recently spotted a recipe from Cooking Light that involved sweet potatoes with a cranberry-chipotle dressing and it immediately sparked all kinds of inspiration. Of course, I needed to involve kale in this party. Because it's my philosophy that if you add a little touch of green to everything, your life will be infinitely better. OK, you know me enough to know I'm totally lying; that's clearly not my philosophy. Stay away from my ice cream, green stuff! But I do love kale and thought it would add an extra fall warmth and healthy kick to this salad. I also bumped the spice up in a major way because um, that's just what I do.
Sweet Potato and Kale Salad with Cranberry-Chipotle Sauce (serves about 6):
Print this recipe!
4 medium sweet potatoes (about 2 pounds), cut into cubes
4 ½ T olive oil
Salt and pepper
1 bunch kale, tough stems removed, coarsely chopped or torn
¾ C fresh cranberries
¼ C water
1 ½ t honey
4 chipotle chiles, plus 2 T adobo sauce (from 1 can)
½ C pepitas (unsalted pumpkinseeds)
(pre-heat oven to 400 degrees)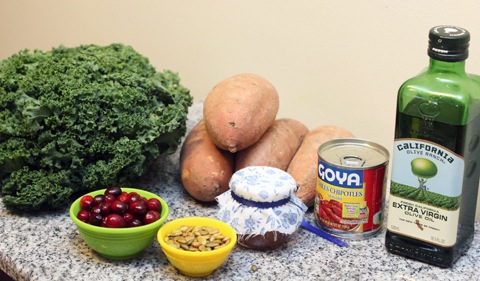 Most recipes for roasted sweet potato salads will tell you to peel the potatoes before roasting. But another one of my vegetable philosophies? Peels are good for you! Really good for you! And if you like the way they taste, leave the peel on (but scrub those potatoes well). I rarely peel vegetables or fruits, so I opted to leave the sweet potato peels on. The choice is up to you.
Whatever you choose, cut your sweet potatoes into bite-sized cubes.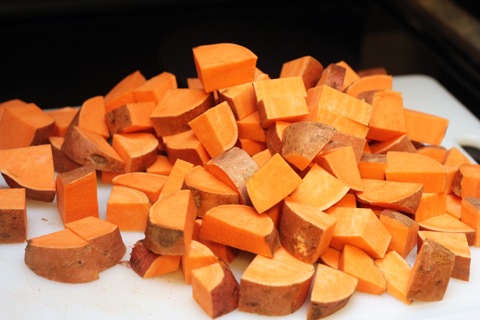 Then put them in a bowl with 2 T olive oil. Sprinkle salt and pepper over them and mix them all up. Then place them on a foil-lined baking tray (or two) and pop them in the oven at 400 degrees for about 30-40 minutes, until tender, turning once.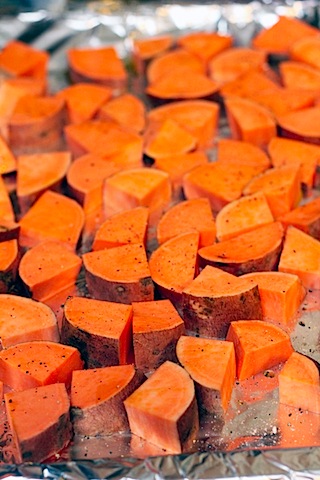 While the sweet potatoes are in the oven, drizzle kale with 2 T olive oil and sprinkle with salt and pepper. Place on a foil-lined baking sheet and put in the oven with the sweet potatoes when there are about 15 minutes remaining. Remove the kale after 15 minutes; it should be wilting and starting to crisp up.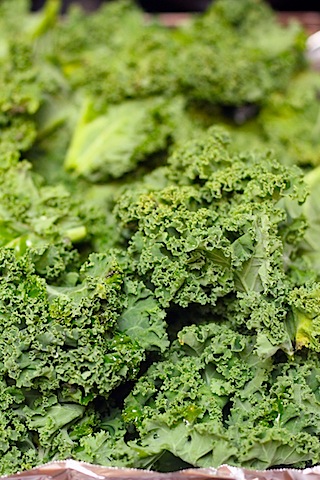 While all that roasting is going on, start on your cranberry-chipotle sauce. It's super simple! Put the cranberries, ½ T olive oil, water, and honey in a small saucepan. Chop up 4 chipotle chiles (about 3-4 T) and add them, along with 2 T adobo sauce, into the cranberry mixture.
Now, over medium-low heat, bring the mixture to a boil. Then reduce the heat and cook for about 10 minutes, stirring occasionally, until the cranberries begin to pop.
Remove from heat.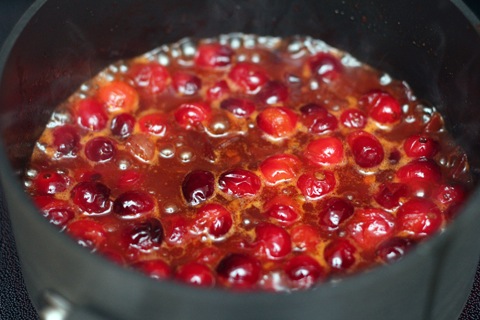 Lastly, you'll want to lightly toast your pumpkinseeds in a toaster oven. Make sure you keep an eye on them as they'll brown quickly! If you don't have a toaster oven, you can brown them in the oven or in a skillet.
Now, toss the sweet potatoes and kale together and mix with the cranberry-chipotle dressing. Sprinkle pepitas over the top.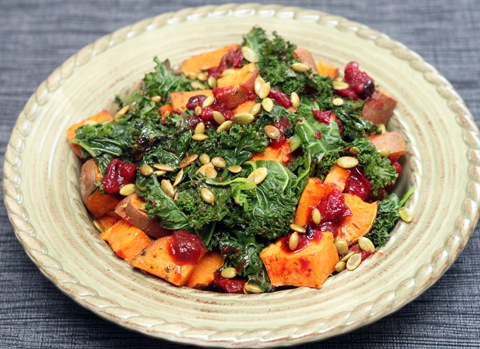 Yup, out-of-this-world flavor combination! Clearly I am on a fall salad kick and I don't plan on coming down any time soon. After all… sweet potatoes! Kale! Cranberries! And now my dream come true- chipotle! Seriously, I would add chipotle to everything in my life if possible. Including ice cream (hmmm. Now I'm going to have to make this happen).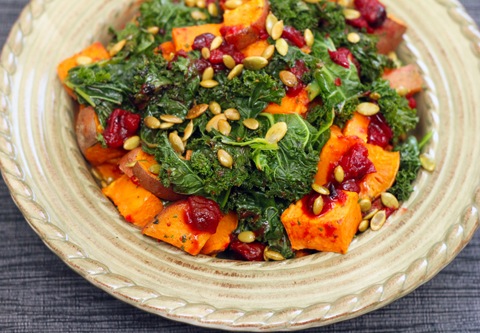 Of course, the sweet potatoes and kale were delicious, but the cranberry-chipotle sauce definitely kicked this salad up, like, up to the moon. I mean, if you close your eyes, you can probably imagine. The sweetness of the cranberries and the spiciness of the chipotle chills blended together into one sauce. HEAVENLY. If you're looking for a new non-traditional recipe for Thanksgiving, this could be the one. Just saying 🙂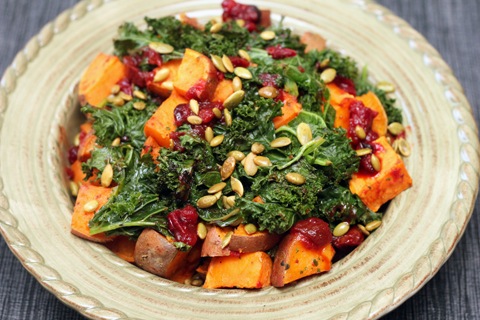 I ate this salad right away. But I'll admit, I also ate it the next day cold. And it was pretty fantastic like that, too. Perhaps the only thing missing was some rainbow sprinkles. Kidding! Kind of.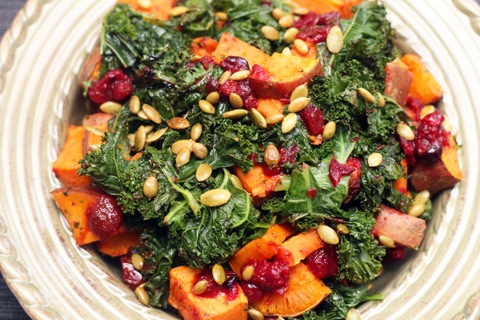 At this point in the season, I wouldn't mind if fall stuck around forever. I've only just begun getting my fill of orange veggies. Plus, it was 60 degrees out yesterday. So, minus the fact that I did actually see a mosquito (ew ew), you won't hear any complaints about fall from me.
Do you love the sweet-spicy flavor combination?
Don't forget to enter our giveaway to win an AeroPress Coffee Maker! You have until tomorrow night to enter!
[Sues]