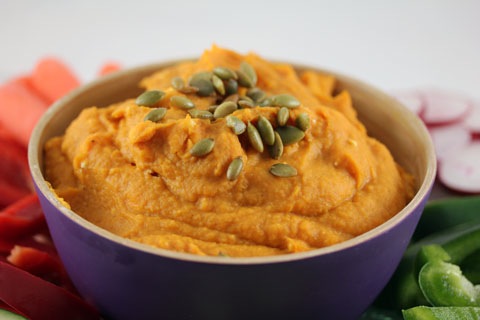 Dips tend to have a bad name. It could be because once you start, you generally can't stop. Or because they're often nice and creamy and made with lots of mayonnaise and sour cream. Or because you usually pair them with something equally unhealthy like a bag of chips. Yes, a bag. Because remember point #1? Once you start, you can't stop.
I wanted to make a healthy-ish dip when my friends came over last weekend and since orange vegetables have been seriously missing from my life lately, I decided to utilize the great sweet potato. I think sweet potatoes and curry are pretty fabulous together so I sprinkled some curry in and stirred in feta cheese for good measure. And I served it with vegetables. It's basically like dipping a vegetable into a vegetable. Ponder that one for a moment, will you?
Sweet Potato Curry Dip (makes about 3 C dip):
Print this recipe!
3 sweet potatoes
2 t curry
⅛ C extra virgin olive oil
1 can small white beans (15.5 oz), drained and rinsed
½ C feta cheese, crumbled
Pumpkin seeds, optional for topping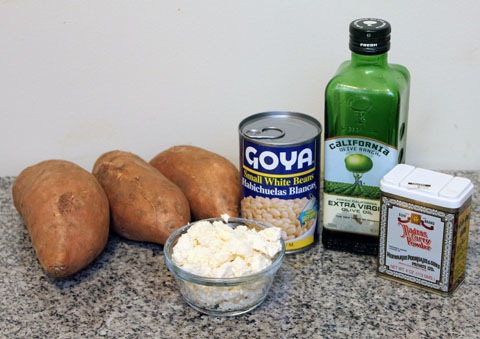 Start by roasting your sweet potatoes. Really, you could boil them or cook them in the microwave, but I think the roasted flavor is the very best. I roasted three potatoes on a baking sheet at 400 degrees for a little over an hour, until they were nice and tender.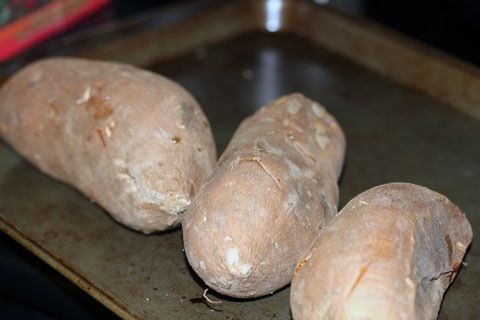 Once they cooled a bit, I peeled them and popped them into my food processor along with the curry, olive oil, and beans.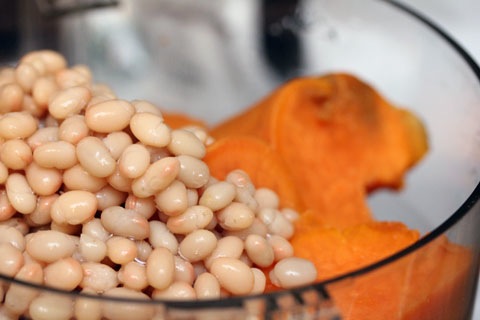 I didn't overload on curry powder because I know it can be a bit too strong for some people. You can add more or less to suit your tastes.
I processed away until the mixture was nice and smooth and then I stirred in some feta cheese and sprinkled on a little salt and pepper, too.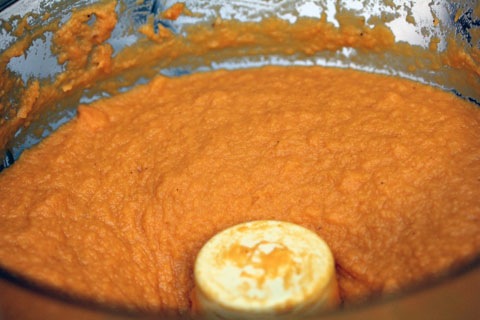 You may want to chill the dip a bit as I think it's tastier cold. But room temperature is perfectly delightful, too. Serve in a bowl and sprinkle pumpkin seeds over the top, if desired. And serve the dip with whatever you want! Vegetables, crackers, a whole bag of chips... You know. It's made with healthy sweet potatoes, so you can eat a whole bag of chips with it if you choose. That's what we call justifying our behaviors.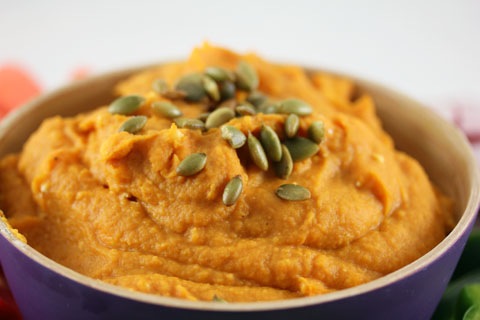 But it's such a bright, vibrantly colored dip, I knew it would be even more beautiful with some similarly bright vegetables. And served in a pretty purple bowl, of course.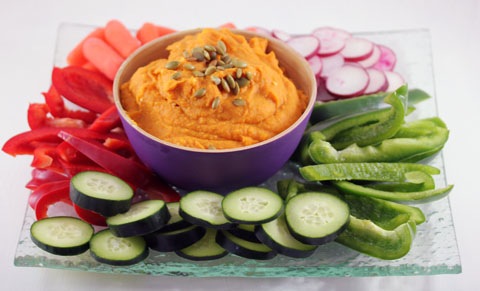 I'll have you know I'm obsessed with this dip and have been bringing it for lunch the past couple of days with more veggies and Triscuits, too. It's so good, you'll never believe it's also good for you. But believe it! Tons of vitamins and some added protein and creaminess from the beans.
This was similar to the Sweet Potato Hummus I made a while back... But was a bit simpler.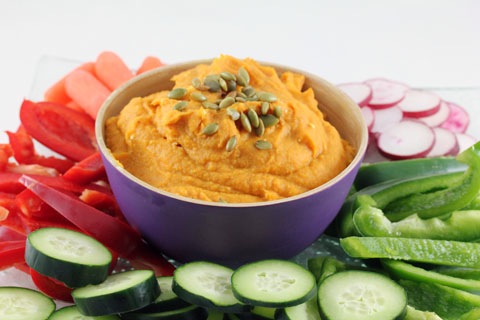 On a side note, does anyone love radishes as much as I do? I just think they're the most delicious peppery refreshing vegetable around. Also, they remind me of Fraggle Rock, which is only one of the best shows ever.
What's your favorite healthy-ish or totally non-healthy dip?
Also, I have to make the HUGE announcement that I won Celebrations.com's Cupcake Crown!! I am beyond excited and want to thank all of you who voted for me and my Sweet Tea Vodka Cupcakes! I most definitely couldn't have done it without you. The prize is a $2,5000 voucher for Wyndham Vacation Rentals. Which means I'll have the fabulous opportunity to take a nice little vacation after our wedding and honeymoon are long in the past. Something tells me this will make the post-wedding blues much easier to handle! And to think, I won it with cupcakes... And vodka. Life is good 🙂 I have some other fun cupcake news to share coming up soon, too!
[Sues]
Pin It