I went to the mall this weekend and Santa was there. Like, what? Who is talking to Santa the first week in November? To be fair, there wasn't a line and Santa appeared to just be chilling all by his lonesome, but it kind of woke me up to the fact that it really is already the holiday season. So, I ran home and ordered my Christmas cards. Then I momentarily freaked out over the fact that I haven't begun Christmas shopping and that it's too late to buy candy corn. That's before I remembered the holiday season is meant to be enjoyed and I took a deep breath and fell asleep on the couch. Because man, all that stressing sure makes me tired.
But the holiday season also means I get to work on my Holiday Gift Guide for Food Lovers, which is one of my most fun posts to write. I've already started pulling my ideas together since clearly shopping is already underway for many. But I have one idea I already want to talk about. A couple months ago, my friends at T-fal sent me the new OptiGrill to review and I wanted to write a post about it before including it in my gift guide because um, this thing is amazing.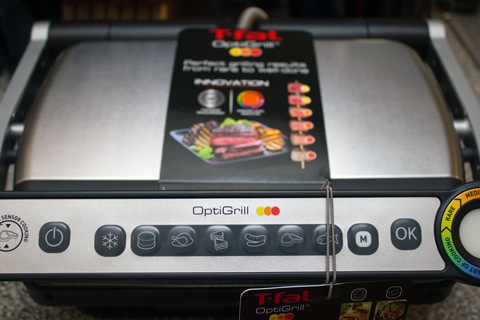 My first thought when they told me about the grill was "meh, I just got rid of my George Foreman grill because I never used it and lord knows I have enough appliances to fill a small retail store." But then I learned more about this particular grill and was intrigued. Like the fact that it cooks meat perfectly with just the push of a button. And the fact that it cooks frozen chicken to perfection. As in, you can grill your chicken without thawing it!
But the first thing I made on my OptiGrill was a flank steak that I was using for a steak, fig, and nectarine flatbread.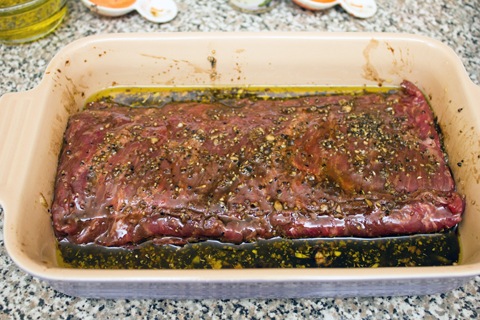 You basically warm the grill up and let it know what you want to grill. I told it red meat:
I mean, do you see how easy that is?
Then you let it work its magic and grill to whatever stage you want.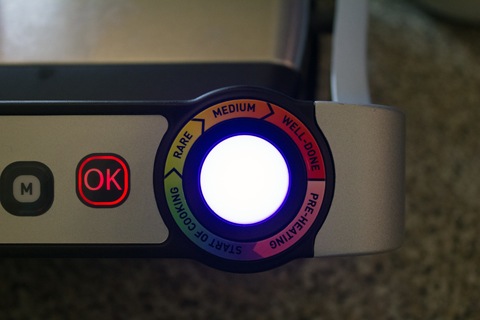 I chose medium and shazam, my steak was legit the most PERFECT medium.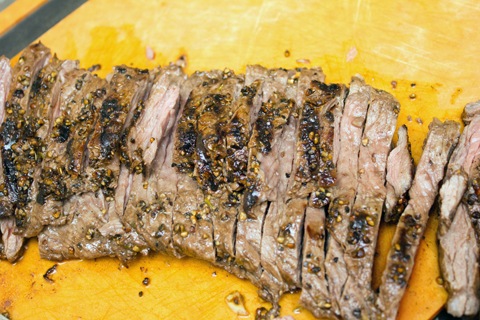 Unlike other grills, you don't have to keep checking the doneness of your meat... it's just done when the little light lights up to the color you want.
I added the flank steak on top of the flatbread and Chris immediately requested I make this every night.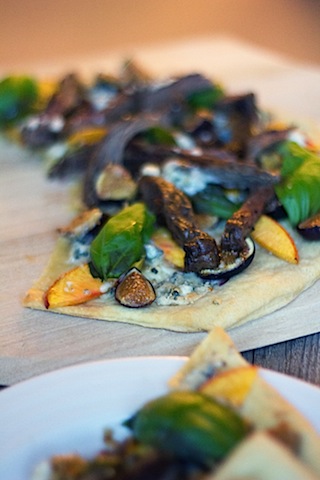 I wasn't about to argue because, I mean, it was really good. He seriously wouldn't stop talking about how delicious the steak was. Job well done.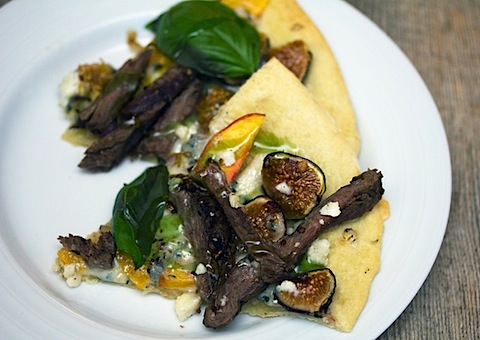 Of course, I was really curious to see how this baby would do on frozen chicken. See, I always run into the chicken dilemma. I buy chicken breasts. And then I fail to cook them. So then, at the last possible minute (second?) I pop them in the freezer to use another time. Good plan until I take them out of the freezer to thaw for the day and then end up at work until 8:00 p.m. at which point I come home and collapse and the chicken goes bad. It happens time and time again to the point that it's almost kind of a joke. Oh, and obviously on the nights I do have time and energy to cook, I haven't taken the chicken out to thaw. Major womp womp.
So, this time I took my frozen like a brick chicken breast: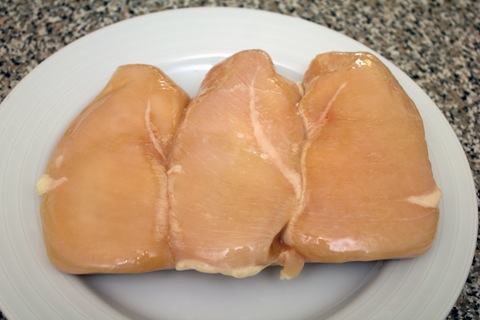 And didn't even bother to begin to thaw. I popped them in the OptiGrill, pushed the snowflake button and the poultry button and let it grill away.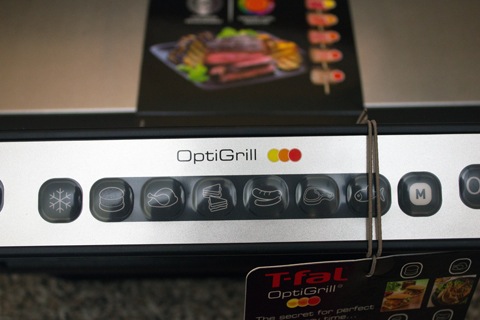 Obviously I peeked several times, majorly skeptical.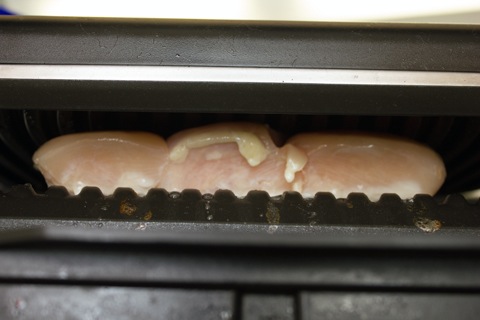 But about 20 minutes later? It was cooked to perfection!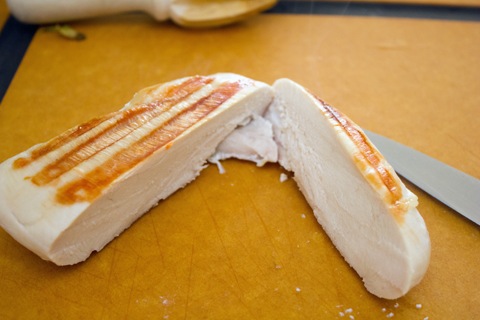 I shredded the chicken up and made a delightful chicken pot pie with it.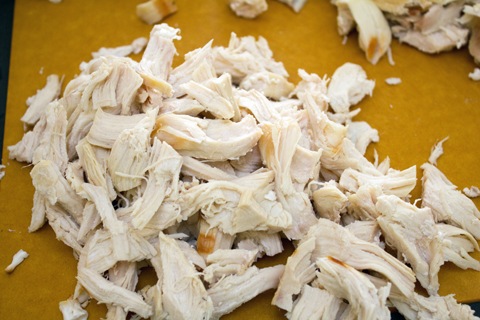 Life is indeed good.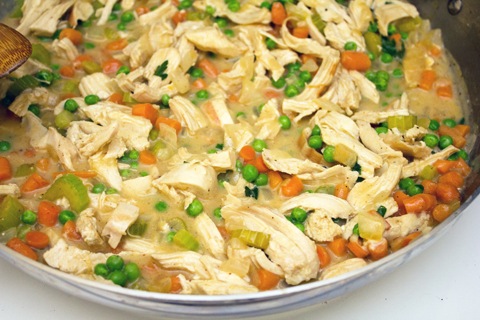 Much to Chris's dismay, we know have another appliance in our pantry. But much to my delight it's one I'll actually use and one that won't sit there and collect dust. Which I certainly can't say about too many of my appliance.
Anyone who likes to cook on your holiday shopping list? Or perhaps anyone who doesn't like to cook, but does enjoy good food. I'm pretty sure I just did some holiday shopping for you. Hooray!
Now I'm anxious to see how this bad boy works on fish.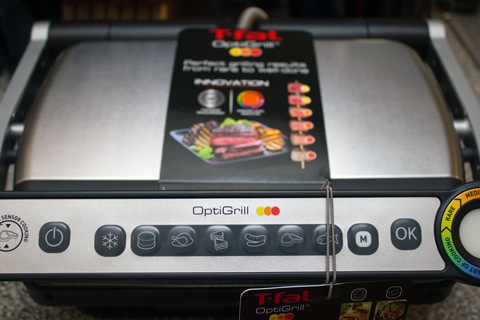 Have you started your holiday shopping already? Are you panicking yet?
[Sues]
Disclaimer: T-fal sent me this fabulous OptiGrill, but I've tested it out and am giving my 100% honest review!