Instead of making gingerbread cookies this holiday season, make a gingerbread cookie cake! This Christmas cookie cake is easy to make and fun to decorate... Plus, you can cut yourself a nice big slice of it!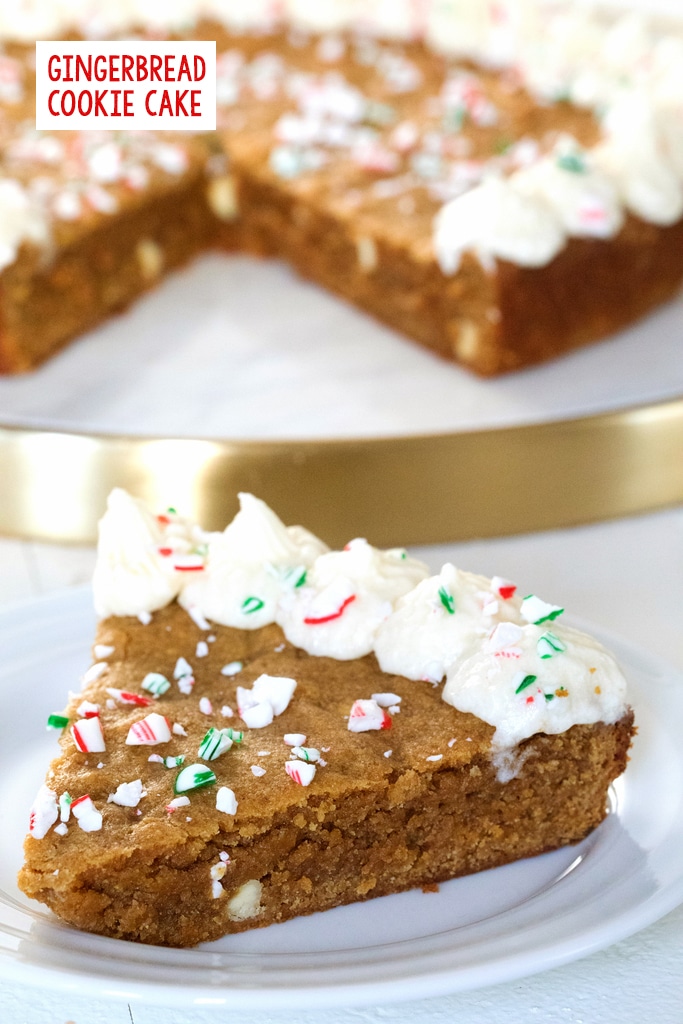 I have a confession to make. I have a really difficult time with Christmas music. You know when people are all "omg Thanksgiving is over; turn the Christmas music to full blast!"? Not me. I love the holiday season and everything it brings, but I almost never listen to Christmas music aside from if I'm out and about at a holiday event.
I blame Mariah Carey and also working at American Eagle during the holiday season in high school and hearing that really annoying Christmas song by The Waitresses over and over and over and over.
And also the Chipmunks Christmas song, which I once thought was cute, until I unknowingly signed up for the overnight shift at American Eagle on Christmas Eve eve and wanted to die.
I actually tried to turn the music down and got reprimanded by my manager who told me they had done a lot of research into what volume the music should be at to get people to spend the most money and according to the American Eagle manual, the music must stay at that volume.
My theory is that people bought more because they just wanted to get the heck out of the store before their brains exploded.
Anyway, thank you Mariah Carey and American Eagle for ruining Christmas music for me the past 15 years. I've slowly been trying to re-enter the world of holiday music by listening to some new hits (98 Degrees, anyone?)
One thing I'm always in the mood for during the holiday season that no teen retail store can take away from me is gingerbread. I always think of gingerbread as an underrated holiday flavor, but I feel like it's starting to pick up in popularity, challenging peppermint, eggnog, and cranberry.
I love a good gingerbread cookie, but now I'm discovering I love a gingerbread cookie cake even more. Why? A cookie cake is a little bit thicker than a cookie and also softer/cake-ier.
Additionally, you can cut a GIANT slice of it and totally justify it. Saying you ate 12 cookies is kind of controversial, but one large slice of Christmas cookie cake is no problem-o. Take my word for it.
Gingerbread Cookie Cake Recipe
Guess what else? Cookie cakes are easier to make than cookies. All you have to do is whip up the batter and pat it down into a cake pan. No forming cookies and making sure they're each 2 inches apart on your cookie sheets.
It only takes about 15 minutes to prep and then about 20-ish minutes in the oven.
Does it get any better than that??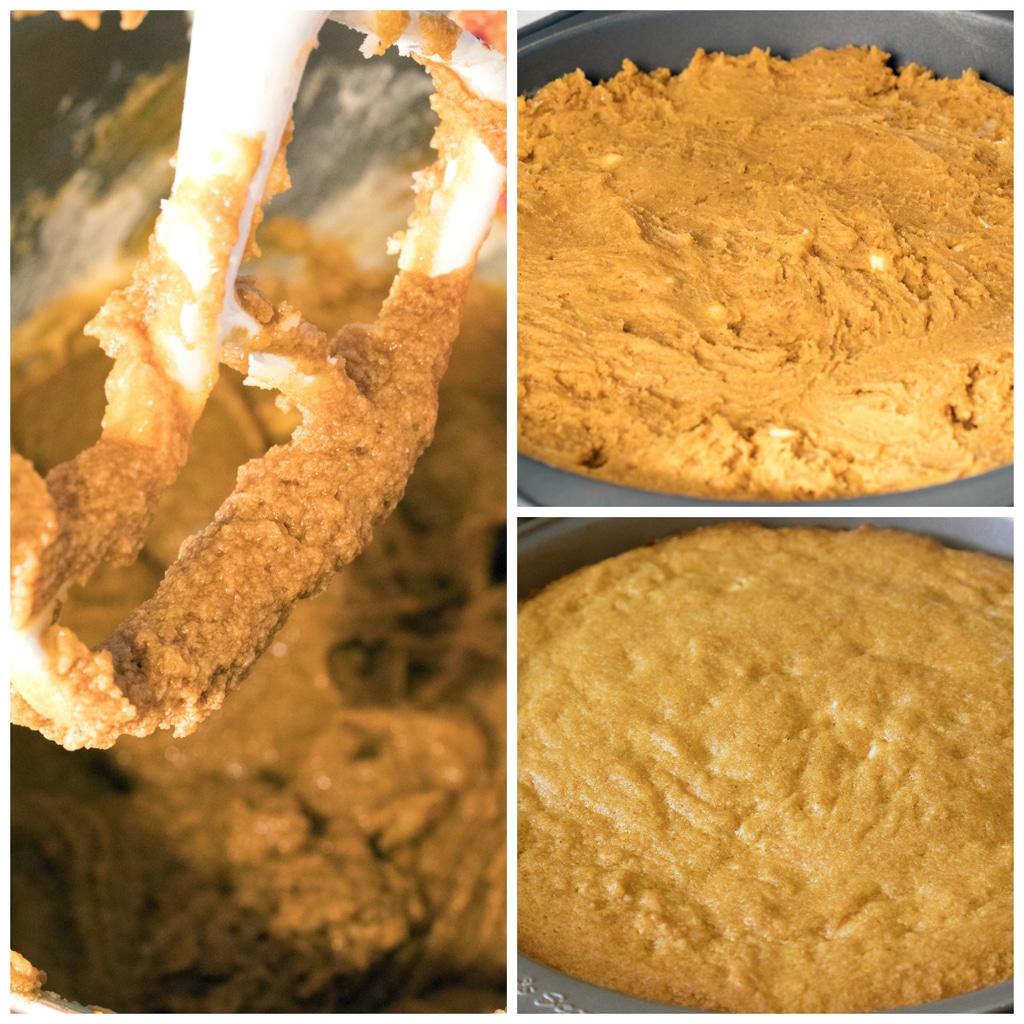 Once it's baked, this gingerbread cookie cake is yours, all yours!! Unless, of course, you decide to bring it to a party to share with friends.
Another wonderful thing about turning a cookie into a cake? While adding buttercream frosting to individual gingerbread cookies can feel a little excessive, it's totally normal and also kind of necessary on a cookie cake.
I mean, you can't serve your guests a Christmas cookie cake with no decoration, right??
In this version, I baked white chocolate chips into the cookie cake, but if you prefer your gingerbread pure, you don't have to. I've made the this both ways and can't decide which one I prefer!
For decorating, I used a simple buttercream, as well as some red and green peppermint candy crumbles.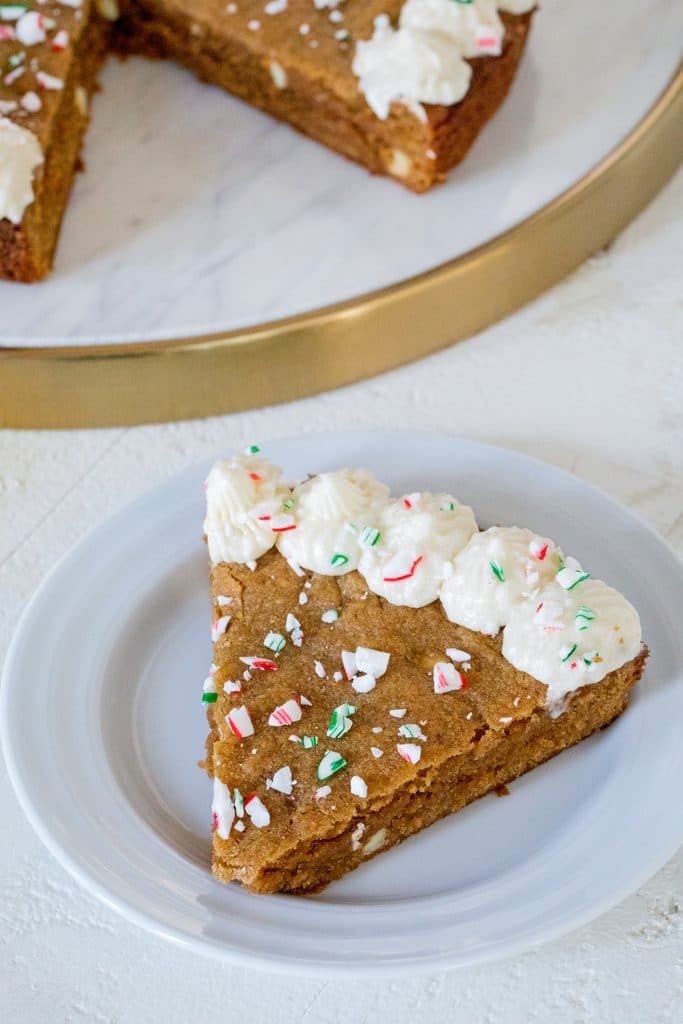 I may have eaten a slice of this while dancing around my kitchen to 98 Degrees. Hey, I need to make up for the lost time of my youth. I think this weekend's tree decorating party calls for another gingerbread cookie cake, along with a lot more Christmas music and cheer.
And eggnog. Wouldn't this be delicious with a nice cold glass of eggnog?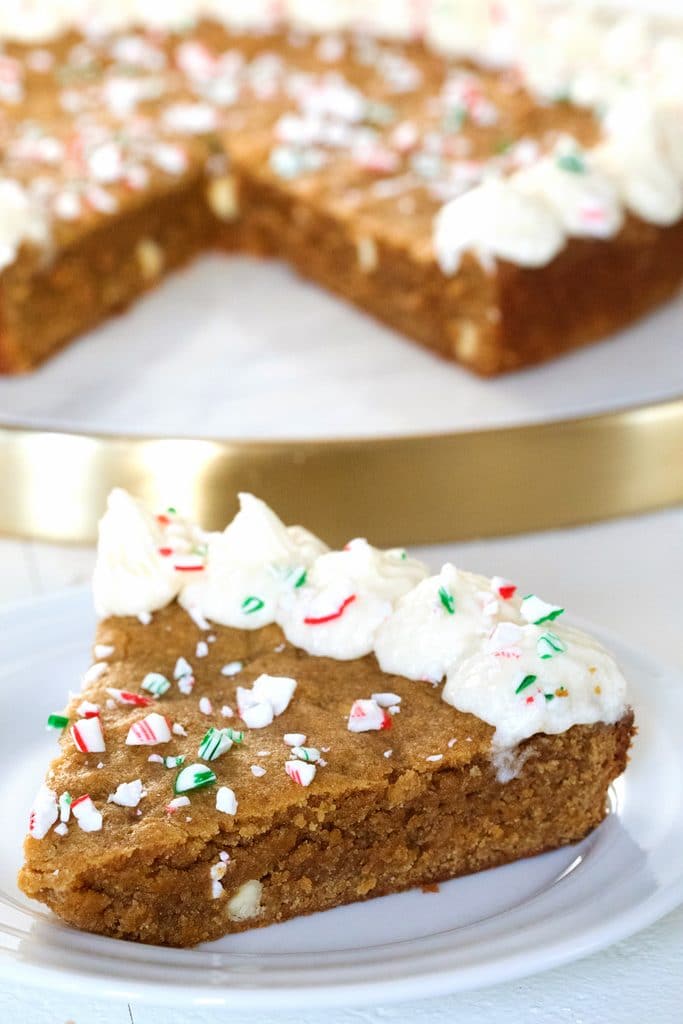 I have a couple other ginger-based recipes coming your way this holiday season. Eggnog, too. Man, why can't the holiday season last forever. I guess I would get totally sick of Christmas music again by February, but I could never tire of the holiday flavors.
If you do decide you need to make cookies instead of cookie cake, you should probably make Pumpkin Gingersnaps and make these Pumpkin Gingersnap S'mores with them.
Also, do me a favor and make this Blood Orange Ginger Dark Chocolate Chip Ice Cream at some point this winter, OK? Thank you!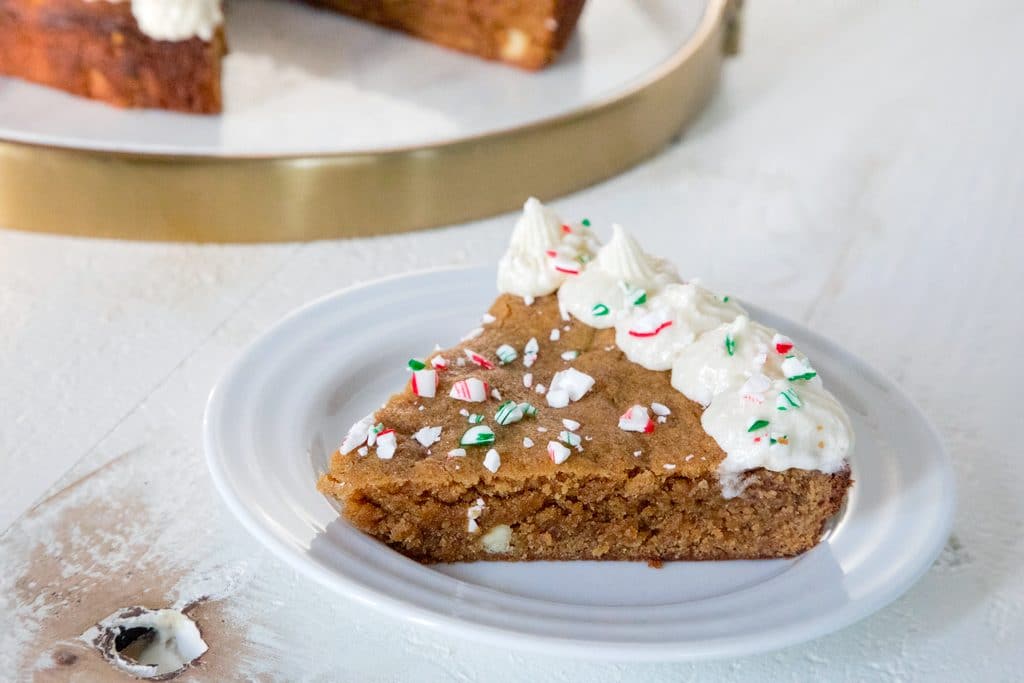 OK and I have to admit that my all-time favorite Christmas song has always been and will always remain Johnny Mathis's Marshmallow World. I know it's the worst and the cheesiest and the most annoying, but I'll love it forever. Not even American Eagle could take that away from me. And yes, they certainly tried.
If you're in a non-cookie gingerbread mood, try my Orange Gingerbread Meringues or these Gingerbread Rolls with Eggnog Glaze. I also love these Gingerbread Cupcakes from If You Give a Blonde a Kitchen!
What's your favorite holiday music? Help me reignite my love for it, while I continue to chow down on giant slices of gingerbread cookie cake!
📖 Recipe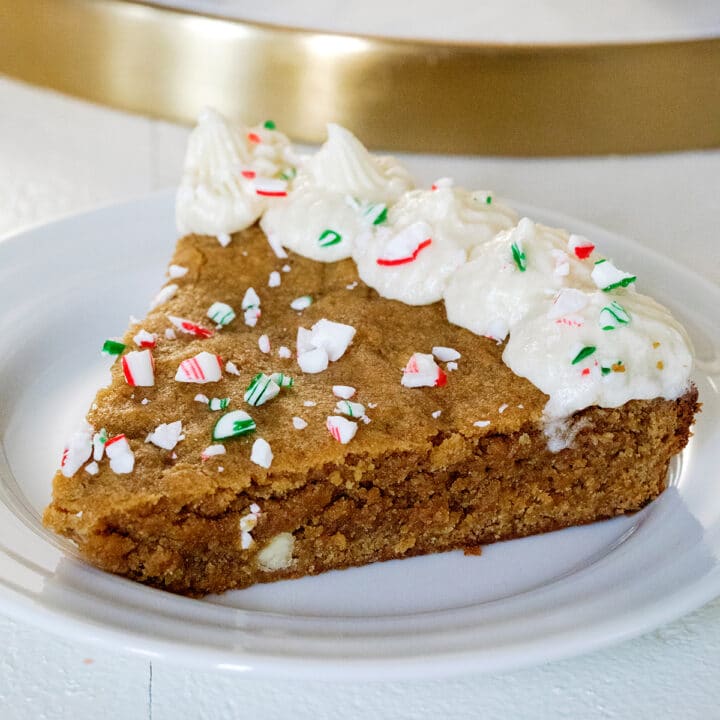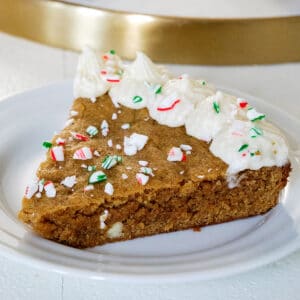 Gingerbread Cookie Cake
Instead of making gingerbread cookies this holiday season, make a gingerbread cookie cake! This Christmas cookie cake is easy to make and fun to decorate... Plus, you can cut yourself a nice big slice of it!
Print
Pin
Rate
Ingredients
1

cup (2 sticks)

unsalted butter,

room temperature

½

cup

granulated sugar

⅓

cup

molasses

1

large egg

2 ½

cups

all-purpose flour

2

tsp

baking powder

2

tsp

ginger

1

tsp

cinnamon

½

tsp

ground cloves

½

tsp

salt

⅓

cup

white chocolate chips,

optional
Buttercream Frosting
½

cup (1 stick)

butter,

room temperature

2 ½

cups

confectioners' sugar

1

tsp

vanilla

1-2

Tbsp

whole milk
Instructions
Pre-heat oven to 350 degrees and line a 9-inch cake pan with parchment paper.

In the bowl of a stand mixer or in a large bowl with a hand mixer, cream together butter and sugar until well combined.

Beat molasses and egg into mixture.

In a separate large bowl, whisk together flour, baking powder, ginger, cinnamon, ground cloves, and salt.

Add the dry mixture to the wet ingredients and mix until just combined.

If using white chocolate chips, fold into the batter.

Press cookie dough into the prepared pan, as evenly as possible.

Bake at 350 degrees for 20-24 minutes, until edges are turning golden, but cookie cake is still soft in the middle. Remove from oven and place pan on a wire rack to cool. Once cooled, use a knife to loosen edges of cookie and turn out onto a plate or cake platter.

Put frosting in a pastry bag and pipe along the edges. Sprinkle on crushed peppermint candies or other holiday decoration.
Buttercream Frosting
In the bowl of a stand mixer or in a large bowl with a hand mixer, beat butter until light and fluffy, occasionally scraping sides of bowl with spatula.

Mix in confectioners' sugar one cup at a time, until well-blended.

Mix in vanilla and then milk, 1 tablespoon at a time, only adding in second tablespoon if necessary.
Share a Photo of Your Finished Recipe!
Mention @wearenotmartha and share a photo if you've made the recipe!