Tropical Gin Sunrise cocktails are a visually stunning combination of pineapple juice, gin, raspberry lambic and lemon juice. They're easy to mix and perfect for summer sipping!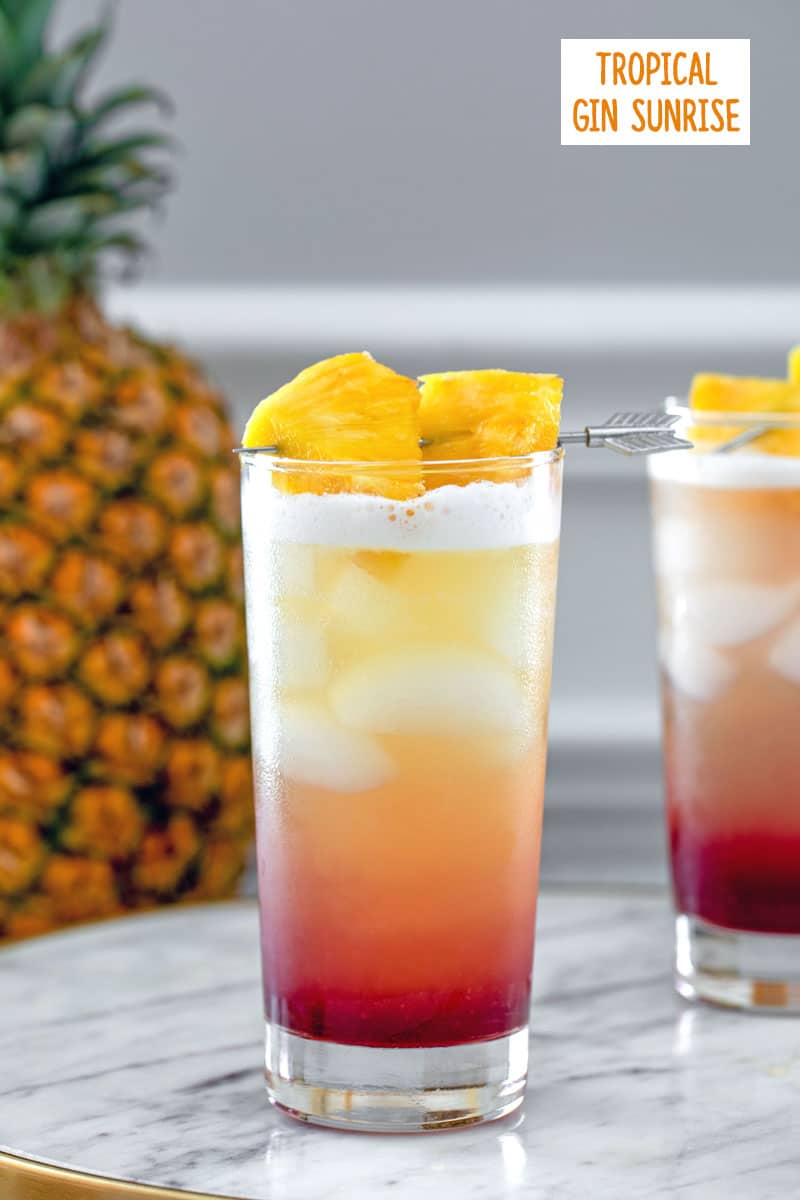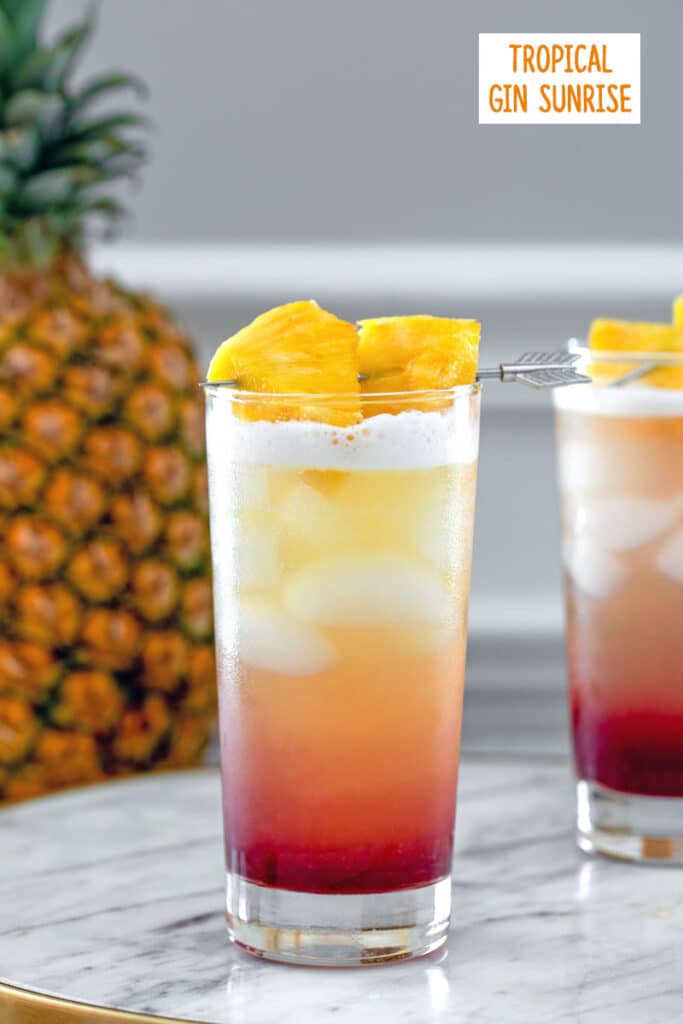 (This recipe for Tropical Gin Sunrise cocktails was originally published in May 2012, but was updated with new photos and content in 2020).
Summer is officially here and we've been getting some pretty toasty weather in New England! I love every second of it (except when I'm sweating while trying to sleep), but love it even more when I'm enjoying it with a cocktail in hand.
I've been on a major pineapple kick and buy one pretty much every week. What we don't eat, I chop up and freeze and use it for adding a little sweetness to green smoothies. But I much prefer cocktails to green smoothies.
Believe it or not, Chris actually developed this recipe a couple weeks before our wedding in 2012. He's not much one cooking/baking/recipe development, but I have to say he can put together a mean cocktail!
You don't see gin in tropical drink recipes too often, do you? It seems like a majority of tropical drinks are made with rum, tequila, or vodka. But I'm about to change all that.
This tropical gin sunrise cocktail involves some of my favorite things: pineapple juice, raspberry lambic, and gin.
What is Framboise Lambic?
Back when I first started enjoying beer, I got really into lambics. Lambics are basically sour beers, thanks to the fermentation process, which is a bit less controlled than in a traditional beer (wild yeast and bacterias are allowed to grow). Lots of people call them "funky" thanks to their sometimes extreme sourness.
Lambics are often fermented with fruits, raspberry (or "framboise" in French) being one of the most popular. If you search for raspberry lambic, chances are you'll come across the Belgian brewery Lindemans. I used their framboise lambic in this tropical gin drink and love it for its flavor and gorgeous color!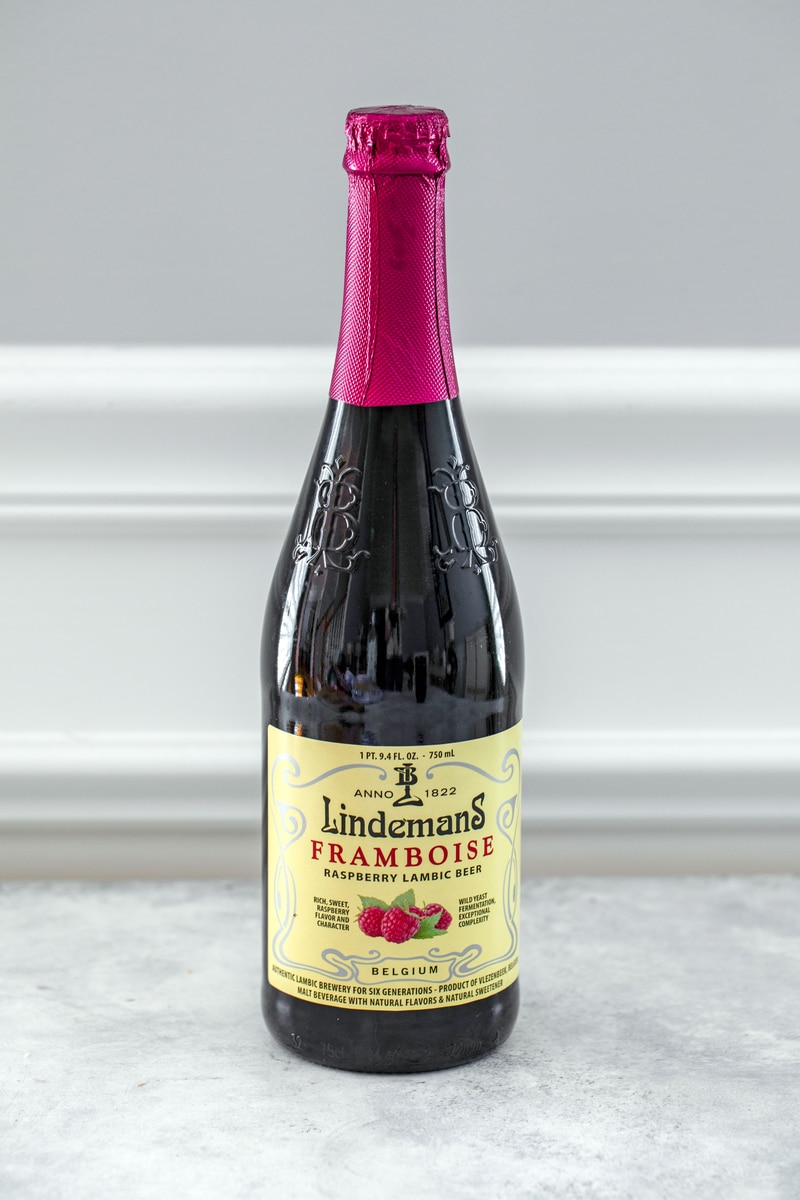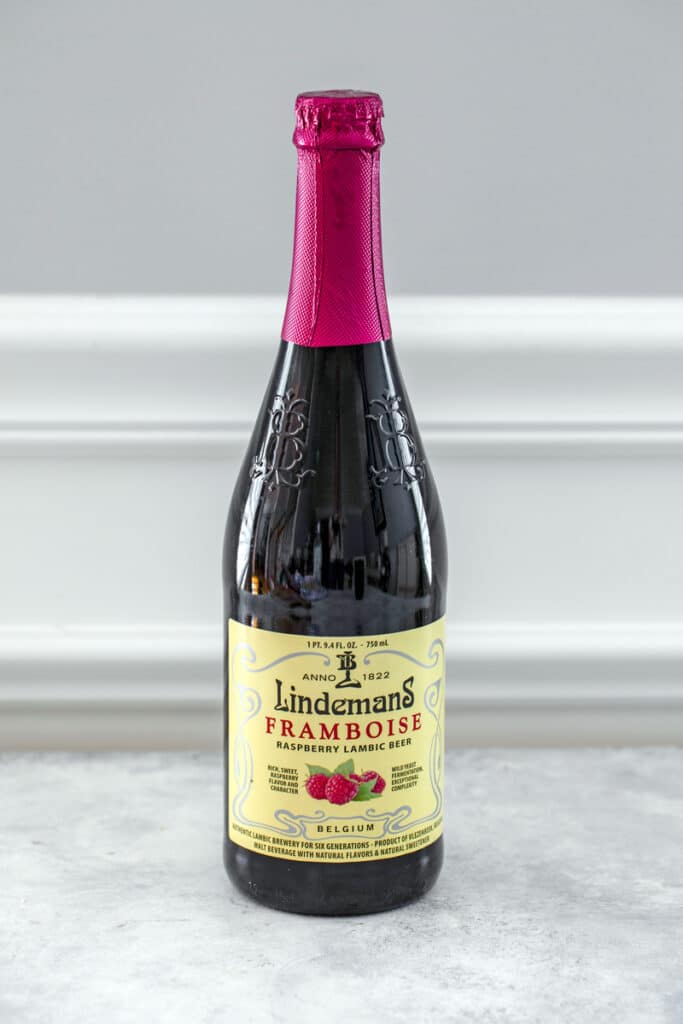 Tropical Gin Sunrise Recipe
This tropical gin cocktail recipe is ridiculously easy and should only take you about 5 minutes to mix together.
The recipe as written makes one cocktail, simply because you don't want to overload the cocktail shaker. So, just repeat for each additional cocktail you want to make.
Start by filling a glass with ice and adding 2 Tbsp raspberry lambic to it.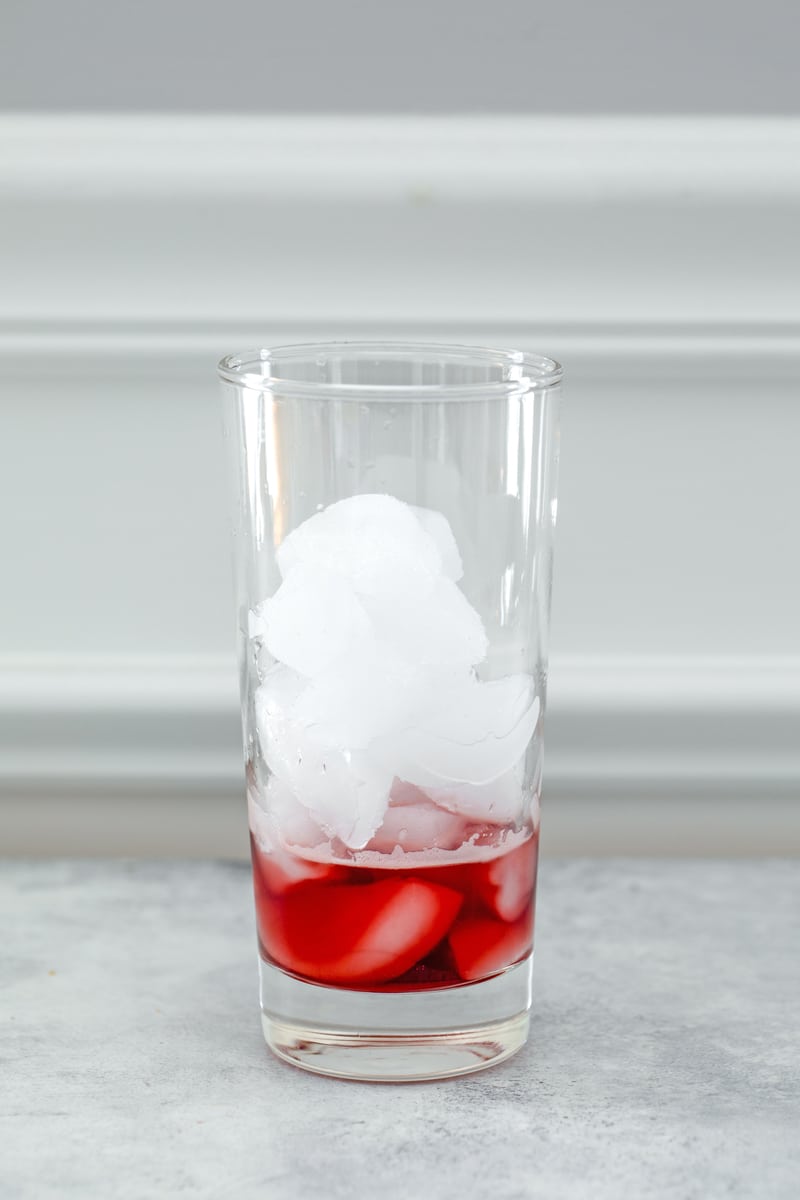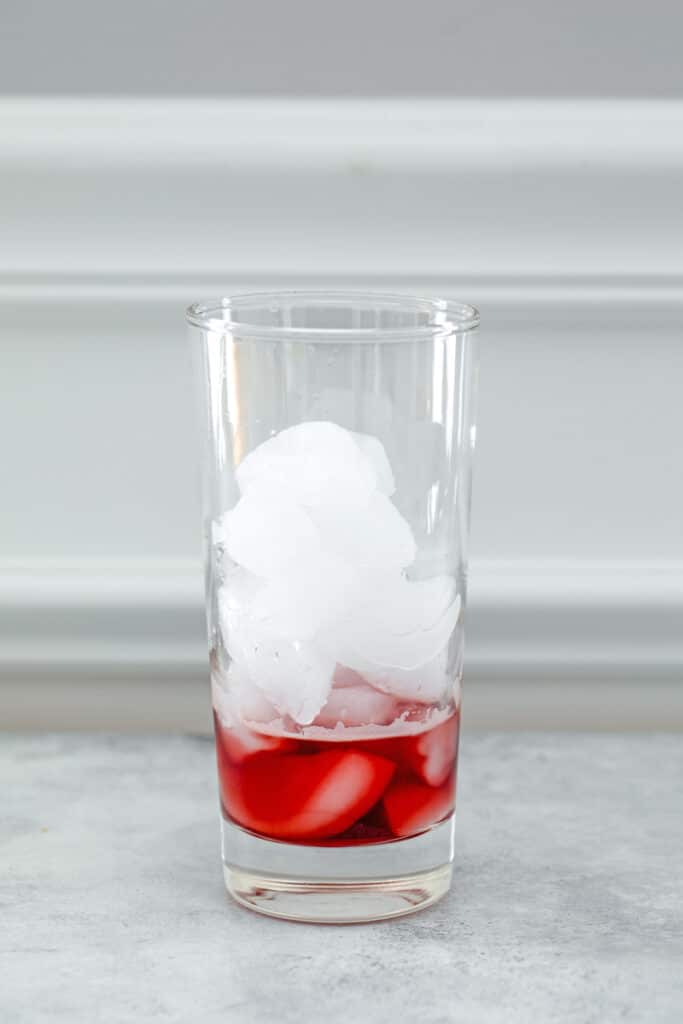 Then fill a cocktail shaker with ice and add ½ cup pineapple juice, ¼ cup gin, and 1 Tbsp lemon juice.
I know ¼ cup of gin might sound like a lot, but it's really only 4 Tbsp or 2 ounces. Not much at all! I won't tell if you decide you want to add more.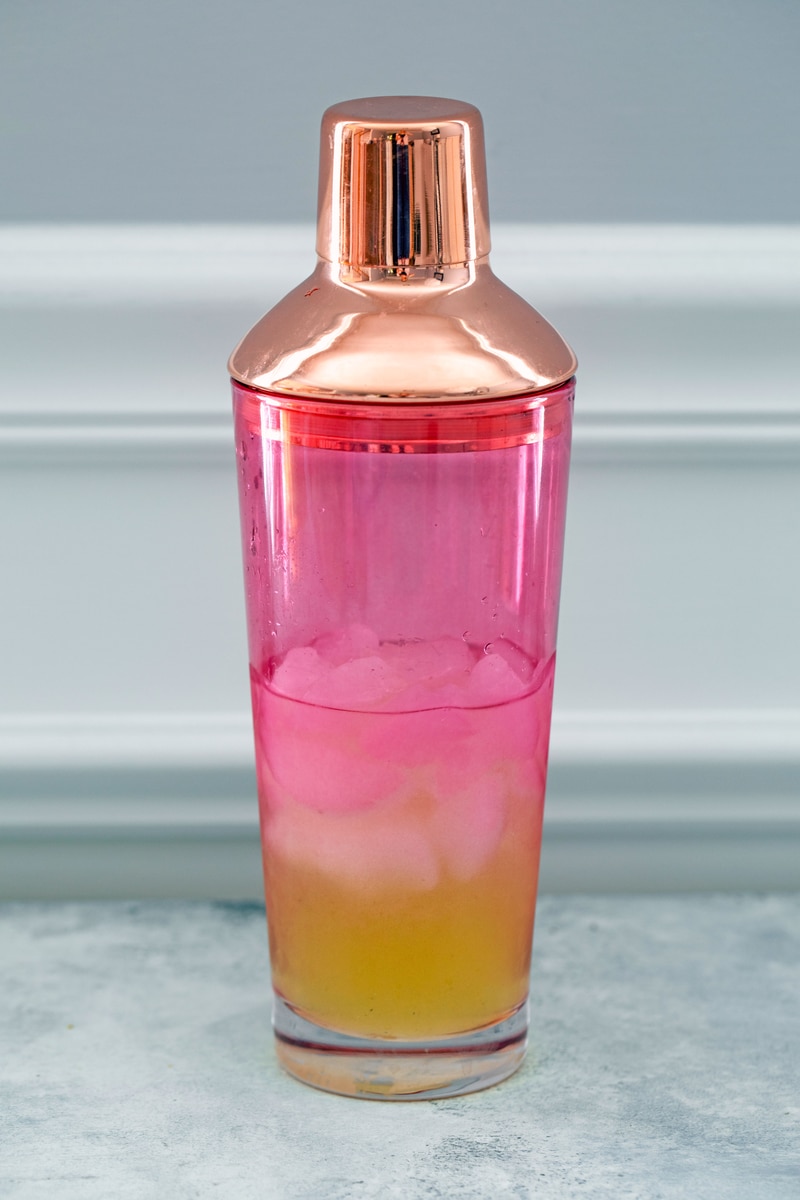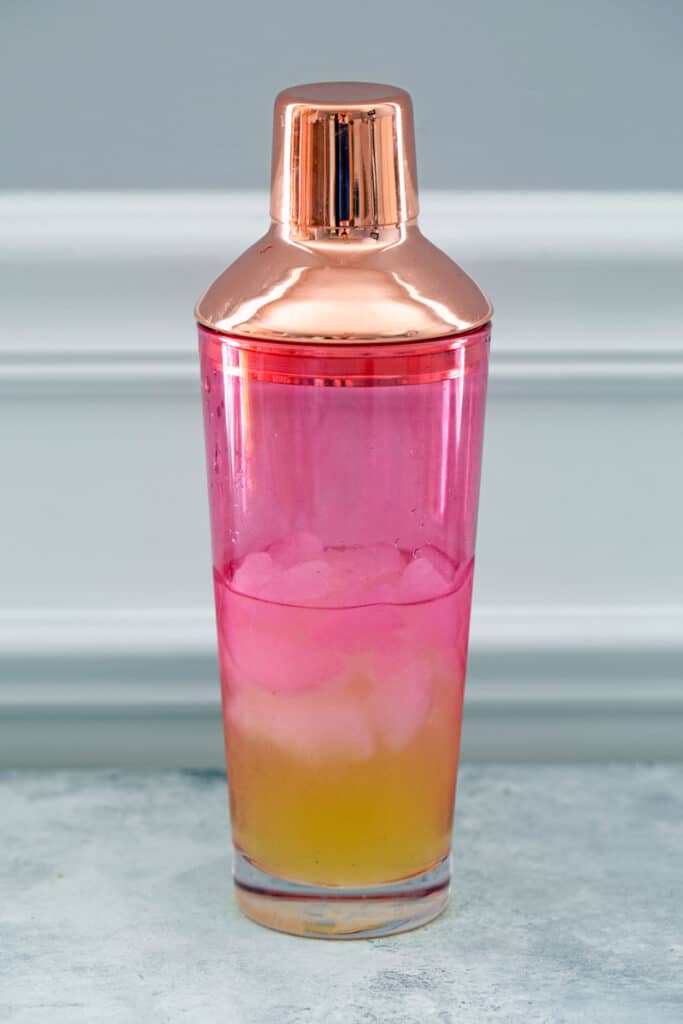 When you pour the mixture from the shaker into the glasses with raspberry lambic, do it slowly so the colors stay separated a bit.
This creates that gorgeous sunrise look.
Or is it a sunset? I guess it could be either. And while they can both be pretty stunning, there's just something about a sunrise that can't be captured in a sunset... Even if it's not quite as socially acceptable to be drinking tropical gin cocktails at sunrise (unless you've been up all night??).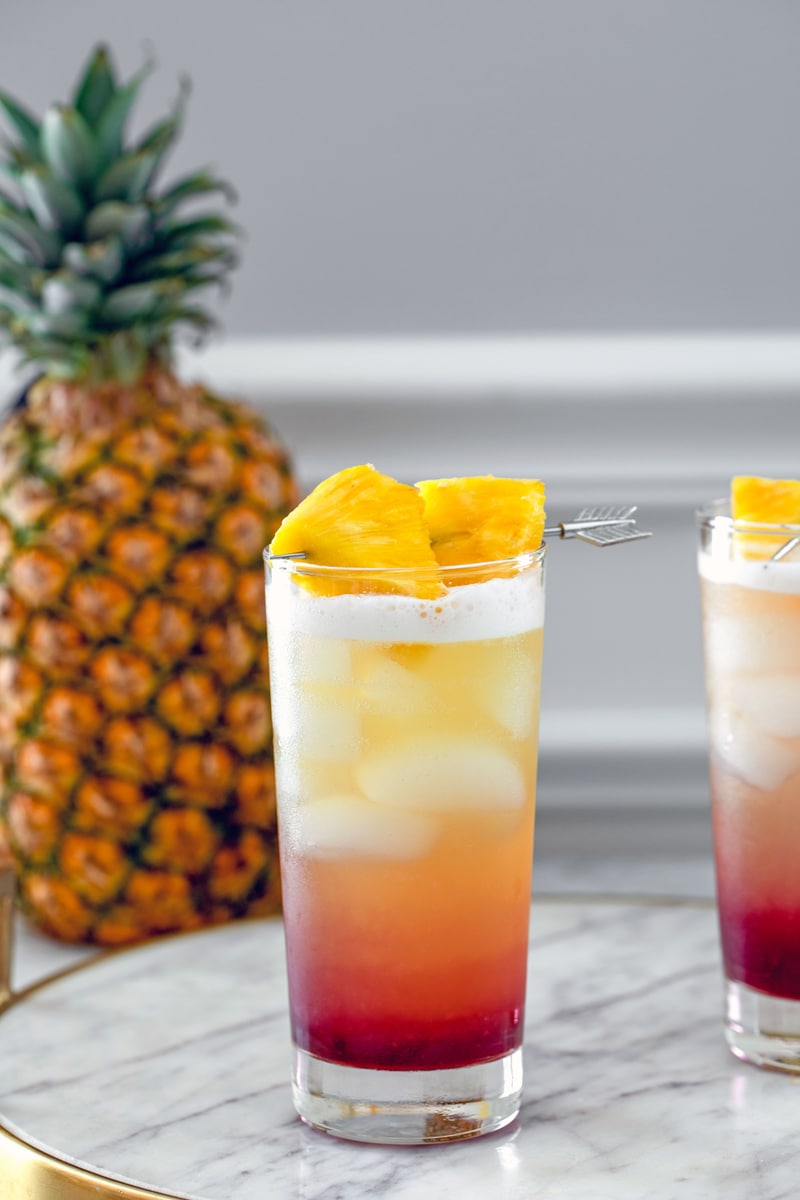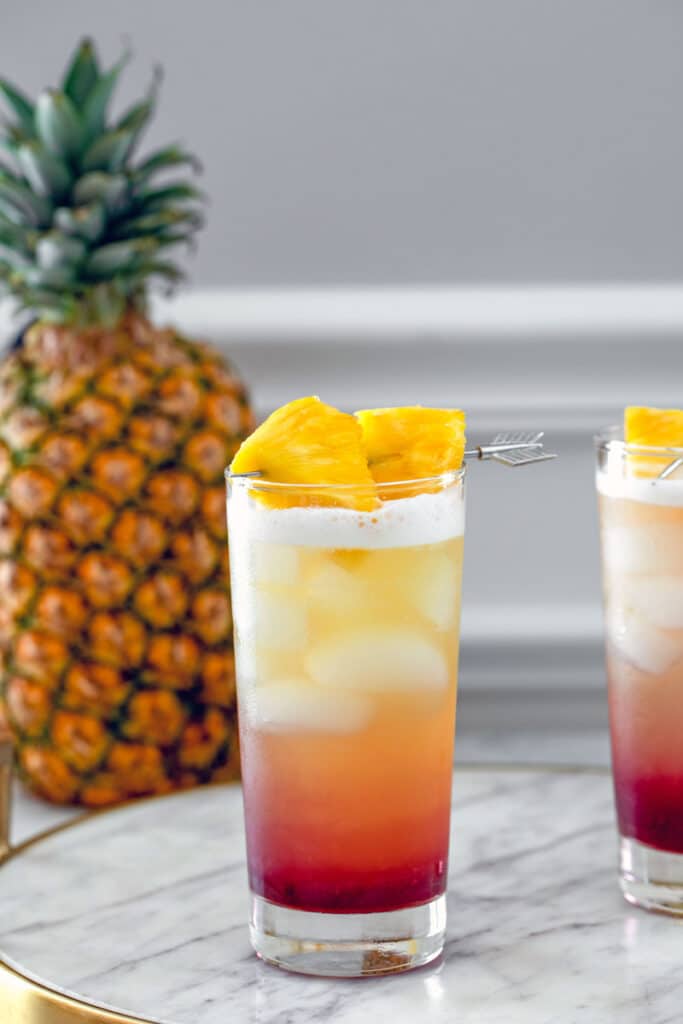 I garnished the cocktail glasses with some fresh pineapple before serving.
And then enjoyed my tropical gin sunset outside in the sun. Because I'm feeling pretty freaking grateful that it's summer and I can actually leave my house and enjoy the fresh air. And summer food and drinks.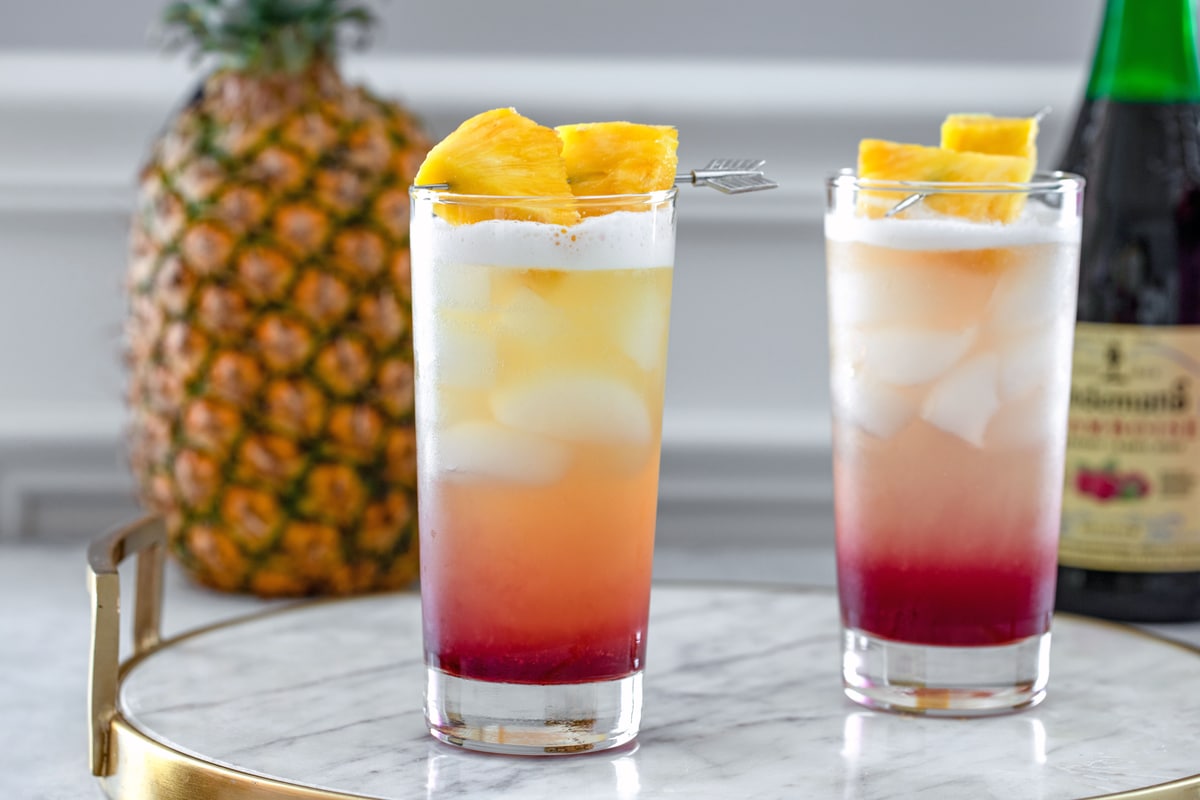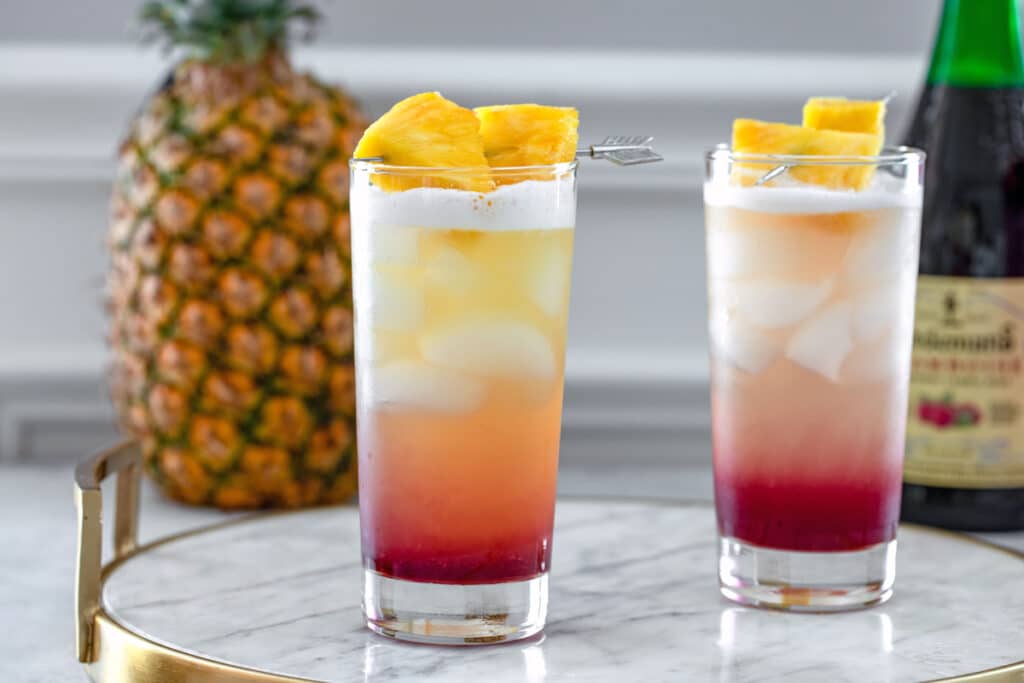 If you like pineapple, chances are you will really enjoy this tropical drink. I'm actually not the biggest fan of raspberry alcohol (neither is Chris), but I love raspberry lambic and it complements the pineapple juice and gin so well in this drink.
Plus, I just love the colors!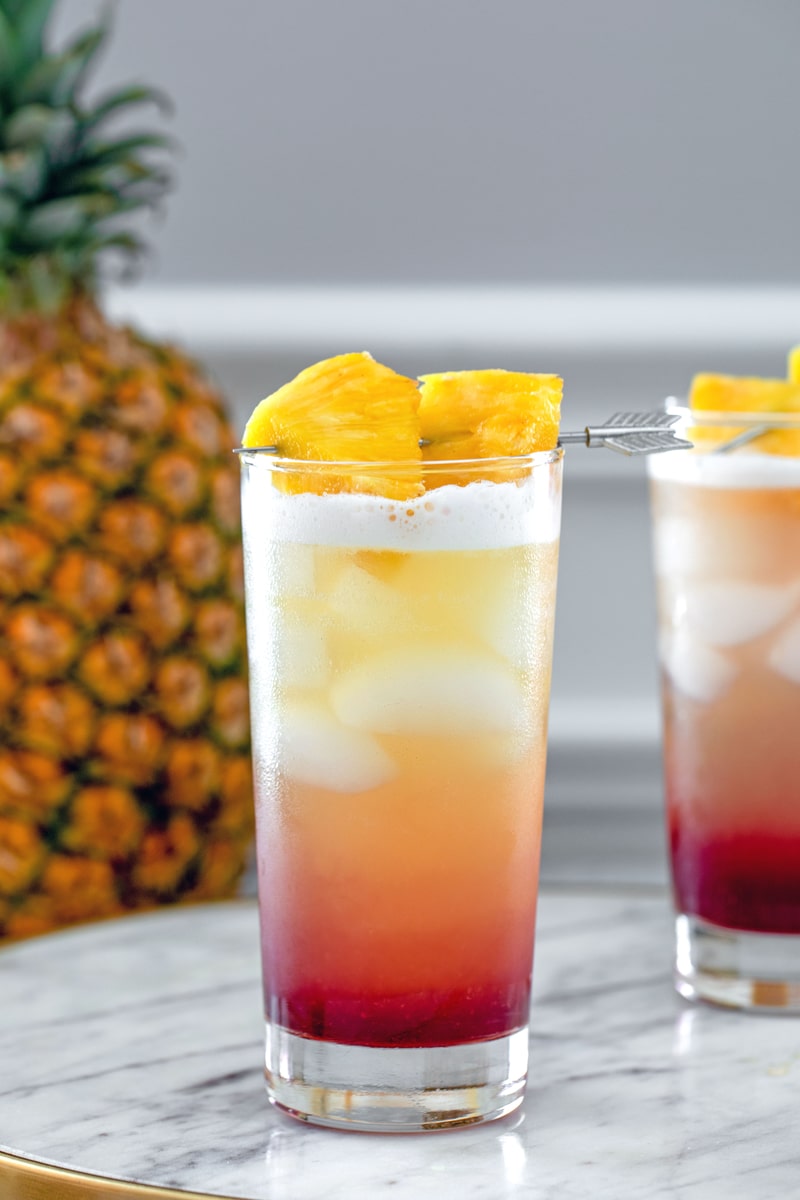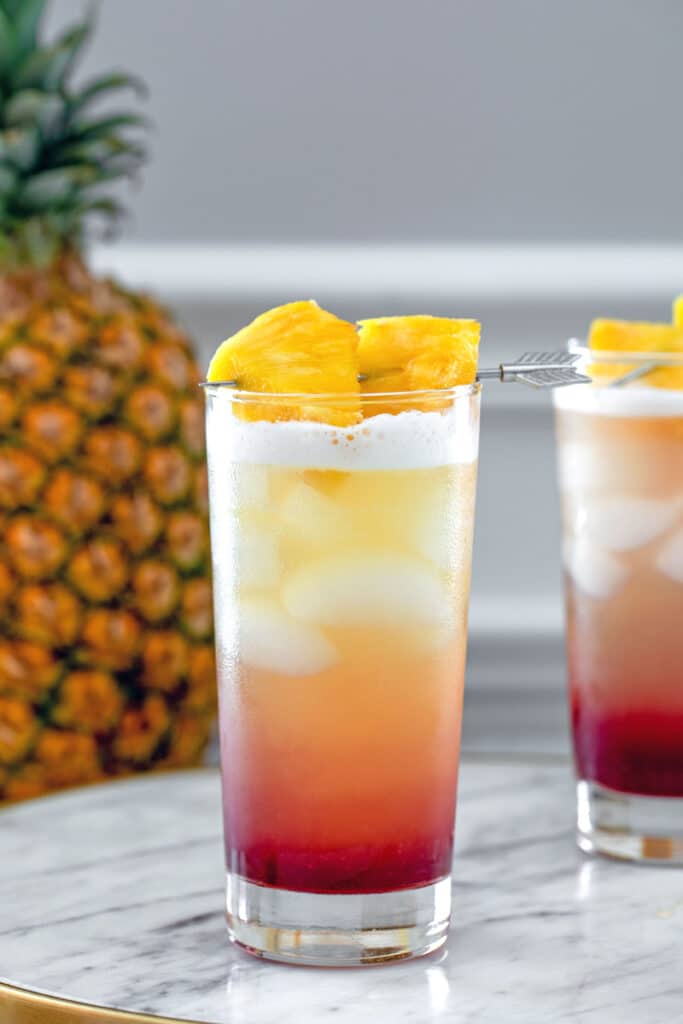 And since there's a strong chance you'll have some raspberry lambic left over, I recommend keeping it chilled and drinking a glass of it after your tropical gin sunrises are gone.
What's your favorite gin cocktail?
If you're looking for more summer tropical drinks, check out my Blueberry Vodka Lemonade and my Strawberry Coconut Daiquiris. I also can't wait to try these Pineapple Orange Coconut Rum Cocktails from Joyous Apron!
📖 Recipe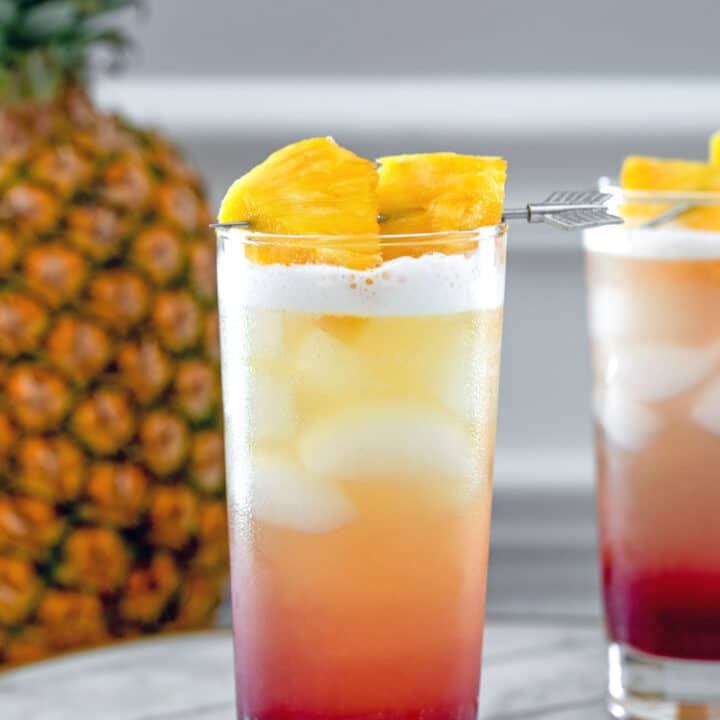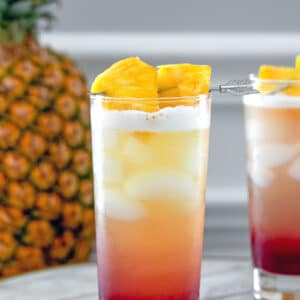 Ingredients
2

Tbsp

raspberry (framboise) lambic

½

cup

pineapple juice

¼

cup

gin

1

Tbsp

lemon juice

Fresh pineapple chunks,

for garnish
Instructions
Fill a glass with ice and pour in raspberry lambic.

In a shaker filled with ice, add pineapple juice, gin, and lemon juice.

Slowly pour mixture in shaker into glass with raspberry lambic.

Garnish glass with chunks of pineapple before serving.
Share a Photo of Your Finished Recipe!
Mention @wearenotmartha and share a photo if you've made the recipe!