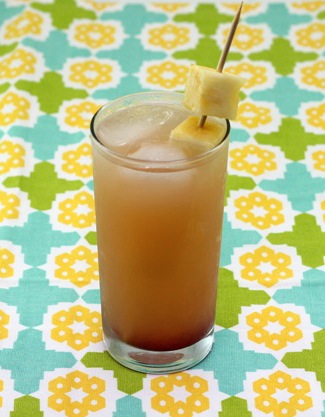 In honor of the fact that, in 2.5 weeks, I'll be sitting on a beach with a drink in my hand, I decided this week must end with a little tropical concoction. If you happen to be stuck at work or just anywhere not on the beach, you can make this drink, close your eyes, sip it, and pretend that you are. You may not get the positive effects of Vitamin D, but you also don't have to slather yourself in sunblock, so you can call if even. Then again, it's going to be 80 degrees here in Boston this weekend, so I guess you won't have to do much pretending.
I have to give credit for this one to my lovely fiance. Chris actually found a recipe from Martha Stewart and made a few adjustments and ended up with this loveliness. We decided to call it a Tropical Gin Sunrise because, well, it tasted tropical-like, it has gin in it, and a sunrise is better than a sunset because it means you have the whole day ahead of you (that mostly goes for when on vacation).
Tropical Gin Sunrise (serves 2):
Print this recipe!
1 C pineapple juice
1/2 C gin
2 T fresh lemon juice
4 T Framboisse Lambic
Pineapple wedges for garnish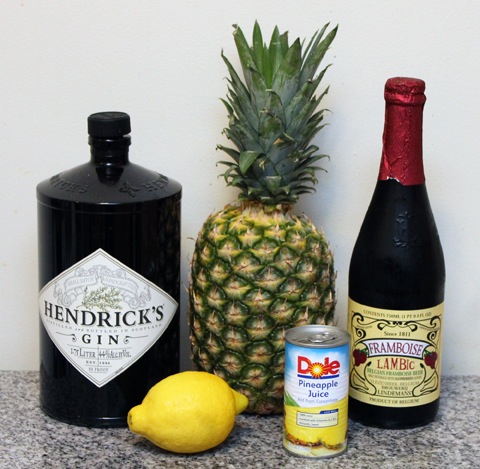 Have you had Framboise Lambic yet? If not, you should. Lindemans is a fab choice. Drink it plain or add it to a cocktail.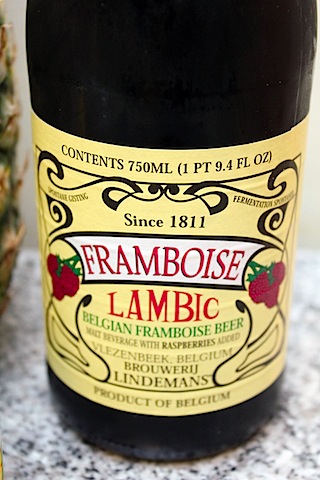 Like most of my drink recipes, this is simple simon. Though I shouldn't talk because Chris made the whole thing. While I sat on the couch. But our apartment is a sort of open concept, so I could kind of see him. Only I was staring at the television because I was watching The Bachelorette. I cannot tell a lie. I couldn't tear myself away from the manly cat-fighting on the show.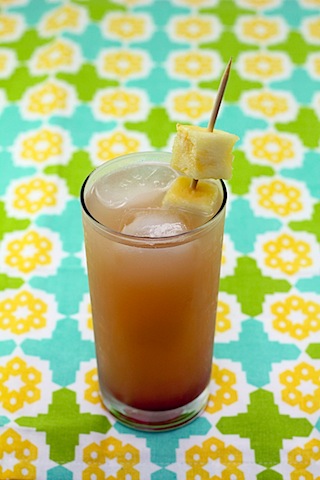 Luckily, Chris told me what he did. He got a pitcher and in it, mixed the pineapple juice, gin, and lemon juice.
Then he got two glasses and put 2 T of the lambic in each, filled each glass with ice, and poured the pineapple juice mixture to fill up the glass.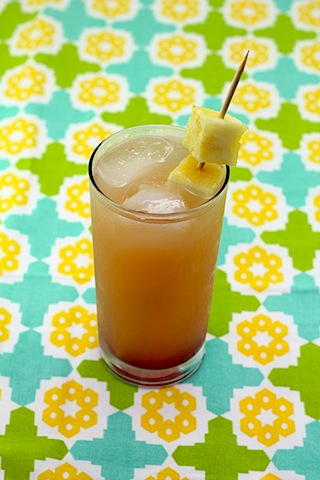 Oh wait, I did help. I totally cut the pineapple and speared it on those skewers. Made for a wonderfully delicious garnish. Must have been a commercial break.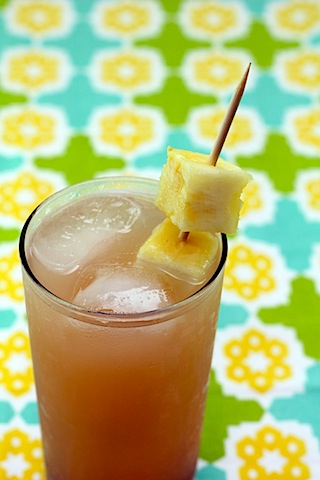 While I admit, I was a little skeptical of this cocktail (lambic mixed with gin and pineapple juice?), it turned out to be awesome. Like I said, it was very tropical-tasting and beach-friendly. I love pineapple juice! With a little raspberry twist. The perfect way to kick off the unofficial start of summer.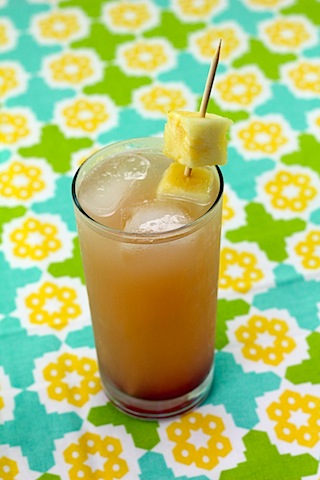 Next time I think it would be nice to add a couple more tablespoons on the bottom of each glass. Because it's tasty and has a super pretty effect. This will be the start of many cocktails this summer.
Happy Memorial Day weekend! I hope you have some nice plans this weekend and are able to spend time with the people you love. And sip on some yummy cocktails. In the sun.
What will you be drinking to kick this summer off?
[Sues]