Winter citrus combines with gin and a little maple syrup for this Blood Orange Meyer Lemon Gin Sour. The vibrant color of a blood orange cocktail will always impress guests!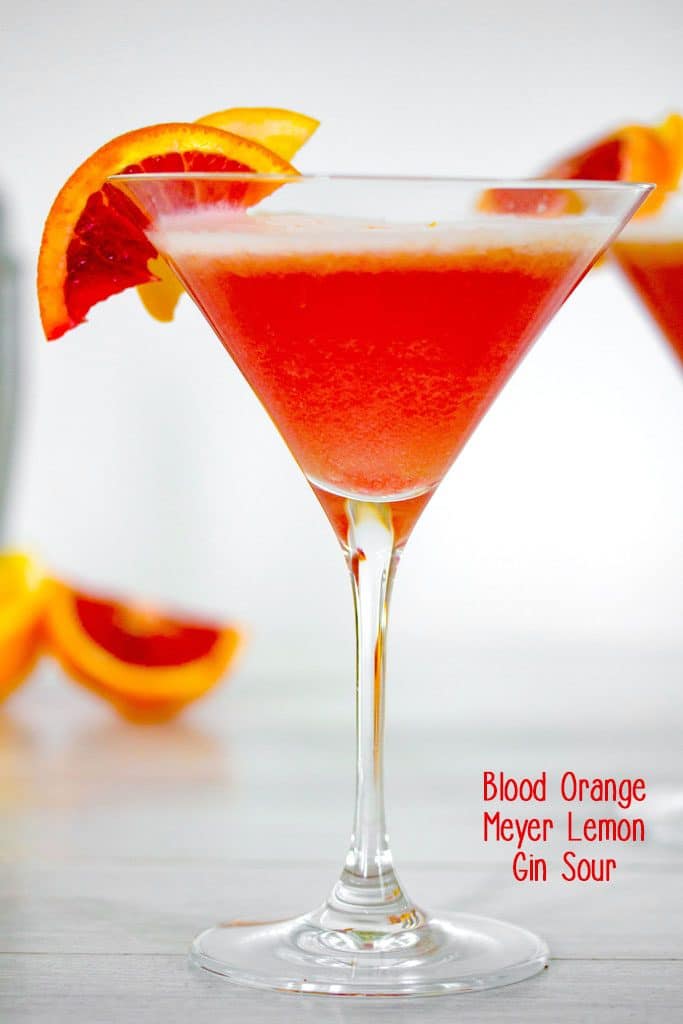 The other night, Chris and I spent no fewer than 10 minutes trying to come to an agreement on the definition of a "granddog." We were driving behind someone with a bumper sticker that claimed, "I love my granddog," which, to me, is one of the weirdest bumper stickers that's ever existed. And that's coming from someone who loves her dog way more than is normal. It must be that the person driving the car really loves their grown child's dog, right? It would be like if my mom were to get a bumper sticker claiming she loved my dog. Or do you think the driver really actually loves one of the puppies in their own dog's litter? Chris said you could only really have a granddog if you were yourself a dog. But I disagreed. We act like Winnie is our child and therefore, if she had puppies, they'd be our granddogs. I think I'm just confused because why would you love your granddog more than your own dog? And if you love your child's dog enough to get a bumper sticker about it, why wouldn't you just get your own dog?
The bottom line is that people are weird. And my husband and I are probably weird, too, for spending so much time analyzing the meaning of a stupid bumper sticker. I will just never understand why people feel the need to make such proclamations on their vehicles. However, if you forced me into getting a bumper sticker, I think I'd probably go with one that says, "Blood orange lover." Or maybe even one that says, "Blood oranges, meyer lemons, oh my!" That would really get the people driving behind me talking, right?
It's been a long and arduous winter with a serious lack of blood oranges in my life. For some reason, I had a lot of difficulty finding them this year, so bought about 50 when I finally spotted them at my grocery store. It wasn't until I started making my blood orange gin sour that I realized I could also use the plethora of meyer lemons I had to make this just about the most winter citrus drink ever.
BLOOD ORANGE MEYER LEMON GIN SOUR RECIPE
This cocktail went through a million different renditions in my head before the final drink was actually born. First, I planned to use maple whisky. And then I realized the beautiful color of the blood oranges would be diminished with whisky and so, I went with gin instead... With a little splash of maple syrup. Gin is never a bad idea. So, this cocktail is simply blood orange juice, meyer lemon juice, gin, and maple syrup. Oh, but don't forget the egg white!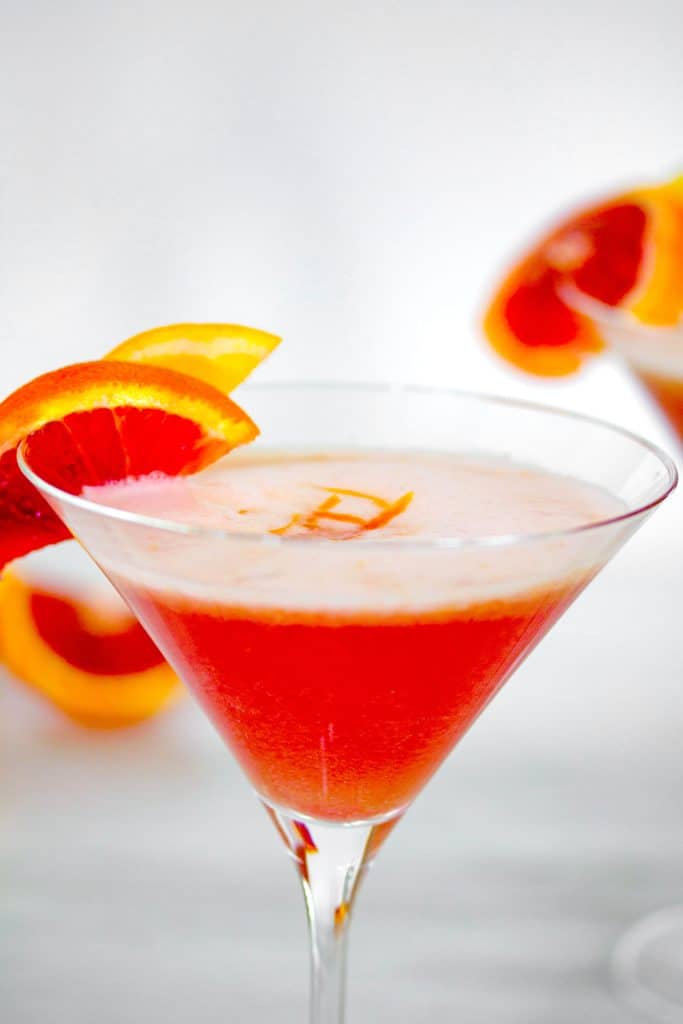 Some people are scared of egg whites in their cocktails, but I'm not at all. I love the beautiful froth they make and think it's especially essential in sours. Side note, do you remember the sours everyone drank when they first turned 21? What a travesty. I promise that this blood orange meyer lemon gin sour is nothing like those. Talk about instant hangover!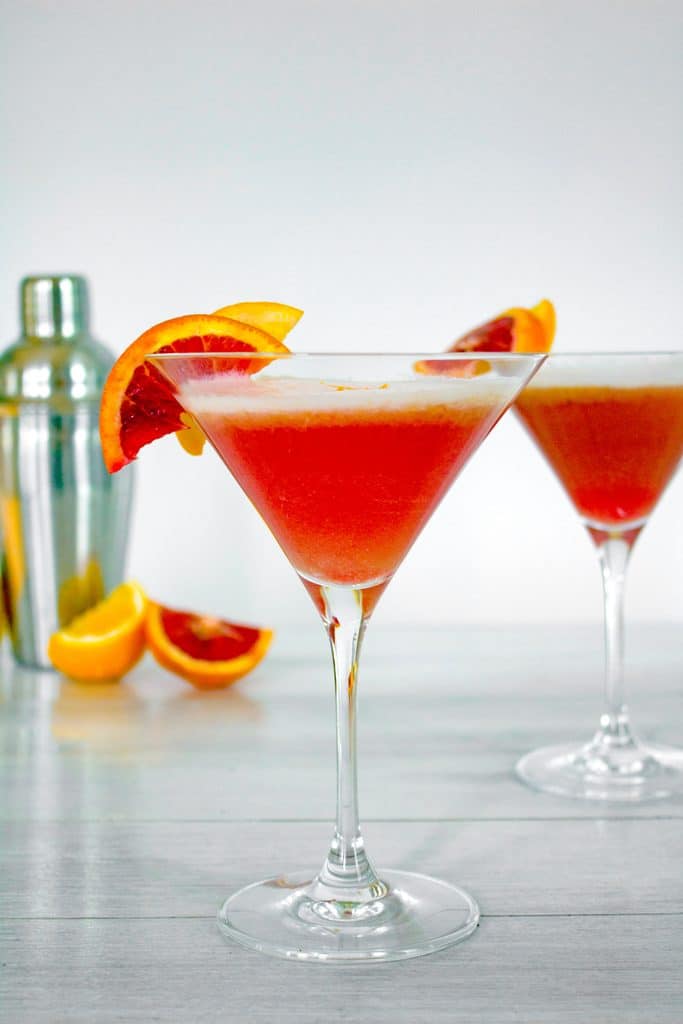 This cocktail is citrus packed, but in a real fruit and not sour mix kind of way. I love that meyer lemons are super sour, but with a hidden sweetness. And I love that gin is gin and absolutely delicious.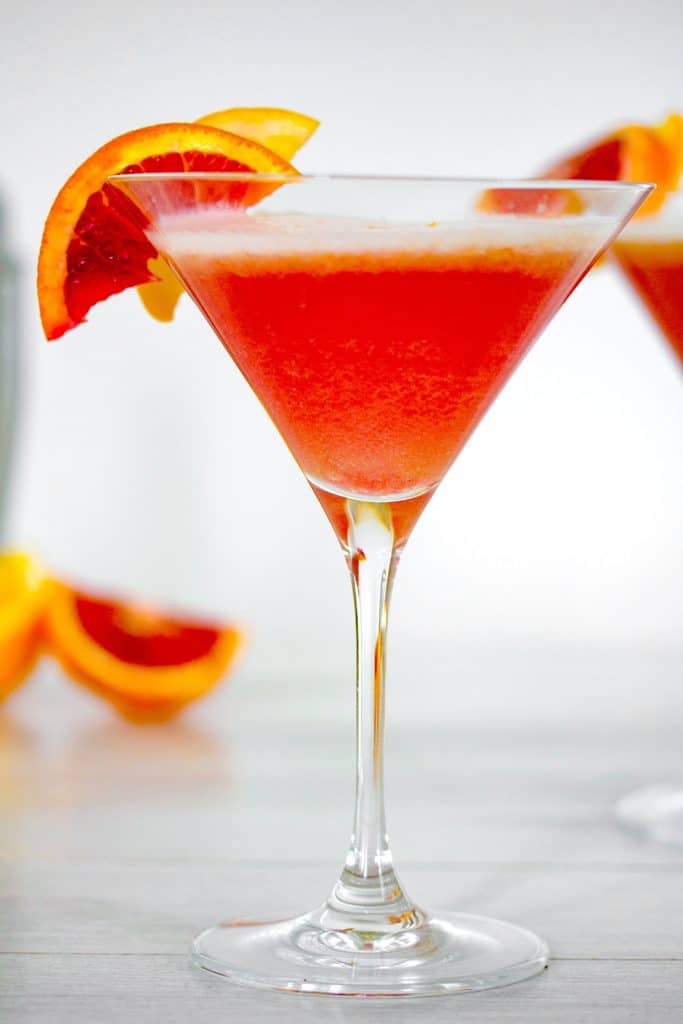 Do you realize that winter is actually ending? Daylight Saving's time is coming up next week, for Pete's sake. It's going to be in the 70s in Boston later this week (!!!). And if I leave work at a semi-normal time, it's already not pitch black. This is exciting on so many levels. But until the end is officially here, I'm working on getting my fill of blood oranges.
For more cocktails involving my favorite winter citrus (blood oranges!!), check out my Blood Orange Habanero Cocktail and my Grapefruit Blood Orange Cocktail. I'm also swooning over these Blood Orange Beergaritas from Spices in my DNA.
📖 Recipe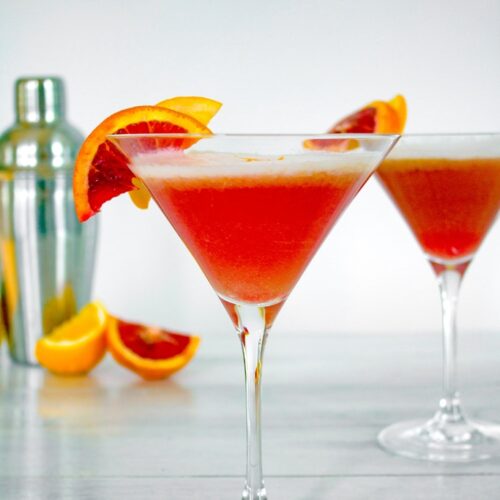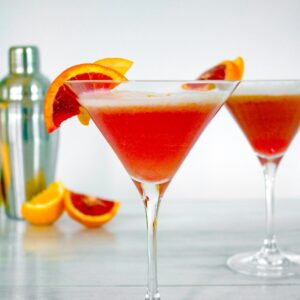 Blood Orange Meyer Lemon Gin Sour
Winter citrus combines with gin and a little maple syrup for this Blood Orange Meyer Lemon Gin Sour. The vibrant color of a blood orange cocktail will always impress guests!
Print
Pin
Rate
Ingredients
1

oz.

blood orange juice

½

oz

meyer lemon juice

1 ½

oz.

gin

¼

oz.

maple syrup

1

egg white,

room temperature
Instructions
Place all ingredients in a cocktail shaker, cover, and shake vigorously for about 10 seconds.

Add 5-6 ice cubes to shaker and shake vigorously for another 20 seconds.

Strain cocktail into a chilled martini glass.
Share a Photo of Your Finished Recipe!
Mention @wearenotmartha and share a photo if you've made the recipe!