Looking for a way to enjoy sweet watermelon flavor with everything this summer? This no-heat needed Watermelon Syrup is easy to make and lets you add watermelon flavor to drinks, ice cream, oatmeal, yogurt, and so much more!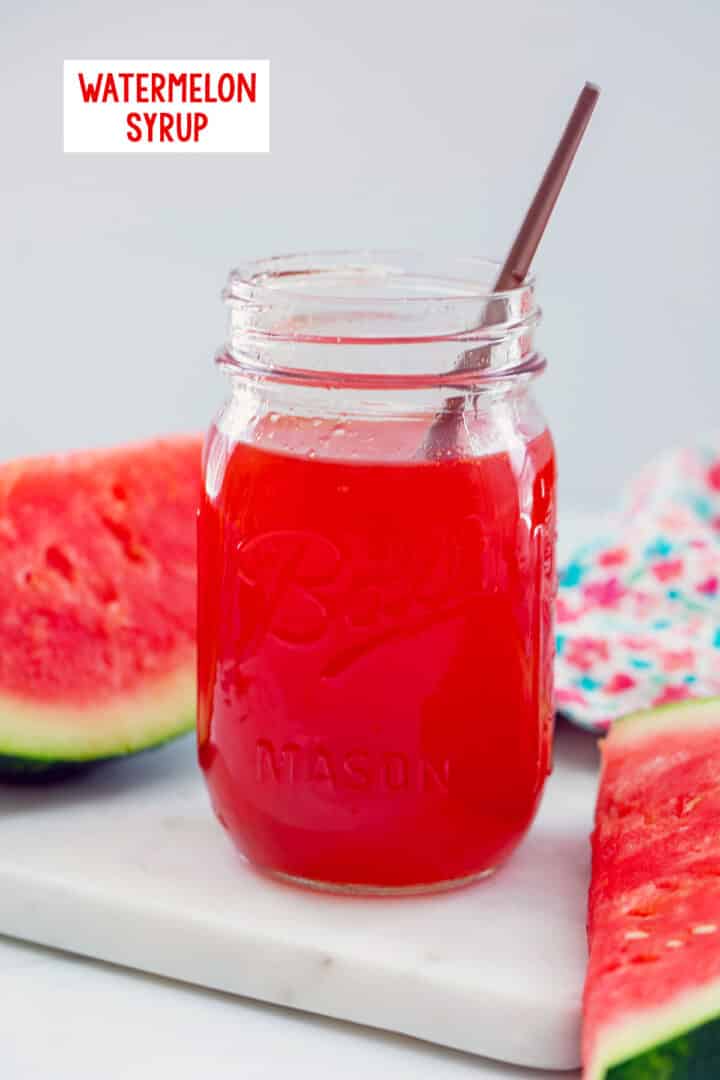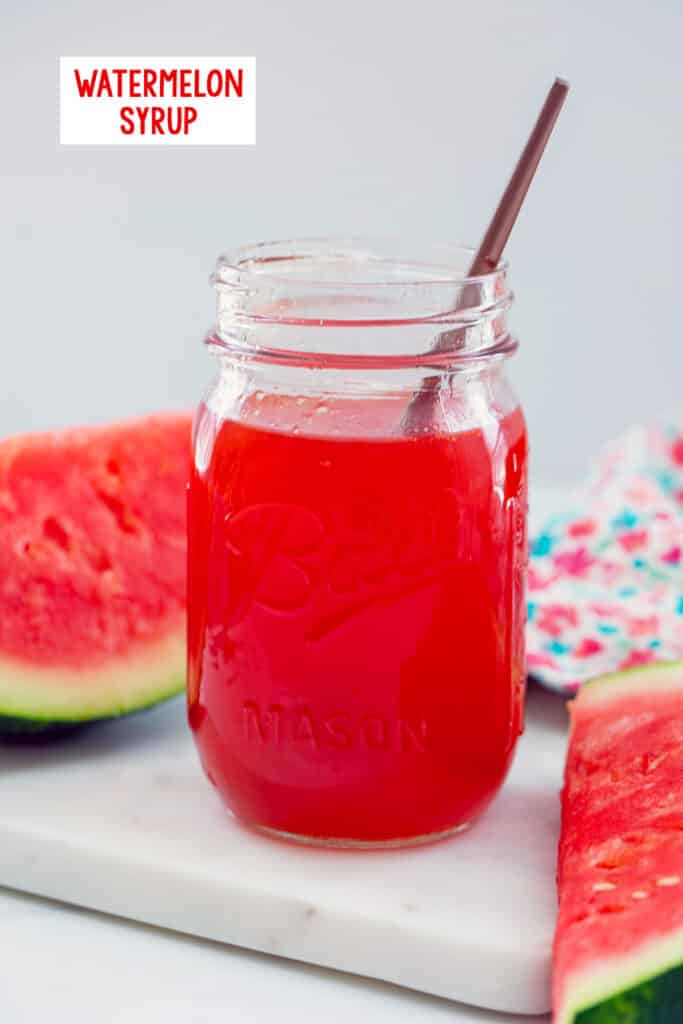 Jump to:
Is there anything better than watermelon in the summertime? I want to add it to everything from drinks to desserts and even to savory foods from time to time.
Though this watermelon syrup is an incredibly simple recipe, it took me a long time to perfect. I've made homemade syrups probably hundreds of times, but this one is quite different.
The first time I made it, I used my usual simple syrup making process and it was, well, not great. Because something happens to watermelon when you heat it that totally changes the flavor profile.
And while I can totally get behind grilled watermelon (especially when topped with feta), when I'm dreaming of watermelon cocktails and treats, I want that sweet and fruity, candy-like flavor to shine through.
🔥 No heat simple syrup
After doing some research, I learned that it is possible to make simple syrup without heat. In fact, some people even prefer it. This article instructs just giving the liquid and sugar a good stir, but I found that some intense shaking works much better.
The only downside to making simple syrup without heat is that it doesn't have as long of a shelf life as the standard syrup. This is because the heat typically kills bacteria and without it, bacteria will grow faster.
I find this to be especially true with syrups involving fresh produce like watermelon. But for me, the perfect watermelon flavor of this syrup is worth not having as long of a shelf life.
❤️ Why you'll love this recipe
You'll love this syrup because it's absolutely delicious and tastes like fresh watermelon! OK, it actually tastes even sweeter and more candy-like than fresh watermelon... kind of like watermelon Jolly Ranchers!
It's also super easy to make... No heat required! And it has so many fabulous uses, which I've detailed for you below.
🗒 Ingredients
You only need two ingredients for this watermelon syrup:
Fresh Watermelon
Granulated Sugar
That's it!
🍉 How to make watermelon syrup
It's so easy to make this simple syrup with just a few quick and easy steps... They don't call it simple for nothing! And since this requires no saucepan or heat, it's even easier.
First you'll want to puree your watermelon into juice. You'll want about 1 cup of juice, so I recommend using about `1 ¼ cup watermelon.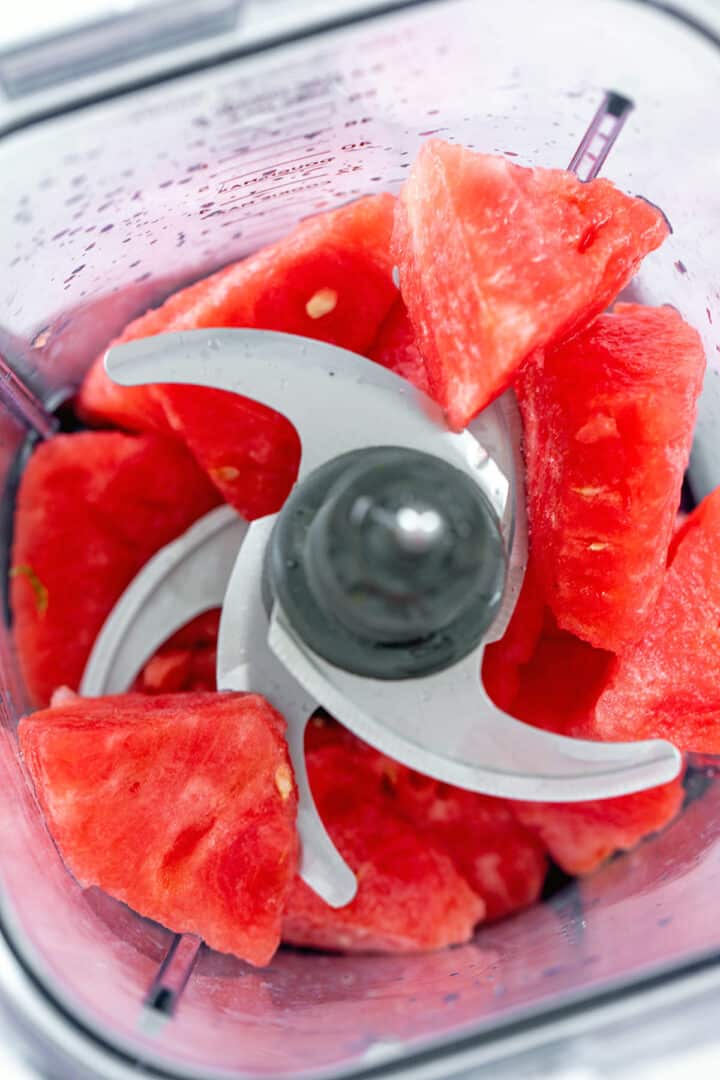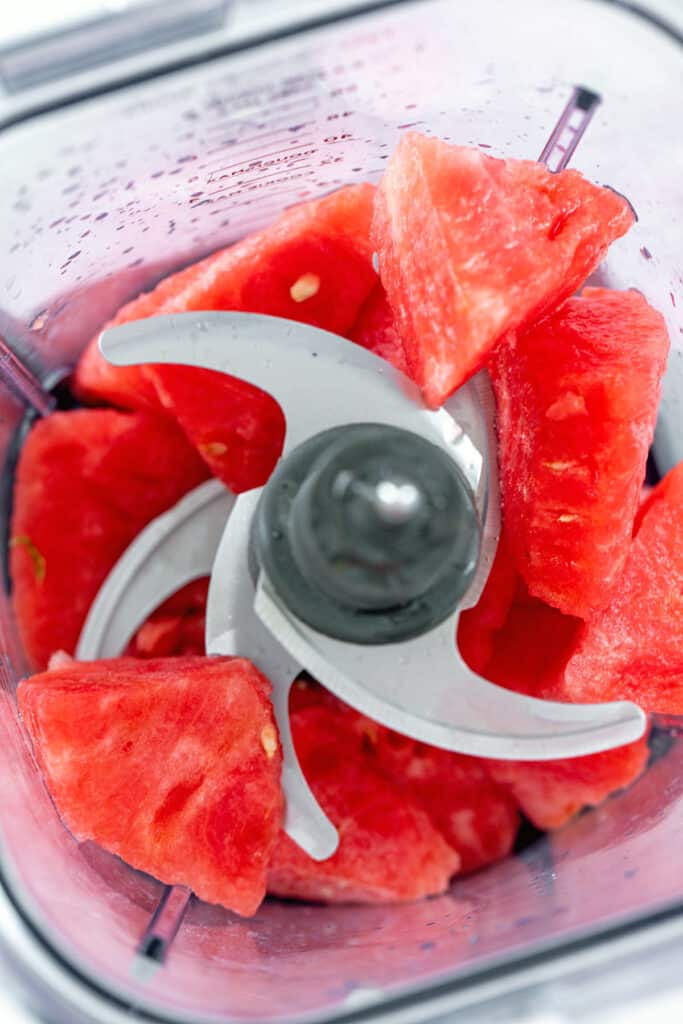 Put the watermelon in a blender and puree until it's liquid.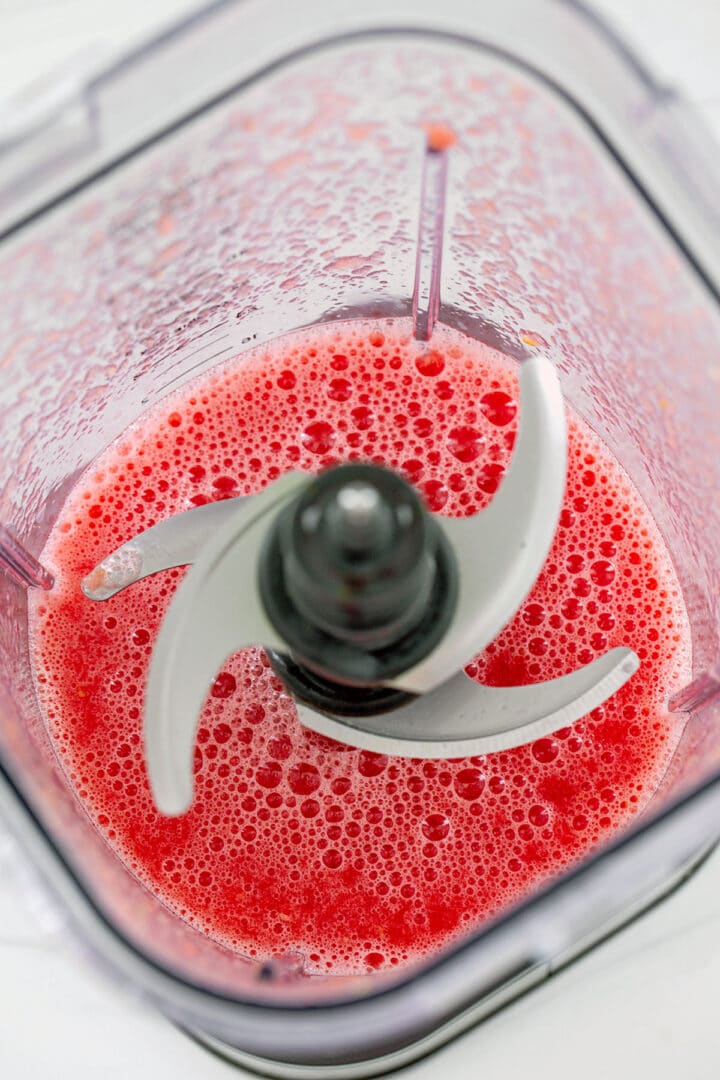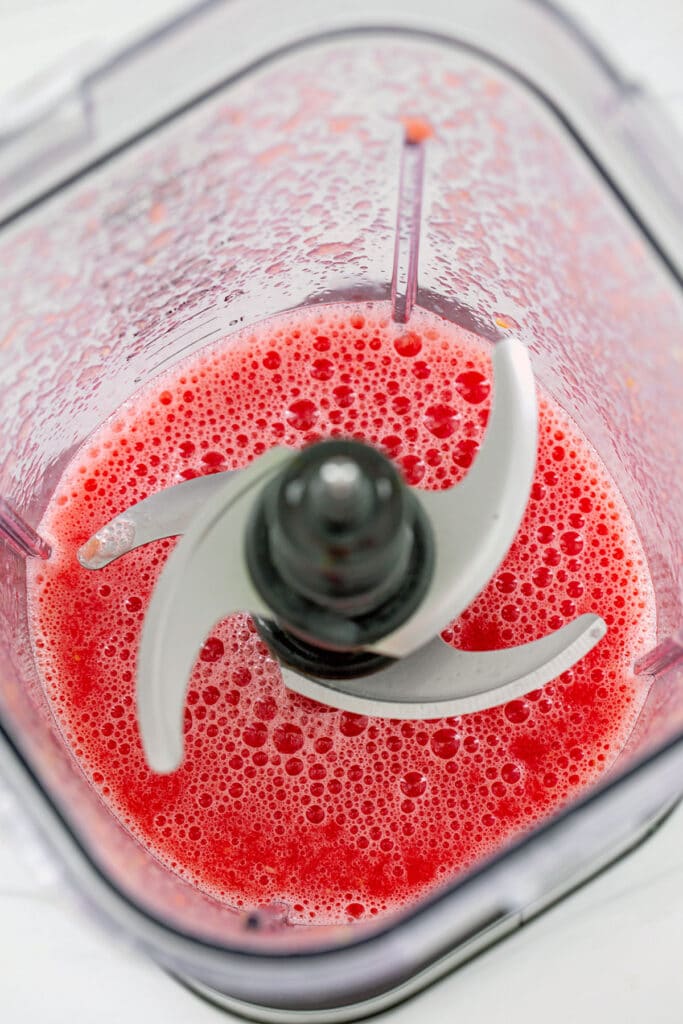 I recommend putting the juice through a fine mesh sieve to catch any of the pulp.
This will help you make a smoother syrup.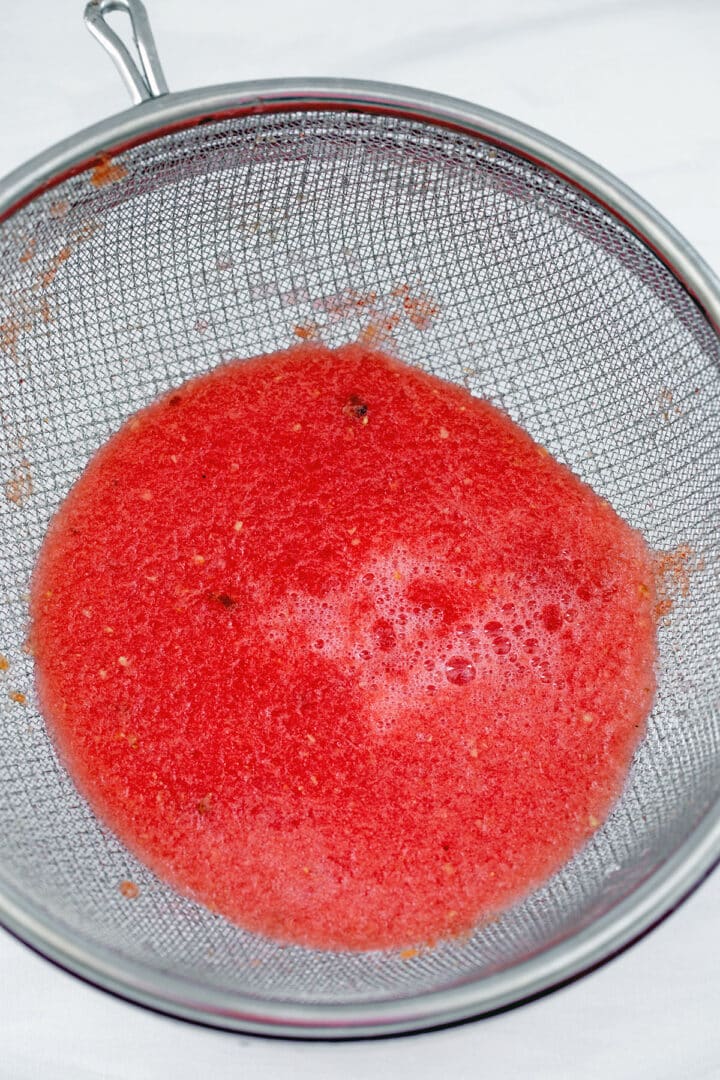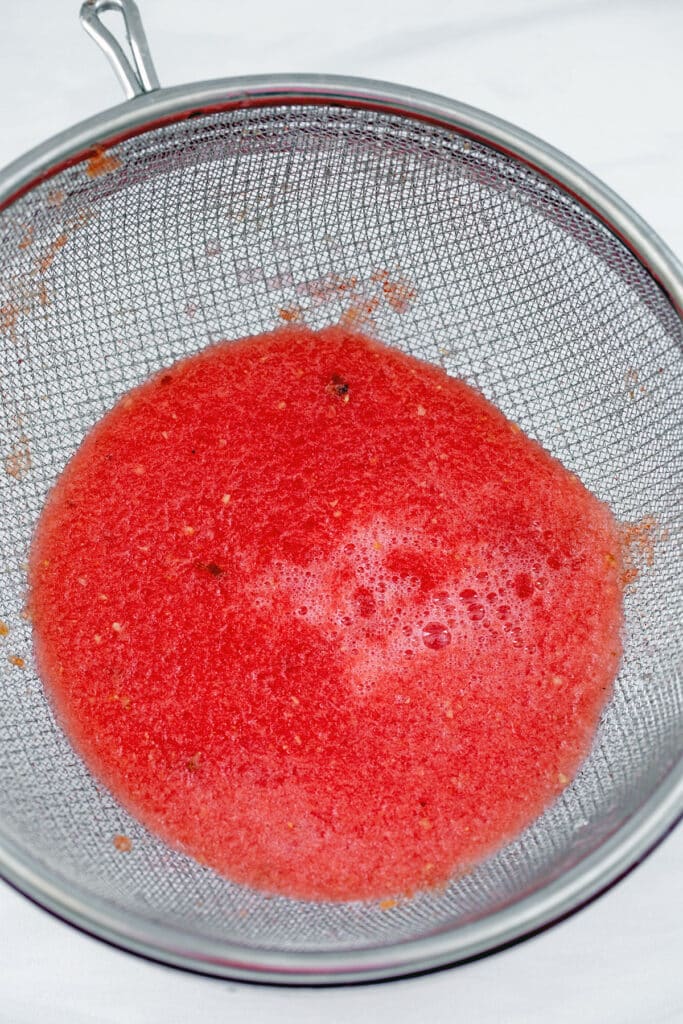 Now, pour the watermelon juice into a jar and add ½-3/4 cup sugar. I typically use a 1:1 ratio when making simple syrup, but since watermelon tends to already be on the sweet side, I add less for this syrup.
My watermelon was very sweet, so I used ½ cup here. But sometimes watermelons are more on the bland side, so give your juice a taste before adding the sugar to determine if you want to add a bit more.
Now, you'll need to shake it up! Close the jar tightly (make sure the lid is on super tightly!) and shake vigorously for about 2 minutes.
Let the mixture rest and then repeat for another 2 minutes. Put syrup in the fridge for at least 20 minutes and then shake again before using.
And your watermelon syrup is ready to use!
Hello, Jolly Rancher in a jar! Not only is it a super pretty color, but it tastes like a little slice of summer heaven!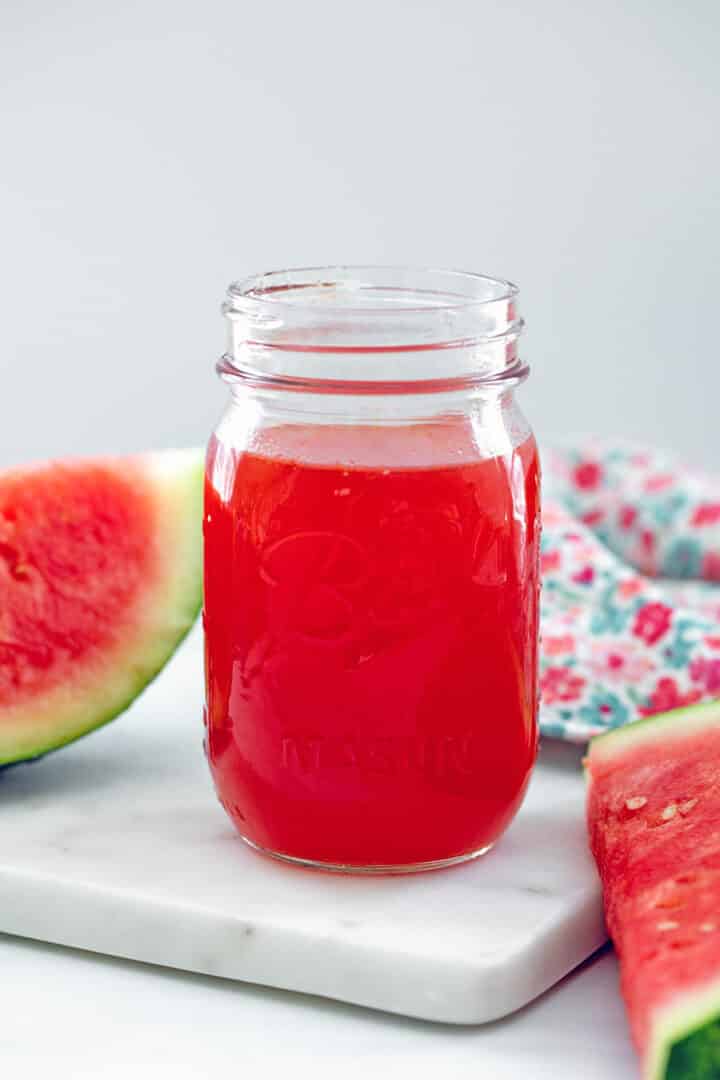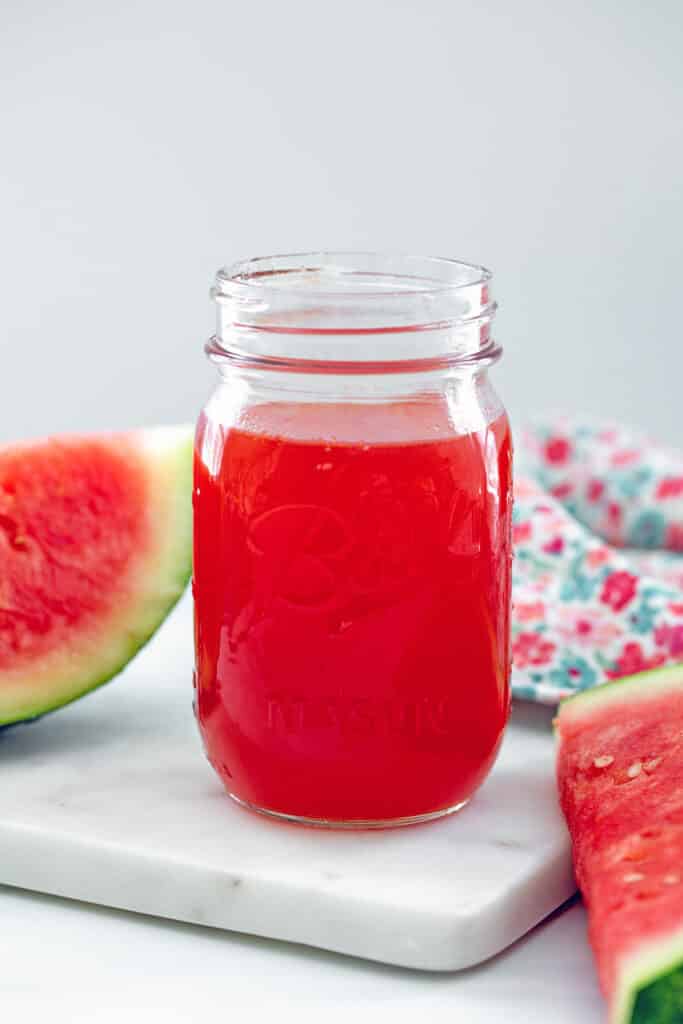 👩‍🍳 How to use
There was so many ways you can use watermelon syrup. Just be careful because if you try to take a little taste with a spoon, it's highly likely that you won't be able to stop "tasting" it.
In any event, here are some ideas for how to use it:
Cocktails: The most obvious way to use this syrup is in all kinds of watermelon cocktails! My favorites are a simple watermelon vodka soda or watermelon gin and tonic. But you can also use it in margaritas, mojitos, and so much more!
Homemade watermelon soda: If you want to add a little fun to your boring soda water, just stir in some of this syrup for a delicious homemade watermelon soda. Your kids will love it, too!
Iced tea flavoring: You can add this syrup into any iced tea, but I think it's especially delicious in iced green tea.
Ice cream topping: Watermelon syrup is absolutely delicious when drizzled over vanilla ice cream (or the ice cream flavor of your choice!).
Yogurt or oatmeal topping: If you're feeling a little bored of your standard healthy breakfasts, drizzle a little watermelon syrup over them.
Pancake, waffle, and french toast topping: Summer-ize your favorite brunch faire instantly with a drizzle of watermelon syrup!
Salad dressing: Mix with olive oil and other ingredients of your choice (jalapeño, herbs, etc.) for a watermelon dressing.
Cake moistener: Lots of bakers use simple syrup to add moisture and flavor to cakes and this watermelon syrup would make the most delicious cake moistener. Turn a plain vanilla cake into a watermelon cake instantly!
Frosting flavoring: You can even mix a little into your homemade (or store-bought) buttercream frosting for watermelon frosting.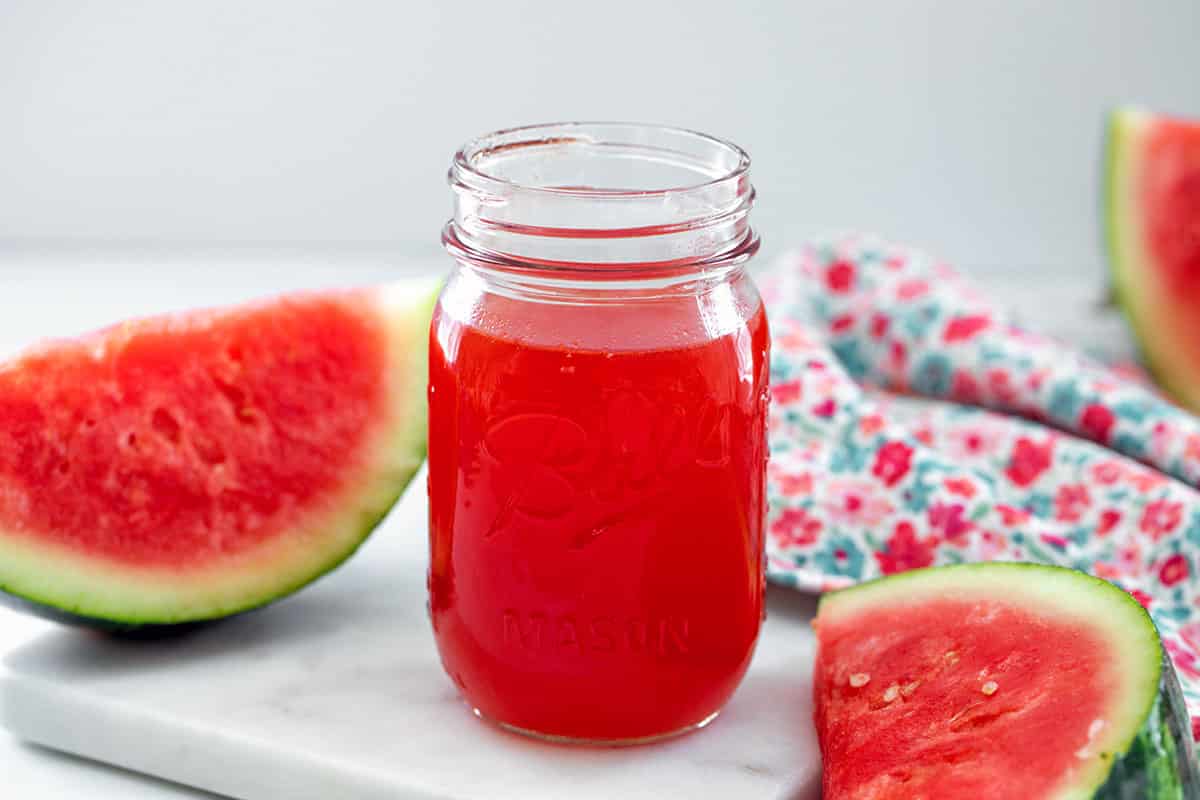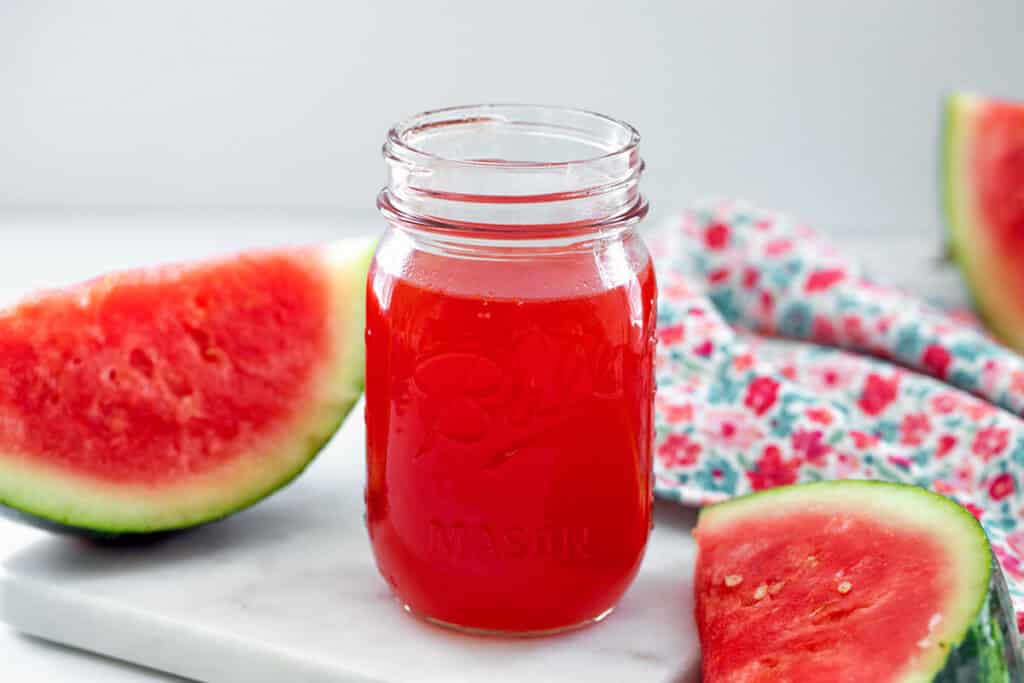 ⏲ How to store
I highly recommend storing your homemade watermelon syrup in a mason jar or another airtight container in the fridge.
As I mentioned above, this syrup won't last as long as my other simple syrup recipes since it's made without heat, but it should stay fresh in your fridge for 5-7 days.
For mason jars, I recommend a 16 oz. jar. I always have lots of these jars on hand since they have so many uses!
💡 Variations on recipe
I love this watermelon syrup as is, but there are also a lot of ways you can adapt it to add even more flavor, depending on what your tastes are. Here are some ideas:
Jalapeño: Add some sliced or diced jalapeño pepper to the mixture and shake it up for a little spice.
Mint or basil: Muddle fresh mint leaves or basil into the syrup.
Lime: Add some lime juice to the watermelon syrup before shaking.
Chili powder: Mix some chili powder into the syrup for a nice kick.
Salt: Lots of people love the combination of watermelon and salt, so try adding a pinch of salt into the syrup.
🛍 Where to buy
This homemade watermelon syrup is so easy to make, but I also completely understand if you'd prefer to purchase a bottle of it. The benefit of store-bought watermelon syrup is that it will have a much longer shelf life than homemade!
Here are the best options for purchasing: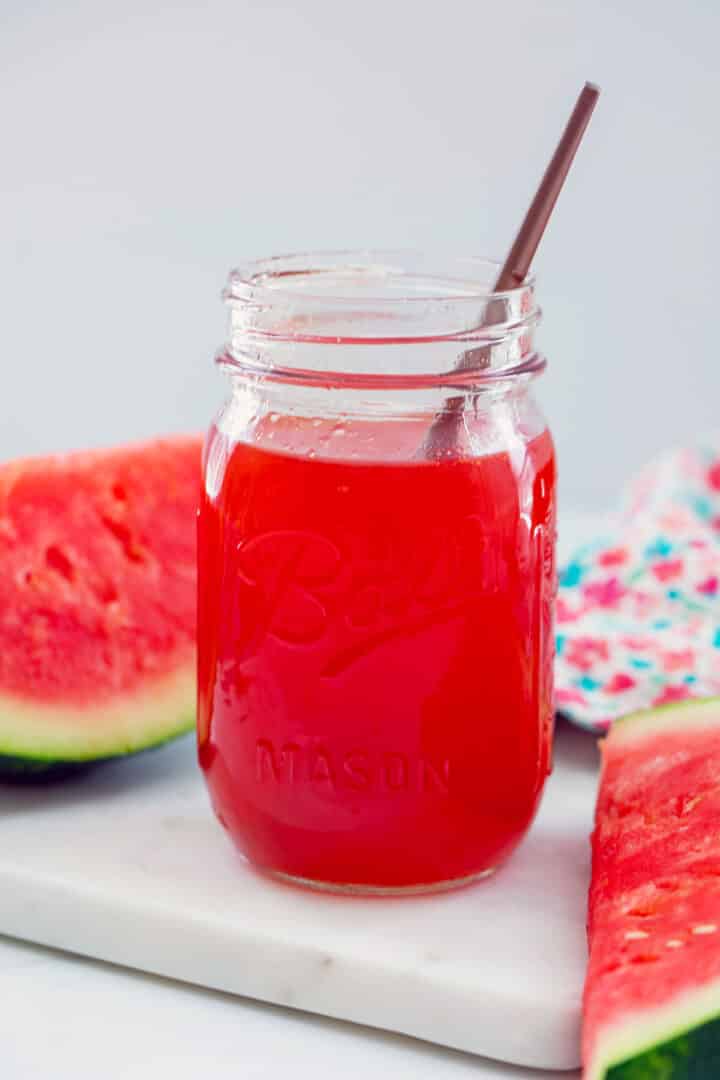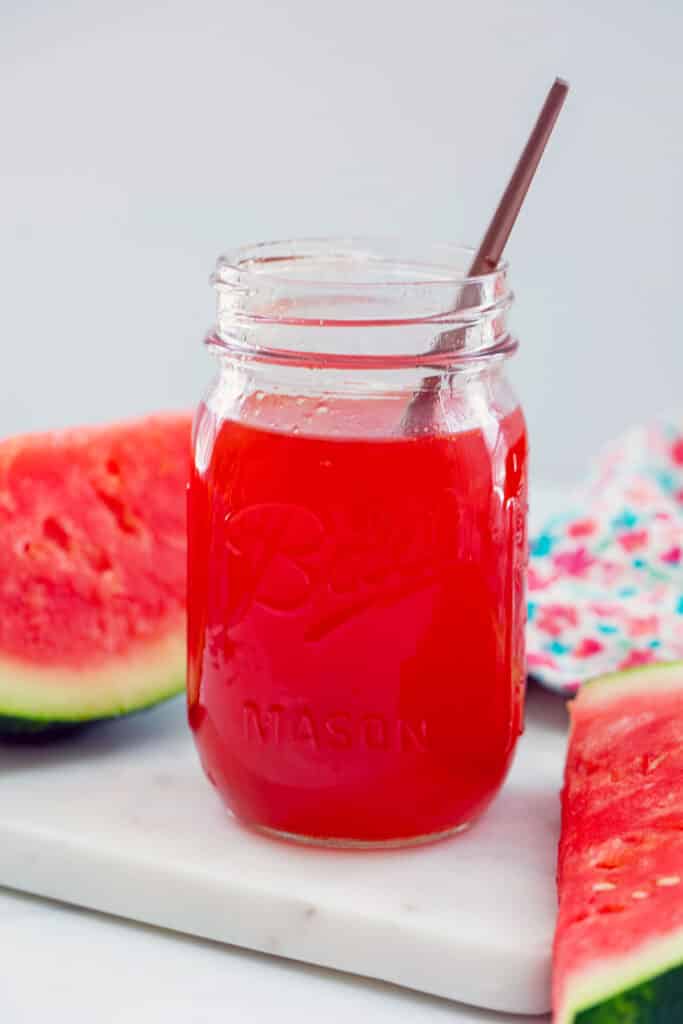 🥤 More simple syrup recipes
There's no end to the flavors of simple syrup you can make and I love creating new ones. I've even made a bubblegum syrup before!
But jalapeño, strawberry, blueberry, and lavender are my most popular.
Stay tuned because I'm always adding to my list of flavors.
But for now, I hope you enjoy this watermelon syrup all summer long!
📖 Recipe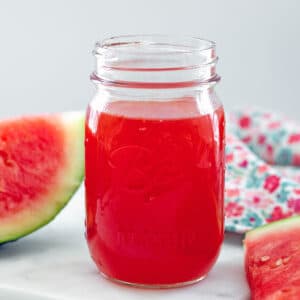 Watermelon Syrup
Looking for a way to enjoy sweet watermelon flavor with everything this summer? This no-heat needed Watermelon Syrup is easy to make and lets you add watermelon flavor to drinks, ice cream, oatmeal, yogurt, and so much more!
Print
Pin
Rate
Ingredients
1 ¼

cups

cubed watermelon

½-3/4

cup

granulated sugar
Instructions
Place cubed watermelon in a blender and process until completely liquified.

Place a fine mesh sieve over a bowl and pour the watermelon juice through it. Let juice strain through and leave pulp behind. You should have about 1 cup of juice.

Pour juice into a mason jar and add sugar. If your watermelon is sweet, you'll only need ½ cup sugar. If it's not a sweet watermelon, use more. Close jar tightly and shake vigorously for about 2 minutes. Let rest and then repeat for another 2 minutes.

Put watermelon syrup in fridge to chill for at least 20 minutes before using. You'll need to shake jar again before using as ingredients will settle.
Notes
Syrup should keep in your fridge in an airtight container for 5-7 days.
Share a Photo of Your Finished Recipe!
Mention @wearenotmartha and share a photo if you've made the recipe!