This Bubblegum Simple Syrup is a brightly colored, fun, and totally unique simple syrup! Add it to cocktails or make bubblegum soda for your favorite candy loving kid! It can also be used to flavor baked goods and buttercream frostings.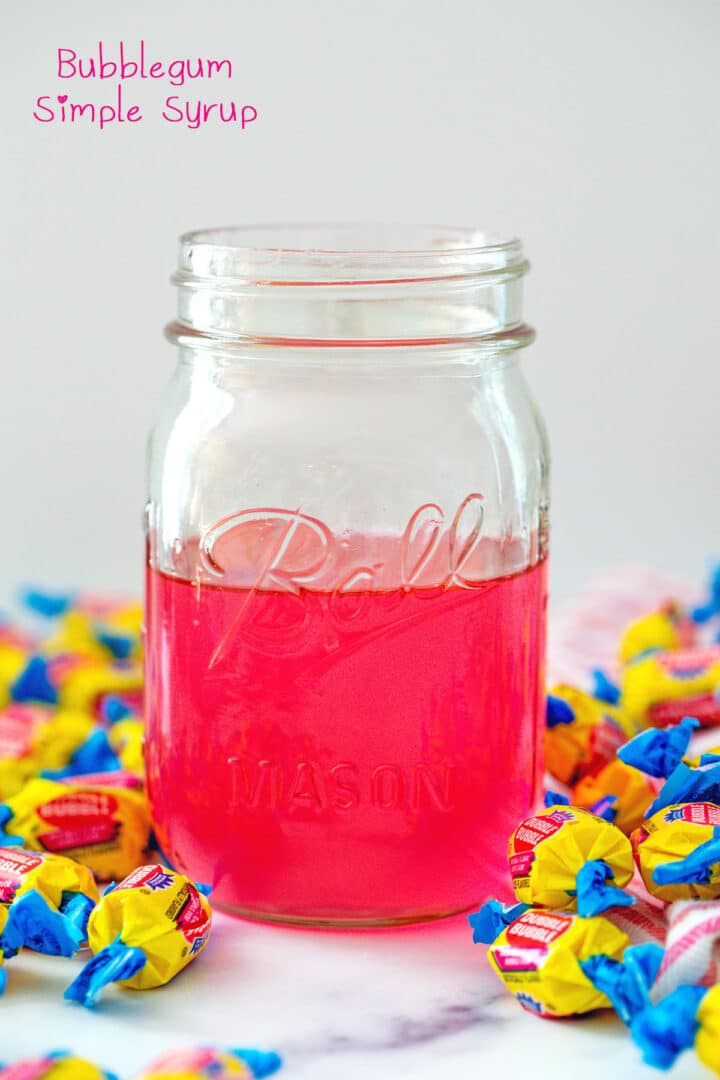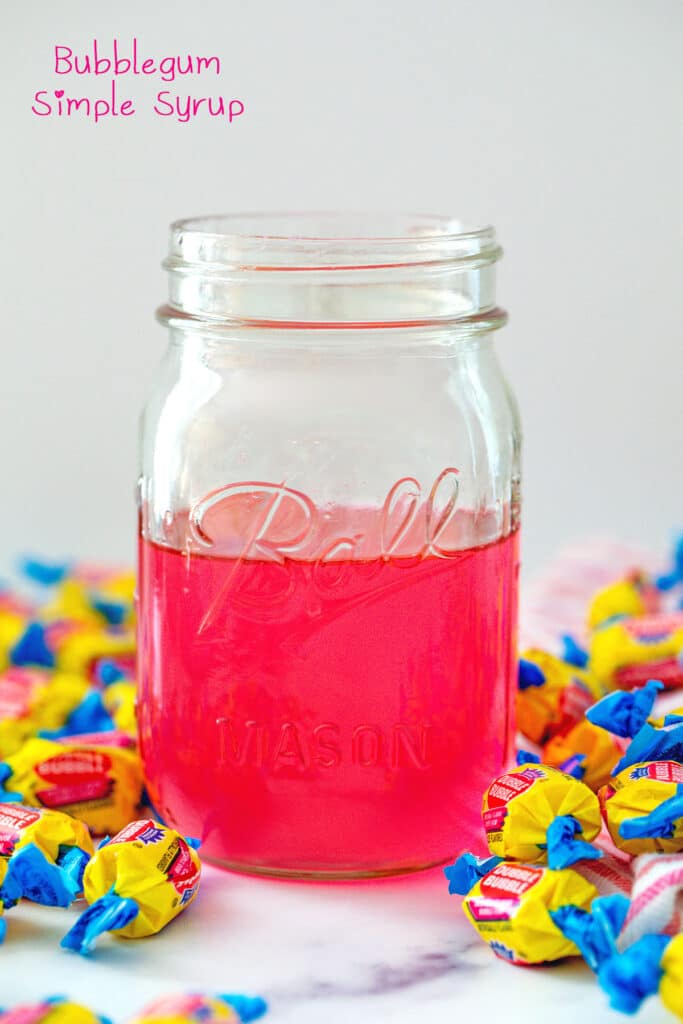 I'm stepping outside the box today with my new simple syrup recipe! There are plenty of simple syrup flavors that are pretty common... Think flavors like jalapeño, mint, and blueberry.
But I've been trying to think of some more unique flavors and have realized that you can turn almost anything you love into a simple syrup.
For example? Bubblegum.
I had the idea for this bubblegum simple syrup, but wasn't quite sure how it would turn out. It ended up being an incredibly easy to make and ridiculously fun simple syrup.
I know it likely won't be the flavored syrup for everyone... But if you love bubblegum or have kids who love bubblegum, this syrup is such a fun drink mixer or baking ingredient!
Once you make this syrup, you can easily make this bubblegum cocktail!
What is Simple Syrup?
Simple syrup is made by combining sugar and water, bringing them to a boil, and then letting them simmer until a syrup is formed. The syrups can be used in everything from drinks to baked goods to marinades.
Sugar and water are the key ingredients, but you can add almost anything to them to give your simple syrup some flavor!
Simple syrups are important ingredients behind many bars as they offer a way to add flavor and sweetness to a drink with one single ingredient. But there are also lots of other uses for simple syrups (scroll down in this post to see!).
What You Need
This particular bubblegum syrup recipe only requires 3 ingredients and you can probably guess them all:
Water
Granulated Sugar
Bubblegum
I used Double Bubble for my gum, but you can use Bazooka or really any kind you choose. Just note that your syrup will take on the color of the gum, so results may vary depending on what you use.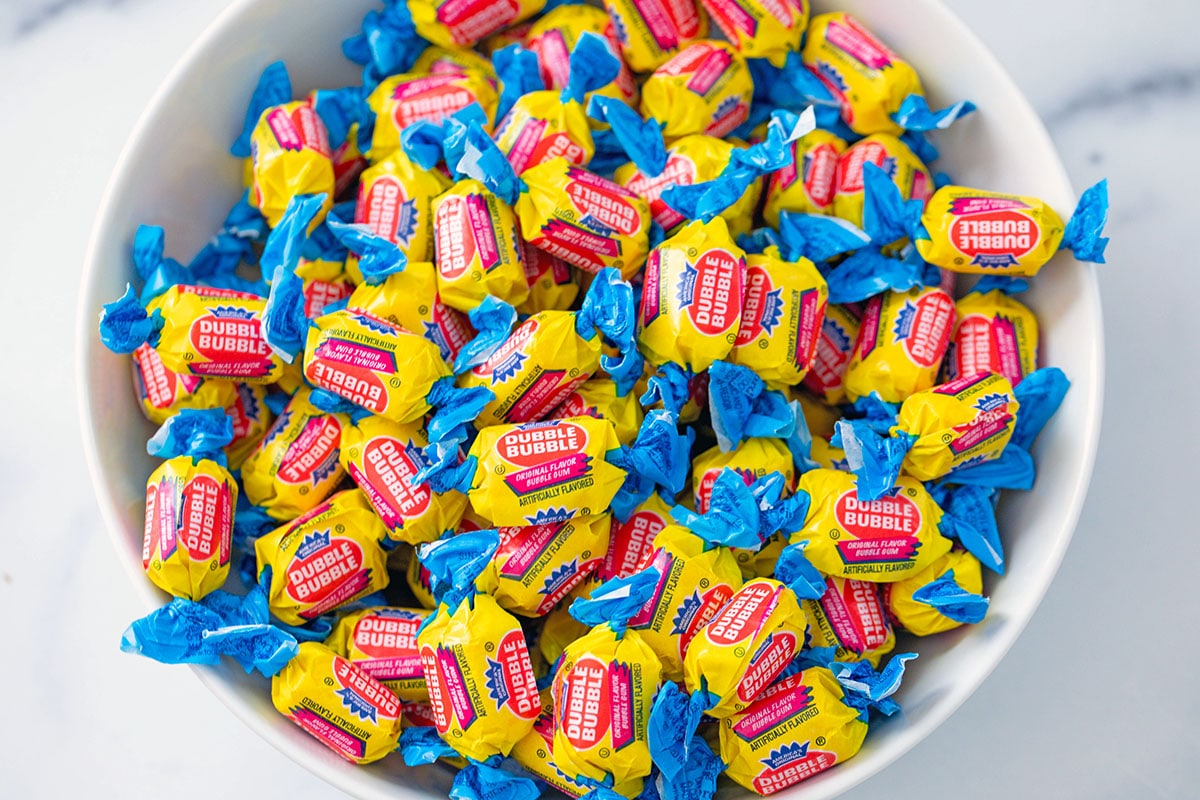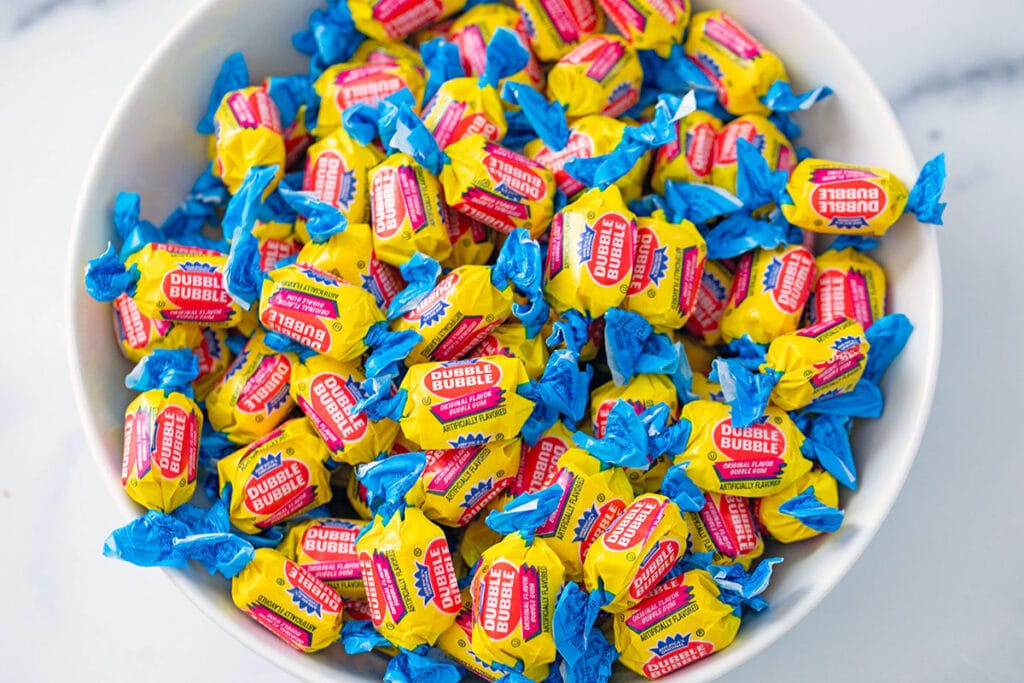 How to Make Bubblegum Simple Syrup
Like I mentioned above, this bubblegum simple syrup is really easy to make! Simply, put water and sugar in a medium saucepan and bring to a boil.
Lower to a simmer and add bubblegum to saucepan. Stir to combine.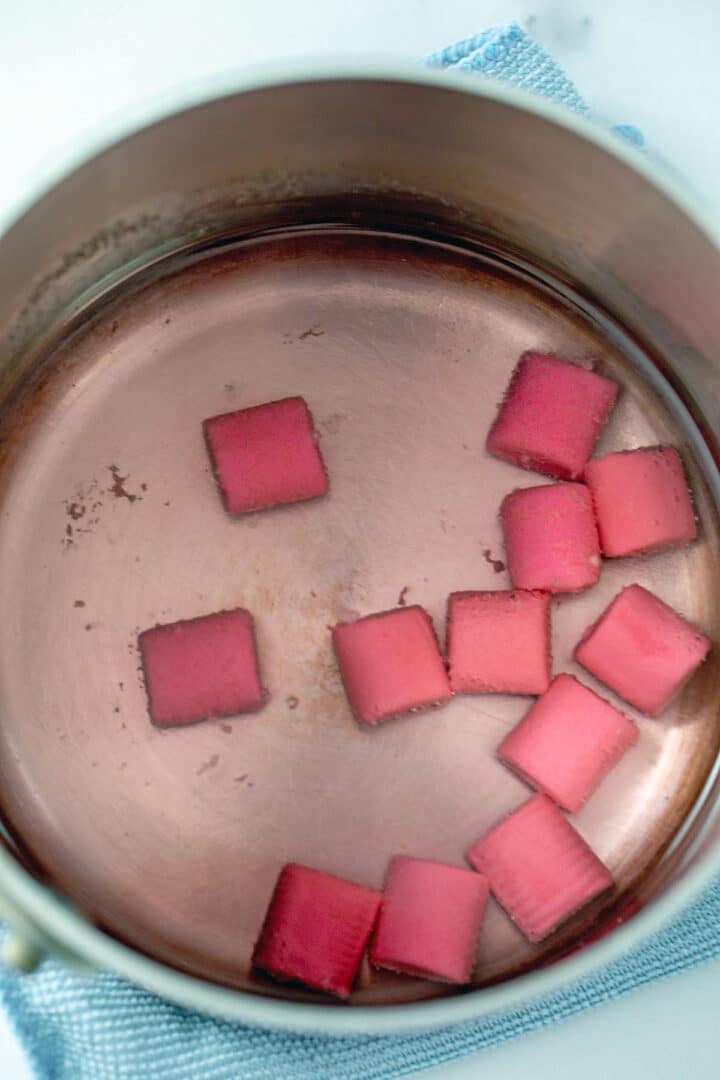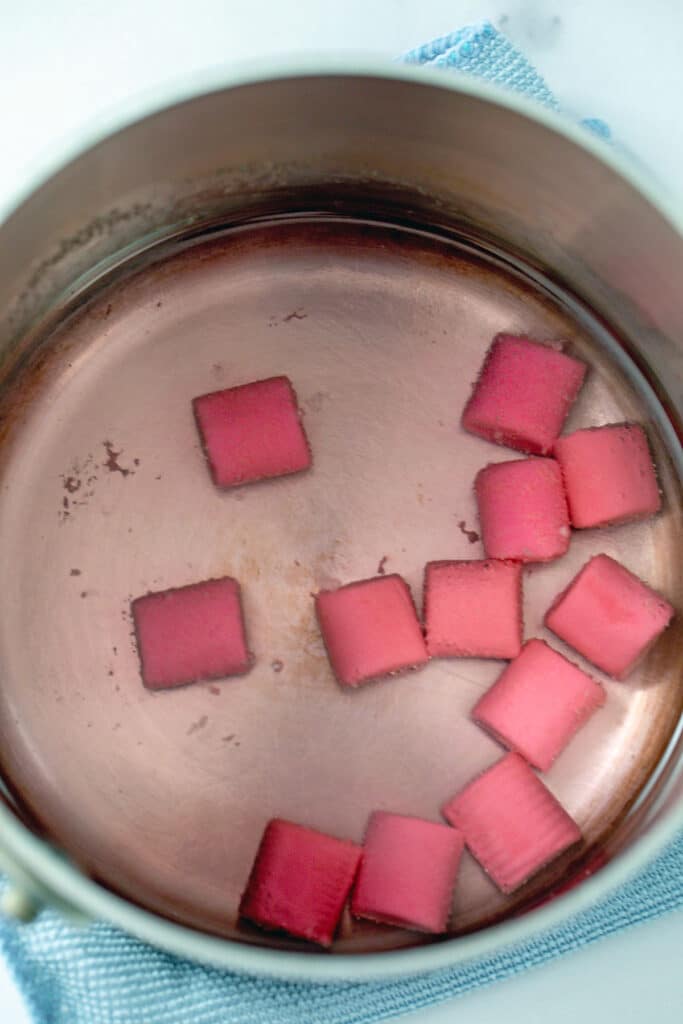 Let simmer until syrup begins to thicken and mixture is bright pink, about 10 minutes.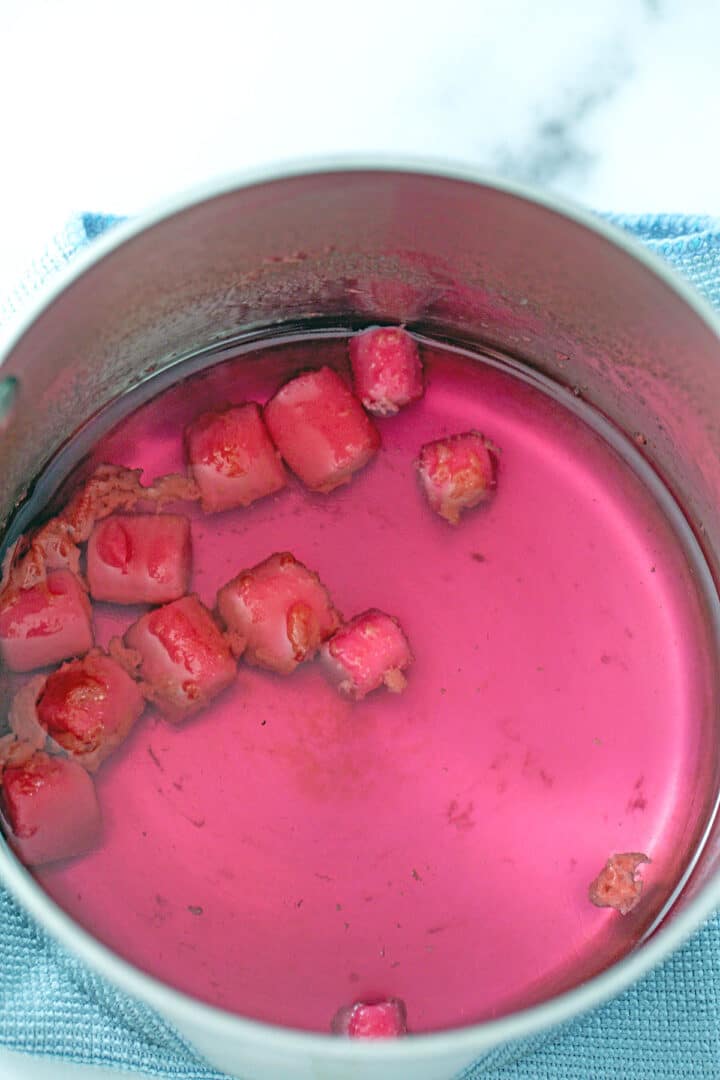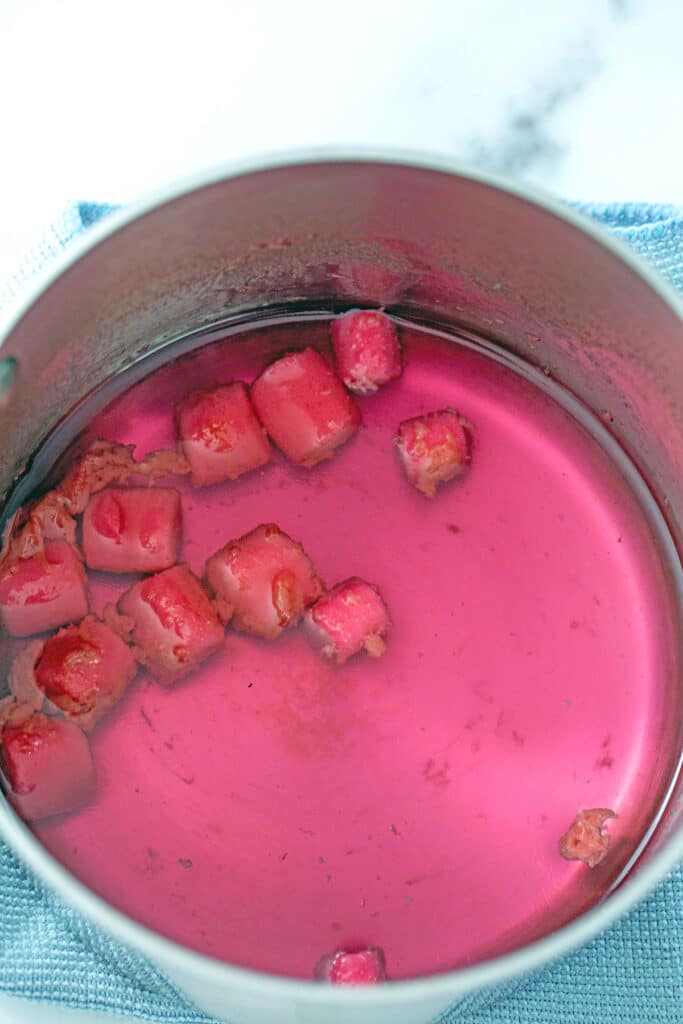 Remove from heat. You'll want to strain the gum out of the syrup before pouring it into a heatproof bowl or jar.
Note that the gum will be quite sticky, so take care when removing it. Mine left some gooey residue in my mesh sieve, but it came out in the dishwasher.
You can also simply remove the gum with a slotted spoon or any way you choose.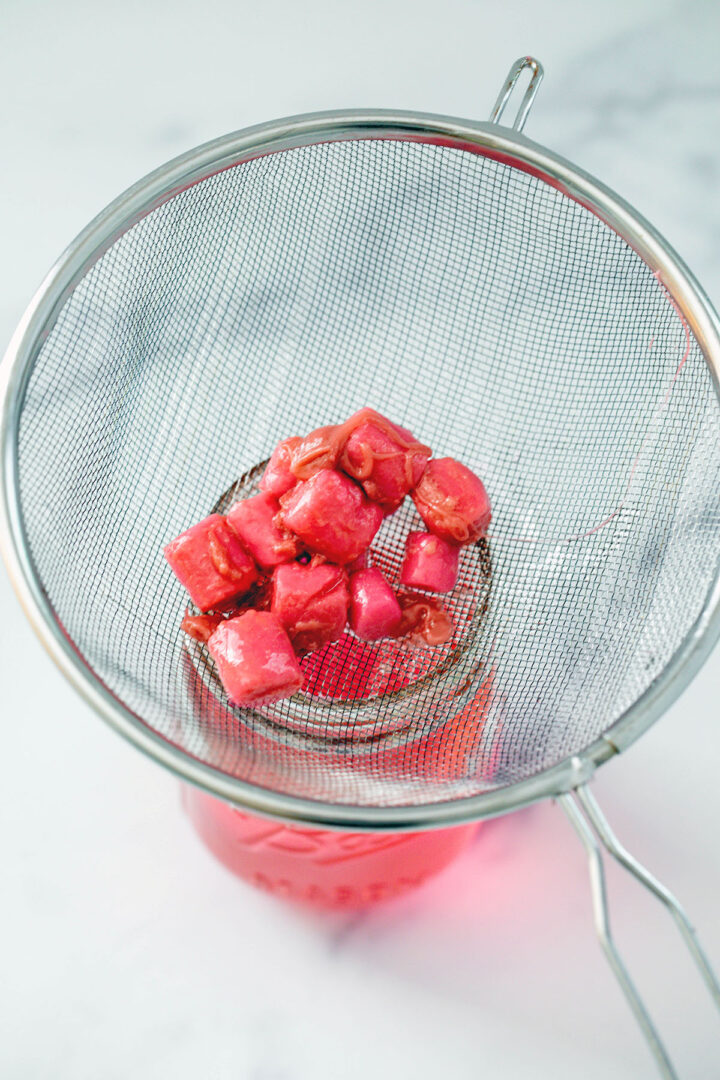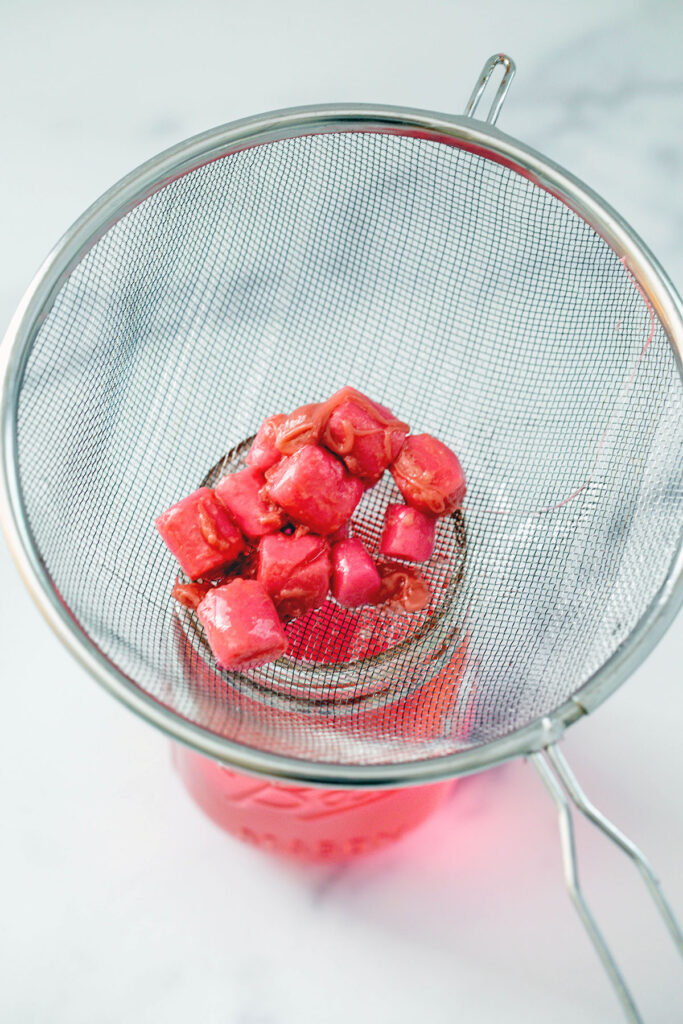 Place bowl or jar in fridge to cool completely before using.
And then marvel at the fact that you have a beautifully pink jar of syrup that smells and tastes exactly like bubblegum!
When I told friends I was making this, I got a mixture of responses from "wow, that's an awesome idea!" to "why the heck would anyone want bubblegum simple syrup??"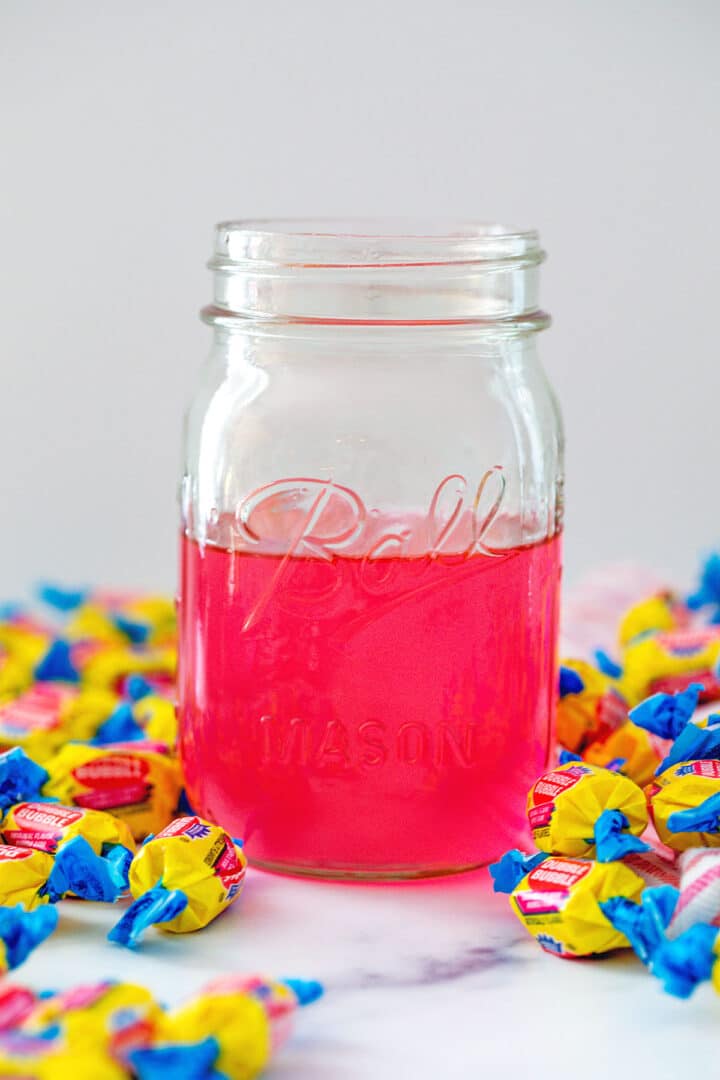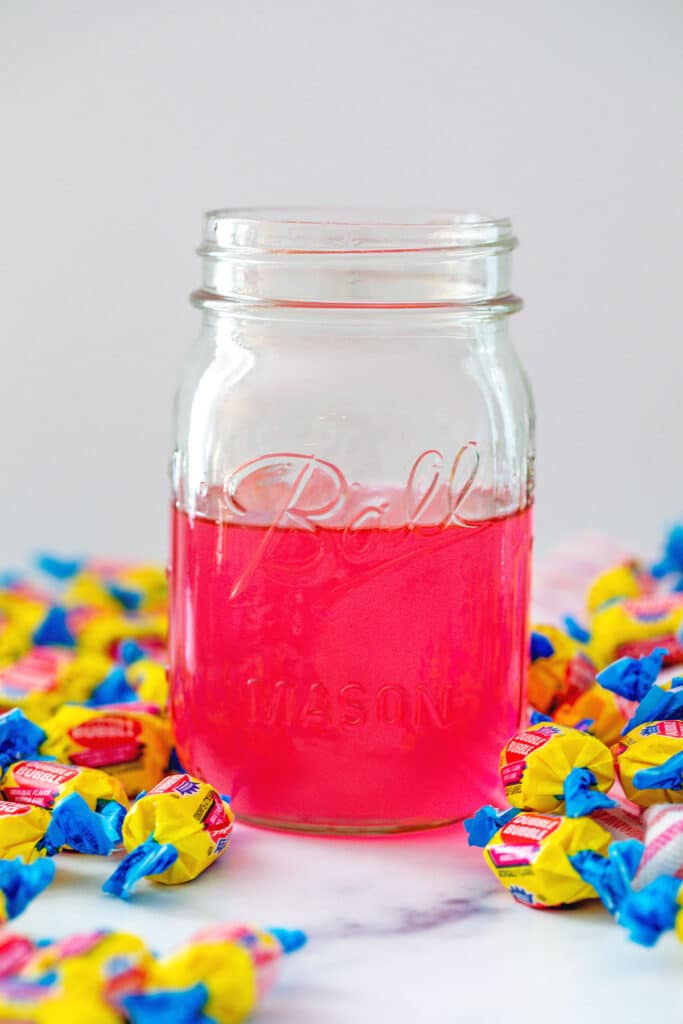 How to Use
And I am happy to tell you exactly why you want to make this bubblegum simple syrup! It has a ton of uses. Here are some of my favorites:
Cocktail Mixers: Bubblegum cocktails are so fun! I recommend keeping things simple with this syrup, like making a bubblegum vodka soda. Vodka is always a great option with this syrup since it really lets the gum flavor shine.
Bubblegum Soda: Let's face it, this is a simple syrup that kids will really love! Mix a little bit into plain seltzer water and you'll have a delicious bubblegum soda! You can also try experimenting with other kinds of fun mocktails.
Cake moistener: Lots of people brush simple syrup on cakes after they cool to make cakes extra moist. Flavored simple syrup will also add flavor to the cake and this bubblegum version would be delicious on a vanilla cake.
Baking Ingredient: Add a little of this syrup into baked goods to give them a light bubblegum flavor. I have a bubblegum cupcake recipe I'll be sharing with you soon!
Ice Cream Topping: You can take a simple vanilla ice cream and turn it into bubblegum ice cream by drizzling a little bit of this syrup over the top!
Cocktail Rimmer: I always keep simple syrup in my fridge to use when I'm garnishing my cocktail rims. Brush a little bit of this syrup on the rim of a cocktail glass and you can easily adhere sugar to the rim for all kinds of fun cocktails.
Can I Make This With Different Flavors of Gum?
Yes! You can use any flavor of gum for this simple syrup, from grape to watermelon to strawberry.
However, I do recommend using the thicker, square or rectangle pieces of gum rather than sticks of gum as the thin sticks will likely just disintegrate into the syrup as it's cooking and may cause a mess.
How to Store
You should always store your simple syrups in the fridge in an airtight container. When stored properly, the syrup should stay fresh for at least a month.
How to Make More
This recipe makes about 1 ¼ cups (10 oz.) of simple syrup. For reference, most of my cocktail recipes call for about ½-1 oz. of simple syrup in them.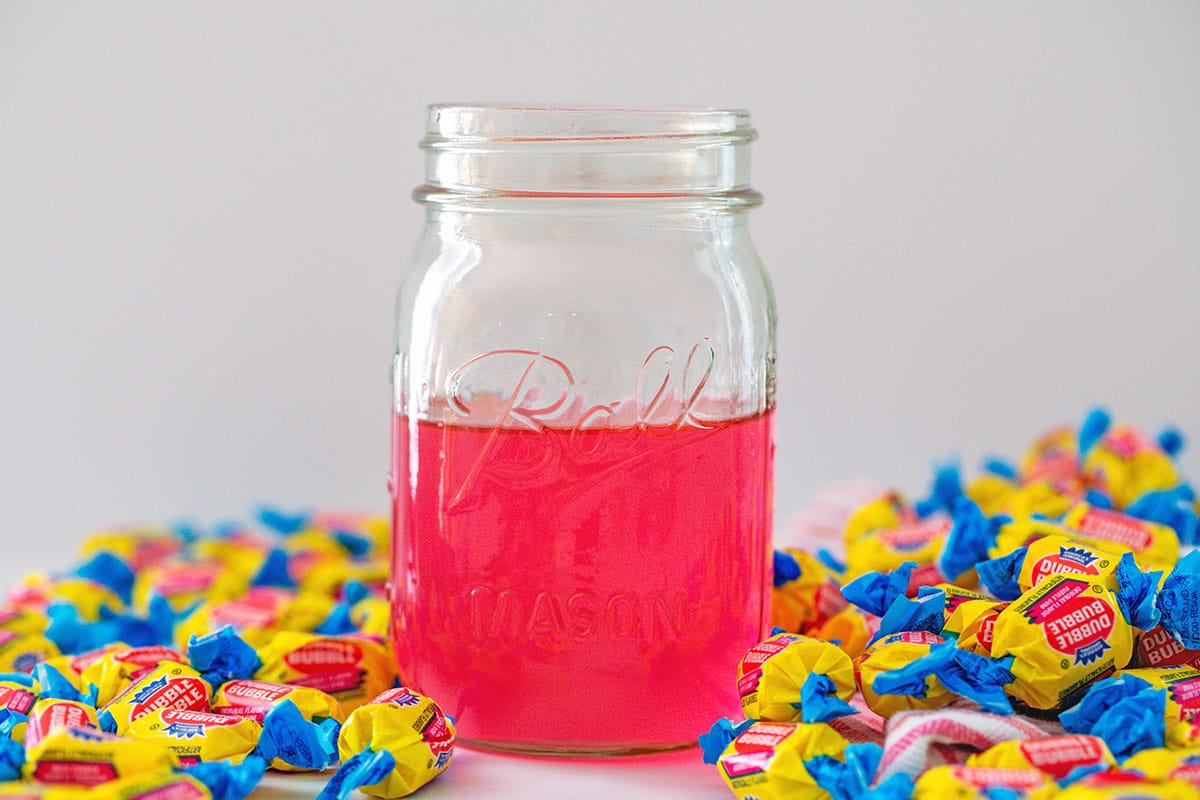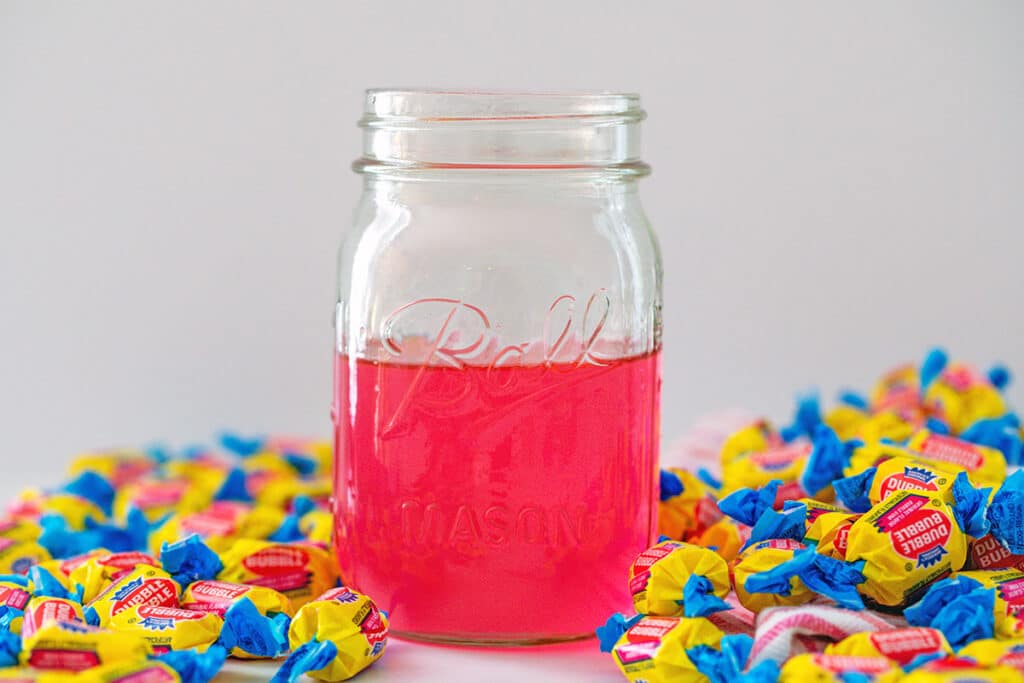 If you want to have extra bubblegum syrup on hand, you can easily double or triple this recipe. Since the syrup uses a 1:1 water and sugar ratio, you can increase as you see fit.
If you want to double this recipe, use 2 cups of water and 2 cups of sugar, along with about 24 pieces of bubblegum.
Where to Buy
Of course, I recommend you make this recipe from scratch (it's so easy!), but if you're in a rush or want to cut down on work, there are also several options for buying bubblegum simple syrup.
Here are some great options:
More Simple Syrup Flavors
If bubblegum syrup is not quite your thing (trust me, I get it!), there are still plenty of simple syrups that you can make to flavor your cocktails, baked goods, and more!
Here are some of my favorite simple syrup recipes: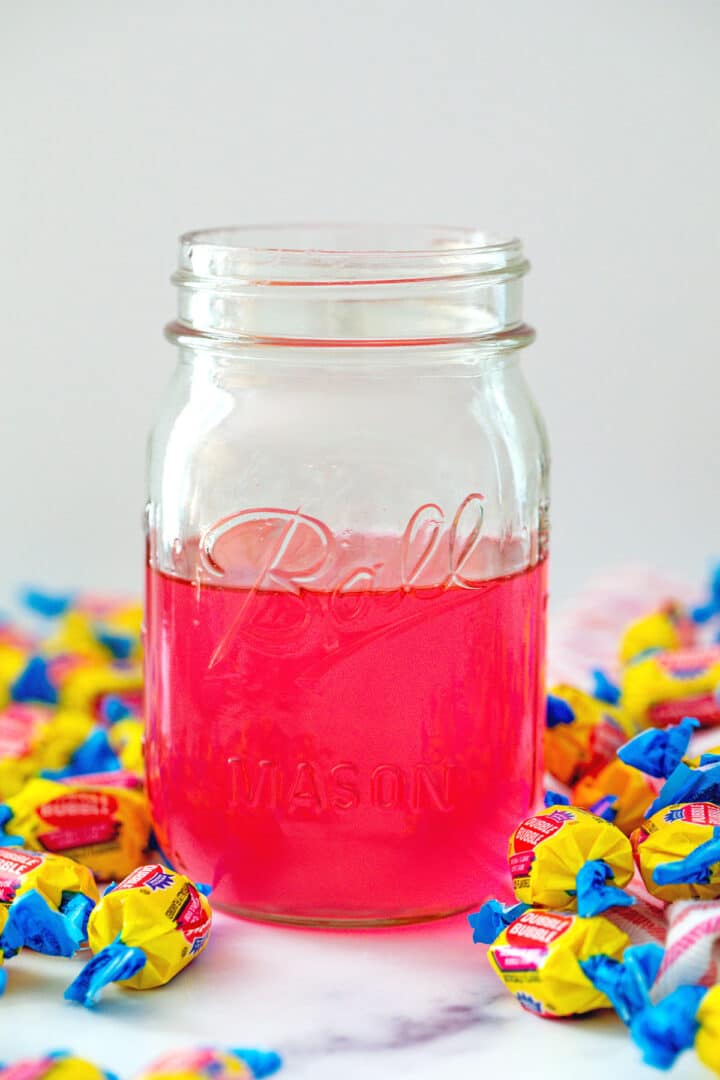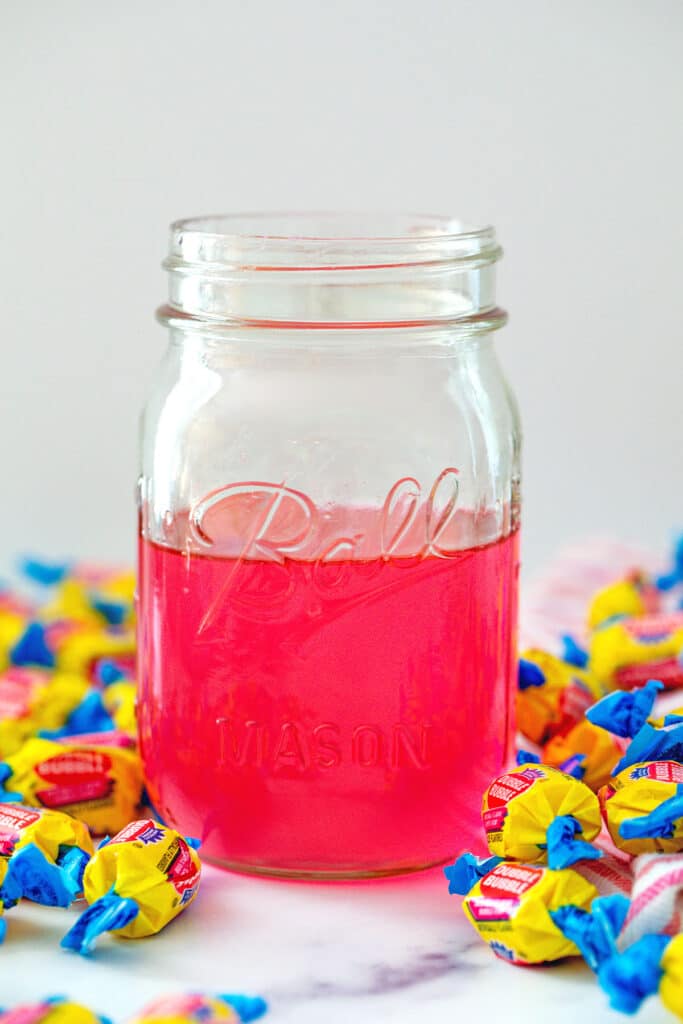 This bubblegum simple syrup is the most unique and fun syrup I've made yet! But I've got plenty more up my sleeve.
What kind of bubblegum-infused treats would you enjoy?
📖 Recipe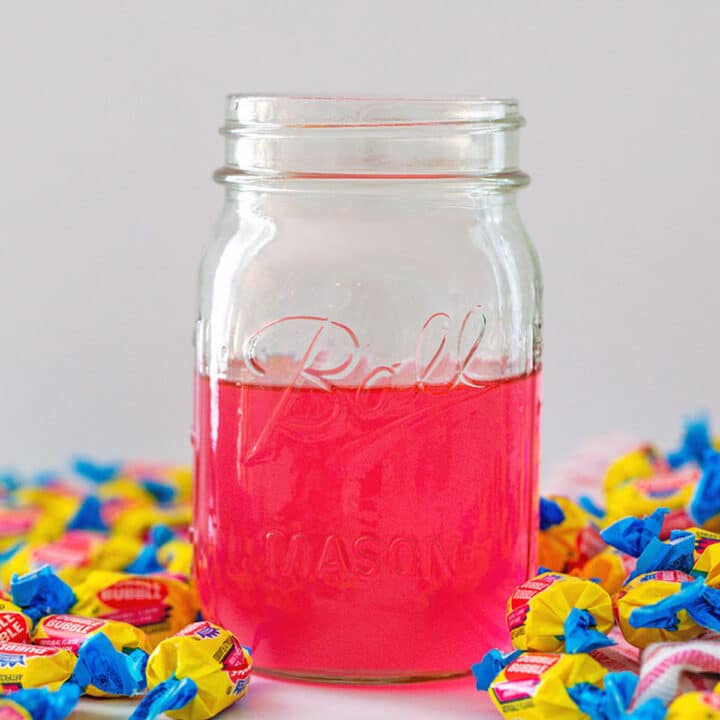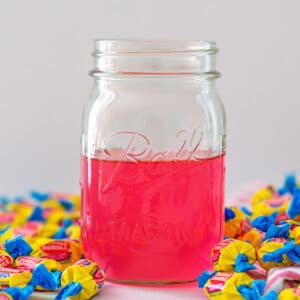 Ingredients
1

cup

water

1

cup

granulated sugar

12

pieces

bubblegum

(I recommend Double Bubble)
Instructions
Put water and sugar in a medium saucepan and bring to a boil.

Lower to a simmer and add bubblegum to saucepan. Stir to combine.

Let simmer until syrup begins to thicken and mixture is bright pink, about 10 minutes.

Remove from heat and strain syrup through a fine mesh sieve or strainer into a heatproof container like a bowl or a mason jar. Alternatively, simply remove gum from mixture with a slotted spoon. Discard bubblegum (it will be very sticky, so be careful).

Place bowl or jar in fridge to cool completely before using. Syrup will continue to thicken as it cools.
Share a Photo of Your Finished Recipe!
Mention @wearenotmartha and share a photo if you've made the recipe!