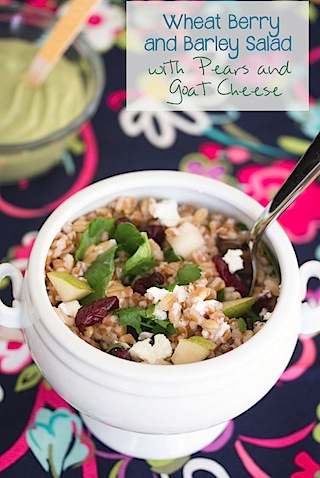 One week from today? Is Whole Grain Sampling Day. What does that mean? Well, it's the nationwide, annual initiative designed to introduce consumers to the health benefits and great taste of whole grains. Are you obsessed with whole grains? Because I am. I think some people are often a little bit resistant to try them, but after you sample a whole grain product or two, you likely realize how much better tasting whole grains are. I mean, I can't even imagine eating white bread anymore because whole grains just taste SO much more delicious. And luckily they're better for me, too. When Oldways and the Whole Grains Council asked WANM to become whole grain ambassadors, it made perfect sense.
They sent along a whole grains sampling pack that had all kinds of goodies in it. Everything from chips to cookie mix to rice and crackers to totally new-to-me grains (freekeh, anyone?). Read along to the end of the post for a chance to win this sampler pack for yourself! And get ready for April 3, Whole Grain Sampling Day. Hopefully even more people will be convinced of the goodness of whole grains!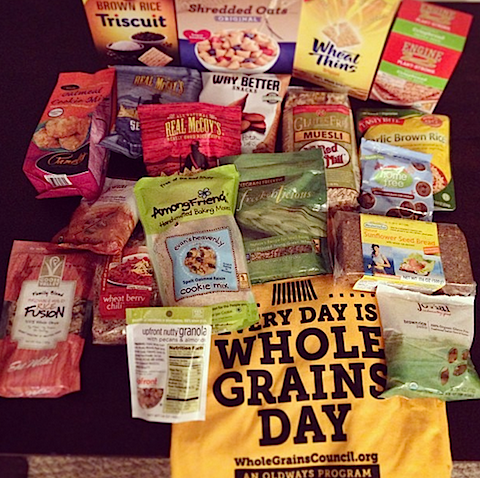 Here's what comes in the sampling pack. I haven't tried everything just yet, but will comment where applicable:
Among Friends Cookie Mix
Barbara's Shredded Oats (I was skeptical of these, but they are SO good. Full of flavor and not cardboard-y at all)
Bob's Red Mill Muesli (I'm a muesli lover and this makes it easy!)
Brown Rice Triscuits
Whole Grain Wheat Thins
Way Better Sweet Potato Chips (SO delicious!)
Real McCoy's Chips (love the Sweet and Spicy)
Goose Valley Rice Fusion
Upfront Nutty Granola
Jovial pasta
Frontier Soups Wheat Berry Chili (I made this and LOVED it. A fabulously unique chili that definitely satisfies)
Freekehlicious Wholegrain Freekeh (I guess I like to get freekeh? These are strange and awesome)
Home Free Cookies
Tasty Bite Garlic Brown Rice
Pamela's Oatmeal Cookie Mix
Engine 2 Crispbread
Mestemacher Sunflower Seed Bread
And a Whole Grains Day t-shirt (hopefully eating whole grains will ensure I'll NEVER fit into this as it's an XL!)
Everything I've tried so far has been awesome and hopefully you can't overload on whole grains because I'm almost surprised I haven't turned into one by now. I suppose that would be better than turning into my Cadbury Egg Milkshake?
In honor of Whole Grain Sampling Day, I wanted to share a little recipe I developed that contains lots o' whole grains. And it's just about the easiest thing in the world to make. And creates a lot of leftovers that are perfect for bringing to lunch for the next week.
Wheat Berry and Barley Salad with Pear and Goat Cheese:
Print this recipe!
1 C wheat berries
1 C pearled barley
½ C dried cranberries
2 pears, chopped (and peeled if you want)
1 ½ C baby spinach, coarsely chopped
1 T chopped parsley
3 oz. crumbed goat cheese
Avocado dressing (recipe below)
We're talking simple simon here. Cook the wheat berries and barley according to directions (there are very differing camps on how long to cook wheat berries for, but I'm with less time is better camp… I like them chewy!). Drain. And then combine in a large bowl with all of the other ingredients.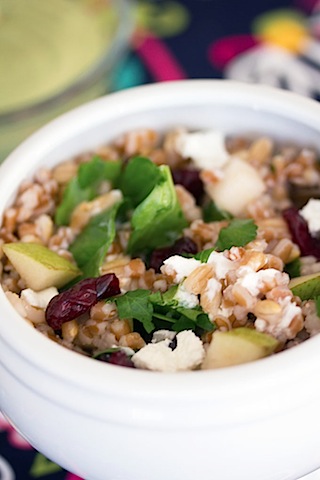 See? There's not much else to say about the method. Except I guess you could peel the pears if you wanted? I like to keep the skin on fruits since it adds a little extra nutrition.
You could obviously eat the salad like this if you want to.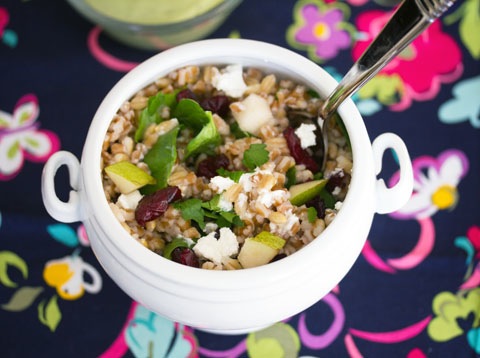 But you might want to make this avocado dressing to go along with it. Because why the heck would you not want an avocado dressing? By the way, that's a rhetorical question.
Avocado Dressing:
Print this recipe!
2 avocados, halved, peeled, and pitted
1 T lime juice
½ C water
¾ C buttermilk
2 T chopped parsley
1 T chopped basil
Again, easy. You just put al the ingredients in a blender. Every single one of them.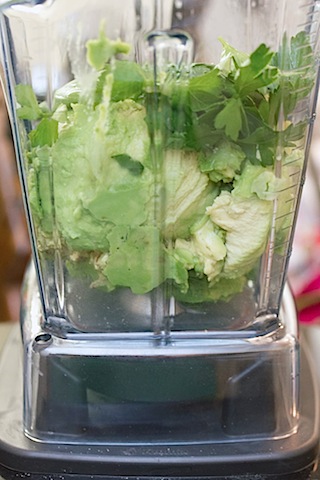 And blend until smooth. Add more water or buttermilk if you want to thin it out more.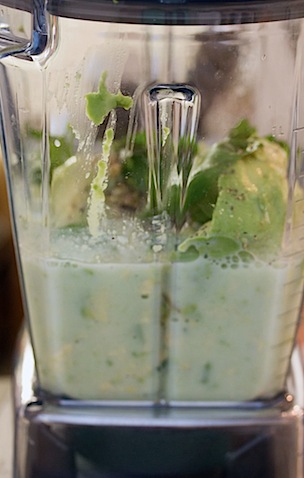 But I would serve the dressing on the side and don't put it on the salad until you're ready to dig in.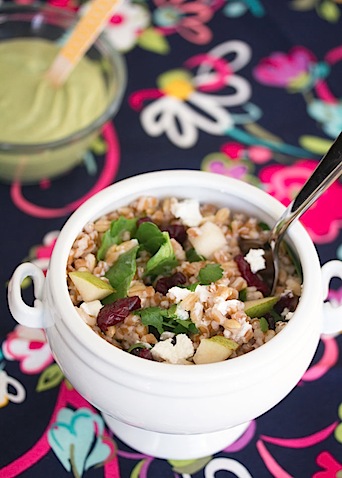 Like, I said, you could keep the dressing off all together and drizzle a little olive oil over the top or something. The ingredients all work so well together as is and the wheat berries add a delicious nuttiness that blends well with the barley. Obviously the creaminess of the goat cheese is perfection.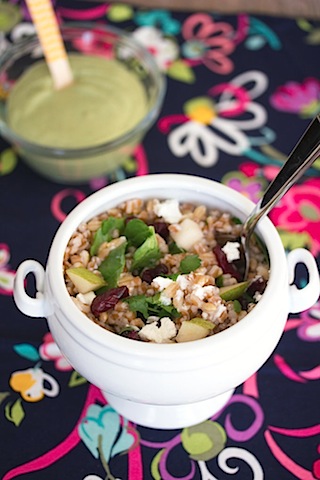 But I think you should add the avocado dressing. Because it really does make it all the better.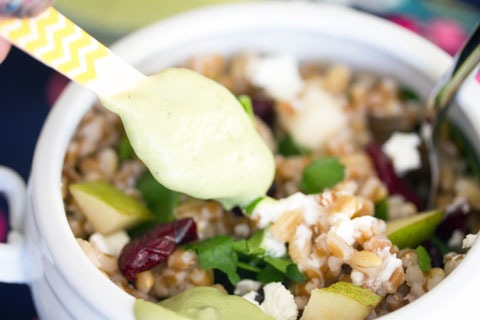 And adds some healthy fat, too. Whole grains, healthy fats, fruit, and spinach? This salad is everything.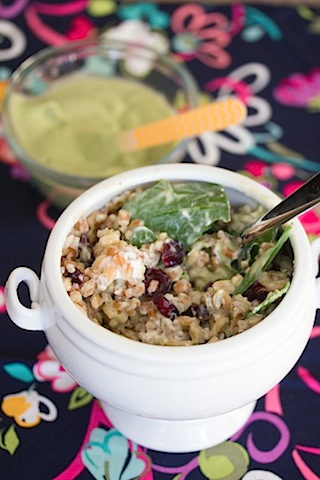 And I kind of think you should sample this for Whole Grain Sampling Day. But if you want to sample even more products, enter the giveaway! All you have to do is leave a comment on this post telling me either your favorite whole grain or a whole grain you'd love to try that you haven't yet. I'll give you until Whole Grain Sampling Day at 11:59 p.m. to enter!
Also, feel free to join in to the virtual whole grain toast at 12:00 p.m. on Whole Grain Sampling Day (April 3). Use the #SampleWholeGrains hashtag! And obviously follow @wearenotmartha and @oldways on Twitter while you're at it! Cheers to whole grains 🙂
[Sues]
Disclosure: Oldways and the Whole Grains Council sent me all of the whole grain samples and provided me with the opportunity to hold a giveaway. But as always, all opinions are my own! And I really do think whole grains are the most fabulous 🙂