For the perfect cool weather treat, simply combine apple cider, bourbon, and black tea and stick it in the freezer overnight. The boozy fall slush is ideal for sipping by the fire pit after a day of apple picking, but can also be enjoyed all winter long.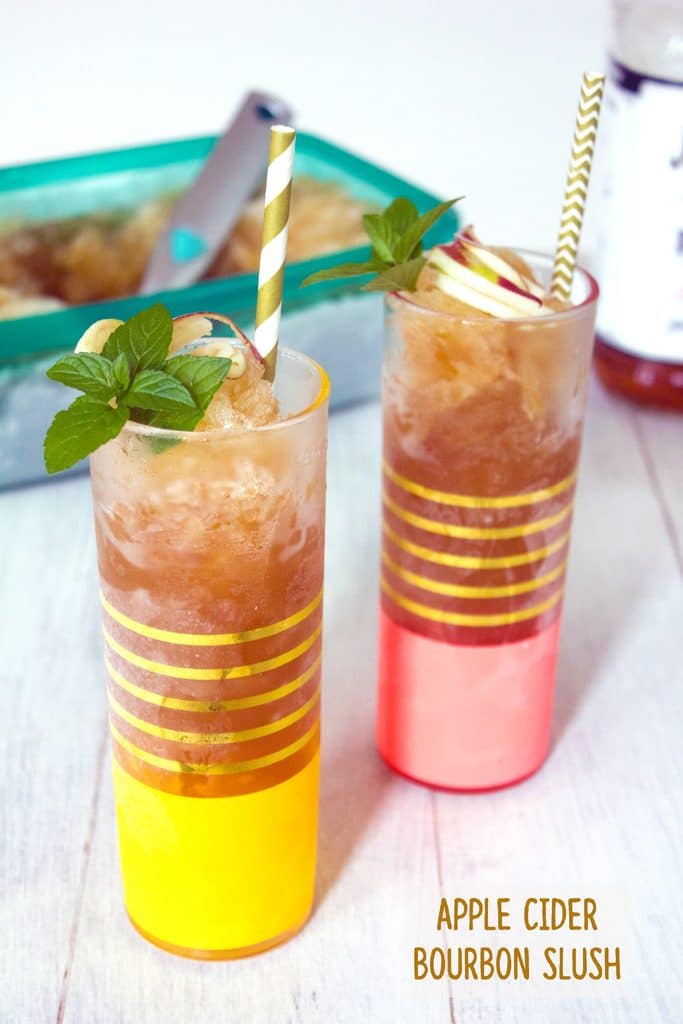 I was going to post about green beans this week. And then I thought about it and realized there's probably nobody out there right now who's very interested in green beans.
I'm going to go ahead and guess that no matter who you are, you are way more interested in a cocktail this week. I'm totally OK with that since I just so happen to have one waiting in my little arsenal (life tip: Always have a cocktail waiting in the wings). One that I'll also most likely be indulging in tonight.
Get started on this one now because it will need a little bit of time to chill. But it's so, so worth it.
You might think it's a little bit strange to be enjoying slush in the middle of November, but I promise you that after you try this, you'll realize it's not strange at all. It's totally normal and perfect and why the heck have you never had a November slush before?? Get on that immediately.
Apple Cider Bourbon Slush Recipe
Apple cider bourbon slush is basically fall in a glass considering it's made with apple cider and bourbon. And tea! The whole tea thing was a surprise to even me.
You see, I had the idea for an apple cider bourbon slush and when I started doing a little research, I learned that bourbon slush is actually a well-known thing and it's made with black tea and citrus. I liked the idea of a black tea base, so I incorporated it into my slush, too.
Slush cocktails are my new everything.
I have no photos of the apple cider bourbon slush making process because it's literally:
Step 1: Pour tea into container
Step 2: Add apple cider
Step 3: Add bourbon
Step 4: Freeze.
That would make for some pretty boring photos, right?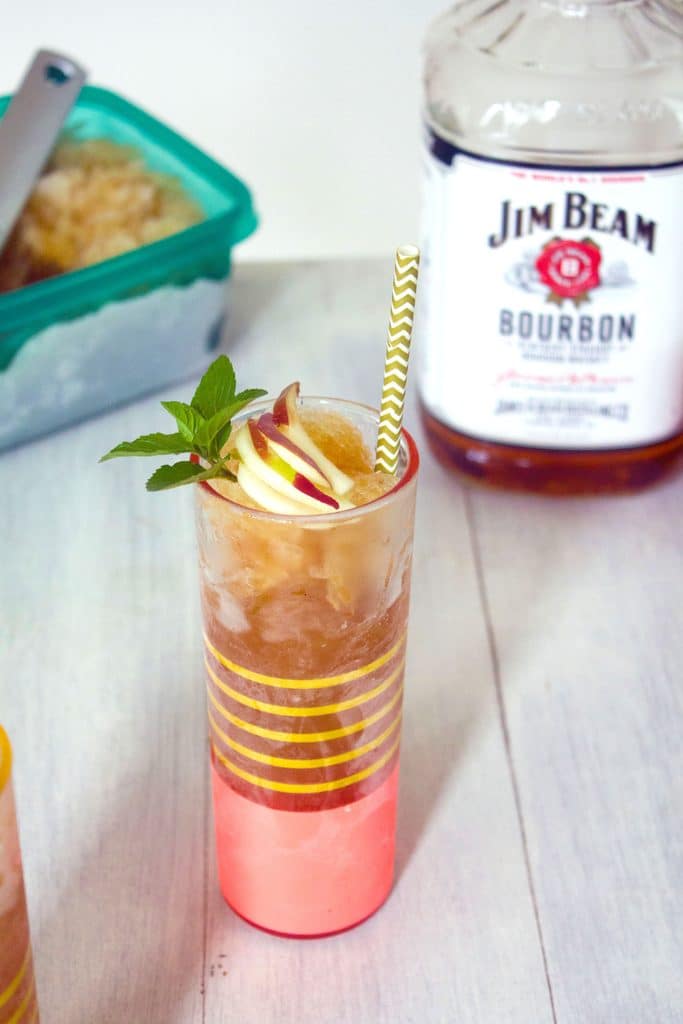 Once you freeze the mixture overnight, you can scoop it out and into individual glasses.
I served the bourbon slush with a straw, but also used a spoon and desperately wished for those red spoon straws that slush always came with when I was a kid (Richie's Slush, anyone?? Also... I don't think Richie ever put bourbon in his slush. What a mistake!).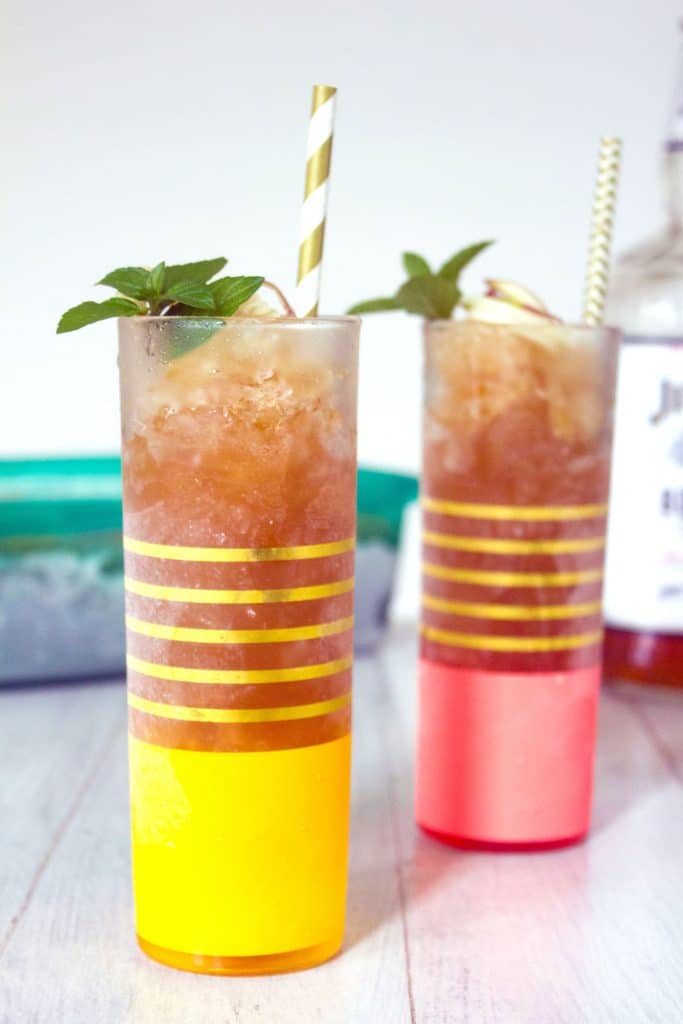 The bourbon is definitely pretty prominent in the apple cider slush and this isn't for the weak. But you need something a little stronger right now, right?
However, if you feel you can't handle it or really want to get your slush on on a weeknight (or heck, during the workday!), feel free to play with the measurements in the recipe. Though I can't in good conscious recommend on cutting down on the alcohol.
What kind of person would that make me??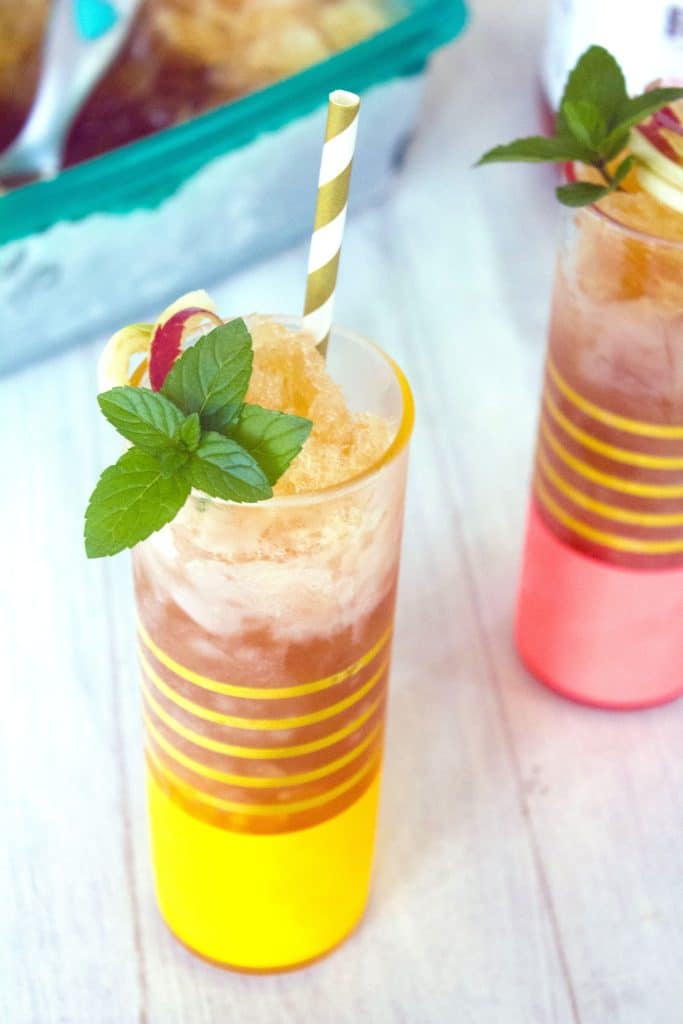 While I'm a pretty big fan of bourbon, I'm extra obsessed when it's combined with apple. The combination is just so fall-like and cozy for me; even when it's in freezing cold slush form.
Just more of an excuse to turn on the fireplace (or um, build a fire? Sorry, we have a gas fireplace, so we literally just turn it on) and cuddle up for the evening. And yup, that's basically all I want to do right now. Are you with me?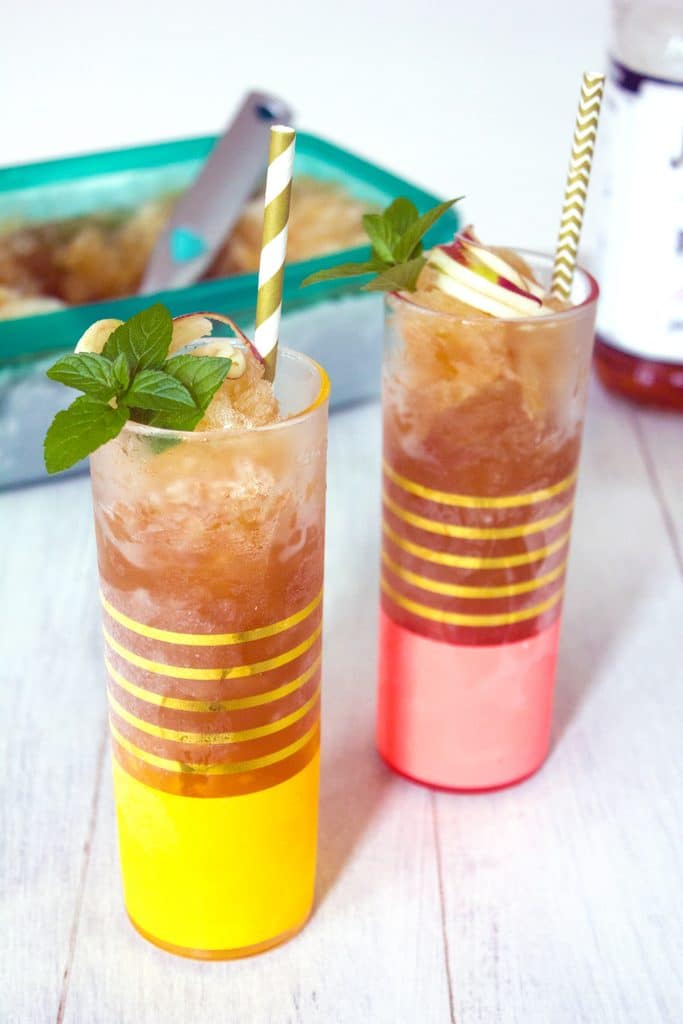 I'm so, so glad we made it to the end of the week and I hope everyone can take some time to relax and be with loved ones this weekend. And bourbon. Take some time to be with bourbon.
More specifically apple cider bourbon slush. Don't you feel better just thinking about it?? I do.
What have you been sipping on this week?
If you're searching for more bourbon recipes, be sure to check out my Bourbon S'mores Milkshake. I'm also really excited about these Bourbon Peach Pie Milkshakes from If the Spoon Fits!
📖 Recipe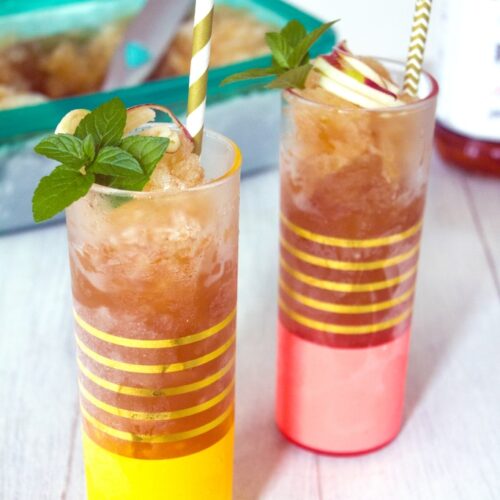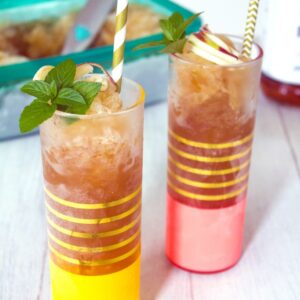 Apple Cider Bourbon Slush
You probably don't think of slush as a fall or winter drink. But when you combine apple cider, bourbon, and black tea and stick it in the freezer overnight, you'll find that slush is the perfect cool weather treat.
Print
Pin
Rate
Ingredients
2

cups

brewed black tea,

cooled

2

cups

bourbon

4

cups

apple cider

Apple and mint for garnish
Instructions
Combine black tea, bourbon, and apple cider in a large container.

Place in freezer at least 8 hours or overnight.

Scoop slush into individual glasses and garnish with apple (I spiralized mine, but sliced or chopped also works) and mint.
Share a Photo of Your Finished Recipe!
Mention @wearenotmartha and share a photo if you've made the recipe!