Your search for the perfect easy summer appetizer is over! These Bacon Wrapped Cherries with Thyme involve just three ingredients and are incredibly unique bite-sized party apps.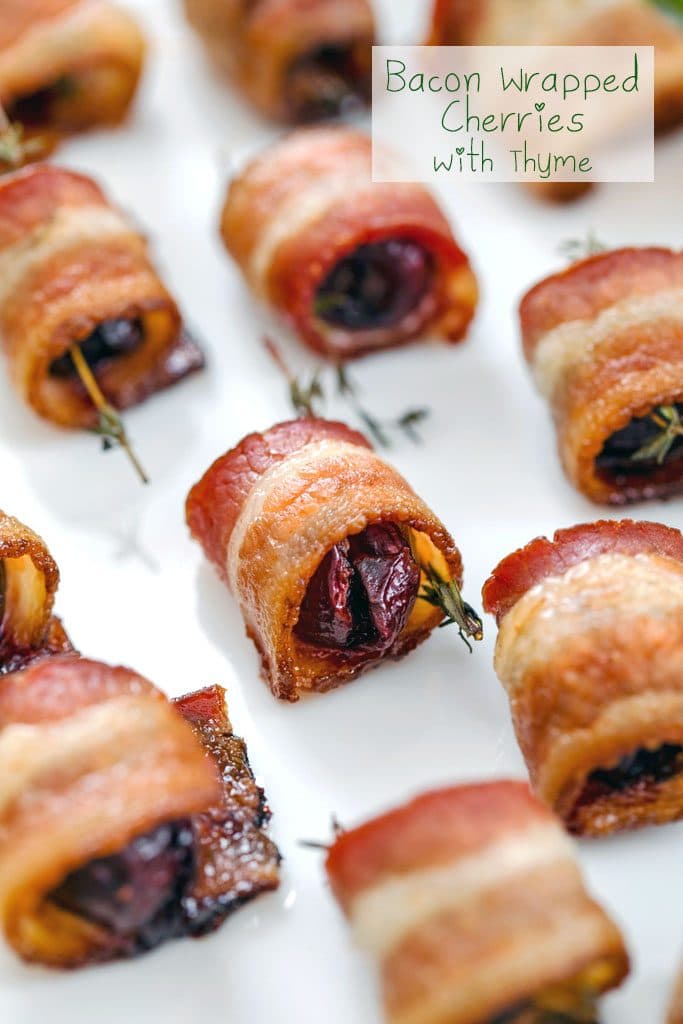 (This recipe for Bacon Wrapped Cherries with Thyme was originally published in August 2009, but was updated with new photos and content in 2018).
Guys, I'm having a serious cherry problem this summer. As in, I cannot stop buying them, cannot stop eating them, and just plain cannot get enough of them! I pretty much sit around and eat them out of a bag all day, but I also made this cherry clafoutis and am constantly looking for more ways to incorporate them into my baking and cooking.
Enter these bacon wrapped cherries with thyme... Pretty much the best idea ever. If you're anything like me, you're constantly looking for easy and unique appetizers to bring to summer parties and BBQs and these hit both checkboxes.
They're incredibly easy to make AND they're super unique... I can almost guarantee nobody else will be showing up to the party with a platter of bacon wrapped cherries. And you know there will be at least 3 people who make a buffalo chicken dip or corn salad. Just saying!
Ingredients for Cherry Appetizer
This recipe has three ingredients. Three! And it will take you about 15 minutes to prep and have in the oven. It doesn't get much easier than that!
The ingredients are pretty much self-explanatory as they're all in the recipe name... Bacon Wrapped Cherries with Thyme. You'll need:
That's it!
I should note that I've seen several recipes popping up for bacon wrapped maraschino cherries and though I haven't tried them, I urge you to use fresh cherries! Not only are they a million times more delicious, but so many people can't stand maraschino cherries (this article made me laugh).
I promise you fresh is better (obviously if they're in season!).
The Best Way to Pit Cherries
That said, you can probably guess the most difficult part of this recipe. Yup. Pitting the cherries. It's one of my least favorite tasks, but I'll admit that's partly because I can't stop eating them when I'm pitting them, which means it takes me way longer than it should.
Of course, there are all kinds of fancy tools you can buy to make cherry pitting easier, but I like the simple chopstick method best. It keeps the cherries looking pretty after being pitted and for me, is as easy as any tool you could buy.
All you have to do is push a chopstick down on the stem end of the cherry until it hits the pit and pushes it out the other end. It's so quick and easy to do.
Standard chopsticks seem to be the perfect size to get the pit out and still leave the cherry looking neat. You can also do this with a straw, but I find the sturdiness of the chopstick to be easiest.
How to Make Bacon Wrapped Cherries with Thyme
Once the cherries are pitted and the bacon slices are cut in thirds, you simply have to wrap a cherry and thyme sprig in each piece of bacon.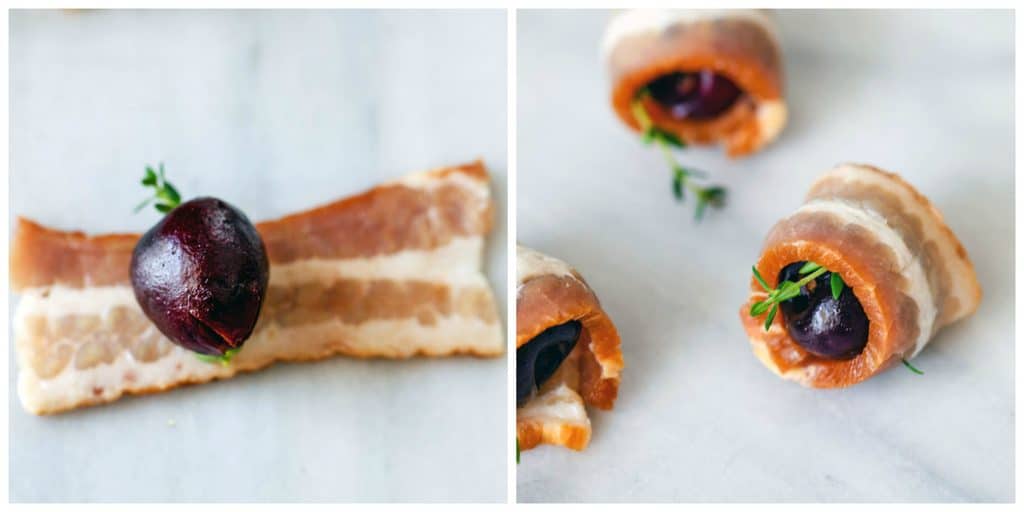 Then it's time to pop them in the oven! How long these bacon wrapped cherries take in the oven will depend greatly on your bacon's thickness/fattiness/how crispy you like it, so I recommend setting a timer for 30 minutes and checking on them repeatedly after that.
I've used thick cut bacon before and had to keep the cherries in the oven for an hour to get my desired level of crispiness.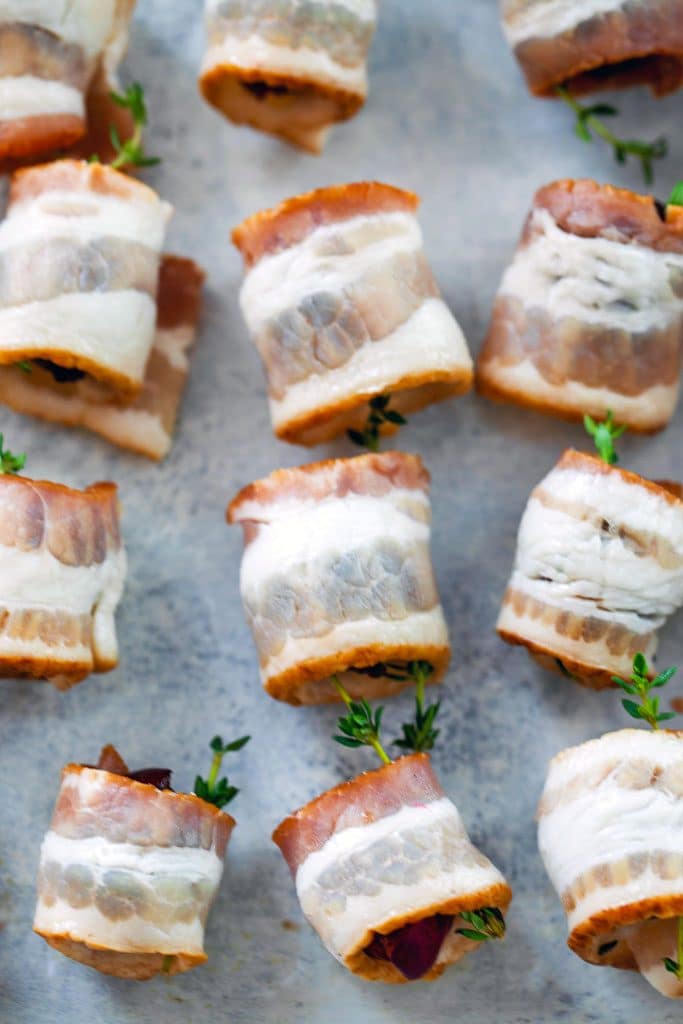 Aaaand drumroll please... one of the most wonderful and tasty hors d'oeuvres I've ever tasted!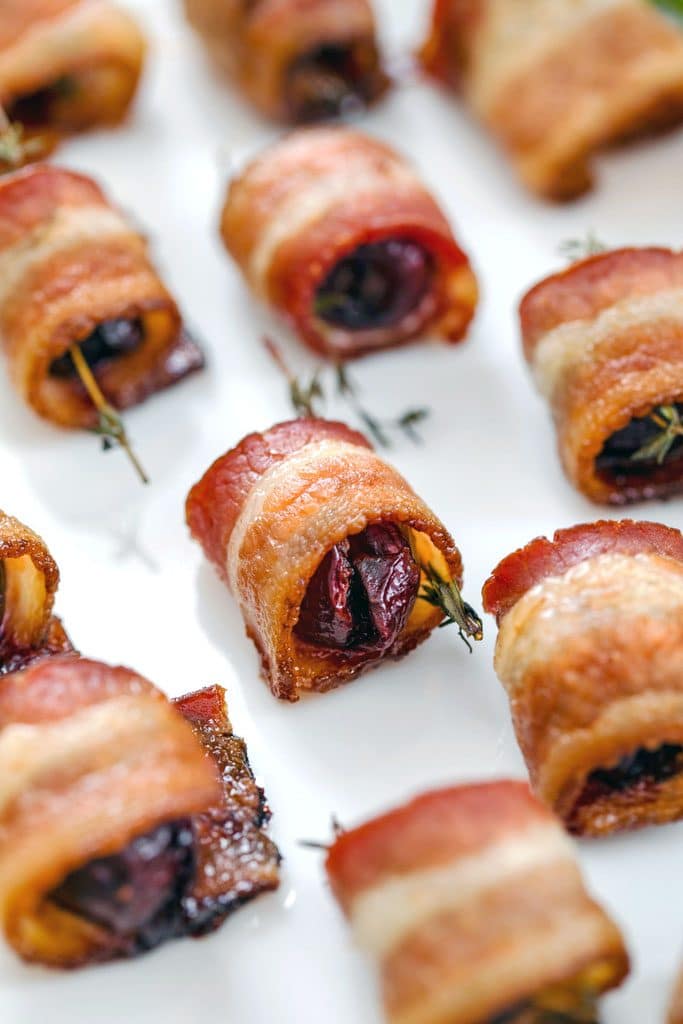 The idea of a cherry wrapped in bacon might sound strange, but I guarantee you these are perfection. At first, you may get a lot of odd looks and "hmm that sounds different" comments, but once party guests try this appetizer, they'll likely quickly fall in love.
There's something about the sweetness of the cherry (which is amplified by baking), the saltiness of the bacon, and the freshness of thyme that all goes together so magically.
There's a high chance this platter will be disappearing very quickly!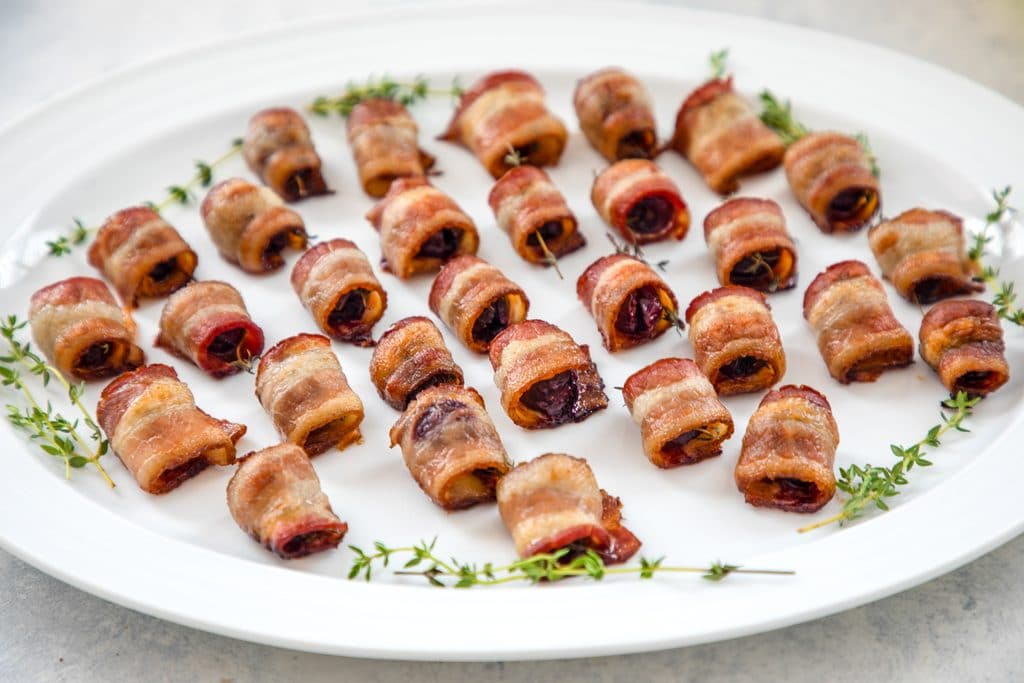 Cherry season is so short and I want to enjoy every single minute of it. That means I purchase cherries every time I go to the grocery store while they're in season! And while I love just snacking on them, I love them with bacon even more.
I mean, do you think it would be odd if I just whipped up a batch of these bacon wrapped cherries for myself for dinner? Looks like a well-balanced meal to me!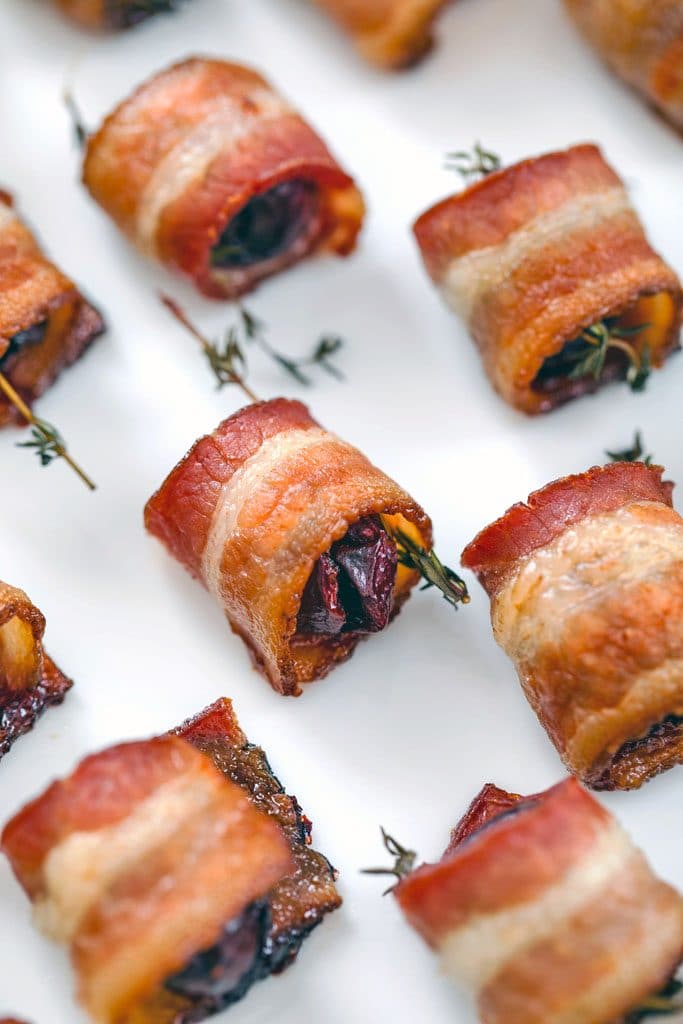 What's your favorite easy-to-make appetizer to bring to summer parties?
If you're looking for a drink to serve with this cherry appetizer, might I recommend a cherry lime margarita? And these Grilled Cod Tacos with Grilled Cherry Salsa as an entree? I also can't wait to try these Black Forest Macarons from Bakesalotlady!
📖 Recipe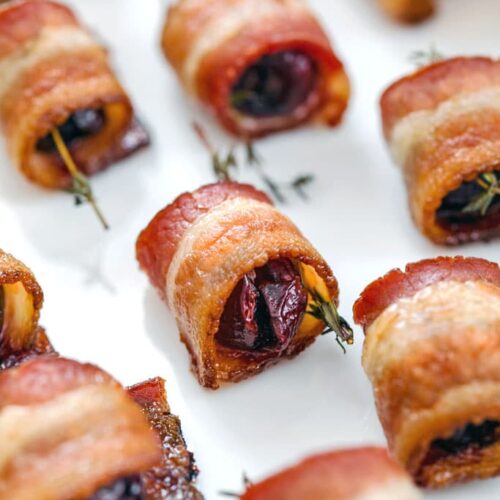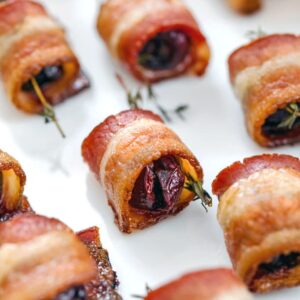 Bacon Wrapped Cherries with Thyme
Your search for the perfect easy summer appetizer is over! These Bacon Wrapped Cherries with Thyme involve just three ingredients and are incredibly unique bite-sized party apps.
Print
Pin
Rate
Ingredients
24

fresh cherries,

stems removed and pitted

24

small sprigs

thyme

8

slices

bacon,

cut in thirds
Instructions
Pre-heat oven to 350 degrees.

Place pitted cherry and a thyme sprig on a piece of bacon and wrap bacon tightly around cherry. Repeat with all cherries, bacon slices, and thyme.

Place bacon wrapped cherries with the bacon seam side down in a baking dish and bake for 30-45 minutes, until bacon is crispy. If you're using thick cut bacon, this will likely take about an hour.
Notes
You can use a toothpick to secure bacon wrapped cherries if desired, but as long as you wrap tightly, bacon should stay secure.
Share a Photo of Your Finished Recipe!
Mention @wearenotmartha and share a photo if you've made the recipe!