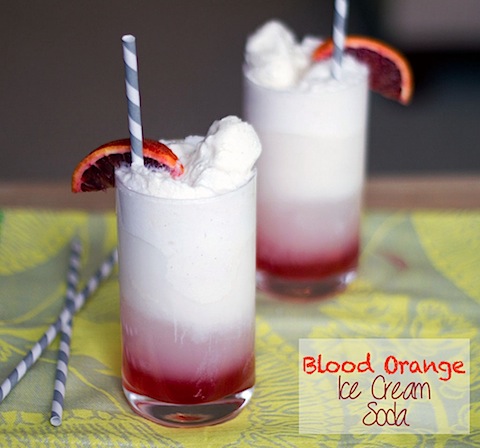 It's officially that time of the year when you begin wondering what the heck you're doing living in New England and why on Earth winter has to last so freaking long. What. Is. The. Point. But I really try with all my heart to be a positive thinker, so I'm trying to think about the bright side of February. There's got to be a few good things about it, right? Right?? Ack. OK, let's get real and make a list here. I HEART FEBRUARY BECAUSE:
-It has President's Day! There's a vacation day in February and it just happens to be today. Seeing that I haven't left my apartment once today, I need to be very appreciative of this day.
-The month is only 28 days long. Which means we have 2 fewer days of winter before we get to March. Bright side?
-The weather gives me an excuse to stay inside and cook and bake without feeling guilty. Unlike in July when I just want to be outside.
-The Winter Olympics are happening! Sadly, this is only true for one February every four years. They should probably change that.
-Valentine's Day is the prettiest, most happy holiday.
-There's a holiday called Eat Ice Cream for Breakfast Day. It's the first Saturday in February and sadly, I just found out about it and missed this year's. Ice cream for breakfast would have made February way better.
-The snow can sometimes still be pretty.
– Kale, squash, grapefruits, clementines, sweet potatoes, and BLOOD ORANGES.
Ugh, that list was actually really, really difficult to write. I couldn't stop thinking about gross slushy snow, my obnoxious furry winter boots that I am forced to wear, the fact that my winter coat doesn't have a hood, the gross salt all over every pair of my shoes, wearing leggings under my jeans, waking up in the morning feeling gross from having the heat on in my apartment, and slipping on ice every step I take on my daily walk to the T. Oops… did I just counteract my list above? I can't help it. I've got a bad winter attitude.
But seriously, blood oranges. They make me so, so happy during this blue time of year. I've made so much deliciousness with them these last couple weeks that I figure I need to get posting, to maybe bring a little brightness to your life before this season is over. First up? Blood Orange Ice Cream Soda. You can pretend you didn't miss that holiday and have one of these for breakfast. I won't tell.
Blood Orange Ice Cream Soda (makes 2):
Print this recipe!
1 C sugar
1 C water
1 blood orange (juice and zest)
2 C vanilla ice cream
Soda water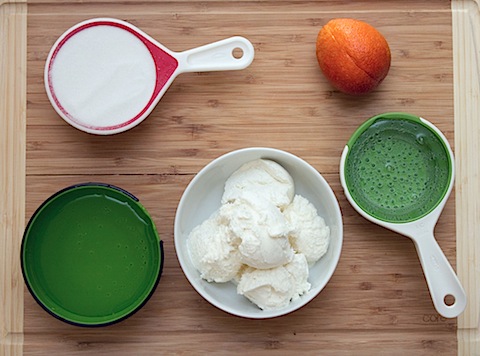 This is a super simple recipe, but one that I think looks pretty impressive. I think anything with blood oranges has a little extra oomph to it and can go a long way in impressing.
First you'll make a simple syrup with the blood orange. You know how I am with simple syrup. LOVE IT. I currently have 4 (FOUR) mason jars of simple syrups in my fridge right now. One plain, one espresso, one habanero, and one blood orange. Sometimes I spoon a little into my soda water for some extra fun (this is totally me getting CRAZY!).
Put the sugar and water in a medium saucepan. Zest the blood orange into the mix and squeeze in all of the juice. Bring to a boil. And then lower heat to a simmer and let simmer for about 10 minutes.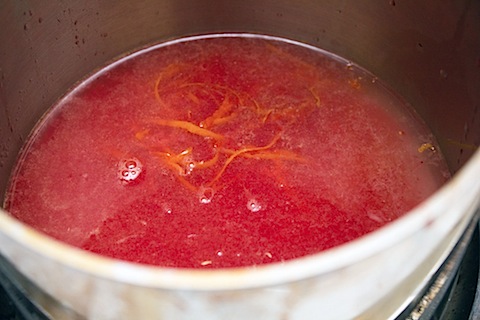 Pour simple syrup into a mason jar or other container and pop it in the fridge to cool.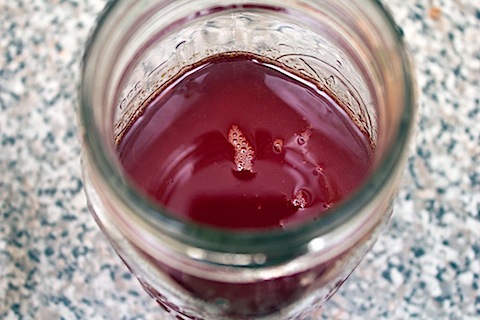 Once the syrup is cooled, spoon about 2 ounces into each glass.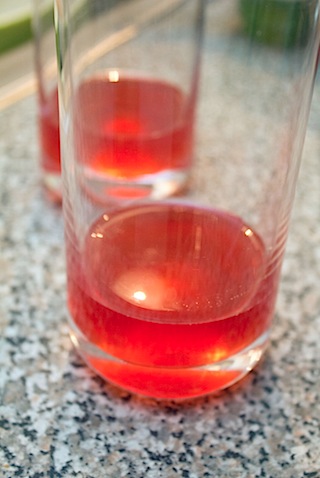 Then plop in about a cup of ice cream.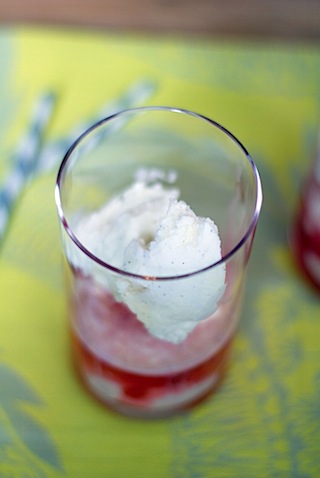 And fill to the brim with soda water.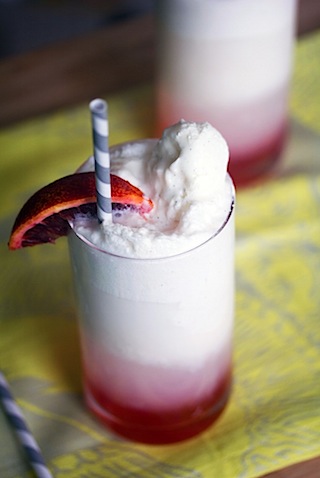 Done and done. I told you it was a breeze. That's another awesome thing about February. You can be totally lazy and feel OK about tit. Because… weather.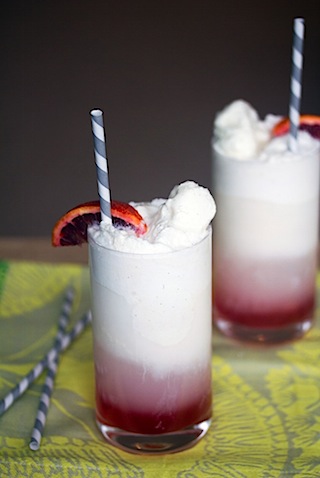 You might be the kind of person who says no to ice cream in the winter, but I hope not. If you are, I think you should probably rethink that. And rethinking it while sipping on one of these is the perfect idea.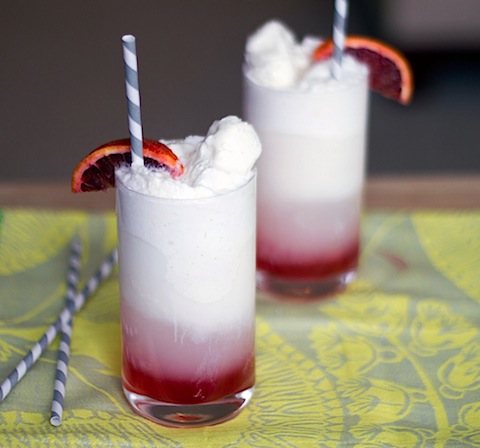 I wish simple syrup lasted forever because I would go to the grocery store right now, buy up all the blood oranges and make 100 batches of this. Then I could go about enjoying my summer without feeling a little void due to the fact that blood oranges are missing from my life.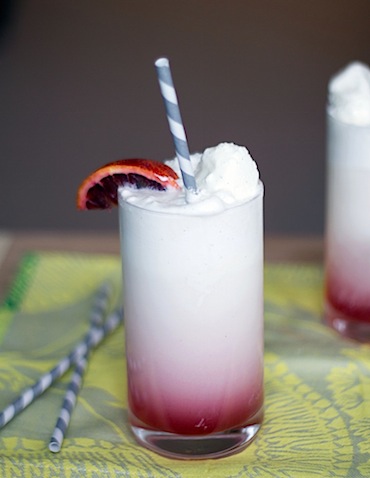 See, I guess I have to be somewhat appreciative of winter. There's no other time I can get blood oranges. And I miss them so much when they're not around.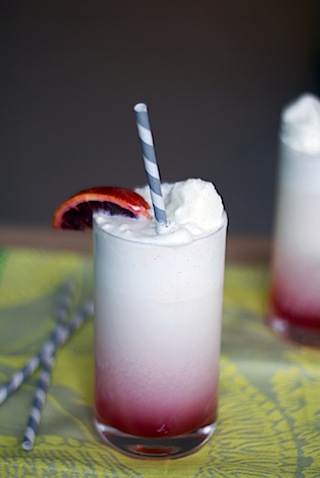 This ice cream soda was pretty delightful. The simple syrup was full of blood orange flavor and mixed perfectly with the vanilla ice cream or what was basically a blood orange creamsicle taste. And, of course, the soda gave it an old-fashioned fizzy feel.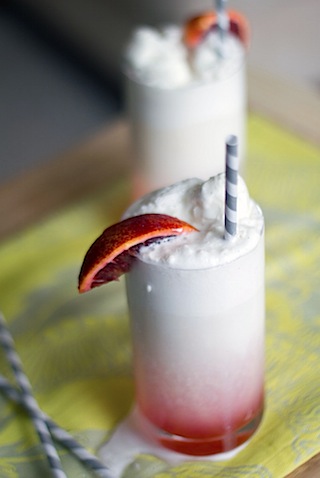 OK, February, you can stick around for a little bit. As long as you keep bringing on the blood oranges. But once they're gone, you have to go away. For at least a year. Or until the blood oranges start growing again.
What's your favorite thing about this time of year?
[Sues]