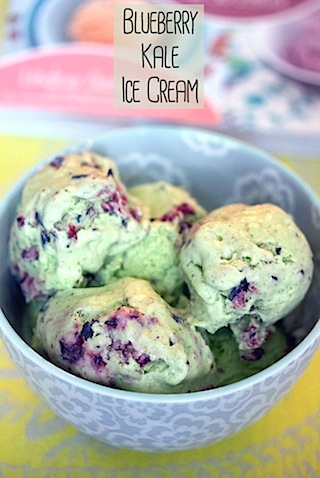 You're going to tell me I've gone too far. I know you are. And you're partly right, I suppose. I did, after all, put kale in ice cream. Yup. But to be fair, I got the whole idea from a book. It's not like I was hanging out bored one evening saying "gee, I think I'll try putting kale in ice cream." No. A book told me to put kale in ice cream. But ugh, that's totally something I would do anyway, isn't it? What is my life?
When I received a copy of Scoop Adventures
, I immediately bookmarked about 20 different ice cream recipes I wanted to make… But then I saw the recipe for Blueberry Kale Ice Cream. And that was that. It was decided. I seriously never make my mind up that easily. But how could I resist putting my favorite trendy vegetables into ice cream? Like I said, though, this book is packed with amazingly unique ice cream recipes. It actually contains the best ice cream of the 50 states: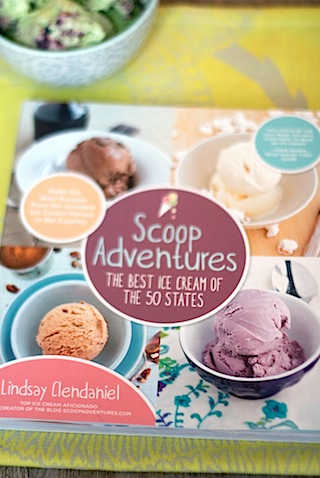 And this includes flavors like Balsamic Fig, Mimosa, Thai Peanut Curry, Toasted Marshmallow, Avocado Lime… I could go on. Seriously.
But Blueberry Kale topped my list. The recipe comes from The Hop Ice Cream Cafe in Asheville, North Carolina, and I think I need to visit Asheville just so I can go to this place and give them a medal or something.
Blueberry Kale Ice Cream (makes 1 quart):
From Scoop Adventures

Print this recipe!
5 egg yolks
3/4 C + 3 1/2 t sugar, divided
2 C heavy cream
3/4 C milk
Pinch of salt
2 oz. kale, chopped into small pieces
1 1/2 t lemon juice
1/2 t lemon zest
1/2 C blueberries
4 t sugar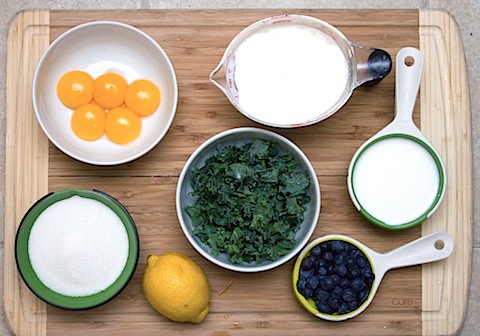 I tell people all the time… Do not be afraid of ice cream! If you have an ice cream maker and the right ingredients (plus a little patience), you can be making your own ice cream in no time. And I promise it will make you a happier person. Because you will have the power to stock your freezer with absolutely any kind of ice cream you want, whenever you want. Like Blueberry Kale. Yum.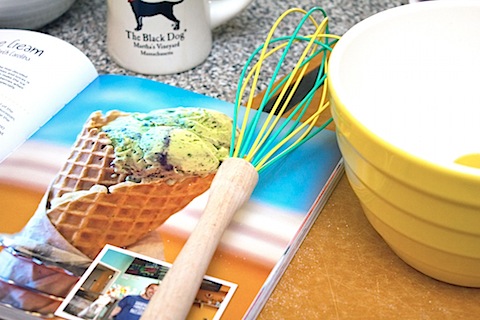 Start by whisking the egg yolks with 1/4 C sugar in a medium bowl, until pale in color.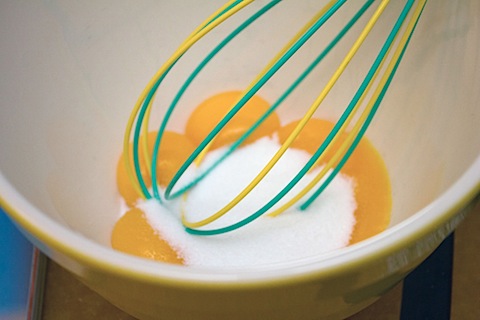 In a medium saucepan, combine cream, milk, 1/2 C sugar, and pinch of salt. Warm mixture over medium heat until sugar dissolves, about 3-4 minutes.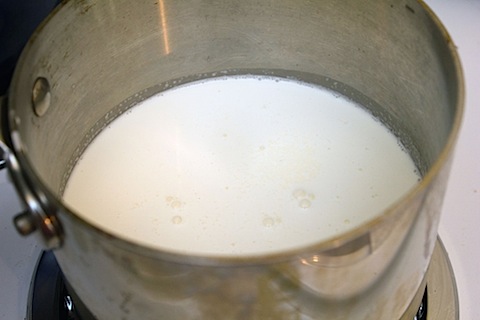 You'll need to temper the eggs now, by pouring about 1/2 C of the hot milk into the yolks and whisking constantly until combined.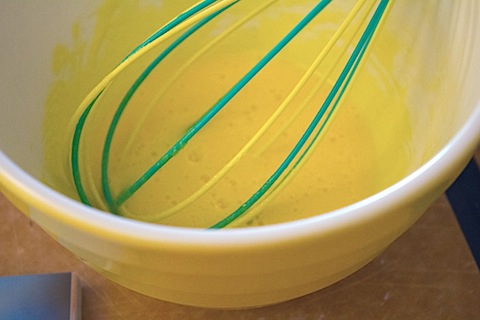 Then pour everything back into the saucepan and heat over medium-low heat, continuing to stir constantly. Continue heating until the mixture thickens enough that it coats the back of a spoon. Don't let the mixture come to a boil.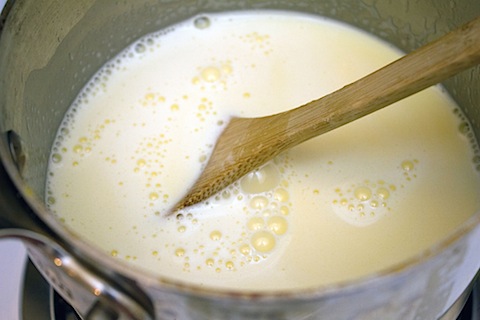 Now you're ready to pour this mixture through a fine mesh sieve into a medium bowl and cool to room temperature.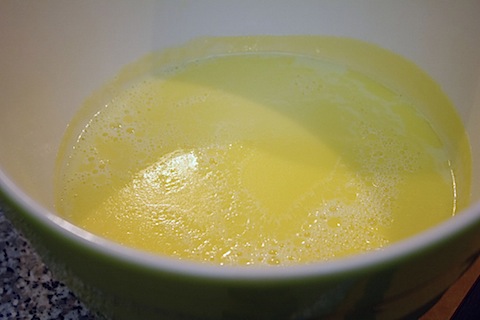 Then cover with saran wrap (making sure wrap touches down on liquid so skin does not form) and refrigerate the mixture for at least 4 hours and preferably overnight.
Once cooled, combine in a blender 1 cup of the cooled custard, with the kale, 3 1/2 teaspoons sugar, lemon juice, and lemon zest.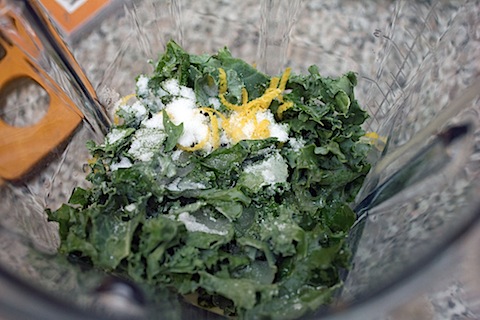 Puree until smooth.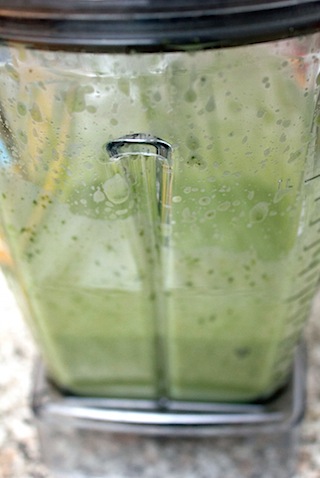 And combine with the remaining custard in the bowl, adding a bit more lemon juice. Looks like everyone's favorite green juice, right?
Pour that mixture into the base of your ice cream maker and run, according to the manufacturer's instructions.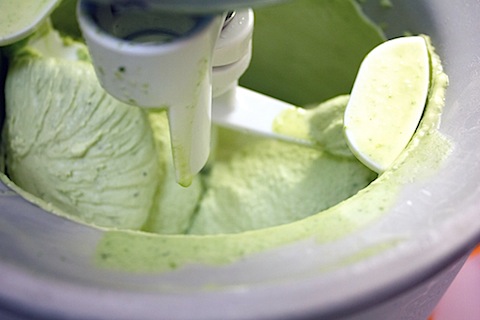 While that's churning away, you can make the blueberry swirl. Or you can take a nap. Actually don't do that because it won't take that long for the ice cream to fully churn.
Puree the blueberries and 4 teaspoons of sugar in a food processor or blender.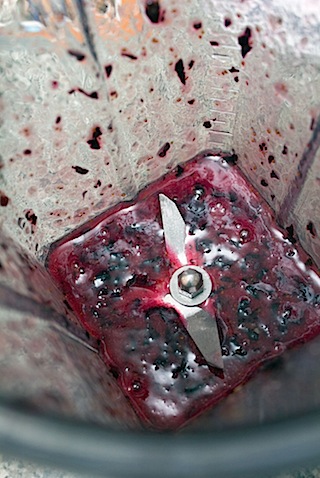 I added half the blueberry puree into my churning ice cream. And then when my ice cream was done churning, I moved it to a freezer-safe container and swirled in the rest.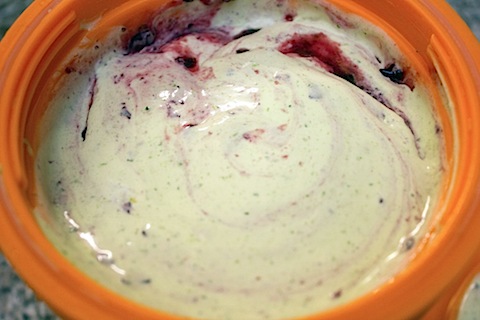 Then you'll have to pop the container back into your freezer for another 8+ hours to harden. I told you homemade ice cream requires patience. But it's so, so worth it.
See?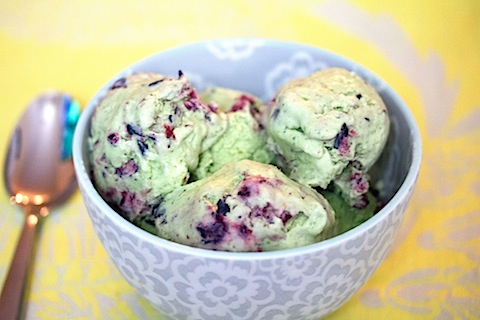 So, what was this Blueberry Kale Ice Cream like? I LOVED it. Of course, if you're not a kale lover, you probably won't really be feeling this. But the kale wasn't actually overpowering as the sweetness from the blueberry swirl and sugar combined well. It had an Earthy taste to it… In a good way!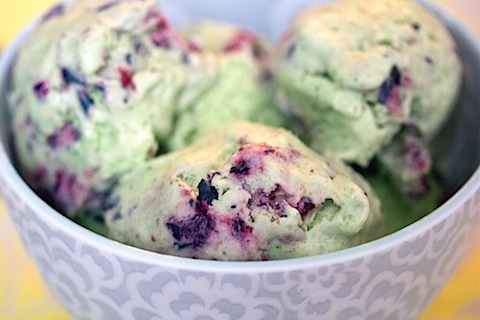 This will probably go down as the prettiest ice cream I've ever made. When is bright green ever an OK color for ice cream? When it's 100% completely natural.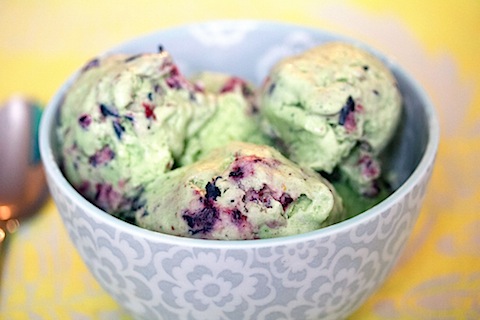 Same with blue. Even though these blueberries are totally purple.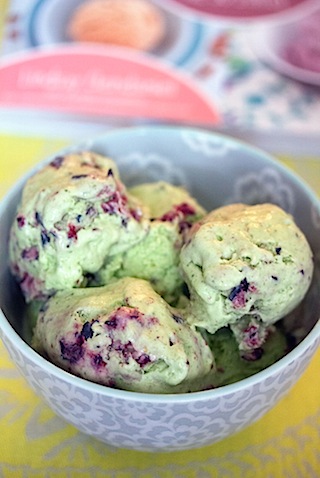 Basically, you can eat this instead of a salad. Well, maybe don't do that. But if you happened to, I promise I won't tell a soul.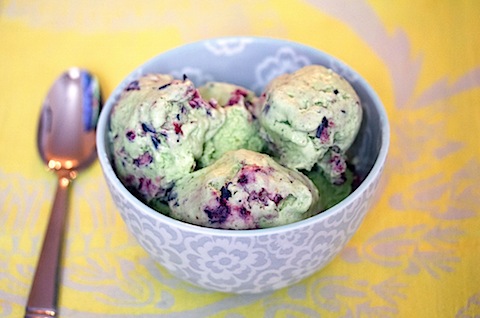 Because I may or may not have done the same.
Hey, if I'm going to eat ice cream for dinner, it may as well have kale in it, right?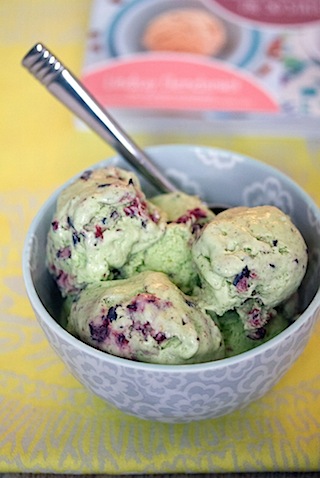 So yes, Scoop Adventures
is definitely my kind of book! Even if I wasn't into cooking and making my own ice cream, I would totally want to read it if only because I want to see what the best ice cream is in each of the 50 states. But now I legit want to make a majority of them in my kitchen. I actually almost kind of craved winter when I saw a recipe for Fennel Ice Cream with Blood Orange Sauce. But then I realized I've been missing the hot weather desperately and that I could hold off on that ice cream for just a little bit.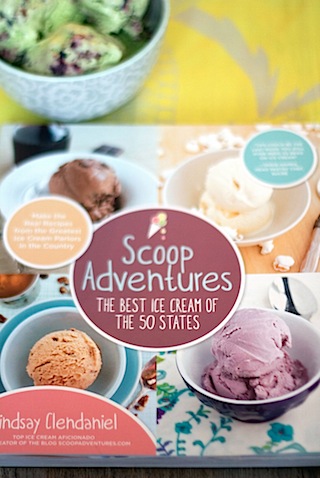 So, I put kale in my ice cream. And now I feel like a healthier person. Kind of. Or something like that. Fine, I'm just happy. Because of this ice cream. And there's something to be said for that.
What's the most interesting flavor ice cream you've tried?
[Sues]
Full disclosure: The publisher sent me Scoop Adventures
, but as you can see here, all opinions are 100% my own. I just want to eat ice cream. And write about it.