The key to getting anyone to love brussels sprouts? Add them to pizza! This Brussels Sprouts Flatbread (with pancetta!) is sure to win everyone over.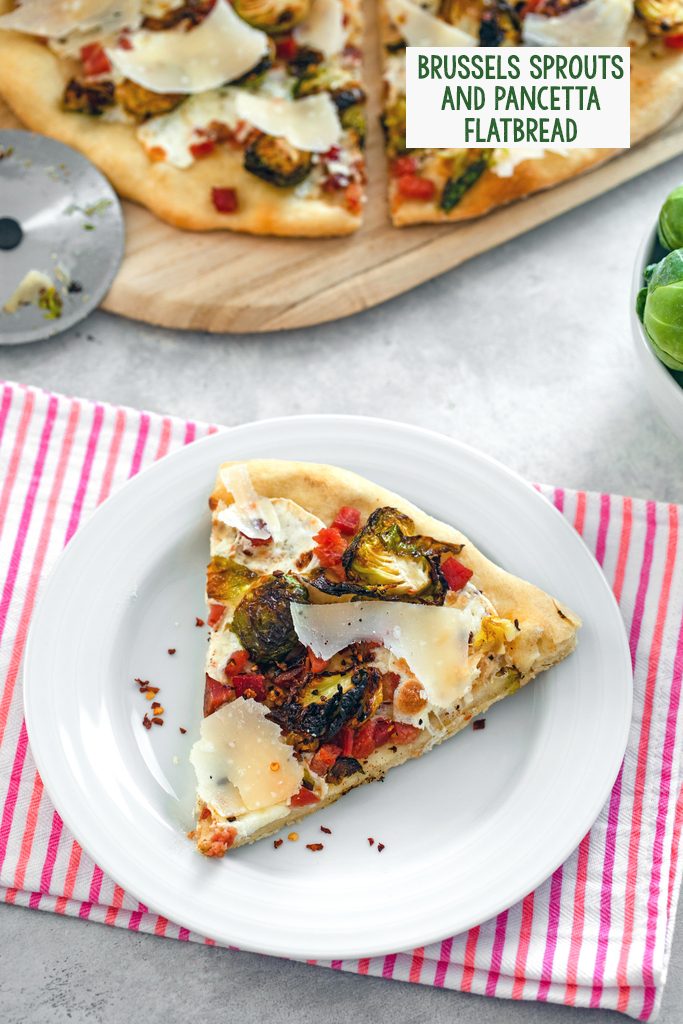 (This recipe for Brussels Sprouts and Pancetta Flatbread was originally published in October 2011, but was updated with new photos in 2019).
When I first told him I was putting brussels sprouts on flatbread, Chris declared it a waste of a flatbread. Like many, he is clearly not a fan of brussels sprouts. But I figured if there was any way I could get him to like the often-despised vegetable, it would be by putting them on a thin crispy dough with lots of flavorful cheese and garlic. Oh, and pancetta. *Insert evil laugh here* Mission complete. Chris ate this brussels sprout and pancetta flatbread as leftovers the very next day.
Bottom line: If you're trying to show a doubter the beauty of brussels sprouts, start here. Soon you'll have them eating brussels sprouts out of the palm of your hand. OK, that might be weird. But they'll at least be eating them off the crust of your pizza. Muhahaha.
BRUSSELS SPROUTS FLATBREAD (WITH PANCETTA) RECIPE
This is one of those quick, simple recipes that yields some leftovers if you're just cooking for two. Unless you plan to eat an entire pizza in one sitting. Which I have been known to do. At least with this one, you can justify it by knowing that you're getting your share of healthy green veggies. But still, there's cheese. Lots of cheese. And pancetta. Moving on, then.
You should definitely start by making the flatbread dough since it needs a couple hours to rise. You can even do it the day or a dew days before. You can really use any kind of pizza or flatbread dough you want (even store-bought!), but I'm sharing my favorite recipe in the recipe card below. For even more details of the flatbread dough making process, check out this post.
Once you're ready to start assembling the flatbread, heat 1 Tbsp olive oil over medium heat and throw brussels sprouts in the pan. Season with salt and pepper. Sauté for about 3 minutes.
Add in garlic. Sauté for 3 more minutes. I let my sprouts get dark, but not too dark since you'll be baking them at a high heat once they're on the pizza dough.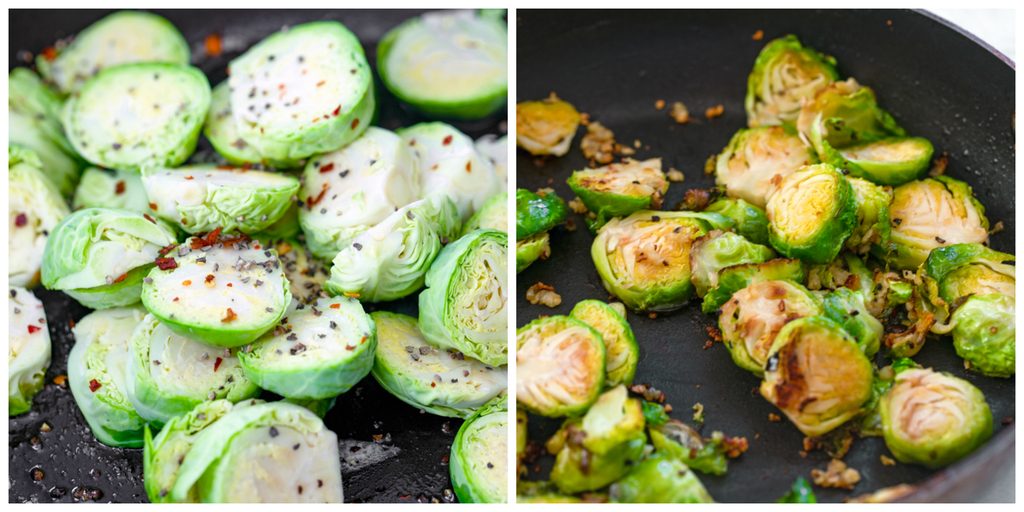 Now, roll out your dough and place dough round on a foil-covered baking round.
Lightly brush flatbread lightly with 1 Tbsp. olive oil.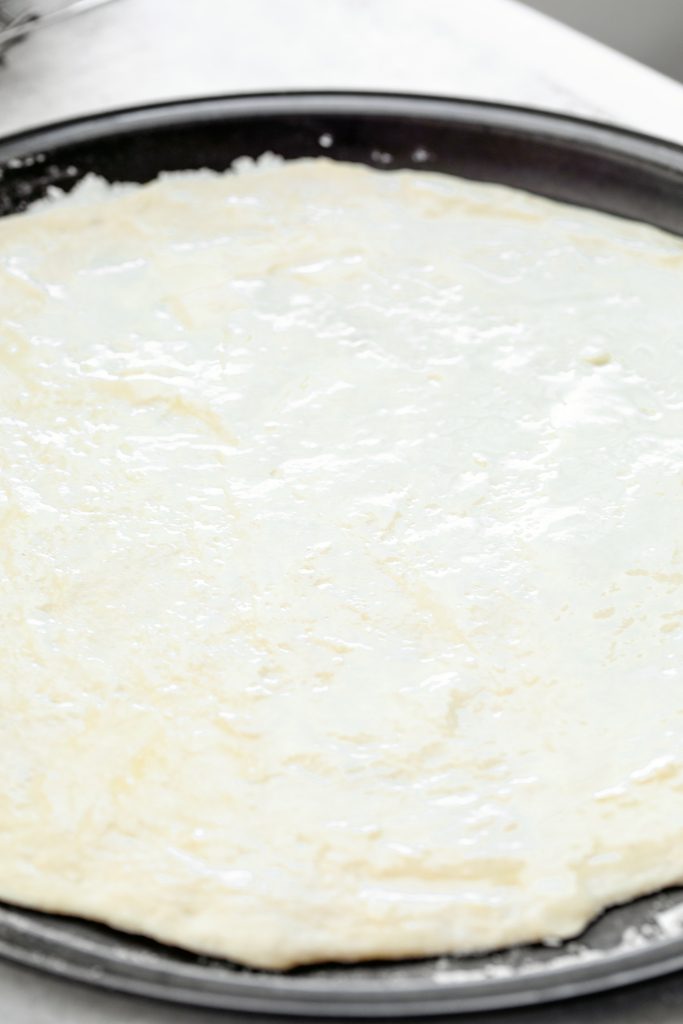 Lay down mozzarella cheese. Sprinkle on pancetta and top with brussels sprout and garlic mixture and red pepper flakes.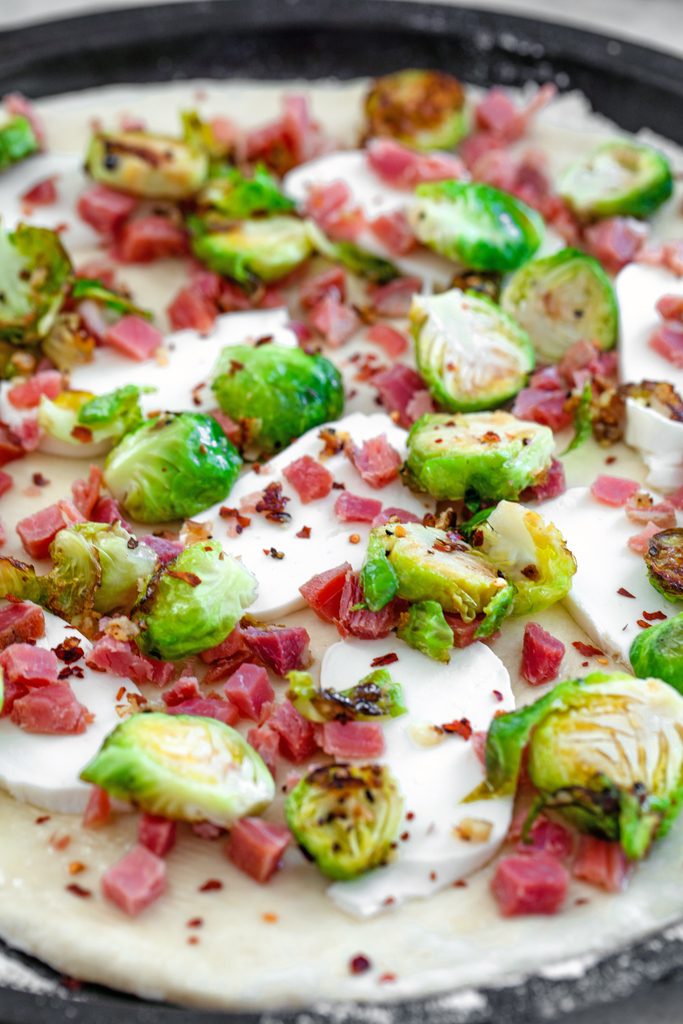 Bake at 450 degree for 12-15 minutes, until edges of the crust are turning golden.
Remove from oven and top with parmesan cheese shavings. Yes, I suppose more cheese is totally unnecessary. But in my world, the words "cheese" and "unnecessary" do not belong in the same sentence, so it happened. And the parmesan really adds a fantastic kick to the flatbread.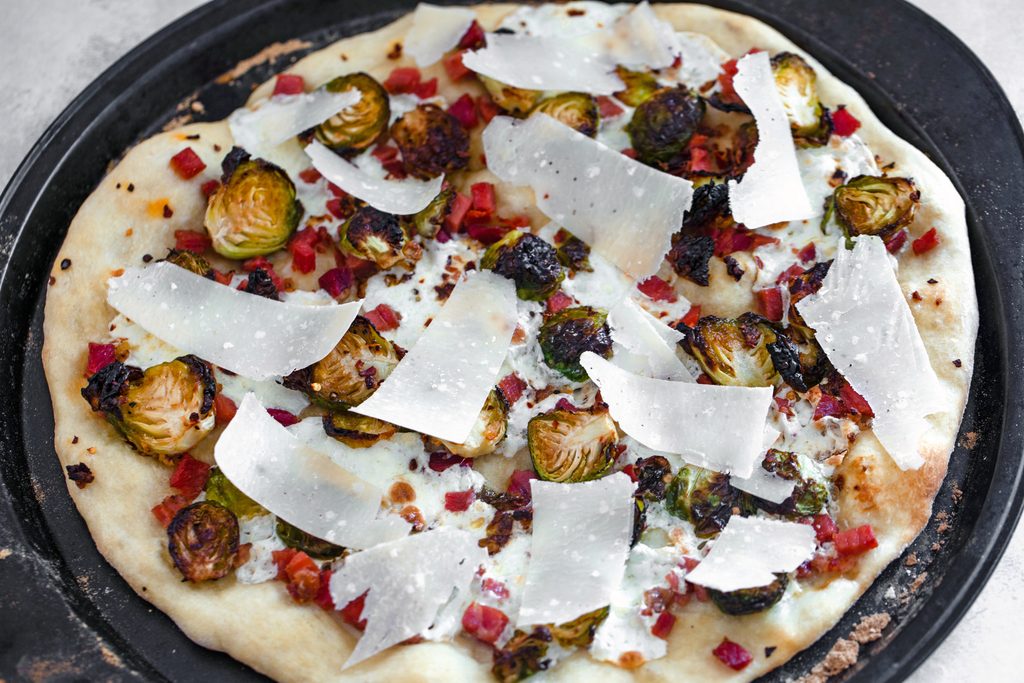 Now you're ready to slice and serve. And wait with bated breath to see how your dining companion reacts. At first I was nervous Chris would immediately reject the brussels sprouts flatbread. But he gobbled it right up and told me he actually loved it. Yesss.
Mission accomplished.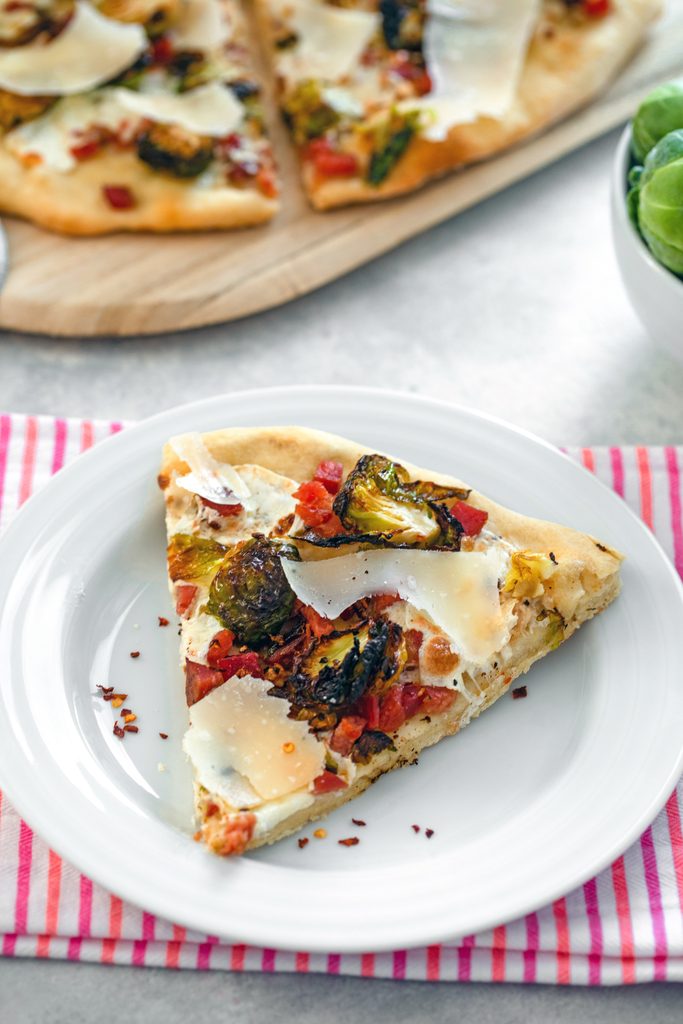 I'm not really giving myself too much credit though. I mean, pancetta was involved. A whole lot of it. And is it even possible to dislike something involving pancetta? Provided you're not a vegetarian, of course. Brussels sprouts flatbread might be delicious in my world, but brussels sprouts AND pancetta flatbread is delicious in (almost) everyone's world.
Seriously though, I think the secret to getting people to give brussels sprouts a chance is to toss them in some good olive oil and brown them up or to roast them in the oven. It gets rid of a bit of that bitter taste and adds a nice smoky flavor. Of course, cheese, pancetta, and a crispy crust don't hurt either. Trust me on this one.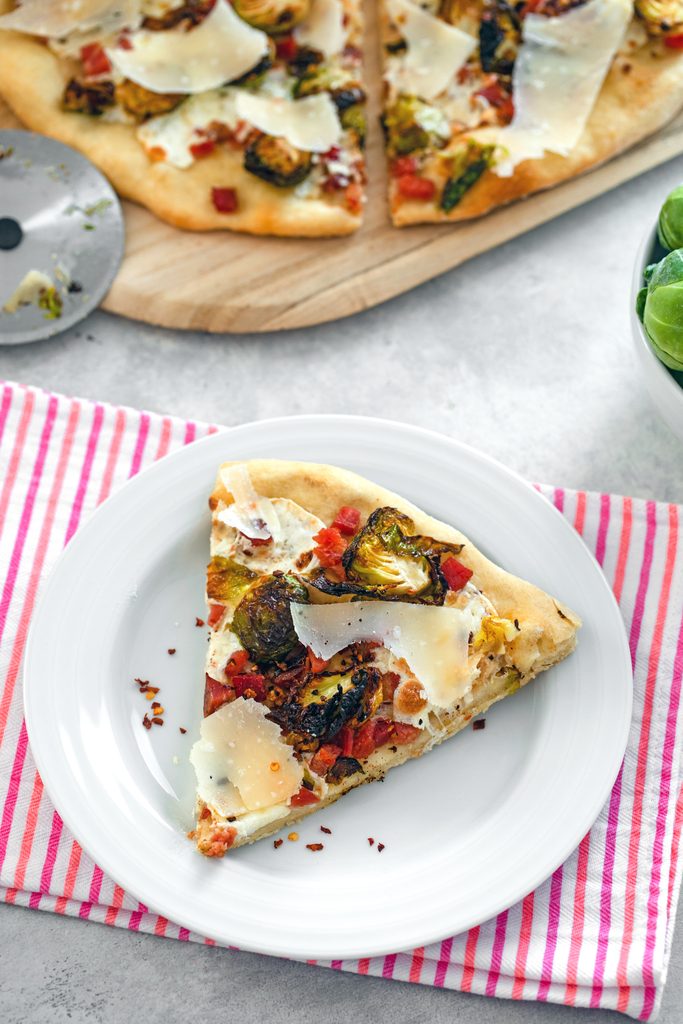 Most things are better on pizza and this brussels sprouts flatbread is very solid proof of that!
How do you feel about brussels sprouts?
If you're looking for more unique flatbread pizza recipes, check out my Lobster Artichoke Flatbread or my Lamb Flatbread with Mint and Feta. I'm also obsessed with this Ranch and Dill Pickle Pizza from Thursday Night Pizza!
And for more ways to make your friends and family fall in love with brussels sprouts, make my Brussels Sprouts Grilled Cheese or my Brussels Sprouts Caesar Salad!
📖 Recipe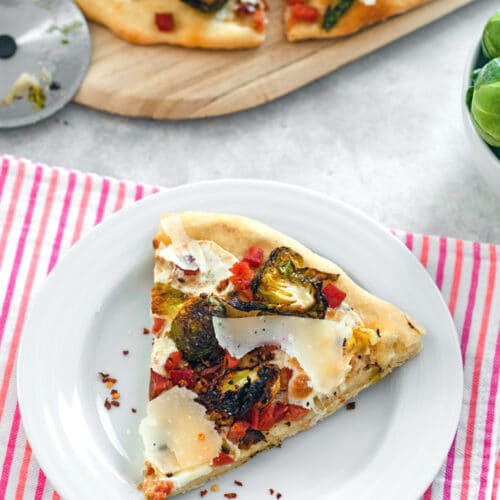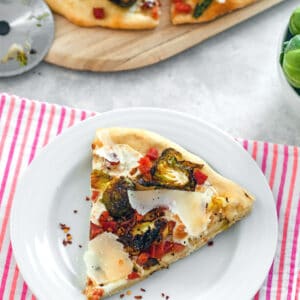 Brussels Sprouts and Pancetta Flatbread
The key to getting anyone to love brussels sprouts? Add them to pizza! This Brussels Sprouts and Pancetta Flatbread is sure to win everyone over.
Print
Pin
Rate
Makes:
1
flatbread (4 servings)
Ingredients
4

cloves

garlic,

sliced

2

Tbsp

olive oil,

divided

½

batch

flatbread dough

(recipe below)

¼

lb.

pancetta,

chopped

4-6

oz.

mozzarella cheese,

cut into rounds

2

tsp

Red pepper flakes

(optional)

1

oz.

parmesan cheese,

shaved
Instructions
Pre-heat oven to 450 degrees.

Heat 1 Tbsp olive oil in a large saucepan over medium heat. Add brussels sprouts to pan and season with salt and pepper. Sauté for about 3 minutes. Add garlic and sauté for 3 more minutes.

On a lightly floured surface, roll dough out into a thin 12-inch round. Transfer round to a foil-covered 12-inch pan. Brush dough lightly with remaining Tbsp olive oil.

Lay mozzarella cheese on dough, sprinkle on pancetta, and top with brussels sprout and garlic mixture and red pepper flakes (if using).

Bake for 12-15 minutes, until edges of flatbread are turning golden. Remove from oven and

top flatbread with parmesan cheese shavings.
Flatbread Dough
Mix yeast and water in a large bowl and let rest for 2 minutes.

Stir salt, sugar, and extra-virgin olive oil into the mixture. With a wooden spoon, mix the flour into the mixture.

Cover bowl with a kitchen towel and let rest in a warm spot for about 2 hours so dough can rise. See notes section for more details about flatbread dough.



Notes
Flatbread dough recipe makes enough for two large flatbreads. Double the other flatbread ingredients to make two or wrap half the dough in plastic wrap and store in fridge for 7-10 days.
Note that recipe prep time doesn't include 2 hours dough rising time.
Share a Photo of Your Finished Recipe!
Mention @wearenotmartha and share a photo if you've made the recipe!