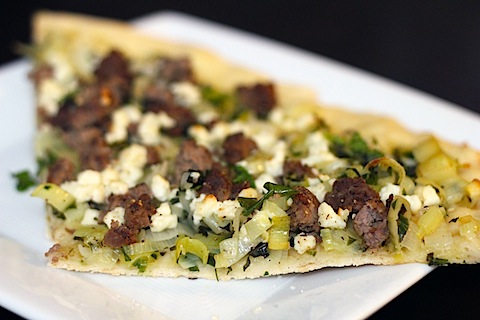 If you're like me, you're currently wondering how long the plants on your windowsill have to live. That basil plant that's been absolutely flourishing for the past 4 months? Is it going to suddenly catch a chill, shrivel up, and die? The temperature is dropping and the sun is setting earlier and earlier. Better take that basil plant and make some pesto and freeze it STAT. You'll be thankful you did come December. Is your mint plant already starting to get a bit wilty and brownish? Better make this lamb mint flatbread with feta ASAP. Wouldn't want all that mint going to waste.
This recipe, which I adapted from Martha Stewart Living, is a pretty perfect in-between season dish. It has all the freshness and summer flavor of mint, combined with the comfort of ground lamb and leeks. You can eat it outside wearing a light sweater with the last of the summery beer. Or you devour eat it snuggled under a blanket on your living room couch, watching the season finale of The Bachelor Pad. Which is tonight. Which I'm not excited for at all. I swear. Ugh, trashy television. Who watches that stuff anyway?
Lamb Mint Flatbread with Feta (makes 2 flatbread, serves about 6):
Adapted from Martha Stewart Living
Print this recipe!
Flatbread dough (this recipe is the best! Make 1/2 batch)
1 T unsalted butter
1 T extra virgin olive oil (plus more for brushing)
3 leeks (white and pale green parts only, cut crosswise into 1/4-inch slices)
10 scallions (thinly sliced)
1/4 C chopped fresh mint (plus more for garnishing)
1/4 C chopped parsley
1/2 lb. ground lamb
1 C crumbled feta cheese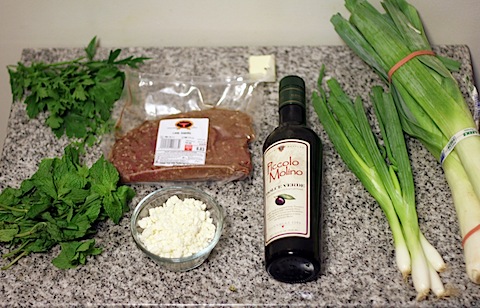 While I trust my girl Martha Stewart like no other, my go-to flatbread dough recipe is too perfect to mess with. Unless you have some really amazing reasoning, I'll likely never use another flatbread recipe again. It's easy, quick (just a bit of waiting), and seriously no-fail. All you do is mix together, yeast, water, salt, sugar, olive oil, and flour. Let it rise and it's ready. Make a half batch of the recipe… Unless you want a lot of extra. Which you might. I usually do.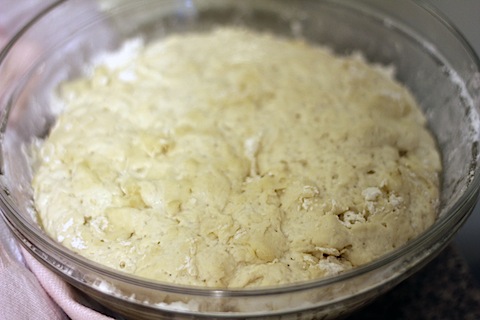 Actually, the entire flatbread is quite easy. All that you're required to do is chop some green goodness. Like these leeks. You know, I don't cook with leeks often at all. I'm not quite sure why, considering I love garlic and onions, close relatives to the leek. You might be seeing leeks around these parts more in the coming days.
Anyway, though the green part of the leeks are quite pretty, it's the white and light green parts you use.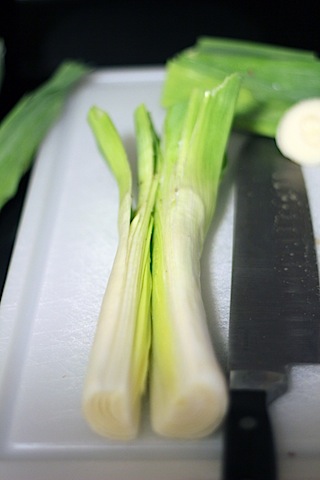 Simply chop them into 1/4-inch slices, like so.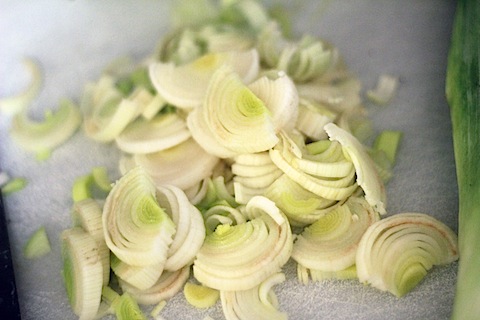 And then make sure you wash them really well… Apparently, leeks are quite dirty. I put my sliced leeks in a strainer and rinsed super well.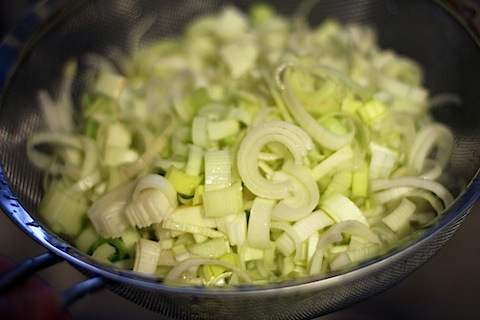 Slice up your scallions, too.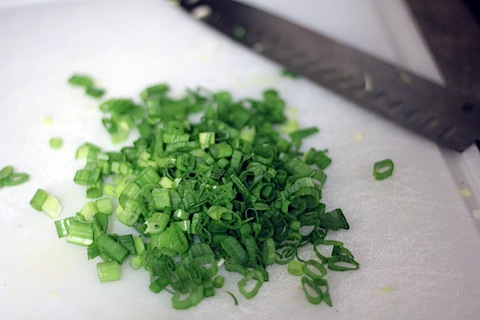 Melt the butter with the olive oil in a skillet over medium heat. When the butter is melted, add the leeks and scallions and a little salt and pepper.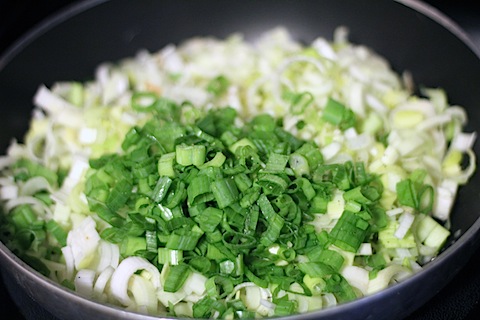 Cook, stirring occasionally, for about 5 minutes, until the leeks and scallions are soft.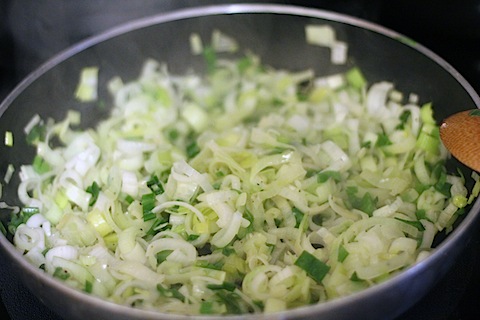 Put the leek/scallion mixture in a medium bowl and stir in the chopped mint and parsley.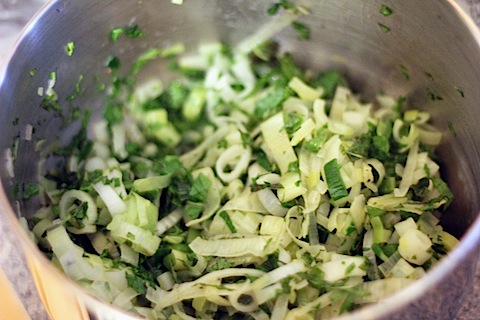 Now, using the same skillet, cook the ground lamb over medium-high heat.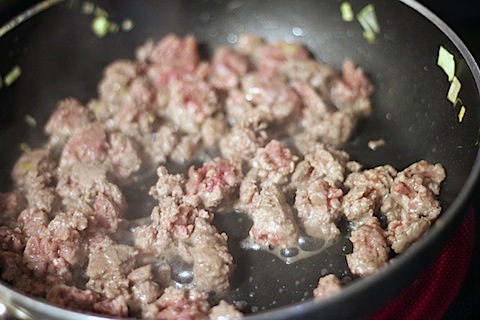 Break the lamb down into smaller pieces while cooking. Cook until browned, about 6 minutes.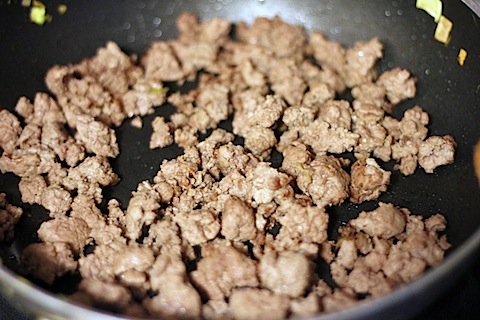 While the lamb is cooking, pre-heat the oven to 500 degrees. Divide your flatbread dough into two and roll it out into two circles as thinly as you can. You might end up with some extra dough that you'll have to cut off if your circles are too large. Place the dough on a rimmed baking sheet.
Brush the dough with olive oil and leaving a 1/2-inch border on the dough, spread with 1/2 of the leek mixture, 1/2 the lamb, and 1/2 C feta. Add a little more salt and pepper, too. Repeat with the other rolled-out dough.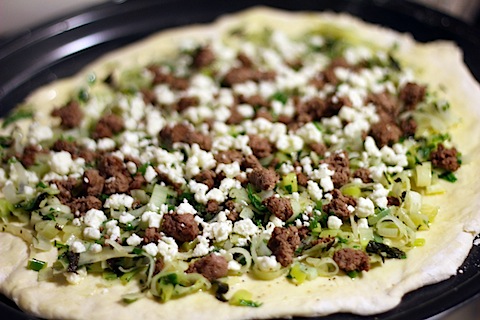 Bake at 500 degrees for about 12 minutes, or until golden brown.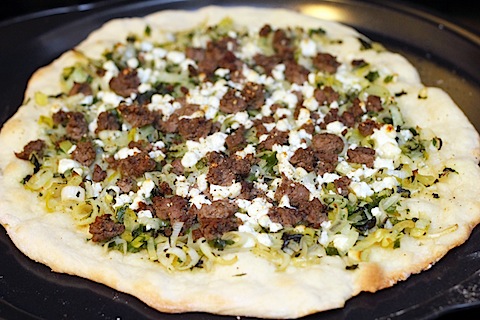 Garnish with more fresh mint for an extra punch of summer flavor.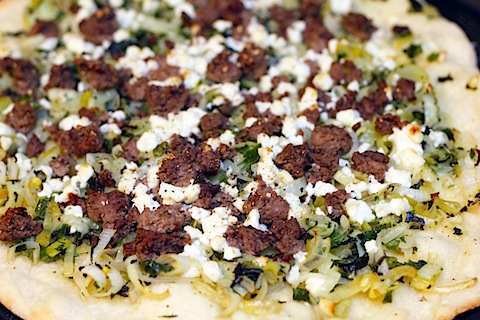 Slice and serve.
I used to be one of those people who said, "when I want pizza, I want pizza…" which means red sauce, mozzarella, pepperoni you know the drill. These days? I generally prefer to experiment with my pizza and flatbread. This is one experiment gone right.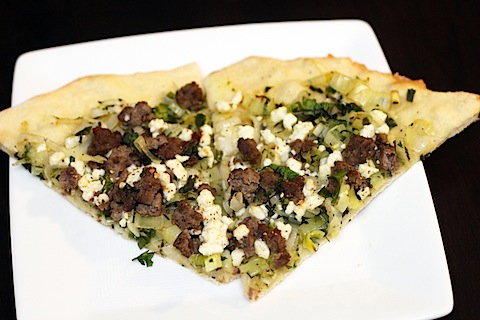 But I kind of figured it was tough to go wrong with lamb, mint, leeks, and feta.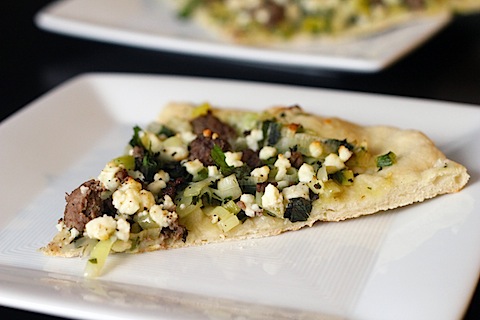 Come to think of it, this really would make the perfect Bachelor Pad watching meal. It's got way more sophistication than typical greasy pizza, so at least you can feel kind of good about yourself while you watch cat fights, girlfriend stealing, and all that other drama. Not that I know anyone who watches that show anyway. We all have better things to do, right? But I mean, if you had to pick a winner, who would you want to see take home the money? (anyone but Vienna and Casey, please! Seriously though, I want Michael to win it all). Oops. At least I'm eating good pizza?
Do you like to experiment with flatbread and pizza? Best idea you've had?
[Sues]