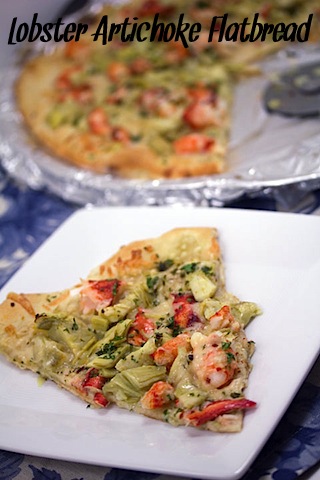 Summer is unofficially over and I'm stuck here lamenting how little time I spent eating lobster. To be certain, it was a super busy summer, between getting married, honeymooning in Mexico, and moving to the "burbs," I feel like the summer just whizzed by. I barely sat out by the pool at all. I didn't spent much time BBQing. I had way too many missed beach opportunities. And I definitely didn't eat my share of lobster. Not even close.
When I saw lobster meat was on sale at Market Basket, I jumped on it. I know; it's lazy. But it's so heavenly to go into a grocery store lobster-less and to depart with a container packed with the very best lobster meat, no work involved. My excuse is that we still don't have a lobster pot and the thought of cooking lobster in a regular size pot makes me a bit nervous. So we picked up some claw meat and I went on my way creating a flatbread I'd seriously been dreaming about for weeks.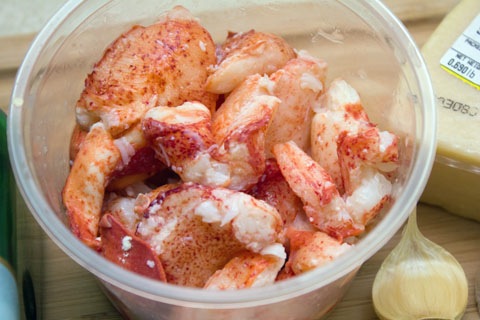 Hello, pretty lobster. Get out of my dreams and into my oven. Thanks. Let's do this again soon.
Lobster Artichoke Flatbread (makes 1 pizza):
Print this recipe!
Flatbread dough (my favorite recipe, make 1/2 batch)
3 cloves garlic, minced
2 T extra virgin olive oil
1/4 C-1/2 C parmesan cheese
1/2 lb. lobster meat
1 C chopped artichoke hearts
2 T chopped parsley
Red pepper flakes
1 T freshly squeezed lemon juice
(pre-heat oven to 450 degrees)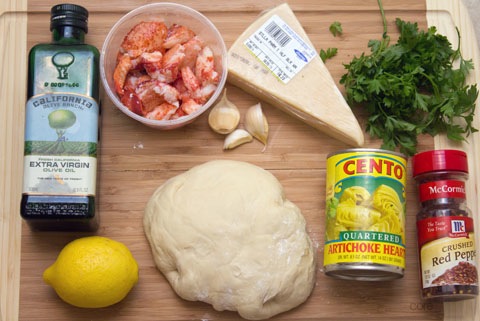 I like to start by rolling out my dough on a floured surface.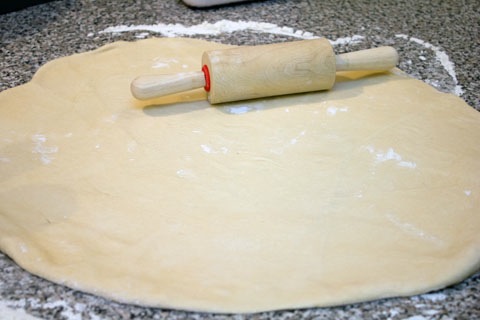 And placing it on a foil-covered pizza pan.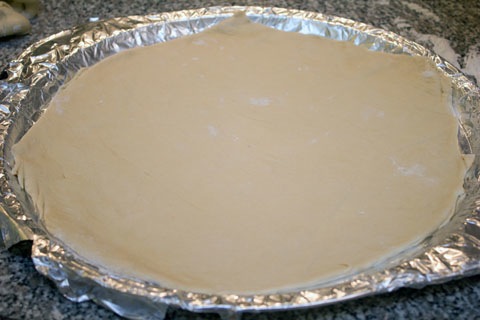 I got out my trusty Epicurean cutting board
(seriously the best cutting boards ever!) and prepped all my ingredients.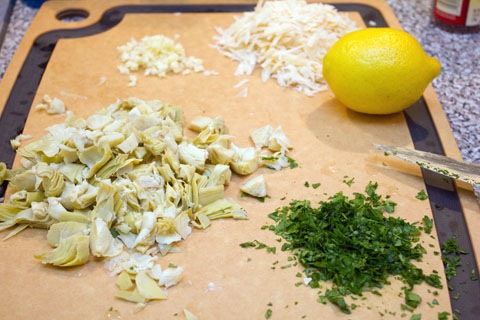 In a small bowl, combine olive oil and minced garlic.
And using a pastry brush, brush onto the dough.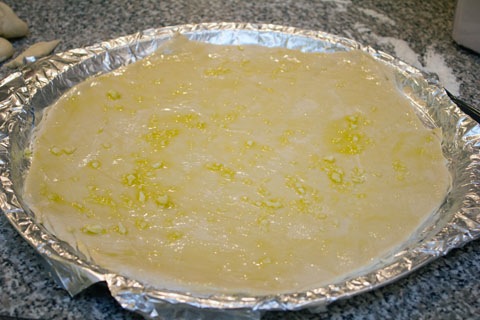 Then spread almost all the parmesan cheese on top.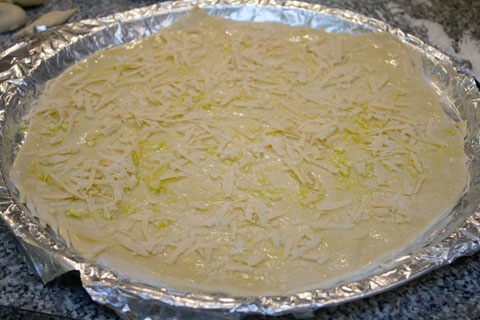 And generously layer on the lobster and artichokes.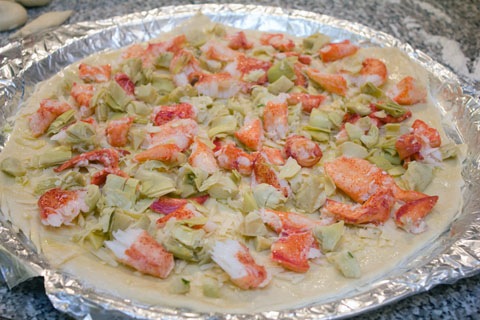 Isn't that claw meat beautiful?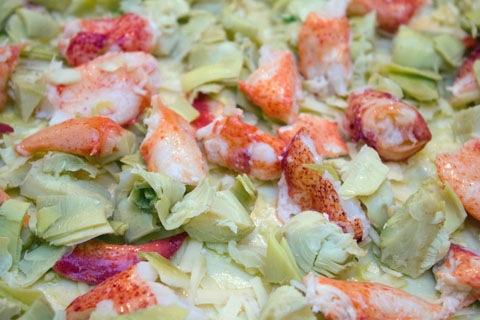 Sprinkle on the parsley, the red pepper flakes, and the rest of the parmesan cheese. Drizzle the lemon juice over the top.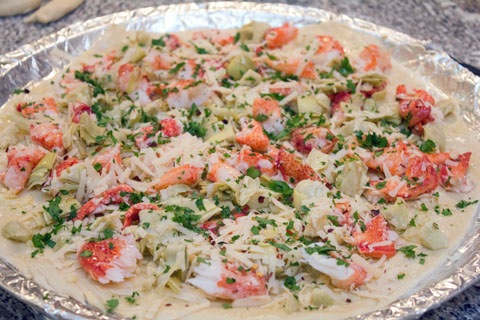 Fully loaded and ready to go!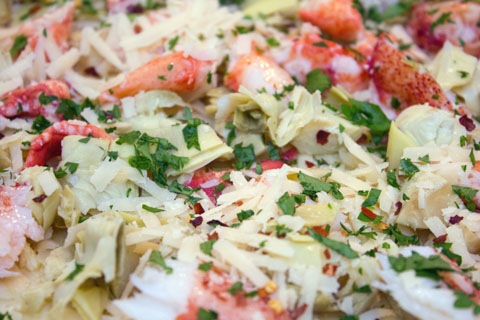 You have no idea how excited I was for this to be ready. I popped it in the oven at 450 degrees for about 18-22 minutes (until it's crisped up to your liking).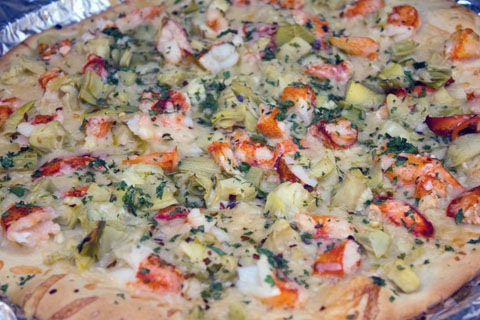 And I didn't wait a minute before digging in. I burned myself on the pan. It was worth it.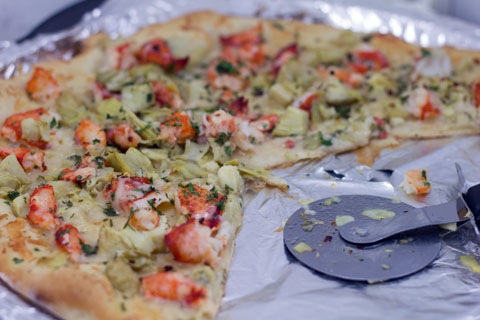 I'm pleased to say my dreams really did come true with this flatbread. It had everything I was craving, from nice big chunks of lobster to the refreshing zest of the lemon juice.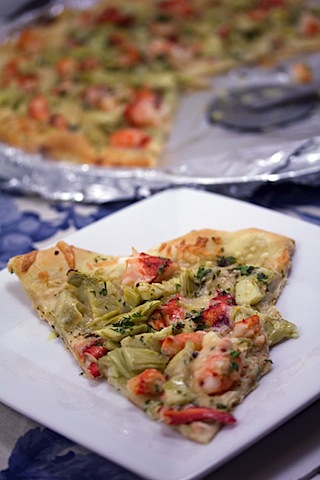 I love that it was packed with plenty of fresh garlic and that there was absolutely no scrimping in terms of lobster meat. You have to admit, whenever you order a dish involving lobster at a restaurant, you partly judge it based on how much lobster is actually involved. You find yourself saying things like, "It was SO good; every bite had a piece of lobster!" or "Yum! They definitely didn't scrimp on the lobster!" This was one of those, get a piece of lobster (or two!) in every single bite. The way it should be.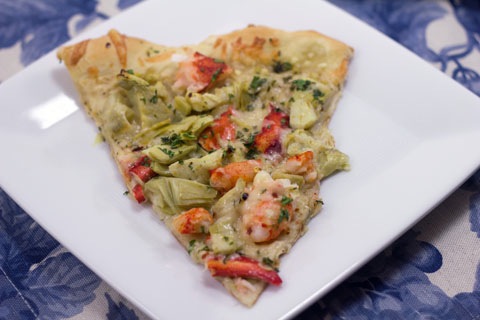 Summer heaven. And if you're not going to eat your lobster right out of the shell or in a lobster roll, this is the way to do it. Though mac and cheese is always a fine option, as well.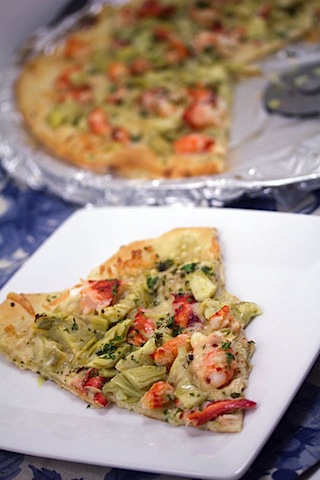 I might have to pick up lobster meat whenever it's on sale and make this pizza all over again. No boiling lobsters yourself and no mess from cracking the shells makes this a lazy man's lobster flatbread. But I'm more than OK with that. I spend enough time cleaning my kitchen as is.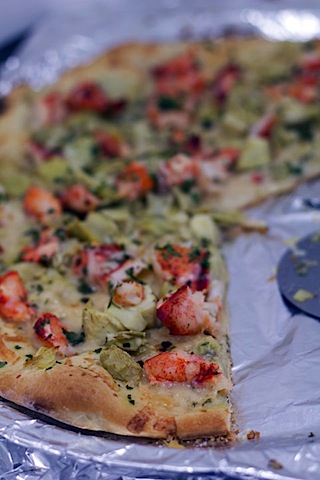 OK, I guess summer can end now. I guess.
Lucky me, I found another way to calm my lobster craving this Labor Day weekend, too. On the last official Labor Day weekend of summer, Chris and I headed to our favorite Barnacle Billy's in Ogunquit, Maine to indulge one more time. We sat outside and enjoyed the beautiful weather, the view, and some lobster and beverages. I can't help but always order the lobster roll.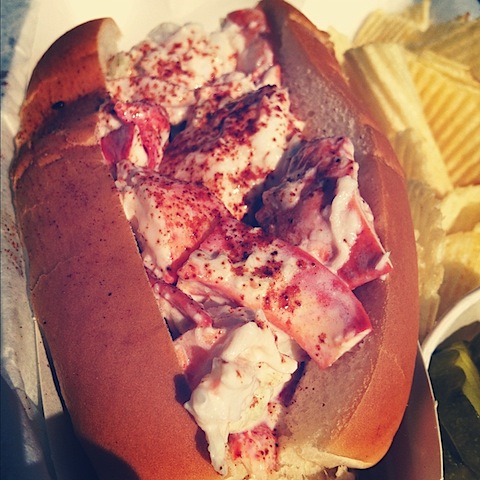 And while I can usually be found sipping the rum punch, this time I ordered a glass (OK fine, a plastic cup) of riesling. I almost never order white wine, but was totally craving something cold that would be nice with lobster. Life is good.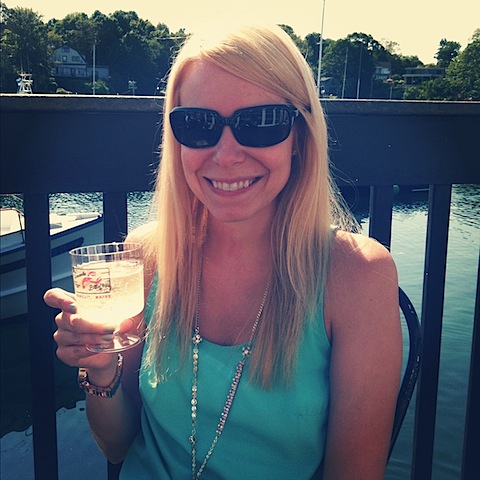 My favorite date! I can't believe the summer of our wedding is over. But now we're on to the rest of our lives together. Yay!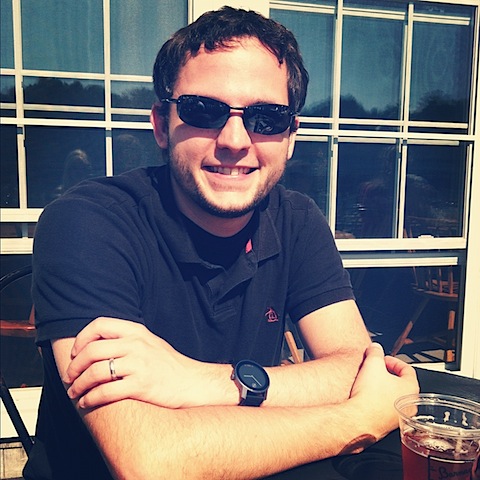 We also spent some time sightseeing in New England this weekend. We headed to Walden Pond for an afternoon of hiking. Chris had never been and I'm pretty sure I hadn't been since 4th grade when my teacher left half my class stranded (no really, she did). This weekend was beautiful weather and we spent a great few hours checking out Thoreau's house site and hiking around the entire pond.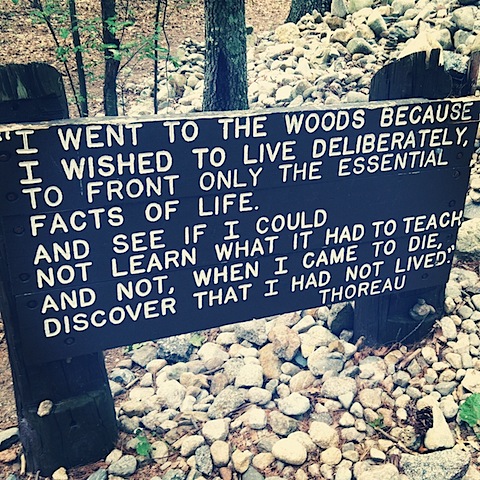 We also headed to the new outlets in Merrimack, New Hampshire for some shopping. I definitely did some damage, but concluded that the Wrentham outlets have a bit more to offer. Though, really, as long as there's a Cole Haan and J. Crew (there was), I'm a happy camper. Or shopper as the case may be.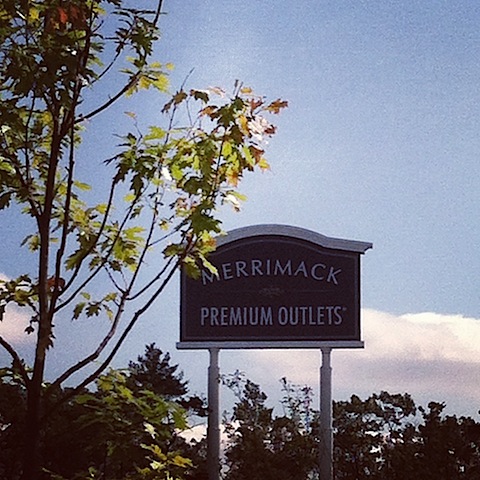 And we dined at the Lone Star Taco Bar in Allston; a spot I've been meaning to hit up for months and didn't get a chance to do before we moved from the area.
It was, in short, AWESOME. The El Diablo Margarita was deliciously smoky, though not as spicy as one would expect with jalapeños and habaneros. But then I think our idea of "spicy" and the rest of the world's might just be a little different.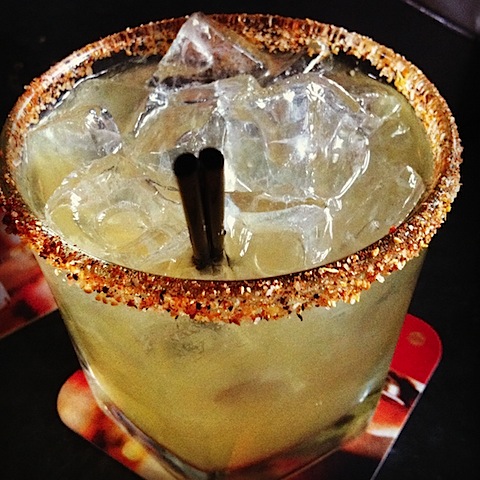 The tacos were some of the best we've ever had. The fish taco was pretty and super tasty.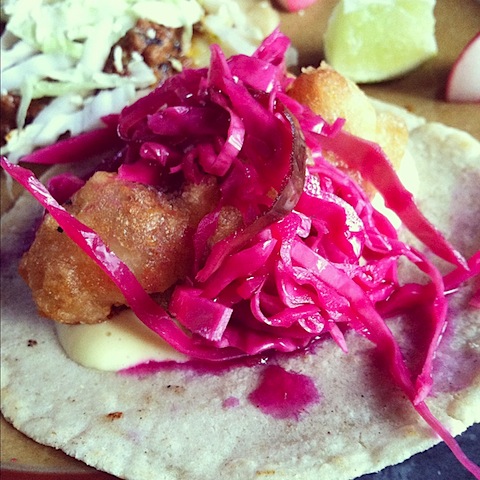 But the Dallas Spicy Beef taco was unbeatable. I could have eaten 50 of them. And maybe I did. No, I didn't. I'm not telling.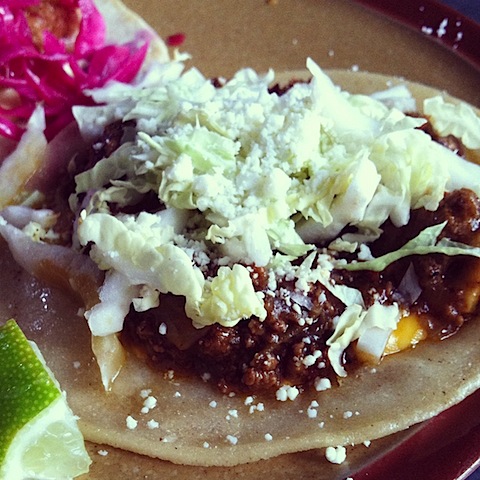 Even though it signals the end of summer, this Labor Day weekend was probably one of the best ever.
But I'm still not done eating lobster. You can mark my words. Here in New England, we're never done eating lobster. There are 4 months left in 2012 and I plan to pack as much in as possible.
Did you get your share of lobster this summer? What did you do for Labor Day weekend?
[Sues]