Ever since my dinner at Max & Dylan's a few weeks ago, I've had buffalo chicken mac and cheese on my mind. Like, way more than is normal. I decided I needed to re-create my own version. I did a little bit of research, added my own touches, and was on my way to heaven. I'll tell you right here this dish is NOT good for you. In fact, I'm pretty sure it's the opposite of nutritious. I did do a few things to try to make it a little bit better than most recipes were telling me. Like I used whole wheat macaroni, 2% milk instead of whole, and 50% reduced fat Cabot Cheddar. Yes, I said a little.
However, this dish is SO worth it. Perfect if you're going to a party or have a lot of people to feed (it makes A LOT). I made it last Thursday evening when I knew I had a busy weekend where I wasn't going to have time to cook, but wanted some quick leftovers that would last. I also ended up freezing a lot of it.
Don't be intimidated by this mega-ingredient list. You'll have a lot of the ingredients already. And like I said, it's worth it.
Buffalo Chicken Mac and Cheese:
2 C unseasoned breadcrumbs
11/2 T cayenne pepper
1 1/2 T ground cumin
Sea salt
Freshly ground black pepper
3 large eggs
1 lb. chicken cutlets
6 T canola oil
1 lb. elbow macaroni (whole wheat if you want)
8 T (1 stick) butter, divided (6 T and 2 T)
3 C chopped onions
3 large garlic cloves, chopped
1/2 C all-purpose flour
4 C 2% milk
1 C reduced fat cheddar cheese
1 C crumbly blue cheese
1 C buffalo spice cheese (use Monterey jack if you can't find)
2 T paprika
1 C Frank's RedHot Original (I used the extra hot variety)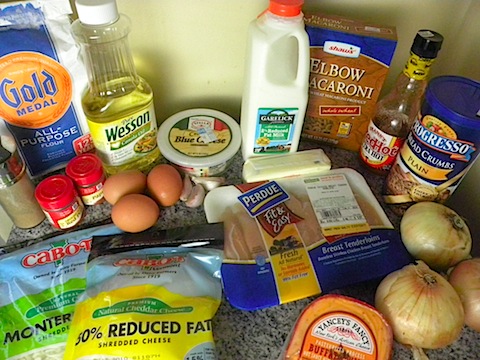 Chris happens to be obsessed with this cheese that he randomly found in Star Market. You don't need it to make this mac and cheese, but if you can find a buffalo spicy cheese to add to the dish, it will definitely enhance it. If not, just use Monterey Jack (or maybe even a pepper jack).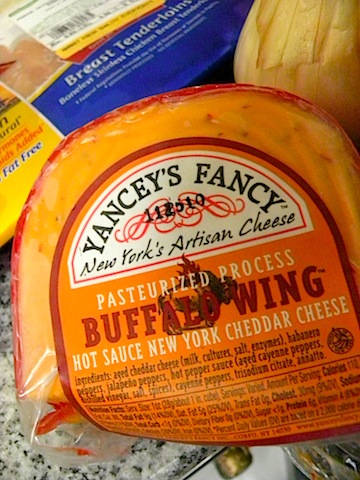 I, of course, chopped all my onions up with my VeggiChop. I saved about a million hours and a million tears (I ended up using 2 onions to get the 3 cups).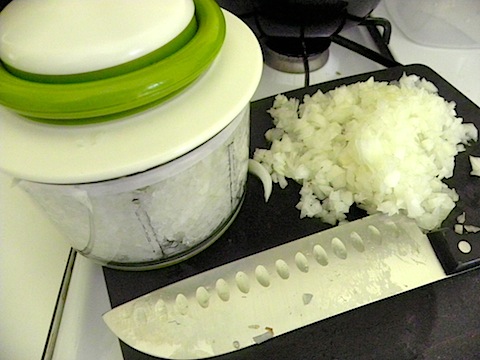 Mix together the breadcrumbs, salt, cumin, cayenne, and pepper in one bowl.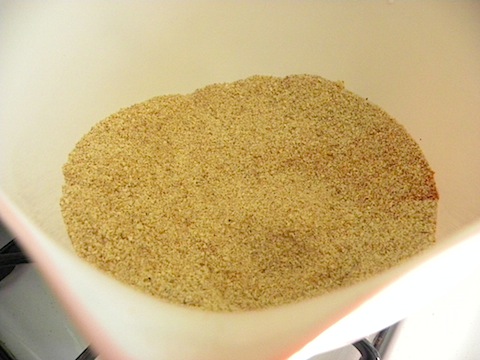 And beat the eggs together in a separate bowl.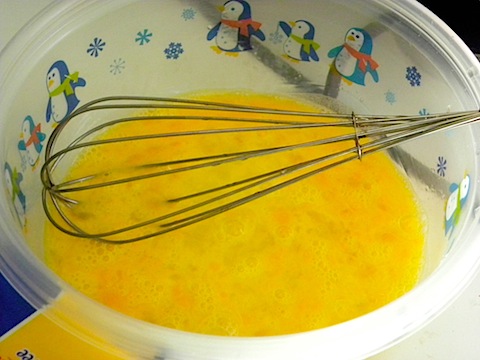 And you're ready to make the chicken! Coat chicken cutlets with breadcrumbs, dip in eggs, and then coat again with more breadcrumbs. Put on a plate and repeat with all the cutlets.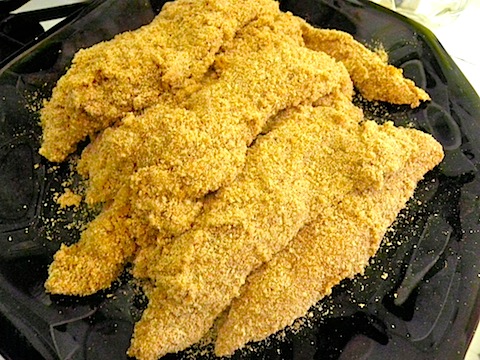 Now, in a large skillet, heat 1/4 C of canola oil over medium-high heat until shimmering. Add chicken tenders and cook, turning once, until golden brown on both sides.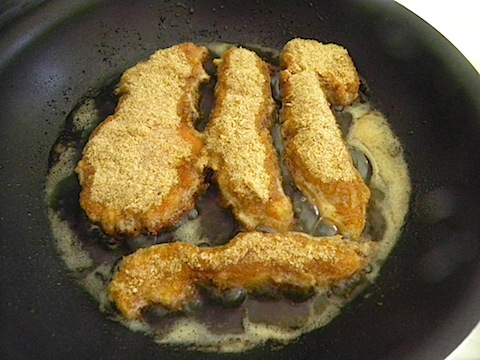 Repeat with all the chicken and move to paper towels to drain. When it cools a bit, you'll need to cut into 1-inch pieces.
Yay chicken fingers!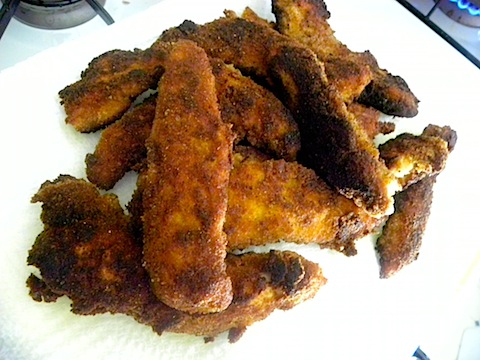 Now you're ready to cook your macaroni. Boil it in a large pot until tender, but not cooked through (super al dente, if you will). Drain and transfer to a large bowl.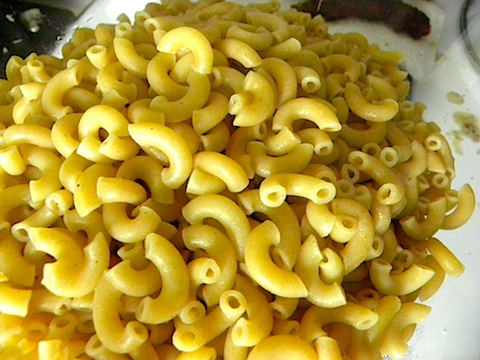 Melt 6 T of butter in same pot over medium heat. Add the onions and garlic and cook, covered, for about 6 minutes. Onions should be soft, but not browned. Make sure you keep stirring.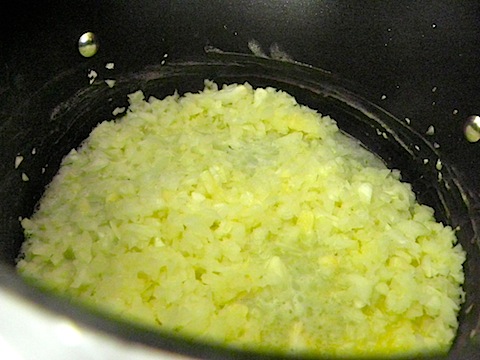 Now, add the flour and stir for 2 minutes.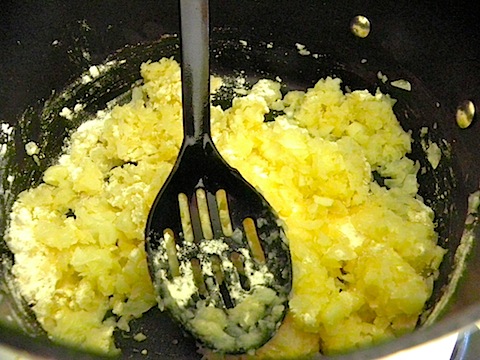 Then whisk in milk and bring to a boil, whisking frequently. Reduce the heat and simmer the sauce for about 2 minutes. Add all the cheeses, paprika, 1 t salt, and 1 t pepper. Whisk until all the cheeses melt and sauce is smooth, about 2 minutes.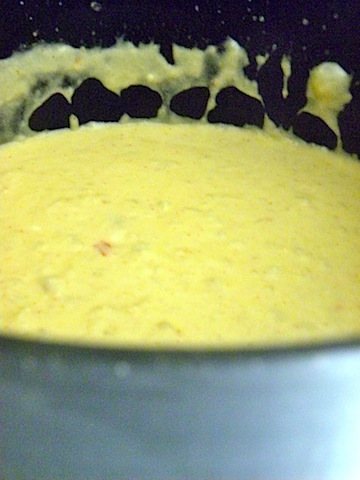 Remove from heat and mix cheese sauce in bowl with macaroni. Also, mix in half the chicken pieces.
Now transfer the macaroni mixture into a 13x9x2 glass baking dish. I told you this is a lot of mac and cheese.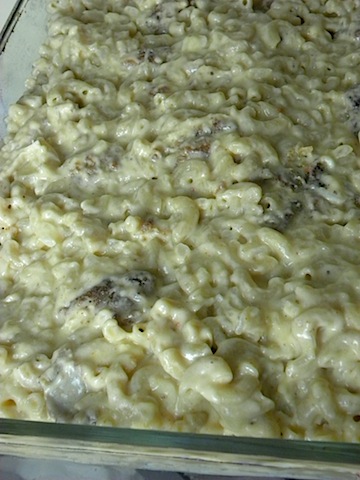 Preheat the oven to 350 degrees and bake macaroni uncovered until heated through, for about 25 minutes.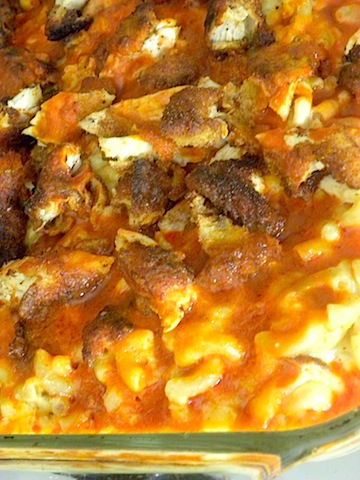 Now, stir the Frank's RedHot and remaining 2 T of butter in a small saucepan over medium heat until the butter milks. Take macaroni out of oven, top with remaining chicken, and pout ReHot/butter mixture over the top (about 4 tablespoons).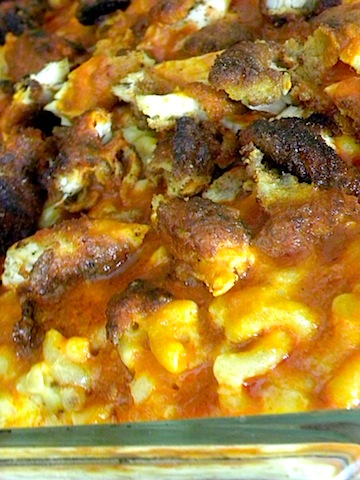 Bake 5-7 minutes more. And serve!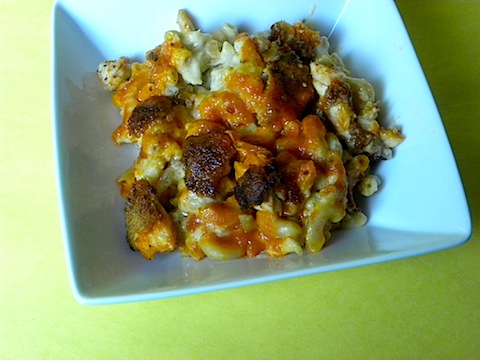 We love things super spicy around here, so the buffalo spice cheese really helped amp up the spice. If you want the mac and cheese to be super spicy but don't have the cheese, I would definitely add some Frank's RedHot (or whatever you're using) to the cheese mixture instead of just pouring it over the top. If you just want the subtle buffalo spice, just pouring it over the top as indicated should be fine.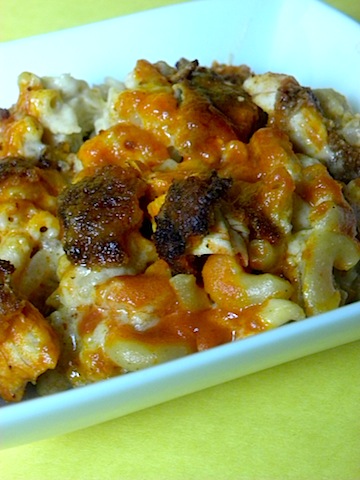 Really though, this was legitimately heaven. SO awesomely amazing. You're basically combining 2 of Americans all-time favorite foods into one delicious dish. Like I said, bring this to the next party you go to and you'll be a very popular person.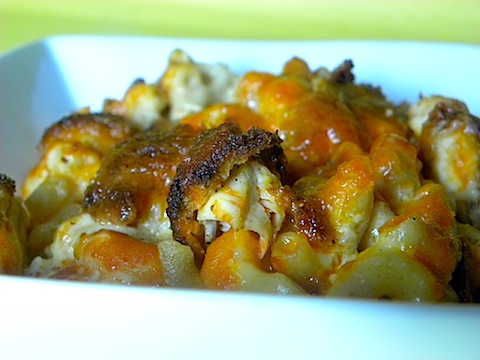 Or just make it for yourself and have a big bowl when you're having a sort of down day. It will cheer you right up. Not that I'm encouraging you to eat your emotions. Just try not to eat the whole thing at once, OK?
What's your dream mac and cheese combination?
[Sues]