These Buffalo Chicken Meatballs are a little bit healthier than the typical buffalo wings, but with all the same flavor. They're perfect for football watching parties or any weekday dinner!
(This recipe for Buffalo Chicken Meatballs was originally posted in July 2009, but was updated with new photos in 2019).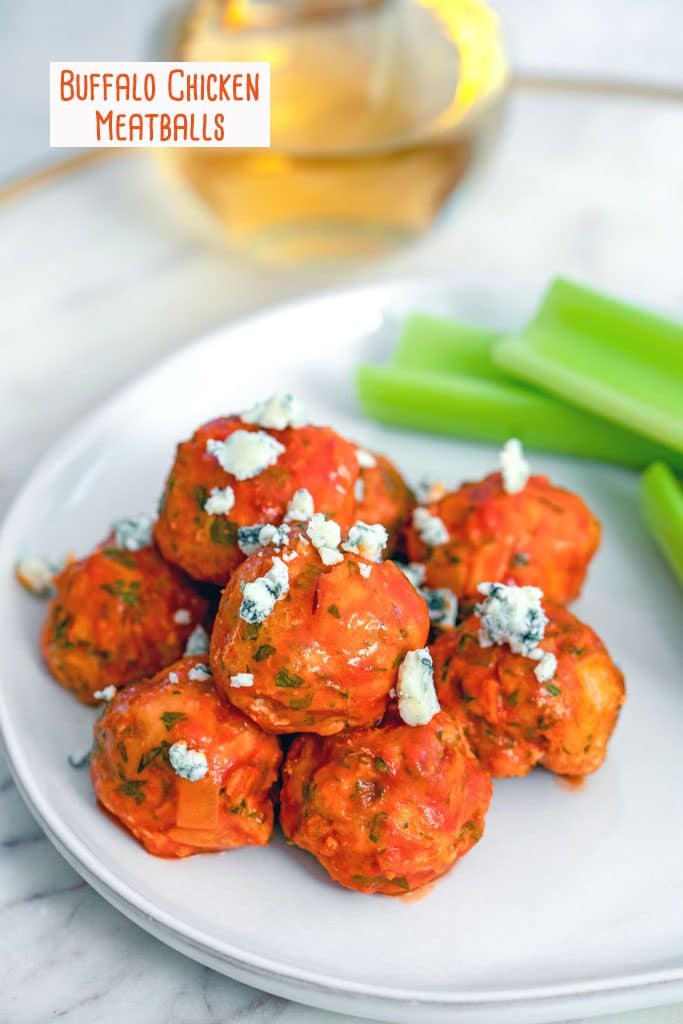 I'm pretty sure that I could eat a buffalo-style food for every meal for the rest of my life and never get sick of it. And basically, by buffalo-style, I mean food doused in Frank's Red Hot. Because to me, Frank's Red Hot IS buffalo sauce and nothing else will do. I'm also pretty sure they put something highly addictive into it so that you'll be hooked and will crave it at all hours of the day. But I'm totally OK with that. Is that bad?? All I know is that I need my buffalo fix as often as possible.
In any event, you can only eat so many buffalo wings before you realize they're really not the healthiest food in the world and you should probably stop. So, you decide to make buffalo chicken meatballs instead. Not only are these baked instead of fried, but they're made with all-white meat ground chicken, making them so much healthier than the typical buffalo wing recipe. Plus? You eat them with a fork, so they're way less messy. Wins all around!
BUFFALO CHICKEN MEATBALLS RECIPE
As if you needed another reason to make these buffalo chicken meatballs, I have to add to the list of plusses that they're so incredibly easy to make. You basically put almost all the ingredients in a big bowl and mix them together (with your hands!). Then you form them into golf ball sized meatballs and place them on a baking sheet. And then for 15-20 minutes at 400 degrees.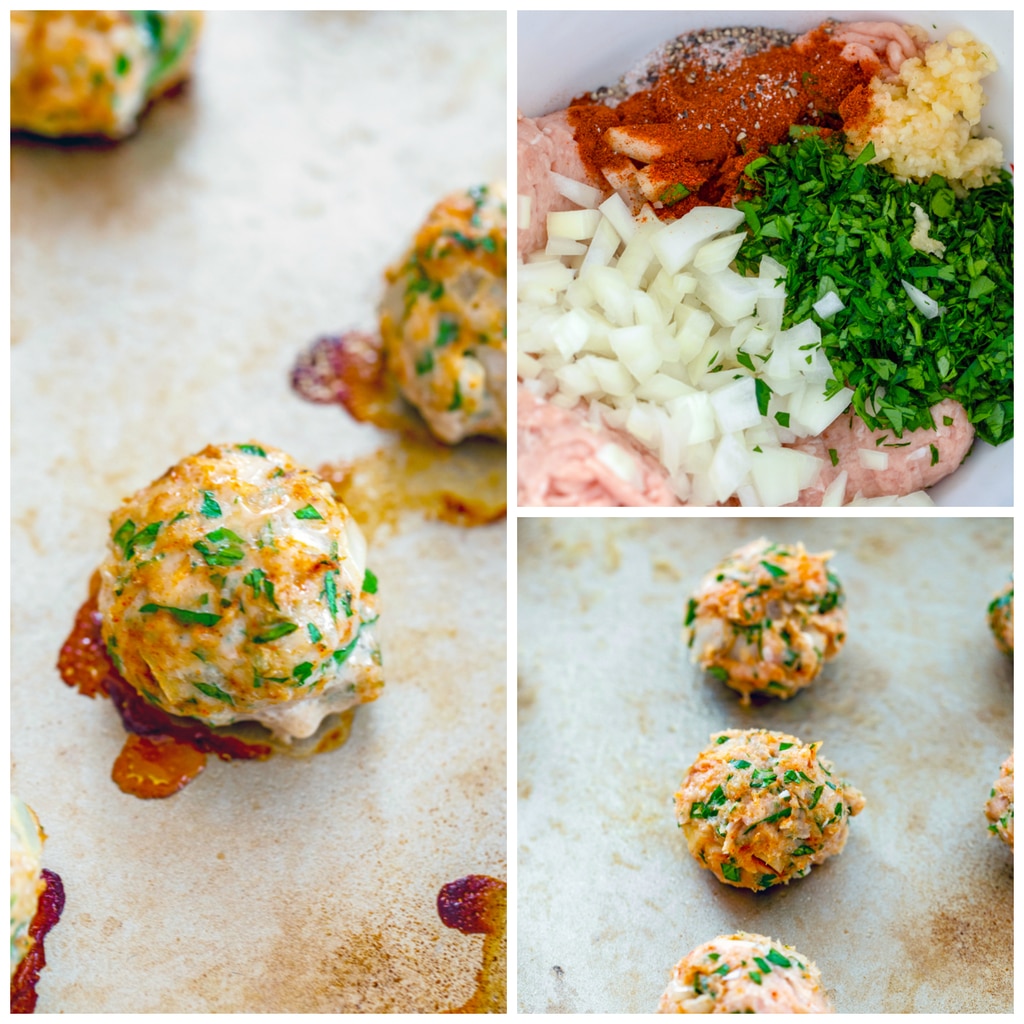 Heat your hot sauce in a large skillet (like I said, I highly recommend Frank's Red Hot here) and when the meatballs are done baking in the oven, pop them into the skillet and coat with the hot sauce. Oh yes, so good. Don't you want to dive right in?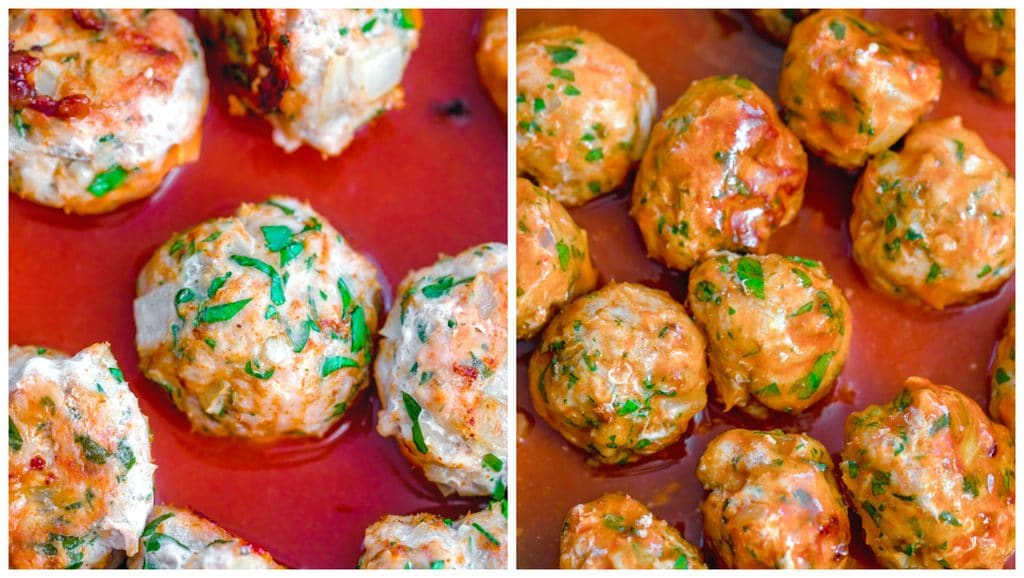 And serve! With crumbled blue cheese on top, of course. I've made these buffalo chicken meatballs quite a few times and always vary what I serve them with. The first time I made them, I was super confused as to what would be a good side for them, which is exactly how these Blue Cheese Mashed Potatoes were born. I still stand by this decision wholeheartedly and think they really do make the perfect side fro meatballs.
But veggies also make a great side. Specifically, carrots and celery sticks, of course!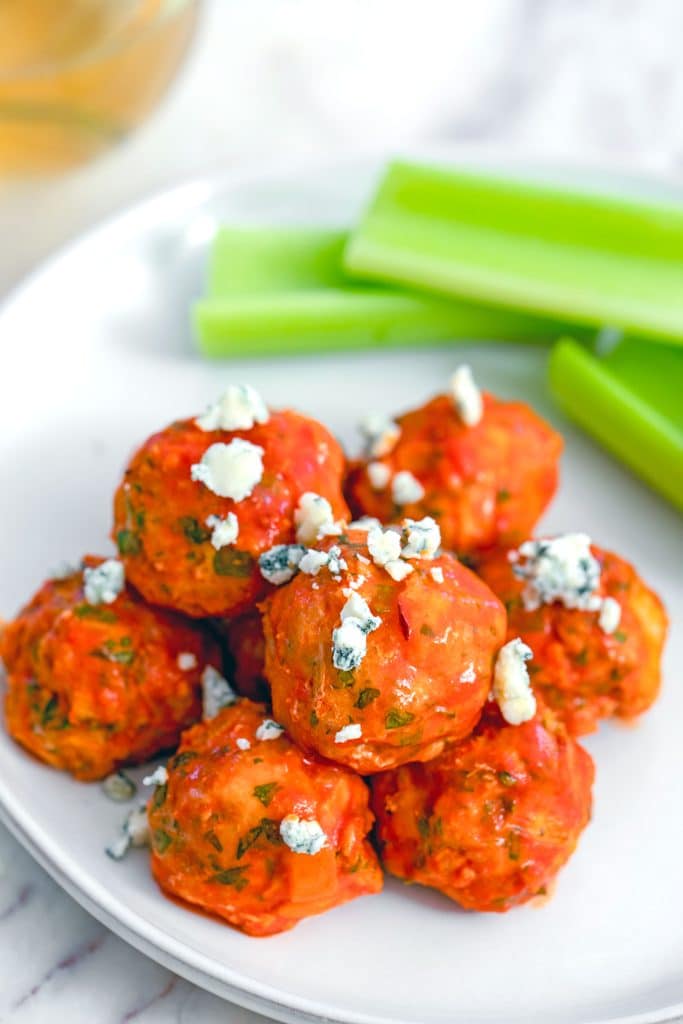 Much like the hot sauce on them, these buffalo chicken meatballs are seriously addictive. They're incredibly tender and flavorful and I'm pretty sure I'd love them even without tossing them in the sauce. But come on, you need that deliciously spicy kick. And the perfectly cool bite from the blue cheese.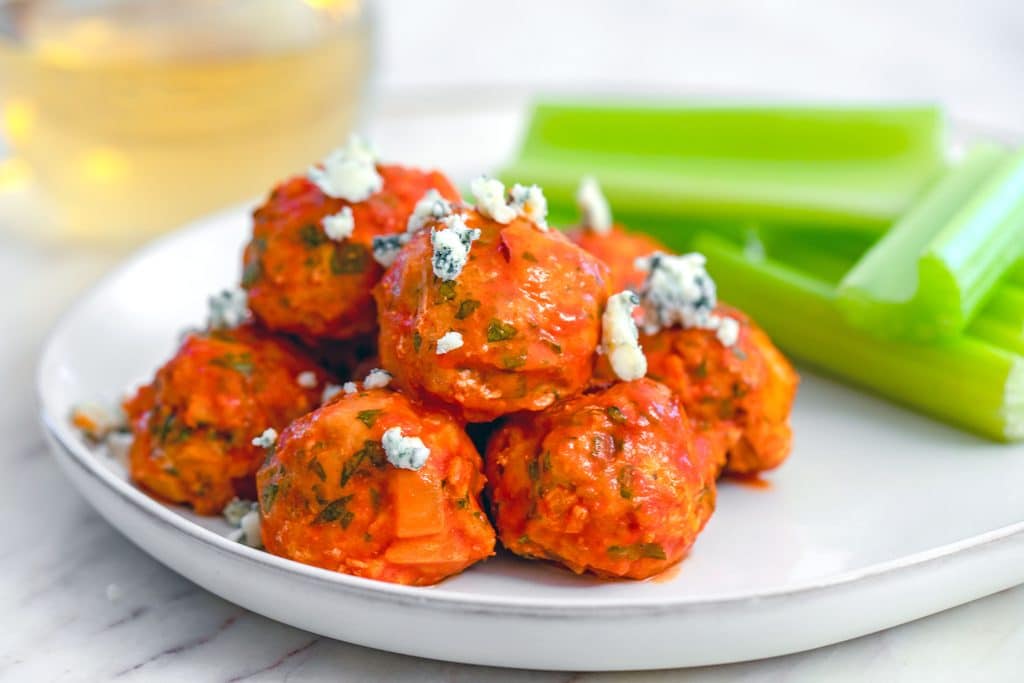 I am so excited to have this healthier alternative to buffalo wings and these buffalo chicken meatballs will likely remain in our regular meal rotation for many, many years. I absolutely love that they can be served as an entree or an appetizer. And really, they make the perfect food for a football party (just serve with little toothpicks!) and will be fabulous for all those upcoming Super Bowl parties.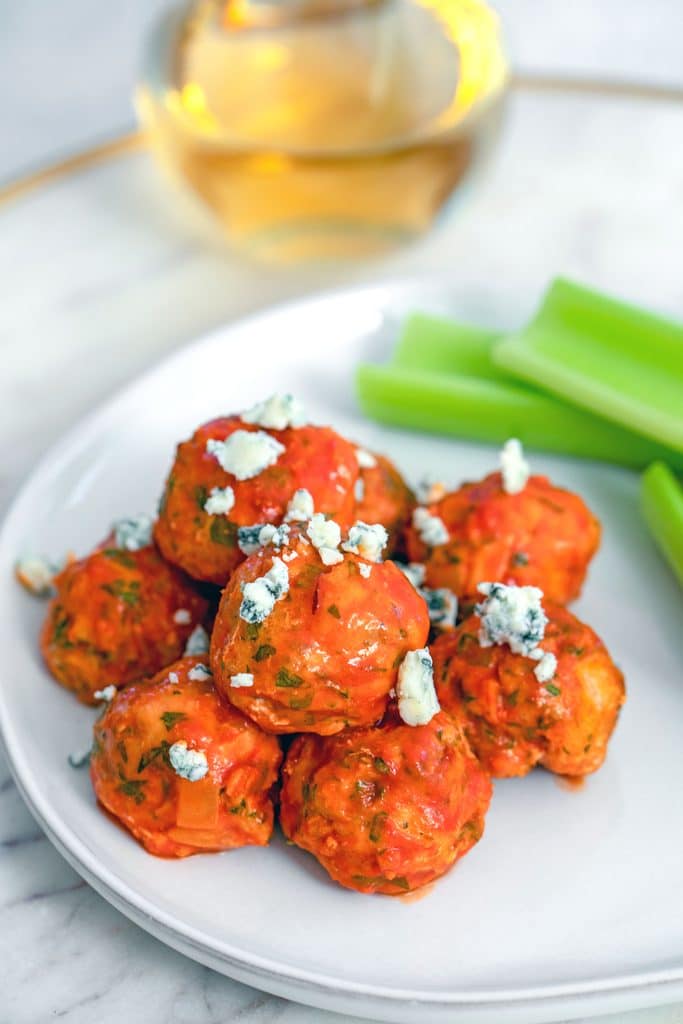 Or just your next weeknight dinner. I mean, these really are so easy that they're great for making when you get home after a busy day at work. Which really, is more than you can say about typical buffalo wings. See? These meatballs really are a dream come true!
If you love buffalo-style foods as much as I do, be sure to check out my recipes for Buffalo Chicken Chili and Buffalo Chicken Grilled Cheese.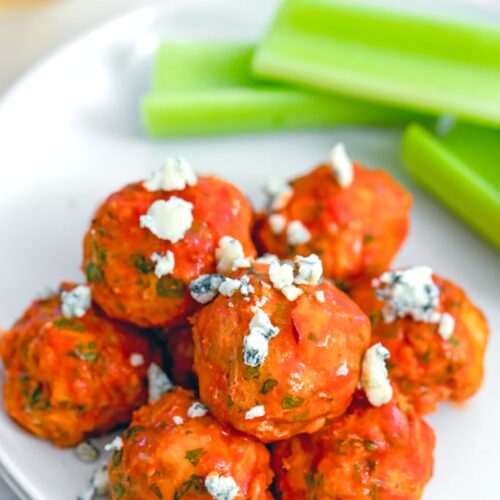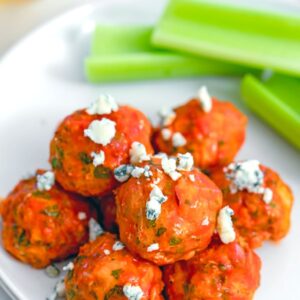 Buffalo Chicken Meatballs
These Buffalo Chicken Meatballs are a little bit healthier than the typical buffalo wings, but with all the same flavor. They're perfect for football watching parties or any weekday dinner!
Print
Pin
Rate
Ingredients
1

lb.

ground chicken

(I recommend using all-white ground chicken breast)

⅓

cup

chopped onion

3

cloves

garlic,

minced

¼

cup

chopped parsley

1 ½

tsp

paprika

½

tsp

cayenne

¼

tsp

salt

¼

tsp

pepper

¾

cup

hot sauce

(I recommend Frank's Red Hot)

¼

cup

crumbled blue cheese
Instructions
Pre-heat oven to 400 degrees and spray a baking sheet with cooking spray.

Combine ground chicken, onion, garlic, parsley, paprika, cayenne, salt, and pepper in a large bowl and using your hands, mix together.

Using about 2 tsp of chicken mixture at a time, roll in the palm of your hand to form a meatballs the size of golfballs. Place on prepared baking sheet and bake for 15-20 minutes at 400 degrees, until meatballs register at 165 degrees when a thermometer is inserted.

Heat hot sauce in a large saucepan. When meatballs come out of the oven toss them in the sauce until fully coated.

Serve meatballs with blue cheese crumbled over the top.
Share a Photo of Your Finished Recipe!
Mention @wearenotmartha and share a photo if you've made the recipe!