Dinner this evening was deliciously simple and wonderfully flavorful. It always blows my mind how such basic and fresh ingredients can create some of the best meals. Of course with the Athenos Feta Challenge going on this month I've been keeping my eyes out for ways to incorporate feta into dishes. I found this recipe for Pasta with Green Vegetables and Herbs which sounded perfect as a Summer entree or as a side dish.
Here's what you need: Serves 4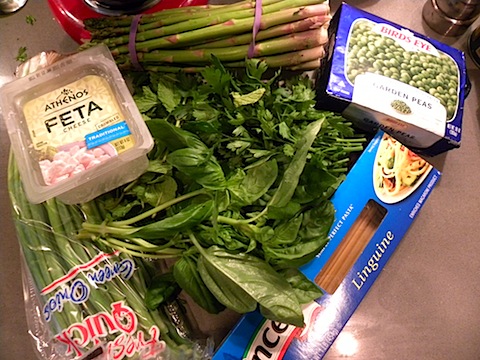 • 1 lb thin asparagus, trimmed and cut into 1 1/2 inch pieces
• 1 cup frozen peas
• 1 lb linguine
• 2 cups packed fresh basil leaves
• 1 cup packed fresh mint leaves
• 1/2 cup extra-virgin olive oil
• 3/4 teaspoon salt
• 3/4 teaspoon black pepper
• 1 cup Athenos traditional crumbled feta
• 1/2 cup coarsely chopped fresh flat-leaf parsley
• 3 scallions, thinly sliced
Here's what you do:
• Cook asparagus in a 6 to 8 quart pot of boiling well-salted water until just tender, 4-6 minutes. Transfer with a slotted spoon to a large heatproof bowl, then add peas to boiling water and cook for 2 minutes. Transfer peas with slotted spoon to bowl with asparagus, then add linguine to the boiling water and cook until al dente.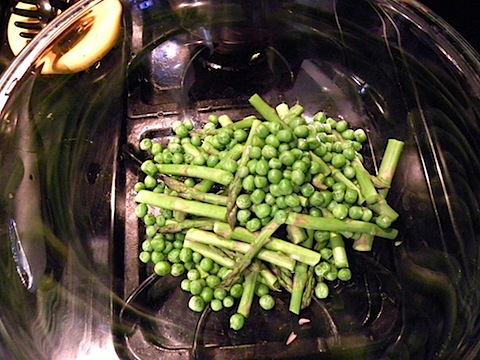 • While linguine cooks, pulse the basil, mint, oil, salt, pepper, and 1/2 cup feta in a food processor until chopped, then add to vegetables. (WARNING: this is outstanding. I couldn't stop "sampling" it while my pasta finished cooking! The feta in this… oh my!)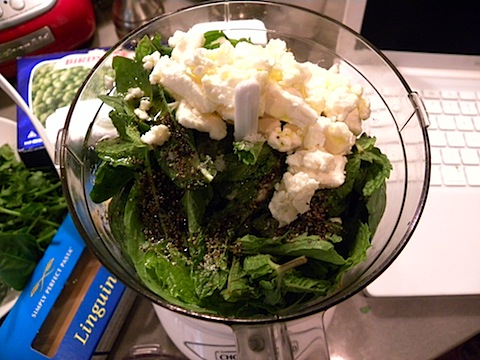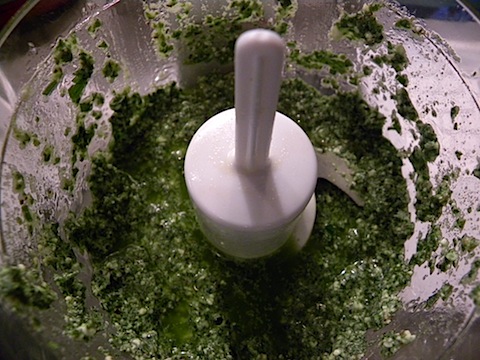 • Reserve 1/2 cup pasta water, then drain pasta. Stir reserved water into vegetables, then add pasta, parsley, scallions, and remaining 1/2 cup of feta and toss.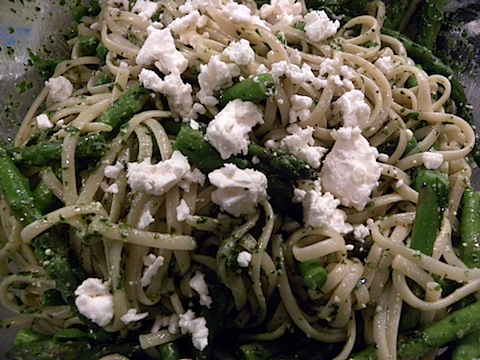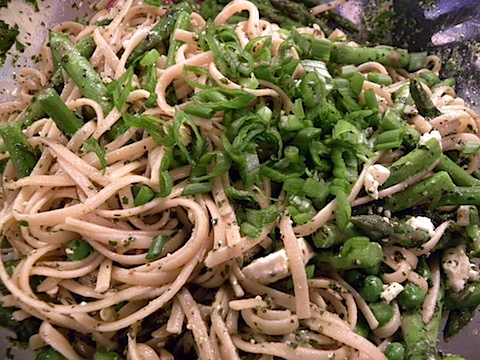 My favorite part of the dish, besides all of the fresh flavors, was the way the herb, oil, and feta mixture completely and perfectly coated each strand of linguine. Nothing left at the bottom of the bowl.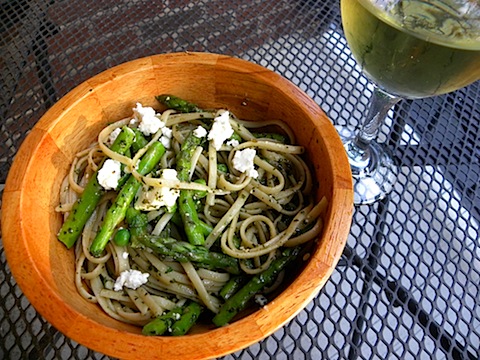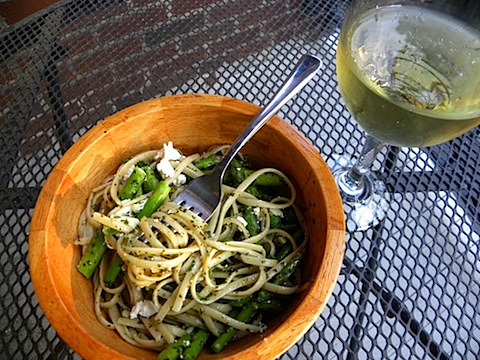 Something tells me I'm gonna have a tough time sleeping tonight knowing this awaits me for lunch tomorrow 😉
[Chels]