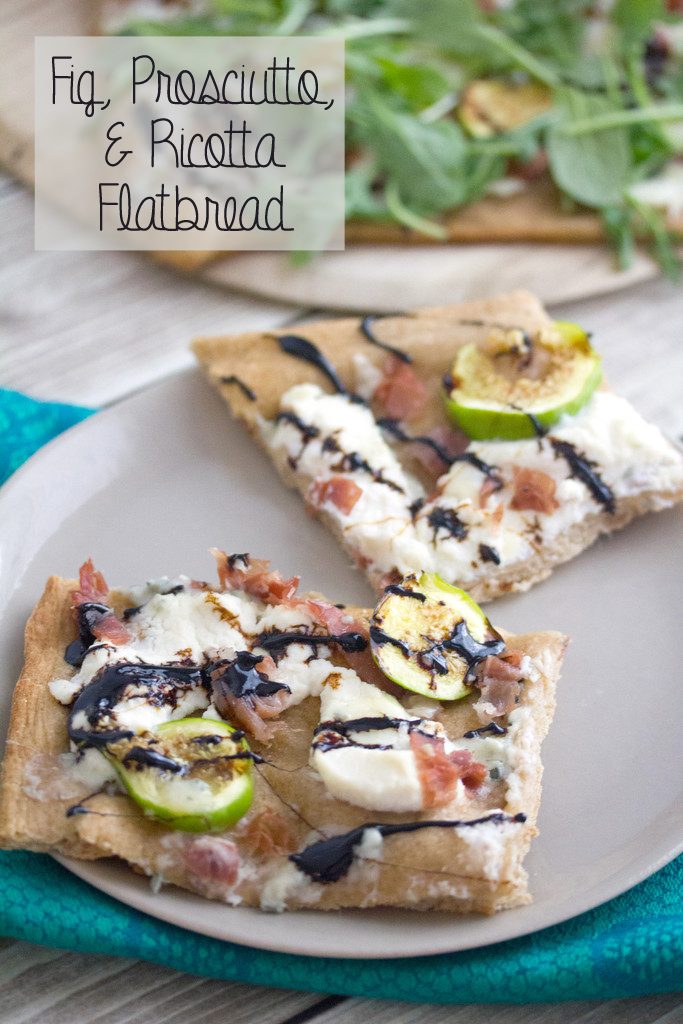 I'm getting to that point in summer where I'm hoarding my favorite seasonal foods. My kitchen is filled with corn on the cob, tomatoes, and watermelon and I'm about to start hiding the delicacies under my bed. Because I fear the day they disappear for another 3 entire seasons. Don't even get me started on things like s'mores, lemonade cocktails, and grilled everything. Depression is starting to set in.
Please add figs to that list of deliciousness I'm currently in tears over. I made this flatbread a couple weeks ago and now I feel like I should make it 14 more times before I can't find figs. I could even freeze it and eat it all winter long. Would that be obsessive? Also, is it normal to start shaking with fear at the mere mention of winter? Because I am.
At least pizza is one thing that won't abandon me come the chill in the air and disappearing greenery. We just have to change up our topping choices a bit. I've been making pizza/flatbread dough so often that I'm pretty sure I could just about do it with my eyes closed. My favorite thing is to make a batch first thing in the morning, set it on top of the oven, and watch it rise over the next couple hours.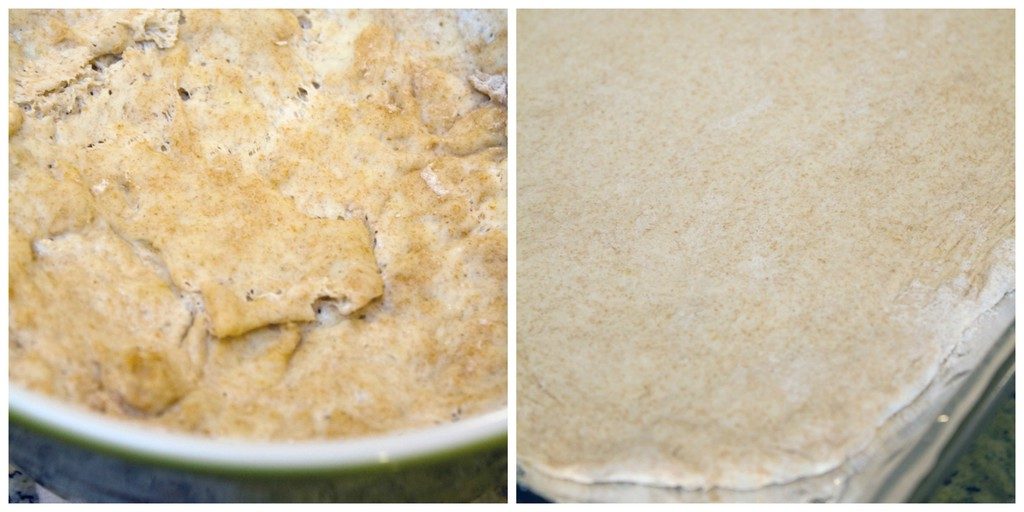 I've never made a balsamic reduction before, but I decided this flatbread needed one. It was most definitely the perfect touch.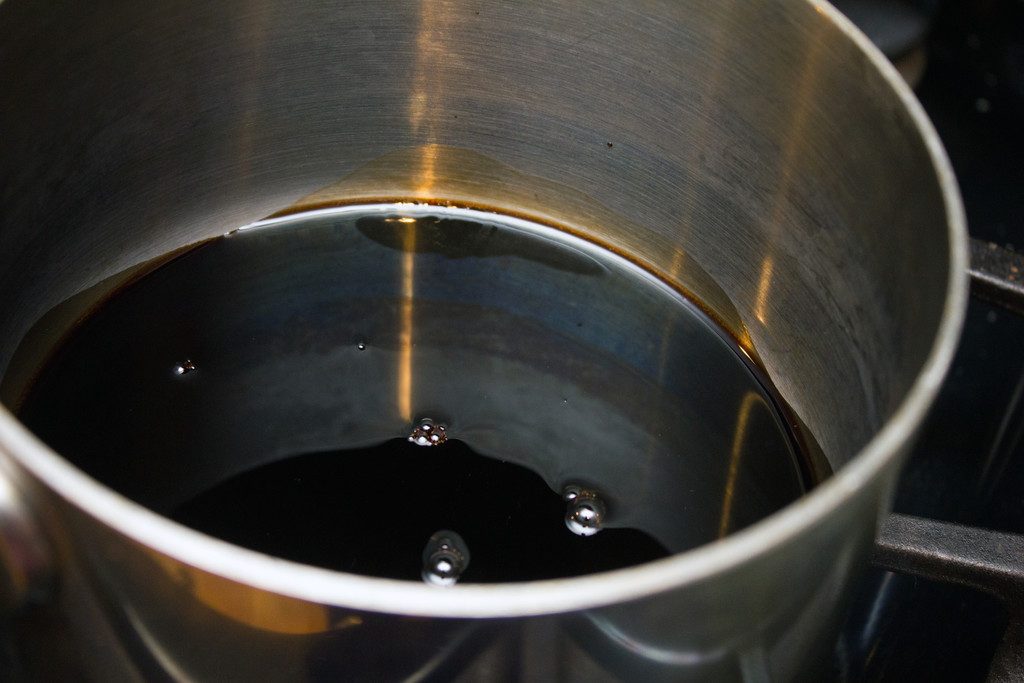 I actually made a similar version of this flatbread back in 2010; which both feels like yesterday and eons ago at the exact same time. Back then I used goat cheese, but this time I used both ricotta and gorgonzola. That's called stepping up the game and is exactly the kind of progress that should be made over five years, right?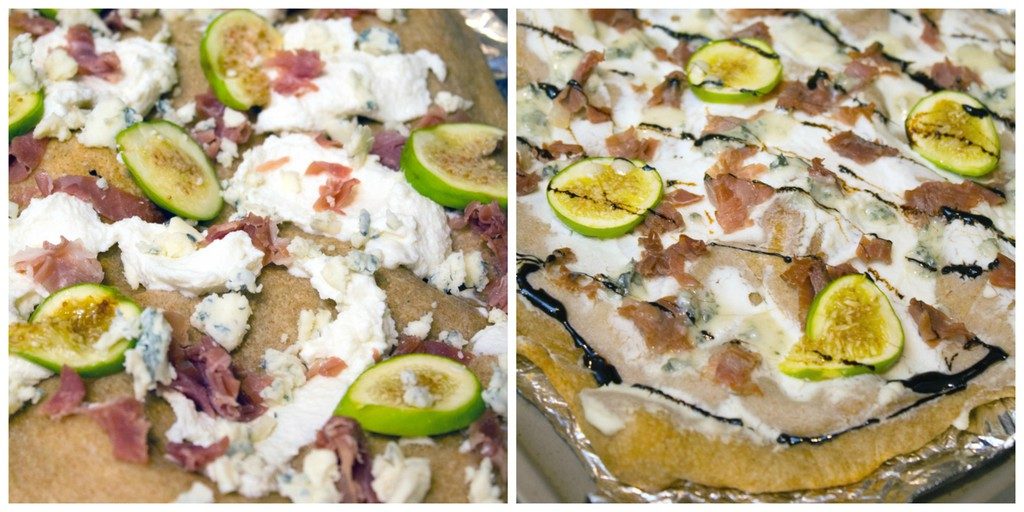 Some people don't like "salad" on their pizza, but I do. When it comes to figs and prosciutto, arugula topping is always a must.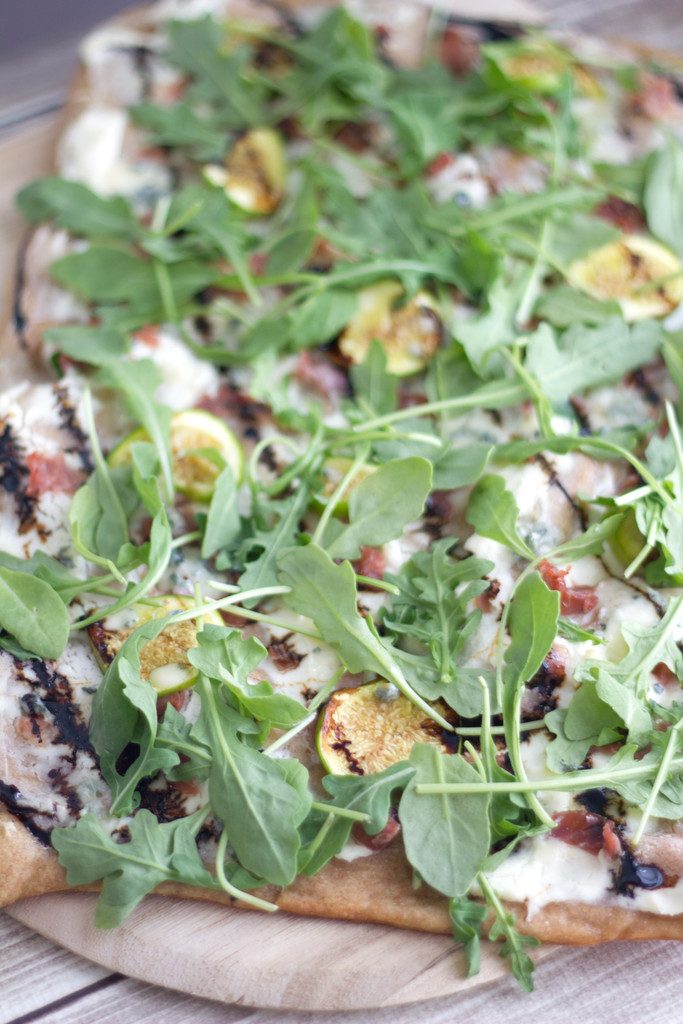 But if you just can't do it, you should at least serve arugula on the side.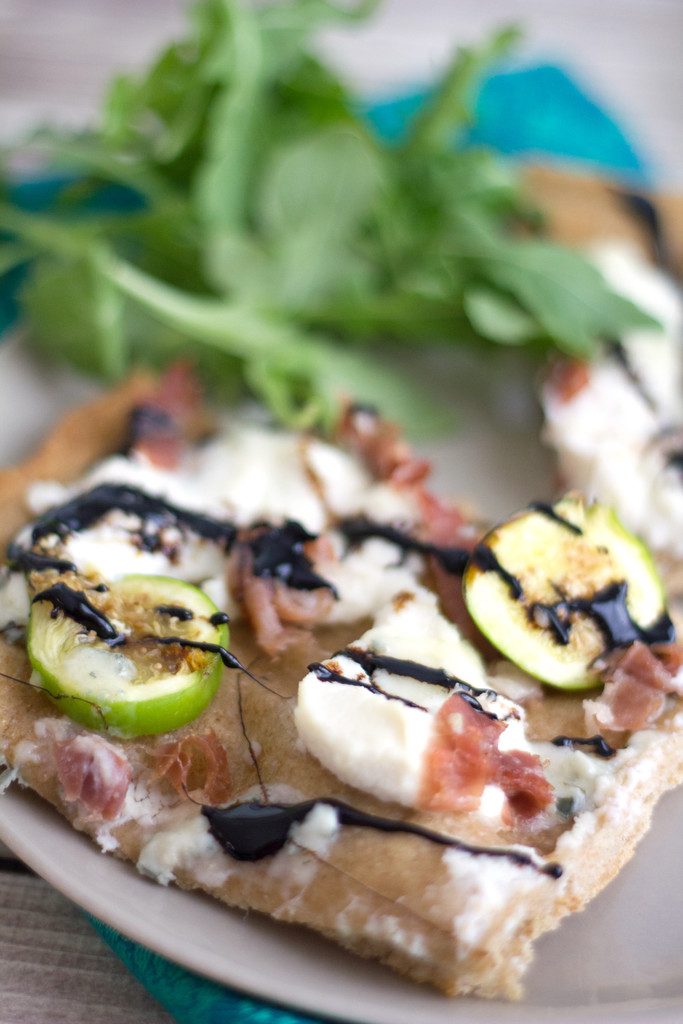 This will always and forever be my favorite combination for flatbread. I can't help but order it out any time I see it on a menu and if figs were always in season, I'd probably be making it at home at least once a month.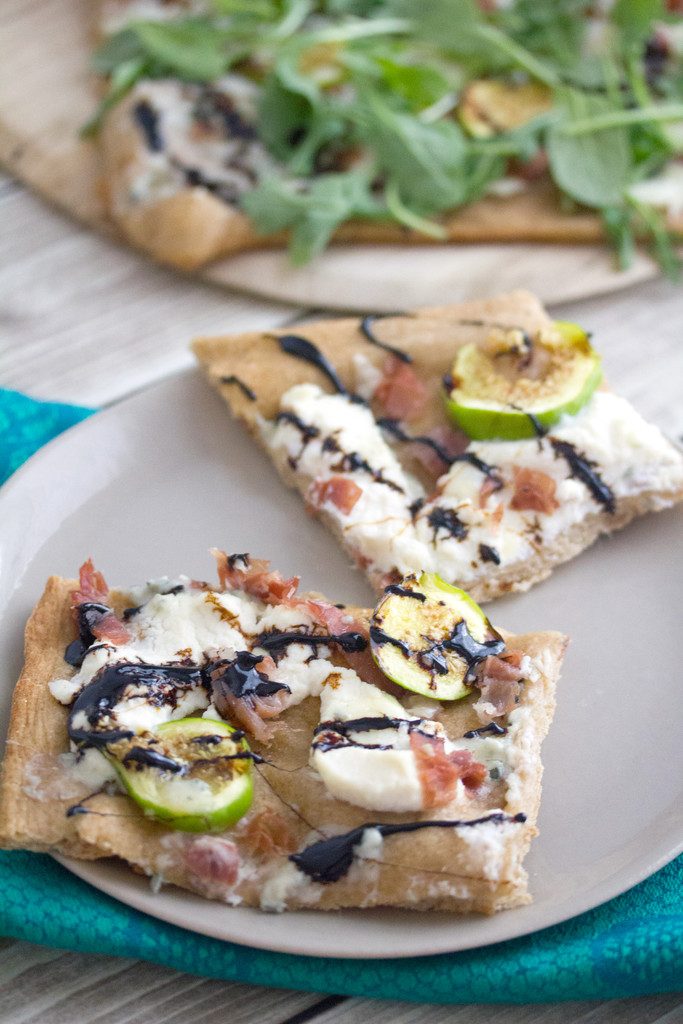 Of course, it can easily be made without the figs, but it just wouldn't be the same. However, if you're really craving this flatbread combination and can't get your hands on figs, I'd spread on a little fig jam instead.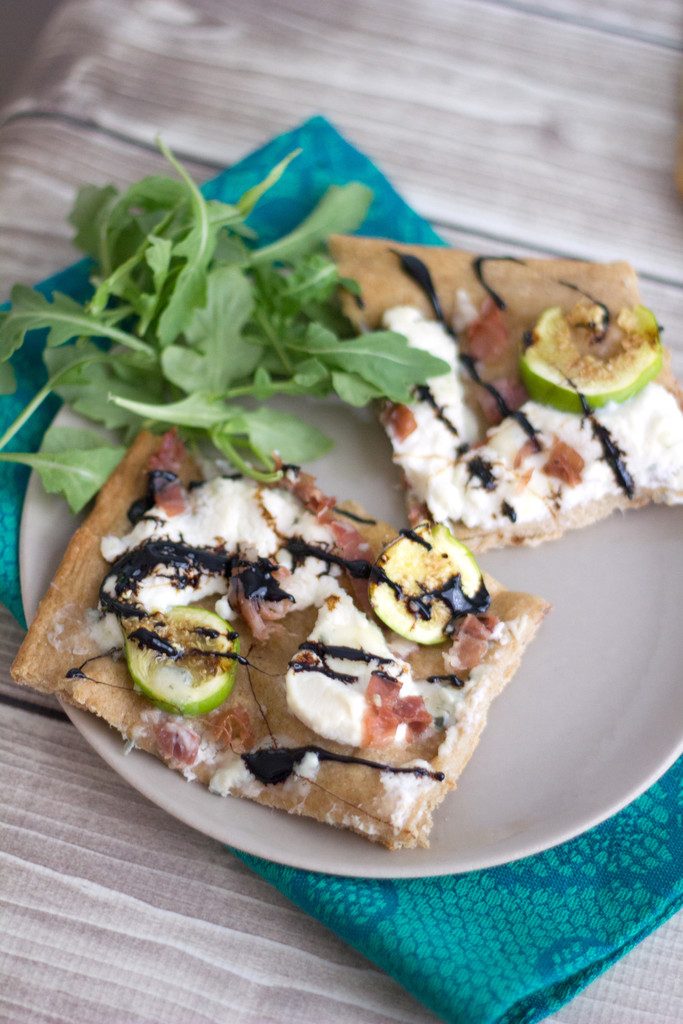 Did you know I used to hate ricotta cheese? Like HATE it. It was the only cheese I absolutely would not eat. It's all because I had a bad experience with lasagna when I was a kid. But I eventually came around again and lately, I've been craving ricotta so, so much. I cannot get enough of it.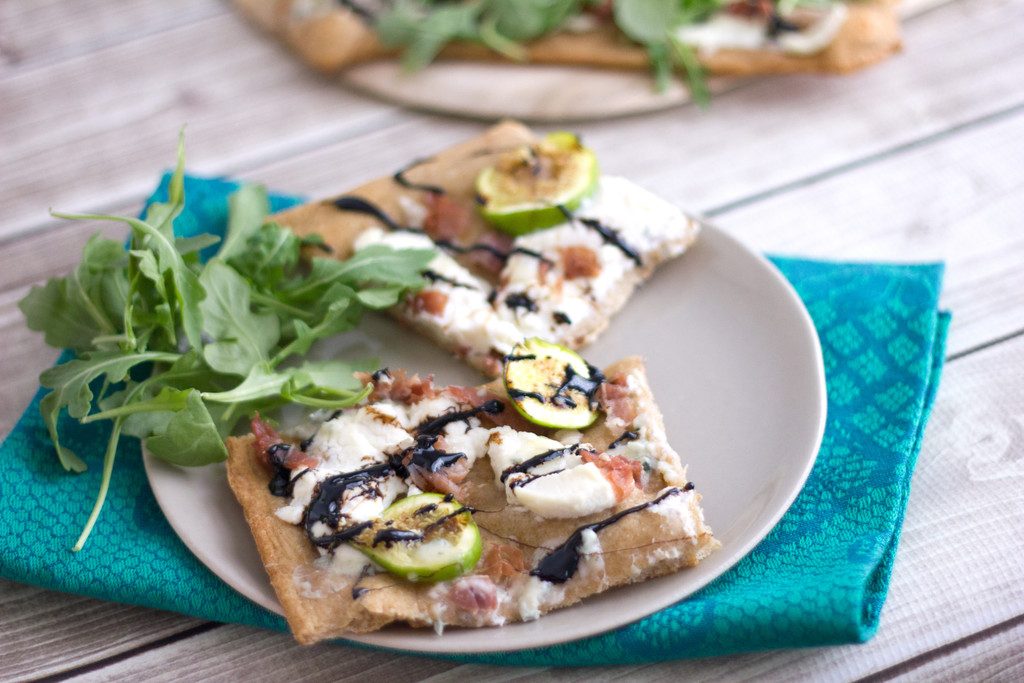 Adding the gorgonzola was a little bit unnecessary, but also the best idea ever. And prosciutto? I don't think there's ever been a time where I haven't been in the mood for prosciutto! And I've never met a pizza or flatbread with prosciutto that I didn't like. I don't think that's even possible.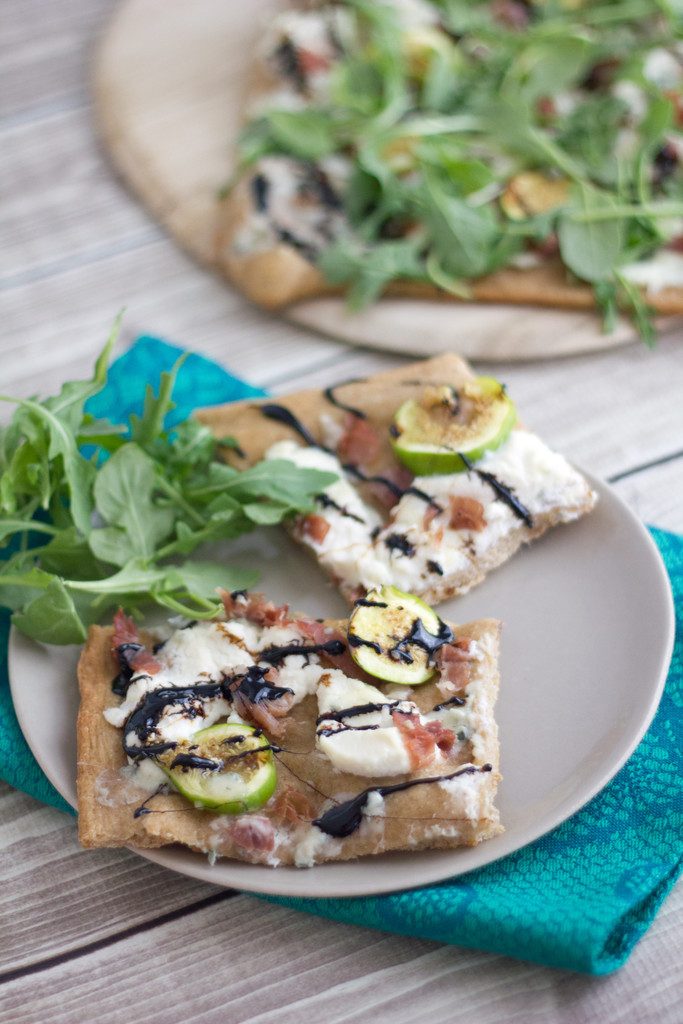 It's Friday, which is the perfect time to make flatbread. But I also love making it on Sunday, so I can bring leftovers to work the next day and make my Monday just a little bit happier.
What fruit/vegetable/other are you going to seriously miss as this summer comes to an end?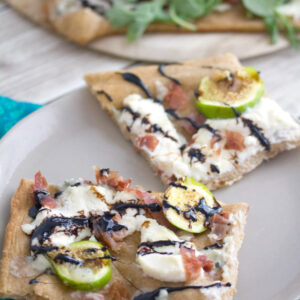 Fig, Prosciutto, and Ricotta Flatbread
Don't let summer end without taking advantage of fresh figs. This flatbread is packed with flavor and is the perfect combination of salty and sweet.
Servings
:
2
large flatbreads
Ingredients
2

T

olive oil

15

oz.

ricotta cheese

4

oz.

prosciutto

chopped

3

oz.

gorgonzola

crumbled

4

large fresh figs

sliced in quarters

3

C

arugula

1/2

C

balsamic vinegar reduction
Dough:
¾

T

rapid rise granulated yeast

1½

C

lukewarm water

1/2

T

salt

1/2

t

sugar

1

T

honey

⅛

C

extra-virgin olive oil

2

C

unbleached all-purpose flour

1

C

whole wheat flour
Instructions
Pre-heat oven to 475 degrees.

Divide dough into two balls and on a floured surface, roll each into large rectangles and place on foil-lined cookie sheets.

Brush the dough rounds lightly with olive oil.

Place cookie sheets in oven and pre-cook crust for 8 minutes.

Immediately after removing dough from oven, spread ricotta cheese over the top (alternatively, you can drop it in small clumps).

Top with prosciutto, gorgonzola, and fig slices, evenly divided among rough rectangles.

Place back in oven for 5 more minutes. Remove from oven.

If you're reducing your own balsamic vinegar, place in a small saucepan over medium-high heat and bring to a simmer. Turn the heat down to low and continue to cook until vinegar thickens and reduces by about half. Remove from heat and cool.

Drizzle balsamic reduction over flatbread.

Top flatbread with arugula and cut into slices.
Dough:
Mix yeast and water in a large bowl and let rest for 2 minutes.

Stir salt, sugar, honey, and extra-virgin olive oil into the mixture.

With a wooden spoon, mix both flours into the mixture. If dough is dry, add more water, 1 T at a time.

Cover bowl with a kitchen towel and let rest in a warm spot for about 2 hours. Dough should rise during this time.