… Also known as the time I almost burned my house down. I'll get to that in a bit, though.
First, thank you all so much for your sweet words… I'm feeling a LOT better. I still don't know what I was sick with but all I have to say is thank goodness for medication and lots of sleep 😉
Like I mentioned the other day, I hadn't been grocery shopping in a looong time, so on Tuesday I spent a good couple hours grocery store hopping buying ingredients for a handful of recipes I had bookmarked. One of them happened to be Chicken and Summer Vegetable Tostadas that I saw on Cooking Light. I knew the weather in Boston this week was going to be brutally hot so I wanted recipes that required little to no cooking time! These tostadas turned out to be a great option for a sweltering hot night, filled with fresh and crunchy seasonal vegetables all wrapped up in a light tortilla.
Chicken and Summer Vegetable Tostadas (serves 4)
Adapted from Cooking Light
Print this Recipe!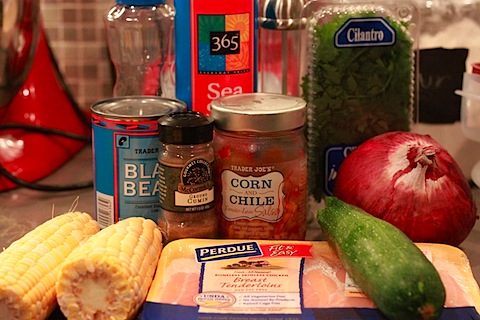 • 1 teaspoon ground cumin
• 1/4 teaspoon salt
• 1/4 teaspoon black pepper
• 2 teaspoons vegetable or canola oil
• 12 ounces chicken breast tenders, chopped
• 1 cup chopped red onion
• 1 cup fresh corn kernels (about 2 ears)
• 1 cup chopped zucchini
• 1/2 cup salsa (You can use whatever kind you like or have. The recipe called for salsa verde but I happened to have Corn and Chile salsa from Trader Joe's on hand, so that's what I used.)
• 3 tablespoons chopped fresh cilantro
• 4 flour tortillas
• cooking spray
• 1 cup shredded cheese, I used Cabot's Reduced Fat Jalapeno Cheddar. (The original recipe calls for Monterey Jack.)
Preheat broiler.
In a small bowl, combine the ground cumin, salt, and black pepper. Sprinkle evenly over chicken.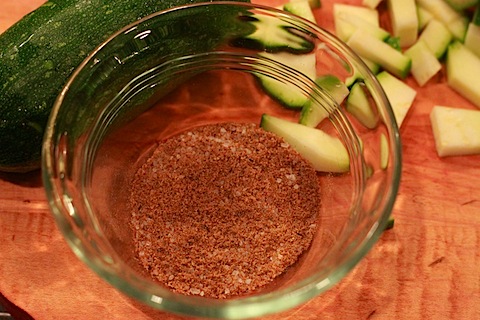 Heat oil in a nonstick skillet over medium-high heat. Add chicken to pan and saute for about 3 minutes. In the same pan, add onion, corn, and zucchini. Continue to saute until chicken is done.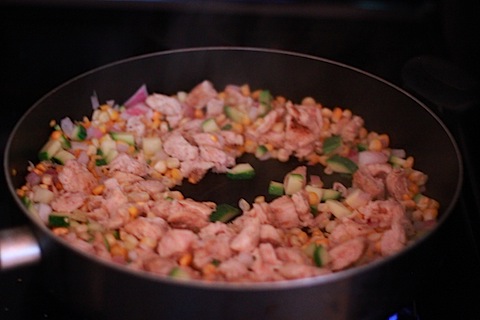 Stir in salsa of your choice and 2 tablespoons of cilantro. Cook until the liquid has evaporated.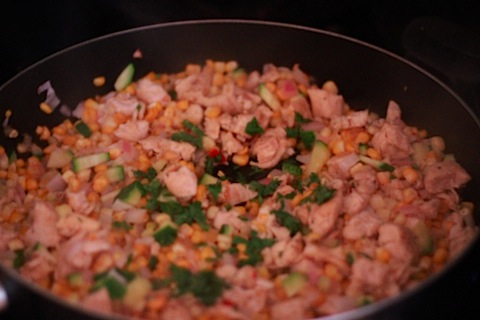 Arrange two tortillas in a single layer on a baking sheet and lightly coat with cooking spray.
And this is when I almost burned my house down.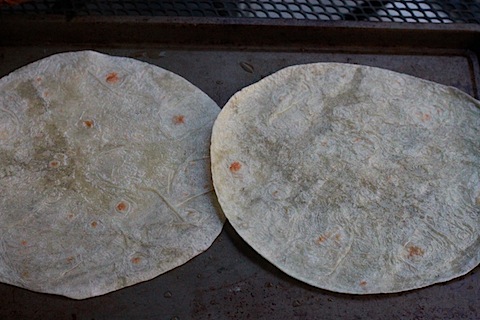 Broil until lightly browned.
Or, on my first attempt… until charred. Flames everywhere. Mom and dad, please stop reading now.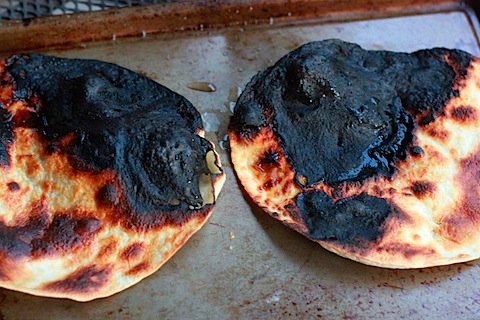 HOLD THE PHONE!
Yup. The recipe said to "broil for 3 minutes or until lightly browned" but after about 30 seconds under the broiler I happened to open the oven door (thank GOD!) to take a peek to find these tortillas up in flames! LEGIT FLAMES. Thankfully my oven is about 2 steps from the sink, so I immediately threw the entire baking sheet under water. Flames and all. I was literally shaking for a good 30 minutes after the fact… never in my life have I seen so much fire in my kitchen, eeek! Clearly not a Martha move 😉
This was round two: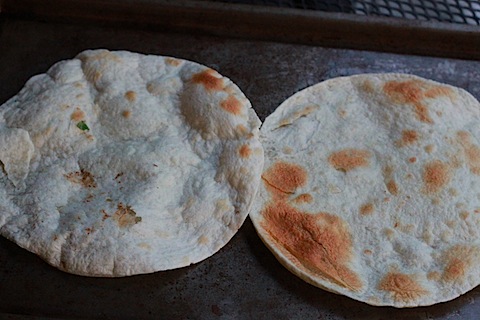 Much better 😉
In the center of each lightly browned tortilla, add about 3/4 cup of the corn mixture and top with your cheese of choice.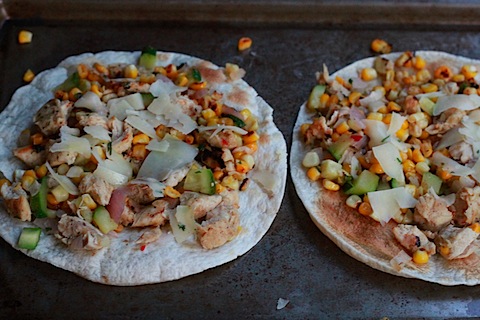 Pop back in the broiler until cheese has nicely melted. This time there weren't any near-death accidents 😉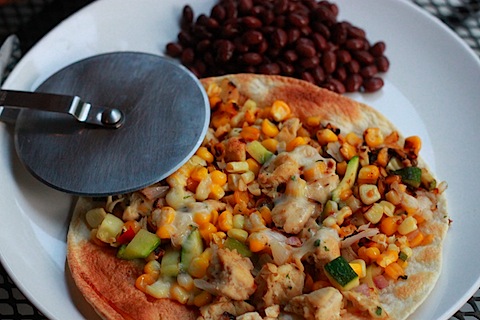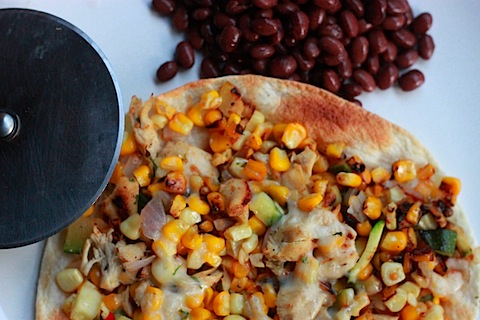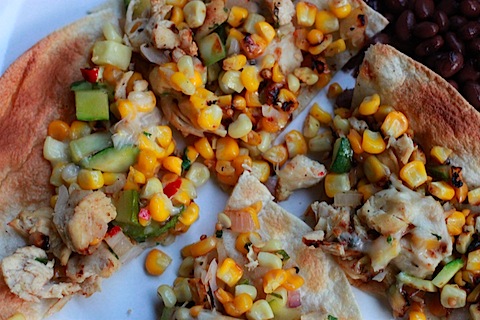 I enjoyed these while sitting out on my deck with a glass of wine while listening to This American Life. It was kind of the perfect low-key summer evening 🙂
What was your worst or scariest kitchen mishap? Don't be shy 😉
[Chels]