These chicken and vegetable tostadas are incredibly easy to make and packed with summer vegetables. And did I mention they go perfectly with a cold glass of white wine?
(This recipe for Chicken and Summer Vegetable Tostadas was originally posted in July 2011, but was updated with new photos in 2018).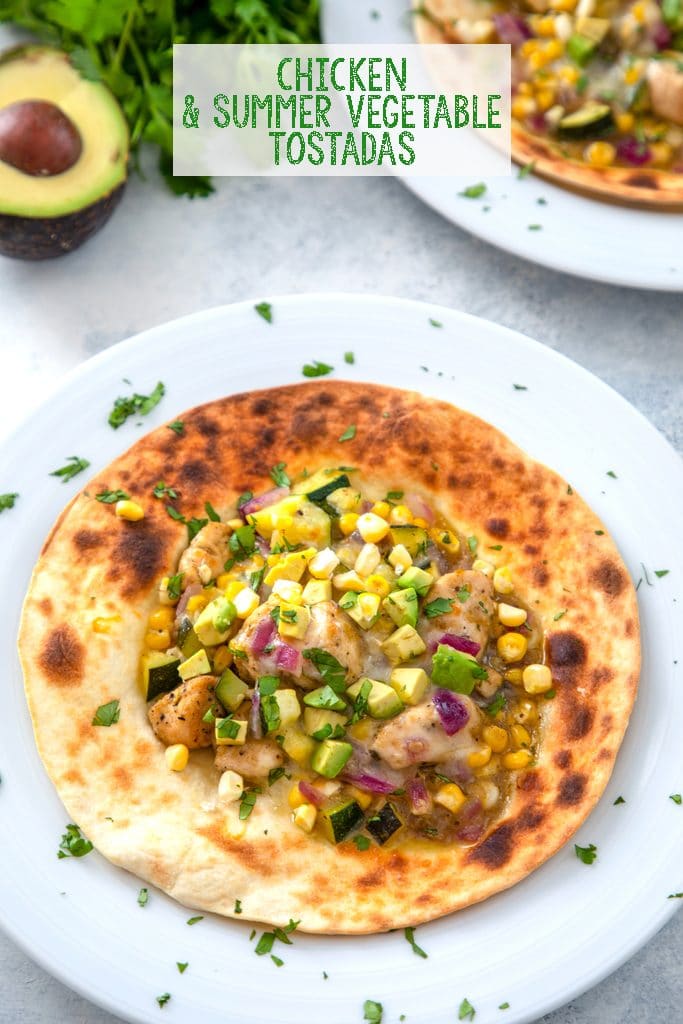 … Also known as the time I almost burned my house down. I'll get to that in a bit, though.
Like I mentioned the other day, I hadn't been grocery shopping in a looong time, so on Tuesday I spent a good couple hours grocery store hopping buying ingredients for a handful of recipes I had bookmarked. One of them happened to be Chicken and Summer Vegetable Tostadas that I saw on Cooking Light. I knew the weather in Boston this week was going to be brutally hot so I wanted recipes that required little to no cooking time! These tostadas turned out to be a great option for a sweltering hot night, as they're filled with fresh and crunchy seasonal vegetables all wrapped up in a light tortilla.
Who wouldn't love chicken tostadas?? But chicken tostadas made with tons of delicious summer vegetables? You're definitely going to want to make these while you can still get your hands on fresh summer corn and zucchini!
CHICKEN AND SUMMER VEGETABLE TOSTADAS
Aside from a little bit of chopping, this recipe is ridiculously easy. Add some cumin, salt, and pepper to the chicken and saute it, along with the corn, zucchini, and red onion.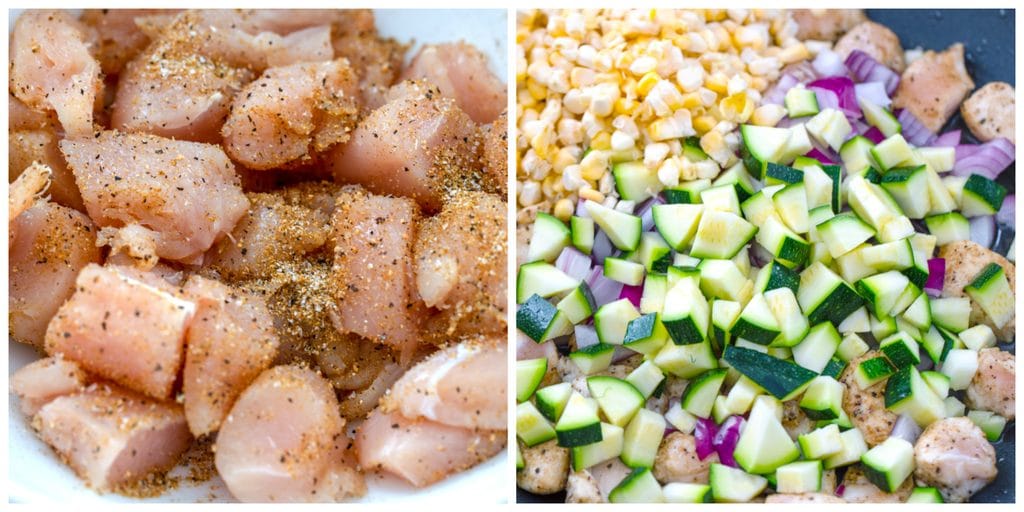 Mix it all up with some salsa verde and cilantro (at this point, your chicken will be smelling quite delicious!). Then put your tortillas under the broiler for a minute, layer your chicken mixture on top, and finish off with some cheese before putting back under the broiler for 2 minutes to get the cheese all melty.
So, that first round of tortilla broiling is when the small kitchen fire incident occurred. The recipe says to put tortillas under the broiler for 3 minutes, but this was way too long for my oven and when I opened it (before 3 minutes was even up), the tortillas were in flames!
Not good!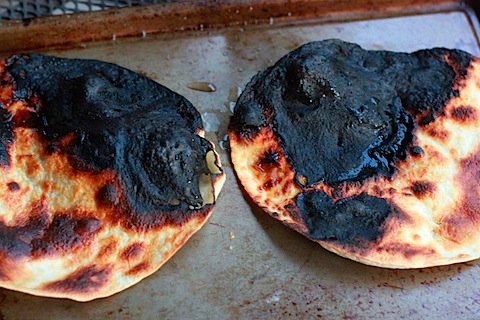 Thankfully my oven is about 2 steps from the sink, so I immediately threw the entire baking sheet under water. Flames and all. I was literally shaking for a good 30 minutes after the fact… never in my life have I seen so much fire in my kitchen, eeek! Clearly not a Martha move 😉
Round two was much better… I kept the tortillas under the broiler for just 1 minute. After reading some more recent comments on the recipe, it appears I'm not the only one who set my kitchen on fire making these chicken and vegetable tostadas! Some commenters even said they didn't bother broiling their tortillas at all until their toppings were in place. I'm sure all ovens and broilers are different, so do whatever you're comfortable with!
Much better 😉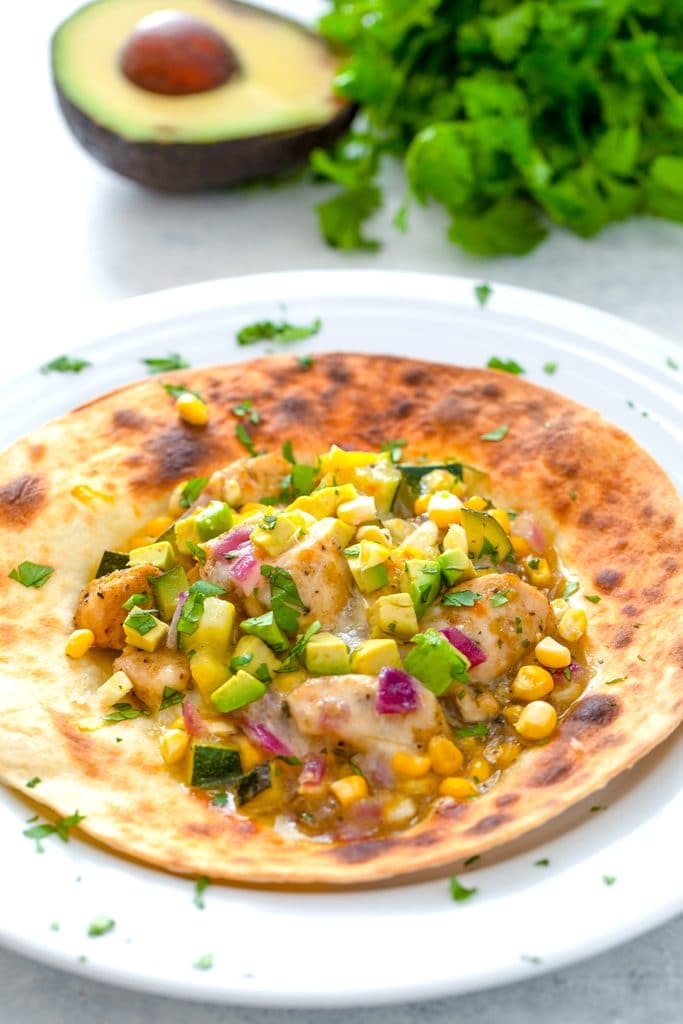 OK fine, I sprinkled avocado and cilantro on top before I dug in. Because what the heck is the point of Mexican food if you're not going to eat it with avocado??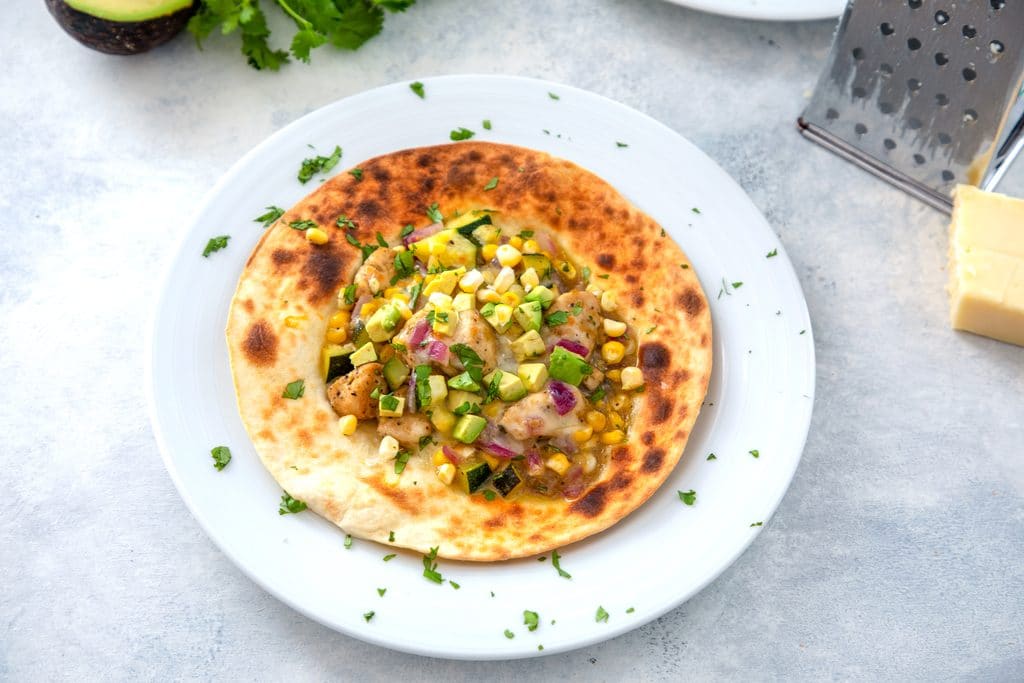 But honestly, these chicken tostadas are so delicious as is, simply because they're packed with all those vegetables. Corn and zucchini are two veggies that just scream summer to me… And I obviously love the red onion for the splash of color it provides. This is the kind of meal I could eat every single week during the summer and be so ridiculously happy about it.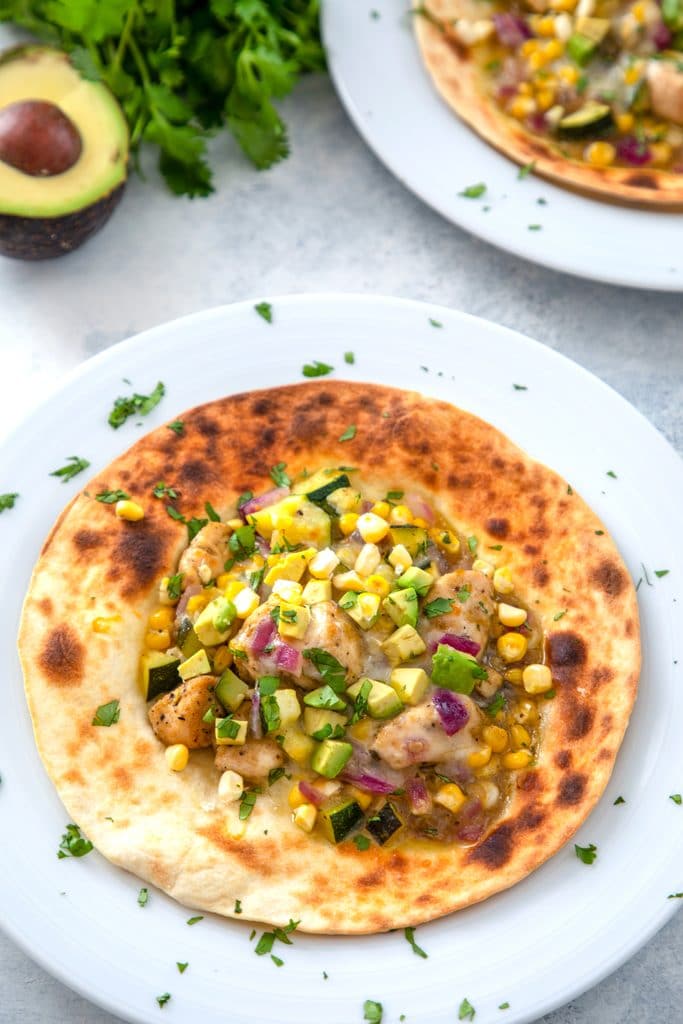 Not to mention, it should legit take you about 30 minutes to get this on the table. Which means you can stay at the beach or pool longer instead of working away in the kitchen and still have these delicious chicken and summer vegetable tables on your table for the family to enjoy. Orrrr you could just keep all four of them to yourself. I'm not even going to tell you what I did.
What was your worst or scariest kitchen mishap? Don't be shy 😉
If you're looking for some more delicious summer meals, check out this chilled Mexican corn bisque with shrimp or this Shrimp Scampi Pizza.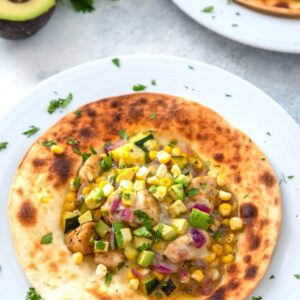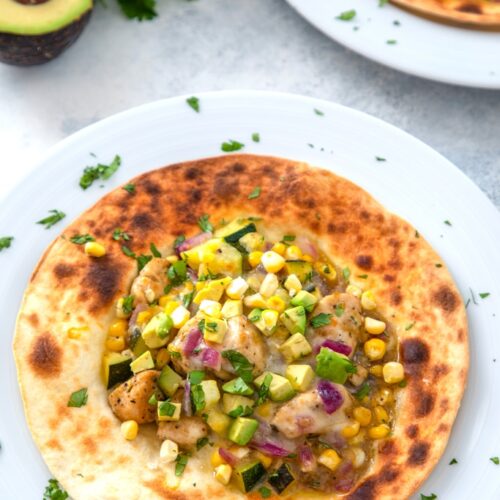 Print Recipe
Chicken and Summer Vegetable Toastadas
These chicken and vegetable tostadas are incredibly easy to make and packed with summer vegetables. And did I mention they go perfectly with a cold glass of white wine?
Ingredients
1

tsp

ground cumin

1/4

tsp

salt

1/4

tsp

black pepper

2

tsp

olive oil

12

oz.

chicken breast tenders,

chopped

1

cup

chopped red onion

1

cup

fresh corn kernels

(about 2 ears)

1

cup

chopped zucchini

1/2

cup

salsa verde

(or salsa of your choice)

3

Tbsp

chopped fresh cilantro,

divided

4

flour tortillas

Cooking spray

1

cup

shredded cheddar cheese

(or cheese of choice)
Instructions
In a small bowl, combine the ground cumin, salt, and black pepper. Sprinkle evenly over chicken.

Heat oil in a nonstick skillet over medium-high heat. Add chicken to pan and saute for about 3 minutes. In the same pan, add onion, corn, and zucchini. Continue to saute until chicken is cooked through, about 2 more minutes.

Stir in salsa and 2 tablespoons of cilantro. Cook until the liquid has evaporated.

Arrange two tortillas in a single layer on a baking sheet and lightly coat with cooking spray. Place baking sheet in oven and broil for one minute. Remove from oven.

In the center of each lightly browned tortilla, add about 3/4 cup of the chicken and corn mixture and top with cheese. Put back in the oven and broil for 2 more minutes, until cheese is melted.

Repeat with remaining two tortillas.

Sprinkle tostadas with remaining cilantro.