This One-Pan Creamy Chipotle Salmon is an easy-to-make meal packed with chipotle peppers, sun-dried tomatoes, spinach, and a creamy sauce with a little kick!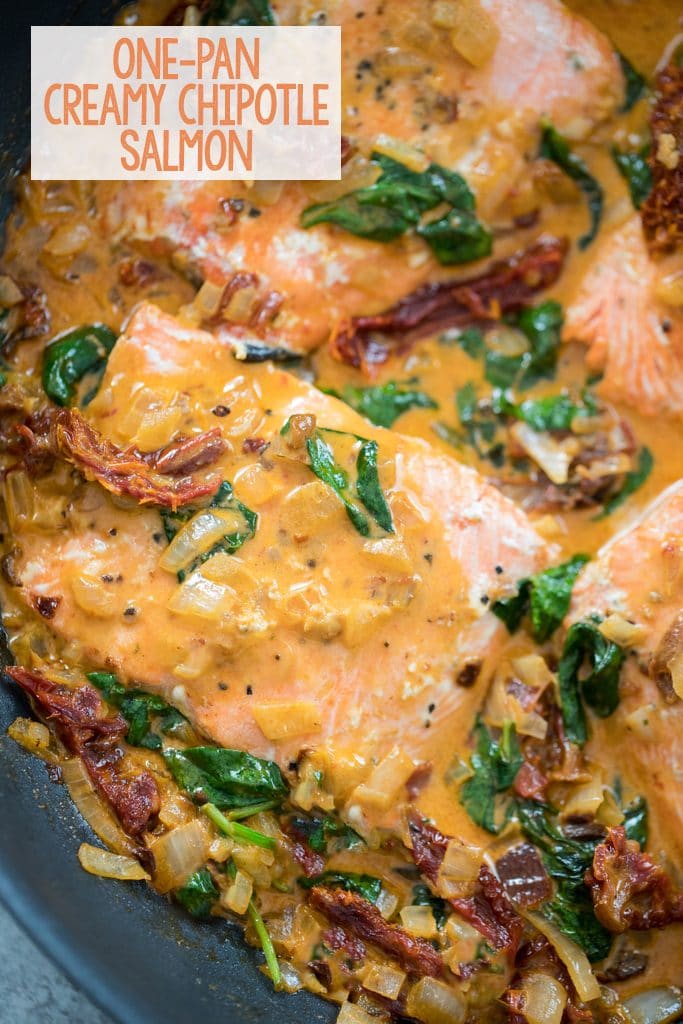 I stayed up way too late last night because of an iPhone game. Yes, an iPhone game. What the heck. It started innocently enough, with my husband saying, "hey honey, here's a game I think you'd like." I was all "pshh no thanks, I don't have time for games." But then he said the magic words… You know the ones. He said, "I bet you can't beat my high score." And suddenly I was all, "what is this game called? Where do I get it? When can I start playing? Bring. It. On." And then it turned into a battle. We looked at the clock at one point and couldn't believe how late it was and how long we had been staring at our phones. Ugh. The good news is, I went to bed secure in the knowledge that I had indeed gotten the high score. Take that, sucka!
I've always considered myself pretty much the opposite of competitive. "I hate to compete with people!" I've always said… But you know what? I think I actually just hate losing. And for that reason, I avoid competition most of the time. Isn't it awful when you realize a sad truth about yourself that you never fully understood before? But really, I literally don't think I could have gone to sleep until I got the high score. And while I'm pretty good at getting through the day on little sleep without being overly tired or dragging, I know that I'm not as productive as I could be when I'm lacking sleep. Which means a) I end up working a lot later into the evening and b) I need something easy for dinner or else we run the risk of ordering takeout. Enter this One-Pan Chipotle Salmon.
Any meal that's a one-pan meal is automatically going to get my vote when I'm overtired. Cooking is hard enough; washing dishes is downright torture. Are you with me?? One-pan salmon means I can make it, eat it, and clean it up in no time at all.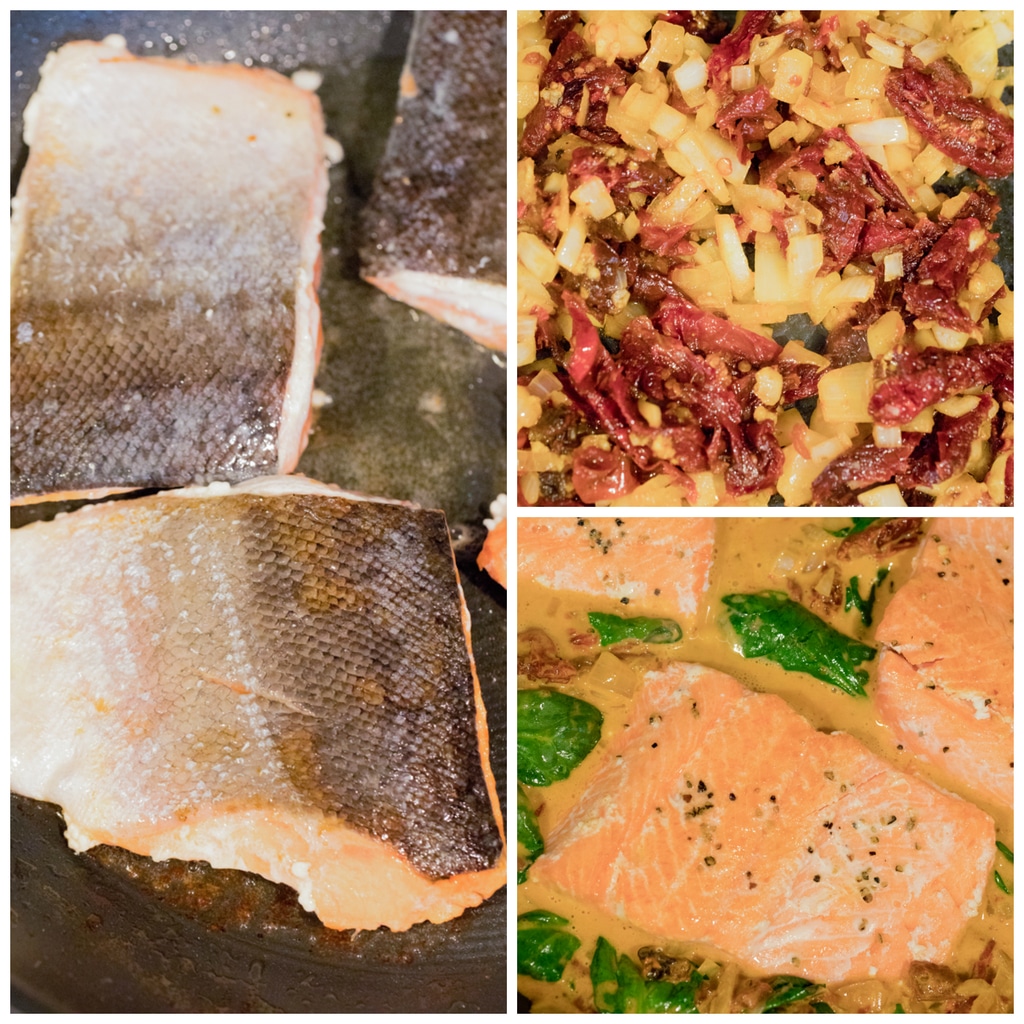 Plus, it's so easy to eat unhealthily when you're tired, so having some easy go-to healthy-ish meals that are also super satisfying are important. Salmon fits the bill of being healthy. Chipotle salmon takes care of being satisfying. There is some cream in this dish, but in my opinion, it's so worth it. If you want to cut some calories/fat, you can totally use half and half instead.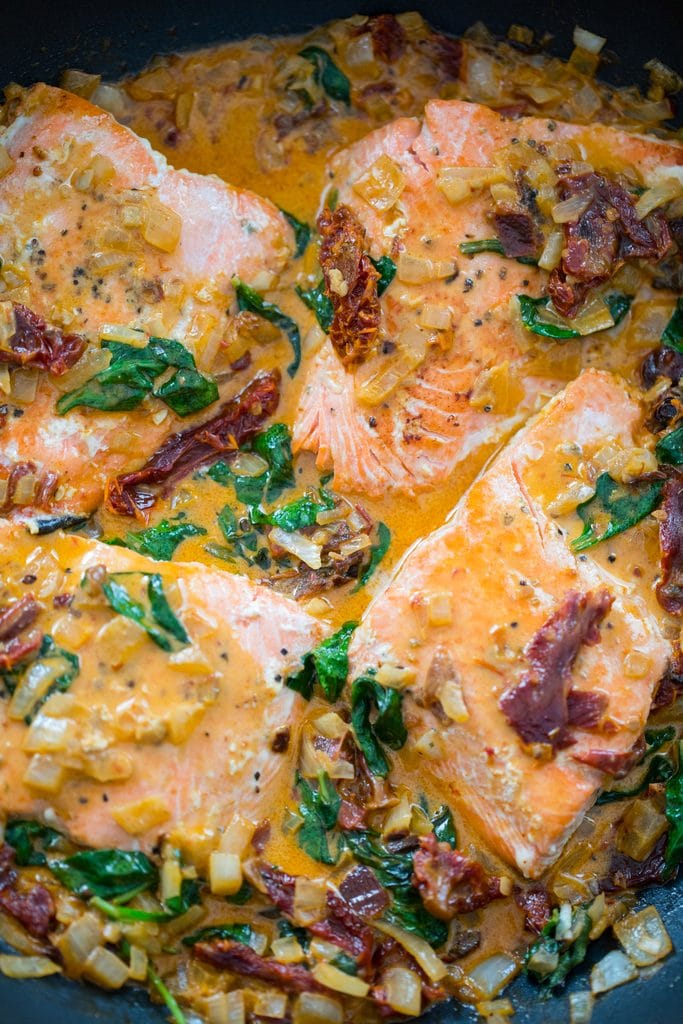 I used both chipotle peppers and sun-dried tomatoes in this dish because I wanted to jazz it up a bit. It wasn't until I looked at my photos that I realized chipotles and sun-dried tomatoes look incredibly similar and one might think this dish is loaded with chipotle peppers. But don't worry; this meal is only mildly spicy; the kind of spice that packs in a ton of flavor, with the addition of a little sweetness from the tomatoes.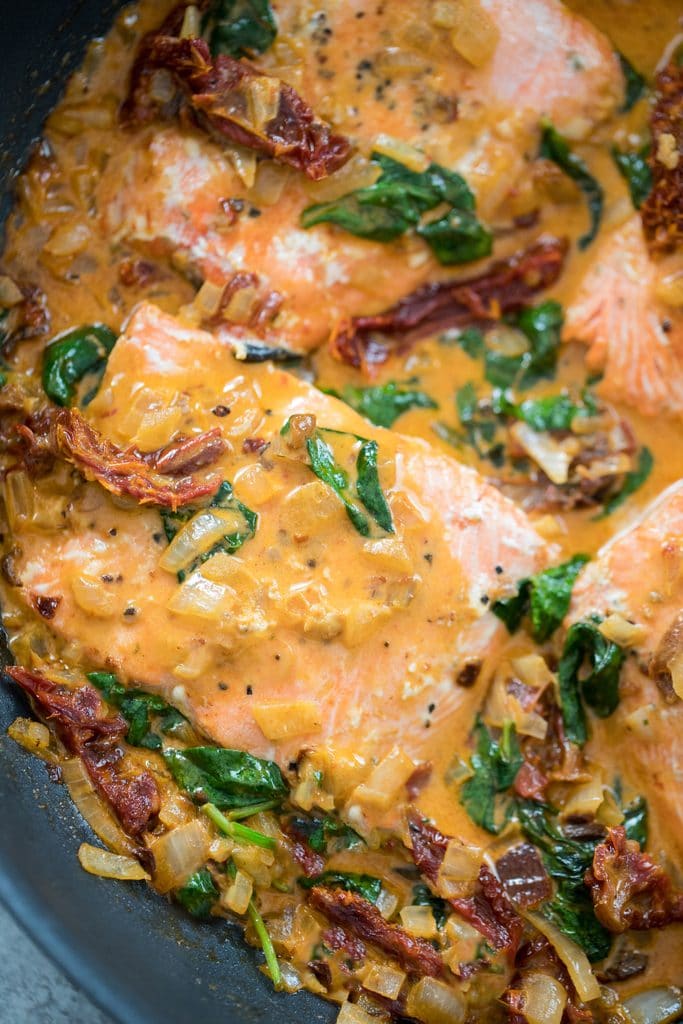 I served my chipotle salmon over brown rice, but you can most definitely use cauliflower rice or quinoa, or anything you desire. You can even serve the salmon by itself if you want, but I have to warn you that that sauce is absolutely incredible when mixed with rice or something similar. Otherwise, you might have to just slurp the remaining sauce off your plate.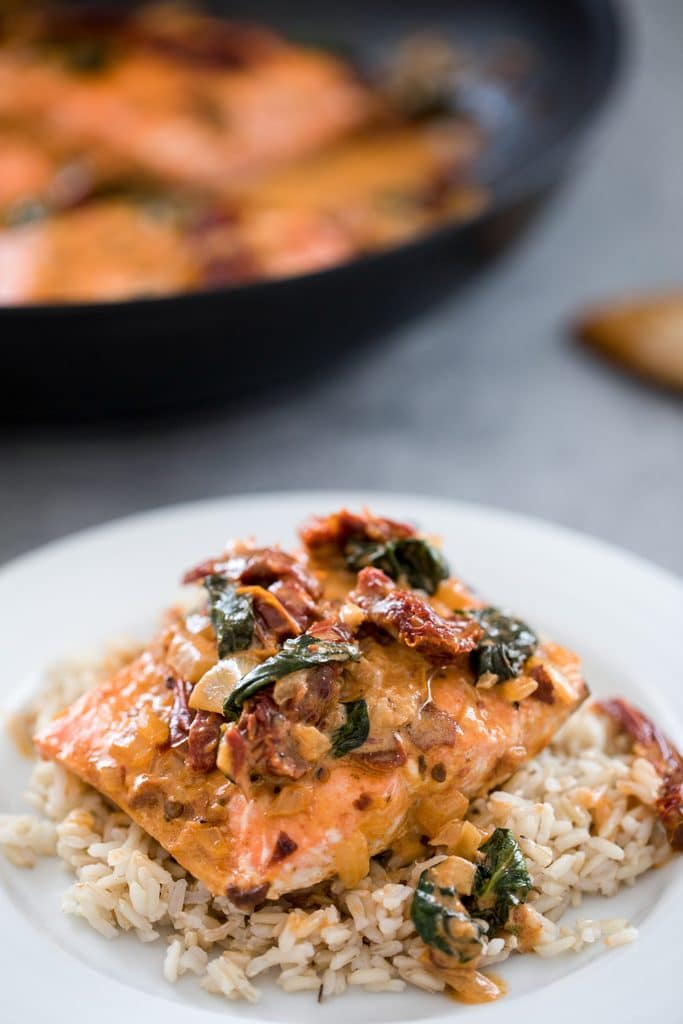 Since I was only cooking for Chris and myself, we had plenty of leftovers for the next day. I don't always love salmon leftovers, but this was a major exception. Sometimes I see "cooking for 2" recipes that I want to try, but then I realize I'd be so sad without leftovers. Dinner leftovers at lunch are the best!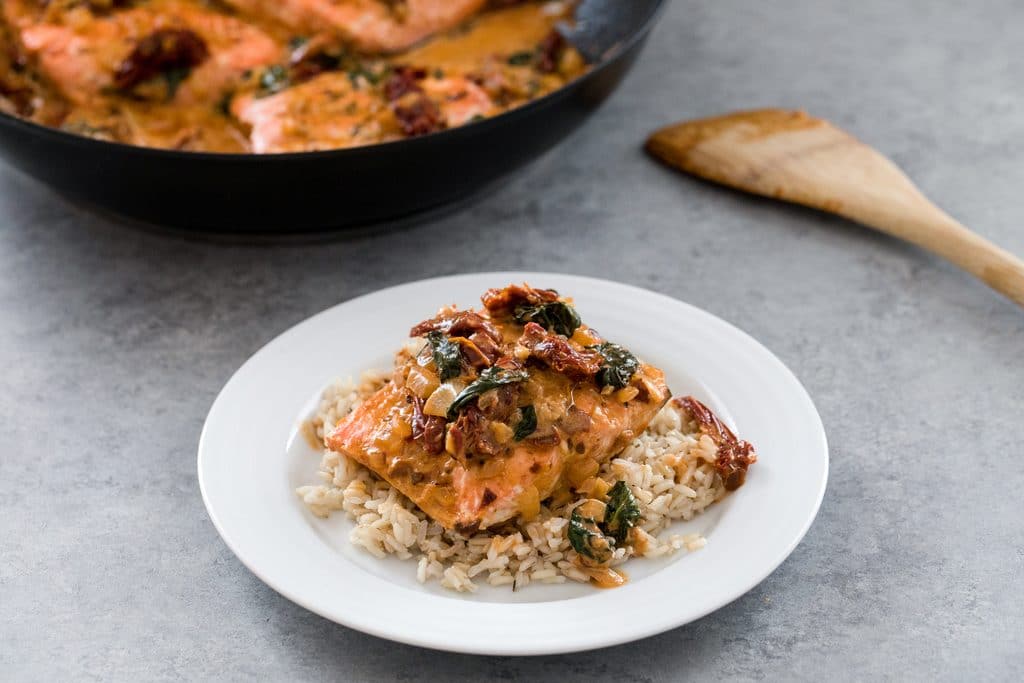 And since I now work from home, I can happily heat up my leftover chipotle salmon in the microwave without worrying about offending my co-workers. My dog is the opposite of offended by my heating up leftover salmon. Except when I don't share with her… And while I'm usually happy to give her salmon, something tells me the chipotle peppers wouldn't be the best idea for her.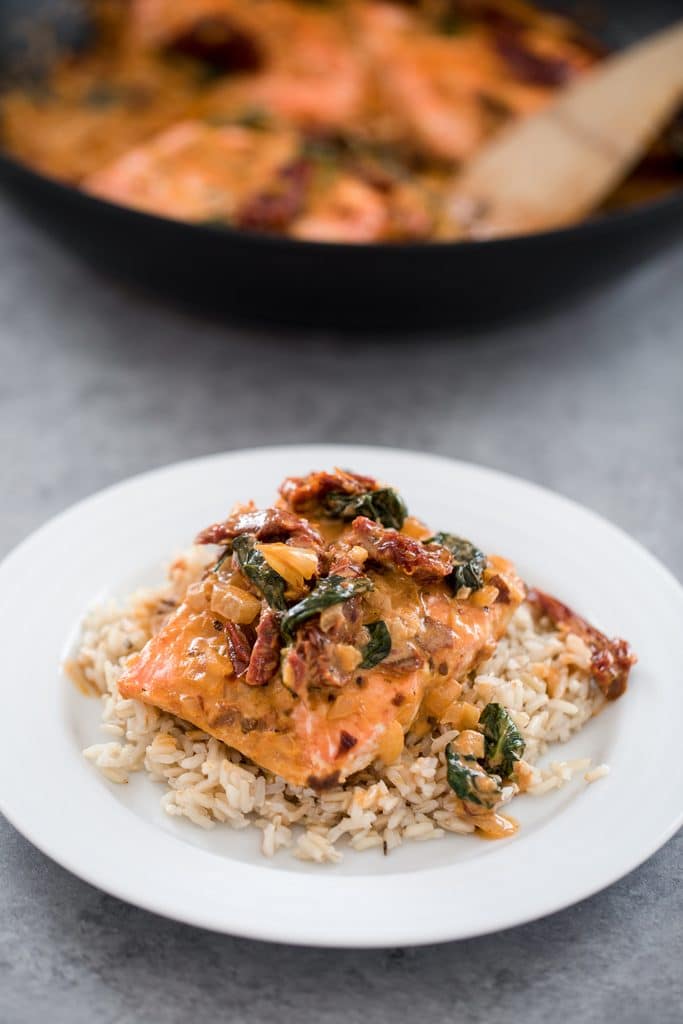 But for me? They are indeed the very best idea.
OK, excuse me while I go cry in the corner because my husband has now BEAT the game we were playing and I cannot torture myself by staying up late again to battle it out. Sob. This is why I don't compete. Or play games on my iPhone. But if you want to get sucked into a deep dark hole, feel free to download Fire Up! from the app store. Just don't beat my high score. Please.
Do you have a favorite one-pan meal or a meal that's healthy and leaves you with few dirty dishes?
Salmon is one of my favorite meals to cook and you can see many of my other salmon recipes here.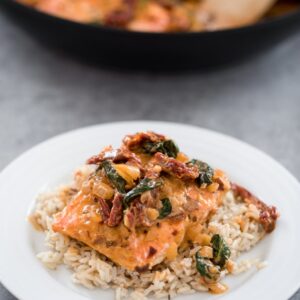 Print Recipe
One Pan Creamy Chipotle Salmon
This One-Pan Creamy Chipotle Salmon is an easy-to-make meal packed with chipotle peppers, sun-dried tomatoes, spinach, and a creamy sauce with a little kick!
Ingredients
1 1/4

lb.

salmon, cut into 4 filets

Salt and pepper

2

Tbsp

unsalted butter

1/3

cup

chopped sun-dried tomatoes, plus 1 Tbsp oil from jar

1/4

cup

finely chopped chipotle peppers

(from about 3 chipotle peppers)

1

cup

diced onion

3

cloves

garlic, minced

1

cup

low-sodium vegetable or chicken broth

1/2

cup

heavy cream

2

Tbsp

adobo sauce

(from chipotle peppers)

1 1/2

cups

baby spinach
Instructions
Lightly season salmon filets on each side with salt and pepper.

In a large skillet, melt butter over medium heat. Add salmon to the pan, skin-side-up and cook for about 4 minutes. Flip and cook for another 4 minutes skin-side-down. Remove salmon from pan and set aside on a plate.

Add sun-dried tomatoes, oil, chipotle peppers, and onion to the pan and cook for about 5 minutes. Add garlic and cook for another 2 minutes, until garlic is fragrant and onions are translucent.

Add broth to pan and bring to a simmer, scraping up the browned bit from the bottom of the pan with a spatula. Once simmering, slowly pour the cream into the pan, followed by the adobo sauce. Stir. Add spinach to pan and cook for about 30 seconds, until spinach is wilted.

Add salmon back to pan to heat through, spooning sauce over the salmon.

Serve over brown rice, quinoa, cauliflower rice, or whatever you desire! Be sure to spoon extra sauce over the salmon when serving.