Even if you're not the biggest pretzel fan (raises hand), you will absolutely love these Chocolate-Covered Pretzel Cookies with Caramel! Packed with chocolate, pretzels, and caramel bits, these cookies are fully loaded.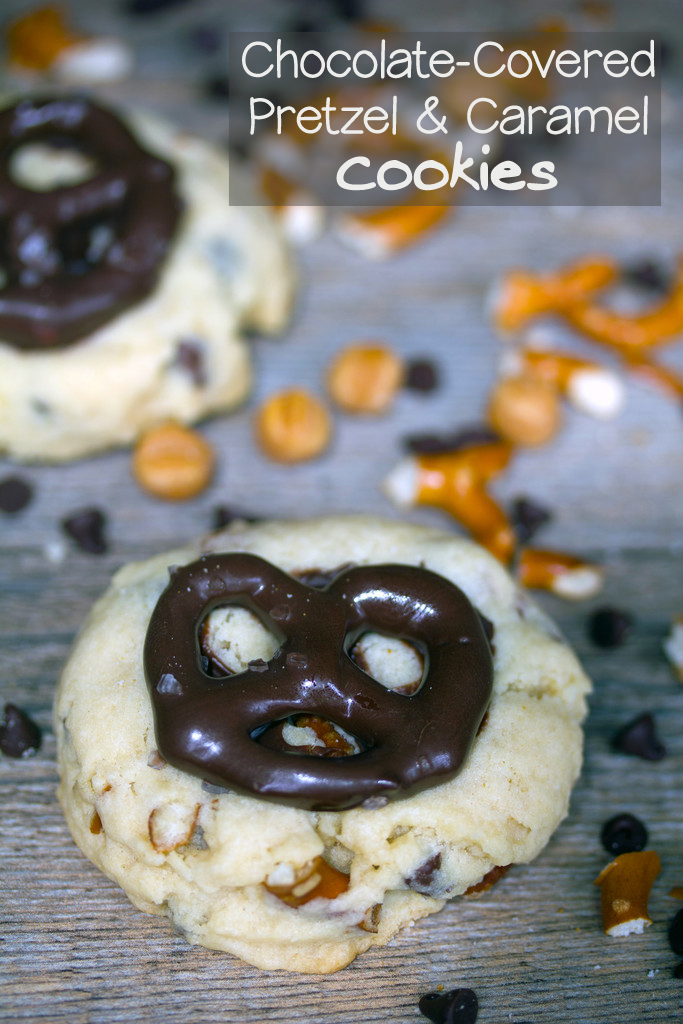 You know you've found your true life match when you can share a bag of Chex Mix and not fight over who gets which pieces. I always skip the pretzels in Chex Mix and head straight for the pumpernickel chips. They are THE BEST. I feel lucky that my husband loves me enough to leave the pumpernickel chips to me and take the pretzels for himself. It's not that I don't like pretzels... there's really nothing not to like about them, right? It's just that they bore me so much and do nothing to excite me, so I'd just rather not eat them. Of course, there is one giant UNLESS with that statement... Pretzels do nothing to excite me UNLESS they are covered in chocolate. Then they go from completely bland to the perfect combination of salty sweet heaven. Especially if that chocolate is dark. And especially especially if they are in cookies. Because you know, chocolate-covered pretzels in Chex Mix would be totally weird. Than again, pumpernickel chips in these cookies would also be odd. But pretzel cookies? Always a good thing.
When I dreamt up these cookies, I knew I wanted to top them with chocolate-covered, sea salt-sprinkled pretzels. But then I decided to toss in some extra crumbled pretzels and chocolate, along with some caramel bits for what I consider the perfect salty and sweet cookie ever. On second thought, it might actually be these cookies that are my true life match. Sorry, husband!
CHOCOLATE-COVERED PRETZEL AND CARAMEL COOKIES RECIPE
These are pretty standard cookies aside from all the goodies that go into them. They're packed with chocolate chips, crushed pretzels, and caramel bits... With a chocolate-covered pretzel on top. I think I packed pretty much as much into them as I possibly could.
I was so, so psyched to have found these Ghirardelli Dark Melting Wafers at my grocery store. I absolutely hate melting chocolate chips and these wafers melted down so easily and were perfect for dipping. I mean, there's even a picture of a chocolate-covered pretzel on the bag!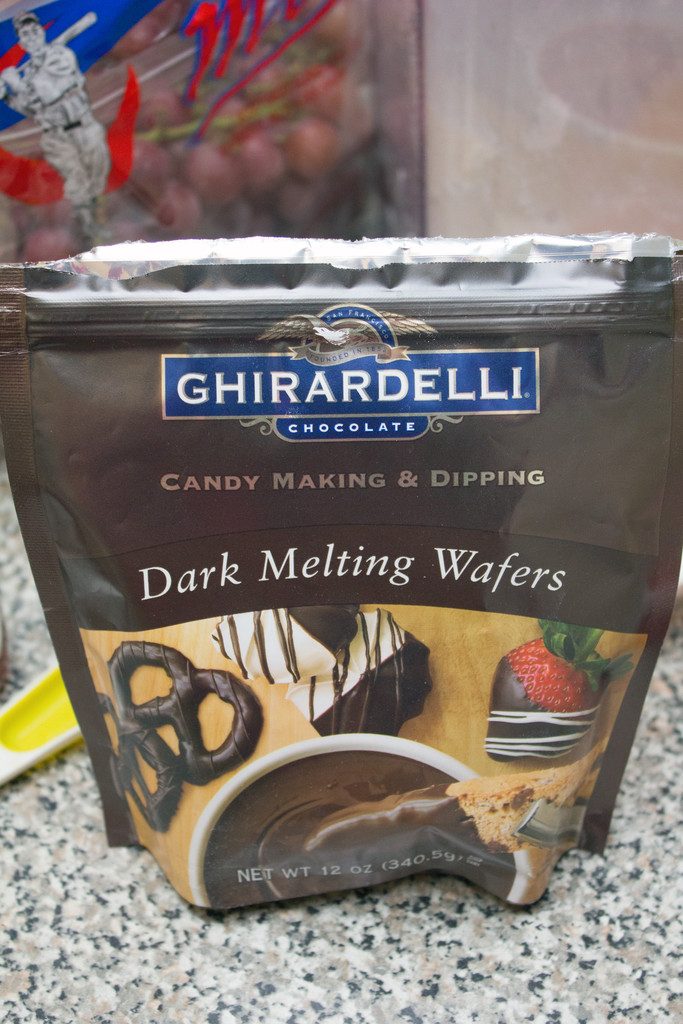 You should probably start by covering the pretzels in chocolate so they have time to harden... Even though it won't take long!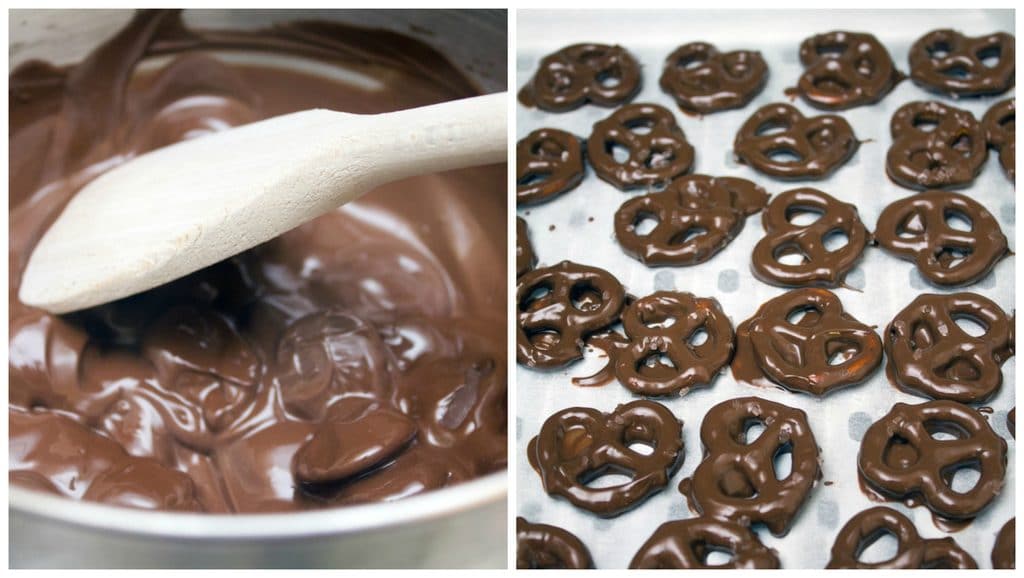 Then whip up the batter and try really, really hard not to eat it all with the spatula. This is the stuff cookie dough dreams are made of and I kind of wanted to hide in my closet and eat the entire bowl. Sometimes being an adult and having the knowledge that that would really not end well is depressing.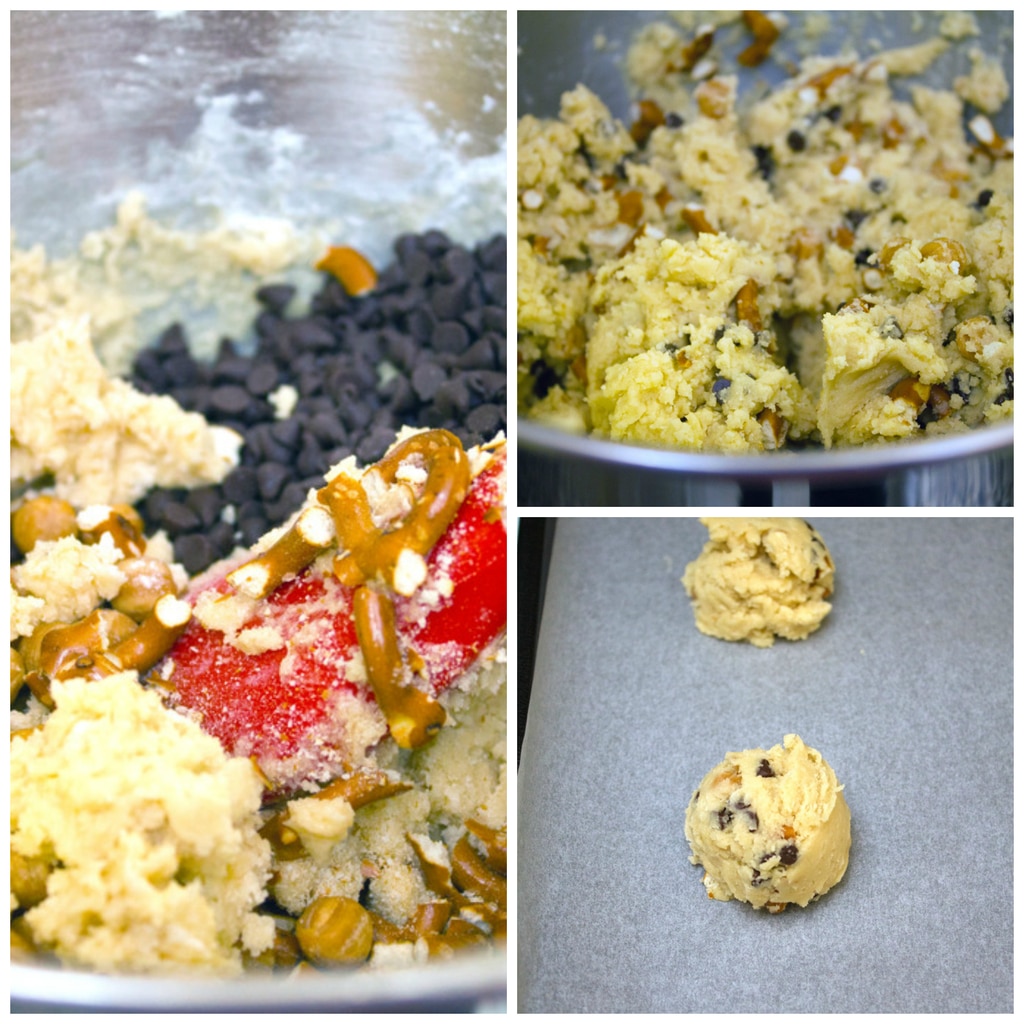 Instead of eating all the pretzel cookie dough, I managed to actually bake the cookies. Right when they came out of the oven, I pressed a chocolate-covered pretzel into each of them and let cool.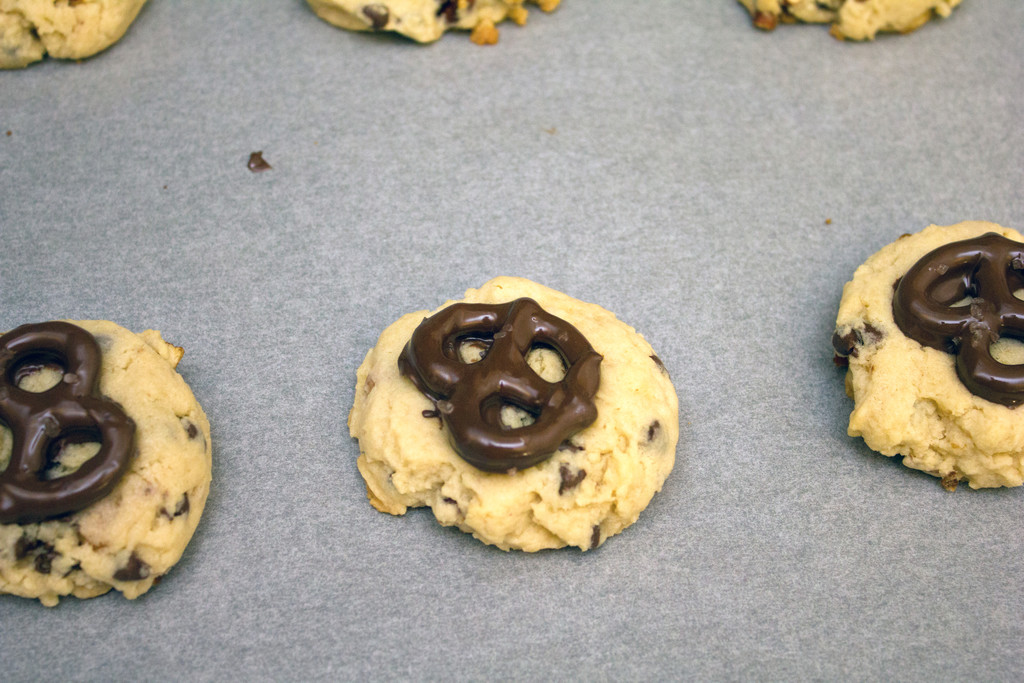 And suddenly, I find myself falling in love with pretzels for the first time ever (well, maybe the second time... the first time was when Trader Joe's starting putting peanut butter in them).

I mean, these pretzel cookies are kind of absurd. They're a bit like kitchen sink cookies, but with all new fillings. Like, this is not the kitchen sink in your house, but in your really cool friend's house instead. Please tell me that makes sense.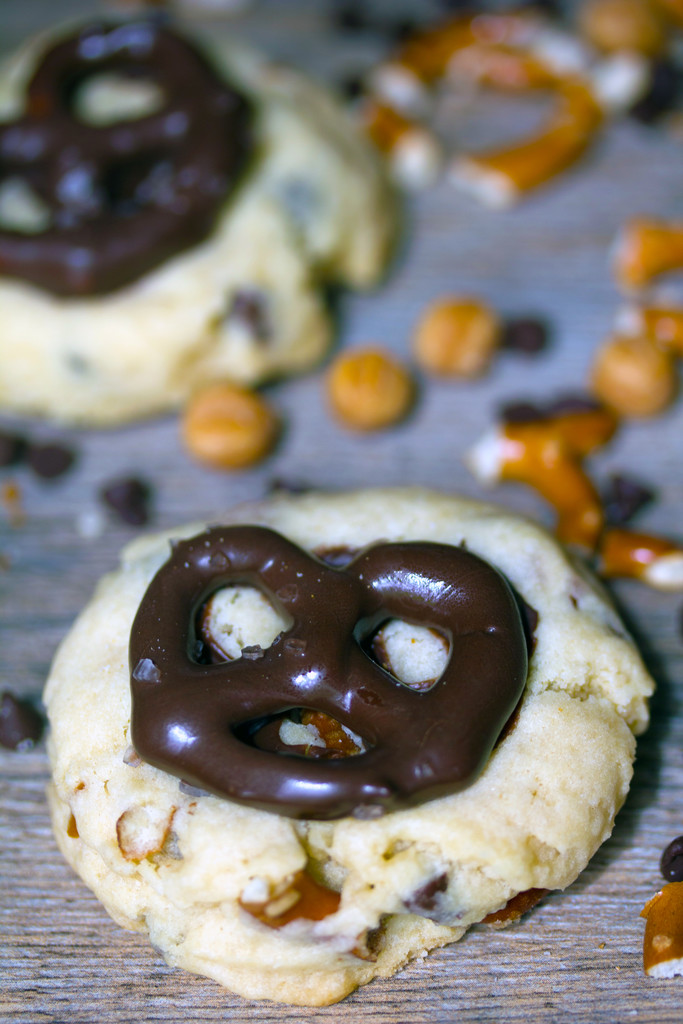 Those little caramel bits? They are basically little balls of salty sweetness, so they played along really well with the pretzels. Pretzel caramel cookies may be the best idea ever.
So yeah, we should probably talk about those pretzels. ZOMG. I ate about 50 million of them on their own. And then another 20 million of them on the cookies. Yes, that means I ate approximately 70 million chocolate-covered pretzels and I feel no shame.
Yes, I also know that it was rather excessive to sprinkle sea salt on top of a pretzel, which is already fully loaded with salt. But I really felt like the pretzel needed that final sprinkle of salt over the chocolate. AND I WAS RIGHT.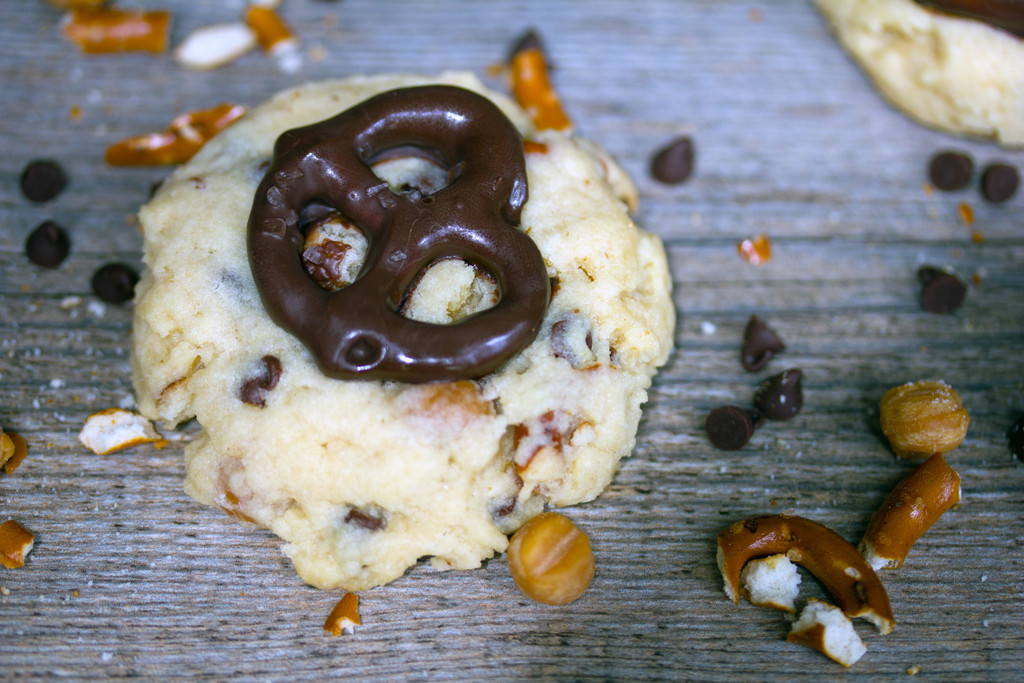 Also, I want you to know that I really think the dark chocolate made these. Sure, you could try them with milk chocolate, but I don't think you'll be nearly as happy. Salt with a rich dark chocolate is just deep and complex and like nothing else on this Earth.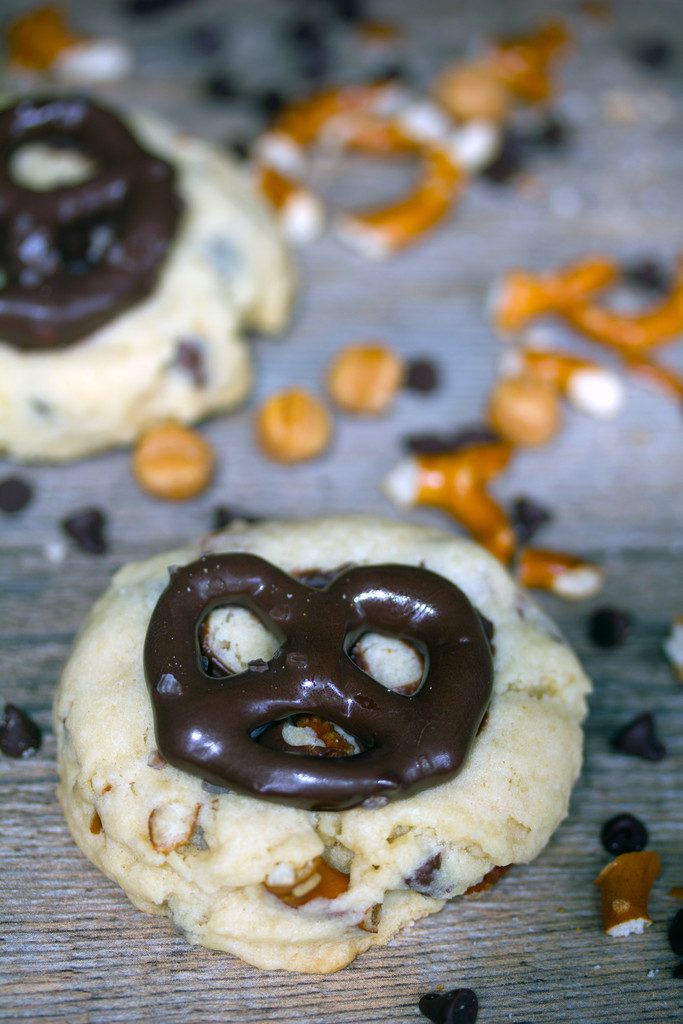 I sadly don't have any of these Chocolate-Covered Pretzel and Caramel Cookies left and that's making me so jealous of my past self right now. SO jealous. I at least need to whip up a batch of those pretzels again ASAP.
Are you a pretzel fan or really only when they're covered in chocolate or filled with peanut butter?
If you're looking for more fun ways to enjoy pretzels, you should check out these Salted Caramel Hot Cocoa Peppermint Pretzel Bites and this Pumpkin Beer Ice Cream with Pretzels and Marshmallows. Maybe there's a chance I could fall in love with pretzels after all??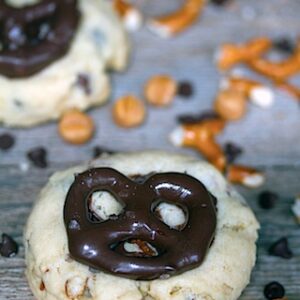 Chocolate-Covered Pretzel and Caramel Cookies
Even if you're not the biggest pretzel fan (raises hand), you will absolutely love these Chocolate-Covered Pretzel Cookies with Caramel! Packed with chocolate, pretzels, and caramel bits, these cookies are fully loaded.
Print
Pin
Rate
Ingredients
4

oz.

milk or dark melting chocolate

(I used Ghirardelli Dark Melting Wafers)

36

whole mini pretzels, plus 1 cup crumbled pretzels

Sea salt,

for sprinkling

1

cup (2 sticks)

unsalted butter,

room temperature

¾

cup

granulated sugar

¾

cup

packed light brown sugar

2

large eggs

1 ½

tsp

vanilla extract

3

cups

all-purpose flour

2 ½

tsp

baking powder

¼

tsp

salt

½

cup

mini chocolate chips

½

cup

caramel bits

(I used Kraft Caramel Bits)
Instructions
Pre-heat oven to 350 degrees and line two baking sheets with parchment paper.

In a double broiler (or a heat-proof bowl sitting over a pot of gently simmering water), melt chocolate wafters. Stir with a wooden spoon to melt evenly.

Dunk whole mini pretzels into the chocolate and remove with a fork. Place on prepared baking sheet. Immediately sprinkle pretzels with sea salt and then allow chocolate to harden.

In the bowl of a stand mixer (or a large bowl with a hand mixer), cream together butter and sugars until light and fluffy. Add eggs and vanilla and beat until smooth.

In a separate medium bowl, whisk together flour, baking powder and salt.

With mixer on low, gradually beat in the flour mixture until just combined (taking care not to over-mix). Then, gently stir in the crumbled pretzels, mini chocolate chips, and caramel bits.

Chill the dough in the fridge for about 20 minutes to prevent spreading when baking.

On second prepared baking sheet, drop the cookie dough by rounded tablespoon.

Bake cookies for 10-12 minutes, until just turning golden at edges. Remove from oven and immediately press chocolate-covered pretzel into cookie. Let cool for a few minutes on baking sheet before moving to wire rack to cool completely
Pin this Recipe for Later!
Mention @wearenotmartha and share a photo if you've made the recipe!