This crispy kale flatbread is topped with spicy habanero peppers, pomegranate arils, feta cheese, and honey for an incredibly unique and totally mind-blowing flavor combination.
(This recipe for Crispy Kale, Habanero, and Pomegranate Flatbread was originally posted in February 2014, but has been updated with new photos and content in 2018).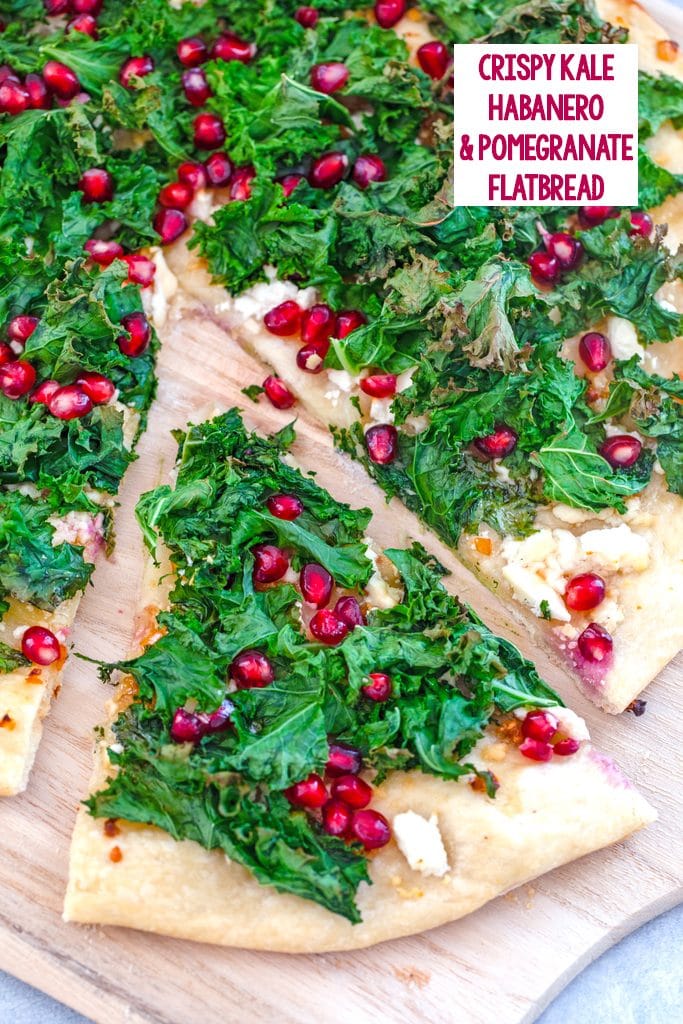 Trends can be tricky. Tricky little you-know-whats. I learned this for the first time in second grade when my "friend" told me I was a dork because I was wearing my backpack on both shoulders. I'll never forget standing in line to get on the bus home and realizing that I somehow missed out on getting this very, very crucial memo. And wondering why no one told me until it was too late. In any event, no questions asked (who had time when dork status was threatening?), I immediately took my backpack off one of my shoulders and went on my way, feeling simultaneously incredibly awkward with my heavy bag hanging on just one shoulder and already SO much cooler.
I suppose it's a bit easier nowadays with the Internet and all. These days, second graders are probably getting text message alerts to their phones about what's trendy or not before they walk out of their house in some sort of disgraceful outfit or, God forbid, their backpack on both shoulders. And if they miss the text, they can always just check Instagram. Anyway... I also recall about 6 months later when this same "friend" told me times had changed and wearing your backpack on two shoulders was OK again. Thank goodness because I can't be the only one who thought it felt really awkward to wear a backpack on one shoulder. But man, that was confusing. Trends have scared me ever since.
When I first wrote this post back in 2014, I knew kale was trendy. I got that trend alert to my cellphone. And on Instagram. And all over Pinterest. For crying out loud, I even saw it on Google+ (RIP), so you knew it must have been big. But thankfully, I was way beyond the age when I care about trends. And now it's five years later and kale is still in style. But even if a "friend" lets me know that kale has stopped being a trend and that I am a huge dork for still eating it, I wouldn't care.
I don't think that there's any wrong way to eat kale, but I especially enjoy it when it's baked for a few minutes. And when it's on pizza. With a few other delightful toppings. Trend or not, I'd fill my backpack up with kale any day... And wear it on both shoulders.
CRISPY KALE FLATBREAD WITH HABANERO AND POMEGRANATE RECIPE
This kale flatbread pizza is basically everything my dreams are made of: Crispy kale, pomegranate, spicy habaneros, and feta cheese. Talk about heavenly! It's definitely quite spicy, thanks to the habanero, but the spice will be cut down a bit if you remove all the habanero seeds. Also, don't tell anyone, but I used two habaneros on my version of the flatbread. But unless you like things really heated, I don't recommend that. If you really don't like too much spice, but you think this flatbread sounds otherwise amazing, you can use a milder pepper, like a jalapeño.
I have a pretty standard flatbread dough recipe that I love. I use it here, but note that the dough is enough to make two pizzas, though the rest of the ingredients only make one. Either double the other ingredients for two delicious flatbread pizzas or simply wrap half the dough in plastic wrap and keep it in your fridge for up to 10 days. By which time you will certainly have a craving for another one of these flatbreads. Trust. If you don't want to make your own pizza dough, you can certainly use store-bought here.
The best part of this kale flatbread recipe? It's so easy to make! After your dough has risen and been rolled out into a circle and brushed with olive oil, you'll sauté the habanero and garlic. Top the dough with this mixture, along with crumbled feta cheese and a nice healthy drizzle of honey. Bake the flatbread until almost done, remove from oven and top with the kale. Pop back in the oven and bake until the kale is crispy.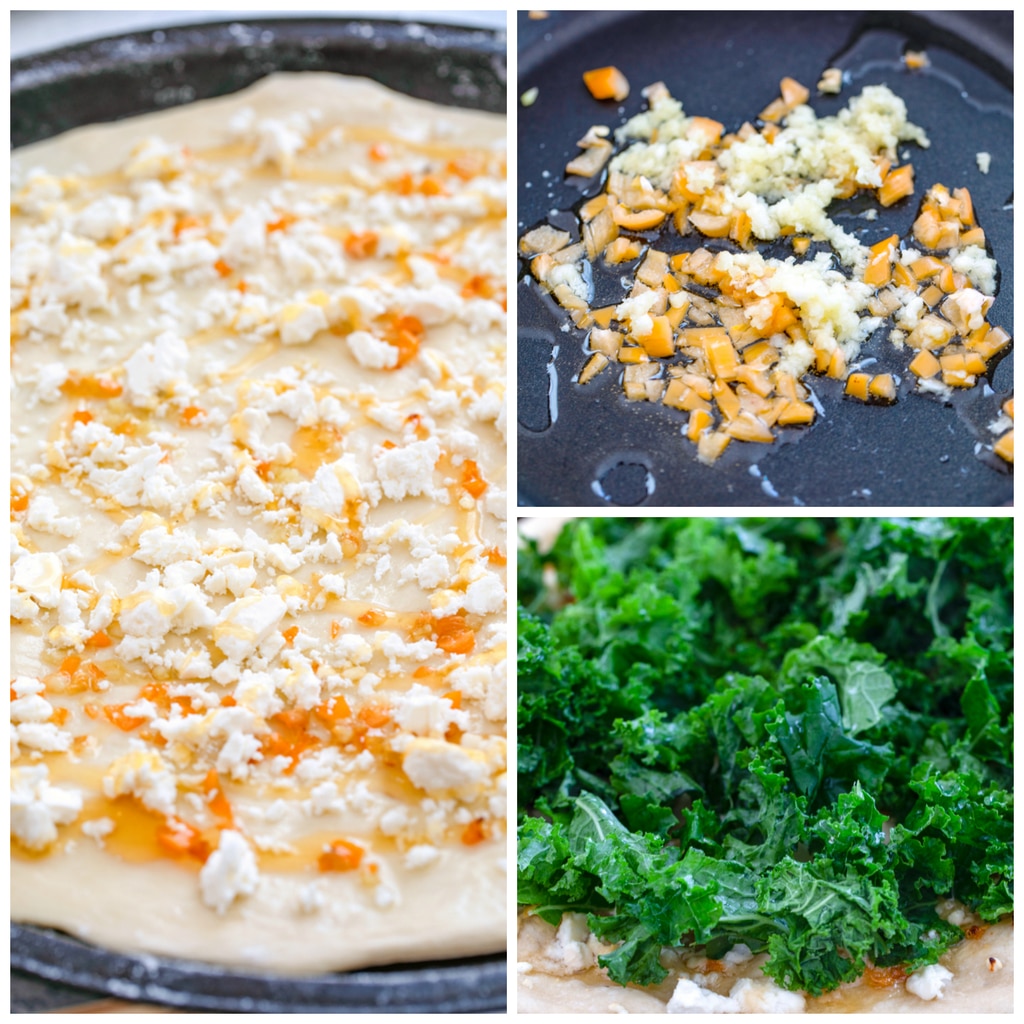 Sprinkle those deliciously juicy pomegranate arils over the top and slice and serve!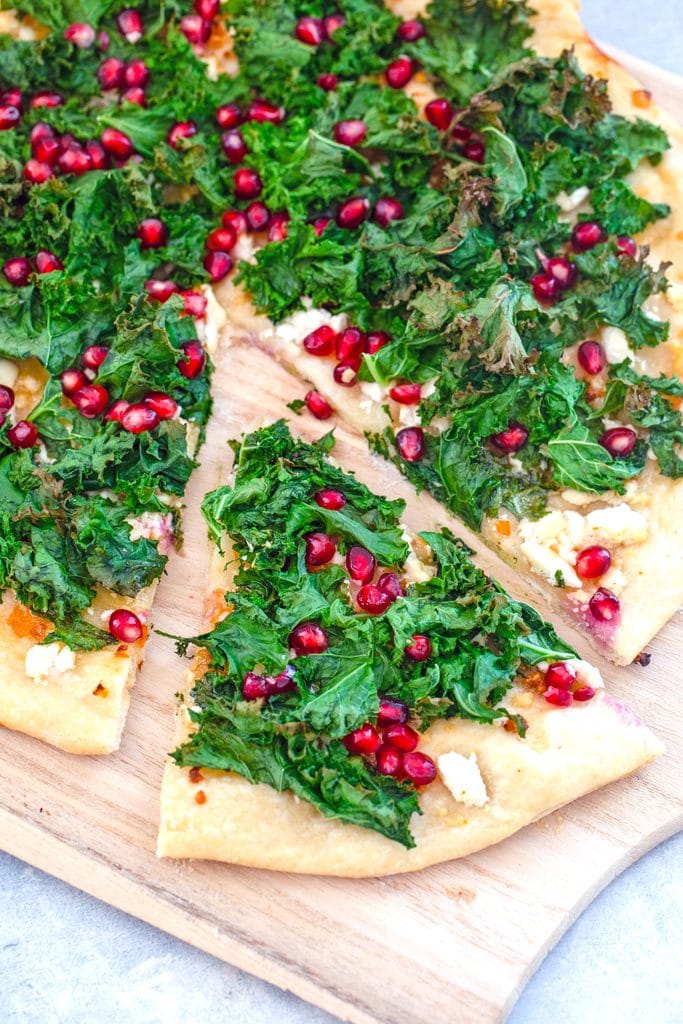 And swoon because you honestly didn't know kale could taste so good. And that's saying a lot because you already really, really love kale. But you also somehow get your husband to eat this kale pizza (he couldn't resist the spicy habanero peppers!) and he says the same thing.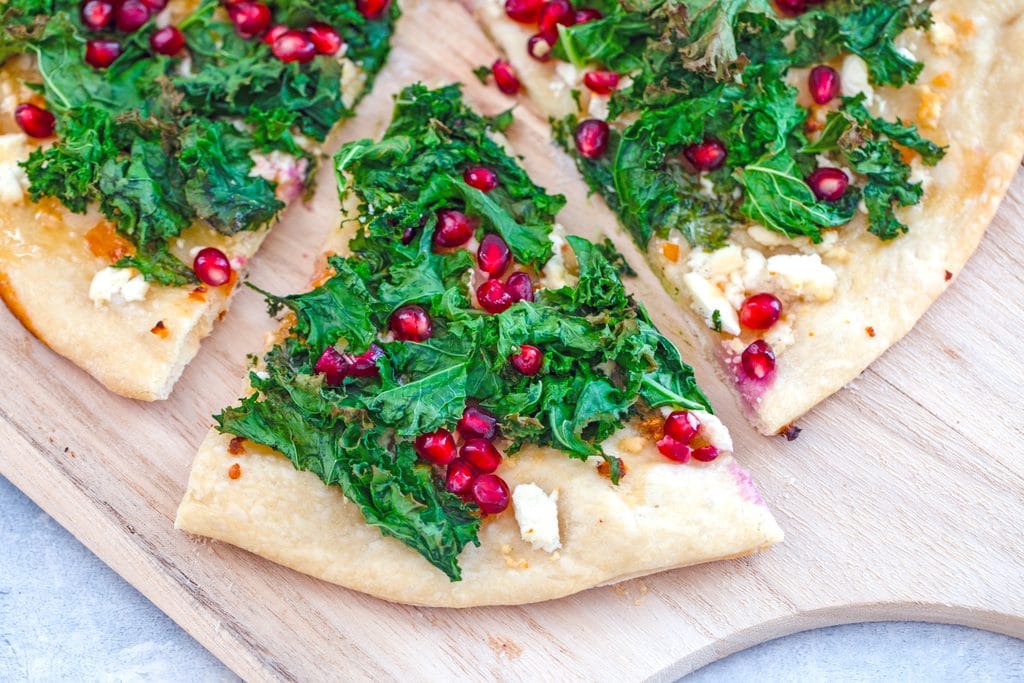 Honestly, that combination of crispy kale, pomegranate, and feta with a little bit of sweet and a little bit spice is a match made in some far-off alternate universe that I didn't know existed, but am so happy I found.
Another thing I love about this kale flatbread? It's perfect for the holiday season! It actually looks a little bit like a Christmas wreath with the vibrant red and green colors. It would be a fun flatbread to cut into small pieces and serve at a holiday cocktail party. It's nice and unique and will definitely open guests' eyes up to a whole world of pizza that's not simply cheese and pepperoni.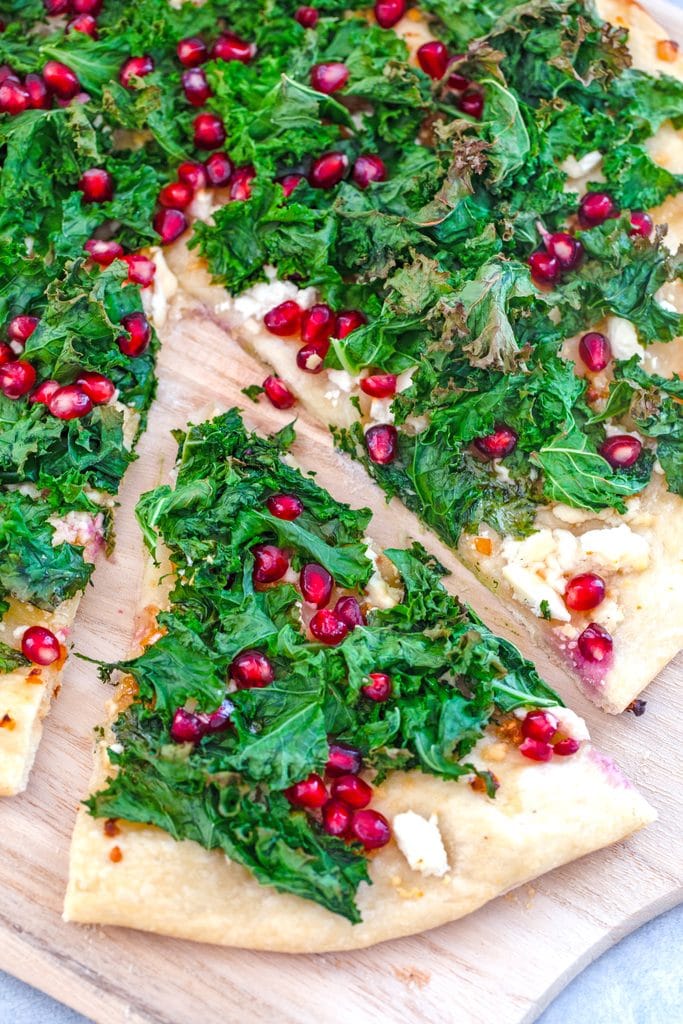 As for me, I'll be enjoying this flatbread for as long as I can get my hands on kale and pomegranates.
Trends don't matter as long as you're happy, right? And I'm happy. Oh, so happy.
What's your favorite "trendy" food?
If you're looking for more flatbread pizza recipes, I have plenty here! A couple of my favorites are this Sausage, Grape, and Gorgonzola Flatbread and this Basil and Garlic White Pizza.
📖 Recipe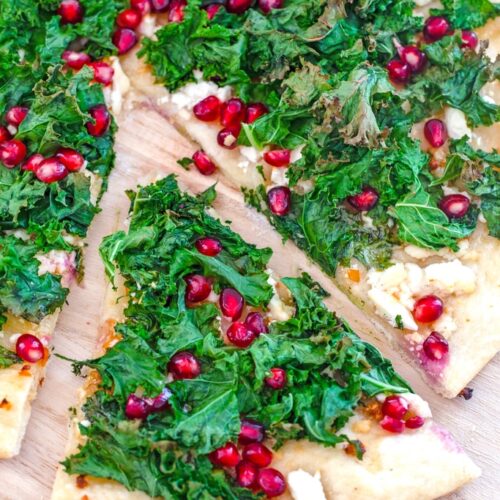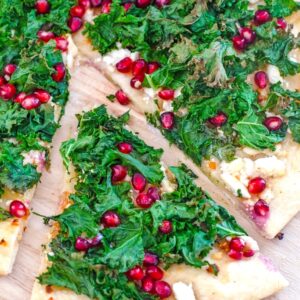 Crispy Kale, Habanero, and Pomegranate Flatbread
This crispy kale flatbread is topped with spicy habanero peppers, pomegranate arils, feta cheese, and honey for an incredibly unique and totally mind-blowing flavor combination.
Print
Pin
Rate
Ingredients
1

batch

flatbread dough

(or you can use store-bought)

1

habanero pepper,

finely chopped (remove seeds for less heat)

2

cloves

garlic,

minced

1

tsp, plus 1 Tbsp

olive oil,

divided

1 ½

Tbsp

honey

⅓

cup

feta cheese,

crumbled

2

cups

chopped kale (ribs removed)

¼

cup

pomegranate arils
Instructions
Pre-heat oven to 450 degrees.

In a small pan over medium, heat 1 teaspoon olive oil. Add finely chopped habañero and minced garlic to the pan. Cook for about one minute until pepper is softened a bit but but before garlic browns.

Roll dough out as thinly as you can and place on a pizza stone or a foil-covered pan.

Brush tablespoon of olive oil on dough and sprinkle pepper and garlic mixture around. Top with feta cheese and drizzle honey all around.

Put flatbread in oven for 10 minutes.

Remove from oven and top with kale.

Place back in the oven for about 5 minutes, until kale is crispy and flatbread dough is starting golden at edges.

Remove from oven and sprinkle pomegranate arils on top.
Share a Photo of Your Finished Recipe!
Mention @wearenotmartha and share a photo if you've made the recipe!