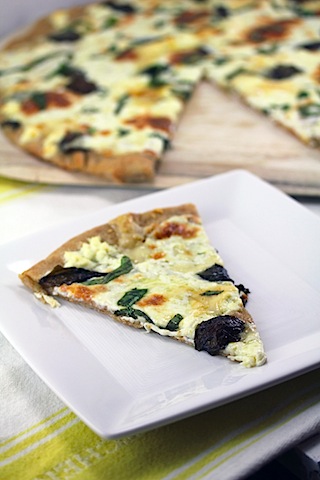 File this under an actual conversation that really happened in real life.
Check-out boy at Stop and Shop, ringing in my new baby basil plant: Hey, I hear some people actually eat this stuff!
Me: Um, yes; it's basil.
Check-Out Boy: Ew. It's a plant.
Me: Yes, basil.
Check-Out Boy: If it grows in the ground, you won't find me eating it!
Me: Like pretty much all vegetables? What about this pepper? (holding up a green bell pepper)
Check-Out Boy: That's spicy, so it's OK! But that (pointing at basil) is a plant and it has leaves. Why do I want to eat leaves?
Me: Because they taste good? And they're healthy? Have you ever tried basil before?
Check-Out Boy: NO! I don't eat plants!
At this point, I give up, collect my bags, and leave. LE SIGH.
And then I proceeded to go home and make a pizza with plants on it. Because I like plants. And also because I've never made a white pizza before and thought with all that cheese, I'd need a plant or two in my life. I was correct. Take that Stop and Shop check-out boy.
Basil and Garlic White Pizza (makes 1 large pizza):
Print this recipe!
5 cloves of garlic, minced
3 1/2 T extra virgin olive oil
1/3 batch whole wheat dough
8 oz. mozzarella cheese, cut into slices
1/2 C part-skin ricotta cheese
1 small bunch basil
1 oz. parmesan cheese, shaved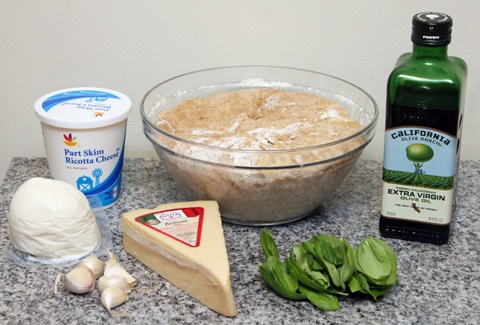 I'm often scared to bake with whole wheat flour because I never know the correct ratio and am always scared the dough will come up a horrible consistency. But I totally trust Jeff Hertzberg and Zoe Francois, so when their Artisan Bread and Flatbread in Five Minutes a Day came out I knew I would try their whole wheat pizza dough. I'm starting slowly with a mixed whole wheat and all-purpose flour recipe and it was perfect. Next time I'll add more whole wheat flour to the mix.
Whole Wheat Pizza Dough (makes enough for 3 thin-crust pizzas):
Recipe adapted from Artisan Pizza and Flatbread in Five Minutes a Day
Print this recipe!
1 3/4 C lukewarm water
1/2 T yeast
1/2 t salt
1 T sugar or honey
1 T olive oil
2 C whole wheat flour
1 1/2 C all-purpose flour
(pre-heat oven to 450 degrees)
You'll want to start by making the dough since it needs a good couple hours to rise. In a large bowl, simply combine the water, yeast, salt, sugar, and olive oil. Normally I would have used honey since I LOVE honey in all whole wheat concoctions. But I oddly enough just ran out (I always have so much honey, I don't know how I managed to let it all run out), so I used sugar instead. Both work!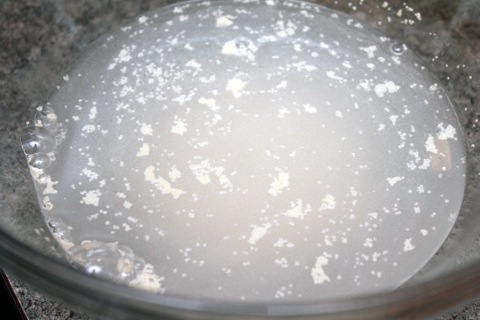 Now mix in the flour a cup at a time with a wooden spoon. No need to knead 🙂 I ended up using 2 cups whole wheat flour and 1 1/2 cups white. It made for one of the most luscious crusts ever.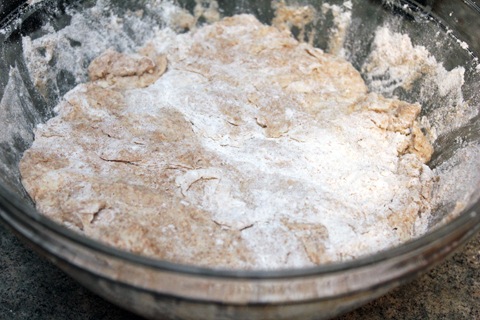 Cover the bowl with a towel and set aside (it's better if it's in a warm environment). Two hours later, it should have risen quite a bit! I stuck mine in the fridge for about an hour after this since Jeff and Zoe told me the dough would be easier to work with if it was a bit cold. By the way, the leftover dough should last in your fridge, covered (but not airtight), for about 5 days. Good to know, right?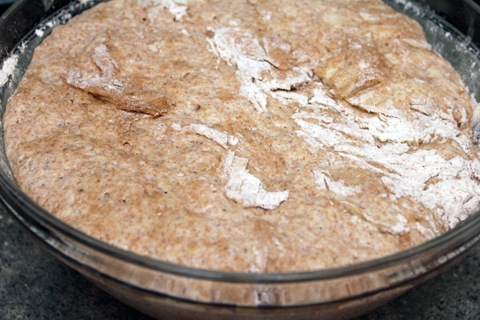 Then I got started on the toppings! I mixed together my 5 cloves of garlic (YUM!) and 2 1/2 T olive oil in a small bowl.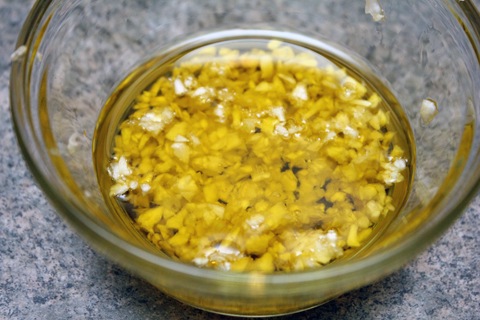 I chopped my mozzarella and shaved my parmesan cheese.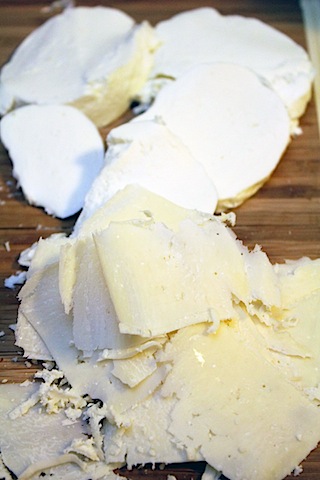 After sprinkling some flour on my work surface, I rolled out my dough into a round that would fit on my foil covered baking pan.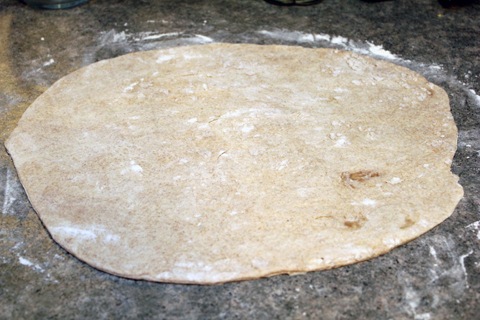 Then I placed the dough on the  foil-covered pan, which was brushed with the remaining 1 T olive oil (note: You can totally use a pizza stone for this recipe, too. I'm generally obsessed with mine, but sometimes I find just throwing it on the pan easier for quick weeknight dinners).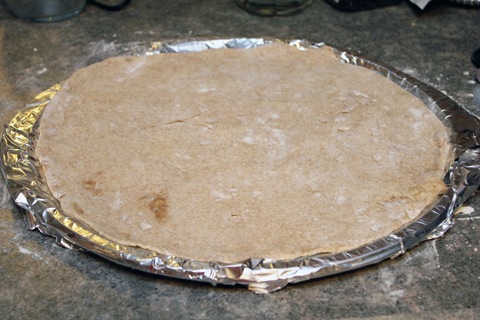 And used a pastry brush to cover the dough in the beautifully fragrant garlic olive oil mixture.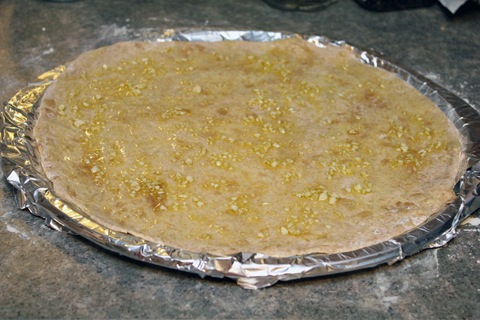 Layer slices of mozzarella on top. And spoon crumbles of ricotta cheese around.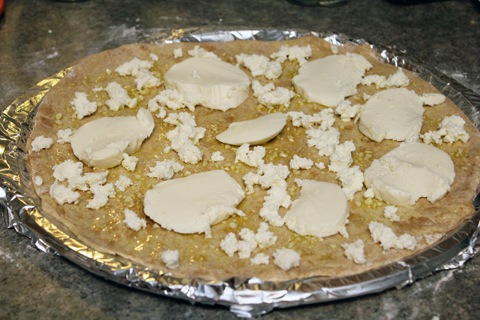 Then cover with basil leaves (making sure to reserve some leaves for after the pizza is cooked) and finally, parmesan cheese shavings.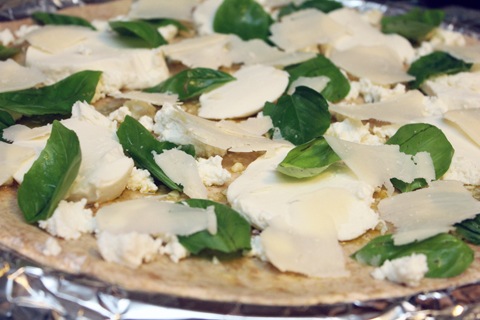 It looks delicious already, right? Even with the leaves scattered on top?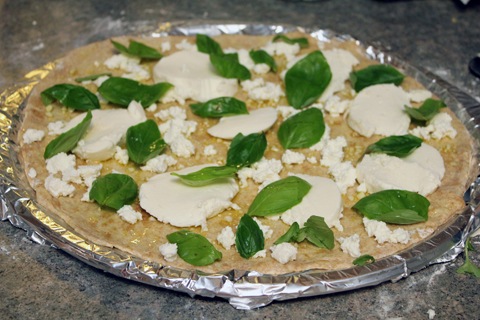 Now, bake the pizza at 450 degrees for about 18-22 minutes.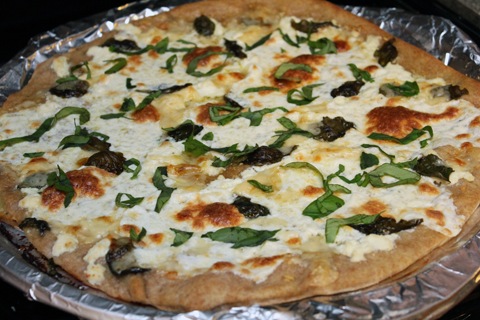 And you'll be rewarded with a classic-looking white pizza. Call me crazy, but I love the little burn marks on top of the cheese. Burnt cheese=best ever!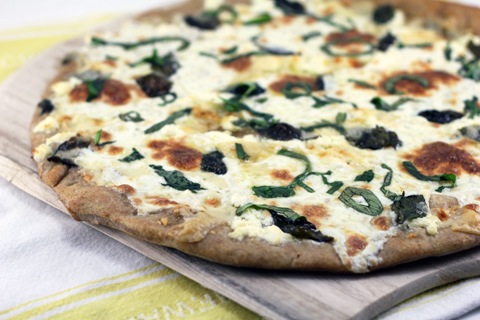 Don't forget to chiffonade your leftover basil and sprinkled that around, as well.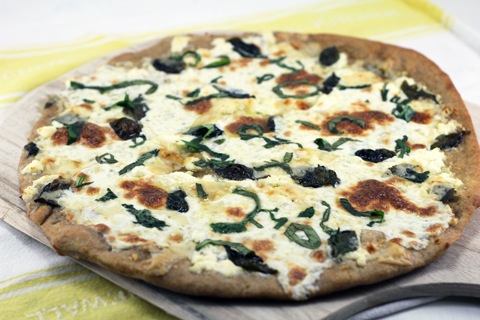 This ended up being one of my biggest pizza successes! Which is saying a lot because I've made a lot of pizzas in my time and have really, really loved many of them.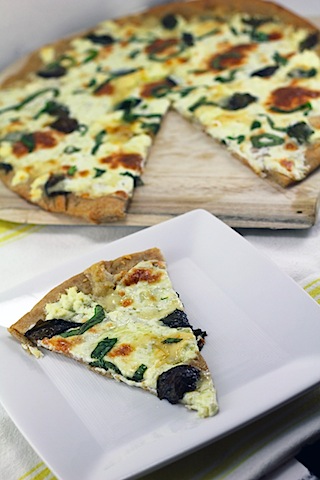 The crust was honestly perfect. Delightfully chewy, but not overly so. Hearty without being heavy. And way more satisfying than the typical all-purpose flour crust. I don't think I'll ever go back again. I mean that. Plus that garlic? Oh my God, that garlic. This pizza was absolutely slathered in it. "Slathered in garlic." Doesn't that have a nice ring to it?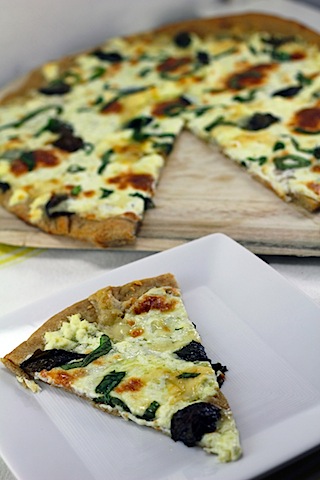 This was a pretty large pizza, too, and made dinner for a couple nights. As you know, these are my very favorite types of meals.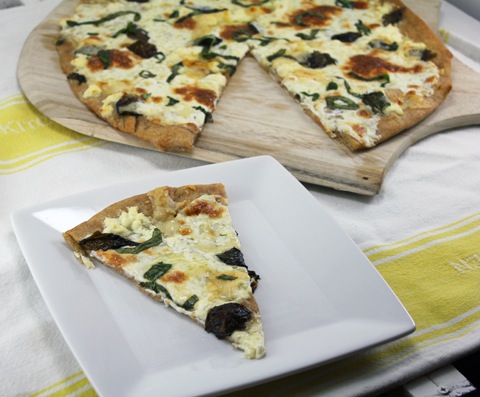 And all those leaves on top? They may have been the best part. Oh Stop and Shop Check-Out Boy, how I wish I could have brought you a slice. Maybe then you could have seen how glorious plants are. And not just those "spicy" peppers that are actually bell peppers.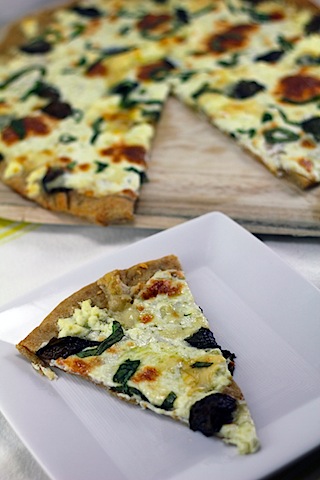 And thus starts my favorite part of year. The part where I always have a thriving basil plant sitting on my windowsill. The part where I never have to buy basil from the grocery store and I can make Beef Basil whenever my little heart pleases, with extra basil. And the part where I can mix cocktails with basil and sprinkle a little bit on absolutely everything I make. The part that lasts at least until I forget to water my poor basil plant and kill him off. Er, not that that will happen this year. I'm determined to give my basil plant a run for its money and keep it going straight into winter. Because I see a lot more pizzas like this in my future!
Do you keep a basil plant (or other herbs) at home?
[Sues]