Traditional pizza is always delicious, but there's something about a cheese-filled white pizza that really hits the spot. Add on a slathering of garlic oil and plenty of basil and you'll be in pizza heaven!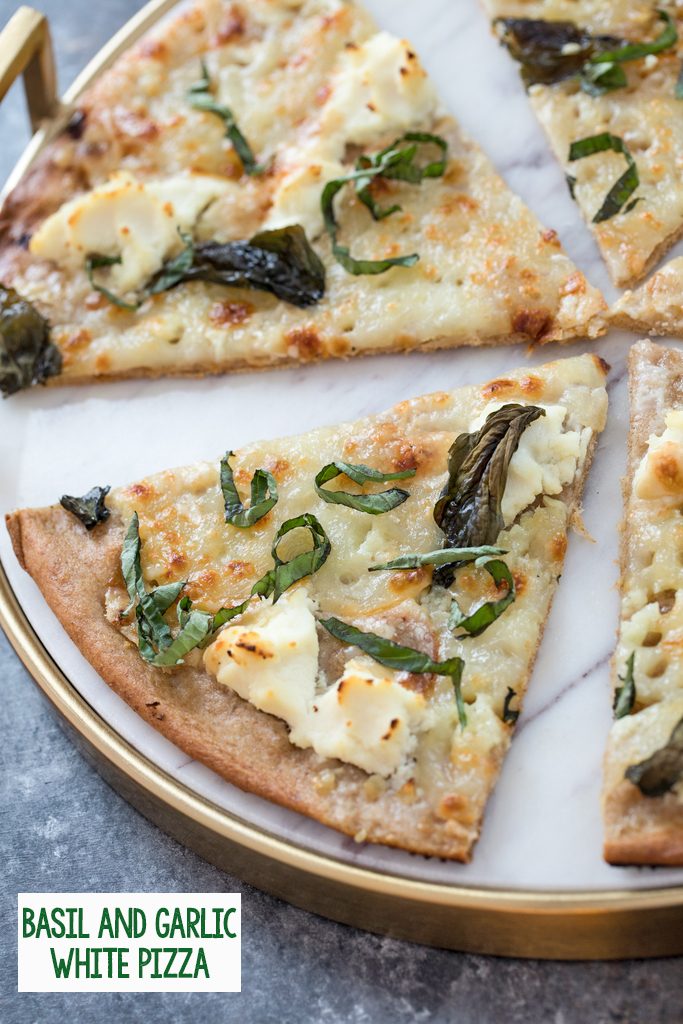 (This recipe for Basil and Garlic White Pizza was originally published in May 2012, but has been updated with new photos and content in 2018.)
File this under an actual conversation that really happened in real life:
Check-out boy at grocery store, ringing in my baby basil plant: Hey, I hear some people actually eat this stuff!
Me: Um, yes; it's basil.
Check-Out Boy: Ew. It's a plant.
Me: Yes, basil.
Check-Out Boy: If it grows in the ground, you won't find me eating it!
Me: Like pretty much all vegetables? What about this pepper? (holding up a green bell pepper)
Check-Out Boy: That's spicy, so it's OK! But that (pointing at basil) is a plant and it has leaves. Why do I want to eat leaves?
Me: Because they taste good? And they're healthy? Have you ever tried basil before?
Check-Out Boy: NO! I don't eat plants!
At this point, I give up, collect my bags, and leave. LE SIGH.
And then I proceeded to go home and make a pizza with plants on it. Because I like plants. And also because I love white pizza and white pizza always tastes better with basil. And I figured I at least need one plant on this cheese-filled pizza. Grocery store boy doesn't know what he's missing out on.
HOW TO MAKE A HEALTHIER CRUST
I almost never make whole wheat dough for my pizza, but now that I've tried this one half whole wheat dough again, I feel like I'm going to be making it all the time. It is seriously so, so good!
I adapted the recipe from Jeff Hertzberg and Zoe Francois's Artisan Pizza and Flatbread in Five Minutes a Day (affiliate link), which is a must-have book for anyone interested in learning absolutely everything about pizza dough making (in case you don't know Jeff and Zoe are Gods in the bread-making world).
You only need about 1/3 of this recipe for one pizza, but you can always put the leftover in the fridge for a few days (until you start craving another one of these!) or you can even freeze it for up to 3 months. Of course, if you need a quick fix, you can use store-bought dough here, too.
BASIL AND GARLIC WHITE PIZZA RECIPE
This white pizza is a pretty simple one, but one that is going to be on your mind for days after it's long gone… It basically involves garlic, cheese, and basil. Hello, heaven.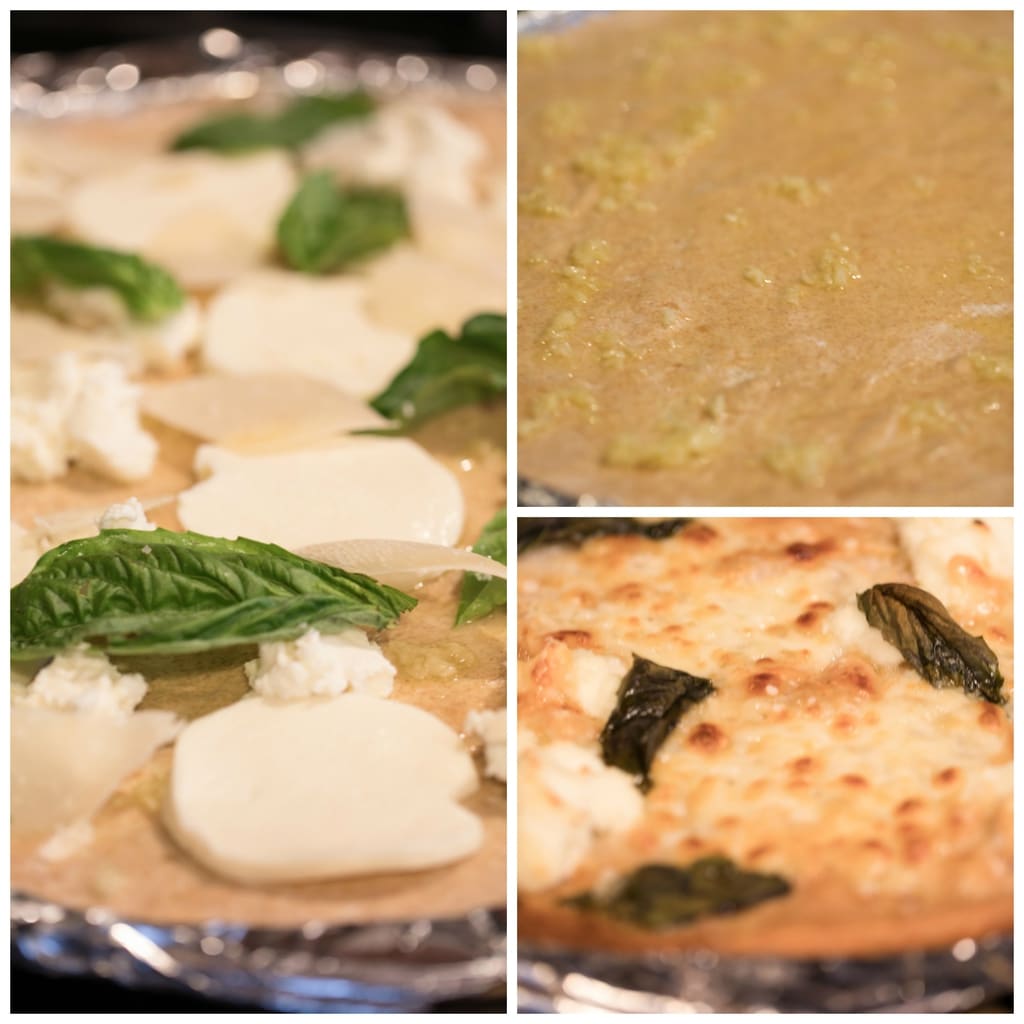 Call me crazy, but I love the little little burn marks on top of the cheese. Burnt cheese= best ever! I also love the combination of mozzarella, ricotta, and parmesan cheese. Give me all your cheese, people.
But also, give me all your garlic olive oil because I will drink that ish out of a water bottle. Isn't "slathered in garlic" one of the best phrases ever? Garlic-slathered white pizza? Yes, please!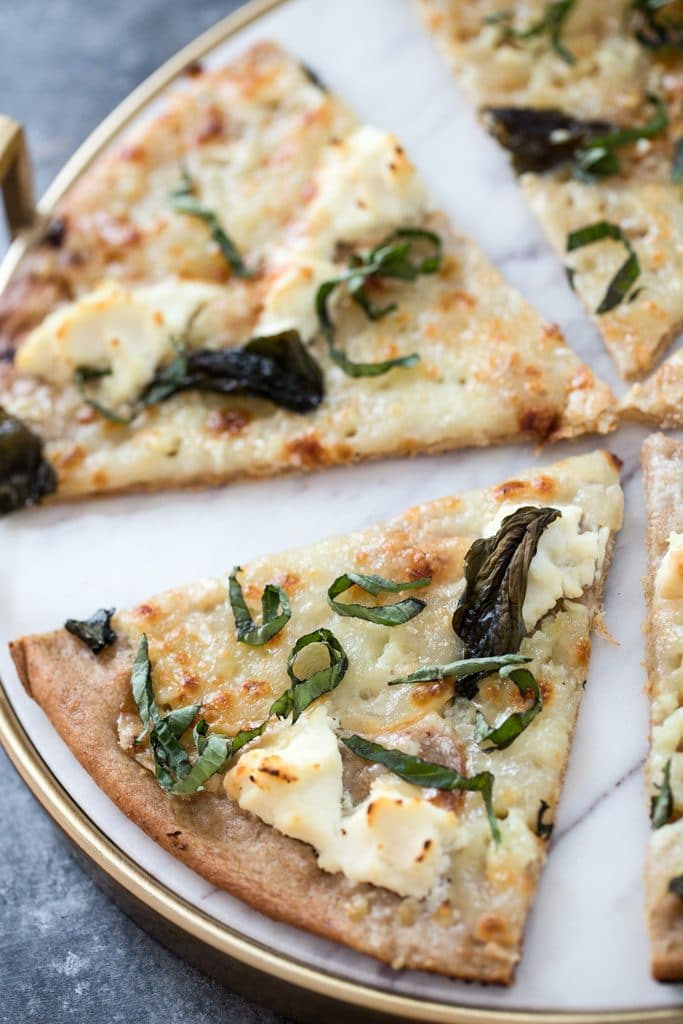 Don't forget to chiffonade your leftover basil and sprinkle that around, as well. Basil baked at 450 degrees is nice and crispy and yummy, but fresh basil is even better. I feel like basil is one of those things you can enjoy year round and it will give you a little bit of summer happiness in the middle of winter.
Also, my grocery store sells basil plants almost all the time and how happy is it to have a basil plant in your kitchen in the middle of winter?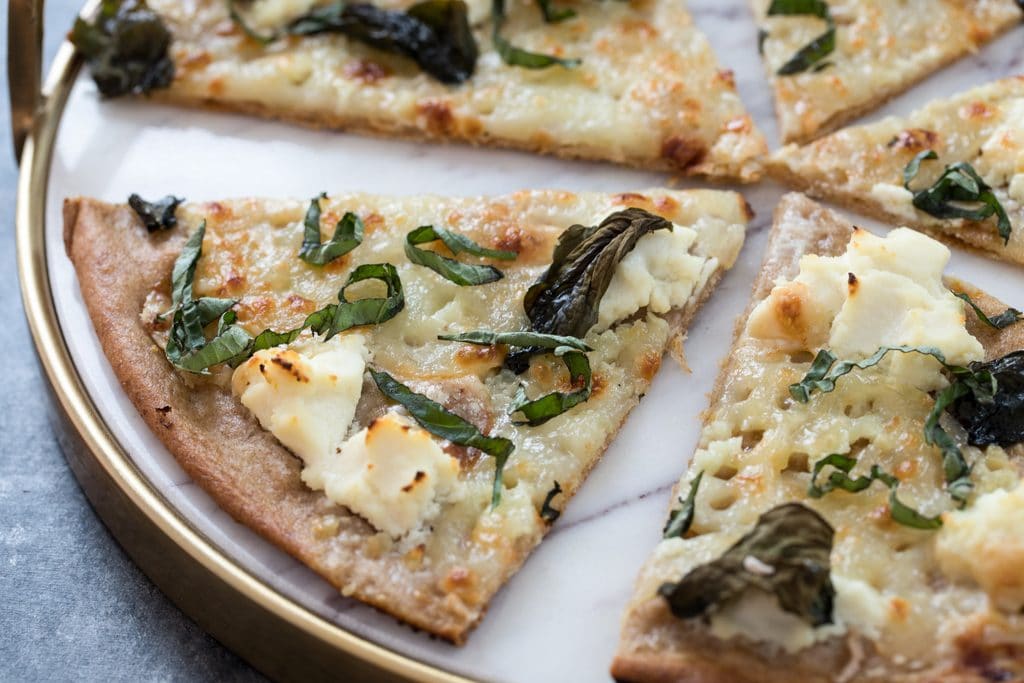 This partially whole wheat crust was honestly perfect. Delightfully chewy, but not overly so. Hearty without being heavy. And really, more satisfying than the typical all-purpose flour crust.
I've totally been back on my pizza-making game lately and I never want to stop. It feels like 2011 again. It's super rare that I make tomato sauce-based pizzas, but I also haven't made a white pizza in forever.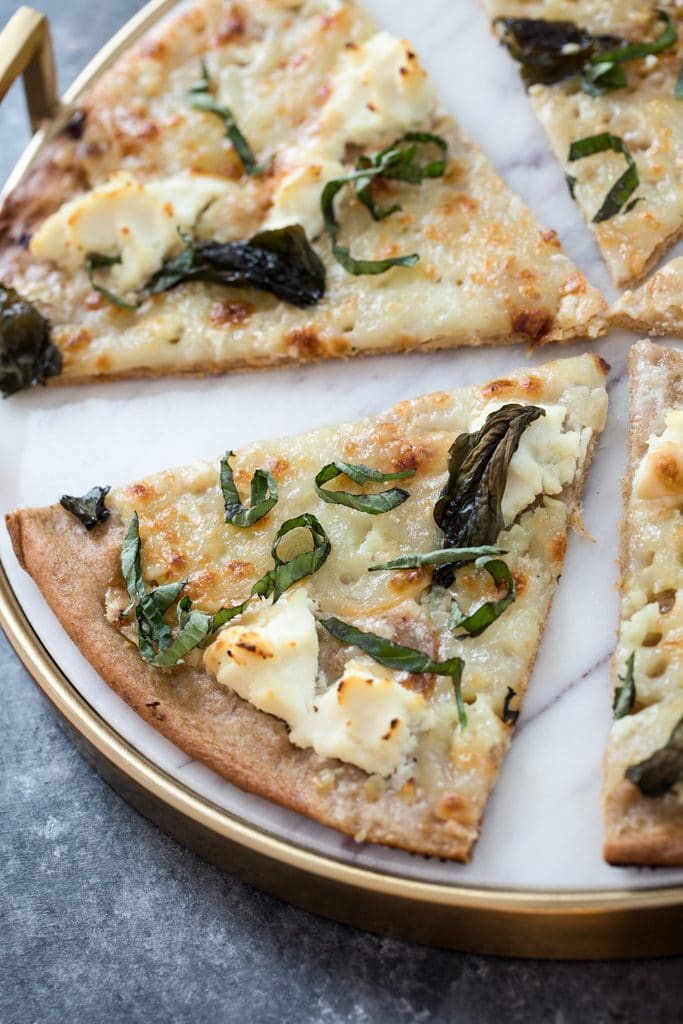 I typically brush my dough with olive oil and then use a bunch of random toppings. It's funny because when I order pizza out, I almost always only want plain old pepperoni, but I never make it myself. For now, it's going to be all white pizza all the time!
Oh, grocery store checkout boy, how I wish I could have brought you a slice. Maybe then you could have seen how glorious plants are. And not just those "spicy" peppers that are actually bell peppers. Oh man, I fear that the youth of today is in serious trouble.
Do you love white pizza or are you more of a tomato sauce traditionalist?
If you like this non-traditional pizza, check out my French Onion Soup Pizza and my Shrimp Scampi Pizza. Oh and for my fellow white pizza lovers, you have to try my Bacon White Pizza Dip! Oh, and I love the idea of burrata pizza like this one from Spices in my DNA.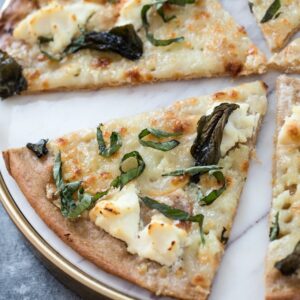 Print Recipe
Basil and Garlic White Pizza
Traditional pizza is always delicious, but there's something about a cheese-filled white pizza that really hits the spot. Add on a slathering of garlic oil and plenty of basil and you'll be in pizza heaven!

Ingredients
5

cloves

garlic,

minced

3 1/2

Tbsp

extra-virgin olive oil,

divided

Whole wheat pizza dough

(1/3 of recipe below or you can use store-bought)

8

oz.

mozzarella cheese,

cut into slices

1/2

cup

part-skim ricotta cheese

15

basil leaves,

divided

1

oz.

shaved parmesan cheese
Whole Wheat Pizza Dough
1/2

Tbsp

active dry yeast

1 3/4

cup

lukewarm water

1/2

Tbsp

salt

1

Tbsp

honey

(can substitute with sugar)

1

Tbsp

extra-virgin olive oil

2

cups

whole wheat flour

1 1/2

cups

all-purpose flour
Instructions
Pre-heat oven to 450 degrees. Cover a 12-inch round pan with foil and lightly brush with 1 Tbsp olive oil.

Mix together minced garlic and 2 1/2 T extra-virgin olive oil in a small bowl.

On a lightly floured surface, roll out dough into a 12-inch round and place on prepared pan.

Using a pastry brush, brush dough with garlic olive oil mixture.

Layer slices of mozzarella on top of dough and spoon crumbles of ricotta cheese around.

Cover pizza with 12 basil leaves and parmesan cheese shavings.

Bake for about 18-22 minutes, until crust is browning and crispy. Chiffonade remaining 3 basil leaves and sprinkle over the top.
Whole Wheat Pizza Dough
In a large bowl, combine yeast and water. Let sit for 3 minutes. Stir in salt, honey or sugar, and olive oil.

Using a wooden spoon, stir in whole wheat flour and all-purpose flour until just blended. If dough is still wet, add in a bit more flour, 1 Tbsp at a time.

Cover the bowl with a towel and set aside at room temperature for about two hours, so it can rise. Once risen, either use dough or refrigerate if not using right away.
Notes
Pizza dough recipe adapted from Artisan Pizza and Flatbread in 5 Minutes a Day.
Leftover dough can be wrapped tightly in plastic wrap and stored in fridge for 5 days.
You can also freeze it for up to three months. Just make sure to divide it into individual portions before freezing.