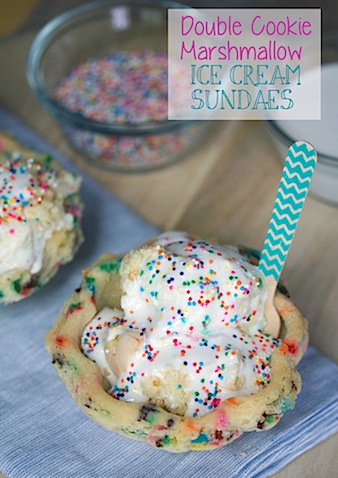 An ice cream sundae so good, you'll want to eat the bowl. And you can. Should, rather. For real. I made these little handy dandy cookie bowls with Wilton's Ice Cream Cookie Bowl pan and they're totally life changing. A completely edible ice cream sundae. Actually, don't eat the spoon. I love my little wooden chevron spoons, but don't imagine they'd go down so easy. I need to ask Wilton to get on that one next.
As part of Wilton's Treat Team, I get fun little packages every so often packed with Wilton surprises. Earlier this month, I got a box filled with ice cream-themed products, like this tin, Cookies and Cream sprinkles, ice cream cookie cutters, and more. The theme of my partnership with Wilton seems to be "try things I never would have considered trying in the past." Cookie bowls? Not even on my radar a couple months ago. Now? I want to eat everything out of a cookie bowl. Especially cereal. I also want to make a crouton bowl for soup. And tortilla bowls for taco meat. Edible bowls for everyone!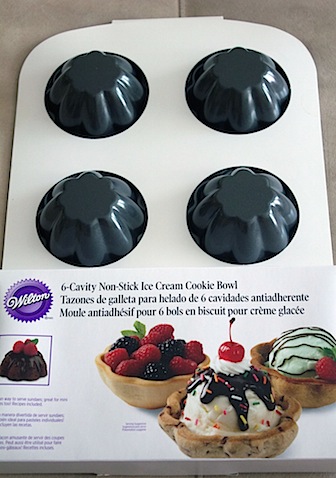 Double Cookie Marshmallow Ice Cream Sundaes:
Cookie Bowls (makes 12):
2 3/4 C all-purpose flour
1 t salt
1 C (2 sticks) butter, room temperature
1 1/2 C granulated sugar
1 egg
2 t vanilla extract
1/3 C sprinkles
Double Cookie Marshmallow Ice Cream Sundaes (makes 2):
2 cookie bowls
1 C marshmallow fluff
4 C vanilla ice cream
4 Italian anise cookies (preferably with sprinkles)
1/4 C sprinkles
Pre-heat oven to 350 degrees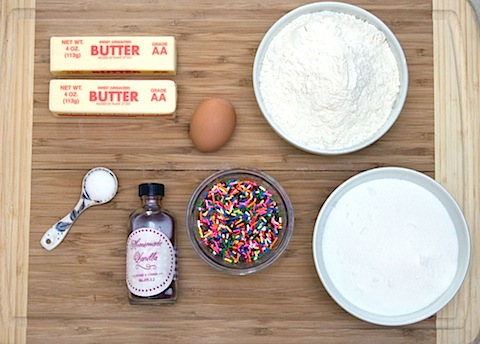 Start by spraying the outside of the cookie bowl tin with vegetable spray. Do not forget this step! Otherwise you'll have cookie bowl disaster.
Whisk together flour and salt in a medium bowl.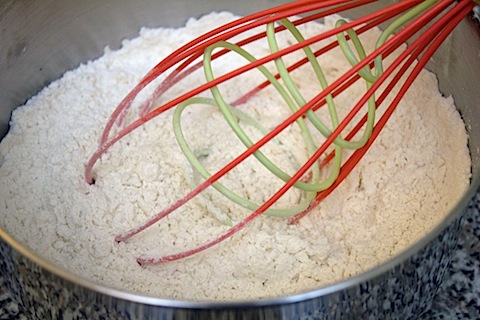 In the bowl of an electric stand mixer, beat butter and sugar together until light and fluffy.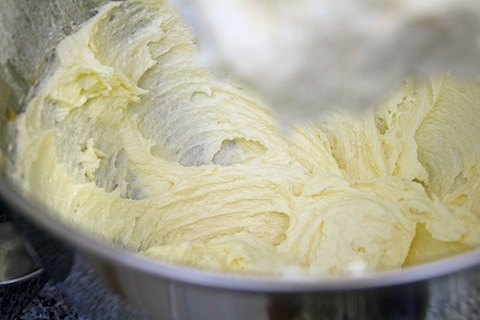 Then beat in egg and vanilla.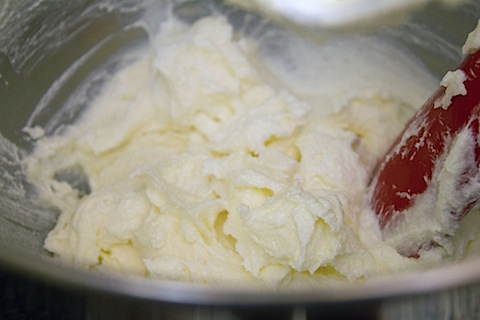 Slowly add flour mixture, one cup at a time, mixing after each addition until just incorporated.
Fold in sprinkles.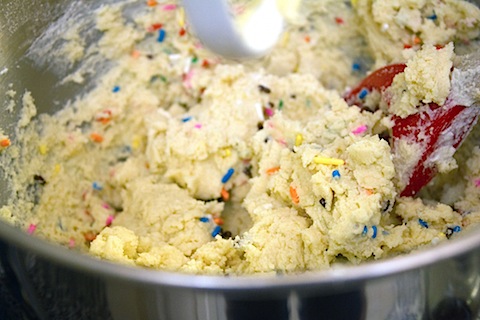 On a floured surface, roll dough out to 1/8 inch thickness.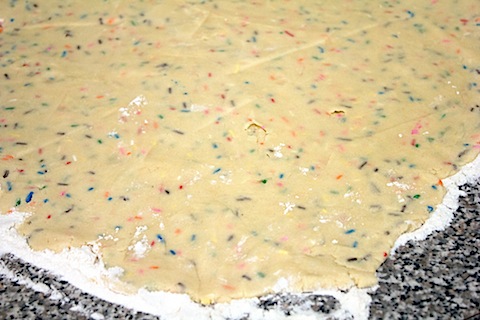 Then cut out 4 1/2 inch circles. I found a glass that measured 4 1/2 inches in diameter and used it to cut out my circles. You should be able to get 12.
Once dough circles are cut out, drape one circle over each bowl cavity of pan, pressing to form smooth surface.
I popped the pan in the fridge for about 15 minutes here, just based on some reviews people left on Wilton's website.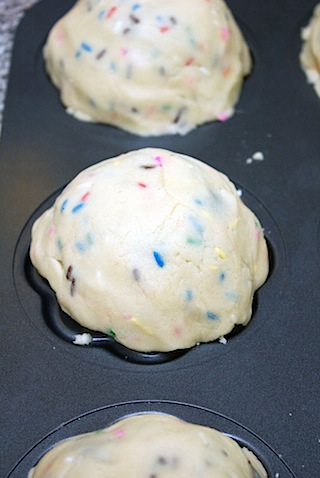 Then I baked for about 11-13 minutes, until the cookies were beginning to turn golden brown. I cooled them on the pan for 10 minutes and then removed them from the pan (Wilton says to use a small spatula, but mine came right off with a tiny bit of jiggling).
You can see that my bowls weren't nearly perfect; some of them had some holes in them. I'm not entirely sure why that happened as I chilled m y dough to prevent spreading. I guess my circles may not have been quite thick enough, though I thought they were. Scratch that; they probably just weren't completely even throughout. I patched them up with extra cookie pieces I trimmed from the edges of some of the bowls. Fixing cookie problems with cookies; I love this world!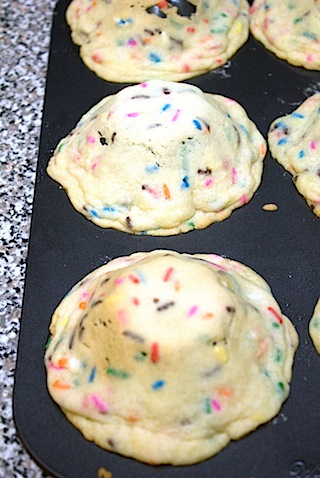 The cookie bowls then need to be completely cooled on a wire rack.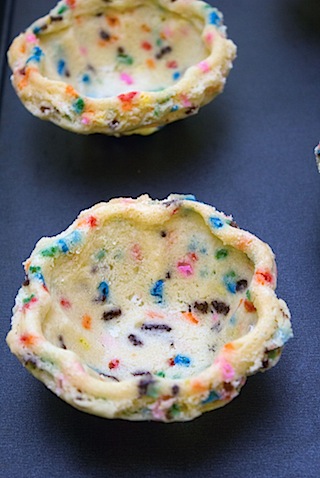 And your cookie bowls are done!
You should make your marshmallow fluff topping next. You could obviously buy this, too, but it's so, so easy to make. You can get my recipe here… You'll only need about 1/4 of the recipe for a couple ice cream sundaes. I usually make 1/2 recipe and keep half in my fridge for emergencies. You know.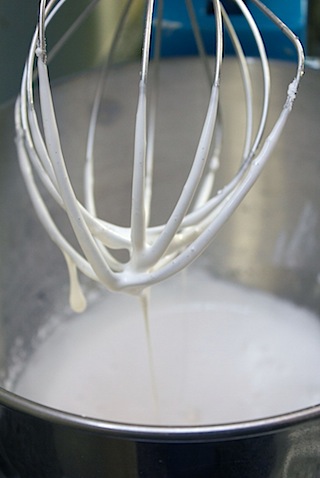 Now it's time to serve the ice cream. I wanted to add more sprinkle and cookie fun to the sundae, so I asked Chris to pick up some sprinkle cookies at the grocery store. He got these Italian anise cookies and they were just perfect.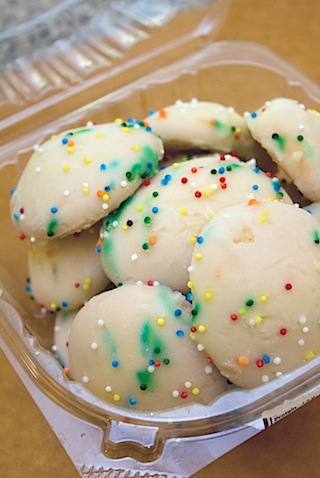 I crumbled the cookies into the ice cream and mixed them all up.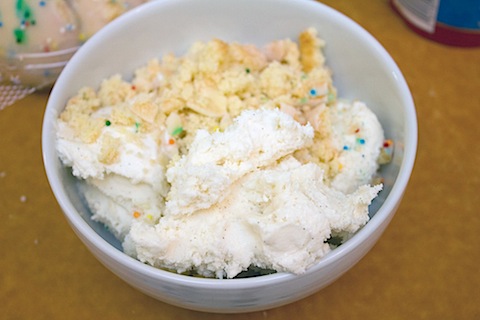 Wilton also sent me their ice cream scoop and it made scooping a super hard vanilla ice cream very easy. Plus, I love the pretty teal color!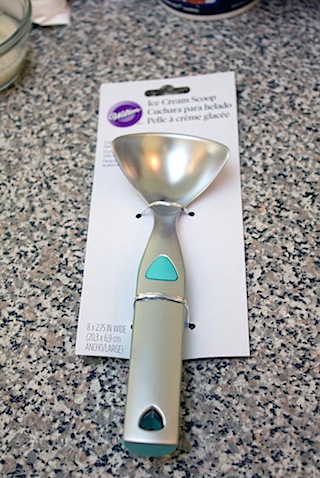 Serve the cookie ice cream into the cookie bowls.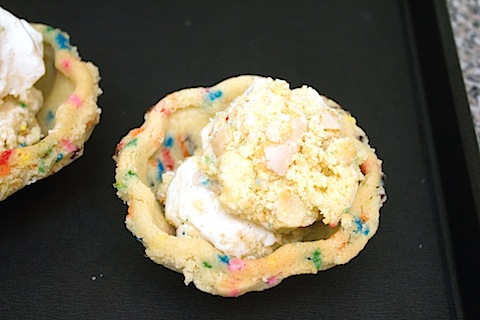 And top with a healthy dose of marshmallow fluff and sprinkles.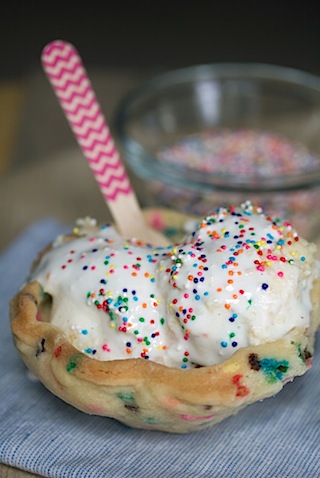 Is healthy dose of marshmallow fluff a total oxymoron. Or is using the word "healthy" anywhere in this blog post simply wrong? I won't try to fight that one. But it's the end of a long weekend and you need to wind it down in style.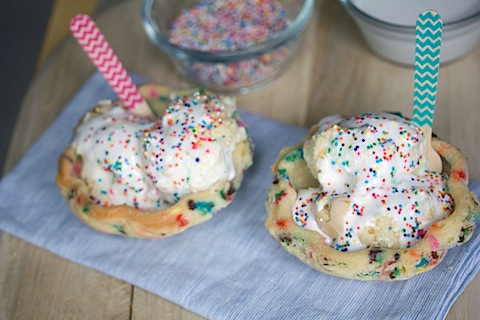 This dessert contains basically all of my favorite things. Other than cocktails and quinoa. But that would be weird.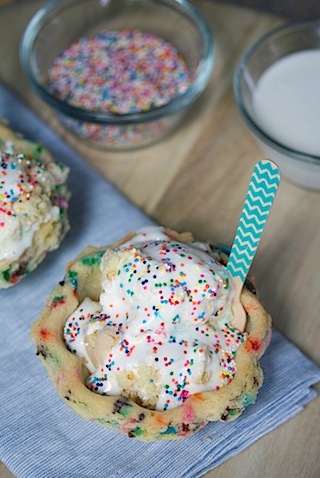 I can't decide if this is more of a sprinkles overload or a cookie overload. I'm going to go with both and say that that is an extremely good thing.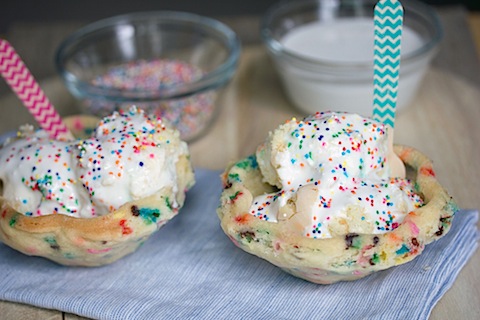 And it was kind of fun to eat a spoonful of ice cream, followed by a bite of cookie bowl. We just had to be careful not to bite the cookie bowl in a way that would cause the ice cream to leak. But if you think about it… this is really no different than an ice cream cone, but in bowl form. I rarely order ice cream cones because I am a very mess-prone person and ice cream cones pose a danger to me. So, an edible bowl really is the best option for me.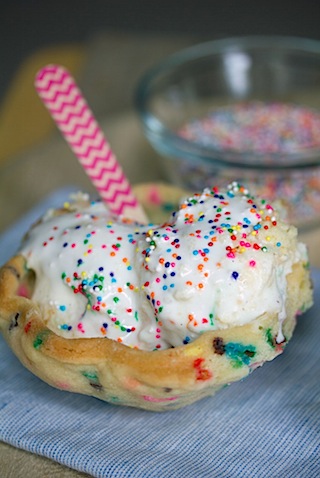 And I love that these cookie bowls can be completely customized with any ingredients you crave. I always crave sprinkles. Which kind of sound strange, considering they don't taste like much. Is it so wrong to crave pretty things?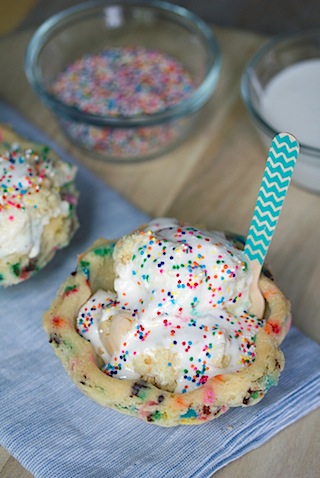 The only thing wrong with this dessert is that the spoon isn't edible. Or covered in sprinkles.
But I'm still focusing on the fact that I can eat the bowls. Well done, Wilton. And me.
What's your favorite kind of ice cream sundae?
[Sues]
Full disclosure: I used products that Wilton sent me in this recipe, but was not required to write a post. All opinions are 100% my own and I've always been an avid user of Wilton products!