Everyone loves a bowl of Cinnamon Toast Crunch, but even better? A bowl of Cinnamon Toast Crunch Ice Cream! This easy-to-make recipe has all the elements of your favorite breakfast cereal including the crunch!
(This recipe for Cinnamon Toast Crunch Ice Cream was originally posted in July 2011, but the post has been updated with new photos and content.)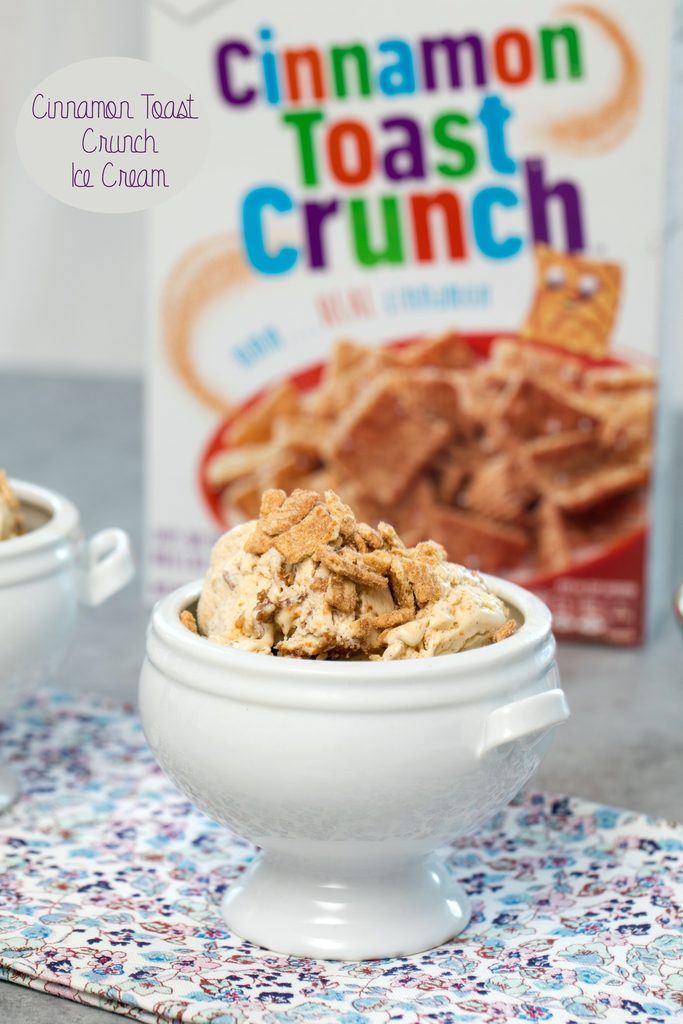 Have you guys been into the Winter Olympics ice skating as much as I have? omg so good. And last night I had a very important revelation... Yup, I should have been an ice dancer. I think I missed my true calling. You see, I took ice skating lessons for years growing up and absolutely loved it... But I'm also a huge wuss and once we started working on jumps, I just couldn't handle it and eventually quit. But ice dancing? Nobody told me there was a form of skating that didn't involve triple axels and quads and spinning in the air while crossing my fingers that my blades would land on the ice instead of my butt. OK, so I might have a little trouble trusting my partner to lift and spin me and get me back on the ice in one piece, but some kind of support is better than none, right? I'm sad that I now feel too old to really get back into ice skating and considering that I spent 5 minutes shoveling my deck steps the other day and had back pain all night, I know I should probably stay away from the ice rink. Sigh.
Plus, I'm not exactly in the right mindset for vigorous training and most days, the most physical activity I get is taking my dog for a walk or running around the backyard with her. Also? Olympic athletes are likely not sitting on their couches eating Cinnamon Toast Crunch Ice Cream most nights. And that's exactly where I want to be. So, even if I had known that ice dancing was a thing back in my skating days, I probably still wouldn't have made it very far. At least, I'm content watching it on TV and pretending it's something I could have been good at if given the opportunity. Maybe I could just be a commentator instead?
But wait, one more thing... If I had, in fact, been an Olympic athlete, I don't think I'd want my photo on a box of Wheaties. I'd want it on a box of Cinnamon Toast Crunch. Do you think that's too much to ask? I don't know... the little Cinnamon Toast Crunch guys that are currently on the box look a little disgruntled already and they probably wouldn't be thrilled to have me there. But I promise I wouldn't steal their spotlight.
I love buying sugary cereal, but I have to say that I never eat it for breakfast. I save it for dessert, snack-time, and to incorporate it into my baking (thanks to my mom for instilling the importance of a good, low-sugar breakfast into me). When I got the idea to use Cinnamon Toast Crunch cereal in ice cream, I did a bunch of experimenting. I eventually settled on two truths: 1) Cinnamon Toast Crunch Ice Cream is best made with milk that's had cereal soaking in it for hours and 2) you'll want a little bit of crunch in this and the best way to do that is to caramelize some of the Cinnamon Toast Crunch. Now that I've made this ice cream several times over the years, I can confirm that the cereal is just as delicious in ice cream as it is in your morning milk.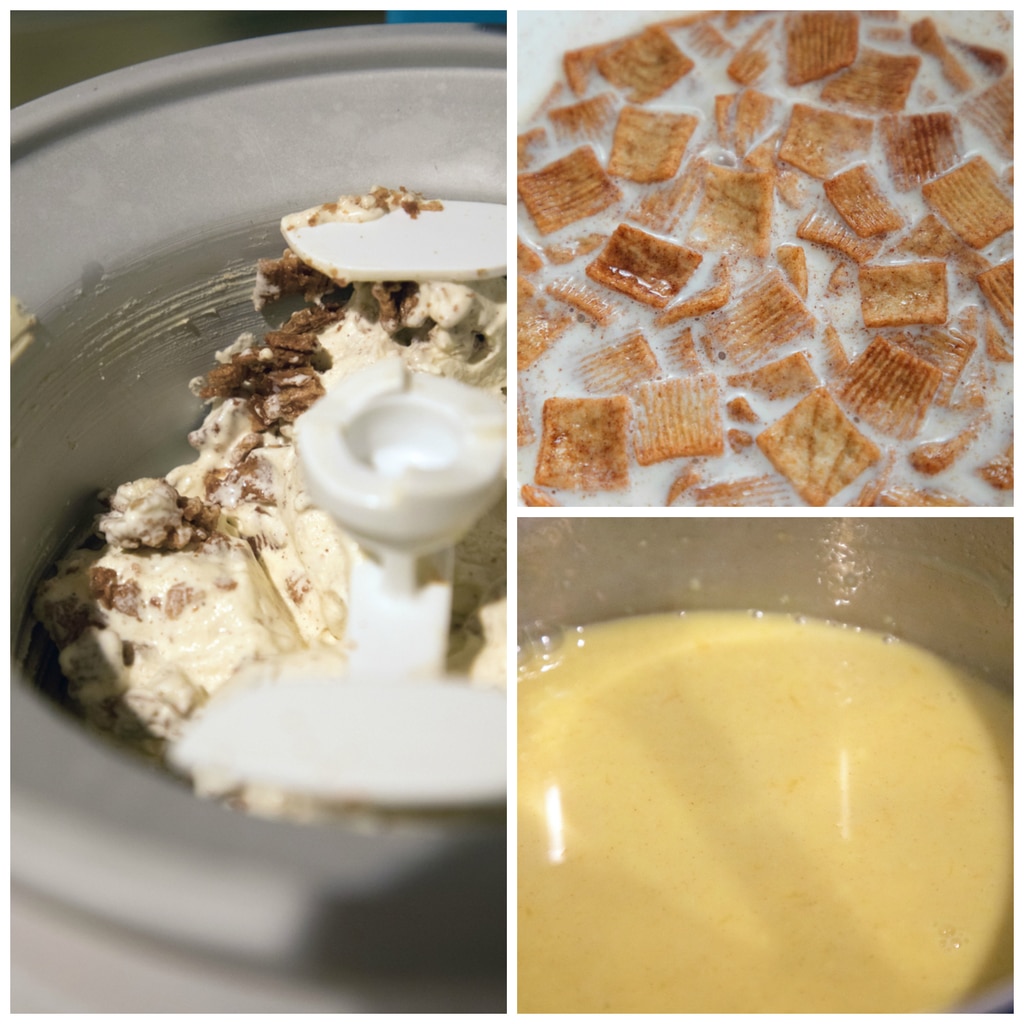 Caramelized Cinnamon Toast Crunch is so delicious that you'll likely want to have some at the ready at all times for snacking.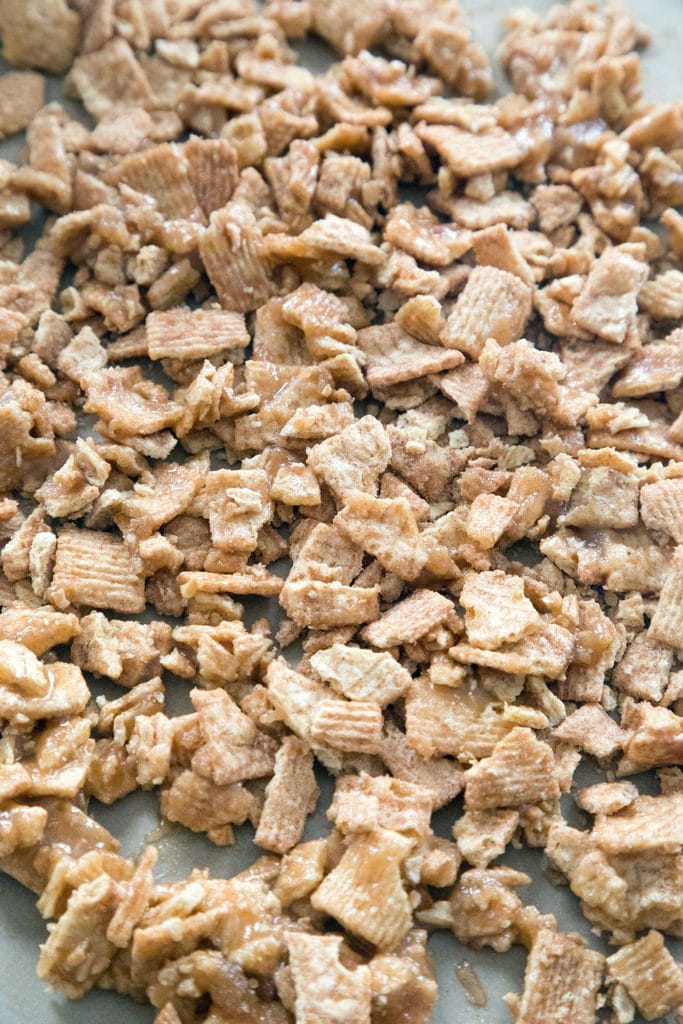 Serve the Cinnamon Toast Crunch Ice Cream with a little bit more Cinnamon Toast Crunch sprinkled on top if you so desire. And why wouldn't you? If you're going to go for it, you may as well go all out. It's not like I'm telling you to eat this for breakfast. But I also wouldn't tattle on you if you did. Who am I going to tattle to anyway?? You're an adult. Act like one.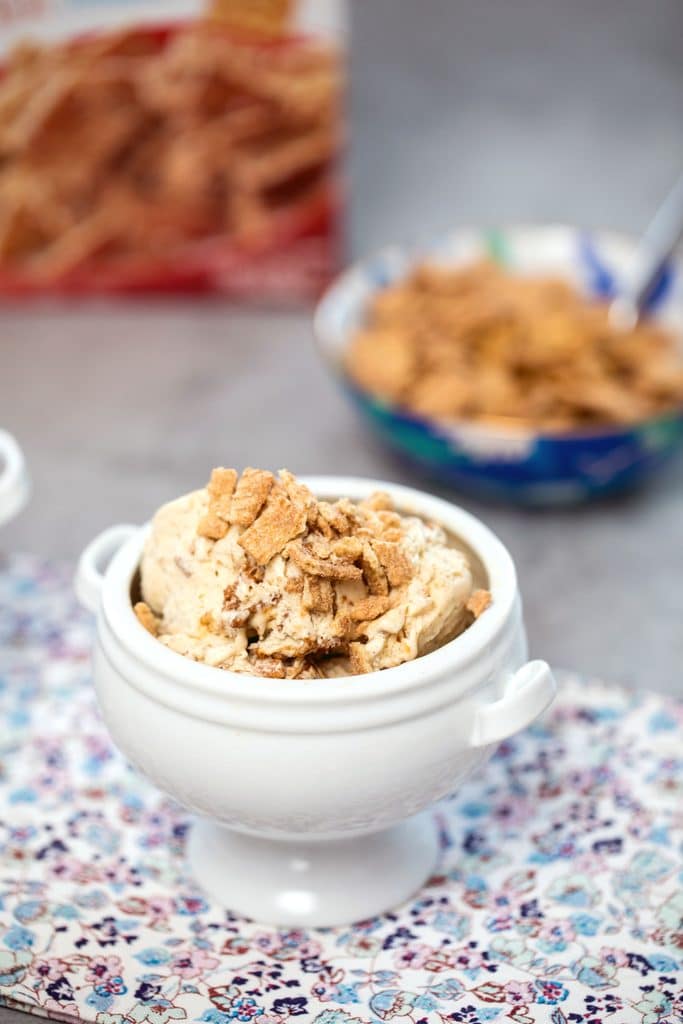 And. Heaven. The ice cream really did taste just like the cereal and was exactly what I was hoping for when I first came up with the idea. And I might not be lying if I told you Chris ate this whole entire bowl after I photographed it. OK, so I told him he had to eat the whole thing and he claims he didn't realize I was joking. Suuure.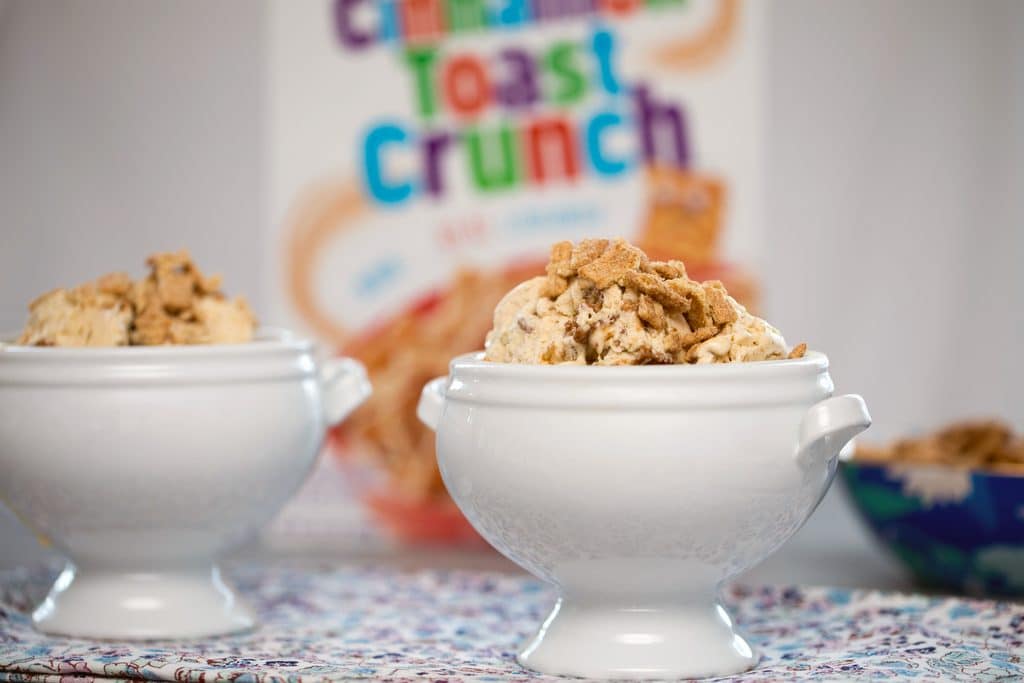 I've made about a million different ice creams in my lifetime and always play around with ratios depending what I'm in the mood for. Because I used five eggs in this Cinnamon Toast Crunch Ice Cream, it was a perfectly creamy ice cream without any icy-ness, which is exactly what I was hoping for. I feel like a cereal ice cream needs to be extra creamy.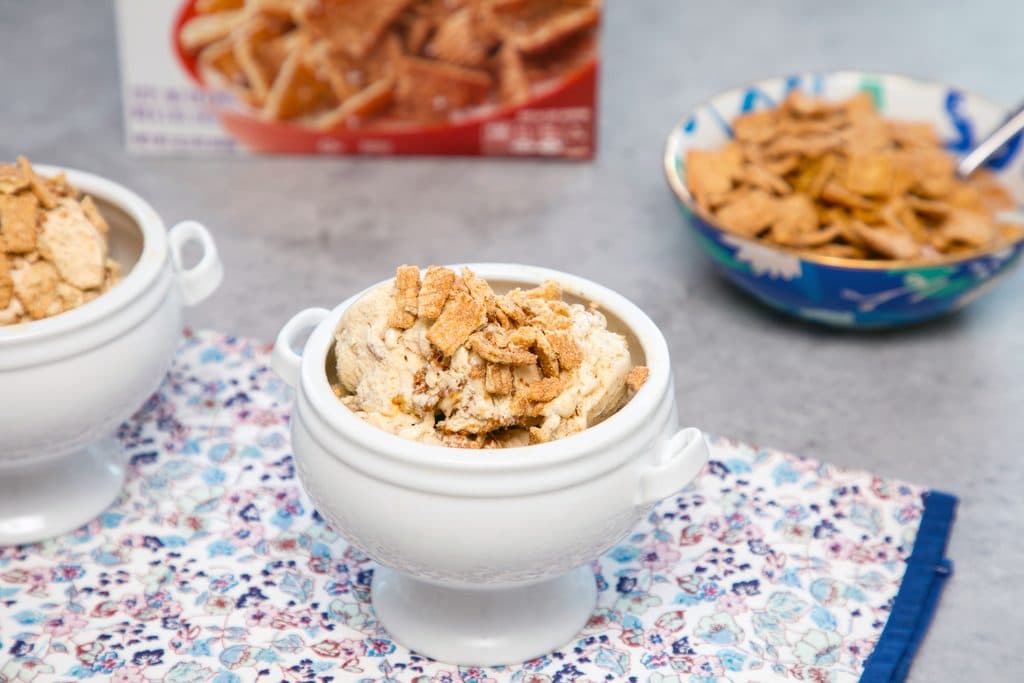 If you love sipping your cereal milk after the cereal is long gone, this is the ice cream for you. Or if you just need an excuse to have a box of Cinnamon Toast Crunch in your pantry. I'm always looking for one.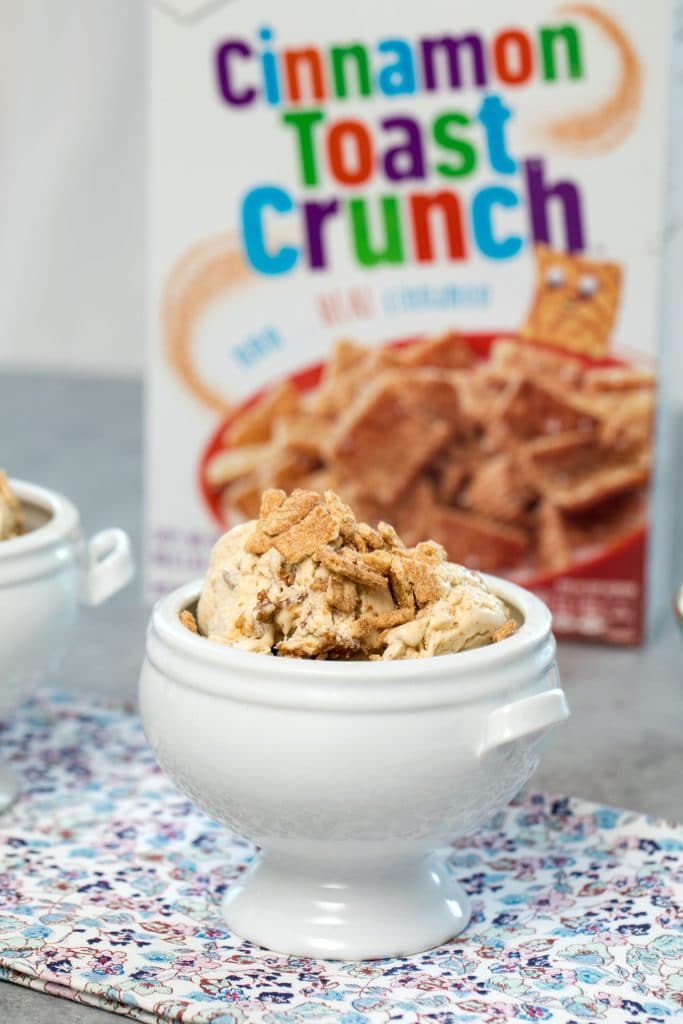 I'm probably taking this "it feels like spring!!" weather a little too far considering it's still February in New England and as my sister reminded me the other day, "sometimes it snows in April..." But I also feel like there's no bad time for ice cream and it's a treat that I most certainly eat year round. All the better if I can eat it outside while wearing a sundress (does the 70 degree weather that's predicted for tomorrow call for a sundress? Probably not, but I can dream!).
What cereal box would you want your picture on if you were an Olympic athlete? I'm pretty sure I'd have to choose Cinnamon Toast Crunch!
In case you weren't aware, I've also made a quite delicious Lucky Charms Ice Cream... What should come next??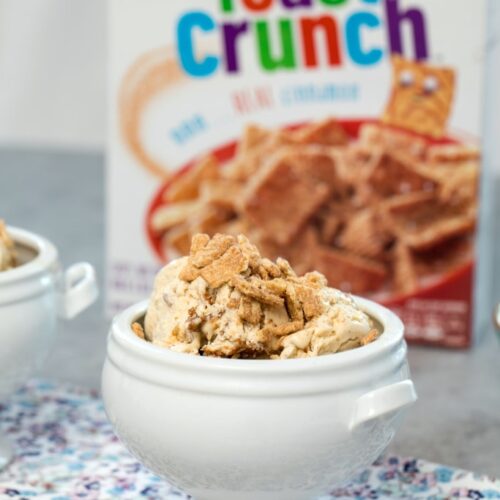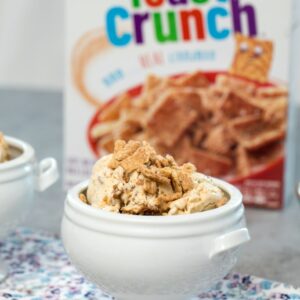 Cinnamon Toast Crunch Ice Cream
Everyone loves a bowl of Cinnamon Toast Crunch, but even better? A bowl of Cinnamon Toast Crunch Ice Cream! This easy-to-make recipe has all the elements of your favorite breakfast cereal including the crunch!
Print
Pin
Rate
Makes:
1
quart (a little over)
Ingredients
3

cups

Cinnamon Toast Crunch cereal,

divided

1 ⅓

cups

whole milk

¼

tsp

of salt

½

cup

granulated sugar

5

large egg yolks

2

cups

heavy cream

1 ½

Tbsp

vanilla extract

1

tsp

cinnamon

3

Tbsp

unsalted butter

2

Tbsp

brown sugar
Instructions
Put one cup of the cereal in a bowl and pour milk into it.

Let cereal sit in fridge for at least 6 hours (you can do less time, but for maximum flavor, I recommend 6).

Strain the milk from the cereal, reserving a cup of the milk. Put milk into a medium saucepan and heat with the salt and sugar over medium heat. Bring mixture to a simmer and then remove from heat.

Whisk egg yolks in a separate bowl.

Pour half of the hot milk mixture into the egg yolks, whisking constantly. Then pour that back into the saucepan with the rest of the milk. Cook mixture over low heat, stirring constantly, until it thickens enough to coat the back of the spoon.

Pour the cream into a separate large bowl place bowl in an ice bath.

Strain the warm milk mixture into the bowl of cream. Mix in vanilla and cinnamon and stir over the ice until cool.

Put the bowl into the fridge for at least 6 hours or overnight.

In the meantime, pre-heat oven to 350 degrees.

Put the remaining two cups of cereal in a bag and crush it a little bit.

Heat butter and brown sugar in a bowl in the microwave until it's melted. Whisk together until blended and pour it over the cereal in the bowl.

Spread the cereal over a parchment-lined cookie sheet in an even layer and bake at 350 degrees for about 10 minutes, until it's nice and caramelized.

Remove from oven, let cool, and break into small pieces.

When milk/cream solution is done chilling, process according to your ice cream maker manufacturer's instructions.

When the ice cream is almost done processing, mix in the Cinnamon Toast Crunch pieces. Then store the ice cream in a separate container and let freeze for another few hours, or overnight.

Serve ice cream in individual bowls and sprinkle a little bit more Cinnamon Toast Crunch on top if desired.
Share a Photo of Your Finished Recipe!
Mention @wearenotmartha and share a photo if you've made the recipe!