This post has been sponsored by Eggland's Best, but as usual, all opinions are my own. Thank you so much for supporting my blog!
These Egg, Apple, and Banana Pancakes for Dogs will have your dog very excited for breakfast. The only downside is that your pup may start waking you up even earlier!
Hello. It's Friday and the perfect time to start planning your weekend breakfasts. Pancakes, anyone? Oops, I'm sorry, but unfortunately, these pancakes are not for you. I'd feel bad, BUT Saturday is National Dog Day and you should be putting your dog's needs ahead of your own (unless you're like me and you already do that every day). Don't have a dog? Well, um, I recommend adding a little bit of sugar and vanilla to this pancake batter and enjoying this breakfast yourself. Or just consider them a healthier version of your regular pancakes so you can feel good about celebrating Whiskey Sour Day later on in the evening (LOL, really though).
I'm a ridiculous person and pretty much treat every day like National Dog Day, but this year is extra special because Winnie and I are celebrating with Eggland's Best. We actually did our main celebration yesterday when we took over their Instagram Stories feed to make two fun dog-friendly recipes. I'm sharing the first of those here with you today… Egg, Apple, and Banana Pancakes for dogs.
I've said it before and I'll say it a million times in the future I'm sure, but my dog is the BEST. I've always been a crazy dog person (I was bit by several dogs as a child because I was always up in their faces trying to love them) and I was obsessed with my childhood dog, but I never thought I would love this pup like I do. It's borderline a problem, but I'm just going with it for now because she makes me so happy.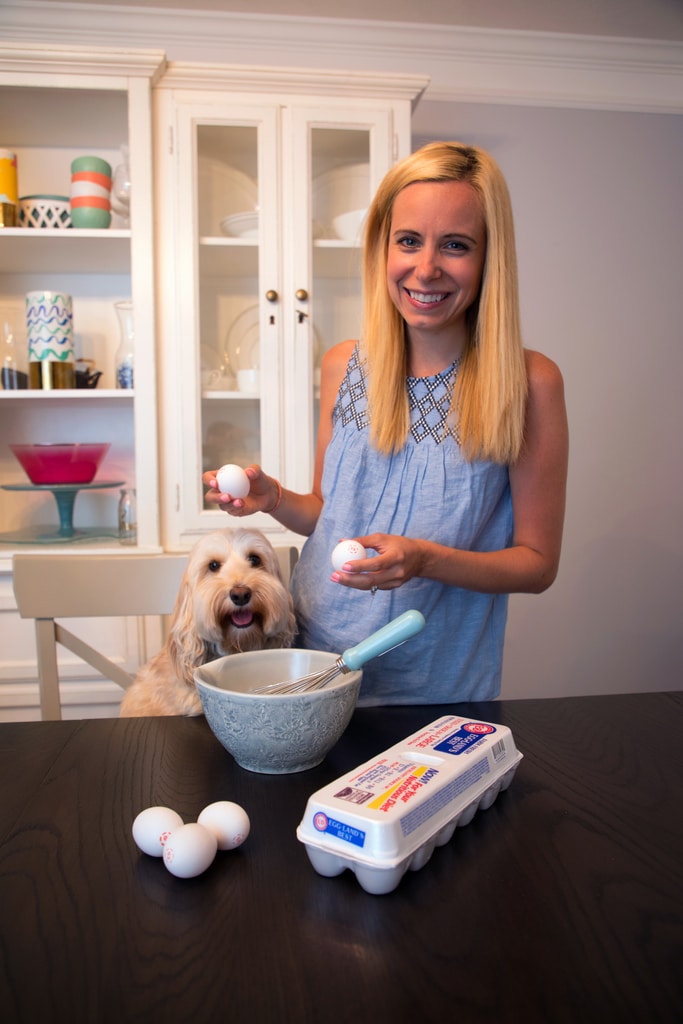 I was really happy about the opportunity to work with Eggland's Best for National Dog Day and the release of the new Pup Star 2 movie for a couple reasons. I'm sure you've heard me talk about how obsessed I am with their eggs (the only brand I buy!). But also? Winnie LOVES eggs. She especially loves hard-boiled eggs, but remember those mini quiche I made her a couple months ago? Obsessed. So, I knew she'd totally be on board with helping me develop some new dog-friendly recipes and launching an Instagram takeover. She was basically like, "Hair? Check! Makeup? Not necessary. I'm camera-ready, yo!"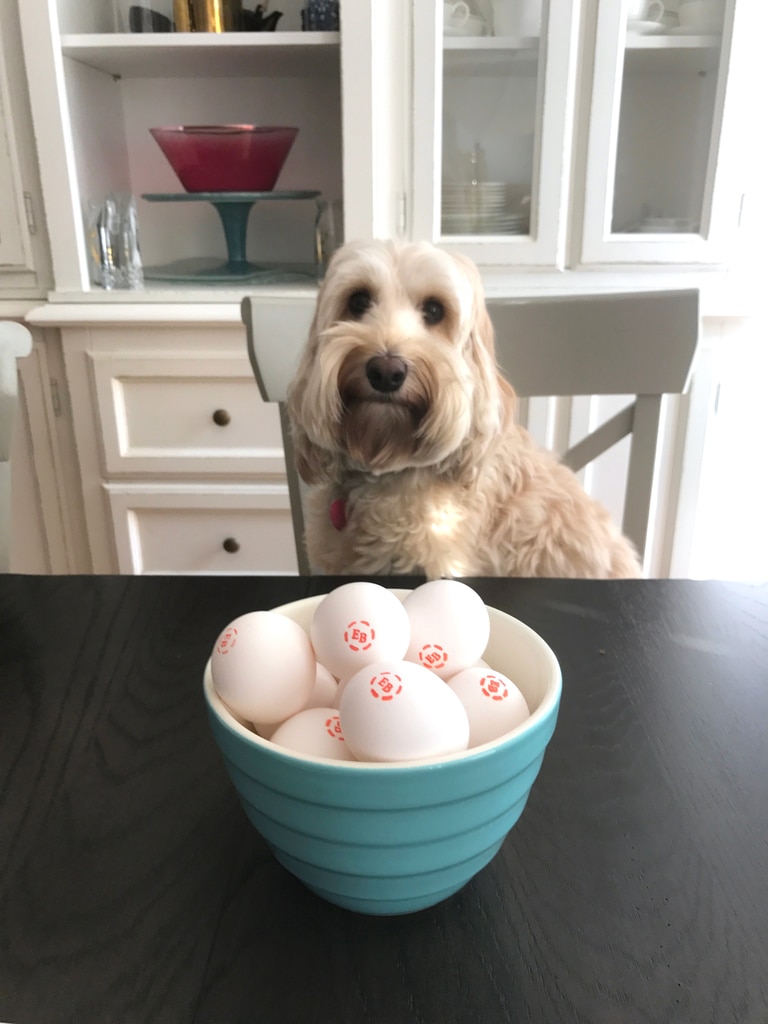 For our first recipe, we decided on egg-based pancakes with a little bit of whole wheat flour and mushed banana and grated apple. Just five ingredients total; super simple and healthy!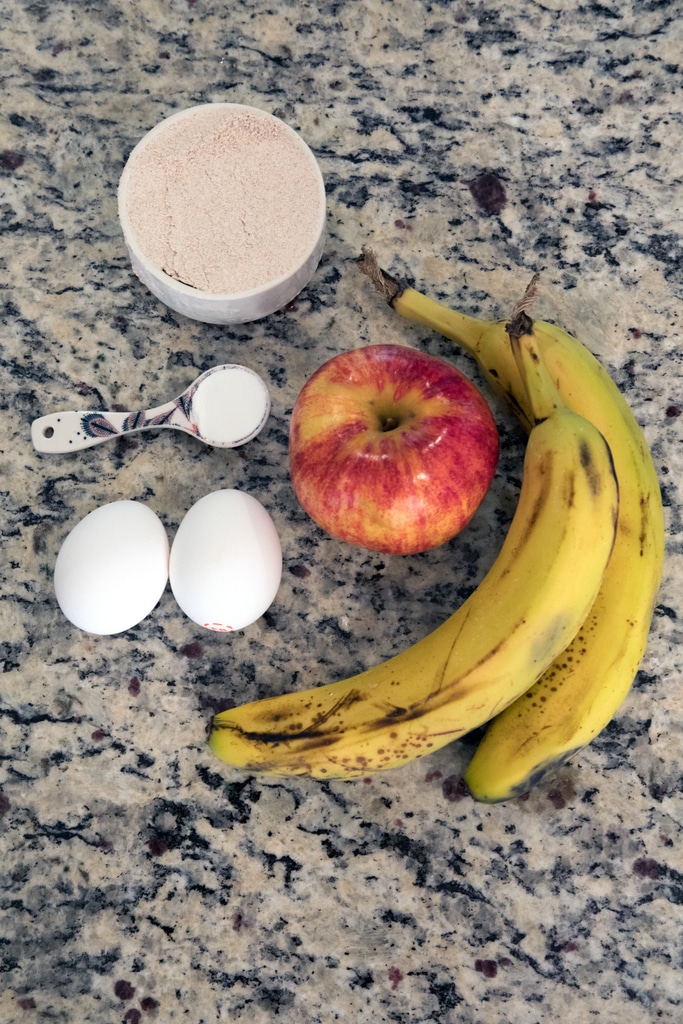 I think I could probably win some awards for worst-shape pancake maker… But the good thing about cooking for dogs is that they really don't care about the shape of the food.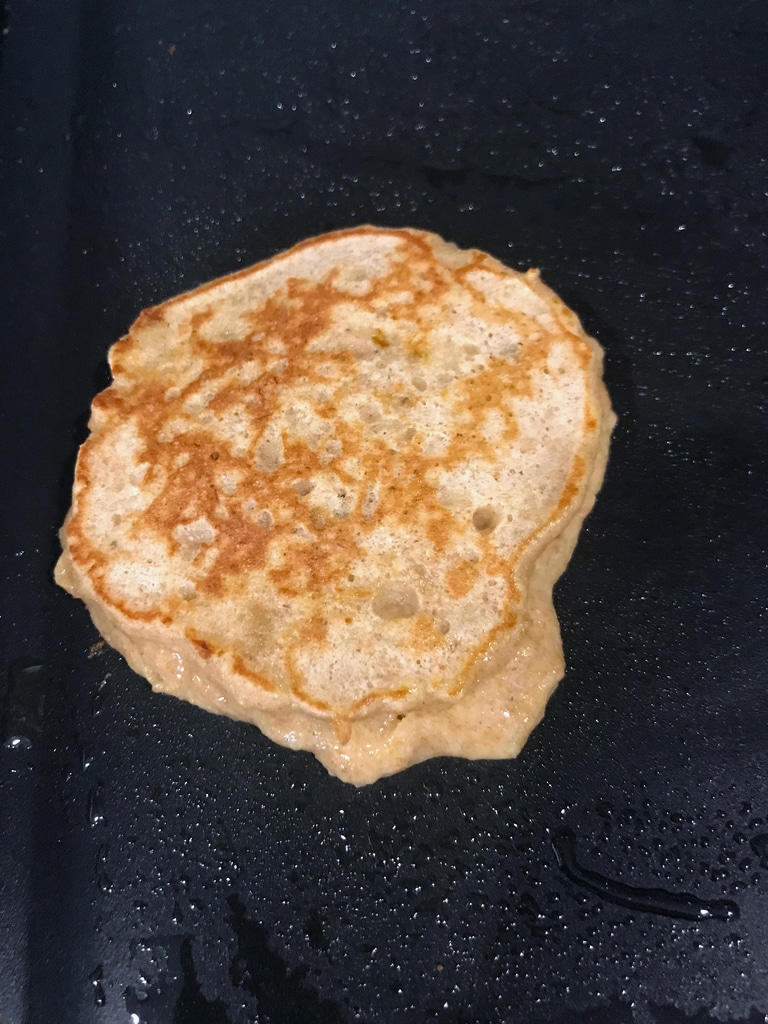 They'd prefer it to just be ready as quickly as possible.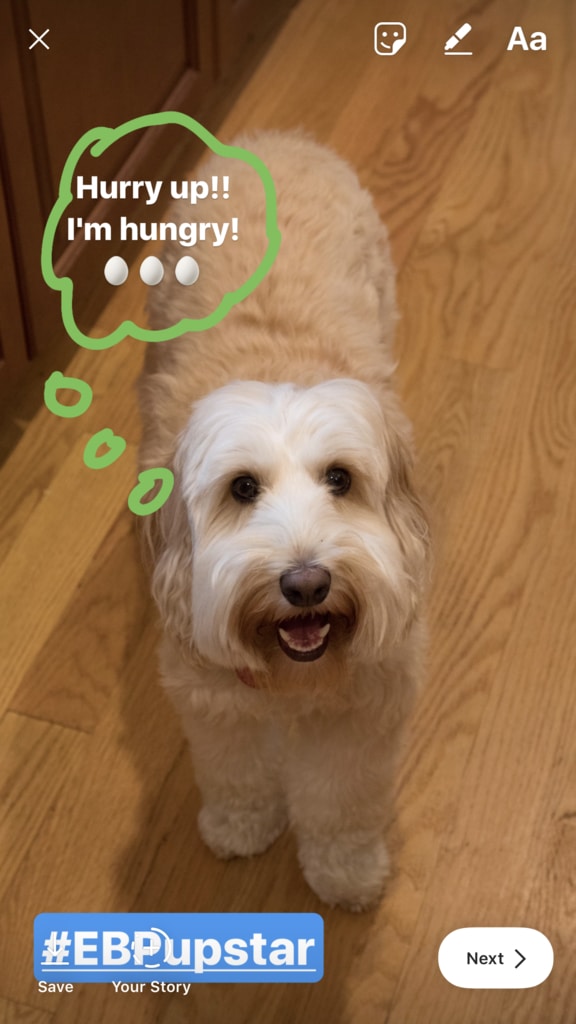 Luckily, these pancakes take just minutes to prepare! If you're feeling fancy, you can top the pancakes with some whipped cream and sprinkles. I just whip a little heavy cream and don't add sugar or vanilla. And my sprinkles are naturally-colored (affiliate link) as I don't want to feed Winnie anything artificial.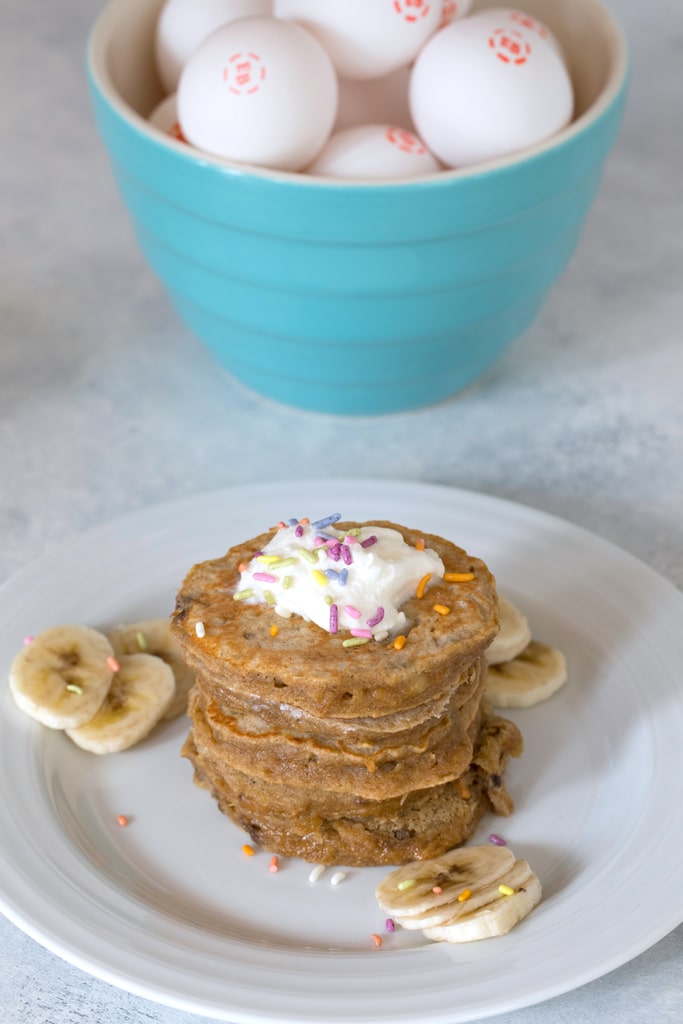 Don't the whipped cream and sprinkles make this feel like such a special breakfast? In honor of National Dog Day, a little extra celebration is a must. While whole wheat flour can sometimes make pancakes a bit dense, the two eggs in this recipe really lighten things up for a great consistency.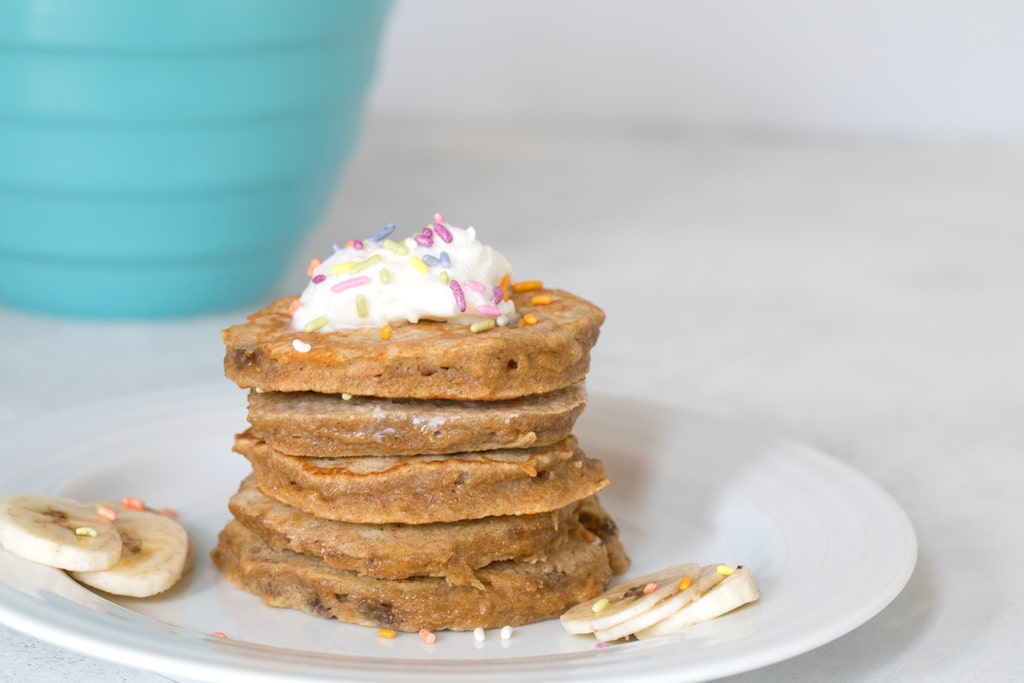 Like I mentioned, these are obviously pancakes for dogs, but as you can see from the ingredients, they're totally OK for humans, too. In fact, they're likelier way healthier than the pancakes you usually eat. I think they're super tasty and have enough flavor from the banana and apple pieces, but they could probably benefit from a little sugar and/or vanilla if you prefer. Or just a nice healthy dose of maple syrup!
This pancake stack is fit for a queen pup! Not that I let Winnie eat an entire stack of pancakes… Though she would have if I let her.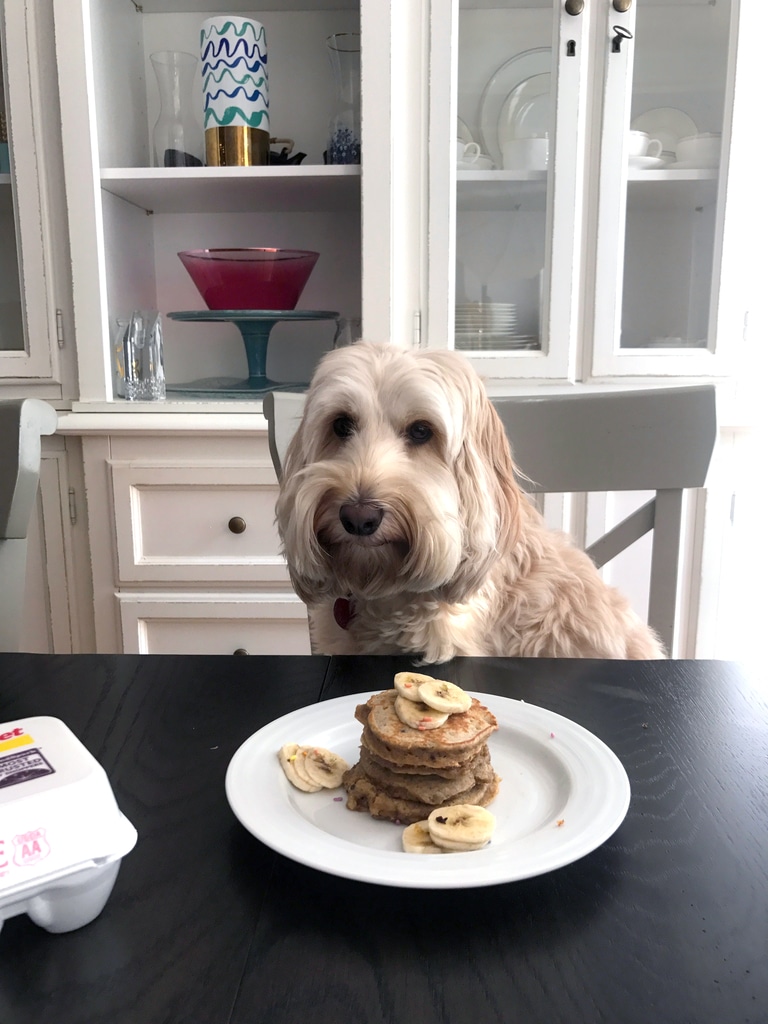 She must have thought she had died and gone to heaven when she saw this stack in front of her and she didn't hesitate just digging right in. Do you blame her?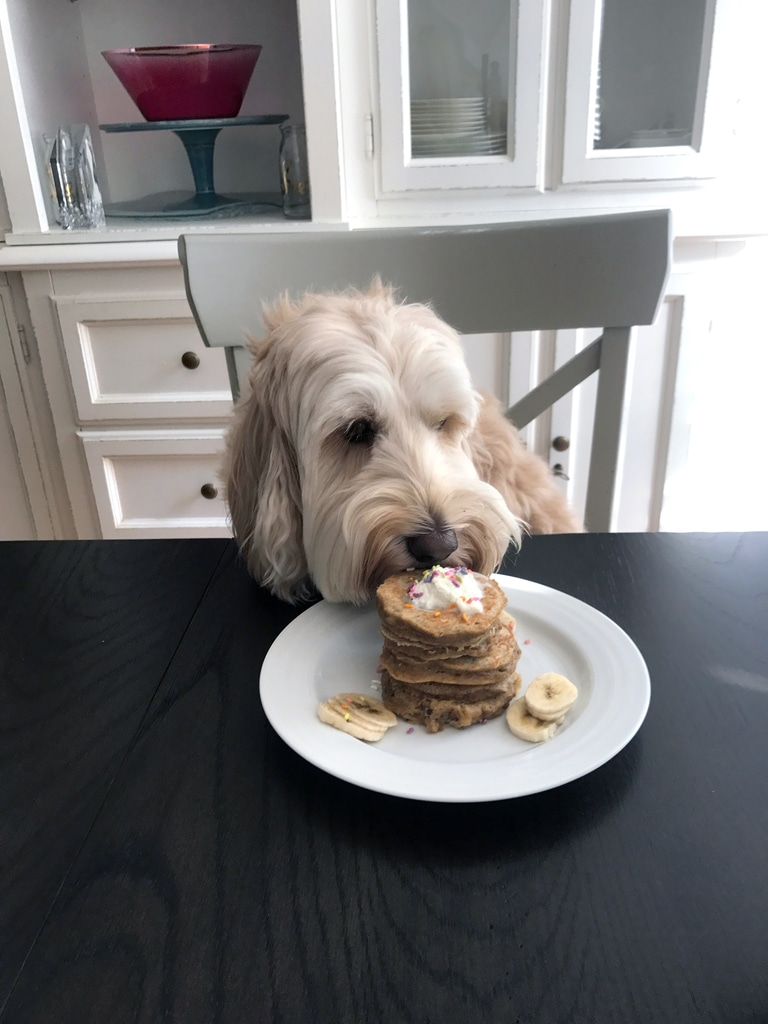 Don't you hate when your beard gets in the way of your pancake eating? The struggle is real, my friends.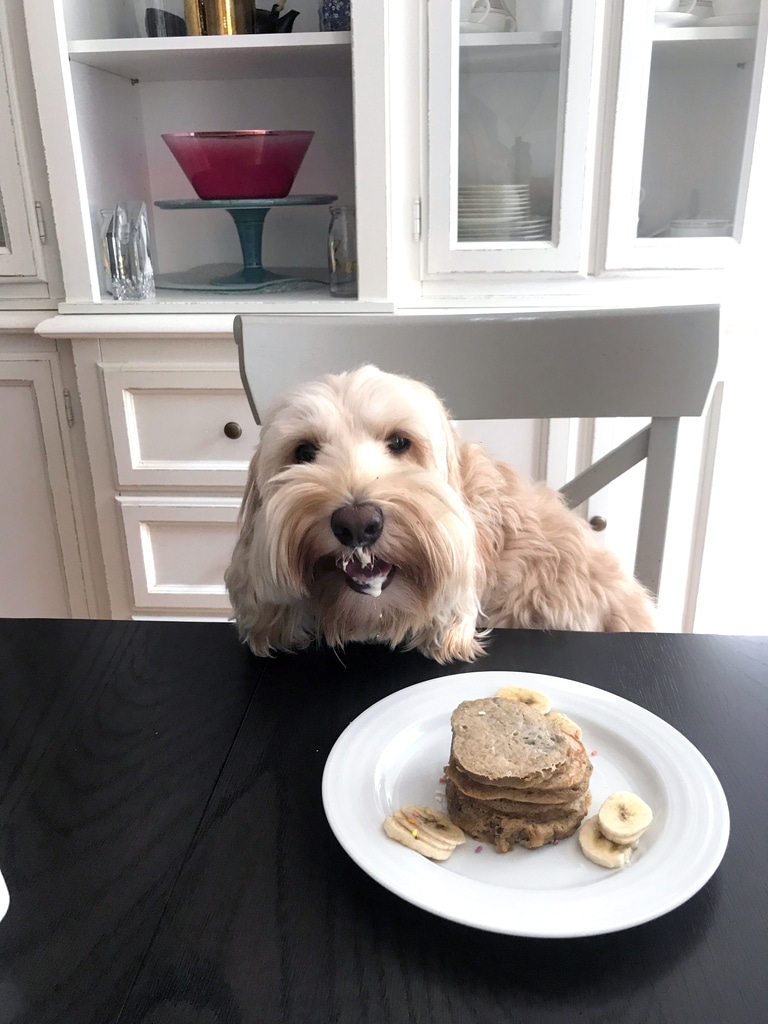 And that's only the first recipe! I'll be sharing my second recipe (Ham and Cheese Sweet Potato Egg Cups) with you soon. In the meantime, make your pup some pancakes for dogs and snuggle them extra tight on National Dog Day. Oh! And enter Eggland's Best's Pup Star 2 Sweepstakes… You could win some really cool prizes, like a trip to Florida, travel packs, bikes and more.
If you have a dog, do you treat him or her with homemade treats?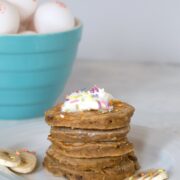 Print Recipe
Egg, Apple, and Banana Pancakes for Dogs
These Egg, Apple, and Banana Pancakes for Dogs will have your dog very excited for breakfast. The only downside is that your pup may start waking you up even earlier!
Ingredients
1

cup

mushed banana

1/3

cup

grated apple

2

large Eggland's Best Eggs

1/3

cup

whole wheat flour

1

tsp

baking powder

Freshly whipped heavy cream

for topping (optional)

Naturally colored sprinkles

for topping (optional)
Instructions
In a large bowl, mix together mushed banana, grated apple, and egg, until well combined.

In a separate medium-sized bowl, whisk together whole wheat flour and baking powder.

Gently stir dry ingredients into wet ingredients until just combined.

Lightly butter a skillet over medium heat and pour about 3 Tbsp of batter onto the skillet. Cook pancake for about 2 minutes on each side.

Top pancakes with whipped cream and sprinkles, if desired.

Let your dog enjoy!
To see my other recipes for dogs, check out these:
Peanut Butter Banana Pupcakes
Chicken Sausage Kale Quiche for Dogs
Peanut Butter Cheddar Dog Bones