I should start by saying that this recipe is not for human consumption. However, the ingredients in it are all totally edible and these dog treats actually smell kind of incredible fresh out of the oven. So, if you're looking for a savory cookie, go for it. You might just want to cut them in a shape other than dog bones. Or not. Whatever floats your boat.
If you've been reading WANM for a while, you've likely met Mitzi a time or two before. I consider Mitzi my cousin and when my aunt and uncle are out of town, I get to stay with her. Lucky for me, I got to spend all last weekend with her 🙂
There are 3 things in life that Mitzi loves:
1) Giving kisses (AKA licking your face)
2) Her green and pink tennis ball (give her 10 different color balls and she'll ALWAYS go for the green and pink one.. who says dogs can't see color?)
3) Chicken Nibbles treats
Her biggest problem in life is the fact that it's not possible to do all three at once. In fact, I'm pretty sure she struggles daily (hourly?) over whether she'd rather hold on to her green and pink ball or kiss your face. Then, if you pull the chicken treats out, she loses all control and has no idea what to do.
Rest assured, if she's not licking you or eating chicken treats, she'll look like this:
The thing about Mitzi and her chicken treats is, they're the only treats I ever see her eat. She has refined taste and turns her nose up at nearly everything, including some fabulous treats I've bought her from exquisite dog bakeries. She only likes these: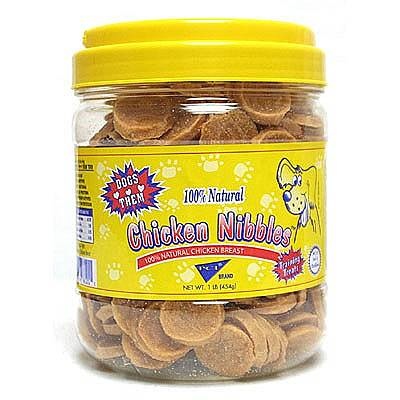 But still, I had to try. Could I make Mitzi a dog treat so good, she'd actually eat it? It was worth a shot.
While I know Mitzi loves peanut butter, I've noticed she isn't really a fan of peanut butter dog treats. So, I immediately opted out of that, though there are tons of peanut butter dog treat recipes out there. I knew whatever treat I made had to have chicken in it.
So, I found a recipe for chicken dog treats, modified it a bit (I didn't see Mitzi enjoying garlic powder), and brought them to her last weekend.
(Full recipe at end of post)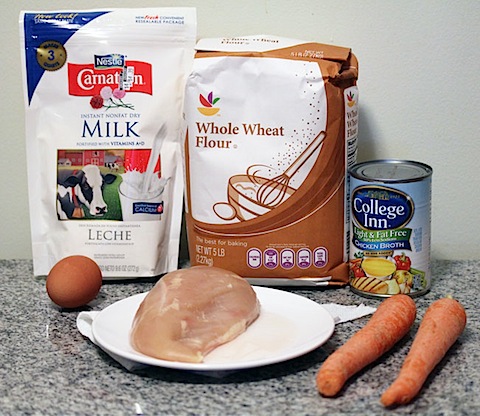 Whisk together the flour and powdered milk in a medium bowl.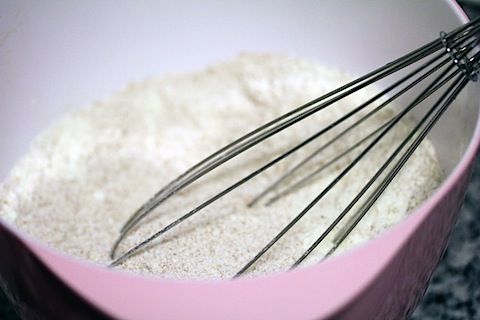 Add in the beaten egg, chicken, carrots, and chicken broth and mix together. Start with 3/4 C of chicken broth and add more if needed. You want the dough to be very stiff.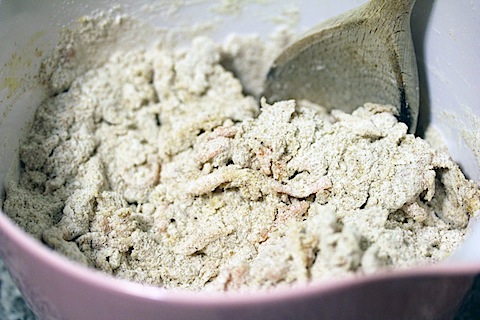 Knead until the dough is firm.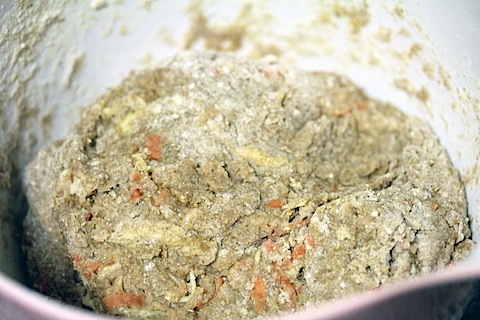 Roll dough out to a 1/4-inch thickness on a well floured surface. And cut out your "cookies." I've had a dog bone cookie cutter sitting in my kitchen drawer for legitimately 5 years.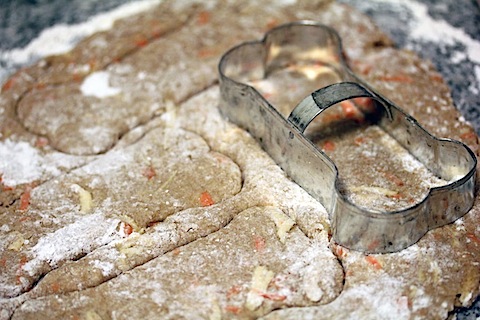 Finally a use for it!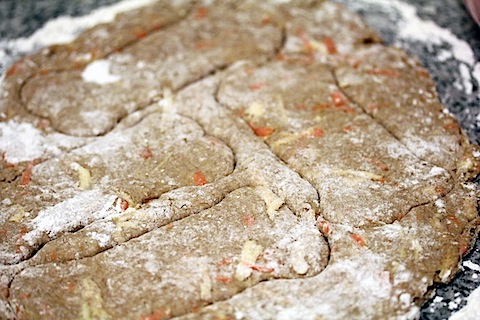 Place cookies on a baking sheet (you might want to lay parchment paper underneath… my cookies stuck a bit, though it wasn't much trouble to get them loose without breaking).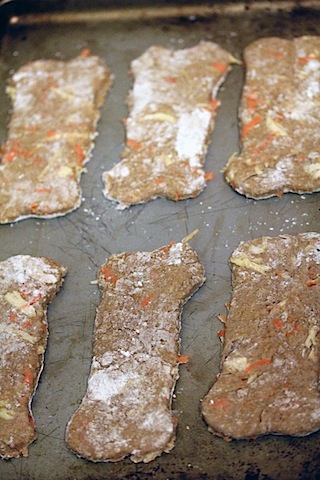 Bake at 350 degrees for about 30 minutes.
And you have fresh-baked dog treats! Or savory human cookies if you decide to go that route. I'm not kidding when I say these smell really good.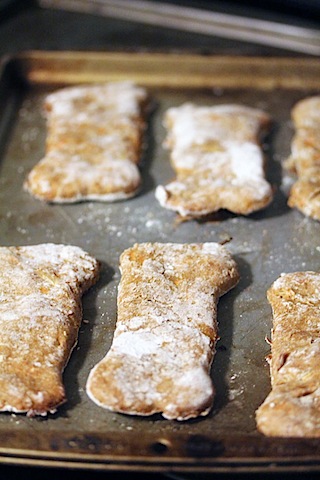 Once I arrived at Mitzi's and got the treats out, she was definitely giving me some skeptical looks.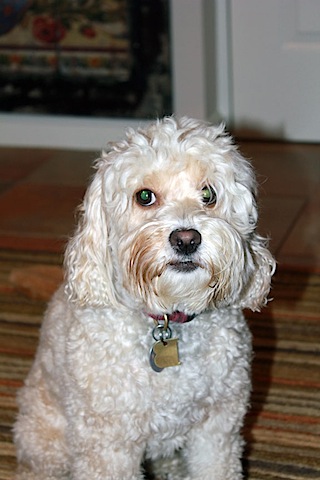 But she was willing to see what I had to offer.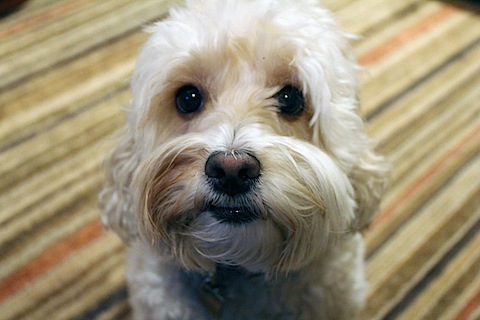 Food? OK.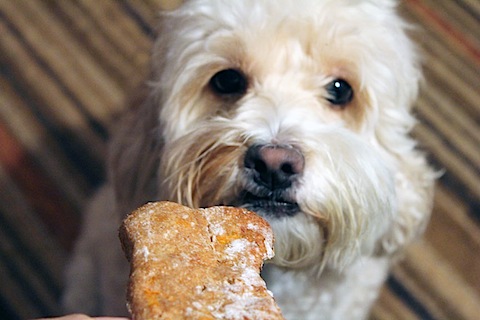 So, Mitzi took the cookie and started walking away. She turned the corner to go up the stairs… Which is really odd since Mitzi NEVER goes upstairs by herself and generally won't leave a room that people are in to go to an empty room.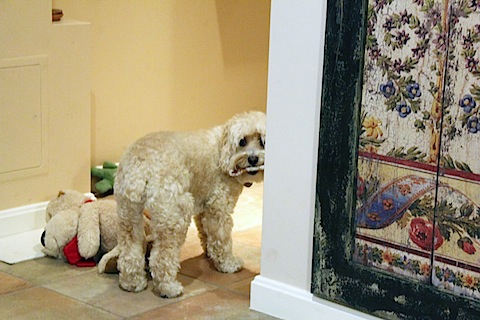 So, of course, I followed her. And when I got upstairs, Mitzi was on the living room couch trying to bury the treat behind the pillows!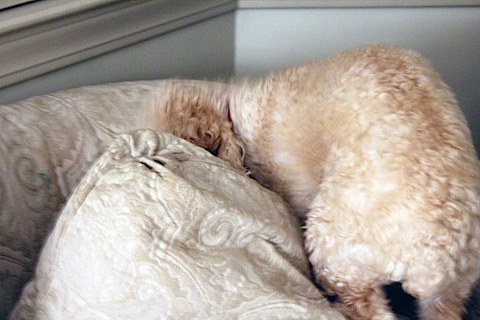 I got it back and gave it to her again. And she took it, went up more stairs and tried to bury it behind the pillows on the bed! I could take this in 2 ways. 1) she really hated the treat and wanted to get rid of it. or 2) she loved it so much she wanted to hide it somewhere safe for later. Hmm, we'll go with #2.
I took the treat from behind the pillows and brought it back downstairs before giving it to her again.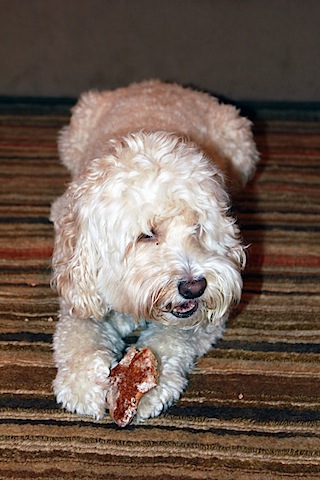 This time, she lay down with it and started eating!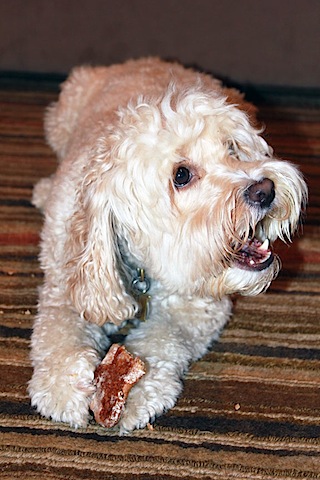 She actually seemed to be enjoying it and ate the entire thing. It's a miracle!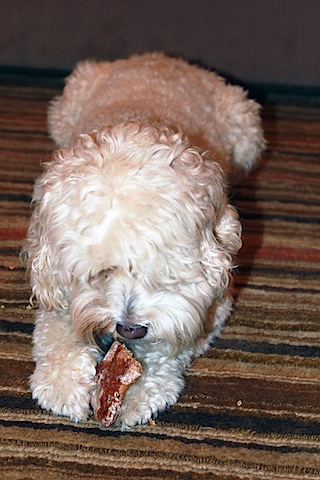 I was kind of thrilled. Though I'm still quite certain, if given a choice, Mitzi would still go for those Chicken Nibbles. Sigh. Anyone else have a recipe that will allow me to show Mitzi there's more to the wonderful world of snacks than Chicken Nibbles?
While I was hanging out with Mitzi this weekend, I also had a couple gifts to give her. Martha Stewart Pets for PetSmart sent me a cute little hoodie and a fun bowl to give to the pup.
Unfortunately, the hoodie was way too small for Mitz. But, this proves that she really is the BEST sport in the world. She let me put her in the too-small shirt without even flinching. And despite it being tiny, she seemed happy.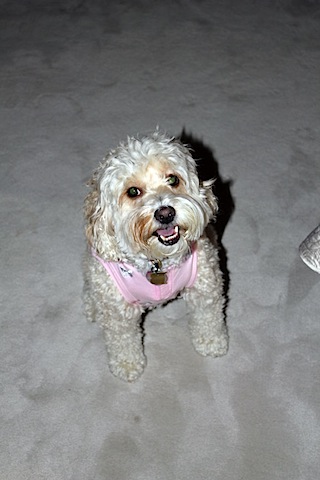 Mitzi is long and lean, but I think this shirt was made for a teeny tiny purse dog. Or a mouse. FYI this is a size medium if you want one for your dog. Check out the whole Martha Stewart Pets line for PetSmart because they have some adorable things!!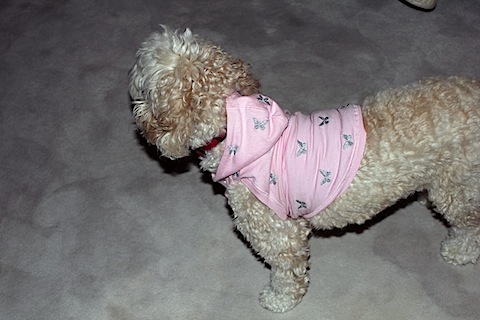 OK, she's still pretty adorable in it.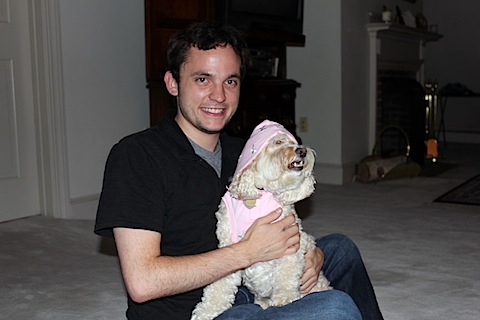 I think she'd need a size XL in this hoodie, though. Clearly, Martha Stewart's pet line is made for little dogs. In any event, you KNOW my someday dog will have every single item in Martha Stewart's collection. I can't resist.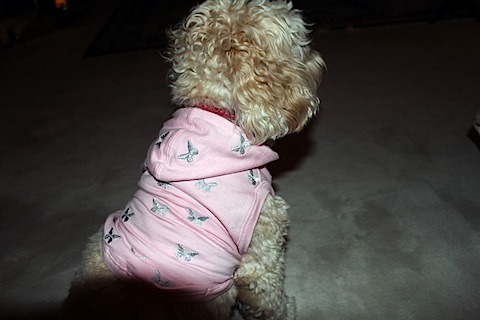 I know everyone thinks their dog is the cutest. And though Mitzi isn't my dog, she's the closest I've got and I definitely think she's the cutest.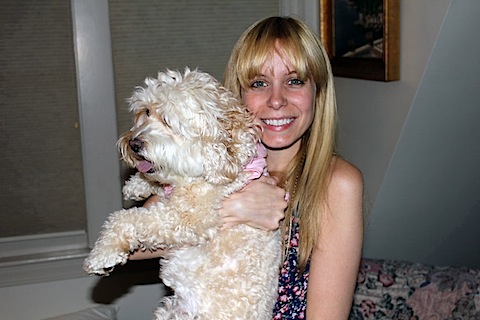 We also got this super adorable bowl.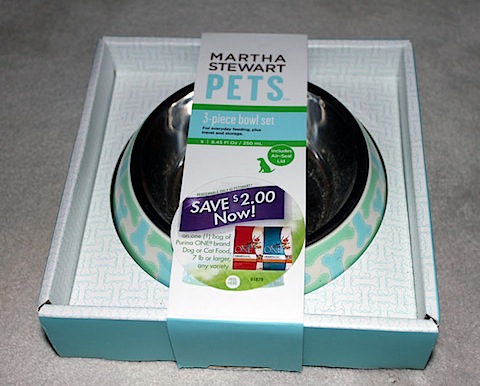 It's also teeny tiny, but how adorable are the little bones? So, Martha Stewart!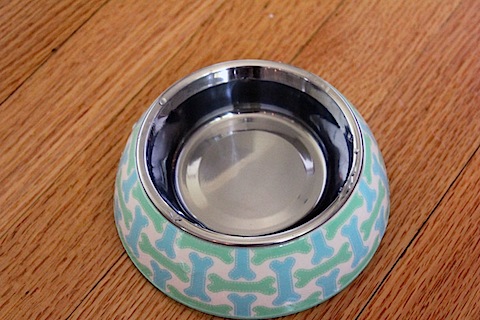 Mitzi loved the bowl! OK, fine, I put chicken treats in it… Obviously she loved it 🙂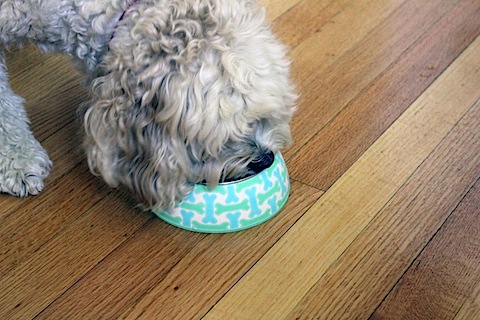 The bowl has a little cover on it, too, making it perfect for traveling with your dog.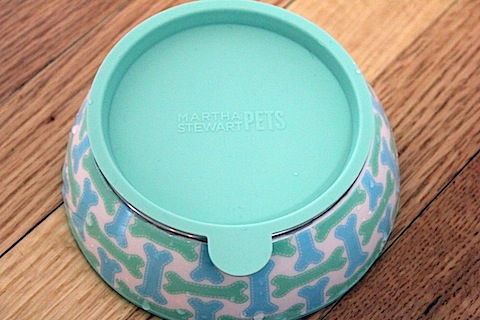 I'm so lucky to have Mitzi in my life. She's seriously the most loving, happy, easy-going dogs I've ever met. Growing up, I had a collie who had a similar personality. She wanted to be around people all the time and put up with me constantly dressing her up and making her wear sunglasses. What? Yes, I was that kid. I got bit by dogs quite often because I annoyed them when they were eating. I see a dog and I honestly can't help trying to interact with it.
So I'm SO thankful that Mitzi puts up with me. In fact, as long as I throw the ball around, feed her Chicken Nibbles, and let her lick my face; she seems to be pretty happy.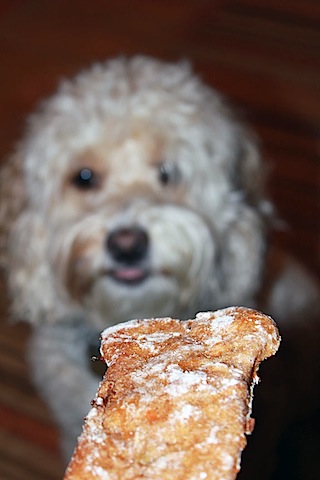 If you have a pet, is it a picky eater? Also, what's your dream pet?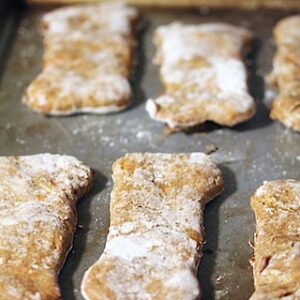 Chicken Dog Treats
Want to make your pup homemade dog treats with fresh ingredients? These Chicken Dog Treats are easy to make with whole ingredients. Your dog will love them!
Cuisine:
[url href="http://www.all-natural-dog-treat.com/chickendogtreatrecipe.html" target="_blank"]All-Natural-Dog-Treat.com[/url]
Ingredients
2 1/2

cups

whole wheat flour

1/2

cup

nonfat dry milk powder

1

egg

lightly beaten

3/4

cup

cooked and shredded chicken

1/2

cup

carrot

shredded

3/4

cup- 1 cup low-sodium

low-fat chicken broth
Instructions
Pre-heat oven to 350 degrees.

In a medium-sized bowl, whisk together flour and powdered milk.

Add in egg, chicken, carrots, and 3/4 cup chicken broth and mix together. You want dough to be stiff; add remaining 1/4 cup chicken broth if needed.

Knead until dough is firm.

On a lightly floured surface, roll dough out to a 1/4-inch thickness. Cut out cookies using cookie cutter of any shape.

Place cookies on parchment paper-lined baking sheet and bake at 350 degrees for about 30 minutes, until turning golden around edges.

Let rest in in pan for about 5 minutes before moving to wire racks to cool completely.
[Sues]