Jello for dogs? Yes! This chicken flavored gelatin is a unique kind of dog treat that your pup will go wild for. With just 3 ingredients, including gelatin powder, chicken broth, and shredded chicken breast, chicken jello is easy to make and you'll feel good about treating your dog with it!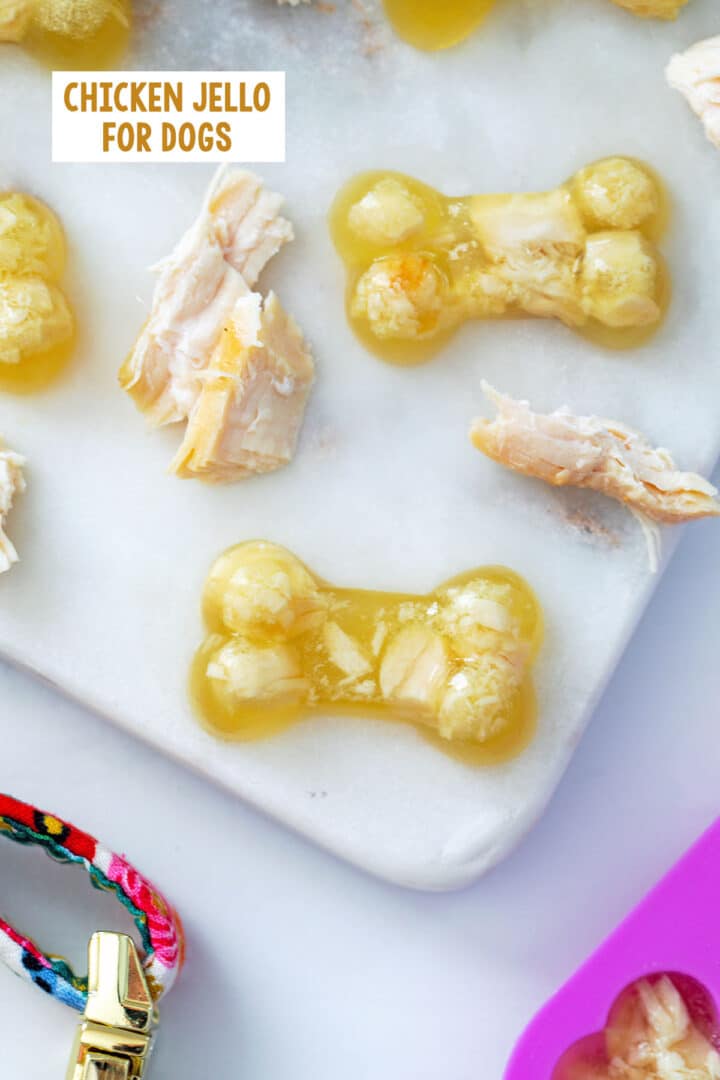 If you know anything about me it's probably that I'm obsessed with my dog and I love making homemade treats for her.
I've made her pupcakes and pancakes and cookies and and doughnuts and oatmeal and muffins. And a couple different Puppuccinos. What more could a dog want??
Perhaps some jello? I was recently trying to decide what I should make for Winnie in my bone-shaped silicone molds and jello crossed my mind. I wondered, can dogs eat jello? And once I realized how to make it safe, I got to work!
If your dog is a chicken lover, I have a feeling she or he will fall in love with these chicken dog treats, too!
Can Dogs Eat Jello?
Of course, before we start, you're probably also wondering if jello is safe for dogs. And the answer is a little bit complicated, but also makes perfect sense.
Dogs can eat gelatin (and some experts even say it's good for them), but you wouldn't want to feed them the flavored branded jello that comes in boxes as it is packed with sugar and sometimes also contains xylitol. You also don't want to feed them sugar-free jello as dogs shouldn't have artificial sweeteners.
Of course, as always, you should check with your veterinarian if you have any questions about what is best to feed your dog as all dog's are different and their health is so important!
Plain gelatin is great because you can turn it into basically any flavor you want and get a jiggly flavored treat. And I knew Winnie would want chicken!
How to Flavor Gelatin
There are a couple different ways to flavor gelatin. You can either replace water with a different liquid or you can include solid add-ins into the jello.
I did both with these chicken jello treats, using sodium-free organic chicken broth for the liquid and shredded cooked chicken breast as an add-in.
Ingredients
The ingredients in this chicken jello are super simple. Here's what you need:
Chicken Broth (I recommend using sodium-free as dogs shouldn't have a lot of sodium and I also try to use organic)
Plain Gelatin Powder
Shredded Cooked Chicken Breast
That's it! These treats are so simple and perfect for any dogs who may be on the picky side (mine included!).
How to Make Chicken Jello Treats
To start these jello dog teats, you'll need to bloom your gelatin. Blooming will help your gelatin dissolve easily and consists of sprinkling gelatin powder over a little bit of room temperature liquid.
Once the gelatin is bloomed, you'll mix it with your hot liquid.
To get started, bring ½ cup chicken broth to a simmer in a small saucepan. Remove from heat before mixture starts boiling.
While broth is heating, sprinkle the gelatin over the remaining ¼ cup of room temperature chicken broth.
Let it sit for about 2 minutes.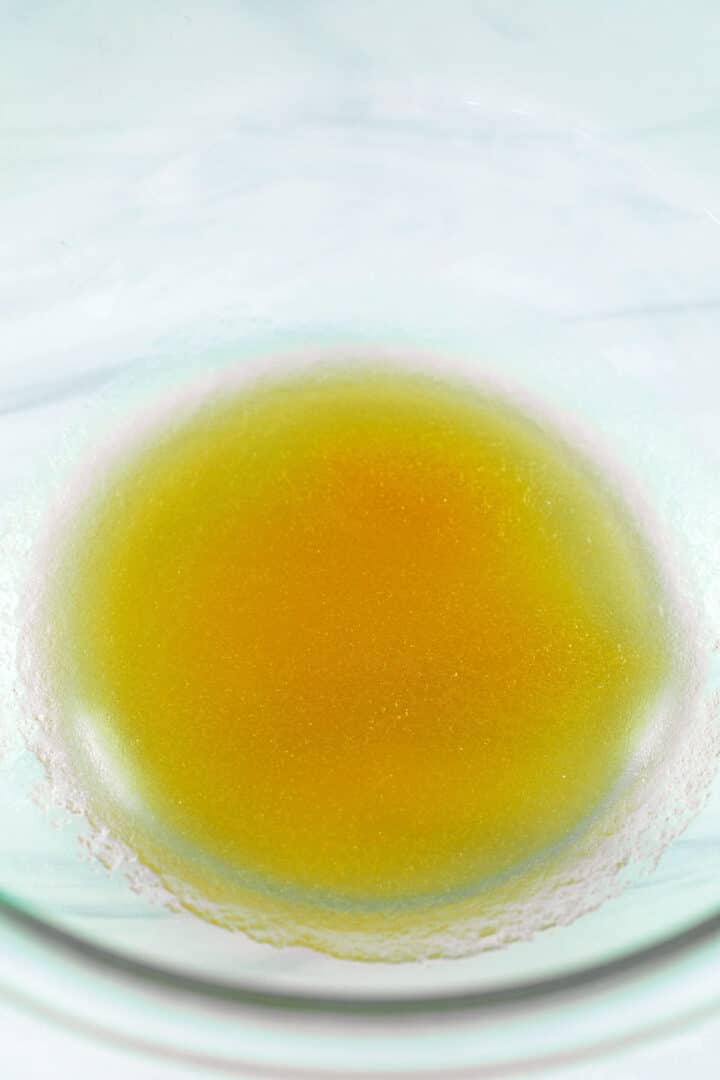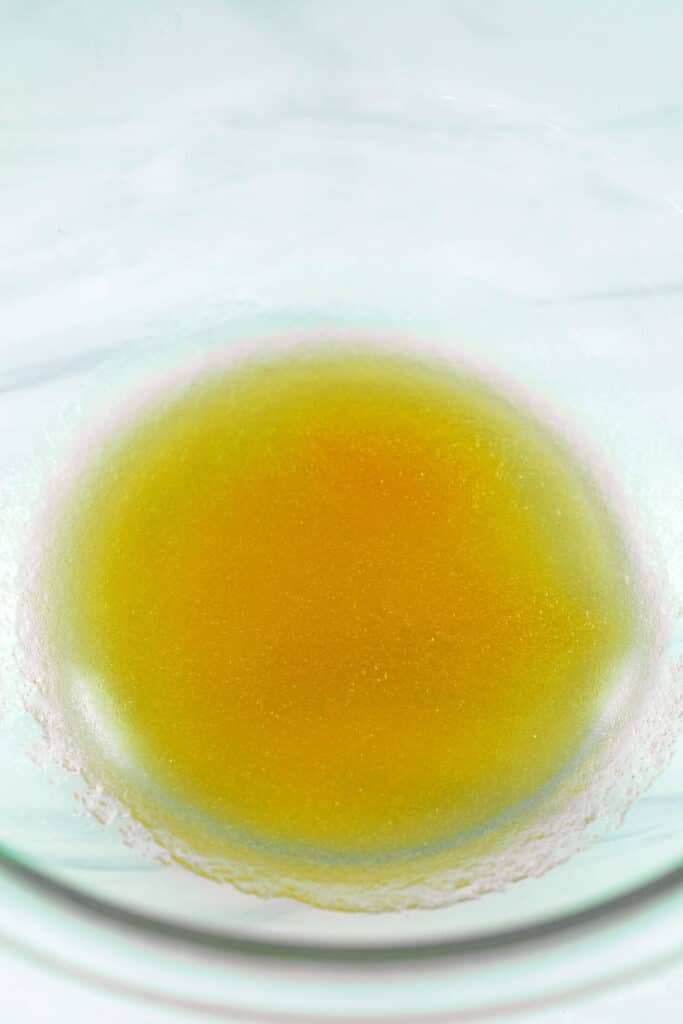 Now, pour the hot chicken broth into the bowl with the bloomed gelatin, stirring or whisking constantly, until granules are all dissolved and no clumps remain.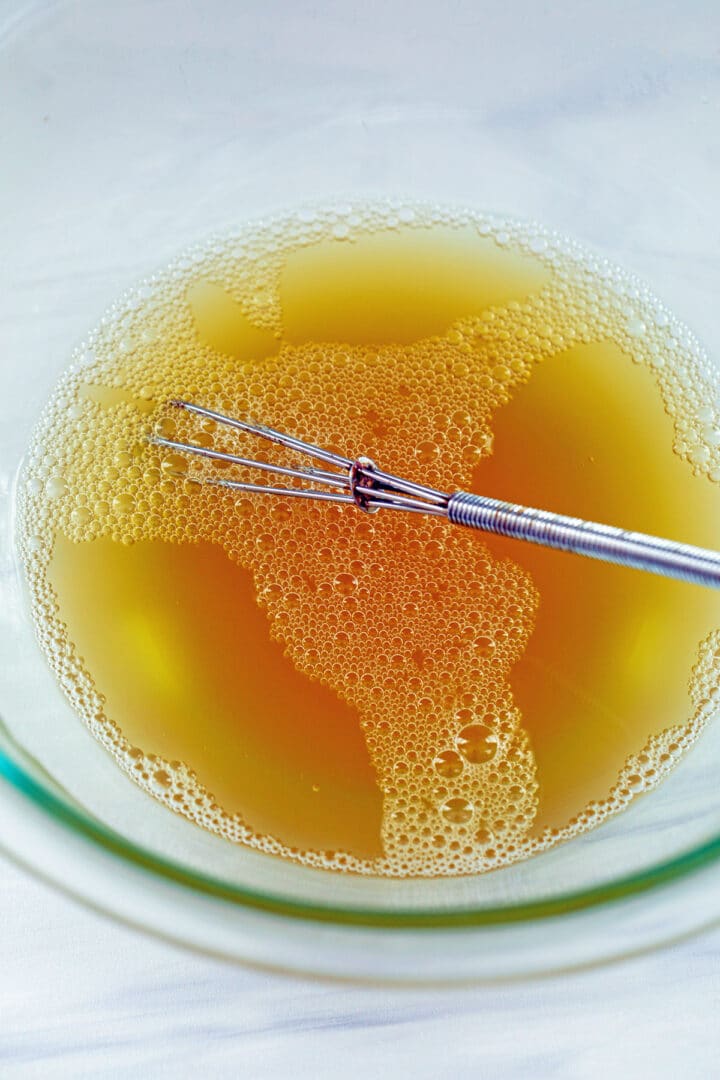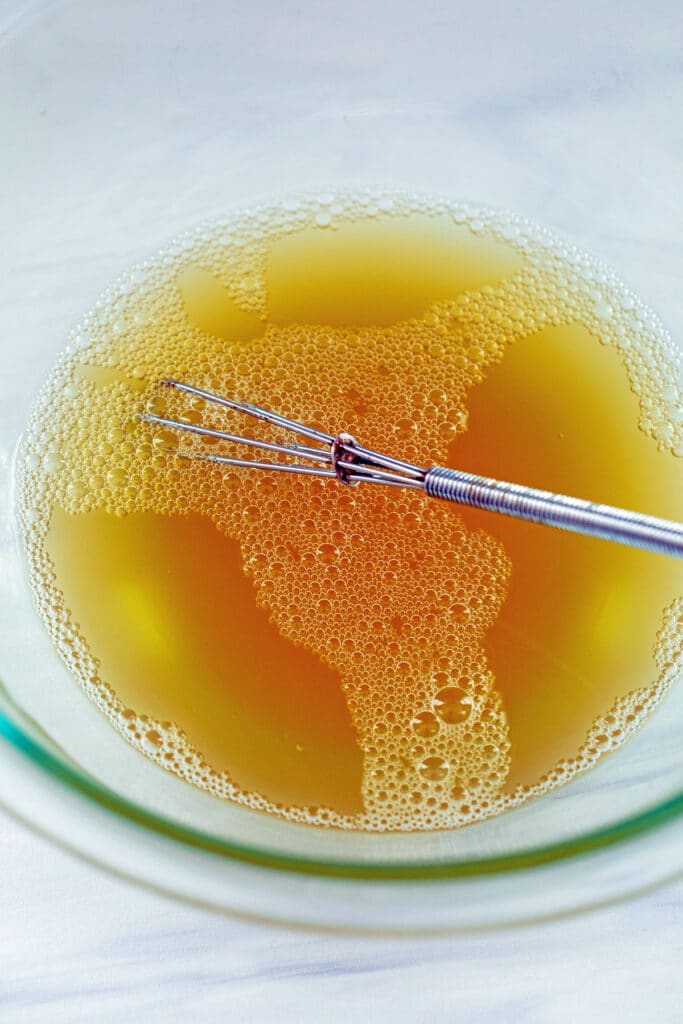 Stir the shredded chicken into the mixture.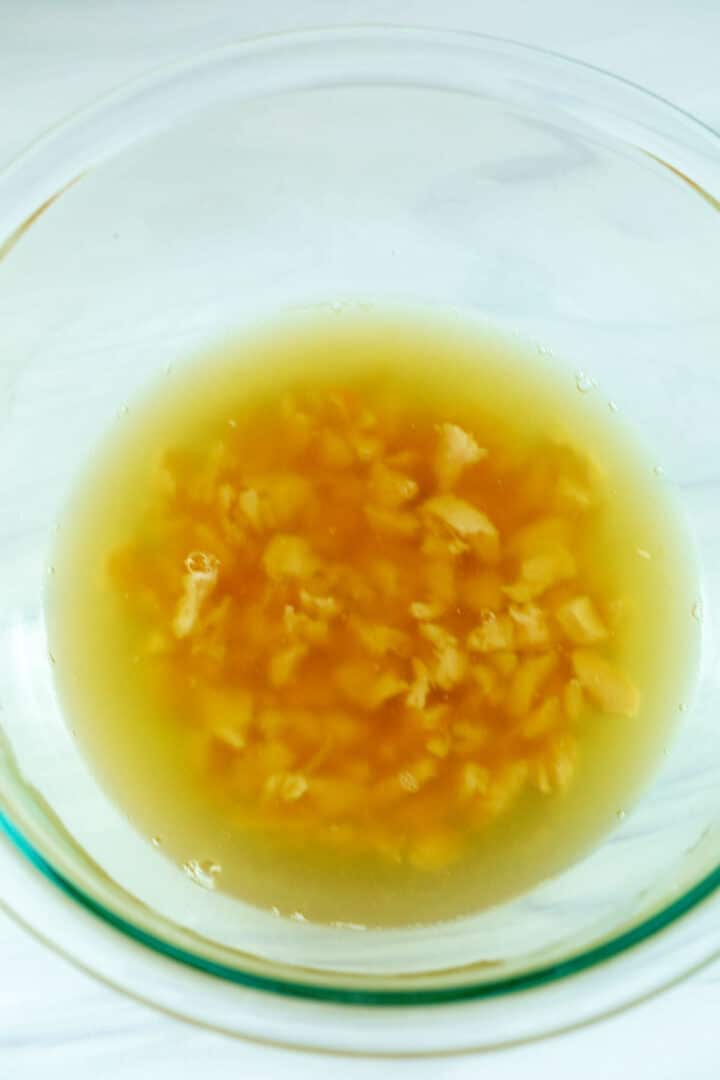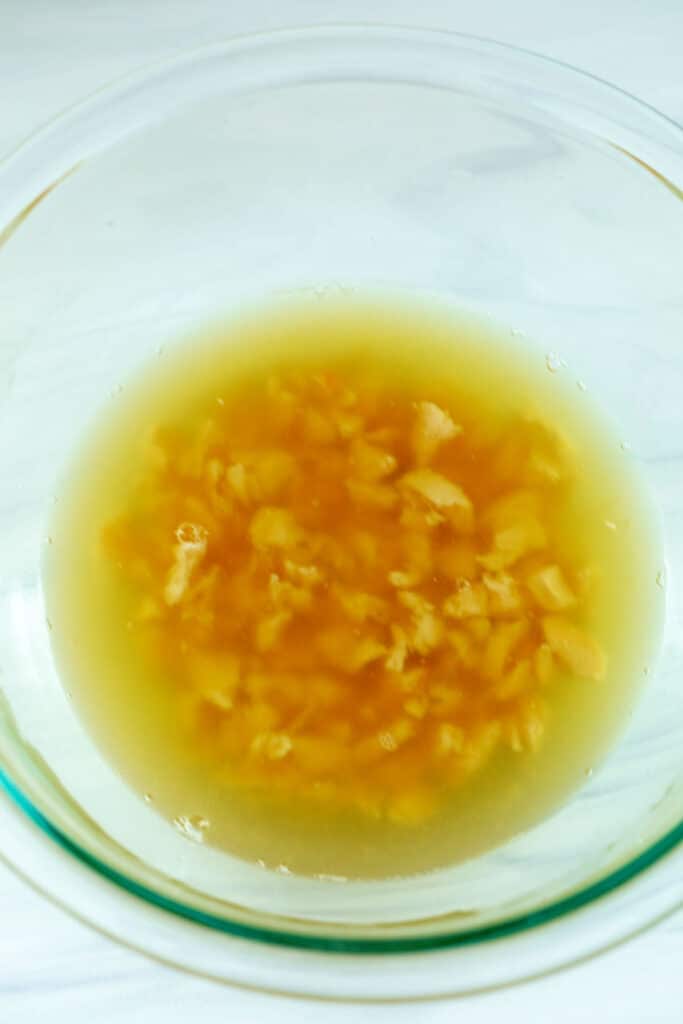 And pour or spoon the mixture into your molds, filling each to the top edge. Before filling molds, I recommend placing them on a cookie sheet or other solid surface that will fit in your fridge as this makes the liquid-filled molds easy to transfer.
How long your chicken jello needs to chill really depends on how large the jello treats you're making are.
I love these little bones because they chill pretty quickly (I chill them for about 1 ½ hours) and they're the perfect size treat for my small pup.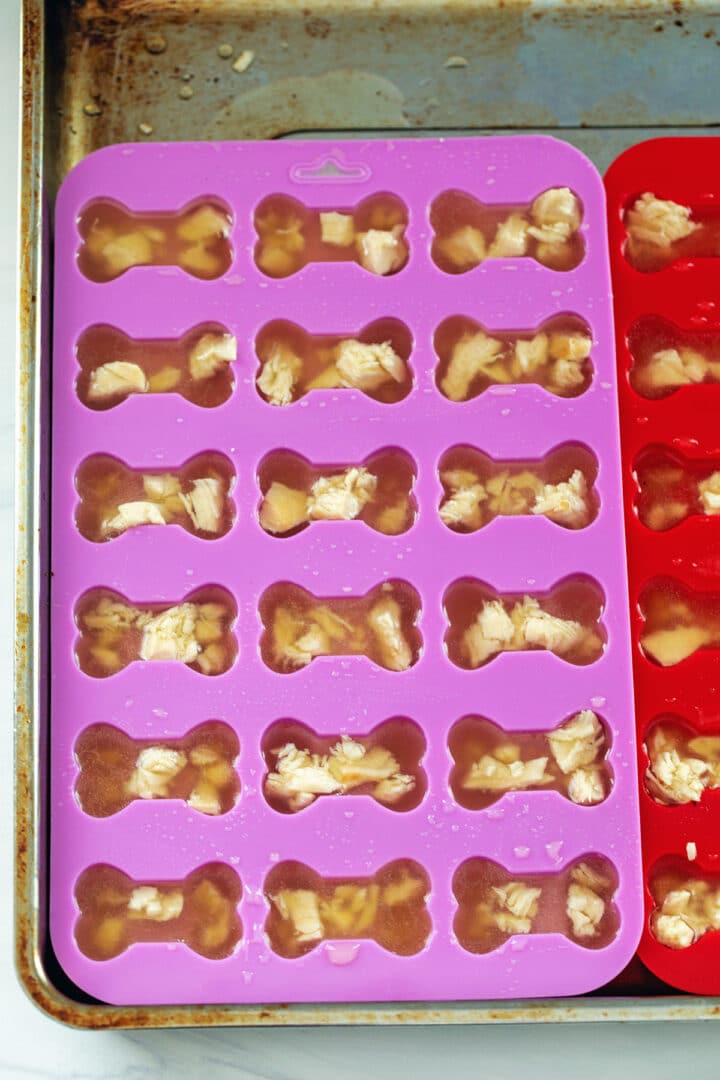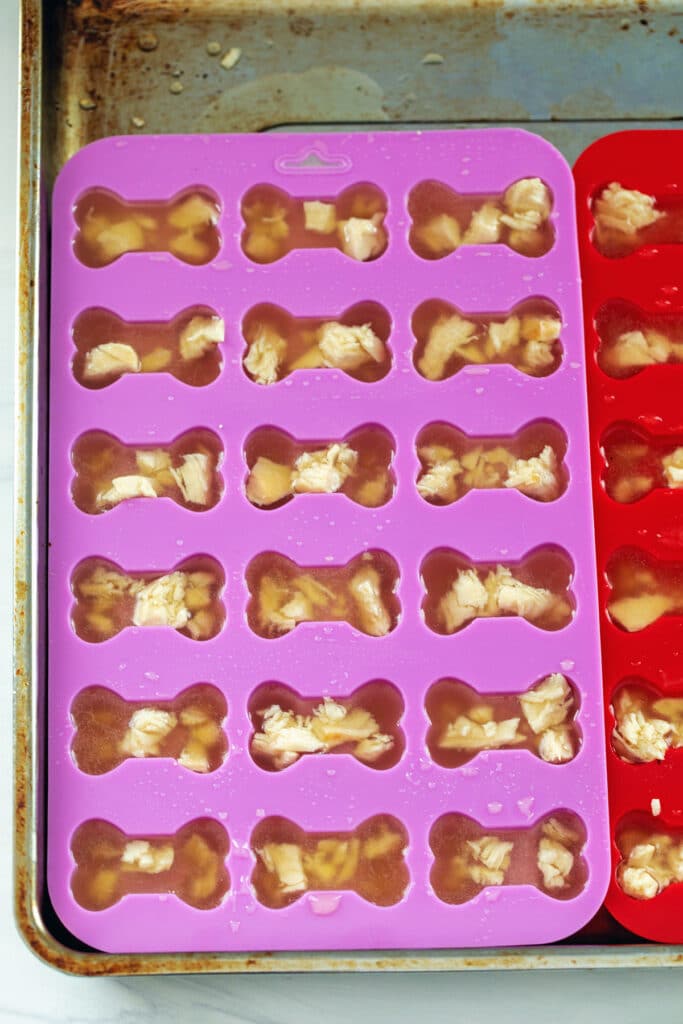 But if you have larger molds, they'll likely need to chill for longer (up to 3 hours).
To check and see if your jello is ready, touch it with your finger. If your finger sticks to it, they need more time.
Once jello is firm, pop it out of the molds and get ready to make your dog very happy!!
How cute are these little chicken jello treats?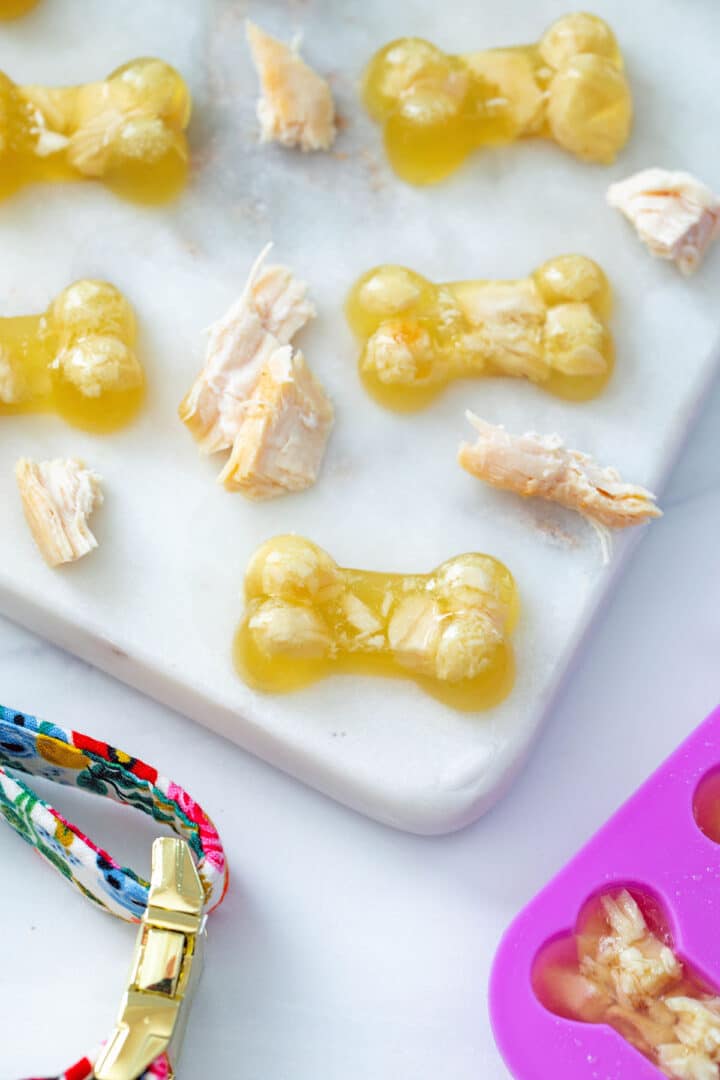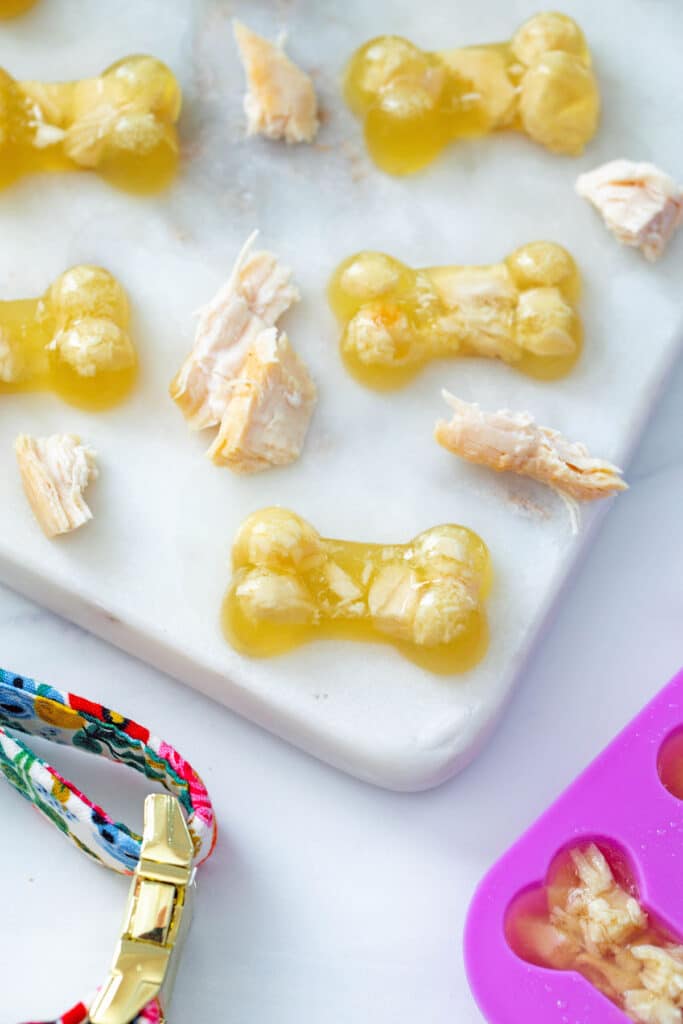 Winnie was quite intrigued by this jello as I don't think she's ever had a food with this consistency before.
But she definitely liked the way it smelled (hello chicken!), so this very picky dog was game to try them.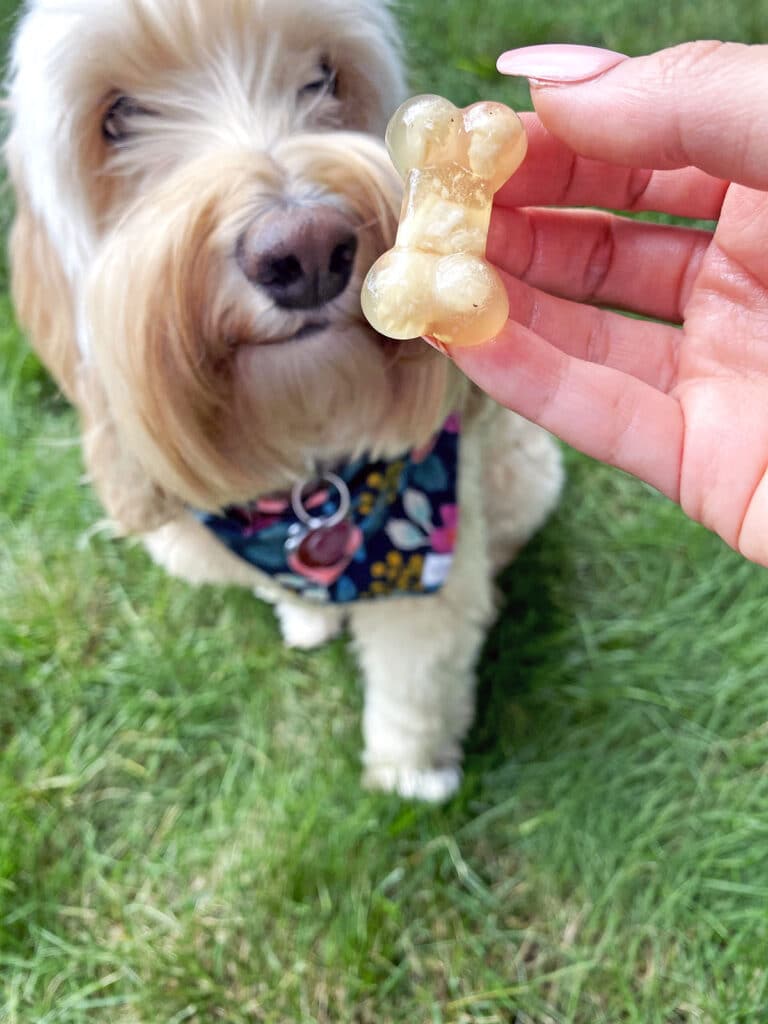 And once she did, she wanted more, more, more! I honestly couldn't believe how much she loved this chicken jello! It has definitely been one of her favorite homemade treats to date.
And they were so much fun to watch her eat them (they're so jiggly!). I had to force myself to put the container away so she wouldn't go too crazy.
How to Store
It's important to keep these treats in the fridge as jello is best when refrigerated and chicken needs to be refrigerated.
When kept in the fridge in an airtight container, these jello treats should keep for 3-4 days.
Can I Freeze These Treats?
Unfortunately, these chicken jello treats don't freeze well (jello never does!), so it's best to keep these in the fridge and treat your dog for a few days or share with any dog friends you have.
These would also be so fun to serve at a dog birthday party!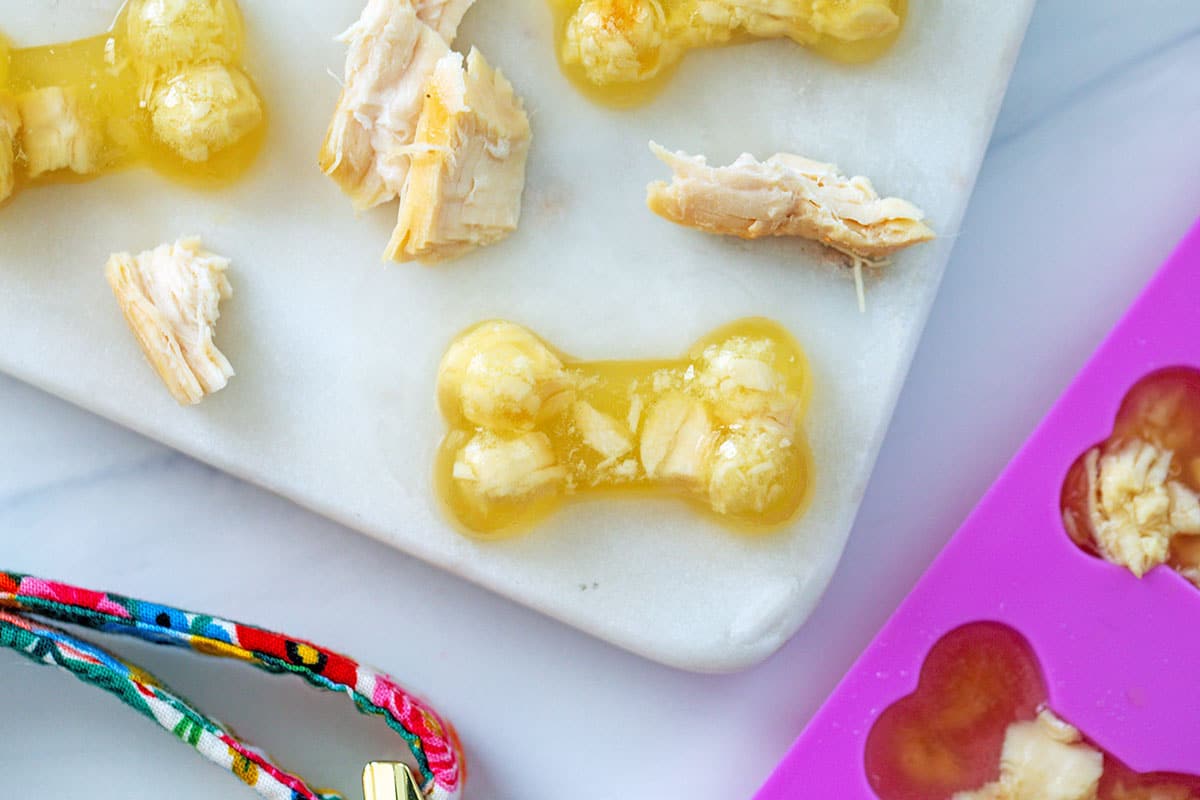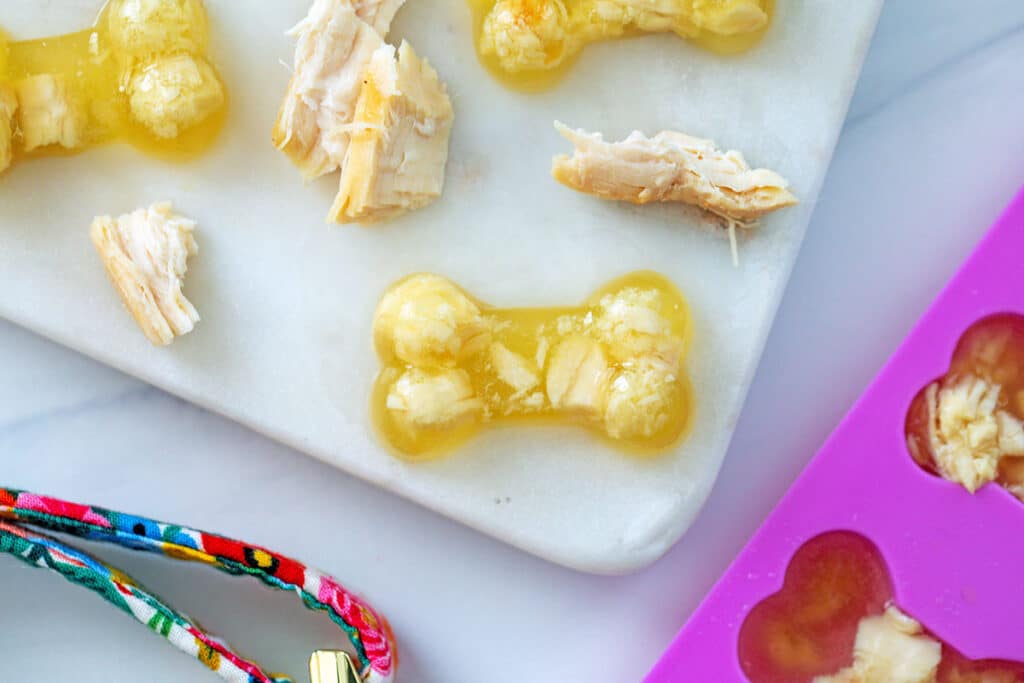 Variations on Recipe
Winnie is obsessed with chicken, but there are so many different ways you can make these jello treats and I'm certainly going to be doing more experimenting in the future.
Here are a few fun ideas:
Add finely chopped parsley to these chicken treats. Parsley helps freshen dogs' breath and not only would this be an easy way to get them to eat it, but it would add a fun look to the jello!
Add any vegetables or fruits in that you want your dog to get more of (here are some of the best vegetables for dogs).

Use beef broth or vegetable broth instead of chicken broth. Just make sure that whatever kind you use, it's sodium-free as your dog doesn't likely need extra salt in his or her diet.
Mix peanut butter into the gelatin mix for peanut butter jello.
Mix pumpkin into gelatin for pumpkin jello (many dogs love pumpkin!).
Make salmon dog treats with vegetable broth and chopped cooked salmon.
I have so many fun ideas for jello dog treats that something tells me Winnie is going to be very lucky over the next several months!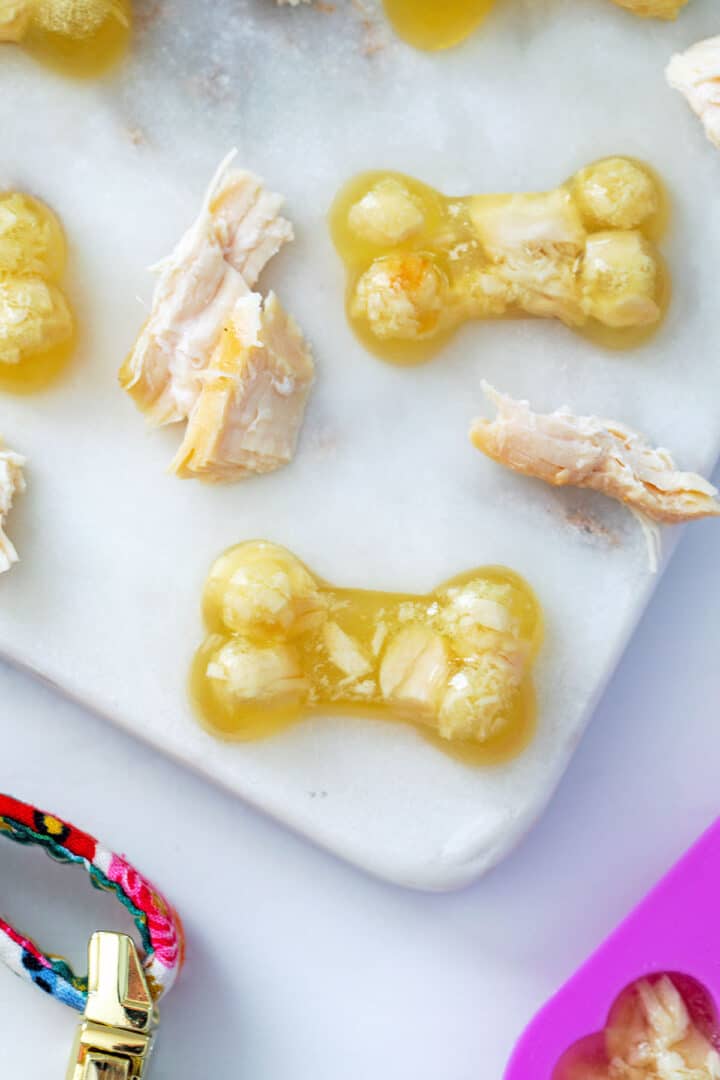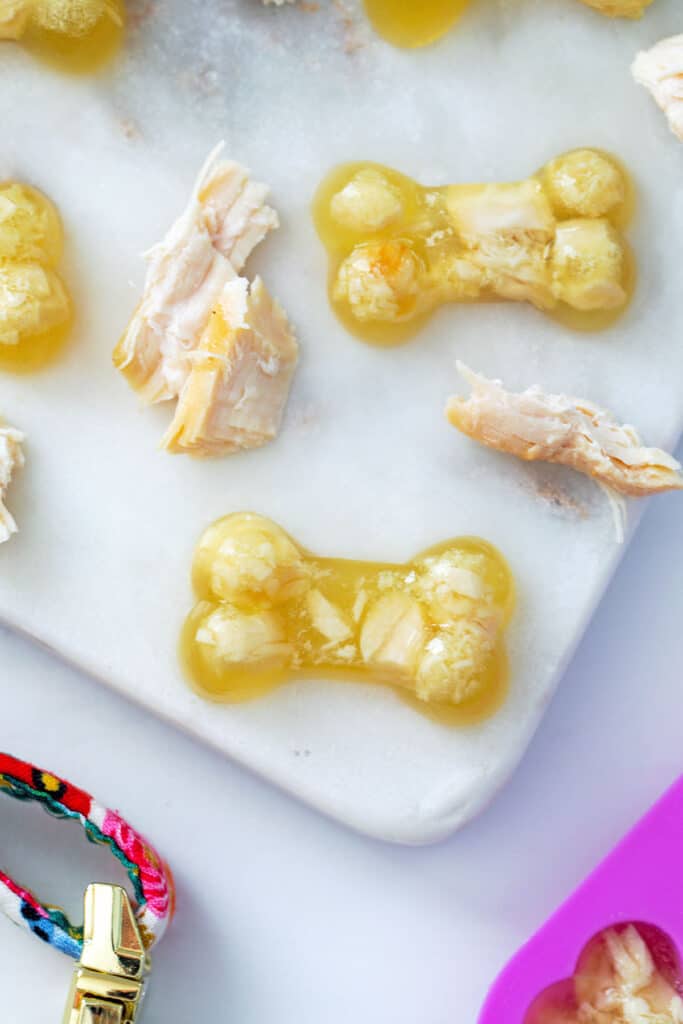 Can Humans Eat These?
Yes, of course! All 3 of the ingredients in these treats are human-grade and are things many humans eat on a regular basis anyway.
I have to admit chicken jello maybe isn't the most appetizing human food in the world... Though it's pretty much what "aspic" is, a French dish that Julia Child made often.
These treats could also be fun to make for a Halloween party or April Fool's Day!
More Homemade Dog Treats
If you love treating your dog as much as I do, definitely check out more of my homemade dog treat recipes! I always think homemade is best and it can be so fun experimenting with special desserts and entrees.
Of course, it can also be a true test of confidence as there's nothing worse than my pup rejecting a treat I put all of my love into. Ha! I only post recipes on the blog that Winnie truly enjoys (and like I've mentioned, she's quite picky!).
Here are some of my (and Winnie's) favorite homemade dog treats: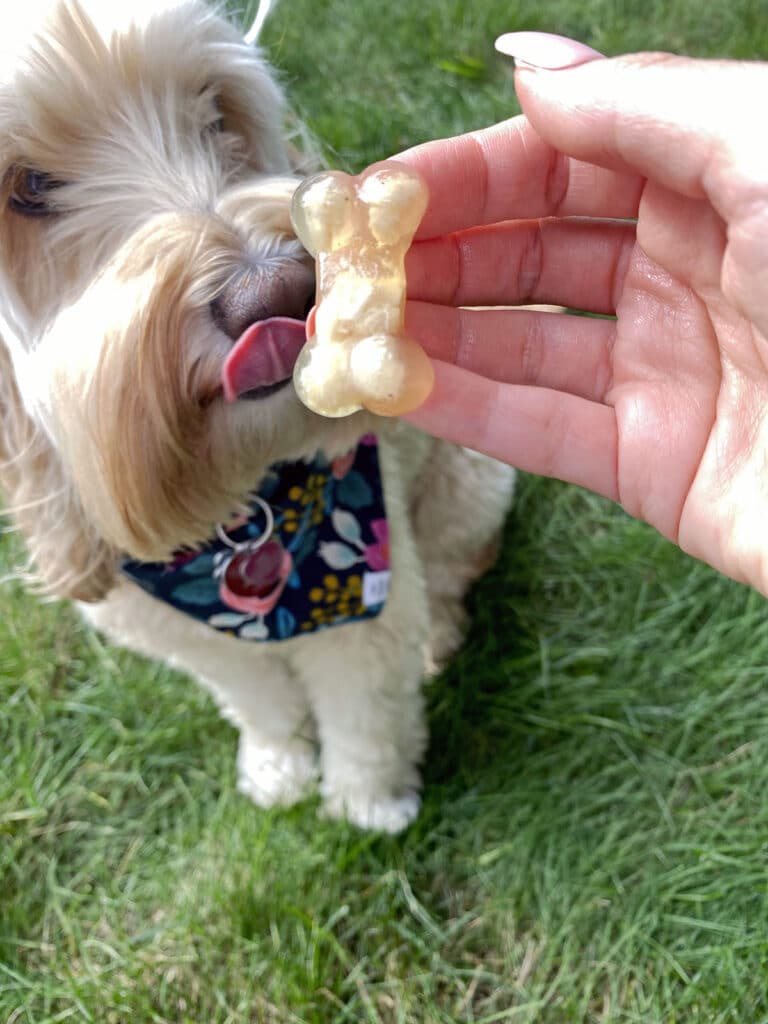 Sometimes I wonder if my dog knows just how lucky she is! Oh well, she makes me feel like the luckiest person in the world, so the least I can do is make her some homemade chicken jello once in a while!
I'm sure I'll be back with more jello recipes for you and your pups soon!
📖 Recipe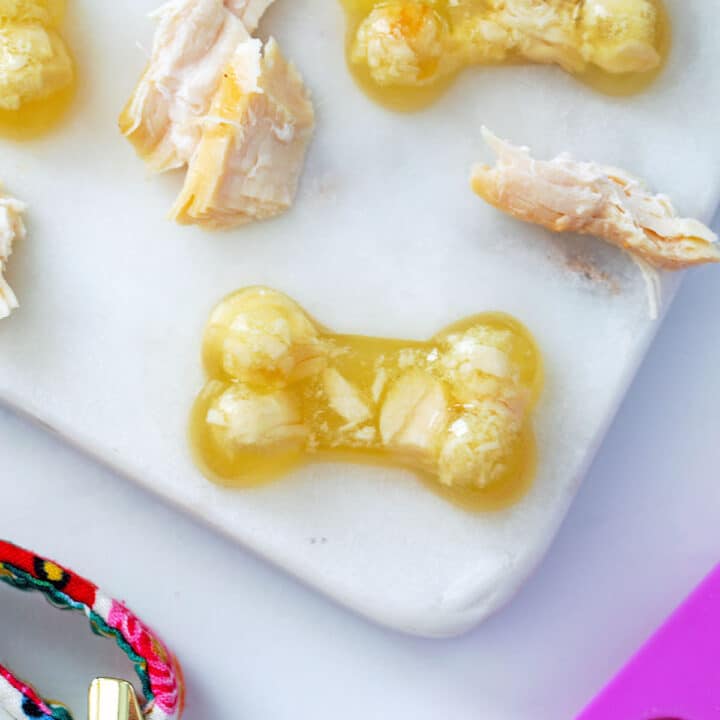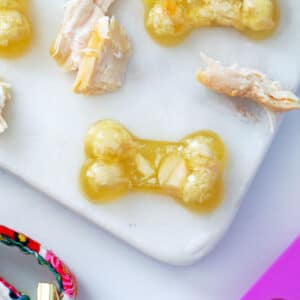 Chicken Jello for Dogs
Jello for dogs? Yes! This chicken flavored gelatin is a unique kind of dog treat that your pup will go wild for. With just 3 ingredients, including gelatin powder, chicken broth, and shredded chicken breast, chicken jello is easy to make and you'll feel good about treating your dog with it!
Print
Pin
Rate
Ingredients
¾

cup

unsalted chicken broth,

divided

1

packet (2 ½ tsp)

gelatin powder

⅓

cup

Shredded cooked chicken
Instructions
In a small saucepan, heat ½ cup chicken broth until it starts simmering (but not boiling).

While chicken broth is heating, in a medium bowl, sprinkle gelatin over remaining ¼ cup of chicken broth. Let sit for about 2 minutes.

Pour hot chicken broth into bowl, stirring or whisking constantly, until granules are all dissolved and no clumps remain. Stir in finely diced chicken.

Place molds on a cookie sheet or other solid surface that will fit in fridge (this will make it easy to transport filled molds to fridge). Pour or spoon mixture into prepared molds, filling each to the top edge.

Place molds in the fridge for about 1 ½-3 hours, depending on how big your molds are, until set. Test by touching jello with your finger. If your finger sticks, jello needs more time in the fridge.

Carefully pop jello out of molds by pressing on backs of molds to release.

Store chicken jello treats in an airtight container in the fridge for 3-4 days.
Notes
I don't use cooking spray on my molds when making these treats, but if you are worried about sticking, you certainly can. All molds perform a bit differently, but because this jello doesn't have added sugar in it, they tend to stick less.
Share a Photo of Your Finished Recipe!
Mention @wearenotmartha and share a photo if you've made the recipe!
View web story for this recipe.