Doughnuts are the most delicious dessert, but why shouldn't your dog have any of the fun? These Banana Doughnuts for Dogs are the perfect special occasion or any time treat for your pup!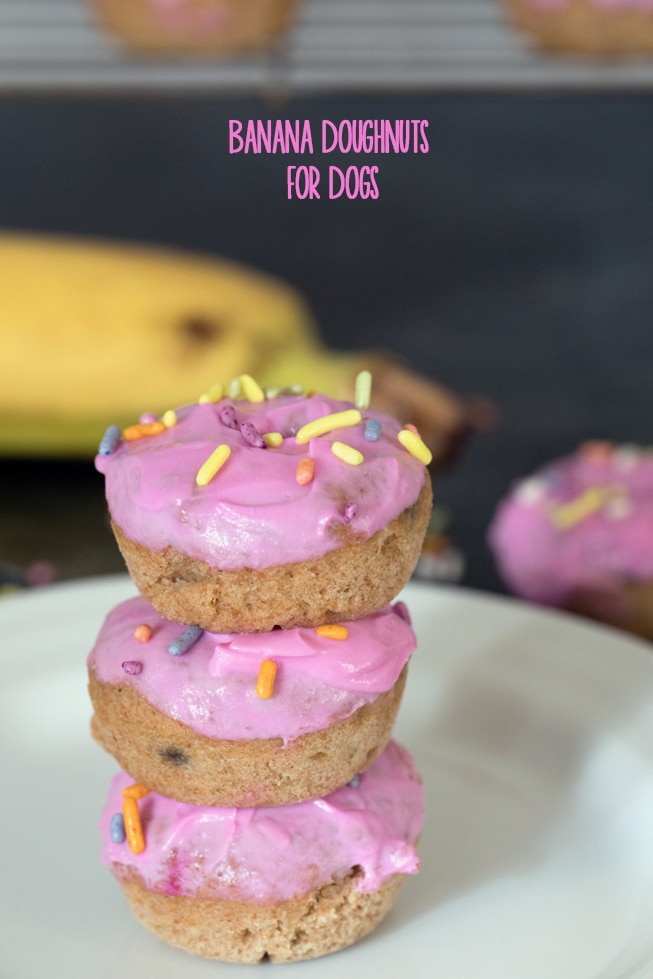 It's no secret that I'm obsessed with my dog. Like almost to the point where I should probably be institutionalized. And possibly will be if one more person overhears the conversations I have with her. Or when our dog-sitter sees the 10-page note I'm leaving her before we head off on vacation. Or perhaps you will have me committed after you see that I am posting yet another recipe for dogs on my blog. If you don't have a dog, you're probably thinking "what the heck; get a life, girl" right about now. But the thing is, my Peanut Butter Banana Pupcake recipe still gets crazy traffic a year after I posted it, so I know there are plenty of other dog crazies out there. Raise your hand if you're one! Shout it out... Be proud! And please start a commune with me where we can all live together and just talk about how awesome our dogs are all day (also, please at least pretend to be interested when I describe my dog's favorite toys and exactly how I know they're her favorites. Thank you!).
My pup, Winnie, just had her second birthday and like any proud dog mama, I had to bake her up some treats. She's little miss picky, so baking for her is always a risk; but I still can't resist (no I don't have kids... In case you couldn't tell). For this year's special birthday treat, I decided on doughnuts. Banana Doughnuts for Dogs. Doughnuts are pretty much my favorite dessert and I decided it wasn't fair my pup had made it to year two with nary a taste of doughnut.
I also made her wear this ridiculous pink pom pom collar (because I'm her mom and I can make her do whatever I want). She actually seemed to like it.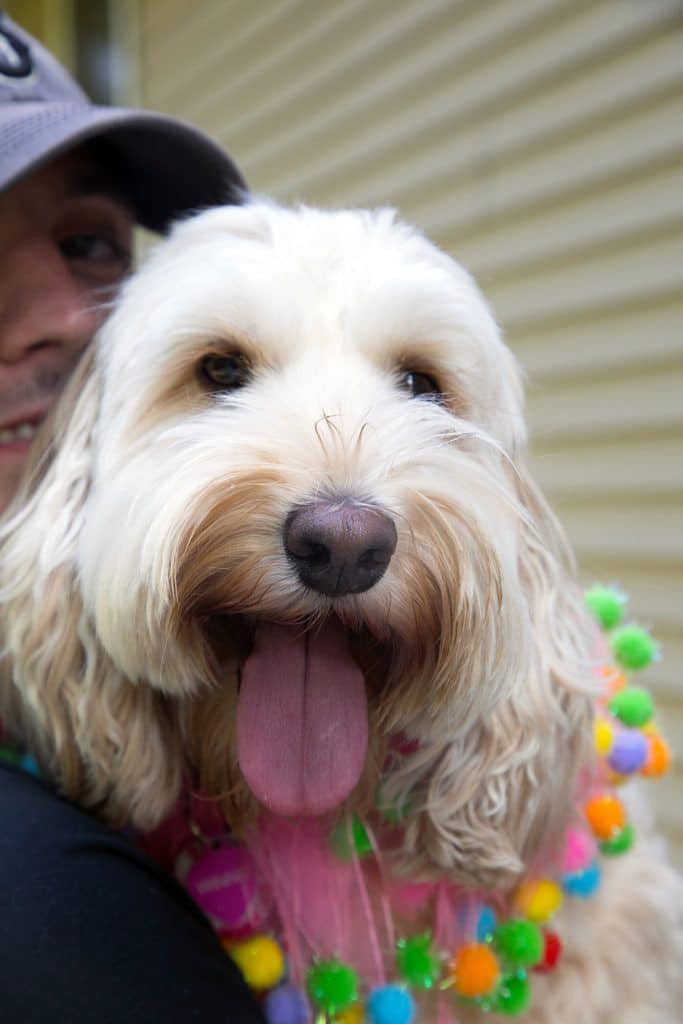 I really wanted to make Winnie pretty doughnuts, but I didn't want to use artificial coloring (yes, I recognize that it's ridiculous that I'll use artificial coloring for myself and my loved ones, but not for my dog), so I picked up natural sprinkles and natural food coloring from Amazon.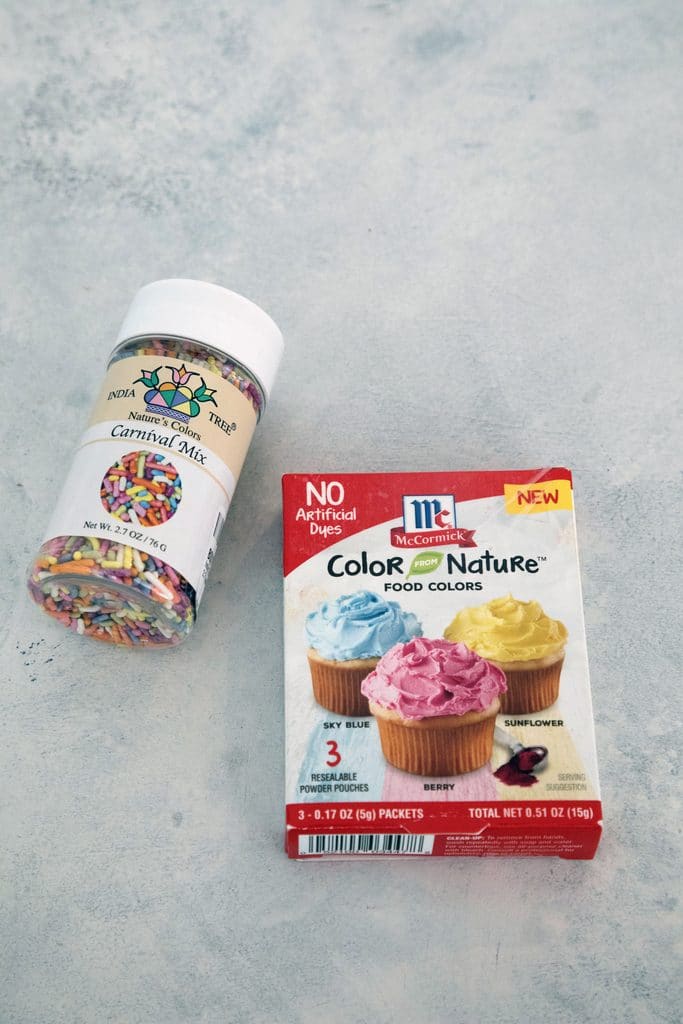 Of course, I made mini doughnuts since I wanted to keep them treat-sized. I stuck to whole wheat flour and the frosting I made was Greek yogurt with some honey. Ugh, my dog is so much healthier than I am.
I was so happy with how the doughnuts for dogs turned out... So pretty, I wanted to gobble them up myself!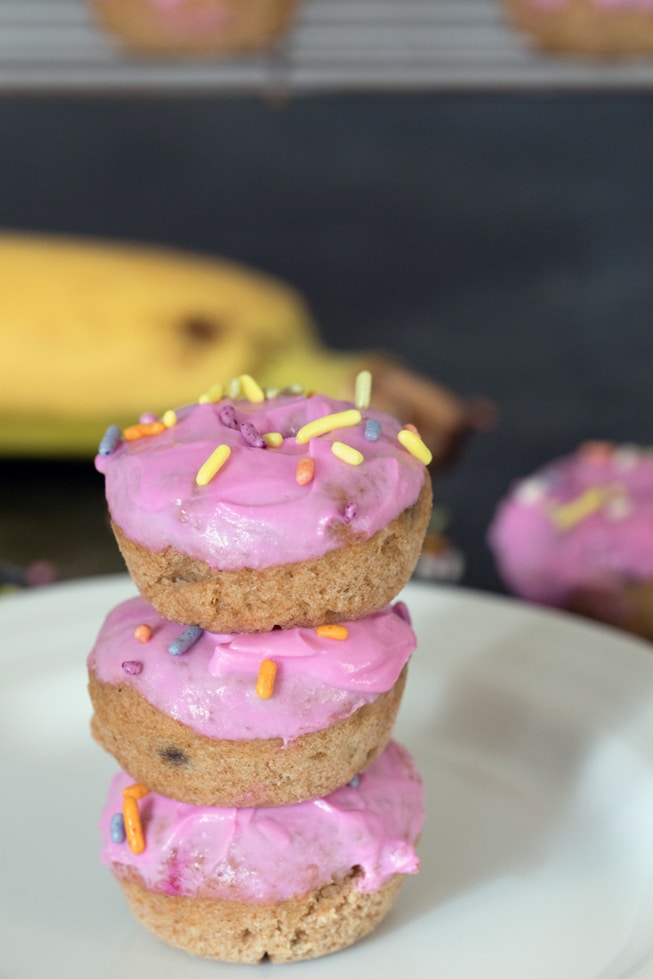 Of course, I could have. These are totally fine for humans to eat! They just probably aren't as sweet as you generally want your doughnuts to be. I mean, these certainly aren'y Boston cream doughnuts, if you know what I mean.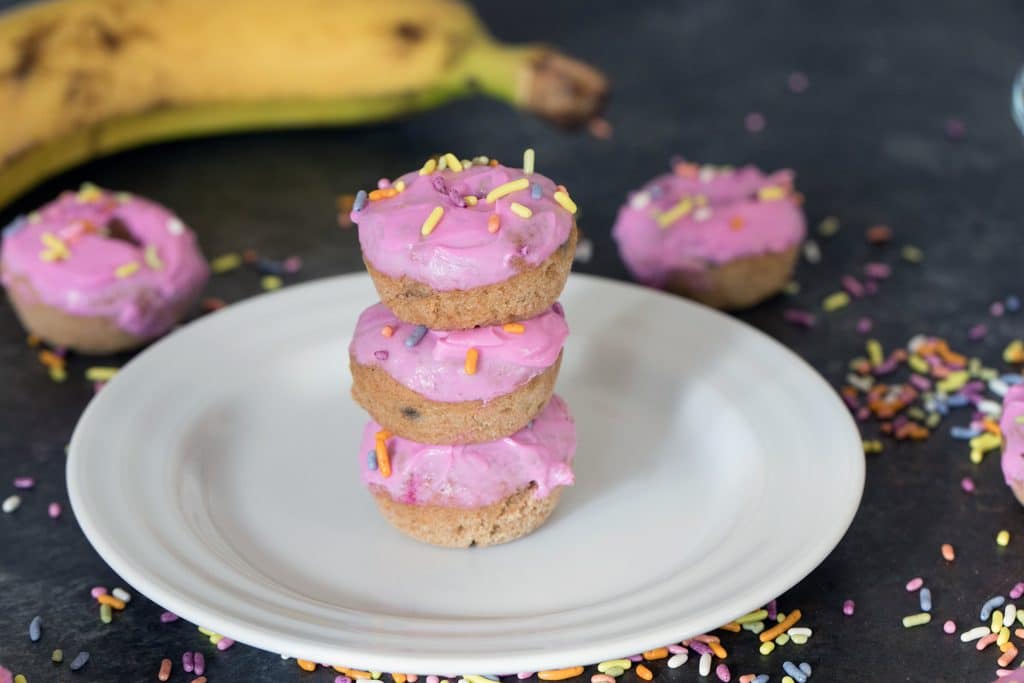 But your dog probably doesn't have as big of a sugar addiction as I do, so they should be A-OK. Plus, the honey in the doughnuts and "frosting" definitely boosts the tastiness factor.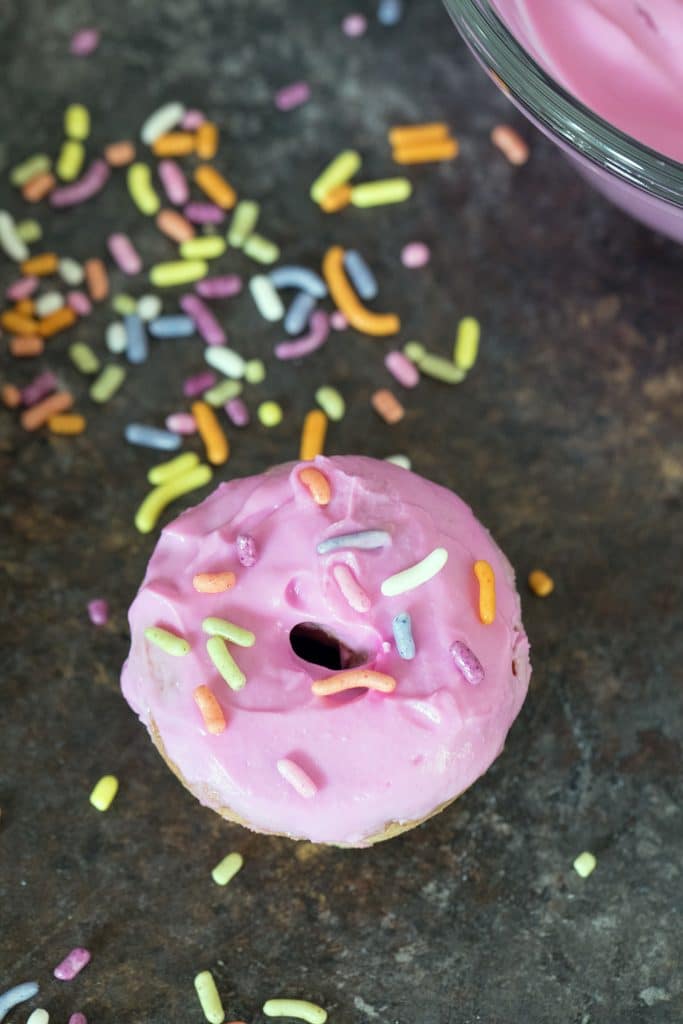 Side note... If you have a dog (which I'm assuming you probably do if you made it this far in my post), these cookies from Three Dog Bakery are the BOMB. I am so jealous every time I give them to Winnie... Which is definitely multiple times a day.
Happy birthday, Princess Winnie! Go to town on those doughnuts!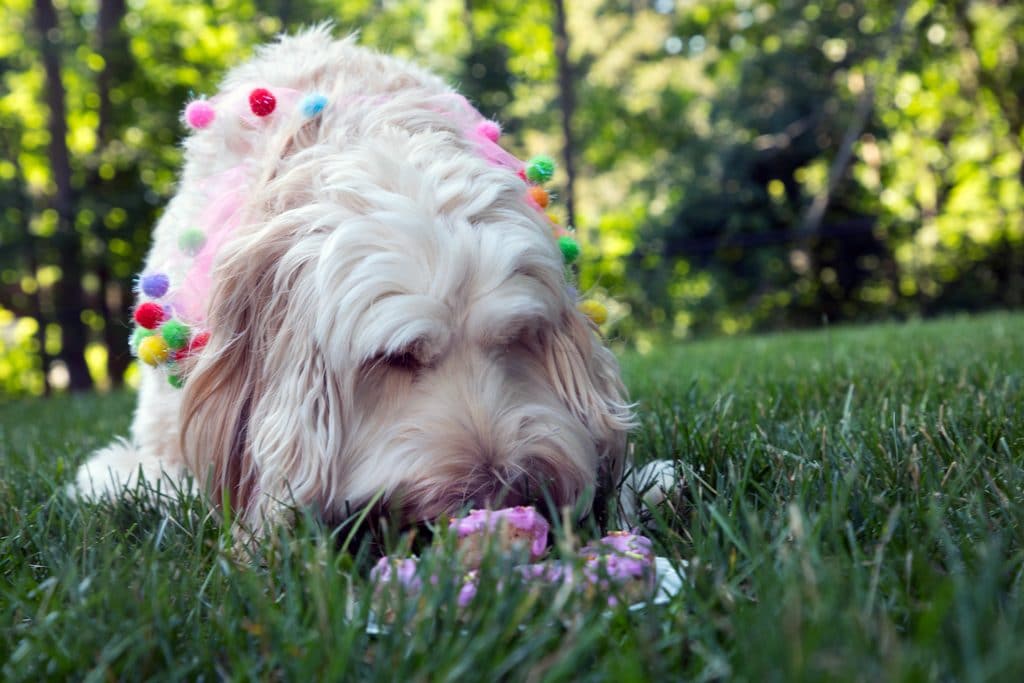 And go to town she did! She adorably ended up with frosting all over her beard.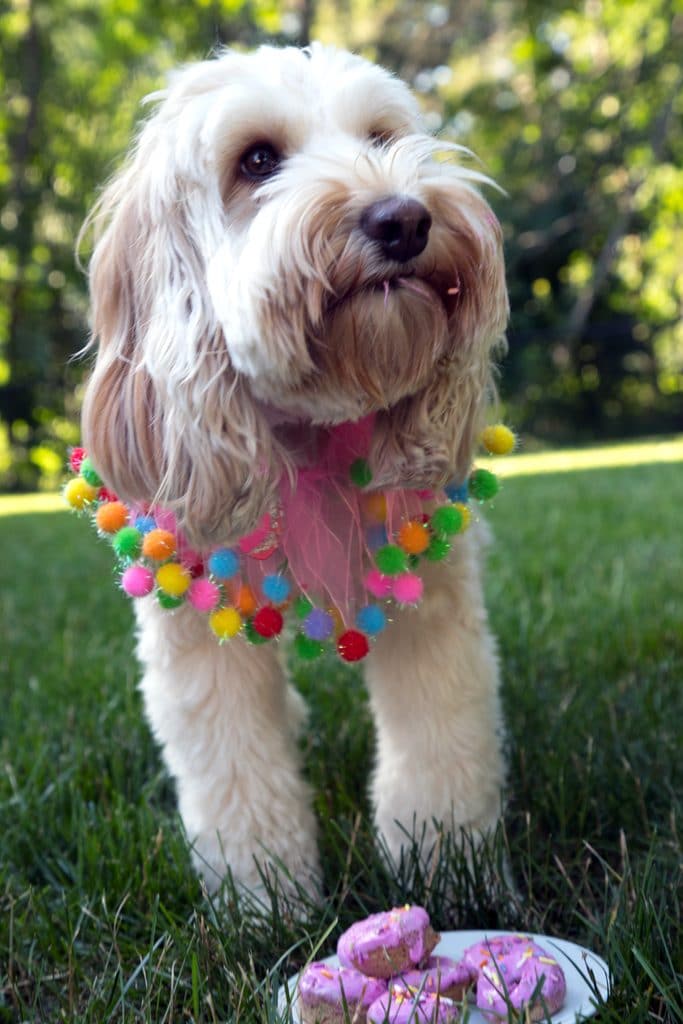 Nothing makes me happier than making my pup happy. She is just the happiest, sweetest, snuggly dog and I'm so lucky to have her in my life.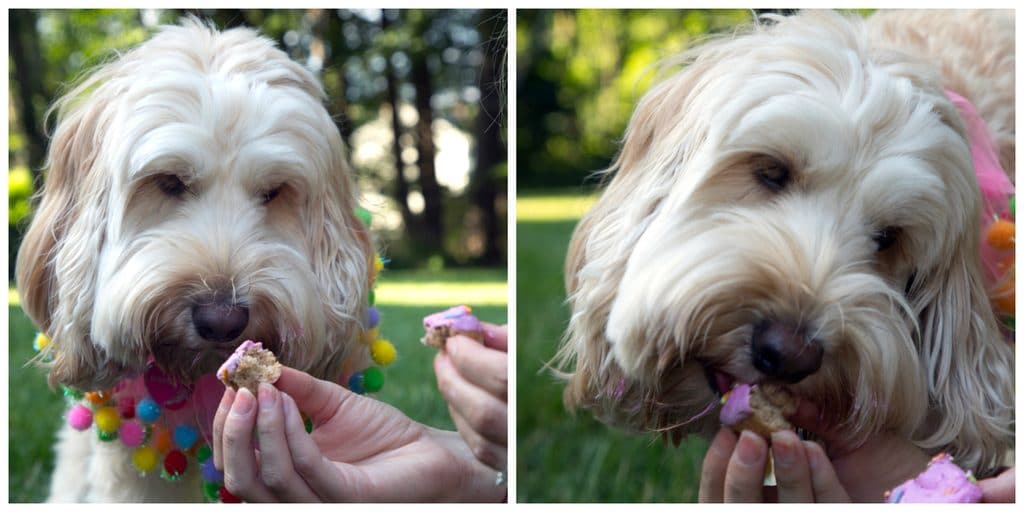 Thanks for so much joy, Win Win. I'll shower you with homemade treats and doughnuts for dogs forever and ever.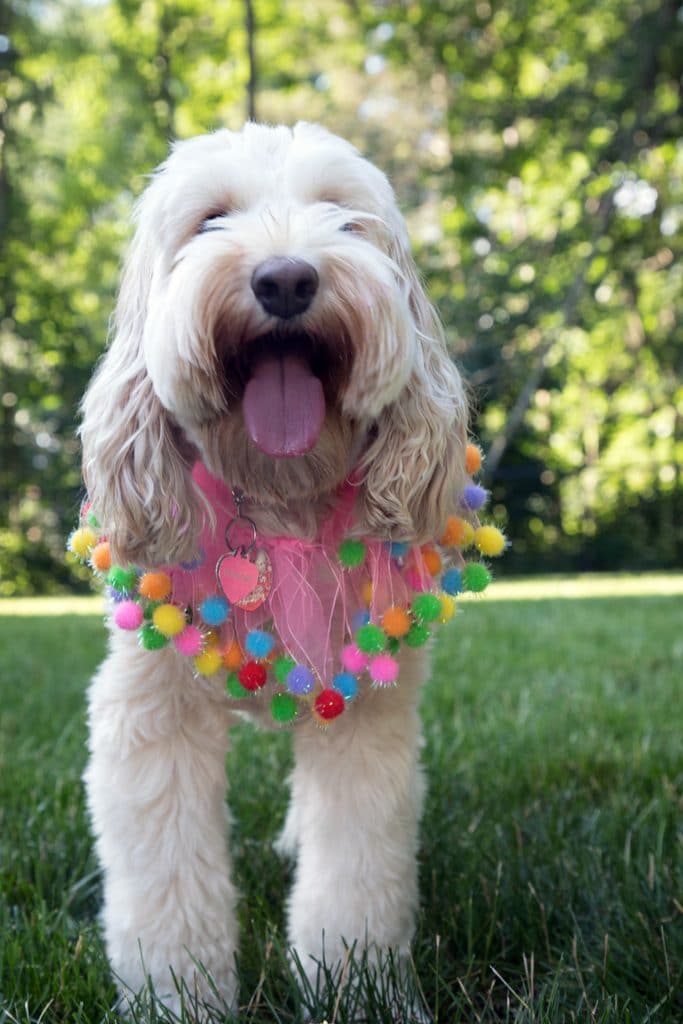 Winnie and I are also teaming up for a fun collaboration later in August and I'll share more with you soon (can I officially call her my co-worker??).
What are your pup's favorite treats? And are you crazy obsessed with your dog like me?
In addition to my Peanut Butter Banana Pupcakes, be sure to also check out my recipes for Chicken Sausage Kale Quiche for Dogs and Peanut Butter Cheddar Dog Bones.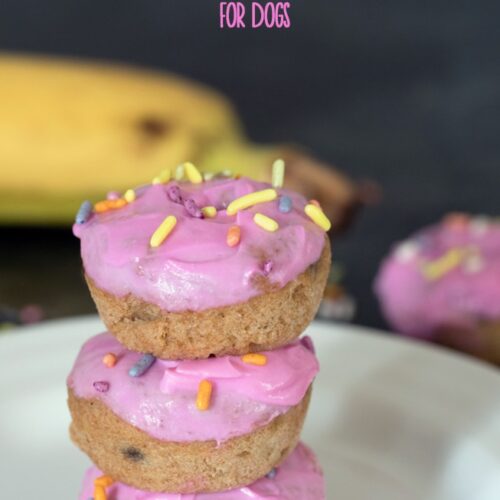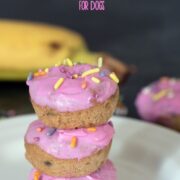 Print Recipe
Banana Doughnuts for Dogs
Doughnuts are the most delicious dessert, but why shouldn't your dog have any of the fun? These Banana Doughnuts for Dogs are the perfect special occasion or any time treat for your pup!
Ingredients
1

cup

whole wheat flour

1 ½

tsp

baking powder

½

cup

mashed banana

1

large egg

⅓

cup, plus 1 Tbsp buttermilk

1

Tbsp

honey

1

batch Frosting for Dogs

(recipe below)

Natural color sprinkles
Frosting for Dogs:
6

oz.

Greek yogurt

1

Tbsp

honey

2-3

drops

natural pink food coloring
Instructions
Pre-heat oven to 350 degrees and lightly spray a mini doughnut pan with cooking oil (natural/organic, if possible)

In a large bowl, whisk whole wheat flour and baking powder together.

In a separate smaller bowl, mix together mushed banana, egg, buttermilk, and honey until well combined.

Pour wet ingredients into dry ingredients and stir until just combined.

Put batter into a pastry bag or a small Ziplock bag with the corner cut off and fill mini doughnut tins about ¾ the way full.

Bake at 350 degrees for about 5 minutes, until doughnuts are just turning golden and a toothpick inserted comes out dry.

Let cool in pan for about 5 minutes before moving to wire racks to cool completely.

Once cooled, frost doughnuts with Frosting for Dogs and sprinkle with natural colored sprinkles.
Frosting for Dogs:
In a small bowl, mix together Greek yogurt with honey and 2-3 drops of natural pink food coloring.