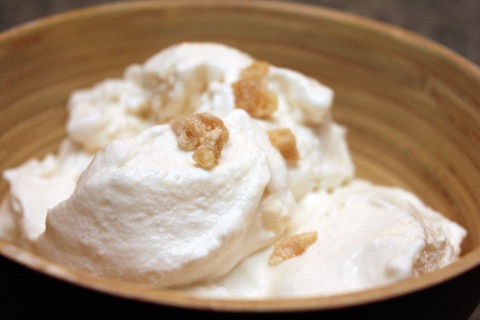 I'm probably the only kid who would lie to my parents about not feeling well because I didn't want to miss school. I would try SO hard to fake feeling well, but when I'd come home from school and fall fast asleep on my parents' bed, they'd know. Then they'd take my temperature and tell me I couldn't go to school the next day. I'd cry. I absolutely hated missing school because I felt like I would miss something important and never ever be able to catch up. I would obsess over it. I've carried that same fear over to my adult life and there's nothing I hate more than getting sick and being forced to miss stuff.
Lucky for me, I don't get sick very often (knock on wood), but when I do, it comes on strong. And after working from home for 4 years, I knew coming back to the work world would do a number on my immune system at some point. Not only am I around people all day every day instead of all by my lonesome in my safe and sterile little apartment, but I take the yucky MBTA to and from work. Germ central. It's actually kind of amazing it took me 4 months of working before I got sick. But now I have a nasty cold and have felt miserable all weekend. Boo hoo.
I definitely wasn't going to miss celebrating my sister's birthday, though. So, I pulled myself together and headed to my parents' house with Chris on Saturday afternoon. Oh, and we brought Mitzi along for the evening, too.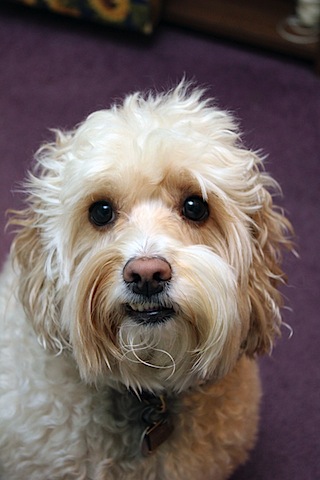 The cutest.
My mom ordered a cake from Brookline's Party Favors and I decided to whip up some frozen yogurt. It was a total experiment as I've never made frozen yogurt with actual Greek yogurt. It was super duper easy. Unfortunately, most of my family didn't love the tartness of it (though I tried to counter it with some extra sugar!), so be sure you enjoy tart yogurt if you're planning on making this. And ginger, too. You really need to love ginger.
Ginger Honey Frozen Yogurt (makes about 1 ½ pints):
Print this recipe!
16 oz. Greek yogurt (I used whole, but 2% might work, too)
⅓ C honey
¼ C grated ginger
1 T sugar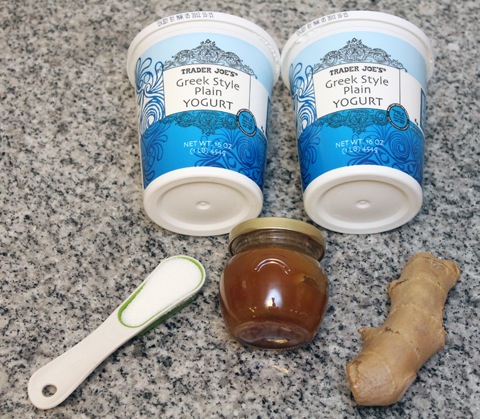 Ginger is weird to grate. But smells amazing.
All you gots to do is mix everything together: The yogurt, honey, grated ginger, and sugar.
I used whole Greek yogurt (Chobani!) because I wanted to make sure it would be creamy enough to turn to ice cream, but I think 2% would probably work, too, and would cut out some of the fat.
And then chill in the fridge for at least 4 hours, but preferably overnight.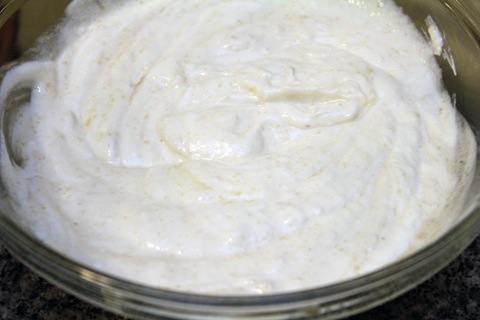 When you're ready to freeze the yogurt, pour into your ice cream maker and follow manufacturer's directions.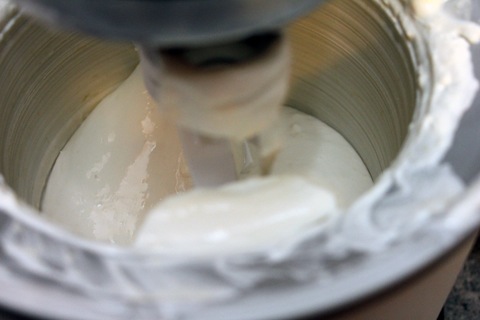 I spun mine for about 30 minutes until it got nice and creamy.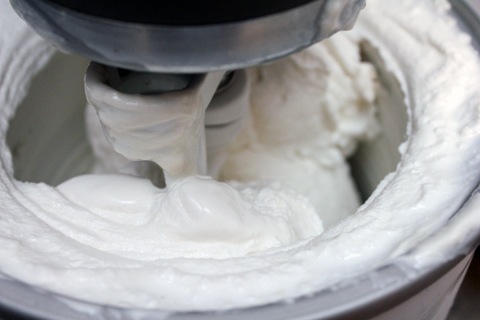 And then I transferred it to a separate container and put in the freezer for about 6 more hours. The longer you can freeze, the better. It had kind of a soft serve-like consistency.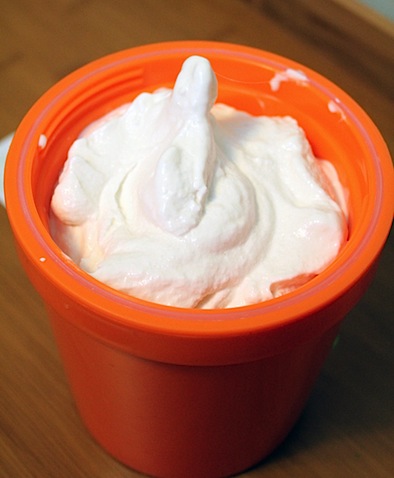 My parents made an absolutely scrumptious dinner, including curry mussels for an appetizer.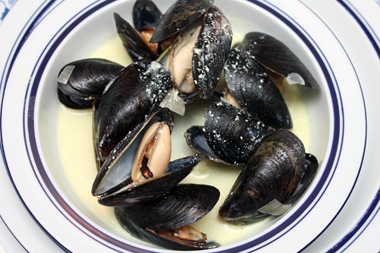 And the most delicious salmon atop mashed potatoes, with a side of asparagus for an entree.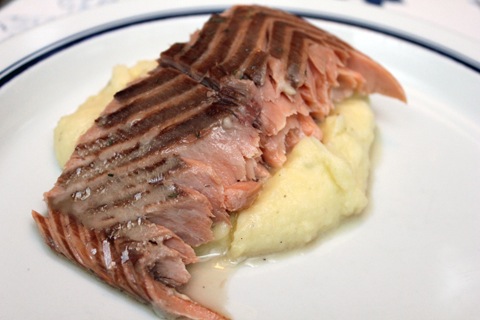 There's really nothing better than finishing a celebratory meal with a cake from Party Favors. It's where Chris and I are planning to get our wedding cake from and it's some seriously amazing cake. I've been dreaming of having it as a wedding cake since I moved to Brookline almost 7 years ago.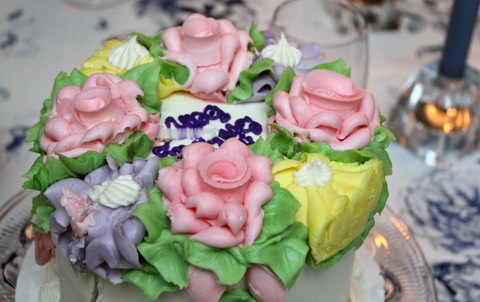 I topped the frozen yogurt with a little bit of crystallized ginger, as well. Because you can never have too much ginger!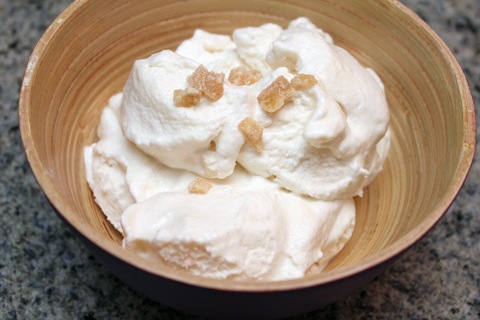 I thought the lightness of the ginger honey frozen yogurt complemented the sweetness of the cake well.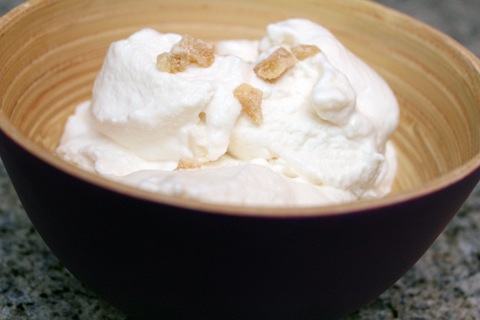 And I was super impressed by how creamy and ice cream-like it was. I definitely want to try this with a lighter yogurt to see if it would be as creamy. If so, then this is an awesome way to enjoy a low-cal frozen treat. Again, this is a tart dessert, so when I say frozen yogurt, I mean frozen yogurt.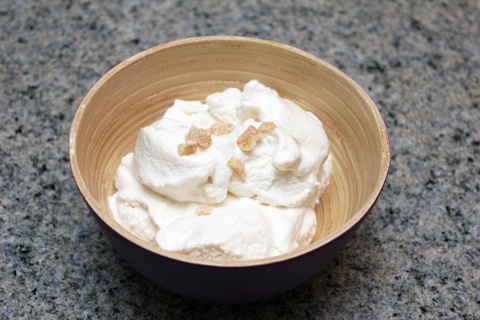 Then we had a great big photoshoot as per usual. I actually went a while majorly slacking on picture taking… It felt nice because I could just relax… But I also kinda missed having photos, which I know I'll really appreciate having in the future. Plus, sometimes it's fun.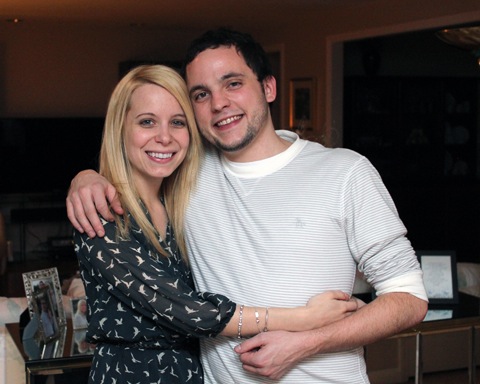 I just love this photo.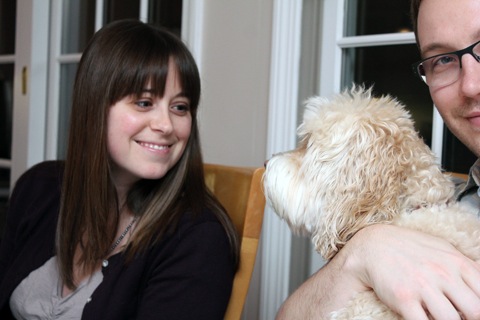 Most photogenic dog ever.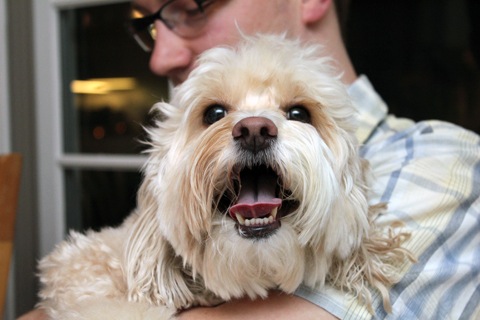 Basically, the entire time we're at the dinner table, Mitzi tries to get one of us to pick her up. Not because she begs for food or anything like that. She just really wants to be on our level and can't stand to miss out on anything.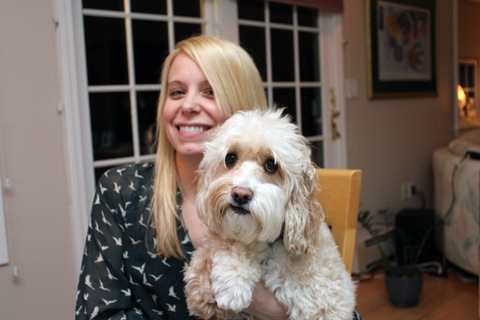 We obviously decided to take some family photos with her. With the birthday girl and Adam!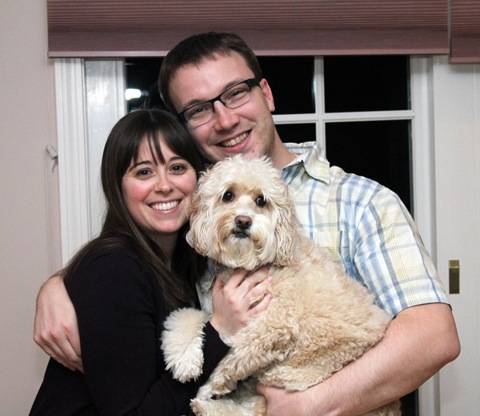 And me and Chris! Please excuse my pale, sickly complexion.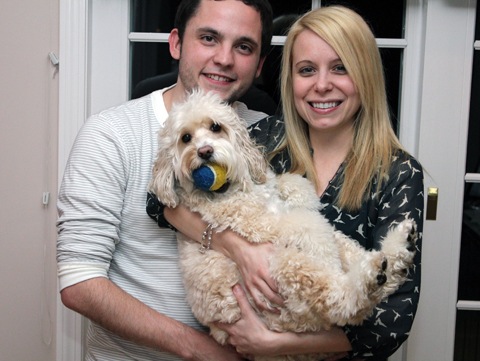 This one made me laugh.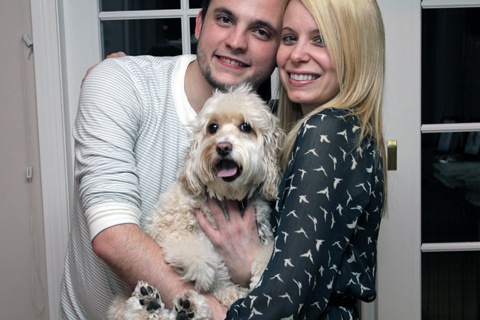 Happy Birthday to my most fabulous sister!! I'm so lucky to have a sister and a best friend all in one and it's such a great feeling to know we'll be able to share the rest of our lives together and all that they bring!
Hope you all had fabulous weekends and are ready for the week ahead. I'm just hoping I start to feel better and can make it through the week because I have a busy weekend planned (yes, I'm already thinking about the weekend), including the Super Bowl!!
Do you like tart fro-yos or prefer sweet?
[Sues]
Pin It