Hello from vacation land 🙂 I queued up a Cocktail Friday post before I left last week, but then decided to make a quick switch since I made a cocktail for the family last night. A pretty fantastic one. Even if you're not a big gin drinker. I promise! There were so many flavor involved in this drink, the gin was just a subtle touch. Though I did use 3 cups of it. But don't worry, it serves 12 people!
Since we were staying in our condo for a week, we obviously brought along plenty of wine, vodka, and gin. As the week came close to an end, we realized we'd need to do some fast drinking or else we'd have to pour a whole lot of alcohol down the drain. Which would obviously be tragic. So, we had my Aunt Judy, Aunt Dottie, cousin Karen, and cousins Cherylann and Tom (and their two kids... who didn't partake in cocktail Friday) over for cocktails before dinner.
I found this fabulous Martha Stewart recipe that just happened to involve plenty of gin... And St. Germain, which my mom also brought along (it's one of our favorites!). This recipe makes 12 drinks since there was a whole gang of us, but you might want to cut it down. Might being the key word.
Grape Elderflower Fizz (makes about 12 drinks):
Adapted from Martha Stewart
Print this recipe!
• 24 oz. (3 C) gin
• 6 oz. (¾ C) St. Germain elderflower liquor
• 18 oz. (2 ¼ C) 100% Concord grape juice
• 24 oz. (3 C) club soda
• 4 limes, halved
• 1 bunch red grapes, halved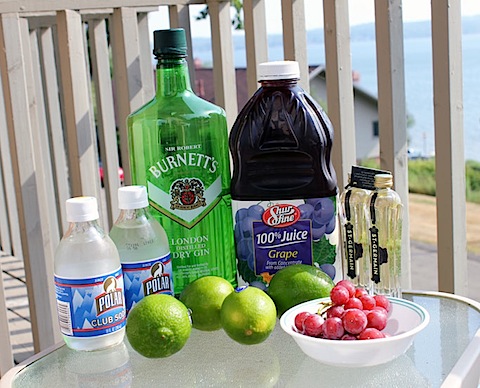 This is basically the simplest drink ever. In a pitcher, mix together the gin, St. Germain, grape juice, and club soda. Squeeze the lime juice into the pitcher and stir.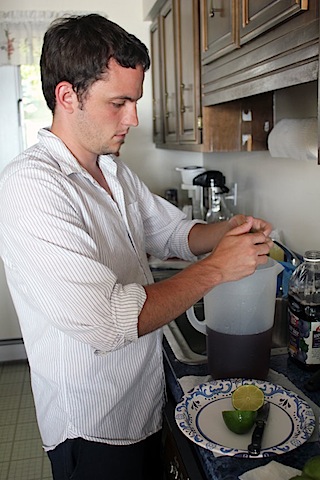 Pour into a glass filled with ice and add in a few grape halves.
Bonus points if you drink it on a deck overlooking a lake.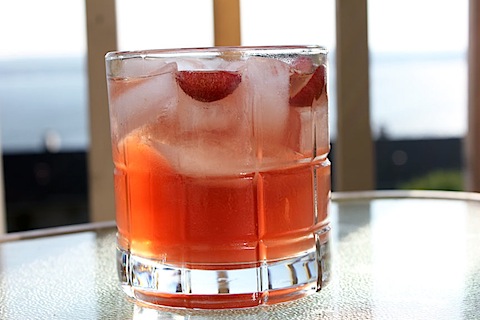 I did!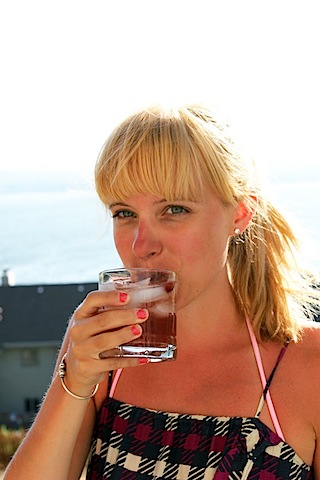 We served the drinks with these INCREDIBLE appetizers. They're simply french bread spread with gorgonzola dulce and topped with spicy fennel salami and a dollop of fig jam. I could have eaten a million of these.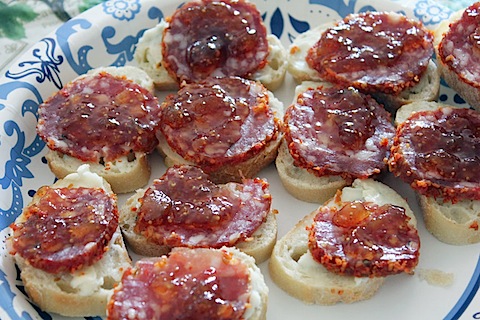 Later, we enjoyed a full spread of burgers, sausages, corn, and lots of salads. My cousin Benn proclaimed my dad's burgers were the best he's ever had (and he's had a lot of burgers). I'd have to agree. My sister also made a pretty amazing fruit pizza.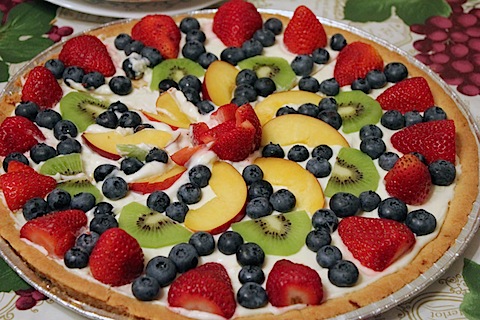 It's been VERY hot here at Lake Chautauqua, but the evenings have been perfect out on the deck. This cocktail was perfectly refreshing and though concord grapes are often more of a fall thing, I think this is the perfect summer drink.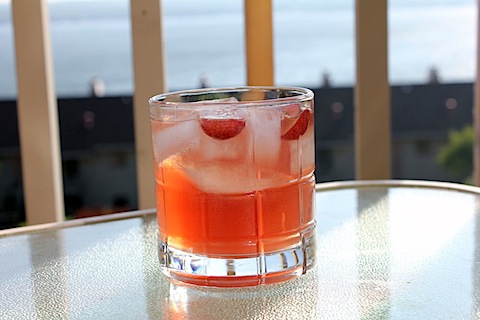 Sadly, we're leaving Chautauqua bright and early tomorrow morning. This week absolutely FLEW by. And I'm going to seriously miss hanging out in the sun, sipping cocktails, and not checking my work email. I don't want vacation to end! (also, I don't know why my head looks so weird in this photo).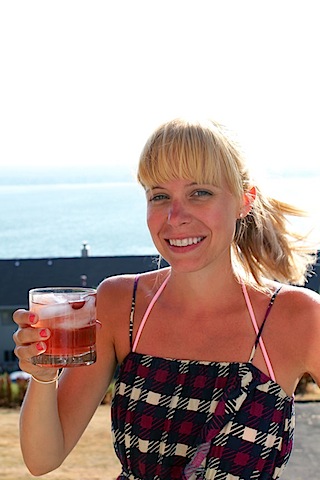 Oh, and I'll have you know that we pretty successfully finished most of the gin and vodka. But then, I never doubted us.
After a long, long drive back to Boston, I'll be jumping right back into things since Chels and I are headed to TechMunch all day on Sunday. Will you be there?
I hope you all enjoyed Cocktail Friday and that your weekend is filled with sunshine-- and not too hot temperatures-- and fun! How are you dealing with the heat? Every winter, I proclaim that I'll never complain about the heat in the summer since I'm always complaining about the cold and so far, I haven't. Though I'm sure it helps that I have AC and a pool. But seriously, I love the heat! Bring it on! And I'll keep bringing on refreshing cocktails. Win-win.
What are you sipping this weekend?
[Sues]