These Grilled Scallops and Grits are summer comfort food at its finest. Scallops caramelize perfectly on the grill and can be done in just minutes. Serve atop cheesy grits with some crispy panko for a deliciously decadent meal.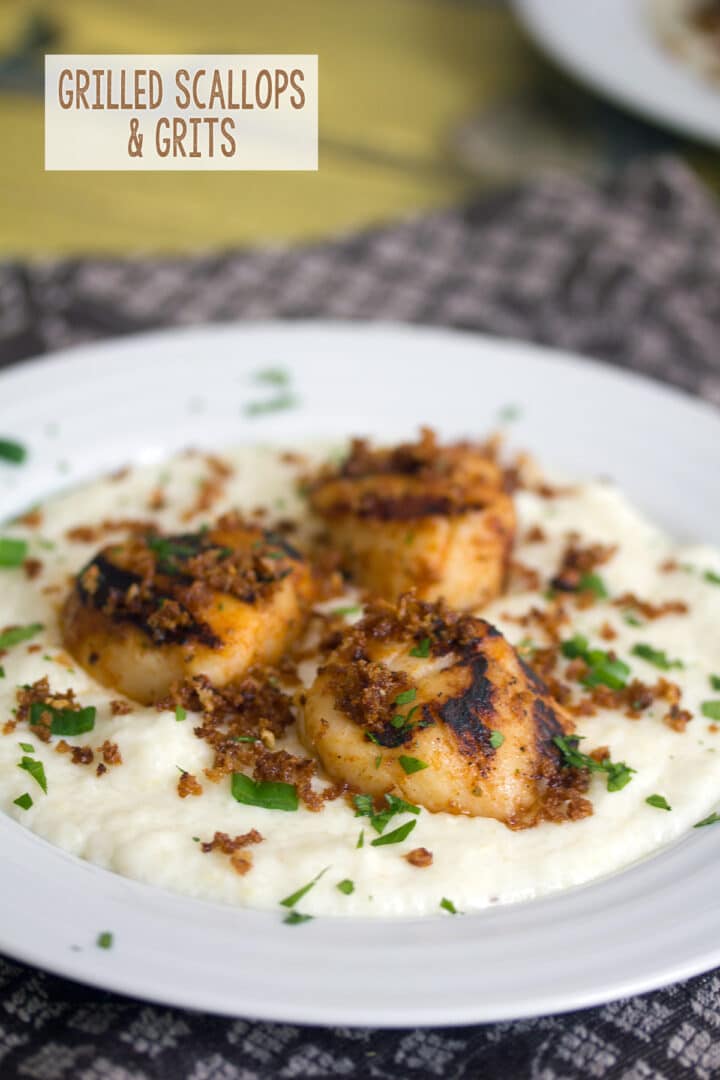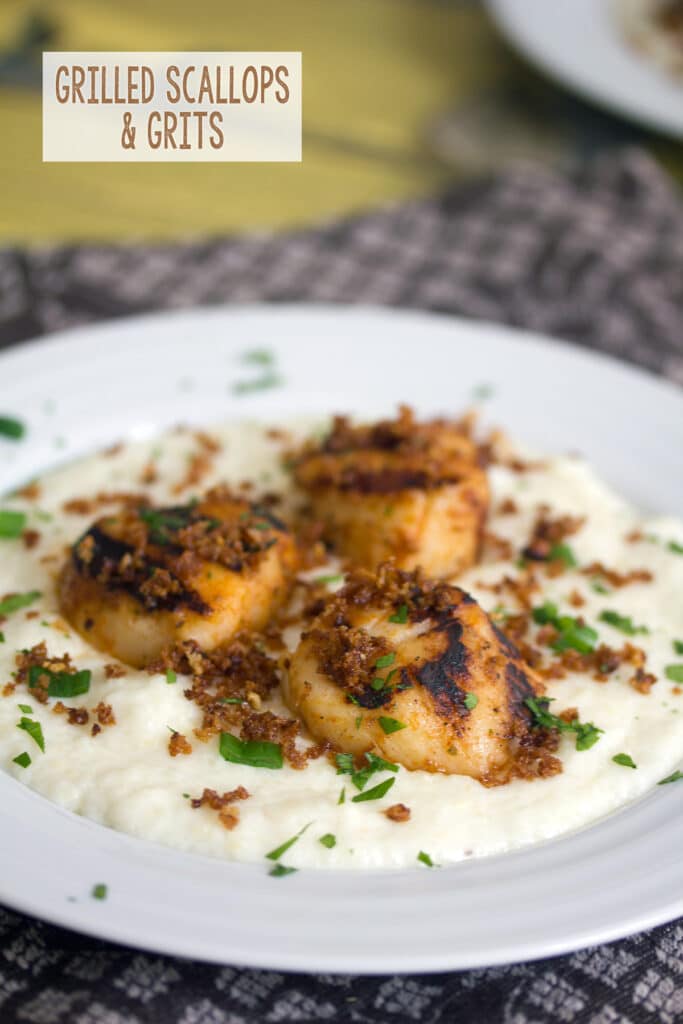 Well, this is kind of embarrassing. But I have to admit something to all of you… Until the other day, I had never used a grill before.
Yup, I have just grilled for my first time ever. To be honest, it actually took me a while to determine if that was actually the case. I mean, I say "we're grilling!" all the time and Chris and I have dinner on the grill at least once a week.
But you know what? It's always Chris who's doing the grilling. Sure, I do lots of the planning, prep, and plating, but when it comes to turning the grill on and actually cooking the meal, it's all Chris. Yikes.
I wasn't actually aware of that until Weber emailed me and pointed it out. Seriously. They said they wanted me to get into grilling and that I shouldn't just leave it to my husband.
And when Weber tells you that you should learn to grill, you listen. Right?? Especially when they send you a Weber Q 1200, their portable gas grill… In purple!
My family has always been a Weber family and when Chris and I bought our house, a Weber grill was our very first purchase. Like, before we even closed on the house, we went to Home Depot and purchased a Genesis.
But now it was time for me to break in my new Q and I decided to start with a meal of scallops and grits. Scallops may seem like a strange first meal to grill, but this recipe just sounded so appealing to me and way more interesting than the typical burger (though I'm sure there will be plenty of burgers in my grilling future, too!). I got this recipe from the Weber website, but made a few alterations.
It was also my very first time making grits.. They're not really a big thing in New England, but now I think I'm in love!
How to Toast Panko
The recipe starts with toasted panko… Just how many of my favorite meals start!
In a medium-sized skillet over medium-high heat, melt 5 Tbsp butter. Pour about 3 Tbsp of the butter into a small bowl and set aside, keeping warm.
Add panko and minced garlic to the remaining 2 Tbsp butter in the skillet and cook until panko is golden, about 3-4 minutes, being sure to stir often.
Stir in the thyme and about ⅛ tsp salt. Remove skillet from the heat.
How to Grill Scallops
Now you'll want to get your grill started for a little pre-heating action. You want it to be about 450-550° F.
While your grill is heating, it's a good idea to get started on the grits (see below), though I think you could probably make these a bit ahead of time, too.
Pat your scallops dry before starting (this will prevent them from sticking to the grill!).
Now, in a medium-sized bowl combine the scallops, Cajun seasoning (I made my own with this recipe), ½ teaspoon salt, and ¼ teaspoon pepper.
Toss scallops in the seasonings, add 2 Tbsp melted butter, and toss to coat.
Now it's time to get our grill on!
Place scallops on the grill, flattest side down. Can you tell I'm in serious deep concentration?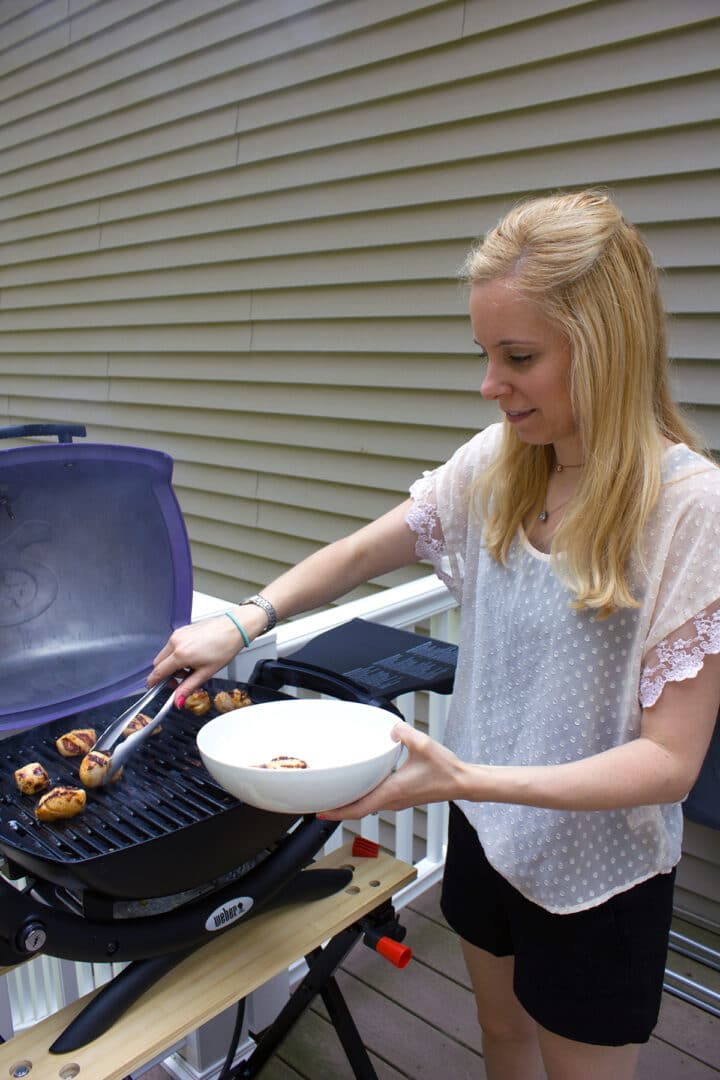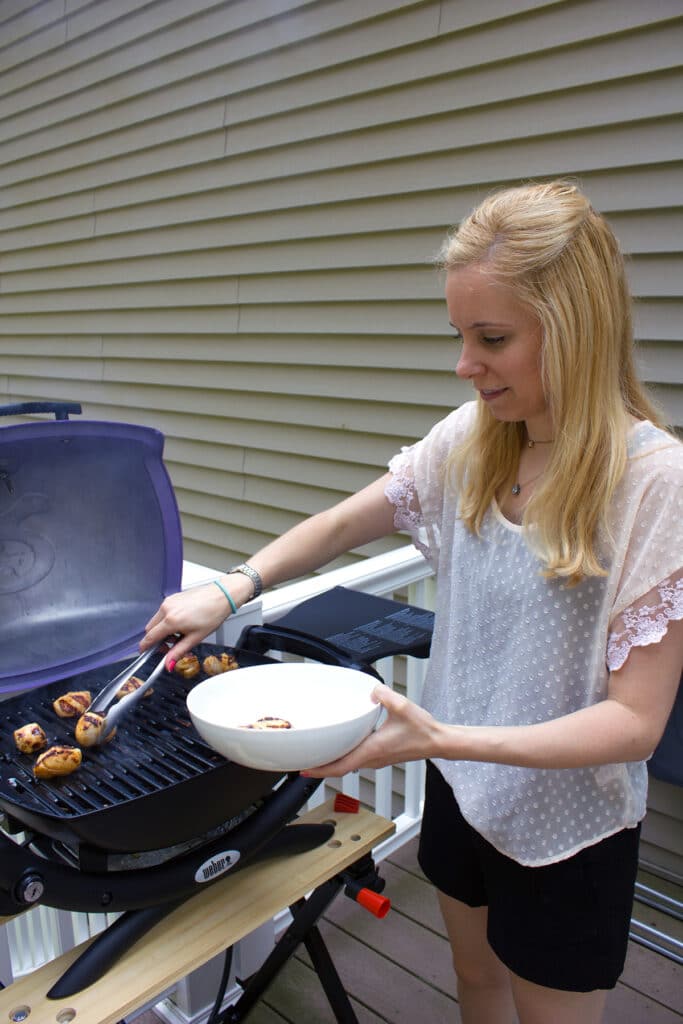 Grill over direct high heat, with the lid closed. After two minutes, turn scallops with tongs. If scallops are resistant to turning, continue to grill another few seconds (you'll know they're ready to turn when they turn easily).
Let scallops cook for another 2-3 minutes on other side, until they're lightly browned and just opaque in the center. Look at those beauties!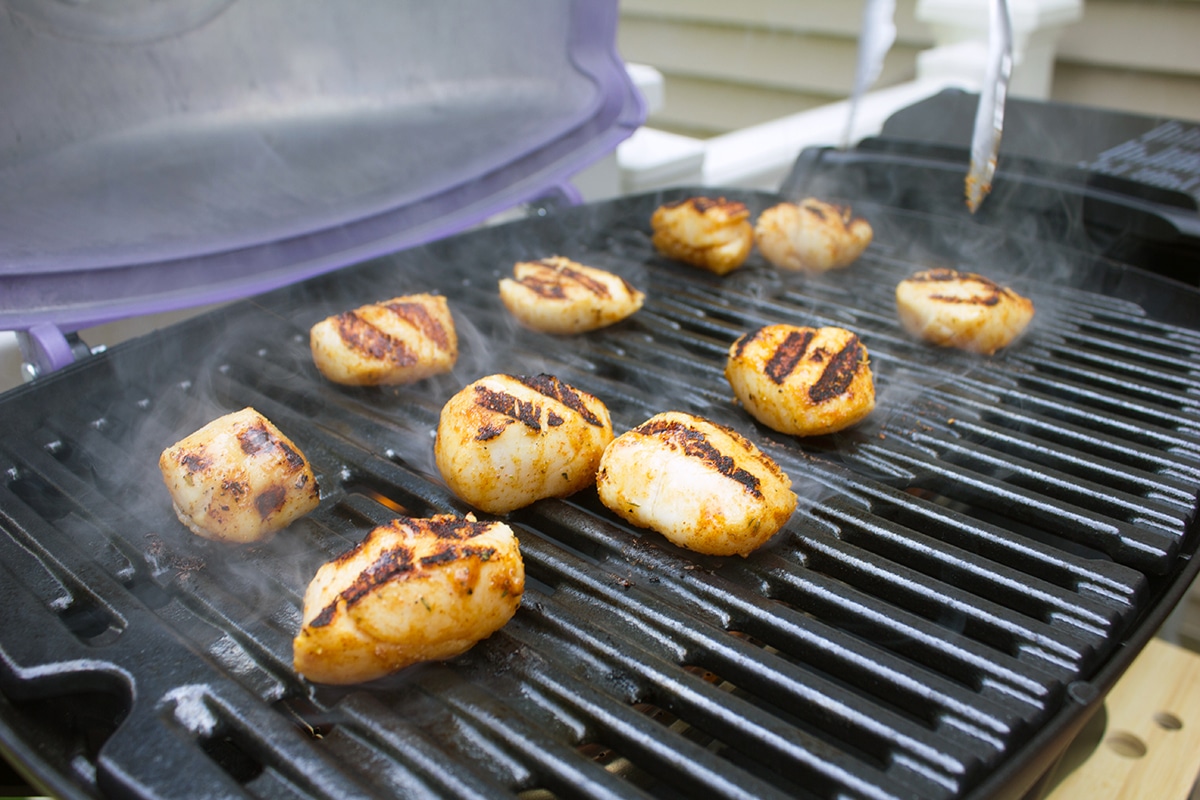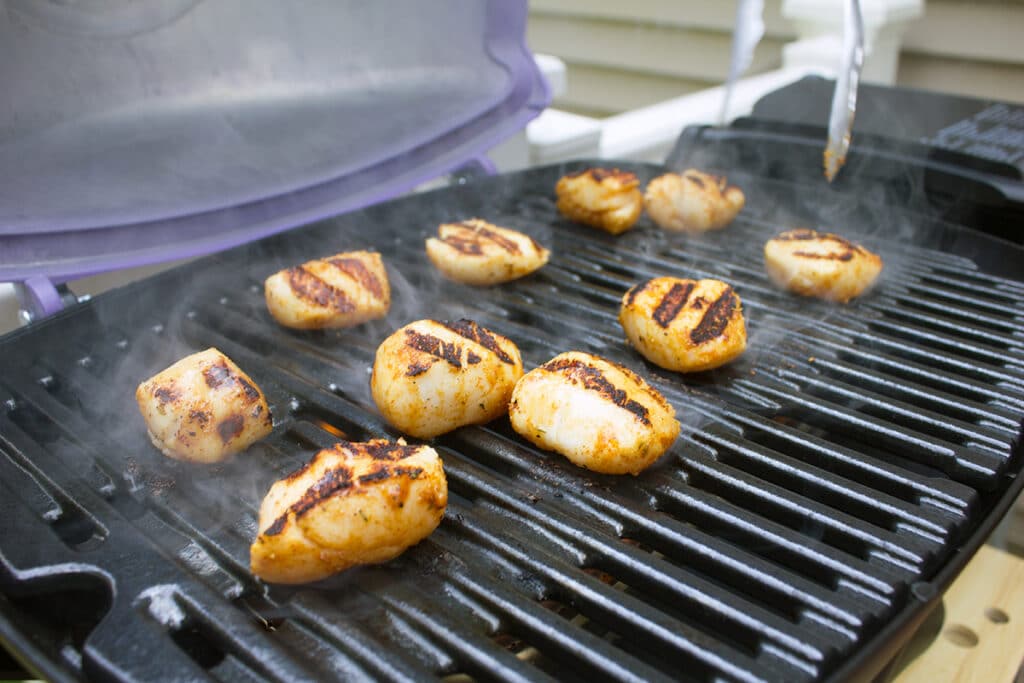 During the last minute of grilling time, add the scallions to the grill and cook over direct heat, turning once. Transfer the scallops to a clean bowl and the scallions to a cutting board.
Add hot pepper sauce (I used Tabasco) and the remaining 1 Tbsp melted butter to the bowl with the scallops and toss to coat. And roughly chop the scallions.
Woo hoo! My first grilling experience. And I think those scallops look pretty fab if I do say so myself. And how easy was that??
How to Make Cheesy Grits
For the grits, combine milk, garlic, and salt in a medium-sized saucepan. Bring to a simmer over medium-high heat and then slowly whisk in grits.
Reduce the heat to low and continue cooking, until the mixture thickens and the grits are very tender, about 6-9 minutes. Be sure to whisk often.
Add more water water ¼ cup at a time if the mixture thickens too much.
Stir in cheddar cheese and season with pepper. Remove from the heat and cover to keep warm.
Now you're ready to assemble your dinner. Divide the grits among four plates. If the've solidified, you can loosen them a bit with a few tablespoons of water or milk and continue to warm through.
Top the grits with the scallops, scallions, and toasted panko. Garnish with parsley and serve immediately with more hot pepper sauce, if you want.
Enjoy!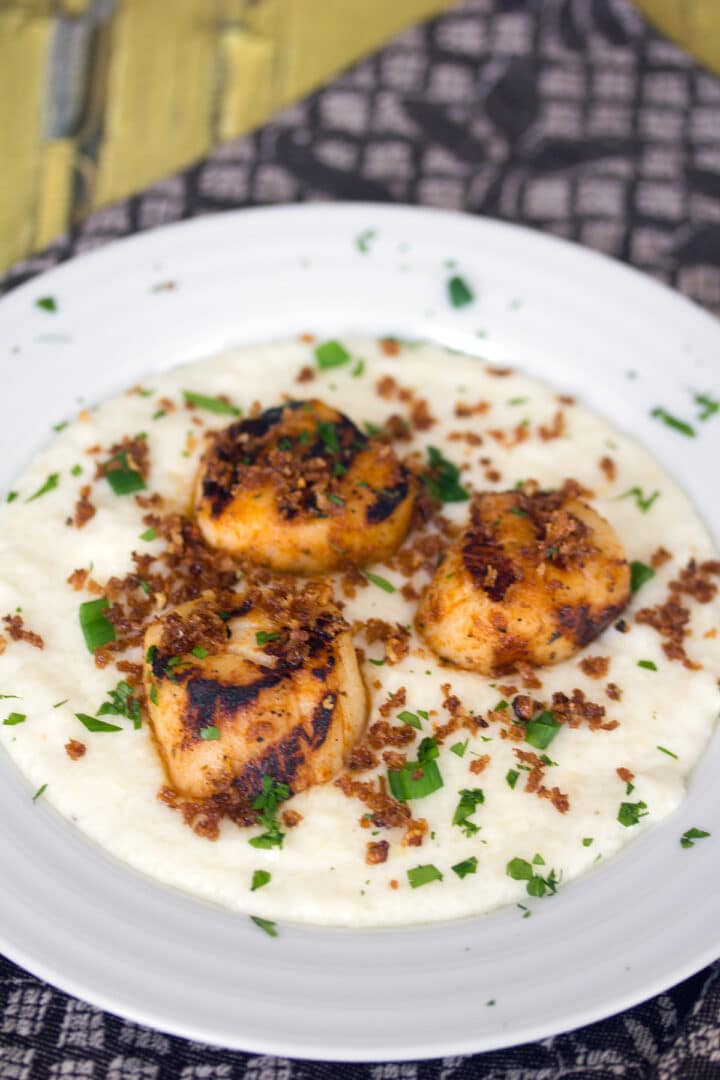 Once upon a time, I hated scallops. They were probably my number one most-hated food in life. My food enemy, if you will. I don't know what changed, but I slowly started to enjoy them.
Now, I love them so much, I'm very likely to order them out if they're on the menu.
I don't make them at home a whole lot, but now that I know I can grill them in about 4 minutes flat, that may all be changing.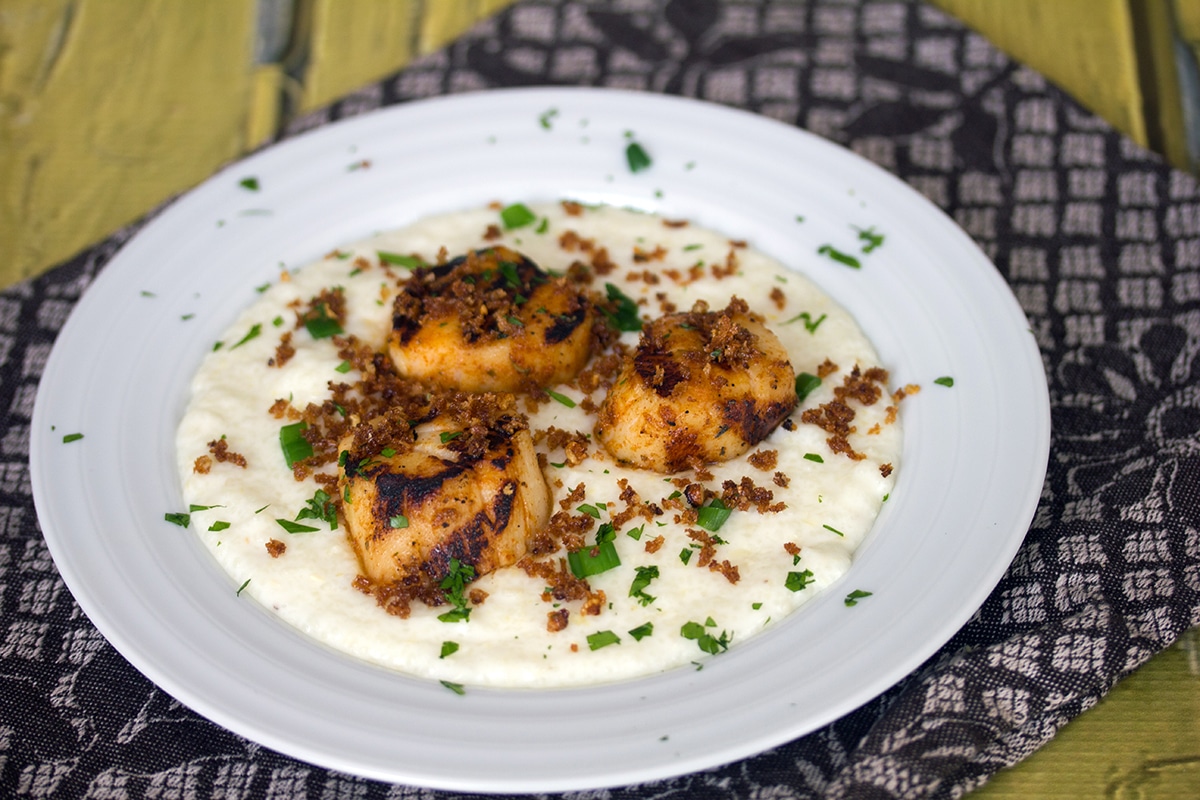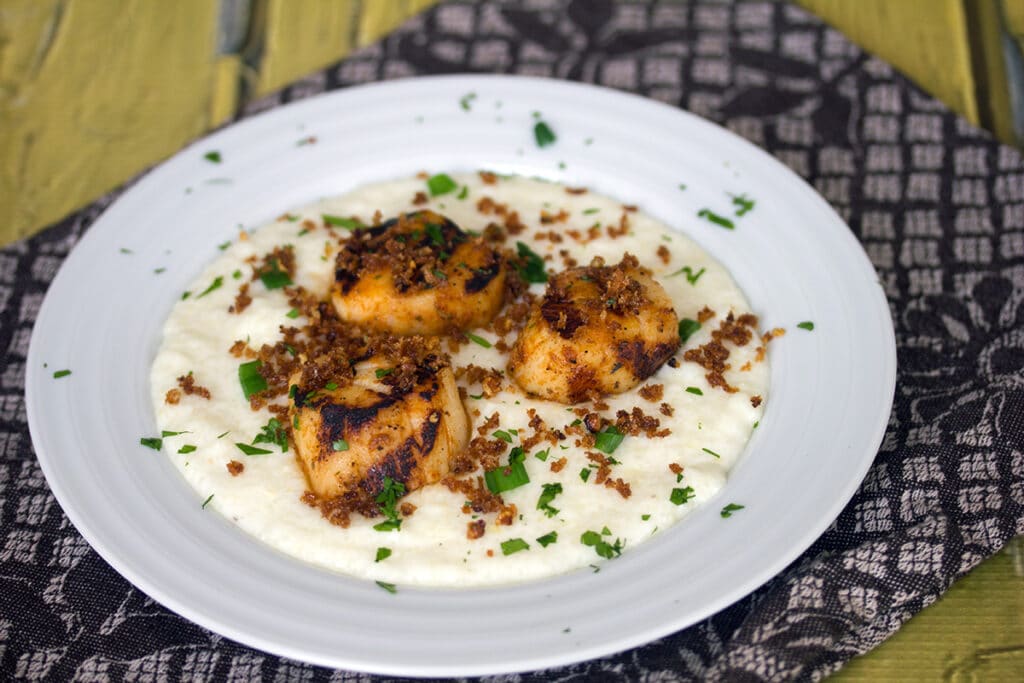 This meal was amazingly decadent. I know that's a word you'd usually use to describe cake or chocolate, but I honestly think it's the most appropriate word for grilled scallops. Eating these was like eating candy.
And the buttery toasted panko added the perfect crunch!
And the grits? So creamy, cheesy, and awesome. Now I get what the fuss is about. I most definitely want to eat these for breakfast, lunch, and dinner. Like every day.
More Grilled Recipes
If you're hoping to get out and use your grill more this summer, here are some other grilled recipes you might love!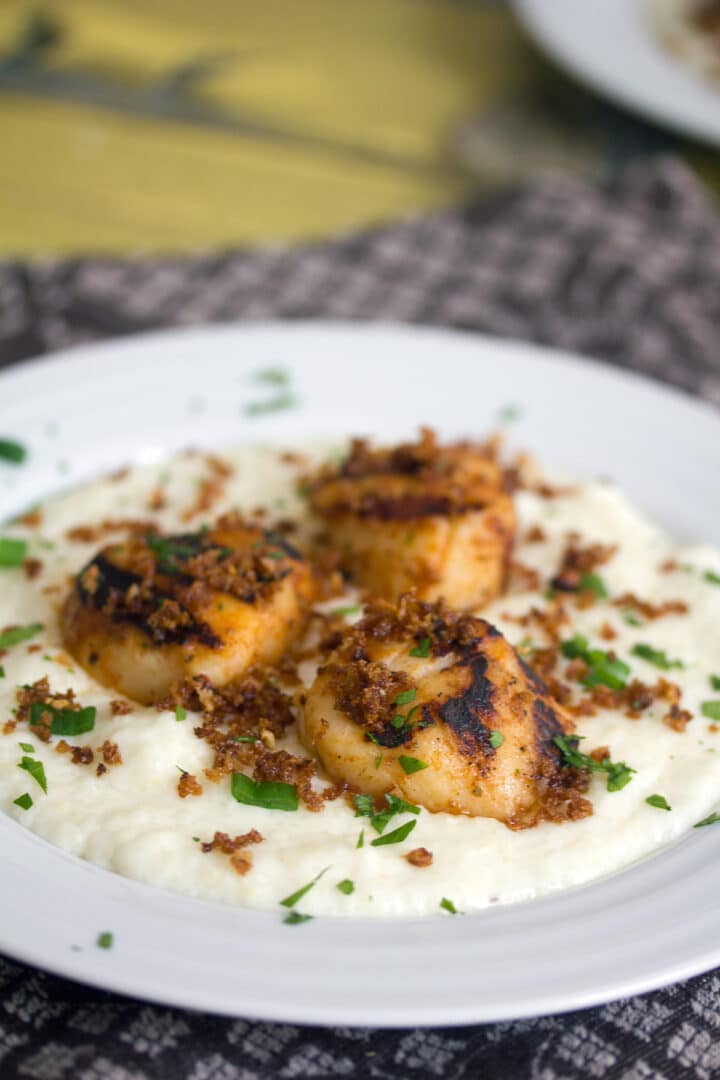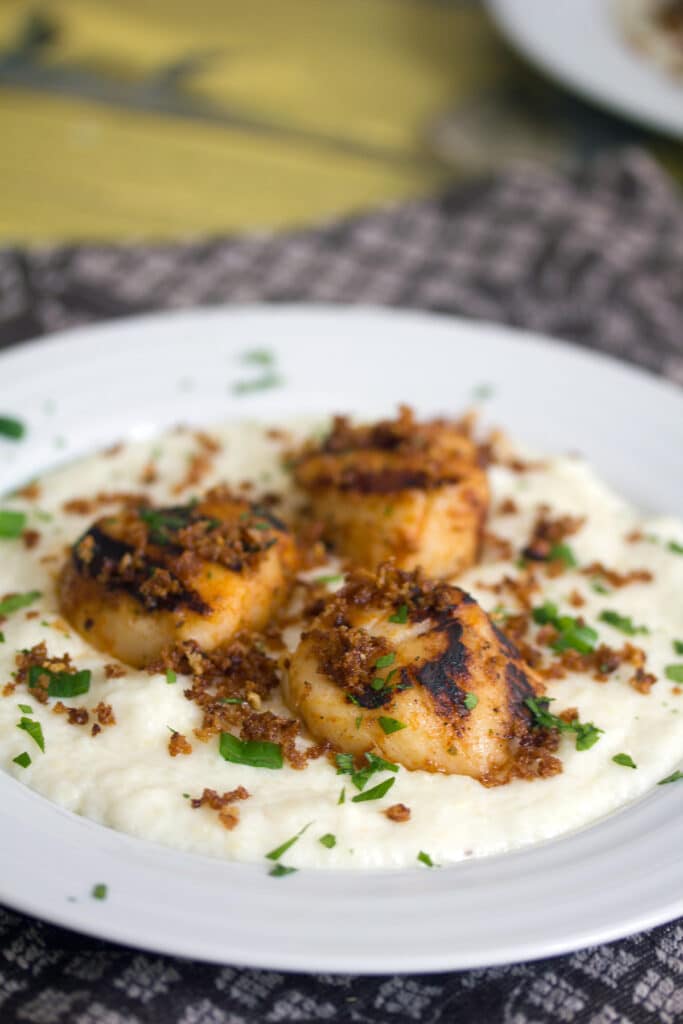 I'm pretty freaking excited that I actually grilled something myself. And not for the last time!
I guess we're going to have a little battle of the grillers in our household!
Just kidding, it's more of a grilling partnership.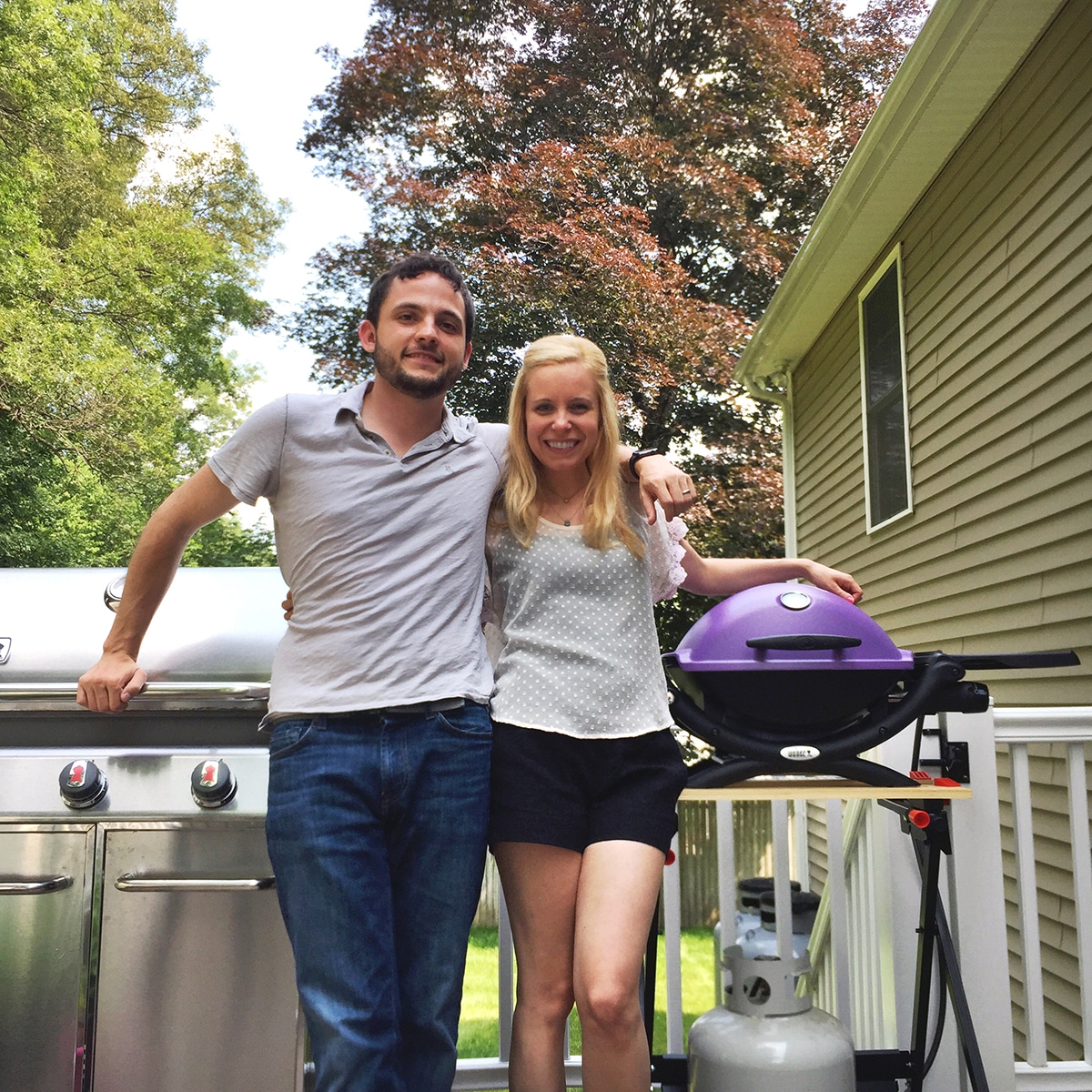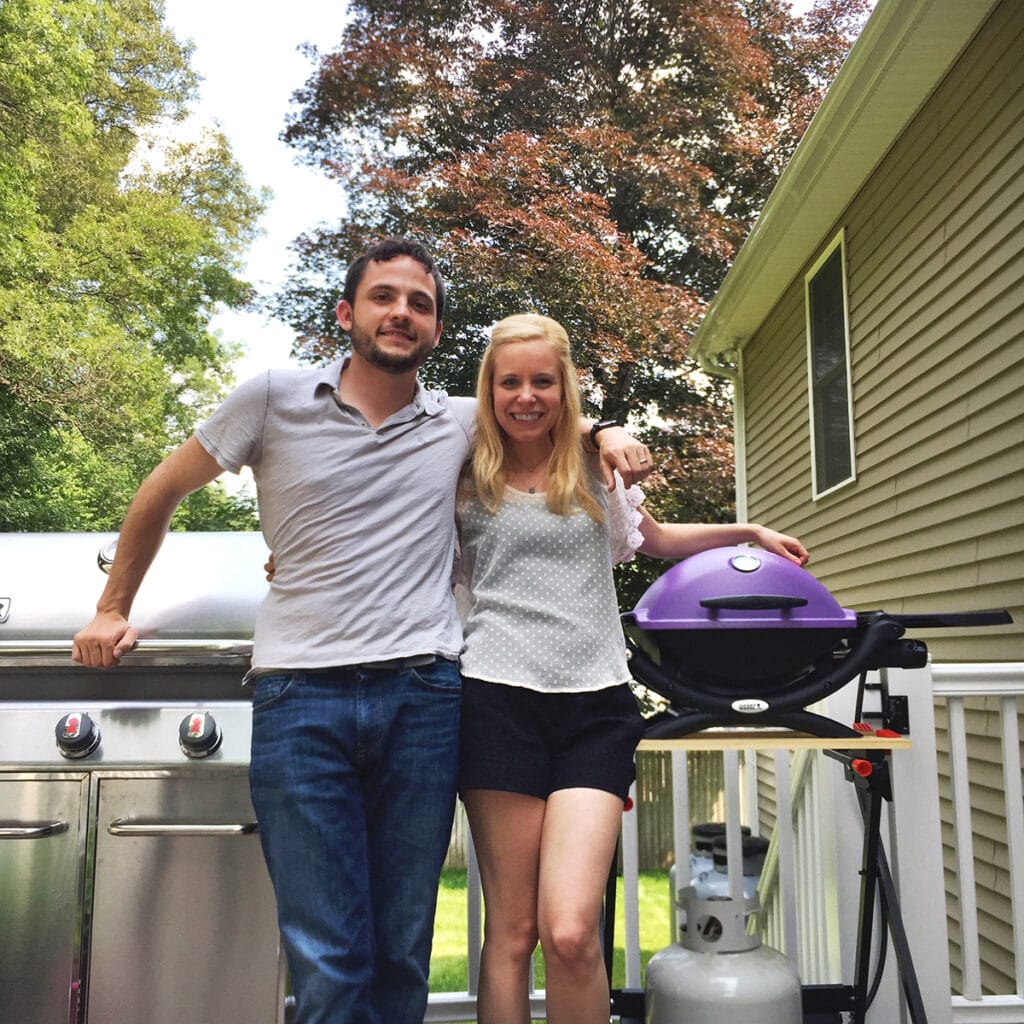 Oh and also, before I had even used the grill, I was listening to the America's Test Kitchen podcast and they were raving about the Weber Q. It landed the top spot for portable grills.
Hooray! Grilled scallops and grits for all. No matter where you live or where you're traveling to. That is something that makes me pretty happy.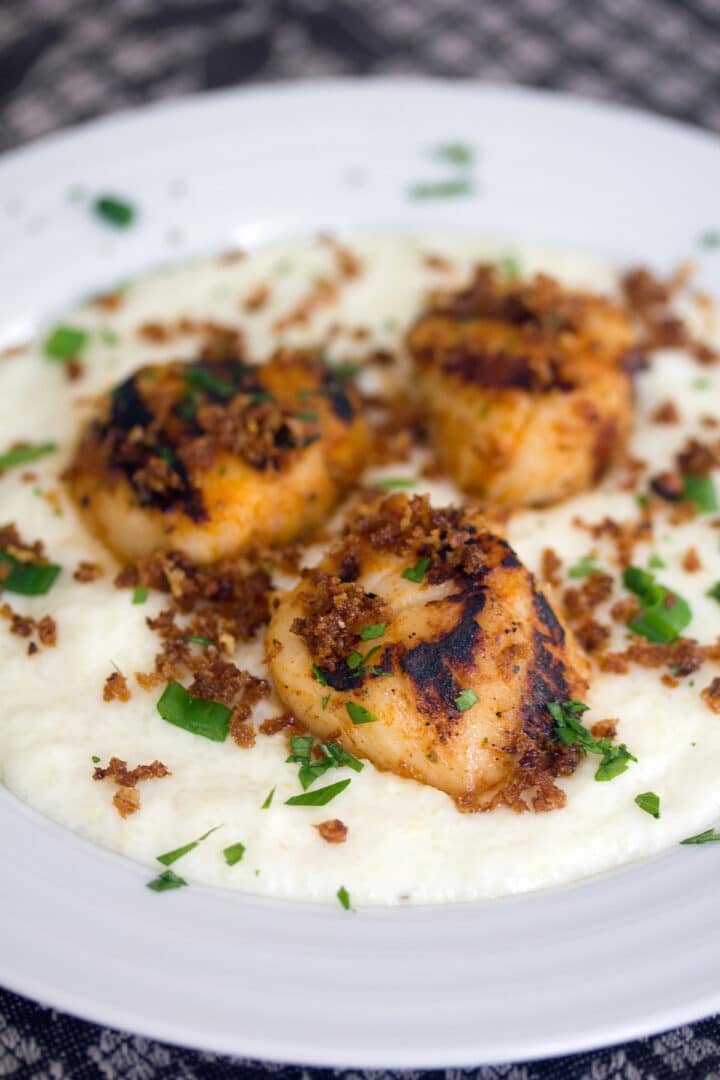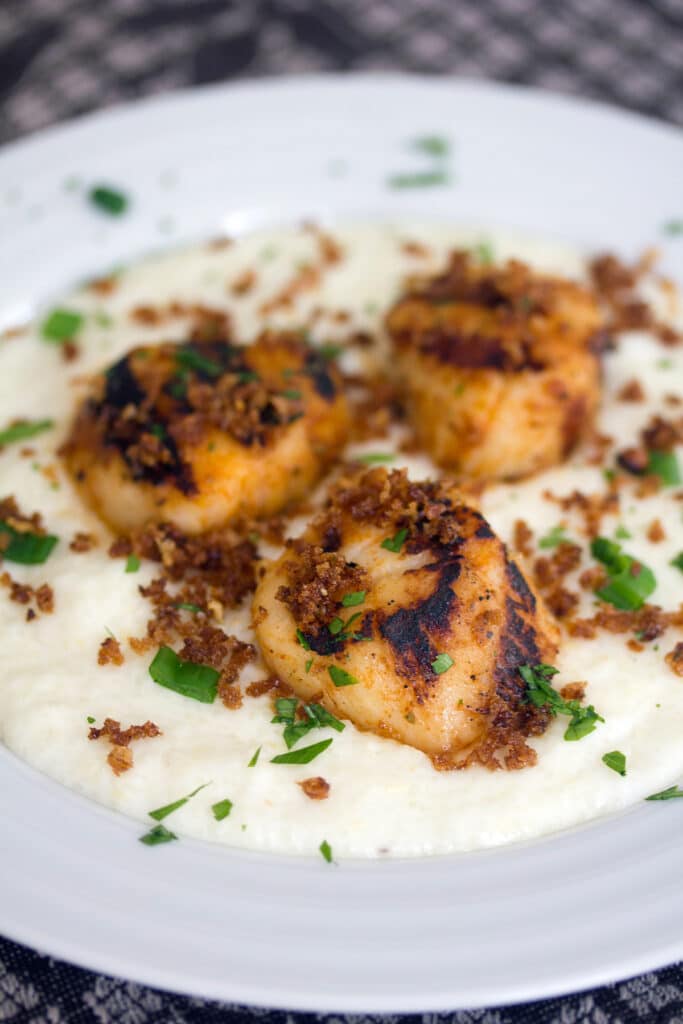 Are you a griller? What's your favorite food to grill?
📖 Recipe