Your favorite summer cocktail in fish form? This grilled Mojito Swordfish has all the flavors of the classic mojito and is so quick and easy to prepare.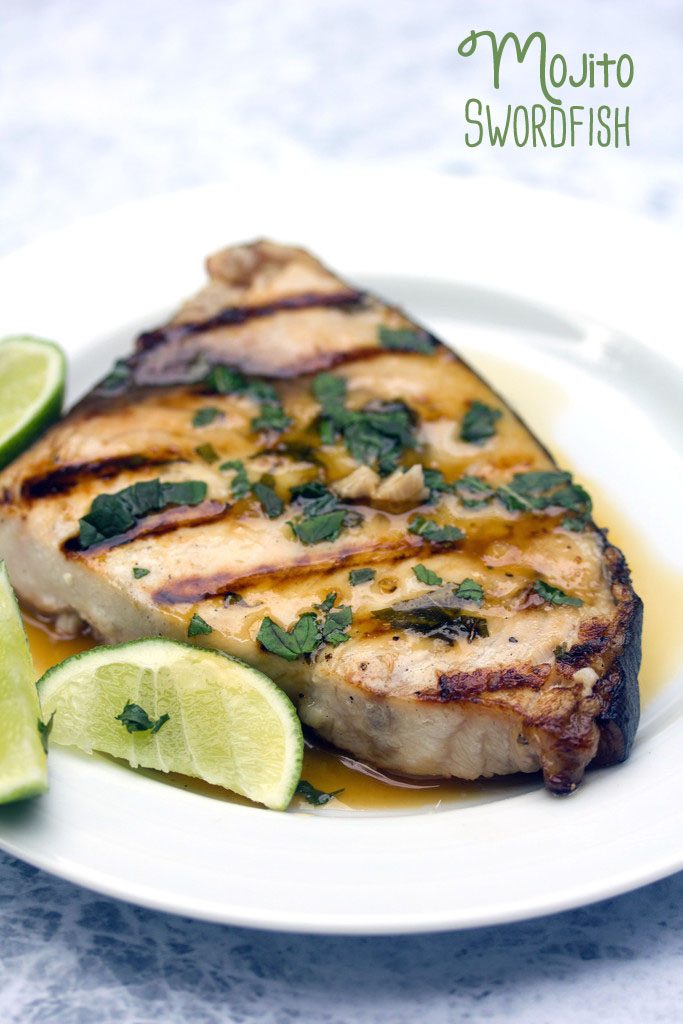 Hi, August. Where the heck did you come from? August is such a tough one for me. Because on the one hand, I'm pretty much obsessed with the weather that usually comes with the month. Super hot and sunny and summer-y. On the other hand, it's signaling the end of the summer, which has me feeling super ugh.
I know that summer technically doesn't end until the middle of September, but let's fact it, once September hits, fall is here. I saw on Facebook that some people's kids are actually going back to school today. On August 1. What? In my day and in my New England region, we never went back to school until after Labor Day in September. Also, today's weather is rainy and chilly and I walked past a girl wearing suede booties this morning. Too soon.
Let's keep the grill running throughout the month of August. And the summer cocktails coming. Or you could just grill your cocktails... On fish. OK, that sounds weird, but I promise you that this grilled Mojito Swordfish is anything but weird.
It's quick and simple to prepare, which means you can come in from the beach, throw the fish in the 20-minute marinade, heat up the grill, and have dinner on the table in no time.
GRILLED MOJITO SWORDFISH RECIPE
The grilled swordfish marinade basically contains a classic mojito cocktail- rum, lime juice, and mint. Plus an abundance of garlic... Which you probably wouldn't want in your mojito cocktail, but which goes perfectly with this fish.
You'll want to let it sit in the marinade for about 20 minutes for best results.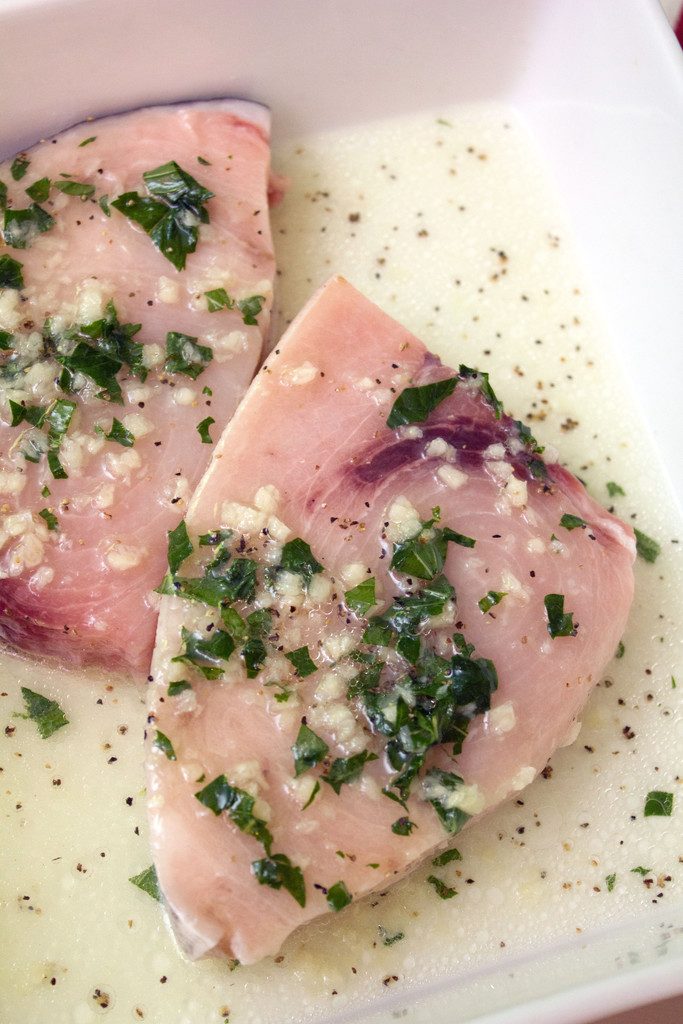 And then it's ready to be cooked. It's done after about six minutes on the grill and a little extra sprinkling of mint on top. Ooh la la. Almost as good as a tropical island vacation, right?? My suburban New England backyard... tropical vacation... What's the difference really?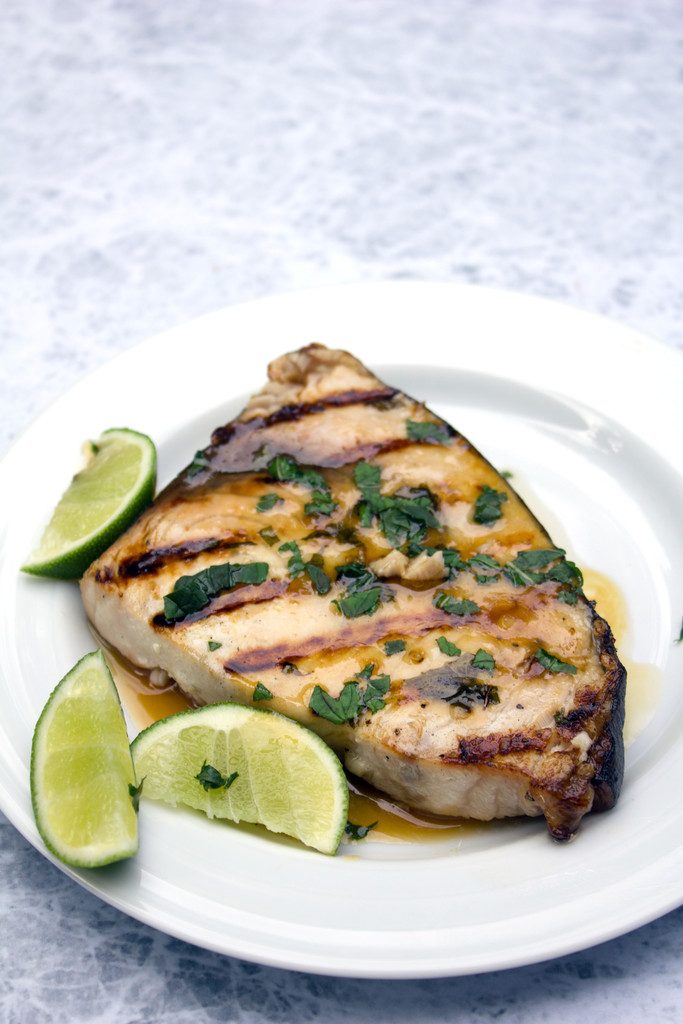 There's something about swordfish that is just begging you to keep it simple and stay away from any frills. I think this dish is the perfect balance for keeping things exciting, but not taking away from the integrity of the fish (you know... gotta keep the fish's integrity in mind at all times!). The flavors were light and fresh and summer-focused, but the full swordfish flavor still came through.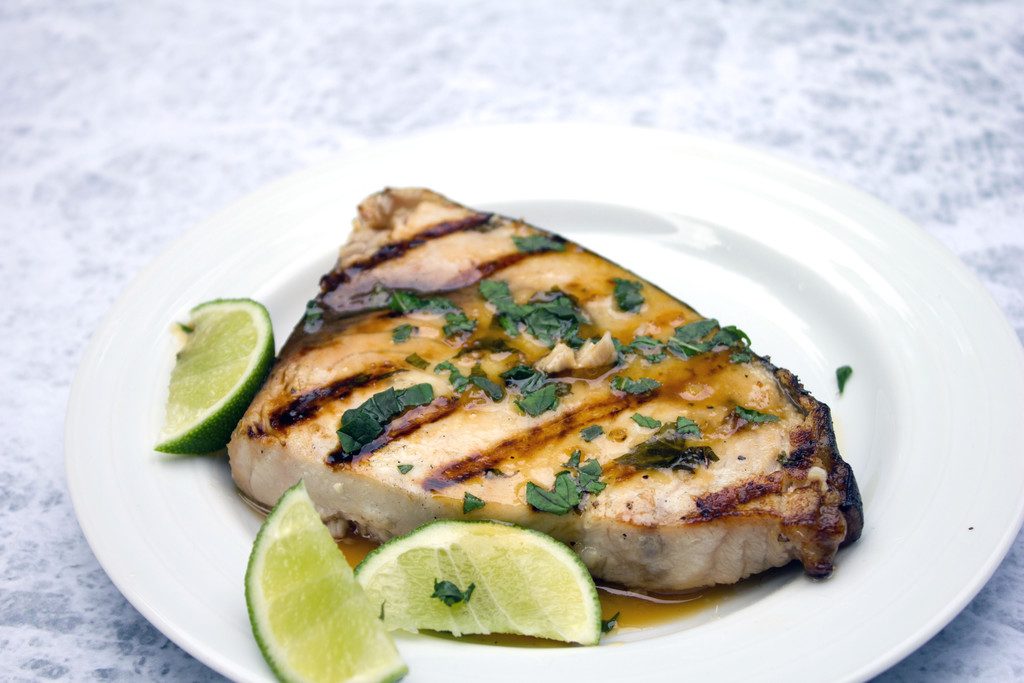 The only thing I did wrong with this meal is to not also serve it with actual mojito cocktails. I feel like that was a pretty big faux pas on my part. But don't worry, I dined on my grilled swordfish with a White Claw hard seltzer, which is pretty much my (and everybody else's) new favorite drink of the summer.
I probably say this every time I make any type of seafood, but I never really understand why people are so afraid of it. Since fish is usually best served simple, it doesn't really require a lot of frills and can be served quickly and easily. Plus, when you grill it, you can keep any "fishy" smells outdoors, if that's what you're afraid of!
I hope that August brings with it a million more grilling days. Or at least 31. I'm going to spend my time focused on how much more of summer we have to enjoy (and eating more grilled mojito swordfish) rather than the fact that it's beginning to fade.
What's your favorite way to prepare swordfish?
If you're looking for more fish recipes, check out my Swordfish with Citrus Pesto or my Fish Tacos. I'm also obsessed with these Blackened Fish Burgers from Oh, Sweet Basil!
📖 Recipe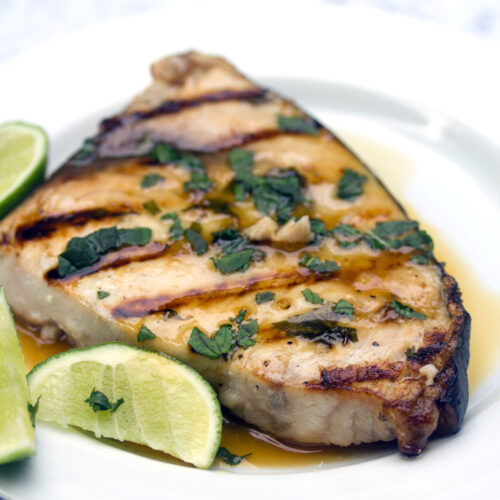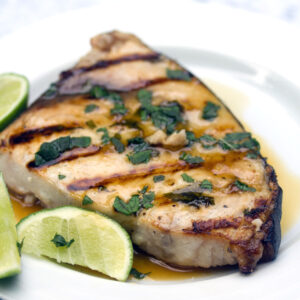 Grilled Mojito Swordfish
Your favorite summer cocktail in fish form? This grilled Mojito Swordfish has all the flavors of the classic mojito and is so quick and easy to prepare.

Print
Pin
Rate
Ingredients
2-

6 oz.

swordfish steaks

1

Tbsp

olive oil

Salt and pepper

¼

cup

light rum

1

Tbsp.

freshly lime juice

1

Tbsp.

finely chopped mint

3

cloves

garlic

minced
Instructions
Place swordfish steaks in a shallow dish, rub with olive oil and sprinkle with salt and pepper.

Combine light rum, lime juice, chopped mint, and garlic in a small bowl.

Pour marinade over the top of the swordfish steaks.

Put in refrigerator and let marinate for about 20 minutes, but be sure not to let it sit much longer or the lime juice may cook the fish.

Heat grill to medium-high heat and brush grates with canola oil.

Place swordfish steaks on grill and cook for about 3 minutes on each side, depending on thickness, until swordfish is cooked through.

Sprinkle with additional mint and serve with lime wedges.
Share a Photo of Your Finished Recipe!
Mention @wearenotmartha and share a photo if you've made the recipe!