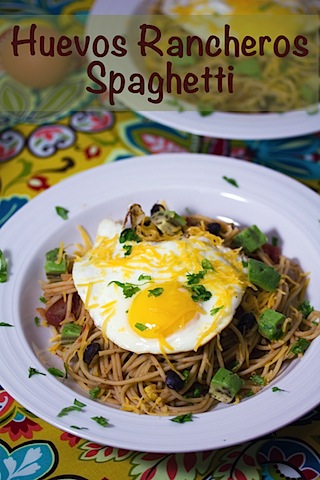 Things we would not have if it weren't for Oprah:
1) Forever images of Tom Cruise jumping up and down on a couch acting all out of control (AKA the end of the world's obsession with Tom Cruise and the realization that he's a tad bit cray-cray).
2) A love for reading in America. Just kidding. But really. You know some people legit did not read books until Oprah's Book Club came into existence.
3) Dr. Phil. Dr. Oz. Nate Berkus. Rachael Ray. Suze Orman. I really, really love Dr. Phil. Don't make fun of me.
4) A love for Gayle King. She's awesome.
5) Fun yelling, "and you get a car! And you get a car!" whenever giving something out to a group of people (seriously, try it. It's fun).
6) This Huevos Rancheros Spaghetti.
I wish I remembered what I was Googling when I came across this Huevos Rancheros Spaghetti on Oprah's website. All I know is that I wasn't looking for recipes and the first thing I thought when I saw the recipe was "ew" and "how weird" and I immediately clicked off. But then I couldn't stop thinking about it. And I realized I had everything I'd need to make it just sitting in my kitchen dying to be turned into this dish. Plus more ingredients that I knew would make it even better. And so I made it. And kind of loved it.
Admittedly, spaghetti for breakfast is weird. It probably makes you think of Elf. That's why I'm promoting this dish as the ideal brunch dish. Or breakfast for dinner. Because it was also Oprah who taught me about "skinny fat," which forever freaks me out. Now she's telling me to eat pasta for breakfast? But the more I thought about it, anyway, maybe spaghetti for breakfast isn't so weird after all? I mean, isn't it better to pack those carbs in before you start your busy day than it is before you go to bed? This could be revolutionary. Just another way Oprah is still changing your life. (disclaimer: to be fair, this dish is obviously not Oprah's invention. It was simply featured on her website. It's actually the creation of Melissa d'Arabian of Ten Dollar Dinners. But still. Oprah's bringing the good stuff to the people. Like she always has).
Huevos Rancheros Spaghetti (serves about 4):
Adapted from Oprah.com
Print this recipe!
12 oz. whole wheat spaghetti
2 C frozen corn
1 15 oz. can black beans, rinsed
1 habanero pepper, chopped (seeds removed if desired)
1/2 T chipotle pepper
4 eggs
1 1/2 C salsa
3/4 C shredded cheddar cheese (for garnish)
1 T chopped cilantro (for garnish)
1 avocado, chopped (for garnish)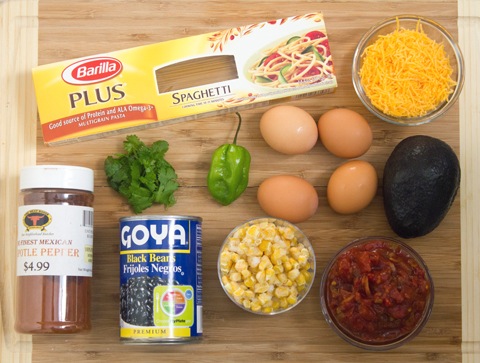 In a large pot, bring water to a boil, add pasta, and let boil until al dente. When spaghetti is about three minutes from being done, add corn, black beans, and chopped habanero.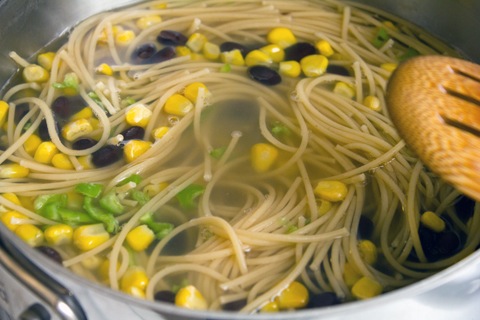 While your pasta is cooking, fry your eggs in a frying pan or two, using a little cooking spray to coat pan. Season with salt and pepper.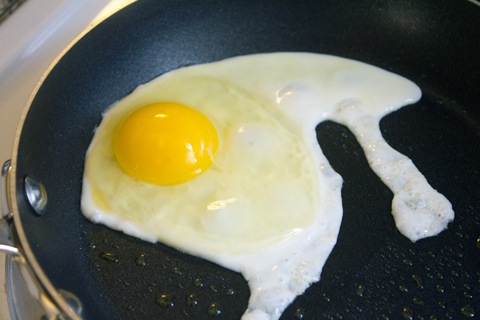 Drain pasta, reserving about a cup of pasta water. Return the pasta to the pot, along with the salsa and about 3/4 C of the reserved water. Toss to coat. You'll love the fact that the salsa is pretty much a pasta sauce. If you think the pasta needs more water, add the rest of it.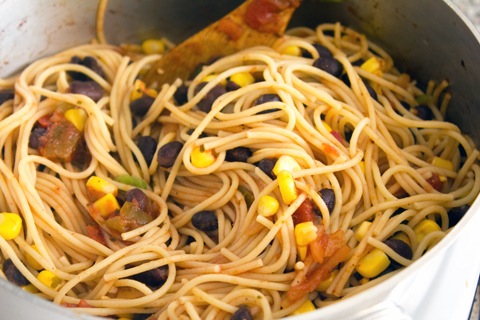 Divide pasta between four plates and top each with an egg. I feel like I served great portions of this for four servings and we still had plenty of spaghetti leftovers. Add some cheese, cilantro and avocado to the dish for some extra fun.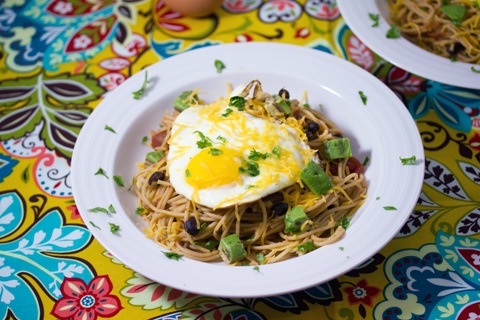 Wasn't that super easy? That's just one reason it's the ideal brunch dish. If you're having people over, it's super simple to throw some pasta on and all you really have to worry about is cooking up the eggs.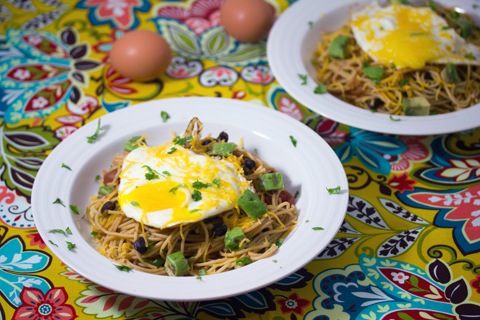 It's also pretty unique and I bet most people at your brunch will be like "whoa… spaghetti for breakfast?" But then they'll try it and start coming around, especially after a) they realize how fabulous it is and b) you explain to them how pasta really makes a lot more sense as a breakfast food. Especially when a protein like an egg is involved.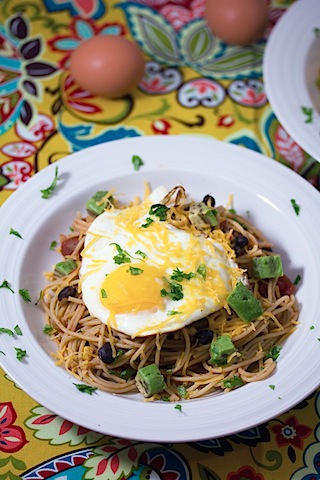 I personally loved this dish because I love Mexican food and this involved all my favorite elements. Of course, huevos rancheros are also fabulous when served with a tortilla.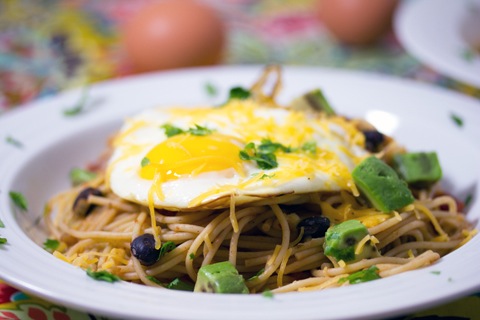 The next time I make this dish, I'll probably try it with quinoa. Quinoa is already an ideal dinner AND breakfast food and would make a lot of sense in this dish. And then I could eat it every day without having to tell people I ate spaghetti for dinner.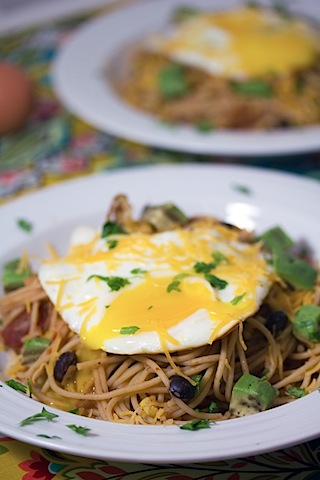 Because, really, the most important part of this dish? The way the salsa and the egg yolk combine to make the most delicious sauce in the world. Who needs marinara when you can have a spicy protein-packed sauce.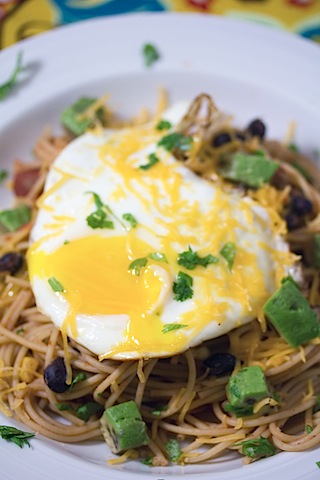 Oh, Oprah. Thanks for giving us so much. Pasta, eggs, and breakfast. Done.
Would you eat pasta for breakfast?
[Sues]