This easy-to-make Angel Hair Alfredo with Jalapeño and Pancetta is the kind of delicious comfort food pasta that leaves you feeling happily satisfied instead of weighed down. And because it's so quick to make, it's the ideal weeknight dinner!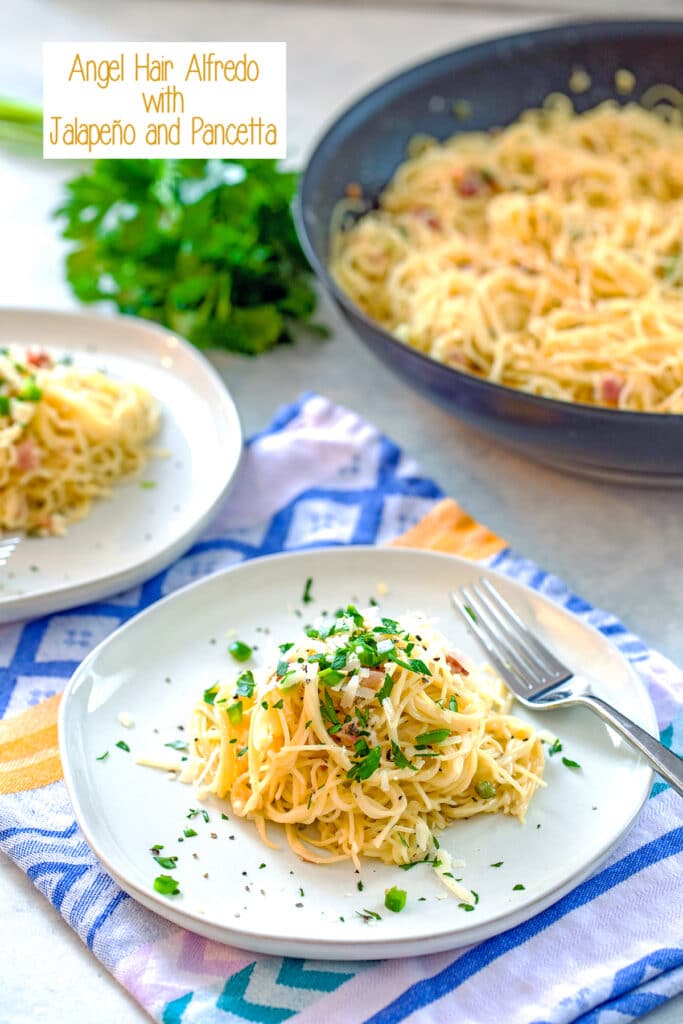 Back in my college days and for at least a few years after I graduated, I'm pretty sure I ate pasta at least three nights a week. Usually just a big bowl of penne with butter, lots of parmesan cheese, and red pepper flakes. If I was feeling like I needed a little extra nutrition, I might throw in some frozen peas.
These days, it's super rare that I make pasta for dinner and sometimes that makes me sad because I love it so freaking much. And though I'm still not opposed to pasta with butter, these days, I find myself craving pasta that's a bit more indulgent. And that often means a cream sauce.
Obviously fettuccine alfredo is always a winner, but sometimes fettuccine just doesn't appeal to me and I want a nice light angel hair pasta. There's something about the delicate slurp-able noodles coated in a rich creamy sauce that just makes my heart sing.
And when I feel like I need a little extra nutrition, I add jalapeño and pancetta. OK, that's a lie. That's for when I want more flavor, which is basically every time.
I'll just eat some veggies on the side, thank you very much.
How to Make Angel Hair Alfredo with Jalapeño and Pancetta
Doesn't fettuccine alfredo just sound so fancy? Change the fettuccine to angel hair and it's suddenly even fancier! But believe it or not, this angel hair alfredo is incredibly easy to make and is the perfect weeknight dinner, even when you really don't feel like cooking.
This may either be the BEST news in the world or the most dangerous scariest news. I'll let you decide...
I've made plenty of alfredos in my time and while you don't necessarily need any add-ins, there's something to be said for pasta with a little bit of a kick and some extra saltiness mixed into the cream sauce.
That's why I start my alfredo sauce by sautéing some chopped jalapeño and pancetta in a little butter.
After that, it's just cream, parmesan cheese, and the angel hair pasta. I told you this was easy!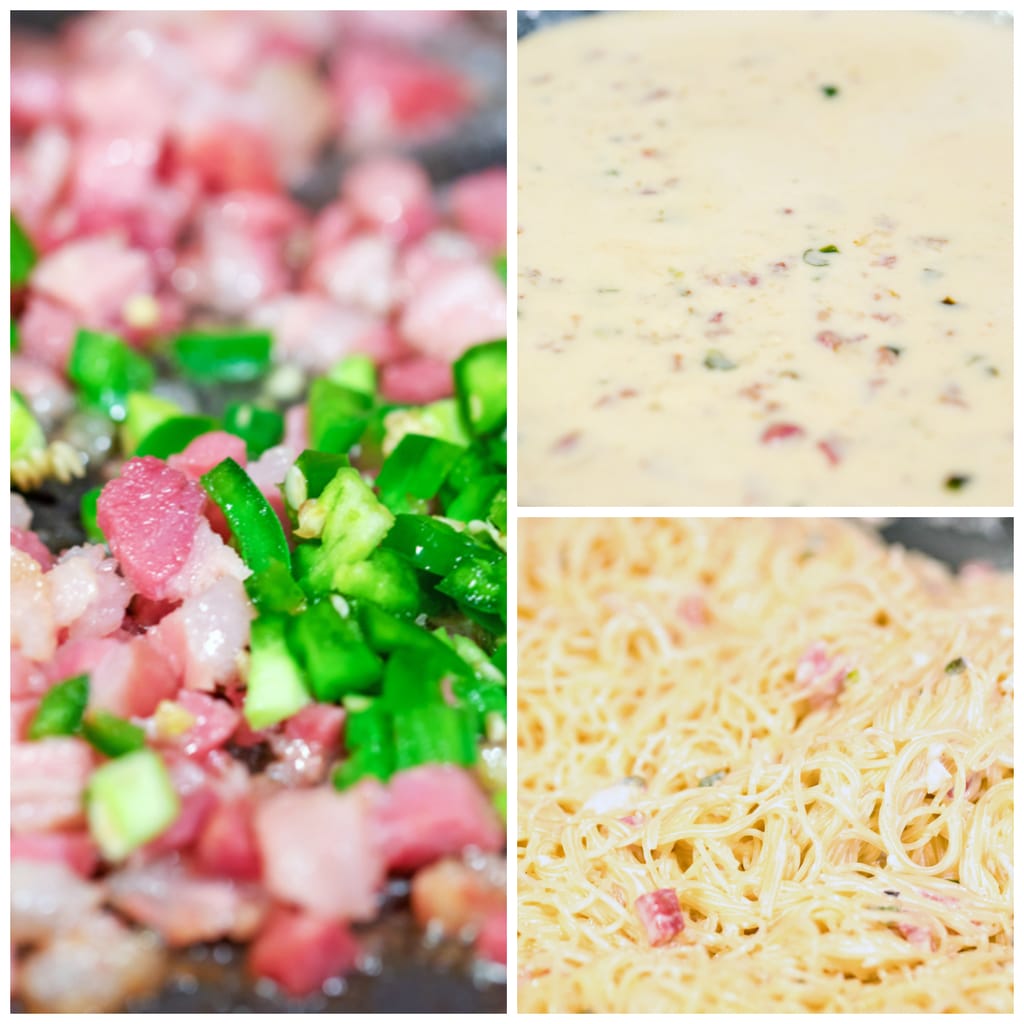 I know there's a lot of cheese in this pasta sauce, but obviously I had to top the dish with a little bit more. Plus some chopped parsley for extra green!
Because I love parsley and can legit eat it by the handful. Why isn't this more socially acceptable? My parents used to tell me if prevented colds, so I would always eat all the garnish off everyone's dinner.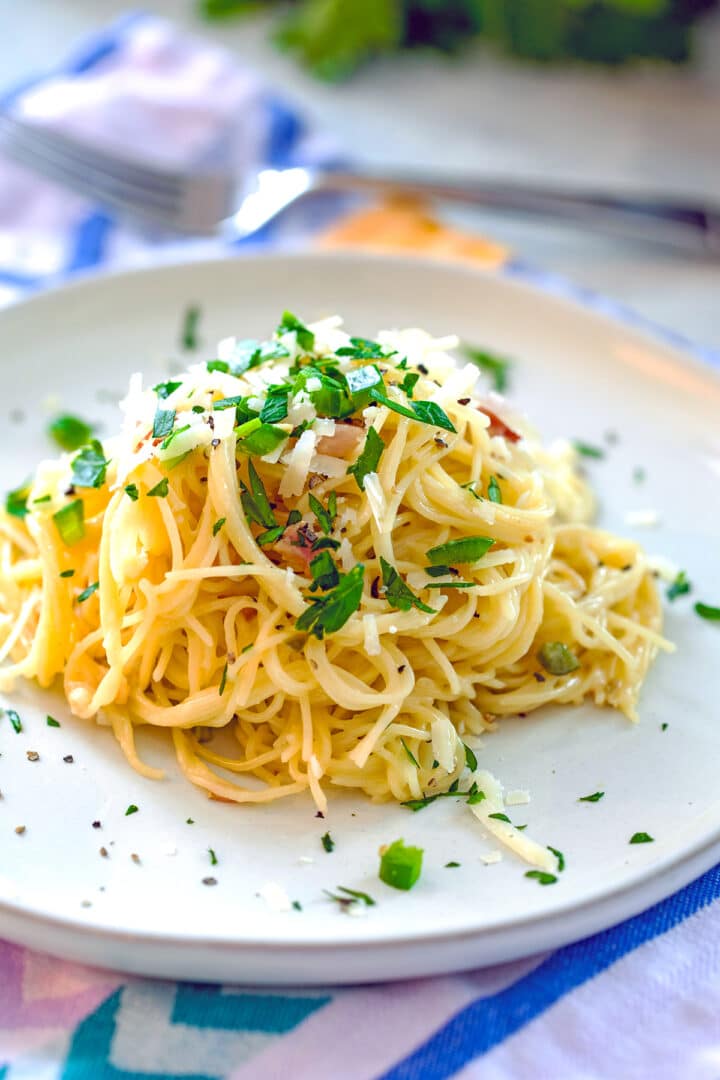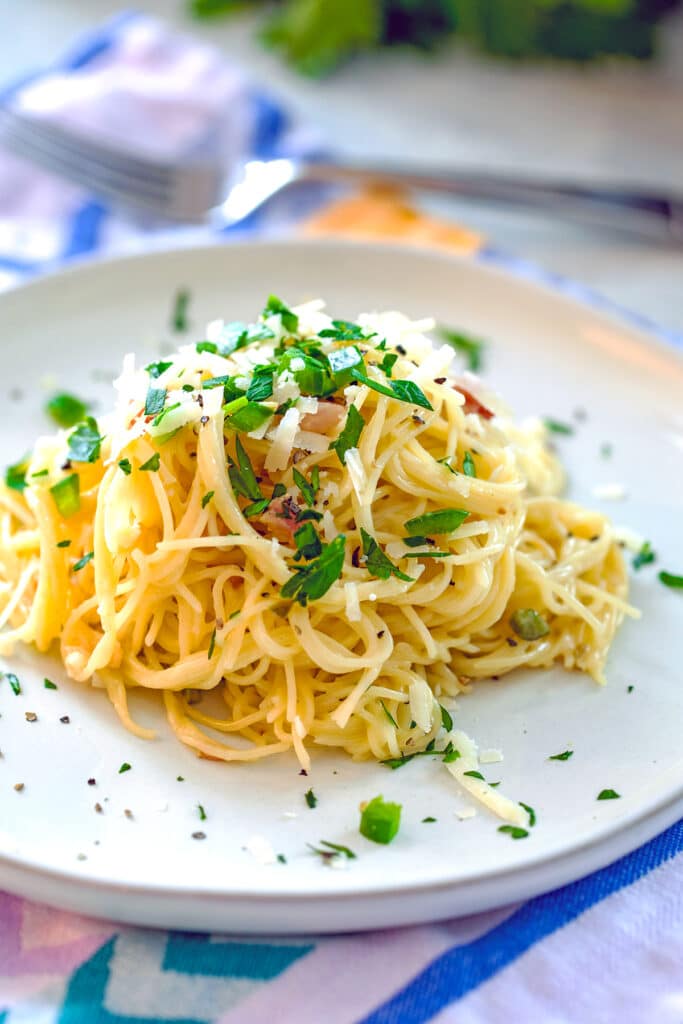 The alfredo sauce is deliciously creamy, but not at all heavy. I think the fact that it doesn't involve a lot of butter and that the pasta is a bit more delicate makes this pasta dish seem a lot lighter than the typical alfredo.
Angel hair doesn't hold as much sauce as fettuccine, but you can obviously feel free to spoon extra sauce over the top!
But since it's a little lighter, it didn't leave me feeling lethargic after either. It's basically comfort food at its best!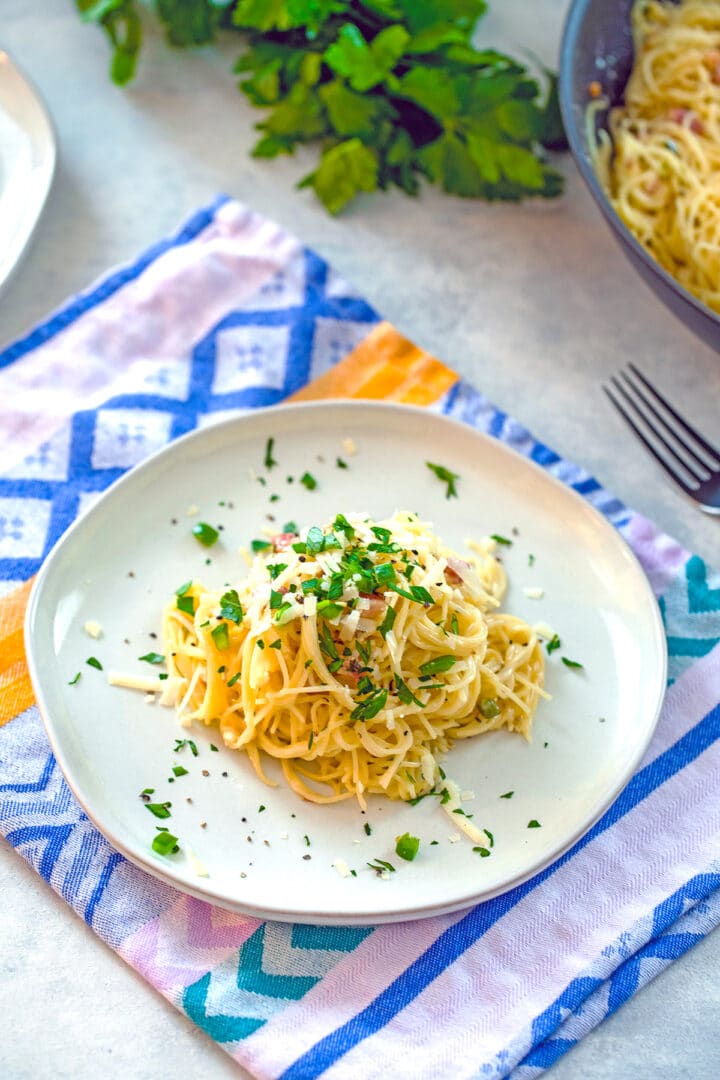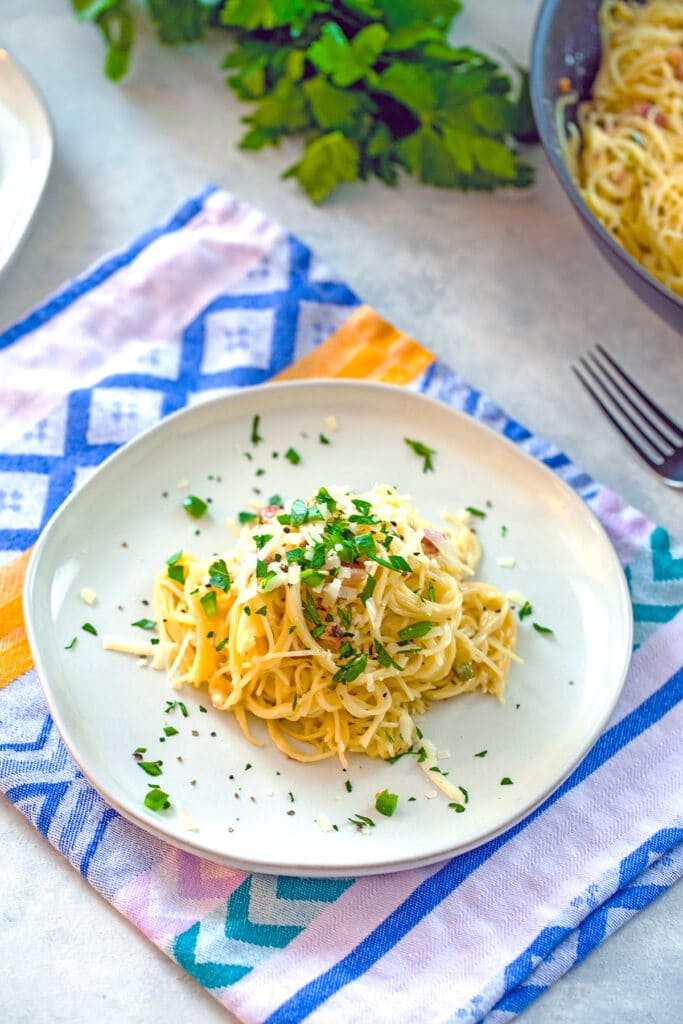 And I love the little bit of spice that jalapeño pepper brings. Even if you don't think you're really a "spicy" kinda person, I urge you to try this angel hair alfredo dish as is.
Since the jalapeño is sautéed a bit, it doesn't bring a whole lot of heat to the final dish. In fact, I had to add red pepper flakes to my husband's plate because he wanted more spice (to be fair, he can handle the hottest food in the world and is not really a good judge of what's spicy and what's not... He once acted surprised that Sriracha is known as a spicy condiment... He just thought it was similar to ketchup. Lol).
And the slight spicy kick with the saltiness of the pancetta and parmesan cheese? Basically what you imagine heaven to taste like!
More Easy Pasta Recipes
If you are like me and could happily eat pasta every night of the week, I have lots more pasta recipes I think you'll enjoy! Here are some of my favorites: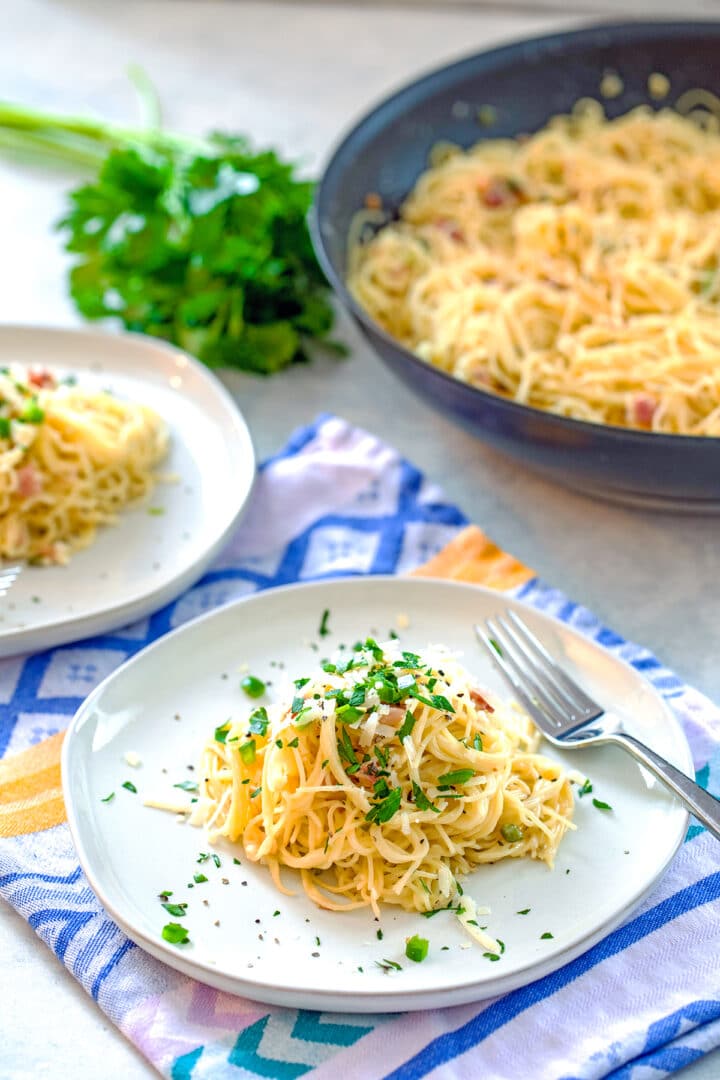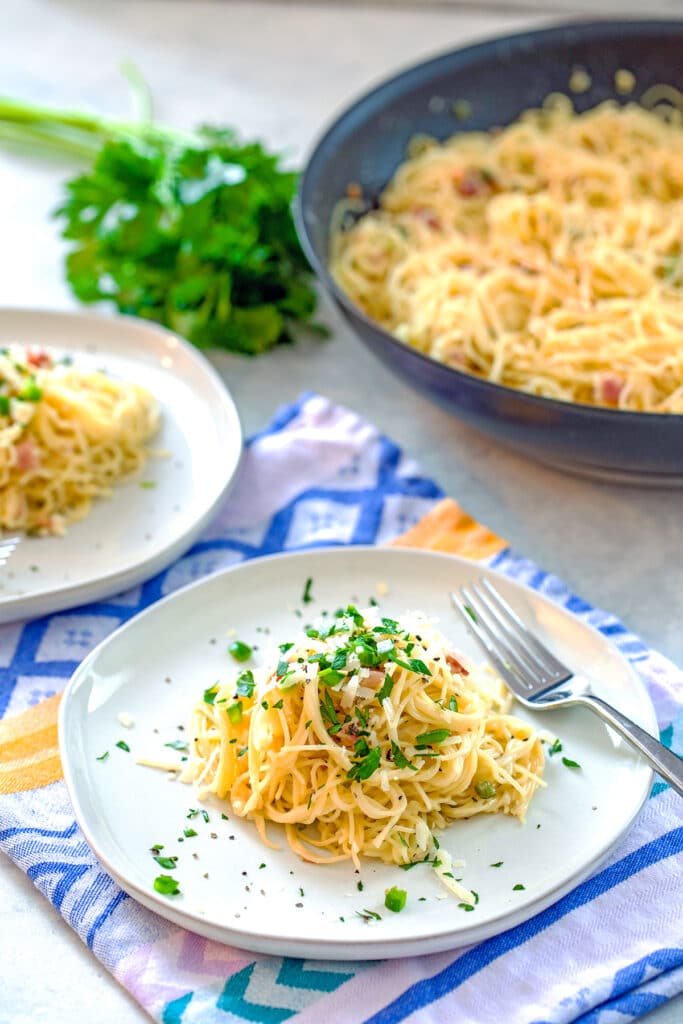 Yup, I'm officially in trouble now that I have an alfredo recipe I can pretty much make with my eyes closed after a long hard day of working. I feel like my college self would be so proud of me.
How often do you eat pasta?
📖 Recipe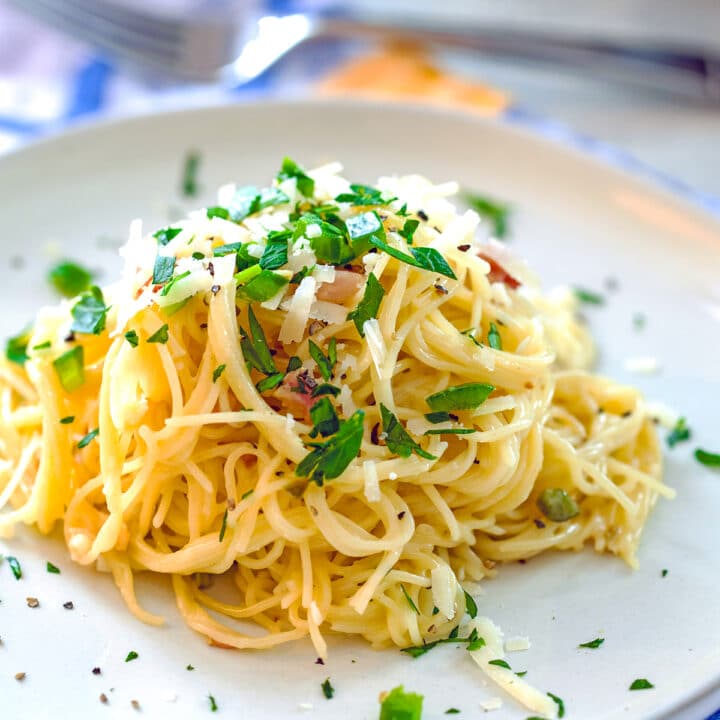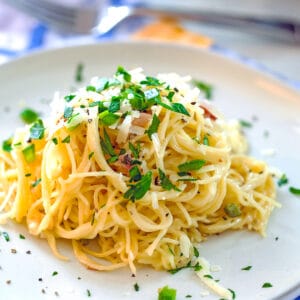 Angel Hair Alfredo with Jalapeño and Pancetta
This easy-to-make Angel Hair Alfredo with Jalapeño and Pancetta is the kind of delicious comfort food that leaves you feeling happily satisfied instead of weighed down. And because it's so quick to make, it's the ideal weeknight dinner!
Print
Pin
Rate
Ingredients
1

lb.

angel hair pasta

2

Tbsp

unsalted butter

4

oz.

diced pancetta

1

jalapeño pepper,

diced (about 2 ½ Tbsp)

3

cloves garlic,

minced

1 ½

cups

heavy cream

1 ¼

cup

grated parmesan cheese,

plus more for topping

½

tsp

black pepper

¼

tsp

salt

Chopped parsley,

for garnish
Instructions
Bring a large pot of water to a boil. Add a little salt and angel hair pasta. Cook pasta according to package directions, until al dente. Drain pasta.

While pasta is cooking, melt butter in a large skillet over medium heat. Add pancetta and cook for about 3 minutes.

Add jalapeño pepper and cook for another 3 minutes, until pancetta is browned.

Add garlic and cook for just one more minute.

Add cream to skillet and let it come to a simmer. Simmer for about 5 minutes to thicken sauce, stirring occasionally. Stir in cheese, pepper, and salt until combined. Add pasta to skillet and stir to coat pasta in sauce (it helps if you use tongs).

Serve on plates and top with additional parmesan cheese and parsley.
Share a Photo of Your Finished Recipe!
Mention @wearenotmartha and share a photo if you've made the recipe!
View web story for this recipe